39 Best Halloween Gifts for a Successful Spooky Season 2023
Published on Sep 8th 2023
| 0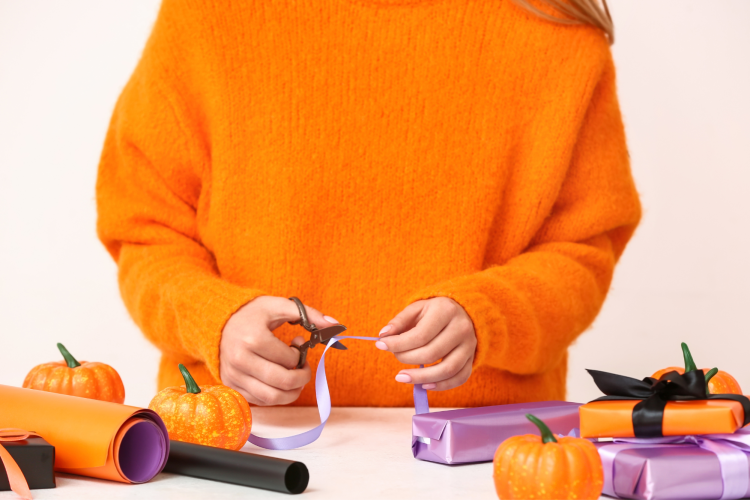 Our editorial team recommends the best products through independent research, selection and careful review. If you make a purchase through one of our affiliate links, we may earn a commission. Prices are subject to change.
Spooky season is finally here, and that means it's time to start thinking about costumes, candy and fun Halloween gifts to kick off one of the most thrilling times of the year.
Do you get gifts on Halloween? It's not a traditional gifting holiday, but there's never a wrong time to show someone that you care. Why not throw a nice gift in their trick-or-treat bag instead of a basic piece of candy?
But what do you give as a Halloween gift anyway? Let's talk about it. Read on to learn all about our favorite Halloween gifts this year.
Jump to Section
DIY Halloween Gifts & Experiences
1. Halloween Art Classes
Do you have creative friends who are always looking for Halloween painting ideas during spooky season? Art classes near you may be the perfect Halloween gift for them.
You can get spooky in art classes in NYC, paint ghostly apparitions in art classes in Houston or draw some creepy crawlies in art classes in Los Angeles.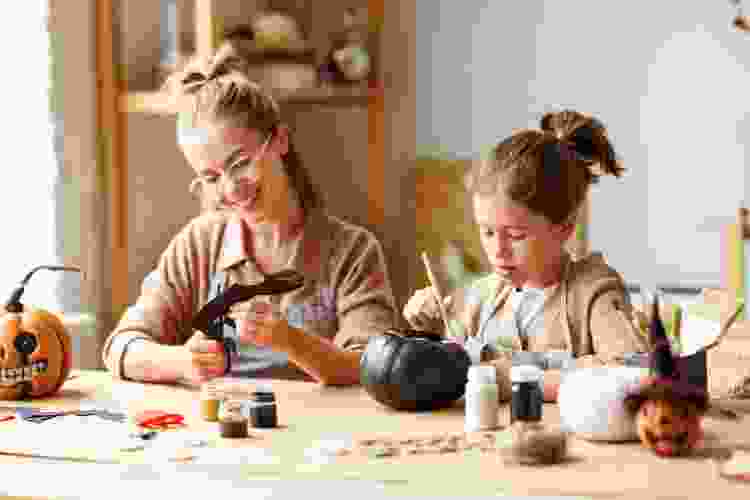 2. Spooky Paint and Sip
Wine and art make a perfect pair. If your friends are looking for some fall painting ideas to decorate with this spooky season, give the Halloween gift of a paint and sip near you.
Pair some red wine with your scary painting in paint and sip in Chicago, drink champagne while drawing autumn leaves with paint and sip in Portland or have a glass of white wine while drawing the undead in a paint and sip in Atlanta.
3. Pumpkin Patch Trip
It's time for a trip to the local pumpkin patch. Not only is this a great place for an autumn photo op, but it's the perfect place to find great pumpkins for all of your favorite pumpkin painting ideas or pumpkin carving ideas. Make sure to include pumpkins in your gift!
Join our email list for exclusive deals, local events and fun inspiration for living a more creative life.
4. Halloween Theme Park Trip
Many theme parks go all-out for spooky season. They'll swap some of their normal attractions for haunted houses, Halloween games and other scary activities.
Tickets to a Halloween theme park make a great Halloween activity to do with friends or family! It's one of the most fun experience gifts you can give this fall.
5. Murder Mystery Game
If you're looking for both Halloween gifts and fall party ideas, look no further. It's time for a murder mystery party! This murder mystery game kit makes it easier than ever to throw the perfect spooky murder mystery party for your friends.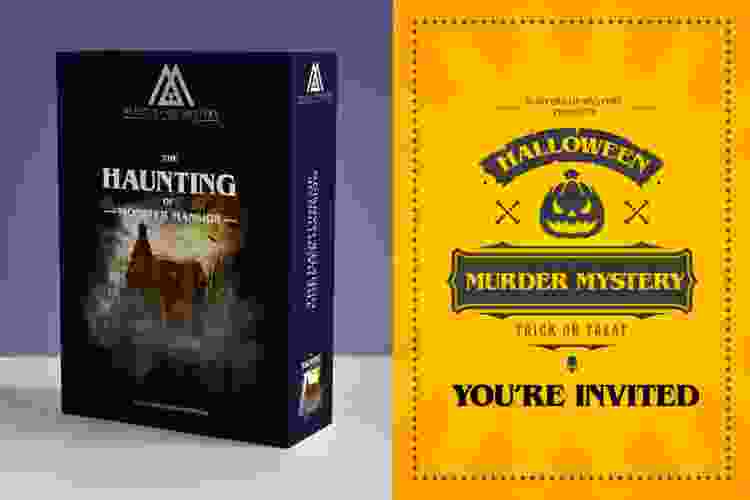 6. Tickets to a Spooky Play
Autumn is the perfect season for plays. Many classic plays are inherently spooky, but if you're lucky, there's a local theater troupe putting on a Halloween show near you. If your giftee loves the theater, tickets to such a play would make a perfect gift idea.
7. Trip to a Haunted House
Does your giftee love getting scared? Take a trip to a haunted house for a serious fright night! There are plenty of haunted houses full of dedicated actors and impressive Halloween decorations that are sure to give you and your friends a fright.
Best Halloween Food Gifts
8. Cooking Classes
Do you know any wannabe foodies? Cooking classes near you make great Halloween gifts for them. They also make great fall date ideas.
You can attend spooky cooking classes in San Diego, scary cooking classes in Austin and ghostly cooking classes in Miami. If your giftee would rather stay home, online cooking classes are a great alternative.
9. Autumnal Cookware
Autumnal cookware is a fantastic Halloween gift for any foodie. The Le Creuset autumn collection is particularly great. They make high-quality cookware in sweet and stylish designs, like their classic pumpkins. Pick a piece up for yourself while you're at it. You deserve a Halloween treat, too!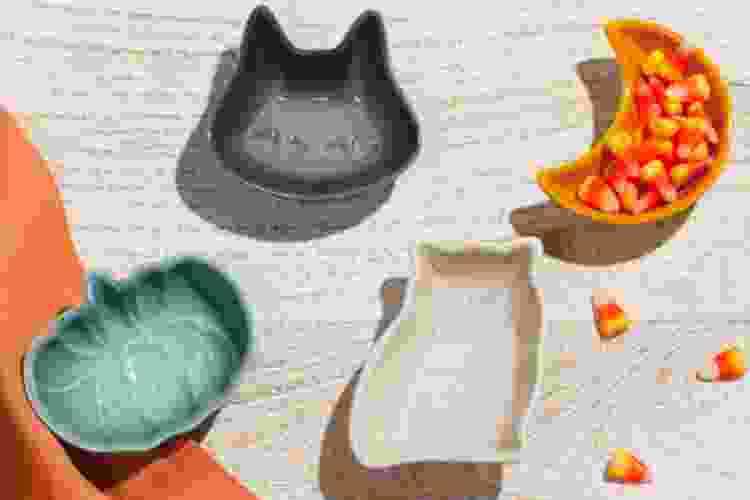 10. Candy Subscription Box
Do you not live near your giftee? A candy subscription box from a site like Universal Yums is a great Halloween gift for friends near and far.
The box will be full of unique candies, some of which your giftee has likely never seen before. It's like long-distance trick-or-treating.
11. Gourmet Fall Coffee
Fall is the time for hot coffee, preferably pumpkin spice. Give the gift of delicious coffee at home with gourmet fall coffee. While pumpkin spice is the most popular fall flavor, you can also use maple, apple or a variety of other autumnal flavor options.
12. Halloween Cookbook
We bet your favorite foodie would love a cookbook filled with Halloween-themed recipes and ideas for spooky snacks, drinks and desserts.
This cookbook can provide inspiration for their next Halloween party. The Unofficial Hocus Pocus Cookbook is one great option, but pick a cookbook that's best suited for your giftee.
13. Homemade Halloween Baked Goods
Do you love to bake? Homemade baked goods make excellent fall gifts for kids and adults alike. Make sweet Halloween cookies, spooky Halloween cupcakes and even tasty Halloween chocolate-covered pretzels. Your giftee will love all of their new snacks.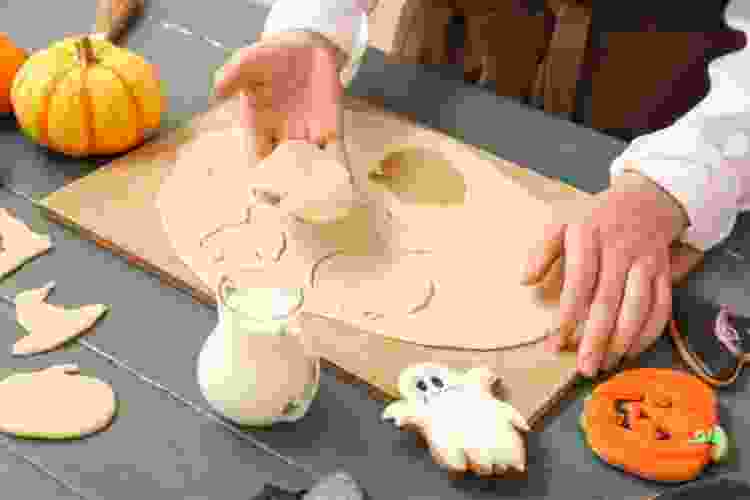 14. Pumpkin Beer or Wine
If your giftees enjoy adult beverages, a bottle of pumpkin beer or a spooky-themed wine can be a great addition to their Halloween celebrations or just nights in with spooky movies.
There are plenty of unique pumpkin beverages to choose from and they all make great Halloween gifts. You could even pair them with spooky and cute Halloween wine glass painting ideas for a handmade touch.
15. Haunted House Gingerbread Kit
Gingerbread houses may seem like they're only for Christmas, but this isn't the case. If you're looking for Halloween craft ideas, this Haunted House Gingerbread Kit is a great choice for any foodie this season.
It's similar to a traditional gingerbread house kit but with a spooky Halloween twist. It's a fun activity for friends and family members to decorate and enjoy.
16. Gourmet Halloween Candy
Wondering what gifts to give on Halloween? Well, candy is the obvious choice. If you're not giving it to trick-or-treaters, however, opt for artisanal or gourmet Halloween candies.
These include things like handcrafted caramel apples, specialty chocolates or pumpkin-flavored treats that you make at home.
Luxury Halloween Gifts
17. Spooky Autumnal Candles
Fall is candle season! These Anthropologie fall candles make excellent gifts for anyone on your list, and there are so many different options! If you have a partner, mother or female friend, this is a great cozy Halloween gift for her.
We love these Deuxmoons Moon Phases Glass Vessel Candles for a subtle and spooky option, but there are plenty to choose from.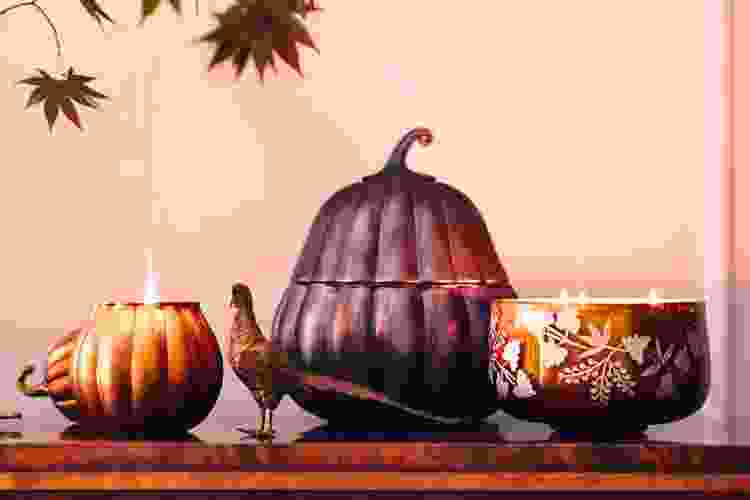 18. Fancy Candy Bowl
A fancy candy bowl is an elegant and decorative bowl perfect for holding Halloween goodies for trick-or-treaters. It's adorned with sweet and spooky motifs, making it a stylish addition to any Halloween party or décor.
The Anthropologie luxury Halloween décor shop has some excellent options, like this Halloween Magic Candy Bowl.
19. Decorative Glass Pumpkins
Pumpkins are classic Halloween decorations and you can keep them out through Thanksgiving. Why not splurge on some nice ones this Halloween?
The Cheena Glass Pumpkin decorations are sweet, simple and still upscale enough for a fancy and modern home. You can't go wrong with one of those as a gift.
20. Classy Halloween Dish Towels
You can never have too many dish towels. That's what makes them excellent gifts, especially for anyone who loves throwing Halloween parties or otherwise having company over.
This Spirit Dish Towel from Anthropologie is a great choice. It's so pretty that your giftee may not even want to use it — it will remain on display in the kitchen as a part of their Halloween décor!
21. Halloween-Themed Wreath
Wreaths aren't just for Christmas. Halloween-themed wreaths are great for both indoor and outdoor Halloween decorations and they make fantastic gifts.
This Black Pampas Wreath is spooky, but still subtle, making it suitable all autumn long.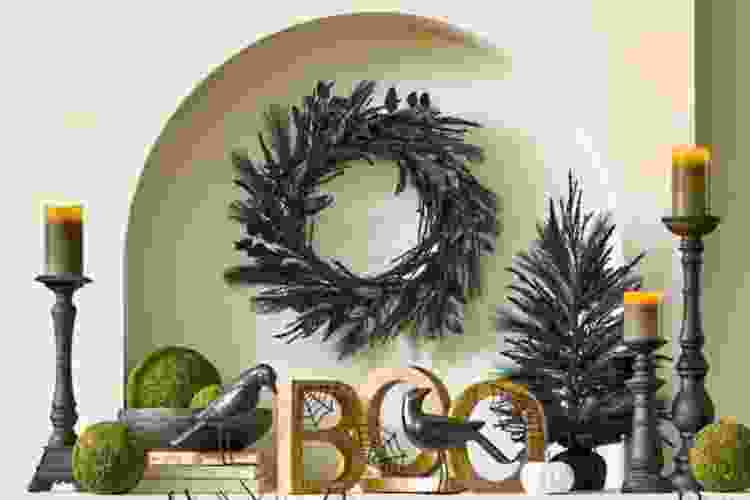 22. Spooky Wall Art
Spooky wall art is an excellent gift for anyone who loves to decorate. When it comes to luxury Halloween gifts, try to pick art that's classy and understated rather than goofy and over-the-top. There's a time and place for both, of course.
This Robber Baroness wall art is a perfect choice. At first glance, it looks like a lovely portrait, but it has a fun and spooky edge.
23. Fun Halloween Plates
Halloween plates are fun and festive gifts that are perfect for people who throw parties or just people who appreciate the value of spooky season.
We love this fun yet sophisticated set of 4 Masquerade Jack-O-Lantern plates from the Grandin Road luxury Halloween décor collection.
24. Sweet Velvet Pumpkins
Glass pumpkins aren't always great gifts for everyone, especially people with active pets or small children. Velvet pumpkins, however, make great gifts.
They're durable and they still look stylish and high-end. You can also get them in a wide variety of colors so they can suit any interior aesthetic. These Reeve Velvet Pumpkins have lovely gold accents that give them an extra-luxurious touch.
Unique Halloween Gifts
25. Witchcraft Kit
Do you have any friends who are into all things witchy and metaphysical? A cool witchcraft kit, or other magical and mystical gifts from Mindful Souls, is a great gift idea for spooky season!
You can find a pre-made kit or make your own with an assortment of crystals, herbs, decorative jars and witch-oriented books, like The Green Witch.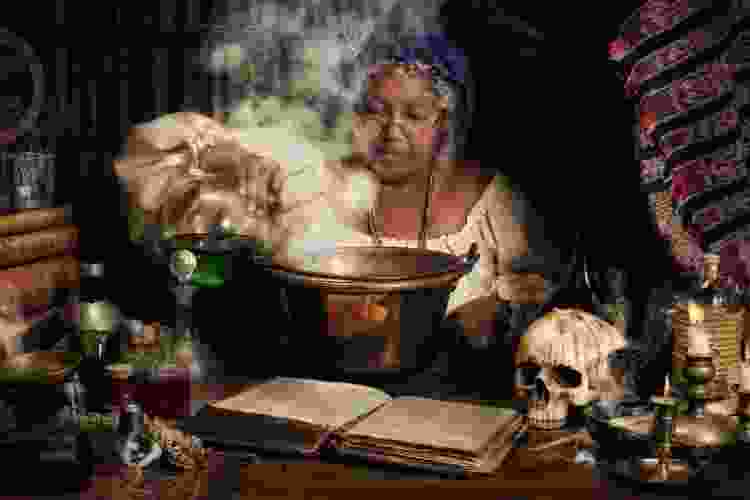 26. Personalized Halloween Décor
Personalized Halloween gifts are fantastic for anyone on your gift list. Even something as simple as a monogrammed pumpkin can make a giftee smile.
This is a great first Halloween gift for babies (or, more accurately, their parents) because they can use that personalized gift for years to come as they grow.
27. Handmade Halloween Costume
A handmade Halloween costume is one of the best DIY gift ideas for any Halloween lover on your list who loves to dress up.
You'll have to plan this with the giftee so you can get their measurements, but it's an incredibly thoughtful and heartfelt gift that they're sure to appreciate. Just make sure you plan it in advance!
28. Unique Trick-or-Treat Bags
Fun trick-or-treating bags are some of the best Halloween gifts in the U.S. for kids or parents. You know they're going to need bags or baskets, so why not give them one that suits their personality?
You can even get personalized trick-or-treat bags with your name on them to use year after year!
29. Halloween Flowers or Plants
Are you looking for some floral gifts for fall? A sweet Halloween plant or Halloween flower arrangement will make a great addition to anyone's fall décor.
You could give black or dark purple flowers, succulents in pumpkin-shaped pots, or even spooky carnivorous plants.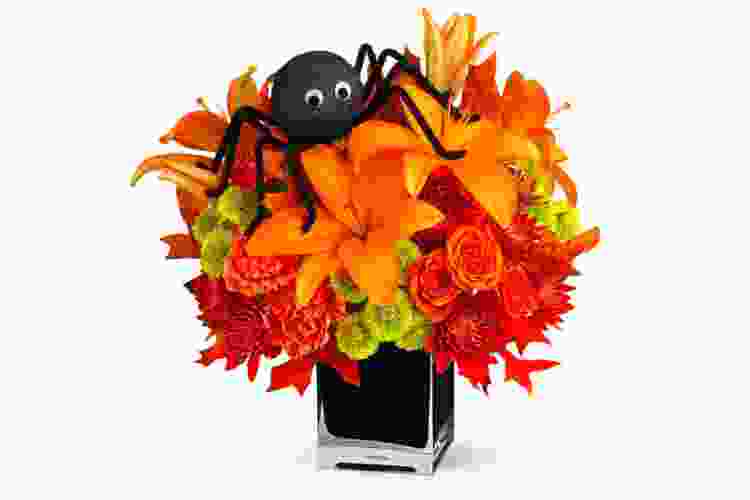 30. Halloween Movie Night
Who doesn't love a good scary movie night during spooky season? This is a great experience gift for friends or family members who enjoy being scared as long as it's from the comfort of their couch with a bowl of popcorn.
Give them some of your favorite scary movies, some popcorn and some movie candy.
31. Custom Halloween Portrait
If your friend loves all things spooky and scary, consider giving them a custom Halloween portrait. Commission it from an experienced artist.
It can be of your friend, one of their ancestors or even a spooky rendition of a treasured pet...bonus points if the eyes seem to follow them around the room.
32. Haunted Hotel Stay
If you're looking for unique Halloween gifts for adults or even spooky Halloween date ideas, you can't go wrong with a haunted hotel stay as long as the giftee enjoys being scared.
While the author of this National Geographic article isn't convinced that the famous Stanley Hotel (from The Shining) is haunted, it's a great place to do some spooky pre-Halloween ghost hunting with a loved one, and there are many more hotels like it.
33. Spooky Accessories
Spooky accessories make great gifts for girlfriends, boyfriends, friends or anyone who loves spooky season. Just match the accessory to the giftee.
For example, the cute Halloween jewelry collection from Alex + Ani is a perfect Halloween gift for any jewelry lover.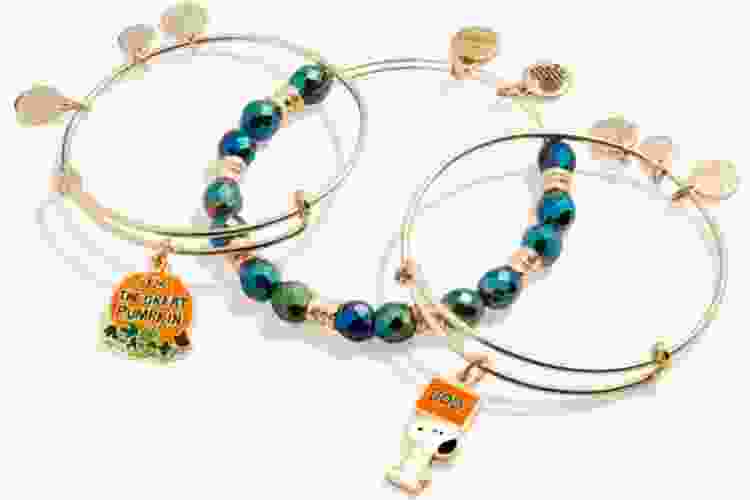 Best Halloween Gift Baskets
34. Harry & David Halloween Gift Box
Harry & David may be best known for their Christmas gift baskets, but these Harry & David Halloween gift boxes should not be overlooked. You can get pre-made baskets full of fruit, cookies, candy and more.
35. Halloween Craft Basket
Turn your Halloween craft ideas into a fun gift basket this year. Fill it with fun Halloween-themed gifts for crafters. You could leave instructions for a Halloween craft of your choice along with all of the materials required for the craft.
This is one of our favorite Halloween gift basket ideas for crafty kids and parents.
36. "My First Halloween" Basket
Are you looking for Halloween gifts for friends or family members with babies or young children? A "My First Halloween" basket is a great idea!
You can fill it with sweet Halloween-themed goodies for babies, like spooky onesies or Halloween-themed baby books. If there's a new mom in your life, this is a great Halloween gift for her.
37. Halloween Cookie Gift Box
When it comes to Halloween, you can't go wrong with some tasty cookies. Try a Halloween gift box of Cheryl's Cookies, beautifully decorated and packaged with care.
Or, bake your own to fill easy DIY Halloween gift bags, which make great Halloween gifts for teachers, students or even trick-or-treaters.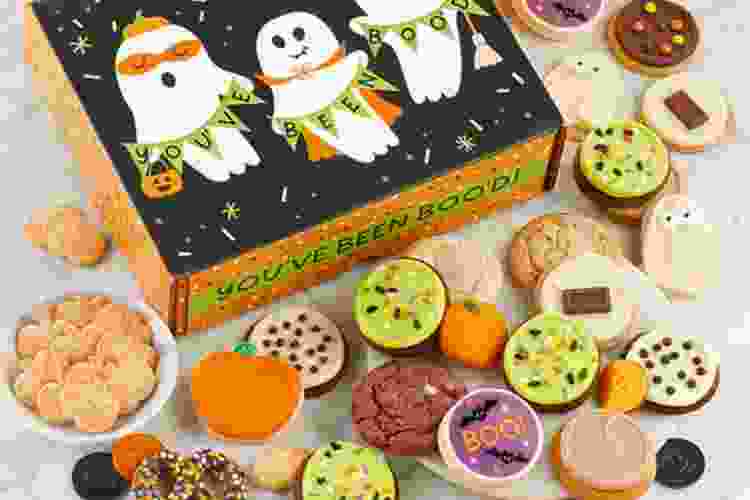 38. Halloween Candy Basket
Wondering what to gift kids on Halloween? Well, the most obvious answer is candy. This is an excellent gift for a child who, for whatever reason, won't be able to go trick-or-treating.
It also makes a great Halloween gift for adults who have never had to pass out candy before. You're doing some of the work for them.
39. Halloween Party Basket
Do you have friends who love to throw parties? Put together a Halloween party basket for them. Fill it with some of your favorite Halloween party ideas, Halloween craft ideas, décor items and even snacks. Consider it an entire party inside a gift bag.
So, which of the best Halloween gifts in the U.S. are going on your gift list? Whether you're opting for something sweet, something spooky or something that's somewhere in between the two, your thoughtful gifts are sure to be a hit this season.
For even more fun gift ideas, check out other experiences happening on Classpop!