31 Adorably Spooky Halloween Date Ideas for 2023
Published on Oct 23rd 2022
| 0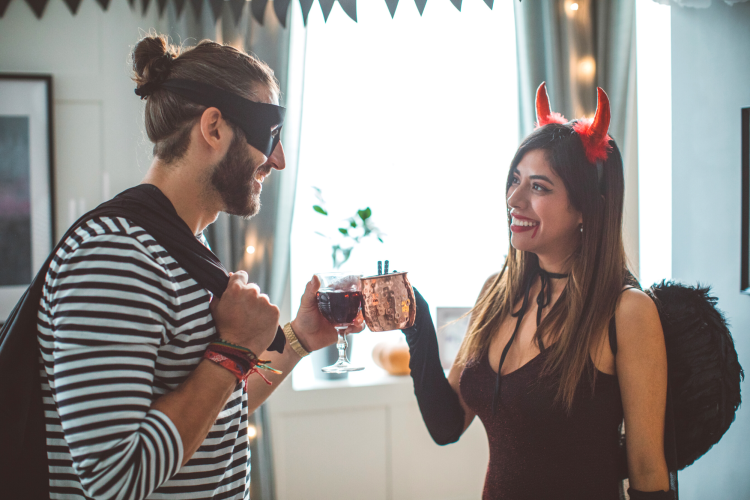 Autumn is a season of chills and thrills that inspires a fresh batch of sweet and creepy Halloween date ideas. A night of screams and scares makes a perfect occasion to snuggle closer to your special someone. And with strange sensations hovering in the air, you'll find some frightfully fun Halloween date ideas waiting to spirit you away!
According to Big Think, Halloween has grown in popularity with adults through the decades, with over 70 percent of grownups getting in on the ghastly action.
With a holiday custom-made for little monsters, what can couples do for Halloween that doesn't feel kiddish? We've gathered a list of tempting possibilities for the best Halloween date ideas of 2022 to inject some fresh blood into your reanimated romance.
Beware: there's an unsettling selection of ghoulishly good times ahead!
Jump to Section
Creative Halloween Date Ideas
1. Summon Your Inner Artist
Get in touch with the creative spirits with paint and sip near you. You'll find pressure-free sessions, no experience necessary. Expert instructors leading paint and sip in Indianapolis, paint and sip in Los Angeles and paint and sip in Chicago are waiting for you to make an appearance! And for a creative Halloween date night at home, settle in and log onto online painting classes.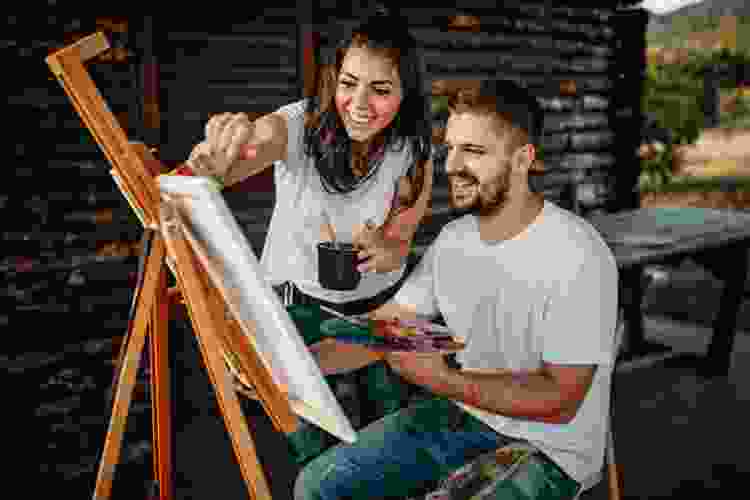 2. Dance With the Darkness
With studio-based dance lessons, your romantic Halloween date ideas take flight! There are studio-based dance classes in Las Vegas, dance classes in the Bay Area and dance classes in Los Angeles, all offering sessions in classic moves and the latest grooves.
If you're looking for a more intimate setting, online dance classes will awaken your sense of rhythm in your own haunted house.
3. Reenact Ghost in Pottery Classes
Expert-led pottery classes are the best Halloween date for getting your hands dirty! You can find East Coast pottery classes in Boston and other areas, while pottery classes in San Diego and pottery classes in San Francisco get the West Coast thrilling and chilling with hand slabbing, wheel throwing and more.
4. Get Sketchy
As fall date ideas with an artful edge, local drawing classes encourage you to explore the essence of your own creativity. Discover hidden talents and unlock the mysteries of your own creative skill, with guidance from esteemed local artists. Aspiring artists can also try online drawing classes for a creative lesson behind bolted doors!
5. Haunt Your Own House
Turning your yard or walkway into a fright fest will get you and your spooky someone into the Halloween spirit! A simple decorating job becomes the best Halloween date ever when you throw in a little friendly competition. See who can hang lights the fastest or craft the best paper bats.
6. Attend a Ghoulish Gala
If a friend has invited you to a Halloween costume party, by all means, accept! You and your creepy cuddler can haunt the scene in fun themed costumes and gorge yourselves on treats and drinks. And if no one you know is throwing a party, throw one yourself and invite the whole coven.
Foodie Halloween Date Ideas
7. Let Your Cauldron Bubble
How about learning to prepare a feast for the ages as a terrible twosome? Choose from in-person cooking classes in Dallas, cooking classes in Miami and cooking classes in Ann Arbor for a personal session in the art of gourmet cuisine. You'll find expert cooking classes near you with an ever-growing list of menus to enjoy.
8. Roast Your Own Beast
Enjoy a terrifyingly fine lesson at home with online cooking classes. Your hosts for these virtual sessions are some of the finest chefs in the industry. Tune in from your drafty dungeon or creaking love shack and create a meal you can share.
9. Go Gothic Gourmet
What can you do for Halloween instead of a party? How about a gothic gourmet dinner instead? You and your blood-curdling boo can create a candlelit buffet with some of the goriest goodies on display.
Think witch-finger breadsticks, bloody brain gelatin molds, dead velvet cake…so many monstrous treats. Delish has a slew of screamingly sweet ideas to inspire a most unsettling Halloween dinner date for you to devour.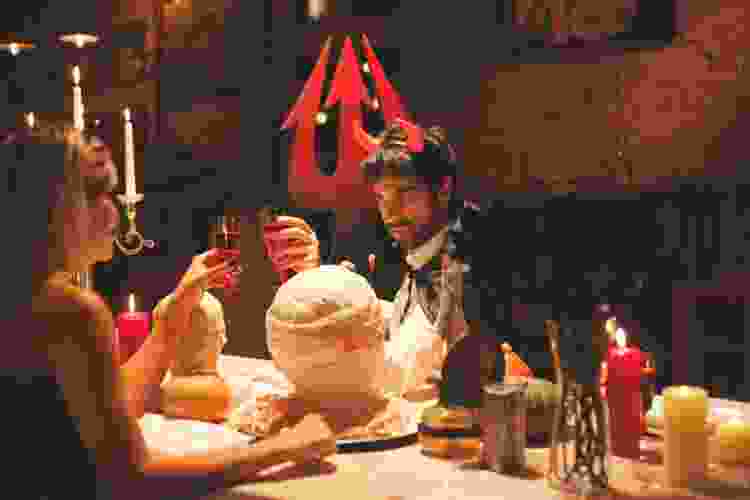 10. Dress the Dead
Bake up a batch of gingerbread men and decorate them as ghouls, zombies, werewolves — whatever creepy creatures your weird little heart desires. Make them even more macabre by snapping off their limbs and reattaching them with icing or licorice threads. If your Halloween date ideas don't involve baked treats at some point, then your howling holiday needs an overhaul!
11. Dine in the Dark
A darkened dinner can be one of the more intriguing things for adults to do on Halloween. Prepare a meal you've never made before and enjoy it with the lights off to heighten your senses for these new tastes. Or pick up dinner from your favorite place and see how flavors change when you can't see what you're eating.
12. Go Liquor-Treating
Instead of seeking out candy, try hunting down goodies of a more adult nature! In this grown-up version of trick-or-treating, you and your groovy ghoul drift from bar to bar sampling the most intriguing beverages on the menu. This spirited pub crawl is a Halloween date idea that craven cocktail-loving couples will scream for.
Unique Halloween Date Ideas
13. Stir Up the Spirits
Anyone wondering "What should I do for my girlfriend on Halloween?" is a prime candidate for an amateur mixology lesson! Hunker down at home for online mixology classes, where you'll learn the supreme sorcery of blending spirits and mixers into crafty concoctions designed to warm her very soul.
14. Taste Red
Bring the goodness of varietal and vintage home for a Halloween date idea created with wine lovers in mind. Virtual wine tastings let you discover your new favorite pours from the comfort of your hovel, your bog, your crypt — wherever you lay your weary bones. Settle in and start sipping!
15. Shutter While You Shudder
Tune up your photographer's eye with photography classes in your area. You'll learn all the hidden secrets of your smartphone camera and conjure up the visual magic of digital editing. Online photography classes let you develop a sense of the unseen, no matter where your spirit resides.
16. Take on a New Persona
Acting classes are Halloween date ideas for channeling your inner performer. Learn techniques for stage and screen from talented coaches around your city. You can also try online acting classes if you prefer to project a more phantom-like presence with your performance.
17. Monster Movie Night
Cue up some classic or contemporary fright flicks on your digital device and have an old-fashioned outdoor cinema scare fest! Think of it as the home equivalent of a drive-in and plan a selection of theater-themed treats to gobble up. Throw in a fire pit to cuddle around and you have a Halloween date idea that's sure to make horror nerds squirm with delight.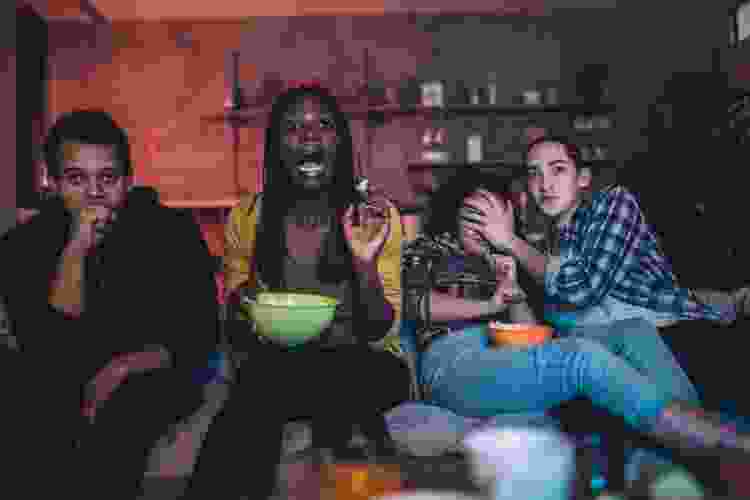 18. Walk a Twisted Path
In the pantheon of scary Halloween date ideas, there are few more terrifying than the corn maze. Having your scary someone at your side can help keep the screams to a minimum…unless they're more easily frightened than you are. Thank goodness for smartphone flashlights!
19. Become a Vampire Volunteer
Turn bloodsucker lore on its pointed ear by donating blood at your local blood bank. Not only is this the best Halloween date idea for creepy couples who love to help their community, it's also a screaming excuse to treat yourself to a devilishly delicious dessert afterward. Replenishing your blood sugar is a must!
20. Go Treater Tricking
In this twist on traditional trick-or-treating, you and your menacing mate take to the streets for a different kind of candy handout! Rather than being stranded at home waiting for the adorable little imps to ring your bell, grab a bowl filled with treats and head into the neighborhood, dropping goodies in the bags of everyone you pass.
This Halloween date idea makes for an engaging way to hang out with your haunted honey while making nice with the neighbors!
21. See Your Future
Halloween is a perfect time for a psychic reading to put the fear of the spirit world into you and your groovy ghoul. Schedule a session with a local spiritualist and discover what lies ahead. You'll have a fun time exploring your spiritual side while supporting a local business. The spirits will approve!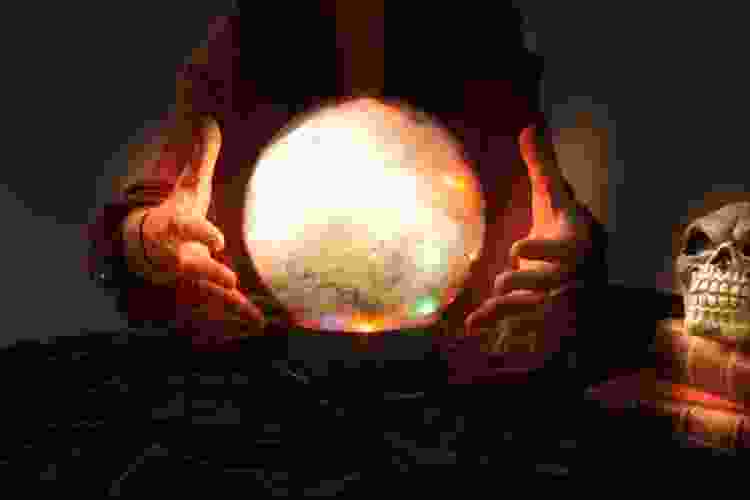 DIY Halloween Date Ideas
22. Make a Spooky Centerpiece
For a creative and eerily romantic Halloween idea, try your hand at virtual flower arranging classes. You'll learn sinister tricks for applying fundamental design principles to live and artificial blooms to create striking décor pieces for your home. Funeral-appropriate arrangements may be available upon request!
23. Build Your Own Vampire Coffin
Okay…maybe not a coffin! But with woodworking classes, you and your dreadful dearest can work side by side creating your own wooden goodies. Explore the uses of hand and power tools while working on exciting projects with master woodcrafters leading you every step of the way.
24. Get Stitching
With sewing classes on your list of Halloween date ideas, you'll have your horrifying holiday together time all sewn up! Each lesson illuminates the time-honored art of handmade garments and fabric-based goods.
Learn to work from patterns, discover the importance of taking precise measurements and find out how to operate a sewing machine to its fullest potential. It's creative mad science at its finest!
25. Breathe in the Fire
Glass blowing classes are an awe-inspiring mix of industrial magic and elegant artistry. Transform heated sand into colorful pieces that glow with their own light.
You'll work with exceptional glass artists who can show you how to manipulate molten glass into a masterpiece. These fiery courses make the best Halloween date ideas of 2022 for creepy couples who need a little extra heat to warm their chilled hearts!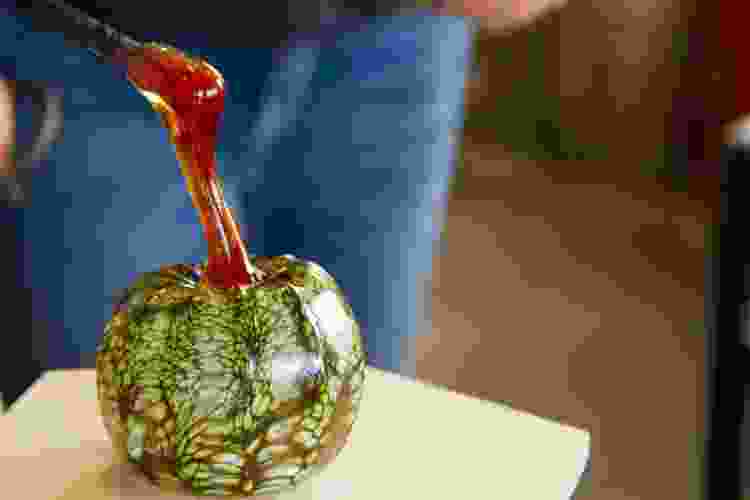 26. Carve Some Goulish Gourds
The best answer to the question "What can adults do on Halloween night?" is the age-old art of pumpkin carving. This time-honored tradition lets you dig into your creative urges while preparing an effectively eerie decoration to light your porch for the night.
When the candle burns out, you can carve up the pumpkin shell and bake it into a tasty pumpkin pie for Thanksgiving. One pumpkin, two holidays!
27. Dress to Disturb
What can couples do for Halloween? Create coordinated costumes, of course! Find some simple DIY ideas for couples' costumes like the ones Country Living suggests and turn your evening into a fun, last-minute dress-up date.
You'll be ready to hand out the goodies in high style or haunt the neighborhood as a gruesome twosome and find out what kinds of mischief and mayhem the other spooky spirits are stirring up.
28. Haunted House Building
One of the best Halloween date ideas for handy couples is creating a haunted house of your very own! Plan a spooky experience in your garage or front yard and build out a full-blown mansion of madness to entertain the neighborhood. You can store what you create and use it again and again a scarily sustainable good time that will haunt you for years to come!
Virtual Halloween Date Ideas
29. Get in the Game
If you ask the spirits "What are some spooky date ideas near me?", don't be surprised if they answer, "Virtual game night!" Online trivia games bring the excitement of pub-style trivia to your favorite screen, while virtual game nights feature familiar favorites and brand-new party games to tickle your funny bone. Invite a few other macabre couples to join in for some fiendishly friendly competition and make a whole thing of it!
30. Search for What's Hidden
Your Halloween date ideas take a turn for the chilling with virtual escape rooms on the list. The ticking clock and your combined wits are all that stand between you and certain doom. Can you solve the puzzles and find your exit, or will you perish like the others?
Meanwhile, virtual scavenger hunts are designed to send you on a dizzying digital expedition to find a stirring collection of sites and sights. Best of luck fending off the madness!
31. Visit the Witches
For a seriously spooky entry in our collection of Halloween date ideas, you can sign up for online witch trial tours through the Salem Witch Museum.
These informative virtual Halloween date ideas transport you to key sites in Massachusetts for an eye-opening exploration of actual witch hunts from America's haunted history.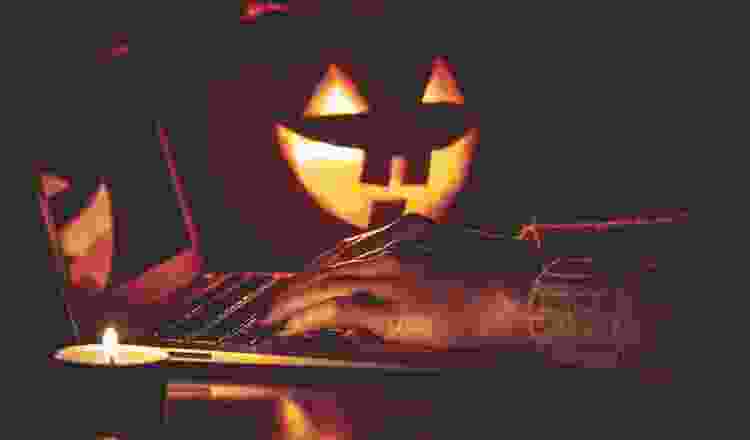 Whether you're after a snuggly Halloween date night at home hiding from the goblins and ghouls or searching for a happening haunt to hang out in, the most romantic Halloween date ideas are all about spirit.
Even handing out treats to little ghouls can become a Halloween date idea if you enjoy each other's company. And of course, drinks and snacks always make a Halloween date idea a tasty affair.
No matter what you choose for your Halloween date ideas for 2022, be sure to carve out some quality time between the tricks and treats to spend with your harrowing heartthrob. It's the sweetest way to celebrate the spookiest of holidays.
For even more fun date ideas, check out other experiences happening on Classpop!