39 Whimsical Winter Date Ideas for 2023
Published on Oct 3rd 2022
| 0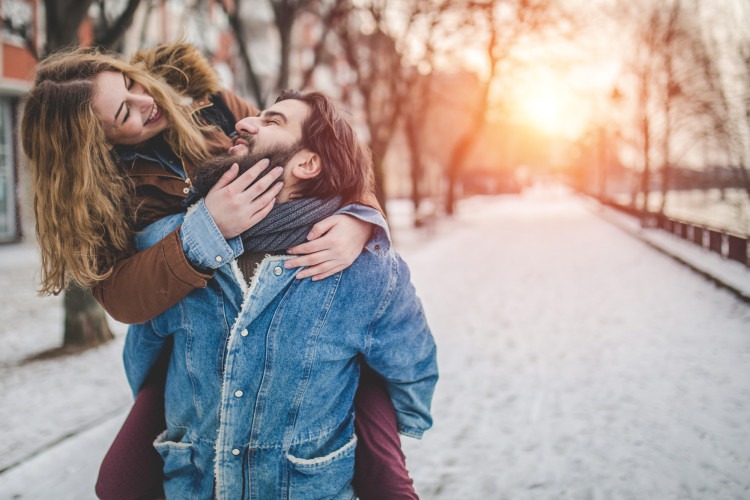 Who doesn't love the playful atmosphere and cozy cuddling moments that winter date ideas inspire? The season presents at least 100 winter date ideas, and that's just the evening options!
According to Lifespan, having a strong support system during cold winter days can provide you with a happier outlook. It's not a coincidence that the best options bring people together for warmth and joy, even when those options include frosty, snow-covered outdoor fun.
So, what are things you can do with your significant other during the winter months to keep your spirits high? Whether you're plotting fun romantic activities in L.A. or planning brisk winter date ideas in DC, our list of whimsical winter date ideas for 2022 is a veritable avalanche of possibilities, each one more spirited than the last!
Jump to Section
Creative Winter Date Ideas
1. Brush Up
Add vibrant color to the frosty winter palette with paint and sip classes. Local instructors offer a party atmosphere that makes paint and sip in Indianapolis, paint and sip in Los Angeles and paint and sip in Chicago entertaining moments. Even if you've never painted before, you'll learn the basics and take home a masterpiece!
If you're up for a bigger challenge, sign up for online painting classes and explore the possibilities of creating your own images. You'll learn the fundamentals of color, form and shading from talented artists with a passion for helping others tap into their creativity.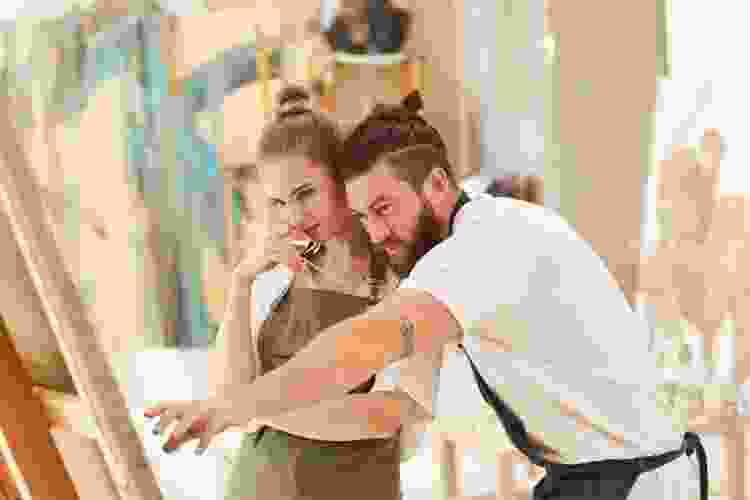 2. Step in Time
Cast off the cold weather blahs by learning how to shake your groove thing! Dance classes in Las Vegas can turn you into the star of your own revue, while dance classes in the Bay Area can show you and your sweetheart a thing or two about high-stepping. And dance classes in Los Angeles tap into the star power of dance teachers around town to get you kicking up your heels.
For a cozier experience, check into online dance classes and turn up the heat with a little homemade salsa!
3. Play in the Mud
Channel your inner homesteader with pottery classes on your winter date ideas roster. Whether you snuggle up around the wheel for thrown pottery classes in Boston, cuddle in the studio for hand-slabbed pottery classes in San Diego or hunker down for pinch-style pottery classes in San Francisco, you'll have exceptional instructors and an earthy keepsake of your exciting cold weather warm-up!
4. Get in Line
Put pencil to paper for expert-led drawing classes with your sweetheart. Couples can spend sweet time together delving into new talents or expanding existing skills. You can even tune into online drawing classes for an art-filled evening in your home studio.
5. Burn Off the Chill
The tradition of ice candles utilizes the creative power of cold weather. Add water to a large plastic bowl and sit a smaller plastic bowl or cup in the center. Let the water freeze outside if weather permits or place the bowl in the freezer if necessary.
Once the water is solid, gently warm the bowl, remove the inner cup and slide the ice out. Then, set a lit votive or tea light in the center and watch your ice candle throw stars and sparks into the winter night!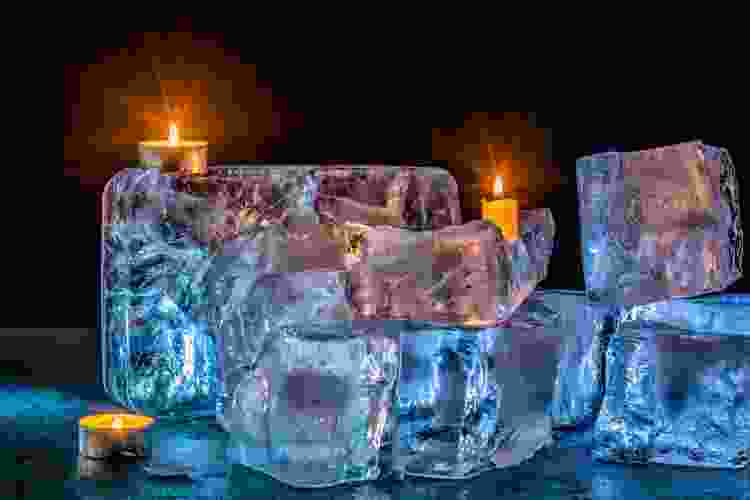 Foodie Winter Date Ideas
6. Prepare a Feast
Create a proper mid-winter meal that comes with dinner and entertainment! Big-city sessions like cooking classes in New Orleans and cooking classes in Baltimore offer gourmet menus and step-by-step instructions for delicious meals made with finesse.
Look into cooking classes in Ann Arbor to add fire to a chilly Midwestern date night. No matter the weather in your parts, there are expert-led cooking classes near you to turn your frosty evenings into delicious moments.
7. Have Some Home Cooking
Gather in the kitchen for online cooking classes and for some savory winter date ideas at home. You'll prepare creative selections via virtual instruction that puts dinner on the table in an entertaining and informative format. And all of it happens in your own home kitchen for ultimate comfort and ease!
8. Hit the Pubs
What is a good winter first date when the temperature drops? Few evenings out will warm you up quicker than a crawl featuring your favorite local pubs.
Add a spontaneous touch by placing a few possibilities in a jar and choosing at random. You can even add a new place or two to the list and challenge each other to try daring new drinks or holiday specials!
9. Try a Suite of Sweets
Plan an excursion to a restaurant that specializes in holiday desserts! If there's a posh locale you've been wanting to try, a little together time is the perfect opportunity to check it out. Or try a progressive dessert "dinner" and sample the goods from a handful of diners, bakeries and sweet shops.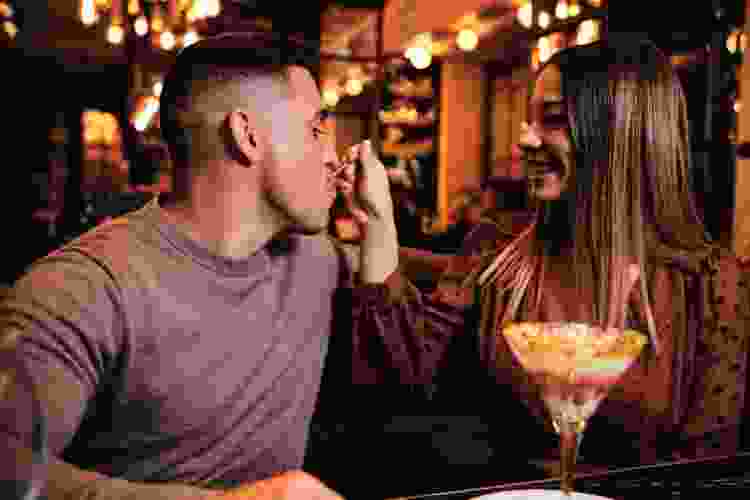 10. Mull Things Over
Find a winery or bar that offers mulled beverages and settle in for a sweet evening together. If there's a meadery in your area, expand your palate with a flight of honey-based wine.
You can find ciders, cysers (mead made with apples) and pyements (mead made with grapes) too, all tasty variations on this ancient fermented drink!
Unique Winter Date Ideas
11. Mix and Mingle
With online mixology classes, the most delicious answer to "Where can I find winter date ideas near me?" is "Behind your own home bar!" Skilled mixologists are on hand to show you the latest drink-making magic, including holiday- and winter-themed sessions that make the most seasonal ingredients.
12. Bottle It Up
Warm up your weary winter souls with virtual wine tastings for a relaxing winter date idea you can enjoy without leaving the love nest! You'll have guidance from knowledgeable sommeliers tapped into the latest and greatest vintages and varietals.
13. Prepare for Cold Snaps
Capture the cold weather action in expert-led photography classes! There are courses in landscapes and nature photography, and a portrait session will help you capture one another in the best light possible.
Bring the focus closer to home with online photography classes to help capture the perfect pic for your holiday cards!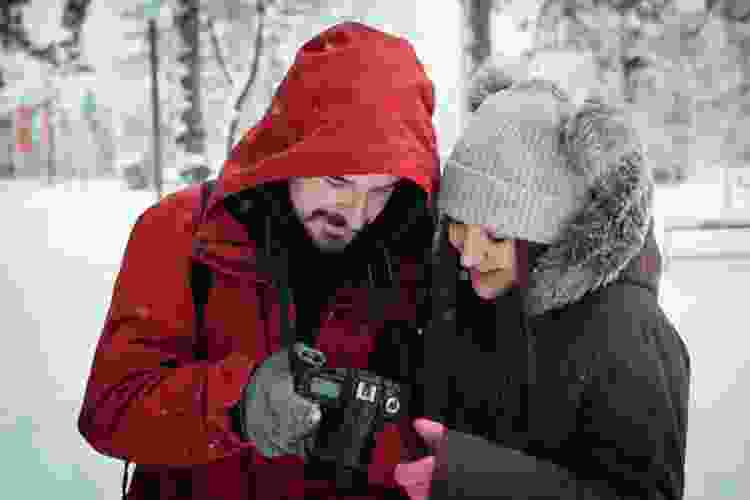 14. Make a Scene Together
Emote heavily with acting classes taught by local actors and acting instructors. You can test your talent for creating characters and delivering dialogue. Catch the acting bug in a more comfortable setting by adding online acting classes to your social calendar instead!
15. Earn Your Wings
For a winter date idea with real heart, head to a nearby mall and choose a Christmas angel from the tree. Grab some warm drinks and hit the stores buying up the whole selection to give children in need a holiday to remember. This makes a particularly sweet addition to your list of first date ideas!
DIY Winter Date Ideas
16. Bloom in Winter
You can pretty up your cozy space with virtual flower arranging classes on your checklist. Discover the secrets for adding dimension to your home décor and create striking arrangements to gift friends and family for the holidays.
17. Get a Bit Heated
Set the fire a little higher with glass blowing classes in your winter date ideas grab bag! Cold weather days are the ideal time to head for the hot shop to create stunning industrial pieces with help from local artists. Leave the scarves and mittens at home for this one!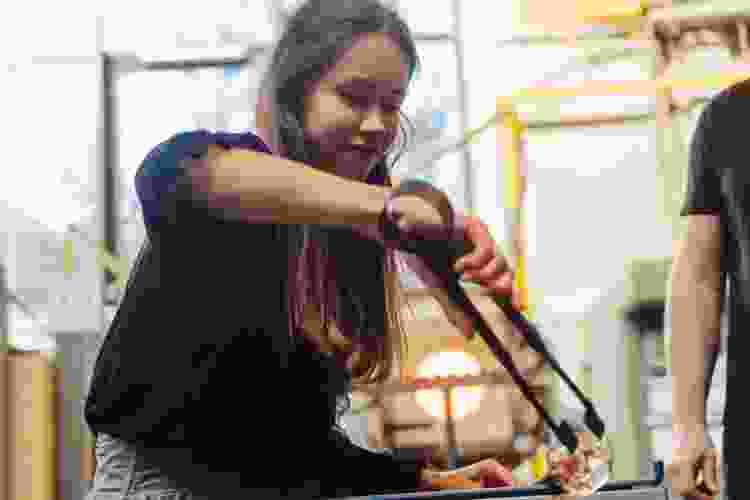 18. Get Woodsy
Woodworking classes are perfect for summoning your inner lumberjack! You and your special someone can spend time in the workshop learning the finer points of woodcraft while firing up the power tools and testing out your talent for creating three-dimensional works of art.
19. Stay Sew Close
Add to your collection of artistic talents by stitching comfy warm-weather projects in local sewing classes. You'll try hand and machine stitching as you work with patterns and test out your skills for accurate measurement. Not only is this winter date idea creative, but it's also useful in daily life, too.
20. Make a Home
Building gingerbread houses is always a winning winter date activity, no matter your creative skill. Pick up a kit at the store to collaborate on or find a recipe and blueprints online and bake up your own dream home!
At-Home Winter Date Ideas
21. Spin the Wheel
Keep the playful home fires burning with online trivia games and virtual game nights in your winter date idea stash. These hosted events bring pub-style party fun to your TV, laptop or tablet for an evening of gaming from wherever you're most comfortable.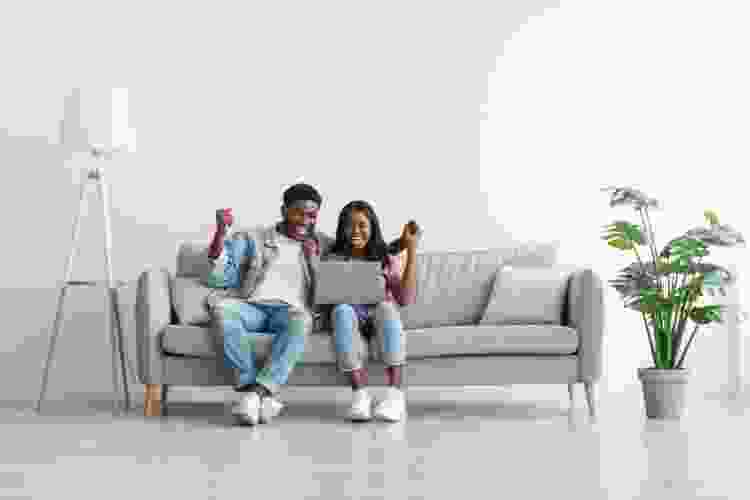 22. Join the Search
If interactive puzzles are your idea of fun, virtual scavenger hunts and virtual escape rooms have you covered in the cuddle-worthy comfort of your own home. You'll find pulse-pounding excitement that uses the best of modern tech to create unique online gaming experiences you'll love.
23. Go by the Book
Snuggle up with warm drinks and sweet snacks and take turns reading to each other next to the fire. Choose a title you both know or pick something new and unexpected. A holiday classic like A Christmas Carol is a fitting option!
24. Camp in Instead of Camping Out
For winter date ideas at home when your usual romantic camping trip isn't possible, try indoor camping instead! Set up a tent or a bedsheet fort and scurry inside for an evening of hibernal romance. Stock up on charcuterie and sweet tunes and add a conversation deck to melt the ice.
25. Be Cinematic
Cue up a slew of your favorite holiday films, make popcorn and hot chocolate, and settle in for a cozy night of cheerful movie magic! Mix in a few black and white classics with technicolor cartoons and heartwarming live-action modern masterpieces for a tinge of sweet nostalgia.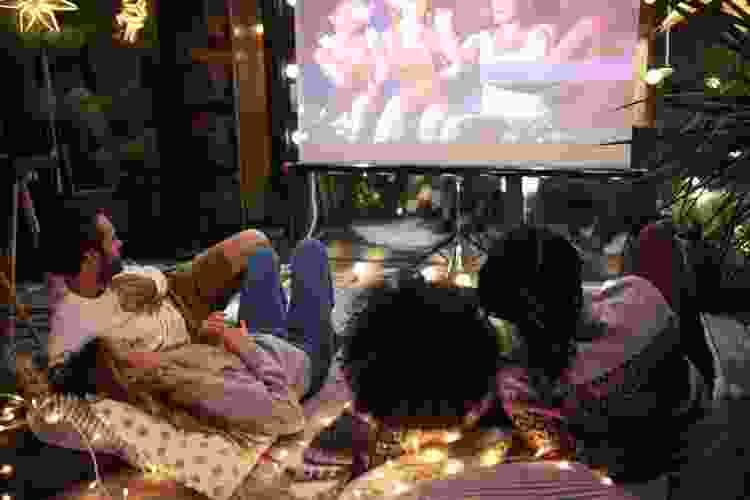 26. Prove Yourself in the Kitchen
A feisty holiday bake-off makes a fun winter date idea that helps you get in the cold weather spirit. Choose categories like Spiced Cookies, Decorative Cakes and European Breads, and select your own special recipes to bring to the battlefield. May the best baker emerge victorious!
Outdoor Winter Date Ideas
27. Get Iced Out
If you're lucky enough to live in a cold weather area, take advantage of any ice bars in your region for winter date ideas that encourage snuggling!
These pop-up hotspots are formed of blocks of ice and feature furnishings and décor all formed of carved ice. Grab a drink and be dazzled by the artistry of these temporary taverns.
28. Get Mobile
Snowmobiling can turn an average winter date idea into a full-blown adventure! Rent a state-of-the-art machine and head out for lessons before taking to the wilds to experience the rush of a glistening winter wonderland. For a group date activity, plan a snowmobile tour and share the sites with a couple of friends.
29. Hit the Hills
What can I do with my girlfriend on a cold day, you ask? Well, nothing gets your chilly hearts racing better than an afternoon spent sledding.
Bundle up, pack some sleds or toboggans, and head for the snowiest hill in town. You'll have a blast reliving carefree childhood moments while making new memories with your special someone.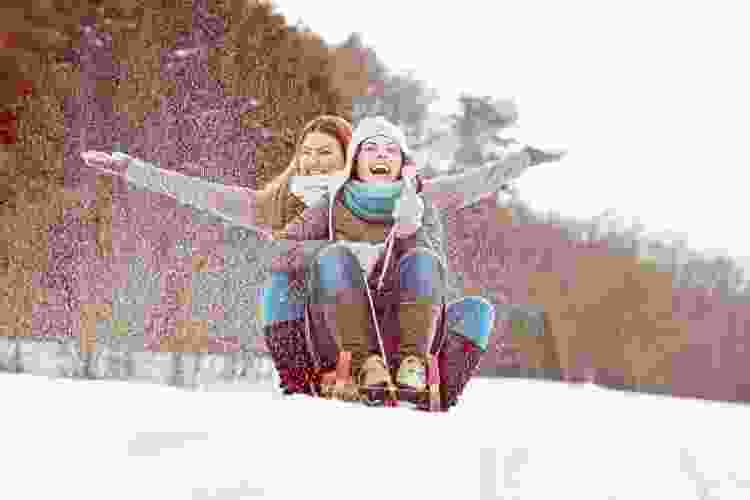 30. Turn Snow into Art
Cold-weather couples looking for winter date ideas in Long Island and other snowy locales literally have a blank canvas to work with! Gear up after a snowfall and build snow folk and snow castles for an outdoor sculpture gallery and fill spray bottles with food coloring and water to create dreamy abstract watercolor paintings in the snow. Don't forget to snap pictures before your masterpieces melt!
31. Grab the Reins
If you choose 100 winter date ideas to explore, make sure carriage rides top the list. Find a horse-drawn carriage in a city center in your area, pick up some warm beverages and load up for a spin around the square. Selfies with the horses are a must!
32. Raise Your Voices
Set out on the road for some Christmas caroling around a neighborhood in need of cheerful tunes. You can share the in-between moments reminiscing with your honey about holidays past as you warm up your voices for the next house.
33. Find Your Foliage
Makeshift forests of Christmas trees pop up on every street corner when winter comes, making a winter date idea that's both fun and functional.
Plan a brisk afternoon wandering through the pines and firs, surrounded by the scent of the woods as you select your ideal tree. Spend the evening decorating to extend your date into the evening hours.
Inexpensive Winter Date Ideas
34. Treat Yourselves
A little hot chocolate and a few pastries enjoyed in one another's company is a winter date idea that doesn't have to break the bank, especially when you're thinking up affordable first date ideas.
Choose a local café and shop their bakery case for local treats that give back to the community. Sharing your selections is highly encouraged!
35. Do a Jig
Puzzle sessions make especially cute fall and winter date ideas. Hit the dollar store, pick up a few colorful jigsaw puzzles and spend a toasty evening inside putting them together. For a challenging twist, set a timer and see who can finish theirs the fastest!
36. Light Things Up
Find a map of local light displays and take a nighttime adventure for a winter date idea that's absolutely free. Coordinated light displays may charge admission of canned food or donated clothing to help local charities, which is a worthy price to pay for spreading holiday cheer!
37. Become Costco Gourmets
The snack bar at Costco is famous for its affordable eats. Plan a big box excursion that includes wandering the aisles sampling the goods before heading to the cafeteria and choosing something mouthwateringly inexpensive and delicious from the menu.
38. Get the Shot
Put the crisp winter white all around to its best use by setting up fun outdoor photo shoots. Try some sweet couples poses and aim for an image you can use in your holiday cards.
39. Become a Snowball Ninja
An old-fashioned snowball fight may seem like a dicey option, but for couples with a competitive streak, it's the ultimate inexpensive winter date!
Set up snowbank obstacles in a local park, create your icy arsenal of snowballs and set the timer for a few rounds of ballistic battle. This also makes a fun double date idea to make sure you have a buddy to watch your six!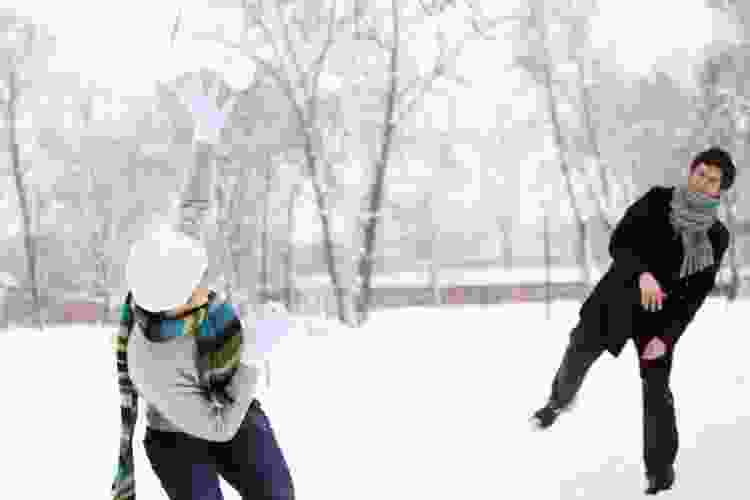 What do couples do in the wintertime? A better question is what don't they do? There's so much to do on winter dates, it may be impossible to cover it all before spring arrives!
No pressure to add tons of stuff to your calendar, though. Even a night on the couch with your favorite person can qualify as a whimsical winter date idea if you put your heart into it.
For even more fun date ideas, check out other experiences happening on Classpop!