59 Double Date Ideas for Guaranteed Fun
Published on Nov 9th 2021
| 0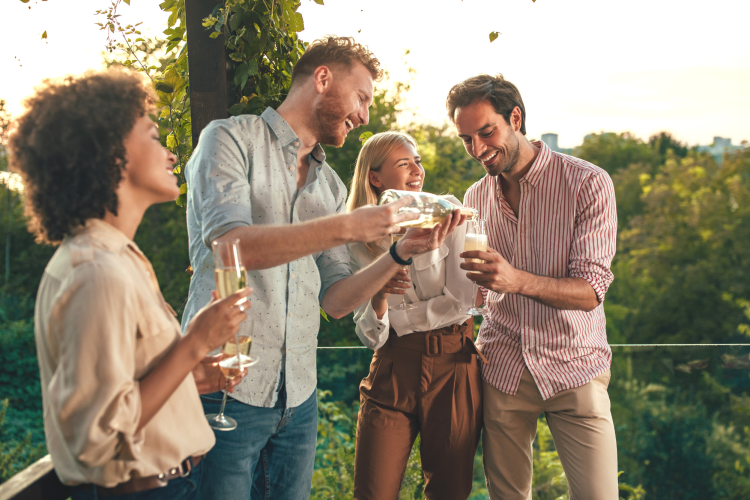 Teaming up with another couple for a fun evening is a great way to explore some exciting double date ideas! With a quartet on the scene, you can double up on fun activities that work better with a group.
The Pew Research Center claims "nearly half of U.S. adults say dating has gotten harder for most people in the last 10 years." Lighten the mood and ease nerves with fun, unique activities with another couple.
The extra energy can add excitement and creativity to your choices. Plus, with more people pitching ideas, you'll have a greater variety of possibilities to choose from.
So, how do you plan double date ideas everyone will enjoy? It's easy enough to adapt your usual date ideas to include a second couple. But if you're looking for new activities to engage in, this is your chance to get creative.
What if everyone has their own list of good double date ideas to explore? Well then…you'll just have to plan a series of double dates and try them all! The following list of double date ideas will get you started in the right direction.
Jump to Section
Creative Double Date Ideas
1. Paint and Sip
With paint and sip in NYC, paint and sip in Orange County, paint and sip in San Diego, and paint and sip near you, you can double up on your double date idea by bringing your favorite bottles to the studio. The wine will help loosen up the artists within as you make creations and memories to cherish!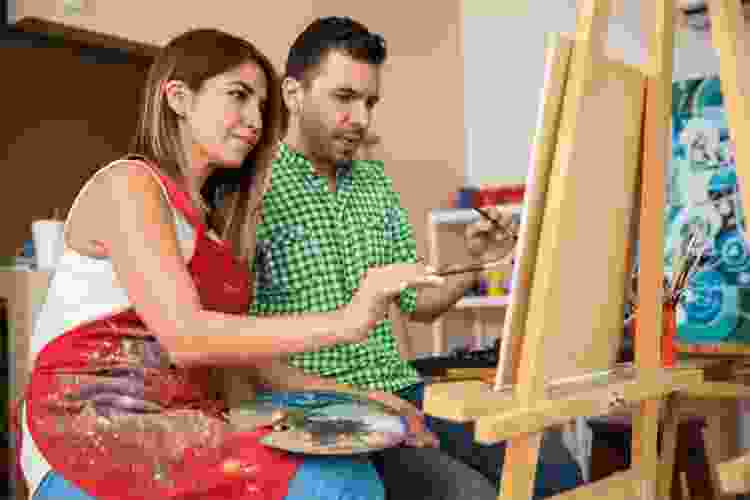 2. Pottery Classes
Throw some clay in a double date idea that adds dimension to your artistry. With interactive pottery classes in San Diego, pottery classes in San Francisco, pottery classes in Boston and pottery classes near you, you'll create a vessel, sculpture or usable art piece that adds flair to your home and fun to your date night.
3. Learn to Draw
In-person drawing classes and online drawing classes make fun double date ideas for the creative and non-creative couples alike. With help from talented art instructors, you'll learn how to tap into your creativity. It's a good double date idea that will change how you see the world.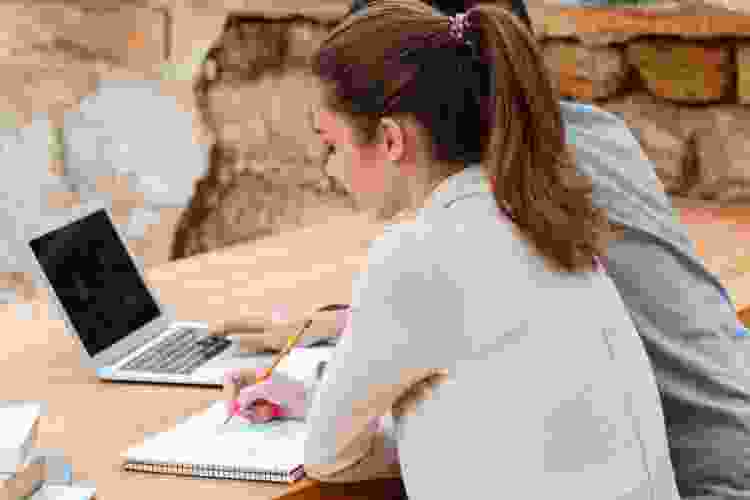 4. Sewing Classes
Explore the fine art of stitchery with some sewing classes. You'll learn how to operate a sewing machine and create artisan projects designed to dazzle. And you'll be taught by skilled artisans who love teaching others to sew. It is a useful and surprisingly fun idea for a double date.
5. Try Glass Blowing Classes
This double date idea is as athletic as it is artistic! The age-old art of glass blowing is fascinating to watch and to participate in. You'll create beautiful hand-blown objects as keepsakes of your artistic adventures.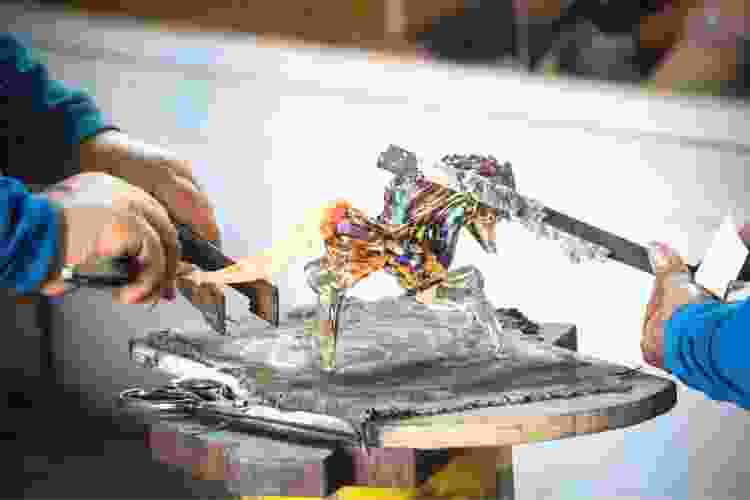 6. Take a Portrait Challenge
Throw your own at-home art double date and have couples pair up and draw or paint one another. Then, rearrange the studio and switch up the artists and the subjects. Everyone gets a turn to be the painter and the painted!
7. Visit a Museum or Gallery
If you haven't visited your local art museum or gallery lately, this fun idea for a double date is a great chance to become reacquainted. Check out a new exhibition or peruse in-house collections for a night filled with inspiration.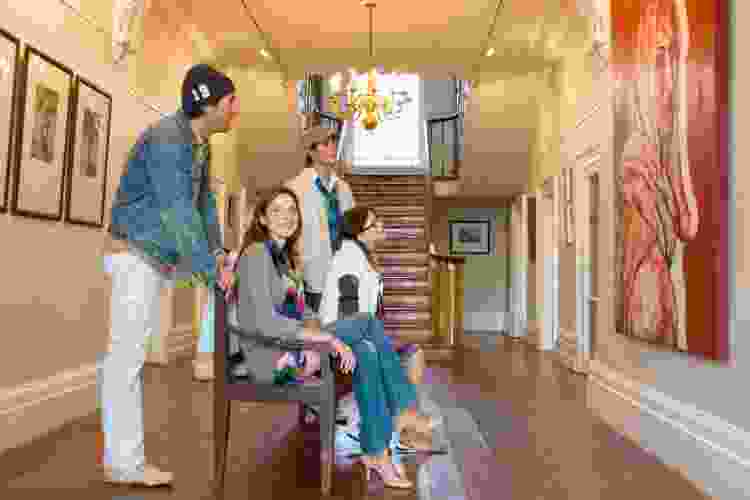 8. Watch Industrial Art
Some industrial artists open their workshops for public viewing. Check out the scene in your area for a fun thing to do on a double date. You'll be supporting local artists while enjoying their process!
9. Have a Photographic Scavenger Hunt
Create a list of objects or views that might be found around the house, in the yard or in a fun public space. Then, have your foursome head off to capture their best takes on those items with their smartphones. Share your discoveries over drinks at your favorite bar for the perfect double date activity.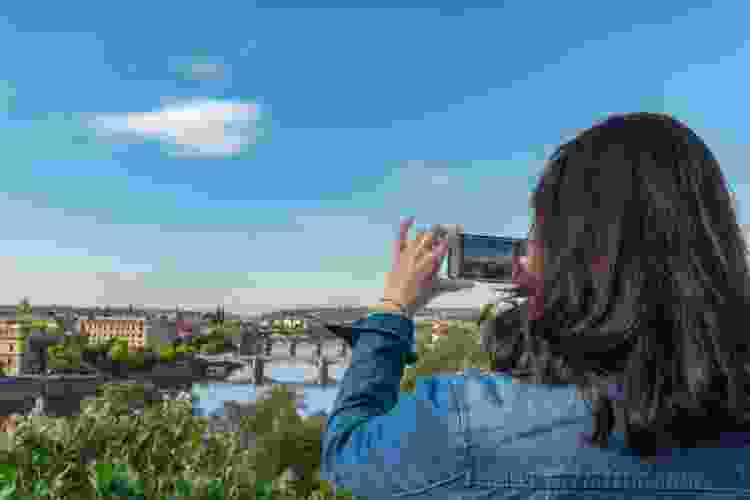 10. Take a Studio Tour
Take advantage of artists opening their studios to the public! You'll get an in-depth view of what a creator's workspace looks like while helping local artists gain exposure and business.
11. Paint a Masterpiece
Sign up for painting classes that let you explore your inner artist. You'll be led by skilled artists who love sharing their knowledge with budding painters. And you'll end the night with new works to hang on your walls. Browse painting classes near you to get started!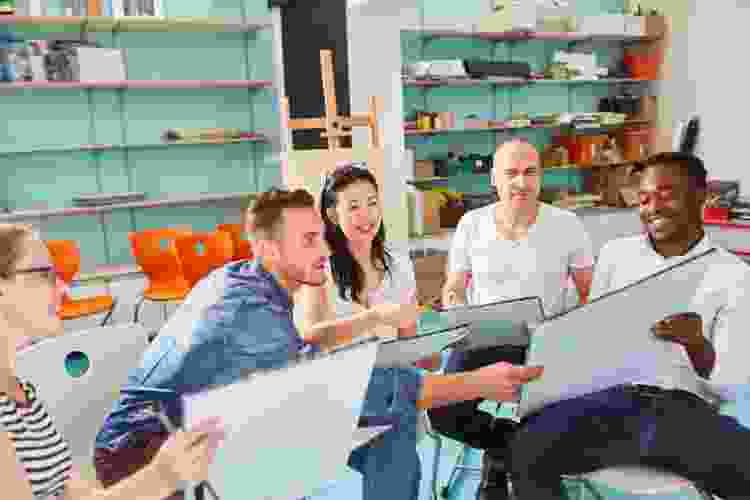 12. Take Other Art Classes
From sculpture and fiber arts to graphic design and industrial arts, art classes make fun double date ideas that get you out of your comfort zone! Choose a medium that's familiar to the group or pick a new art form for everyone to discover together.
Foodie Double Date Ideas
13. Take a Cooking Class
Learning to cook as a quartet is a fun and delicious double date idea. With big city offerings like cooking classes in Chicago, cooking classes in Las Vegas, cooking classes in Baltimore and beyond, you can explore new cuisines and specialties the whole crew will love. Check out the cooking classes near you to see what's available in your area.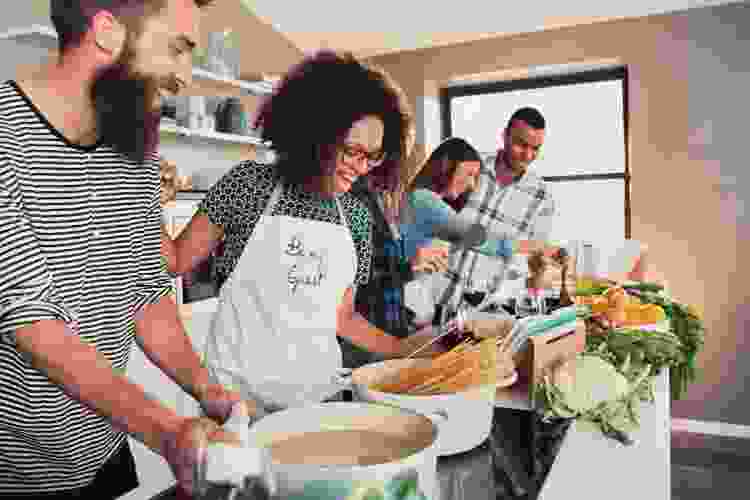 14. Learn to Cook at Home
With online cooking classes, you have a double date idea that keeps travel to a minimum. Learn in a virtual environment from a gourmet chef with a passion for teaching. Check out our list of the best Zoom cooking classes in 2022! You'll cook up a special meal to enjoy together in your own home kitchen.
15. Do a Pub Crawl
Take a journey to your favorite bars with a fun pub crawl. Each person chooses a beloved location to visit. For a fun twist, have everyone choose a new watering hole based on their best guess of what the others might like.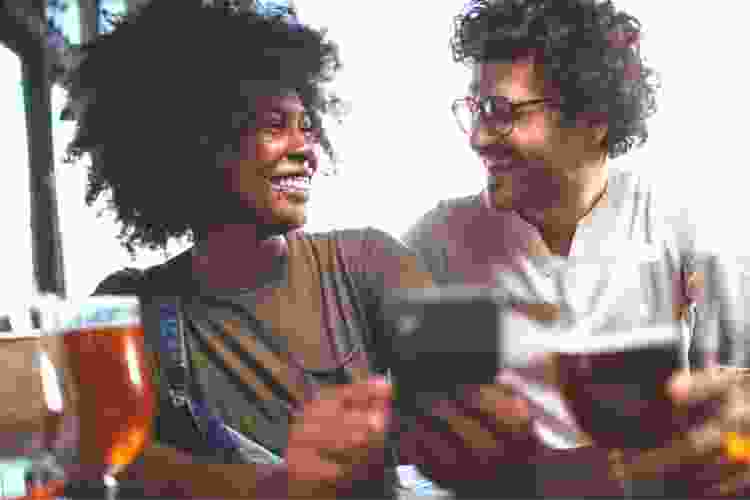 16. Create a Baking Challenge
For another hands-on double date activity, gather in the kitchen for a bake-off that gets everyone in on the excitement. Choose new or favorite recipes and work as teams to compete for the golden rolling pin!
17. Take a Restaurant Tour
Book a few reservations for an evening of fun food-hopping in this mobile double date idea. Choose a different locale for dinner, dessert and drinks. Have fun shifting atmospheres as you move from course to course. This is an especially fun date idea in NYC and other cities with a vibrant restaurant scene.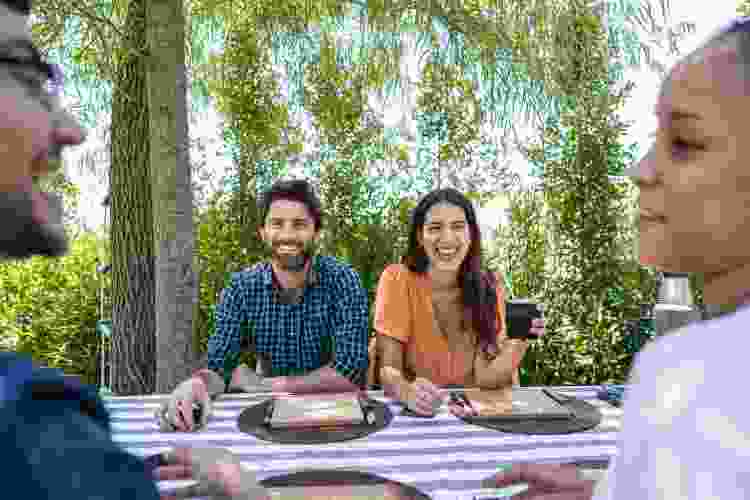 18. Book a Distillery Tour
Lift everyone's spirits with a distillery tour. You'll get a behind-the-scenes look at the distillery process and sample the goods afterward. Pick up some new bottles to add to your home bar, too.
19. Sign Up for a Brewery Tour
A great double date idea for beer lovers, explore new brews and ales while soaking in the ambiance of some taverns you haven't tried yet. You'll have a list of new favorites by the time the night is through!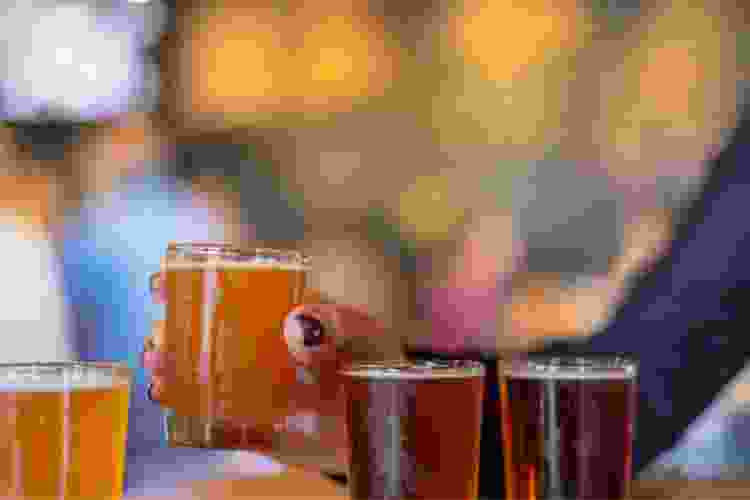 20. Head to a Dinner Cinema
Dinner and a movie make for a classic double date idea. Find a local theater that serves full menu dinners and book an evening of dining and movie-watching for all to enjoy. Finding a double feature for your double date is a double bonus!
21. Stroll a Farmers Market
Foodies will love this double date idea! Take an early morning excursion to a farmer's market and check out the produce and artisan goods. Plan a recipe and shop for ingredients to enjoy a special lunch afterward.
22. Roast Some Coffee
For coffee lovers, learning how to roast coffee is a must-do double date idea! There are local roasters in towns everywhere who open their doors to anyone interested in watching their craft. You'll get to sample the roasts while supporting local business.
23. Pack a Picnic
Take the double-date fun outdoors with an old-fashioned picnic. Have each couple pack a basket of their favorite offerings to share. Split the list between appetizers, entrees, sides and desserts for a multi-course feast al fresco!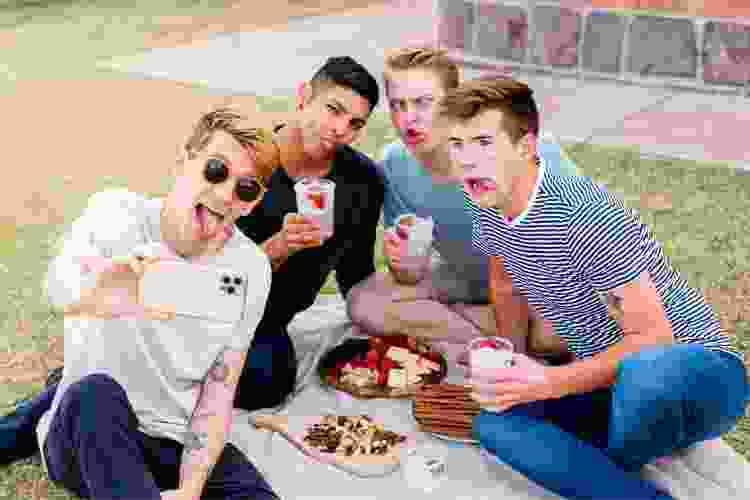 24. Take a Chocolate Tour
If confections are your thing, find a local chocolatier and sign up for a tour for four. You'll learn the difference between grades of chocolate while learning about tempering and tasting their specialties. Pick up a sampler pack to enjoy at home on your way out!
Unique Double Date Ideas
25. Learn a New Dance
With dance classes in Orlando, dance classes in Los Angeles and even online dance classes, you have a double date that gets everyone moving. Choose a dance everyone knows or pick something unfamiliar to level the playing field – or dance floor!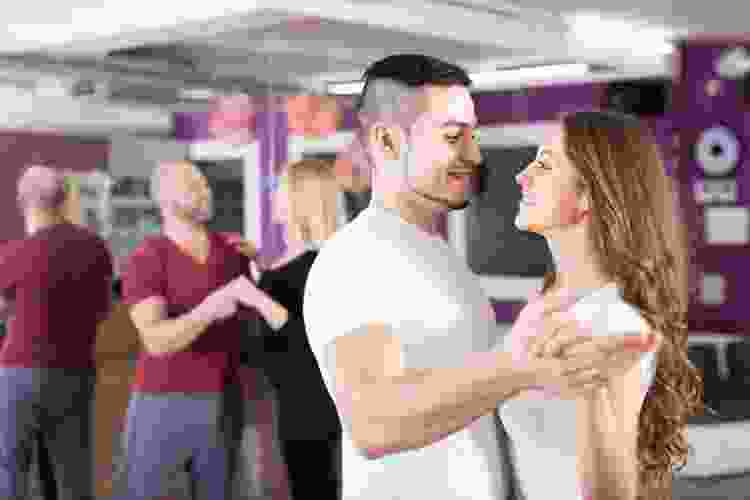 26. Take Acting Lessons
Sign up for in-person acting classes and online acting classes for a double date that puts your crew in a new emotional space. You'll discover what it takes to create a performance…and maybe even get bitten by the acting bug!
27. Snap Some Photos
Take your best shot with this creative and useful date idea! With photography classes and online photography classes, you'll learn how to use your smartphone or camera to create works of art anytime the mood strikes.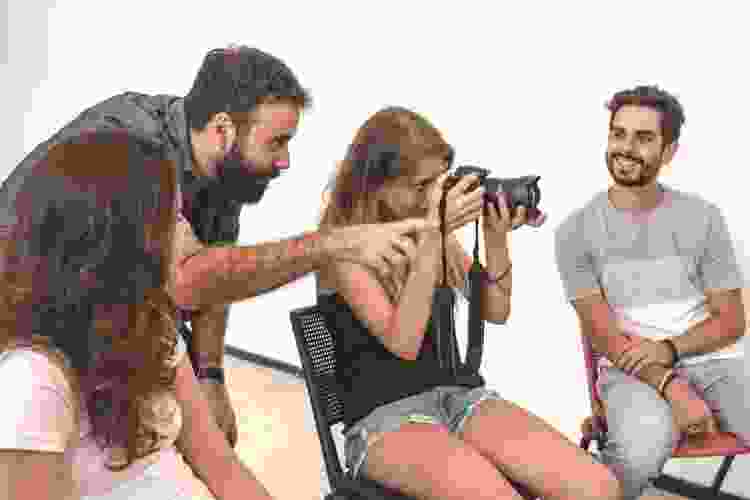 28. Arrange a Bouquet
Book virtual flower arranging classes for a cute double date idea that adds a little color to your life. You'll learn about flower types, aesthetic principles and how to turn a simple bouquet into a work of art.
29. Do Some Woodworking
Check into woodworking classes for creative double date ideas that let you build something special together! You'll learn techniques for using power tools to craft unique handmade furnishings that you can take home as mementos.
30. Visit a Letterpress Studio
The age-old art of letterpress – stamping publishable designs onto paper – has made a comeback in recent years. Seek out an artist who uses this Industrial Age machine and take a lesson in creating your own timeless stationary designs.
31. Attend a Poetry Slam
Listen to the sharp literary stylings of local poets with a poetry slam double date idea. Depending on the locale, you can enjoy coffee or beverages while soaking up some cool creative vibes.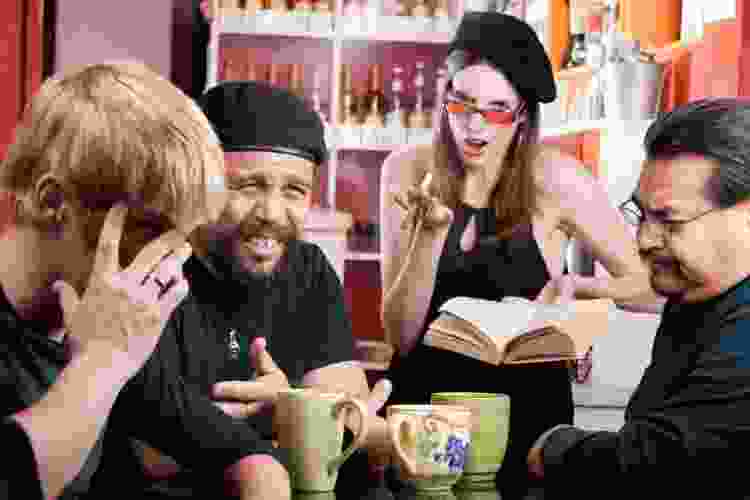 32. Book an Improv Class
When the rule is to say "yes" to everything, you're in for a fun time! This double date idea will challenge everyone to loosen up and roll with the punches, laughing all the way.
33. Take a Historic City Tour
An educational double date idea is never a bad thing! Learn a little something about your city with a tour of historic sites and landmarks. Make sure there's a restaurant on the list for fun bites afterward.
34. Check Out a Ghost Tour
When the spirits beckon for a double date adventure, you can't say no! Find an excursion around the most haunted sites in your area for a fun evening of chills and thrills.
35. Jump Into Indoor Skydiving
For the more adventurous couples, this exciting date idea is a high-flying exploit without the danger of real skydiving. Restrictions exist for those with health limitations, so make sure everyone is in allowable condition for the dive before booking.
36. Amuse Yourselves
Amusement-themed restaurants are filled with fun things to do on a double date. Schedule a night of video games, bowling, indoor obstacle courses and more. Add a meal and some cocktails for an evening to remember!
Double Date Ideas at Home
37. Stir Up Some Beverages
Online mixology classes are a fantastic double date idea for creating cocktail fun without leaving the house. You'll find expert mixologists with inventive menus to share waiting to show you how to shake things up!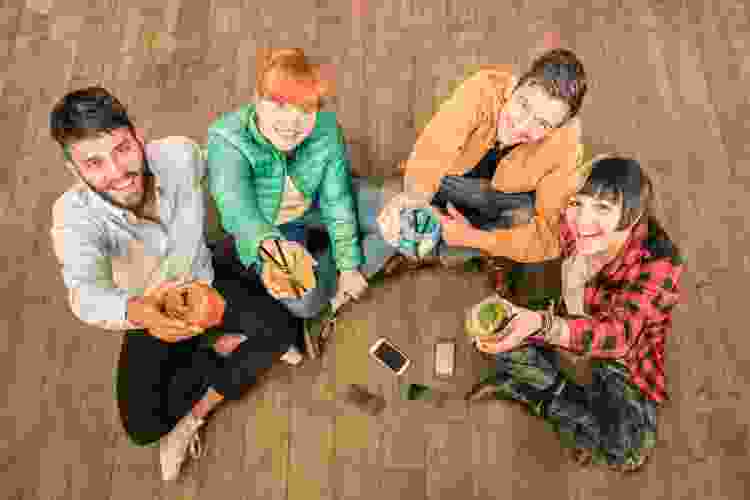 38. Sample Some Wine
With virtual wine tastings, you can have a wine country double date from the comfort of your own home. There are world-class sommeliers eager to teach you about bouquet and varietals. Pair with your own snacks and charcuterie!
39. Host an Indie Film Festival
Find the best of indie cinema streaming online, prepare some snacks and sit back for an indie film fest. Everyone gets a vote on the titles for a double date idea that brings the movies home to you!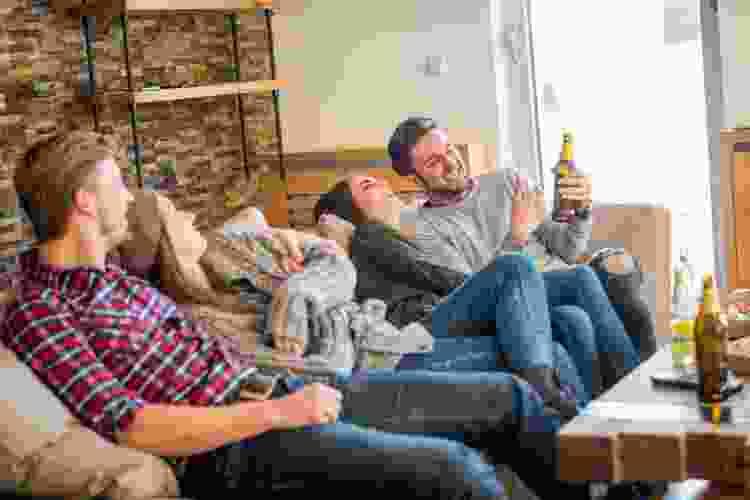 40. Have a Culinary Challenge
Put your combined cooking skills to the test with a reality TV-style competition. Everyone creates a dish and votes for their favorite. It's a four-course contest, with everyone in the running for Top Chef.
41. Create a Mini-Spa Experience
Indulge in a couple's spa night at home with facials, manicures and pedicures. Make sure there's soothing music, soft lighting and relaxing drinks for a cute date idea that gets everyone relaxed.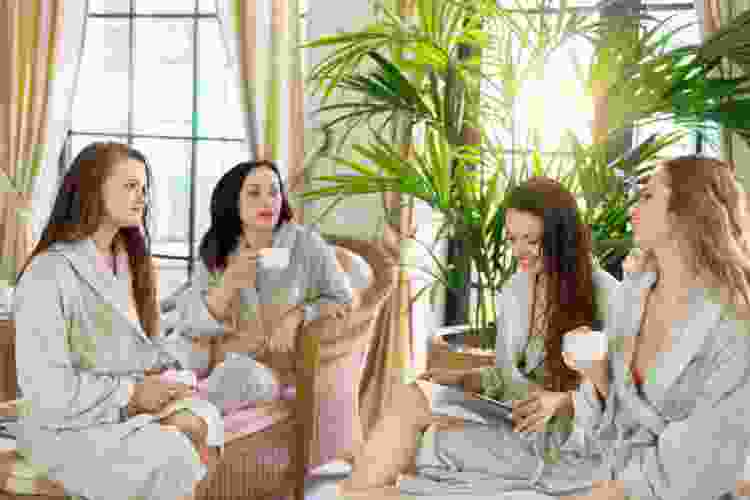 42. Throw a Viral Dance Challenge
Give the latest online dances your best shot with a dance challenge. Everyone teams up to learn the moves and performs on video for a vote. Best dancers get uploaded to social media!
43. Have a Patio Hangout
The simplest home-based dates can be the best! String some lights and add some cozy seating to your front porch or back patio. Bring a tray of snacks and some beverages and cue up a playlist for some down time at home.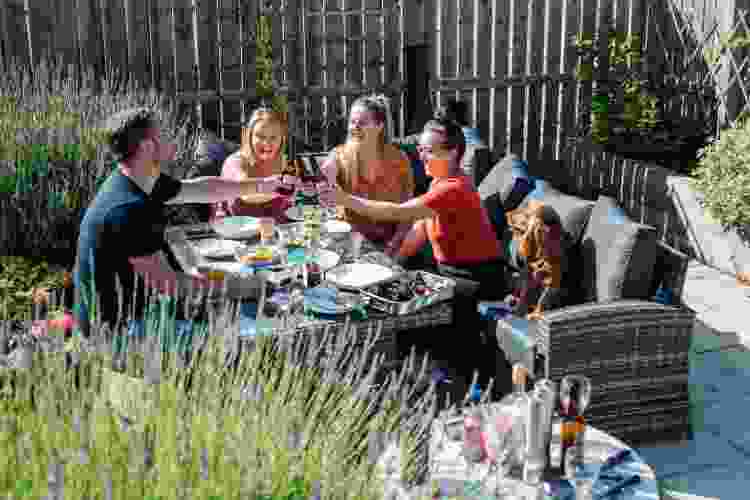 44. Throw a Tasting Party
Order in from a restaurant you've never tried before. Have everyone choose a dish, then sample your options for an exciting date idea that introduces you to some favorite new flavors.
45. Make a Music Video
Cue up your favorite tracks and make some fun music videos of your own. Use an easy video editing app to add cuts and effects. Then, send the finished clip to everyone as a reminder of your cute double date idea.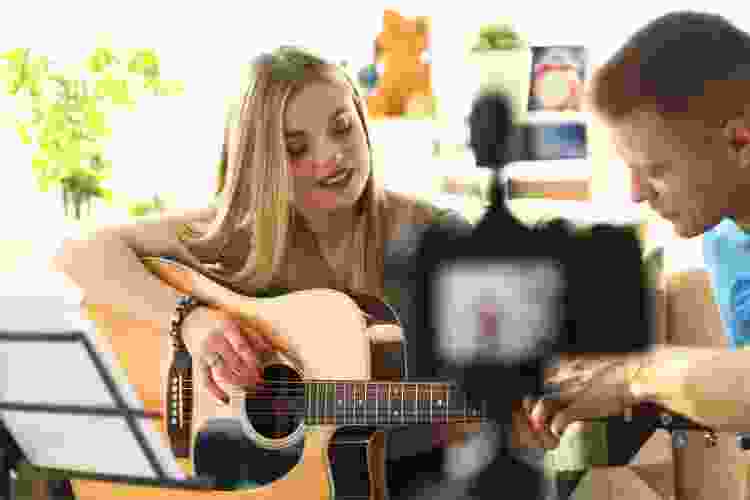 46. Enjoy an International Dinner Club
Have everyone prepare their favorite global from various cultural cuisines and serve them together, banquet-style. It's a double date idea that merges cultures while introducing everyone to new tastes and textures.
47. Dine on Desserts
Request that everyone create their favorite dessert dish for dinner. Serve them in courses one at a time with a special wine for a sweet feast.
48. Try Netflix Trivia
Cue up a classic pop culture film everyone in the group knows for this cute idea. Then, challenge the crew to trivia questions about the actors, the settings, the story – whatever comes to mind. Use pop-up features in your streaming services to guide the trivia.
Double Date Games
49. Gear Up for Online Gaming
With online virtual game nights, you can spend an evening at home in a friendly double date competition! You'll be led by game masters who know how to keep the fun rolling. It's a great way to bring game night into the 21st century.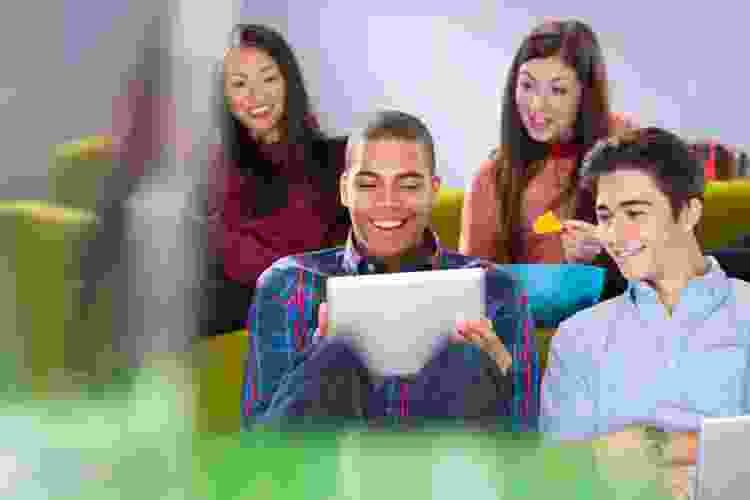 50. Have a Virtual Trivia Night
Online trivia games are a great double date idea that gives you a pub atmosphere from the comfort of your own home. There are energetic trivia masters at the helm to help you get the most of your virtual quiz.
51. Team Up for an Escape Room
With virtual escape rooms, you can plan an exciting double date getaway without leaving home. Online guides will lead you as you solve puzzles and work your way toward the exit. A great home-based twist on the standard escape room!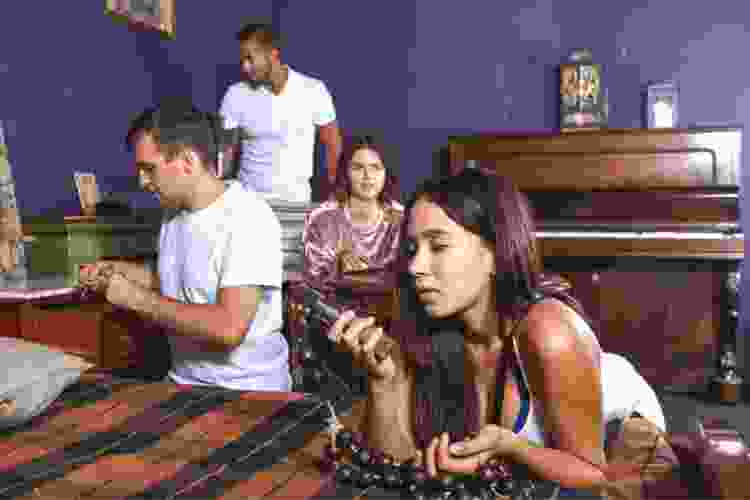 52. Try a Virtual Scavenger Hunt
The search is on with virtual scavenger hunts! Sign up for this competitive date idea and you'll be digging up fun household items to complete your challenge. That junk drawer will finally come in handy!
53. Do Some Axe Throwing
Play darts like the lumberjacks do with an exciting axe-throwing session that makes other double date games seem like child's play. Play as singles or pair up as teams for some friendly competition.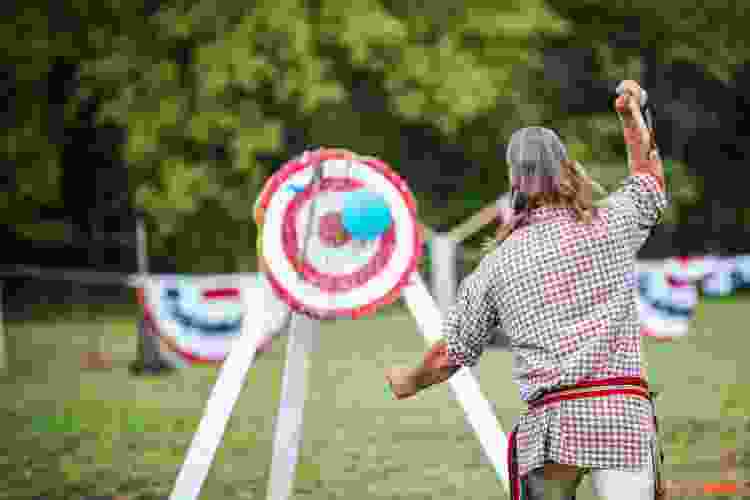 54. Have a Go-Kart Race
Put your driving skills to good use with a fun go-kart double date. Race as pairs, teams or singles. Take a victory lap afterward and head for the winner's circle (otherwise known as your favorite restaurant)!
55. Throw an Old-Fashioned Game Night
Dig out your favorite childhood board games, pop some popcorn and have a carefree night of gameplay. Add some adult beverages and see how creative you can get with the rules!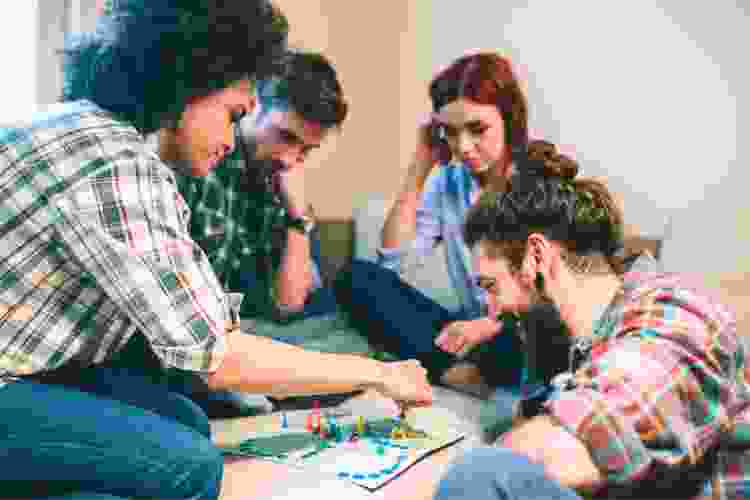 56. Try Downtown Hide-and-Seek
Choose a downtown block in your area and decide who in your double date crew will be the seeker. Then, split up and hide in plain sight among the shops and restaurants. The seeker tries to find everyone else while they browse and blend in, in twenty minutes or less.
57. Zap Each Other With Laser Tag
Tie on the sensor vest and aim for the flashing lights with a laser tag competition. It's a double date that lets your crew live out their wildest sci-fi movie fantasies!
58. Enjoy Some Pub Games
Hunker down in a favorite watering hole for a few rounds of darts, pool or air hockey. Sign up for a tournament if there's one available. And make sure to keep the snacks and drinks coming.
59. Perform a Karaoke Challenge
Plan a double-date night of fun musical performance with you in the spotlight! Settle into a karaoke bar in your area and put your best voices to the test, or download a karaoke app onto your phone or tablet and sing your hearts out at home.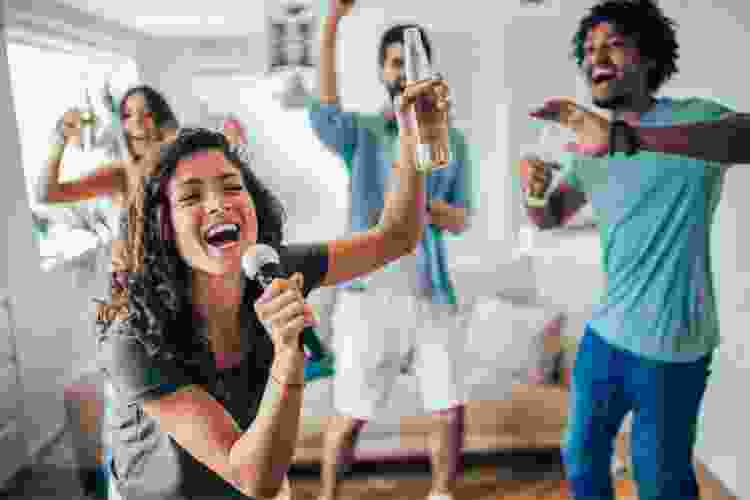 Double dates are special occasions that can add exciting new ideas to your usual options. With two couples throwing double date ideas in the hat, there are twice the opportunities for everyone to enjoy the night. Everyone's interests can be accommodated. And remember: your double date doesn't have to be elaborate to be enjoyable. An evening at home watching a movie and enjoying a meal with another couple makes an enjoyable double date, too.
For even more fun double date ideas, check out other experiences happening on Classpop!