33 Ultimate Date Ideas in Houston For 2022
Published on Sep 2nd 2022
| 0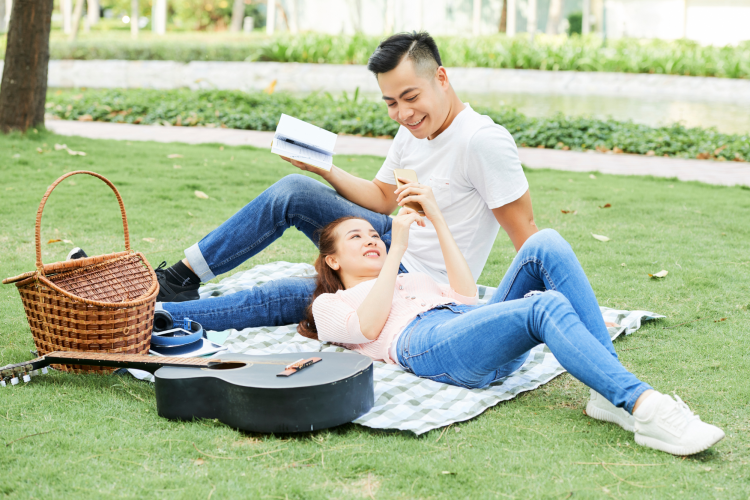 Whether you live in Houston or are visiting for a romantic weekend away, you might be wondering "what is there to do on a date in Houston?" and we've got you covered with a laundry list of date ideas in downtown Houston and surrounding areas.
Texas' most populous city is known to be a culinary powerhouse with inputs from all different cultures shaping the city's food scene. Houston, TX also boasts a few good sports teams and a world-famous rodeo, to name a few things!
There is no shortage of free things to do in Houston for couples, or you can spend a few bucks and check out a live event or awesome food truck. Keep reading for our top 33 date ideas in Houston.
Jump to Section
Creative Date Ideas in Houston
1. Hit the Dance Floor
Texas is known for line dancing and the two-step, so why not check out some dance classes in Houston to brush up on your skills or learn something new?
This is a fun and romantic date idea that lets you work up a sweat and bond with your boyfriend or girlfriend. Online dance classes are also available and can be done from the comfort of your home, if you're worried about having two left feet.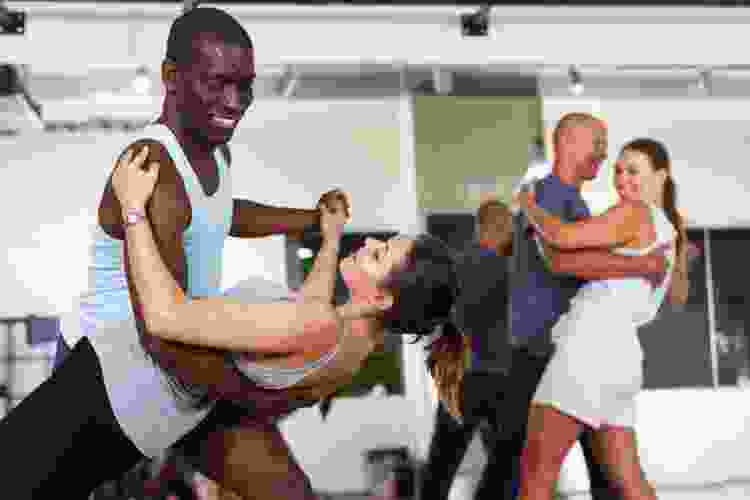 2. Take a Pottery Class
Get in touch with your creative and get hands-on in a pottery class with your partner. Whether or not this art skill is new to you, it's a great way to bond and use your hands for a cute keepsake from this date idea in Houston.
3. Art Class for Two
Most of us haven't created art since we were little kids, so stepping into that creative side is a fun date idea in Houston to laugh and smile with your date. Check out paint and sip in Houston or drawing classes to brush up on your skills and maybe even find a new hobby you enjoy.
4. Snap a Photo
Learn to take the best pictures possible, whether it's with your iPhone or a professional camera. This date idea in Houston will have you vying for boyfriend of the year as you learn to take expert level photos of your girlfriend for Instagram.
5. Immerse Yourself in Art
Head over to Lighthouse Immersive Houston for an immersive and engaging art experience featuring Frida Immersive Dream. Check their website for new exhibits as they change throughout the year!
This interactive date idea in Houston is a more exciting and colorful way to experience beautiful art with your date. Enjoy an adult beverage and stroll through a watercolor landscape.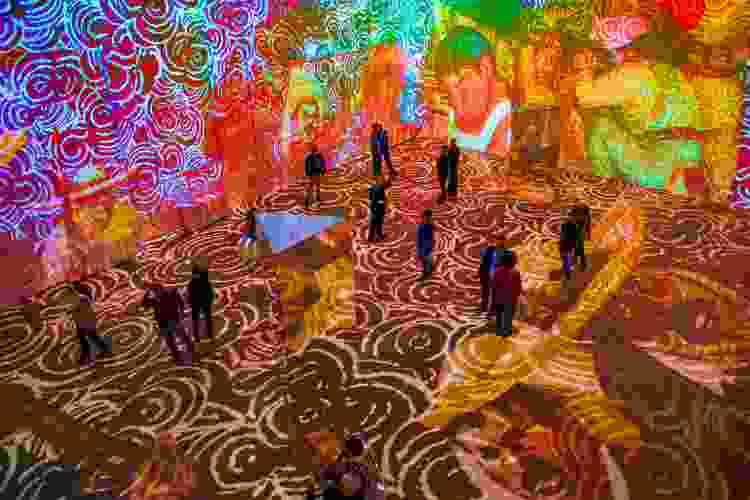 Foodie Date Ideas in Houston
6. Cook Something Together
Whether you're a total beginner or you know your way around a kitchen, cooking classes in Houston are a fun way to enjoy a good meal together.
This date idea in Houston can take you out on the town for some scratch made pasta or hand-rolled sushi, or you can take one of many online cooking classes available and use your own kitchen.
7. Mix the Perfect Drink
Nothing goes better with a great meal than a perfectly balanced and paired cocktail, so learn to make your own with online mixology classes. The perfect accompaniment to a home cooked meal, and an ideal date night idea in Houston.
You can also sign up for virtual wine tastings, for the feeling of a Napa wine tour from the comfort of home.
8. Eat Dinner on a Barge
For a fun date idea outside Houston, head over to Clear Lake for dinner atop Barge 295. This two-story floating barge is anchored just off Seabrook and offers a nice dinner menu full of fresh gulf seafood to enjoy.
Sometimes there's even live music aboard the boat, so you can enjoy the weather in this open air dinner cruise complete with entertainment.
9. Eat Out at Post HTX
Post HTX is a downtown hub for great food, culture and recreation all in one spot. Not to mention, the perfect location when your girlfriend doesn't know what she wants to eat because there are tons of options to choose from.
Schedule a lowkey date night in Houston and check out the Post HTX website ahead of time for upcoming concerts and special events.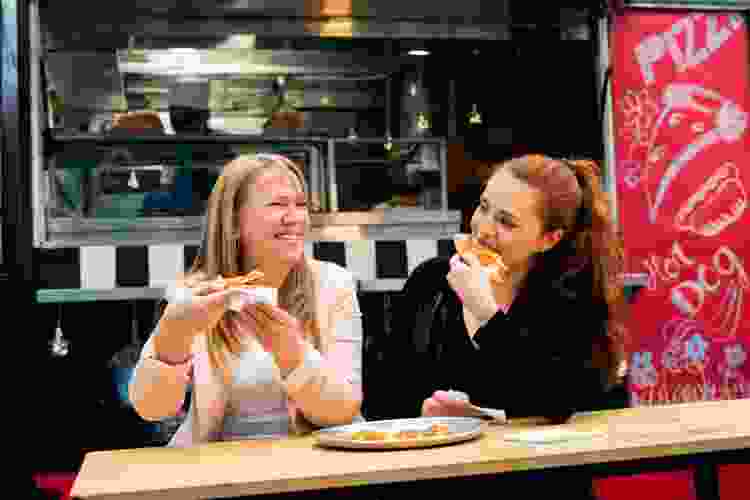 Unique Date Ideas in Houston
10. Learn to Act
Taking an acting or improv class is a really unique date idea in the Houston area that lets you really challenge yourself and step out of your comfort zone.
It may even help you work on your communication skills within your relationship, as an added bonus. You can also take online acting classes which make for a fun double date or group date idea for a night in.
11. Get Up in the Trees
Take your date for a thrilling afternoon in the woods to build your bond and get the adrenaline pumping at Texas Treeventures. Spend three hours up in the trees on their aerial obstacle course, or for an even sexier date idea in Houston, check out their illuminated Glow in the Park or Sunset S'mores. You can also rent treehouses for a fun overnight staycation.
12. Visit a Hindu Temple
Plan a visit to the BAPS Shri Swaminarayan Mandir in Houston and explore the wonderful history and extraordinary architecture of this 11,500 square foot palace.
With grounds covering close to 33 acres and a massive temple to walk through, this is a relaxing date idea in Houston that you can easily spend the whole afternoon doing.
13. Ride Through the Sky
Maybe it's a birthday or anniversary or maybe you just want to plan an extra special date… look no further than a helicopter ride through the sky! This romantic date idea through Houston will make your date feel extra special and you'll both get to experience never before seen views of the city from above.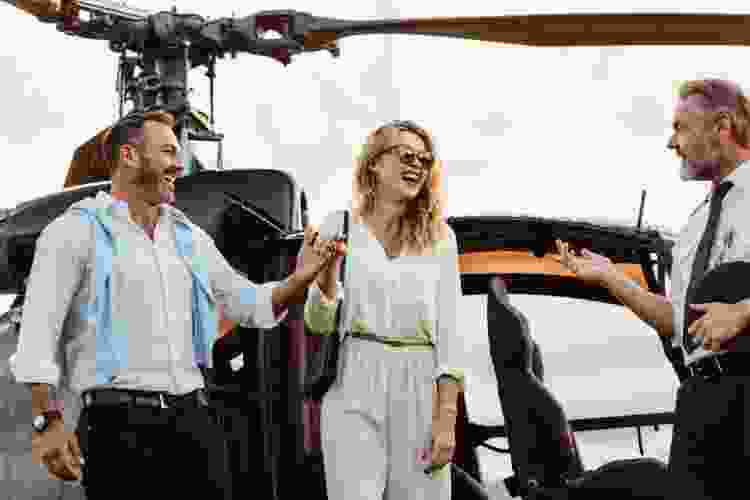 14. Cheer On the Houston Astros
Depending on the year (and maybe who you ask) Houston has a pretty competitive professional baseball team and games are quite the ordeal. Grab your date and head over to Minute Maid Park for the ultimate date idea in Houston to really celebrate the town. Dress up in Astros gear and enjoy the ballpark snacks and energy of the ballpark.
DIY Date Ideas in Houston
15. Make a Bouquet
Ever wondered "what is a fun thing to do for a date?" then you should consider taking a virtual flower arranging class. Girls love getting flowers, so what better way to make her feel special than with a stunning arrangement that you made yourself!
Plus, she can learn some tips and tricks for arranging her own bouquets for parties, gifts for mom or just making that bundle from the farmers market look extra special.
16. Take a Woodworking Class
Learning a new skill together is a great way for couples to bond, and chances are good your boyfriend has said yes to his fair share of shopping dates or "girly" date ideas in Houston that he wasn't totally stoked about… So return the favor and check out a woodworking class together!
This is a slightly more masculine class, so he will feel right and home and you never know, you might find a new hobby. You can also try out a glass blowing class, the perfect meeting of masculine and feminine while still letting your creative side shine.
17. Take a Sewing Class
Sewing is actually a very useful skill to have, so if either or both of you could use some work, check out a sewing class together! You may take what you learn at this fun date idea in Houston and run with it, or you might just use the new skills to patch up your clothing that gets a tear in it. Either way, learning something new together can be fun!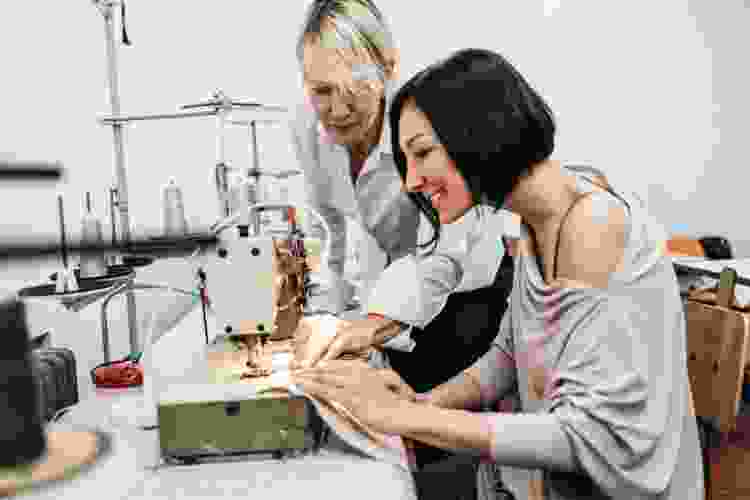 18. Go Berry Picking
Depending on the time of year, you can find local farms in the area that offer Strawberry, raspberry and blackberry patches you can pick from.
This hands-on date idea in Houston is a nice way to enjoy lovely weather and maybe get you in the mood for some baking, maybe a fresh fruit pie? A wonderful choice for a first date in Houston because it's easy to chat and get to know one another in a relaxing environment.
Indoor Date Ideas in Houston
19. Have a Game Night at Home
Houston can be a little hotter than is comfortable in the summer months, and sometimes nothing sounds better than strong A/C and staying home.
Make a fun double date or group date night and check out online trivia games, virtual game nights or even a virtual scavenger hunt for an awesome indoor date idea in Houston that you can do from home. You can even check out a completely virtual escape room for a challenging and engaging date night at home.
20. Visit Sugar Room Bar
Sugar Room may sound like a place for sweet treats, and while it is designed to resemble a bakery it's actually a modern day speakeasy. Plan a cool date night in Houston and enjoy craft cocktails and mood lighting with your partner. They also have a pretty sweet outdoor patio, if the weather allows for it.
21. Go Bowling at Pinstripes
Pinstripes offers a high-end bowling experience and great indoor date idea for Houston when the weather is too hot. Snack on fresh bites from the bistro and go for a strike on their upscale bowling lanes. It serves as a fun double date idea as well!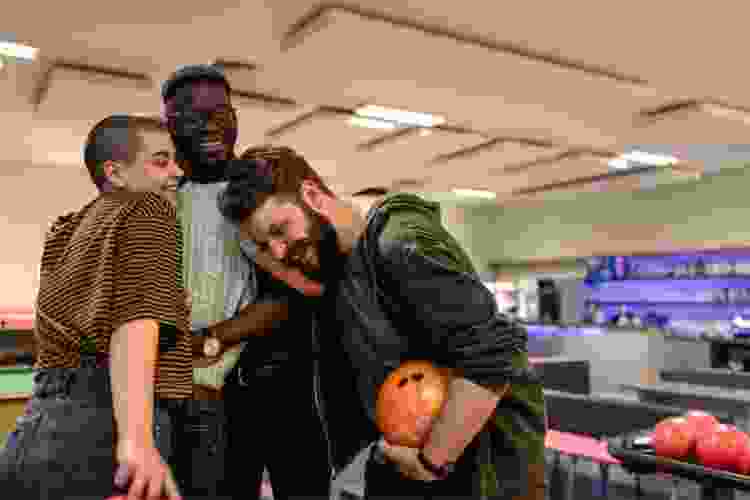 22. Enjoy a Psychedelic Odyssey
Hop aboard the Dr. Jack Express train, where tickets are only $3.50 and enjoy an immersive art experience as you wind through the Japanese Garden, Miller Outdoor Theater and even pass by the Jones Reflection Pond.
You will be suddenly catapulted into another dimension with a tunnel full of mind-altering artwork that could be from another universe. This funky date idea in Houston is a great way to get out, stay cool and still experience some of Houston's incredible parks and local art.
23. Visit the Drive-In
The inside of your car counts as indoors, right? Crank the AC and enjoy an old-school drive in vibe on this cute date idea in Houston, perfect for hot summer nights. Pack a picnic and tune into the local FM channel as you enjoy this traditional style drive-in theater.
24. Get Underground for a Tunnel Tour
Houston is home to the most extensive series of underground tunnels in the entire U.S. and you can do your own walking tour for an interesting perspective and informative date idea in Houston.
These air-conditioned underground tunnels will take you all over the city, below a bustling business district and numerous Fortune 500 companies. Some guided tours of the tunnels include visits to certain famous businesses that reside above as well.
Outdoor Date Ideas in Houston
25. Play Putt-Putt
Head over to the Pixar Putt-Putt course for a little friendly competition. Enjoy your favorite Pixar movies re-imagined in this pop-up putt-putt course for a cute date idea in Houston. Enjoy snacks and beverages afterwards. The winner has to pay!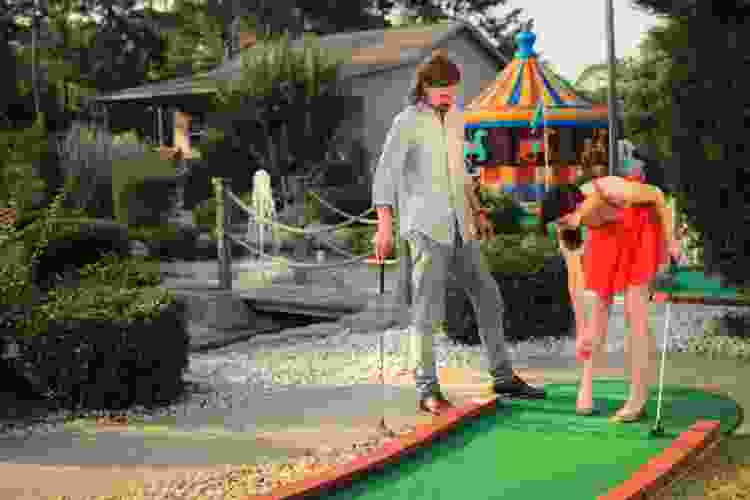 26. Visit the Park
Houston is home to a number of beautiful parks sprinkled throughout the city for your enjoyment. A great date idea right in Houston for a cute picnic and the chance to enjoy the beautiful Texas Sky at sunset.
Check out Smithers Park, Eleanor Tinsley Park or the Rothko Chapel for a perfectly serene and beautiful experience.
27. Catch a Show at Miller Outdoor Theater
Hermann Park hosts the Miller Outdoor Theater where everything from live music to ballet and film screenings make an appearance. This outdoor date idea in Houston is great during the fall and spring, when the weather isn't too hot yet.
28. Find Serenity at the Japanese Garden
Stroll hand in hand through more than five acres of elegant and beautiful terrain designed by late Japanese landscape architect Ken Nakajma. This peaceful date idea in Houston is a good way to escape the hustle and bustle of the city and connect with one another in nature.
29. Ride at Cypress Hills Equestrian Center
If you've ever wanted to know "where can I take a girl on a date in Houston?", you should definitely consider a horseback riding date. It will show off your thoughtful and romantic side, plus this date idea in Houston is suitable for all ability levels to saddle up and explore some beautiful nature.
Free & Cheap Date Ideas in Houston
30. Cozy Up at the Library
Visit the Lanier Theological Library, where admission is free, and take in the stunning old world architecture. You'll feel like you're in Oxford, England in this cozy date idea in Houston that's perfect for a lazy weekend or a rainy day.
31. Watch the Bats at Waugh Bridge
While Austin, TX may be "Bat City," Houston is home to a massive population of Mexican free-tailed bats and they love to camp out under bridges.
Locals and visitors alike will gather around to watch the bats stretch their wings in this unique date idea downtown Houston. A fun and interesting phenomena to experience with your date at dusk.
32. Get Misted at Houston's Great Waterwall
For a truly picture-perfect date idea, head over to Gerald D. Hines Waterwall Park with your date. Standing in front of the waterwall offers a refreshing mist, perfect on a hot day in the city.
This is a super cheap date idea that you can customize to your wants and needs by planning a picnic or dinner date before or after your stroll to the waterwall.
33. Go Stargazing
When the daytime is too unbearably hot, it usually means the temperature will be just about perfect outside by the time the sun goes down. Head out for a romantic late night date idea in Houston at the James Turrell Twilight Epiphany Skyspace and take in the natural beauty of the night sky. It hosts an equally beautiful experience at sunrise, if you're an early riser.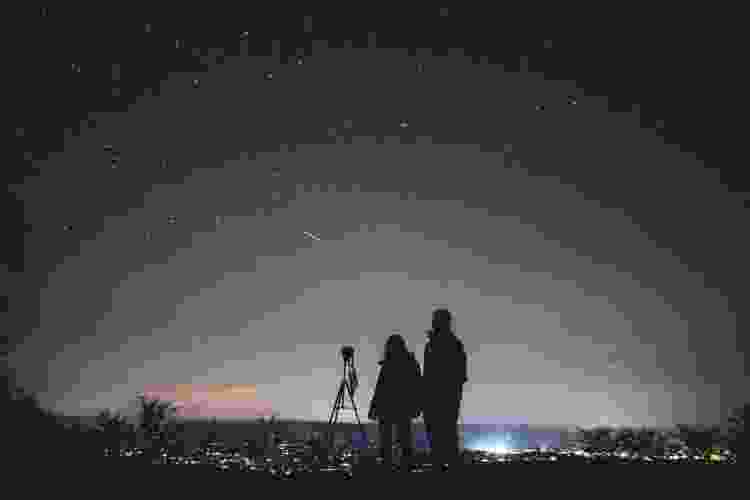 Whether you're a Houstonian at heart or visiting for a romantic weekend getaway, there's no shortage of ways to enjoy the city and all it has to offer. Houston is truly a cultural melting pot and in terms of cuisines to enjoy, and has perhaps the most to offer out of any big city in Texas.
There's great bites all over the city from sit down restaurants to food trucks and you will want to try as many as possible. Plus, the city is home to a booming art scene, with everything from free street graffiti parks to immersive and interactive art experiences for you to cherish with your date.
For even more fun date ideas, check out other experiences happening on Classpop!