39 Most Memorable Date Ideas in Los Angeles
Last Updated on Jun 14th 2023
| 0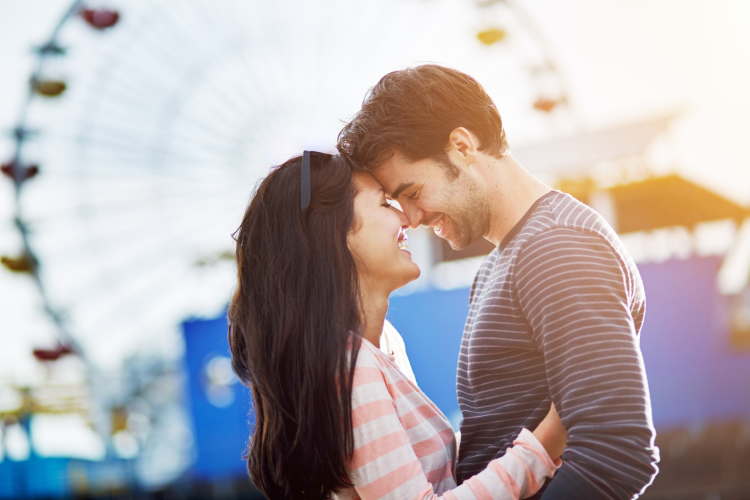 From its picturesque beaches to the scenic Mulholland Drive, date ideas in Los Angeles are brimming with stunning vistas, colorful attractions and classic Hollywood glamor to create the perfect setting for inspiring romance.
Wondering what to do on a first date in L.A.? The diversity of the bustling city along with an abundance of sunshine combine to offer a wide range of romantic, fun ideas from meandering along its historic streets to taking on an outdoor adventure.
So, what can you do on a date to make it special? Make a good impression with a date that is well thought out, but still allows for spontaneity. Where you go and what you do should reflect your common interests while providing a calm and easy ambiance that sparks intriguing conversations that grow the connection between you.
For those wondering where to take a girl or guy on a date in Los Angeles at night or during the day, this guide has you covered with creative, unique and free first date ideas in Los Angeles and activities for established couples looking for new adventures. Running the gamut from classic to quirky, here are 39 of the most memorable date ideas in Los Angeles that are sure to leave a lasting impression.
Jump to Section
Creative Date Ideas in Los Angeles
1. Paint and Sip
With its relaxing atmosphere and a glass of wine to calm the nerves, paint and sip makes a great choice for a romantic evening out, especially for a first date.
Let your creativity and conversation flow while getting to know each other in this casual, stress-free class. You will even end the night with a one-of-a-kind keepsake to remember your time together. Book your paint and sip in Los Angeles today!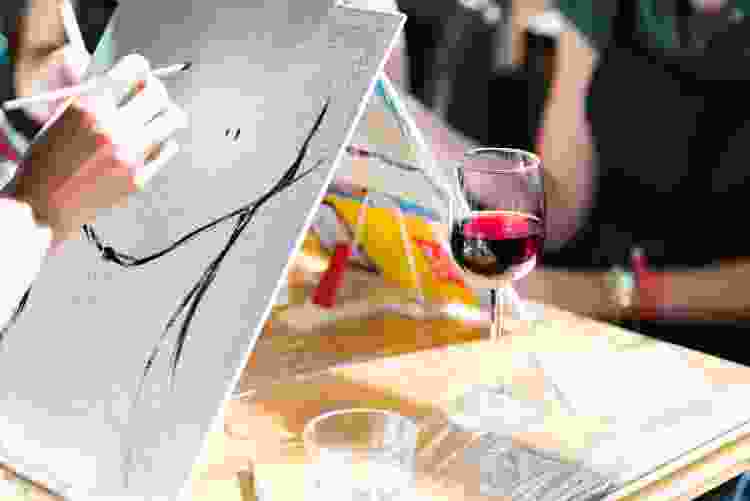 2. Painting Classes
As detailed in Exploring Your Mind, romantic passion and creativity are intimately linked as the creative process can help banish boredom, strengthen bonds and support emotional well-being. Channel your feelings of romance and express your adoration with painting classes.
For creative date ideas in Los Angeles, join a class in person or set up your own little studio at home or in an inspiring location to explore different styles of art from oils to watercolor with online painting classes.
3. Photography Classes
Gain a new perspective of your date while exploring the art of photography. Photography classes in Los Angeles are creative date ideas that let you see the world from one another's point of view.
Find a local session or explore the range of online photography classes that teach everything from fundamental techniques to capturing dynamic action photos.
Join our email list for exclusive deals, local events and fun inspiration for living a more creative life.
4. Drawing Classes
For low-key date ideas in Los Angeles, try calm and creative drawing classes or online drawing classes. Whether you are experienced artists or just trying to improve your stick figures, find out what you can create together as you explore different styles of artistic expression from portraits to cartoons.
5. Dance Classes
With good music and the right moves, dancing together can be sensual and exhilarating, so lace up your dancing shoes and learn some seductive steps with dance classes in Los Angeles.
From salsa to swing, you can choose a style that best suits you and your partner with online dance classes for fun and lively date ideas in Los Angeles.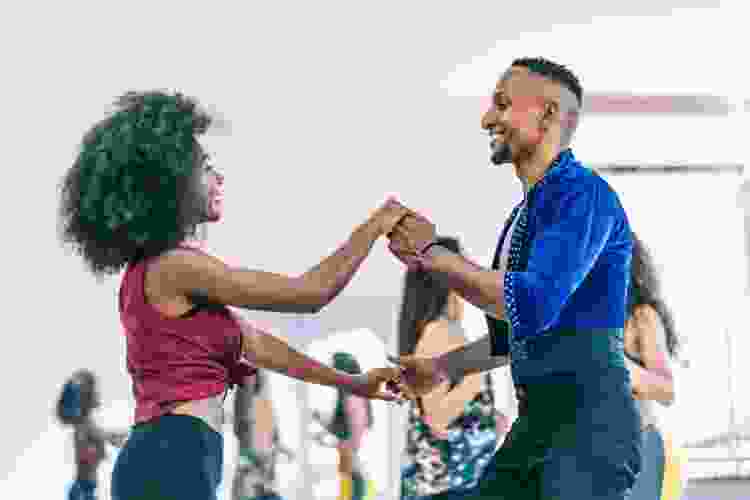 6. Pottery Classes
With its hands-on technique and the smooth sensation of shaping wet clay, it's no wonder that pottery-making inspired one of the most memorable love scenes in cinema history.
See what all the fuss is about while learning how to throw clay, sculpt original pieces and decorate your unique creations with pottery classes.
Foodie Date Ideas in Los Angeles
7. Cooking Classes
Los Angeles is home to a vibrant and diverse culinary landscape. Discover the exciting offerings of the city's food scene with cooking classes in Los Angeles.
One of the best date ideas for couples who love spending time together in the kitchen, you will join talented, local chefs and enhance your cooking skills while rolling out homemade pasta, mastering Moroccan spices or crafting a gourmet dinner for two.
8. Online Cooking Classes
If you and your date prefer to stay in for the evening, peruse online cooking classes to find the perfect accompaniment to your romantic night at home. From elevated dinners to decadent desserts, these hands-on virtual classes make great date ideas in Los Angeles.
9. Online Mixology Classes
Trade the usual night out at the bar for fun and interactive online mixology classes. You will learn how to combine fruits, syrups, bitters and spirits to create classic and innovative cocktails with the guidance of a top-rated mixologist.
Get to know each other better while sipping your signature creations paired with tasty treats in these fun, foodie date ideas in Los Angeles.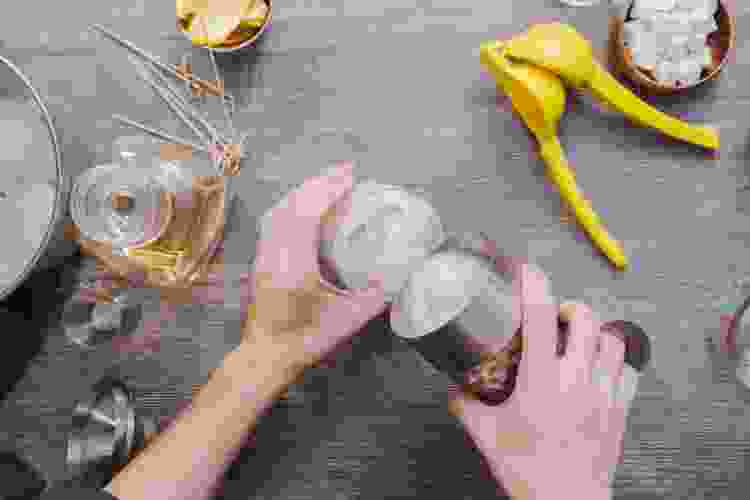 10. Virtual Wine Tastings
Invite your date to explore the finer points of wine as you sample and sip with virtual wine tastings. With interactive sessions led by chefs and sommeliers, you can discover food and wine pairings or the history of wines from around the world with these relaxing and informative date ideas in Los Angeles.
11. Malibu Wine Tour
California is renowned for its wine, so get out and explore its lush vineyards with these date ideas in Los Angeles.
Add a memorable twist to your winery adventure by journeying through the grape vines on foot while taking in stunning views or hopping on a rugged 4x4 or vintage Volkswagen bus as you cruise around the wineries and scenic landmarks of Malibu.
12. Grand Central Market
The historic Grand Central Market is a vibrant, bustling attraction bursting with exciting date ideas in Los Angeles. Grand Central Market is home to some of the best food vendors in Los Angeles and an absolute must when it comes to foodie date ideas in DTLA.
Start the morning with a handcrafted coffee, then spend the day wandering the market sampling everything from classic street tacos and wood-fired pizzas to vegan ramen and innovative PB&Js.
Be sure to check the calendar for upcoming events like live music performances and the weekend bazaar with rotating makers and merchants offering beautiful handmade goods.
Unique Date Ideas in Los Angeles
13. Acting Classes
Although many Hollywood hopefuls journey to California to launch their acting careers, acting classes and online acting classes are not just for those dreaming of movie stardom.
Acting classes are unique date ideas in Los Angeles that can help foster trust and connection. Show off your humor, wit and spontaneity with an improv class or tap into a range of emotions with traditional acting exercises.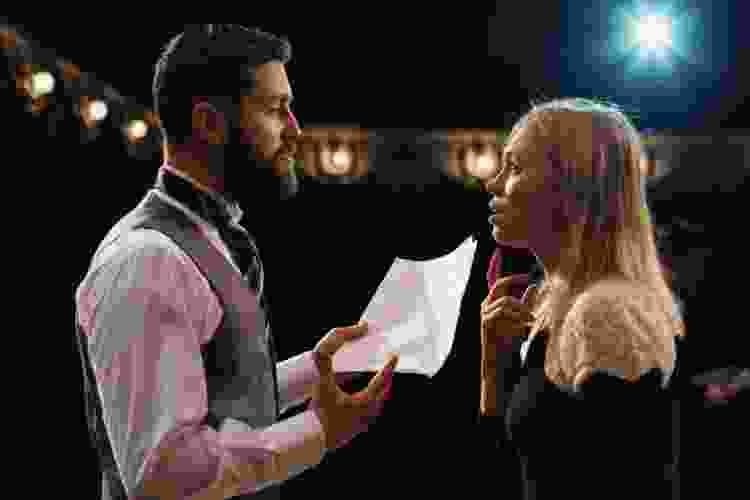 14. Online Trivia Games and Virtual Games Nights
For casual date ideas in Los Angeles, gather some friends or make it a double date for a fun and interactive evening of online trivia games or virtual game nights. Heat things up with some friendly competition challenging each other to bingo, virtual game shows and more led by entertaining hosts.
15. Virtual Scavenger Hunts
Add an extra layer of intrigue to your day on the town with fun date ideas like interactive virtual scavenger hunts. Search for secret items, decipher clues and complete checklists as you race the clock to victory.
16. Virtual Escape Rooms
Work together to crack codes, unravel clues and beat the clock to solve the mystery with virtual escape rooms. These fun date ideas in Los Angeles strengthen your communication skills and build trust as you rely on each other to master the challenge.
17. Cirque School
Take date ideas in Los Angeles to new heights at Cirque School as you embrace the bold and adventurous spirit of the circus from atop the static trapeze. One of the most unique date ideas in Southern California, Cirque School is both physically challenging and artistically stimulating with classes in numerous disciplines of the circus arts.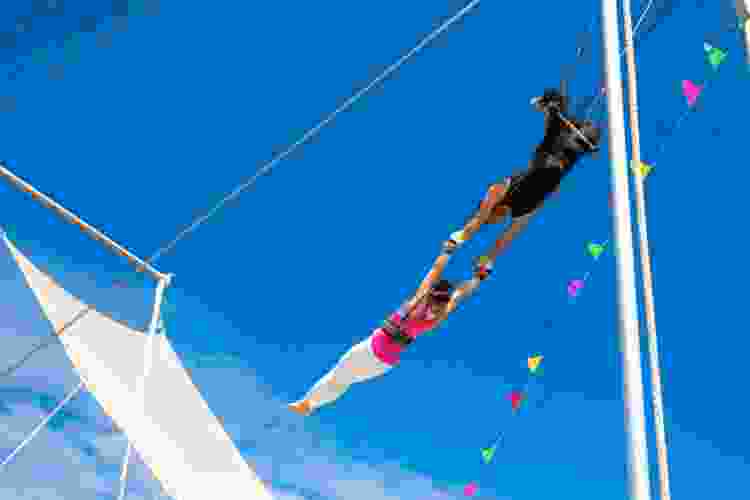 18. Sewing Classes
Despite its reputation for being a little old-fashioned, sewing has experienced a renaissance over the past several years with everyone from survivalists to cosplayers practicing this handy skill.
Unexpected date ideas in Los Angeles like sewing classes are a unique way to take on a challenge together while discovering each other's interests and talents.
Secret Date Ideas in Los Angeles
19. Comedy Show
It's no secret that many comedians and performers get their start in Los Angeles. However, finding the best places to spot up-and-coming comedic talent can be easier said than done.
The Laugh Factory is a historic venue where you can catch well-known comics on tour in Hollywood and the Groundlings guarantee a raucous good time, but for a comedy experience that is a little more off the beaten path, make your way to Burbank for an Underground Comedy show at the Nite Cap.
20. The LAB Anti-Mall
Journey down to Costa Mesa to explore this colorful and eclectic showcase of "little American business." Recycled from a night-vision goggle factory, this unique venue is now home to an unconventional collection of cafés, restaurants and retailers accented with live music, maker markets and artist installations.
Tucked away in the Orange County suburbs, The LAB is a hidden gem for lovers of the unusual and an unforgettable date idea in Los Angeles.
21. The Huntington Library, Art Museum and Botanical Gardens
There will be no shortage of conversation starters as you spend a day strolling through the library collections, art galleries and lush gardens at the Huntington.
Ideal date ideas for couples who love history or literature might include browsing the library's impressive holdings such as a 15th century manuscript of Chaucer's The Canterbury Tales and one of only 12 surviving copies of the Gutenberg Bible.
Art lovers might enjoy strolling among the galleries with exhibits showcasing a diverse range of styles including folk art, paintings, prints and drawings, photography and sculpture.
Some of the best secret romantic spots in Los Angeles are the beautiful themed gardens with colorful blooms, stone bridges and enchanting waterfalls. With so much to see and do, Huntington is one of the best date ideas in Southern California.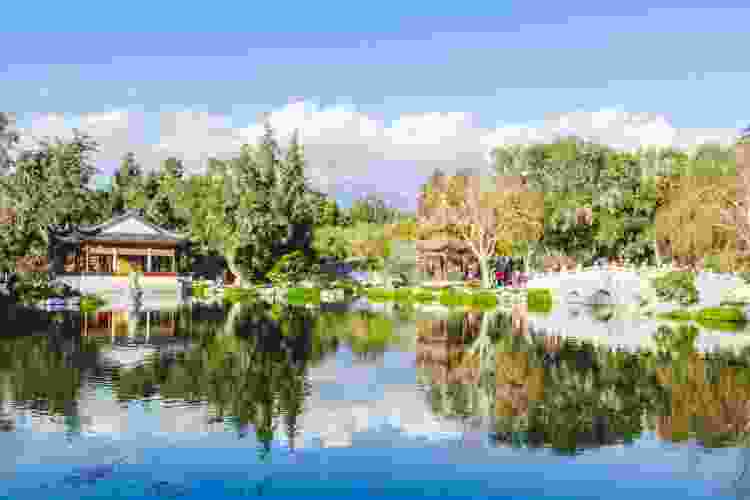 22. Wildlife Learning Center
Enjoy a wild day out encountering a variety of fascinating animals while exploring the beautiful grounds of the Wildlife Learning Center. With lots of ways to meet and interact with the inhabitants, these date ideas in Los Angeles are perfect for animal lovers.
Reserve general admission for a weekday date with a leisurely stroll around the property, take a guided tour and learn more about and interact with the animals or book an individual experience for some up close and personal time with your favorite creatures.
23. The Last Bookstore
For fun date ideas in DTLA, look no further than The Last Bookstore. You might recognize the largest new and used bookstore in California for its internet-famous book tunnel, but most are unaware that this epic retailer is also home to a record store, comic book store, yarn shop and five art studios.
Housed in a century-old bank building, you could spend hours winding through the labyrinthine aisles and unexpected books surrounded by intriguing architecture and quirky décor. For bookworms, this eclectic shop always makes the list of secret romantic spots in Los Angeles.
24. Mosaic Tile House
Visit the Mosaic Tile House to see how one couple's love and creativity transformed a boring, beige stucco home into a local masterpiece. Created by husband and wife team, Cheri Pann and Gonzalo Duran, this massive artwork-in-progress began as a weekend project to install some bathroom tiles and over two decades has grown into a kaleidoscope of colors, patterns and textures.
This date idea in Los Angeles is sure to surprise and delight as you discover charming details and handwritten messages built into the design of this whimsical creation. The Mosaic Tile House is only open on Saturday afternoons and reservations are recommended.
Outdoor Date Ideas in Los Angeles
25. Echo Park Swan Boats
One of the most charming first date ideas in Los Angeles, get to know each other as you pedal around the lake in a cozy Echo Park swan boat. Then, stretch your legs with a stroll through the historic park while taking in views of the downtown skyline. Reserve an evening ride when the boats are illuminated, giving off a romantic glow.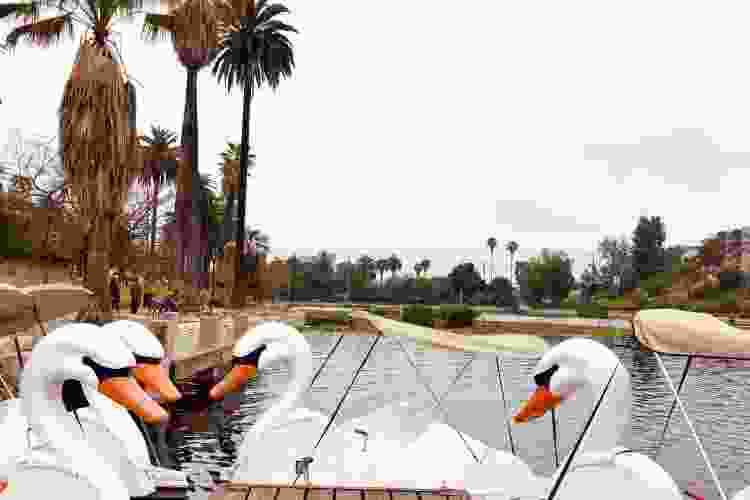 26. Santa Monica Pier
An iconic date idea in Los Angeles is spending the day at Santa Monica Pier from a nostalgic spin on the Ferris Wheel to watching a romantic sunset as the waves crash across the shore.
Stroll along the boardwalk and try your luck at a few games while sharing classic carnival snacks and hold each other tight as you zip around the pier on the West Coaster.
27. Catalina Island
The options for adventurous outdoor date ideas in Los Angeles are seemingly endless with a journey to Catalina Island. Hop on the ferry to this picturesque destination where you can spend the day hiking, biking, kayaking, snorkeling, paddle-boarding, zip-lining and wildlife spotting.
Walk up Avalon Canyon to visit the Wrigley Memorial & Botanical Gardens to explore the history of the island and view rare and native plants.
28. Runyon Canyon Park
Runyon Canyon Park is an urban wilderness at the edge of the Santa Monica Mountains. With sweeping views of the city, this romantic date idea in Los Angeles is perfect for couples in search of an active day together.
Starting at Mulholland Drive, you can take a quick mile hike to the top of the canyon for a stunning sunset view or spend the day challenging yourselves on a longer loop.
29. El Matador Beach
Escape the concrete jungle for an outdoor adventure and one of the most romantic date ideas in Los Angeles. The approximately one hour drive is worth the time offering a chance to chat and connect along the scenic, coastal road.
When you arrive at El Matador Beach, you can take a barefoot stroll along the shore, play in the surf and explore its craggy cliffs and shallow caves. Finish the day watching the sun go down from one of the rocky bluffs.
30. Melrose Rooftop Theater
Put a spin on the average dinner and a movie date by enjoying an evening at a rooftop theater. The Melrose Rooftop Theater is an elegant venue that plays new releases and classic films with views of the Sunset Strip and the Hollywood Hills. Sip on cocktails and order a box of popcorn, then snuggle under the stars for this unique cinematic experience.
31. Hollywood Bowl
A historic venue and icon of Los Angeles, catching a show at the Hollywood Bowl is a magical experience. Check out the upcoming lineup of shows and events, pack a cozy blanket and get ready for a romantic evening of incredible music.
DIY Date Ideas in Los Angeles
32. Woodworking Classes
Transform raw materials into pieces of art with DIY date ideas in Los Angeles like woodworking classes. Learn a new skill with this hands-on activity that could grow into a fun and practical hobby that you can practice together.
33. Virtual Flower Arranging
Nothing says romance like a beautiful arrangement of flowers. Skip the last minute bouquet and create your own blooming centerpieces, floral crowns, wreaths and more with virtual flower arranging.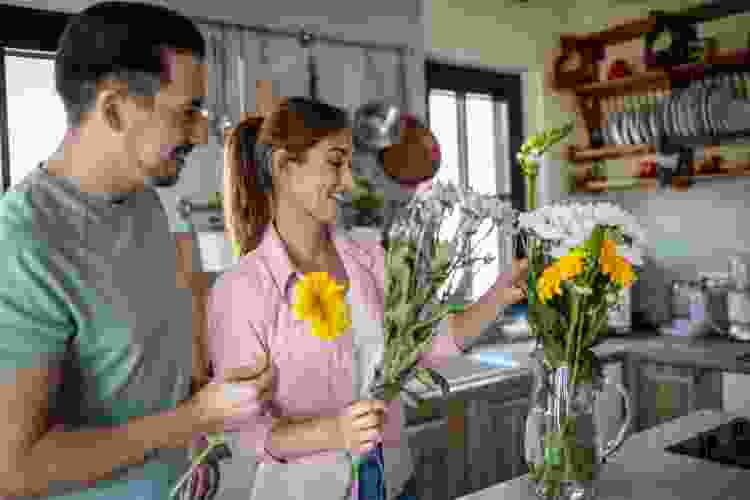 34. Glass Blowing Classes
Glass blowing classes combine a primal attraction to fire with a dose of artistry to create stunning handmade keepsakes. These date ideas in Los Angeles will fire up your evening as you use metal and heat to craft beautiful glass art.
35. Sneaker Customization Workshop
Create one-of-a-kind, wearable works of art with a sneaker customization workshop that is perfect for stylish couples. These DIY design workshops are popular date ideas in Los Angeles with experts on standby to guide you through the entire process. You'll walk away from this fun and interactive activity with completely unique kicks to remind you of that special someone.
Free Date Ideas in Los Angeles
36. Venice Canals
Wondering where to take someone on a first date in Los Angeles? Get to know each other while strolling along the tranquil Venice Canals.
A short jaunt from Venice Beach, the three canal-lined blocks connected by pedestrian bridges offer a relaxing respite from the tourists and crowds. Look for colorful blooms and wildlife along the way, and if you have a canoe or kayak, you can relax on the water via the ramp on Venice Boulevard.
37. Mulholland Drive
Take a joy ride along Mulholland Drive with stops at Los Angeles' classic overlooks including sweeping views of the San Fernando Valley, Downtown Los Angeles and the iconic Hollywood hills.
To make the most of these free dates, pack a picnic and wind your way along the scenic highway for an easy afternoon with plenty of time for conversation and connection. Find hidden, secret romantic spots in Los Angeles along the way!
38. Getty Villa
Venture a little bit outside of the city to visit Getty Villa for an Italian-inspired adventure and a unique date idea in Southern California. The villa is designed to replicate an Italian villa near Mount Vesuvius with colonnaded walkways, tranquil gardens and ocean views.
At this free museum, you will get a sense of Ancient Roman life as you explore Greek and Roman antiquities from the Stone Age to the fall of the Roman Empire. With rotating exhibits, film screenings, live performances and artist talks, the Getty Villa is the perfect place for interactive date ideas in Los Angeles.
39. Griffith Observatory
Day or night, the Griffith Observatory is one of the best date ideas in Los Angeles. The historic observatory offers extraordinary, panoramic views of Downtown Los Angeles, the Hollywood Sign and the Pacific Ocean during the day, with plenty of trails and attractions to explore in the connecting Griffith Park.
Throughout the day, and especially once the sun sets, this iconic building becomes your gateway to the cosmos as you explore the universe through telescopes, exhibits and live shows.
From tasting the vibrant flavors of local cuisine and getting creative with DIY experiences to taking in stunning vistas and exploring quirky museums, the best date ideas in Los Angeles highlight the unique spirit of the city.
With so many memorable date ideas in Los Angeles, it is easy to find the perfect fit for you and your special someone to connect, enjoy each other's company and plan your next adventure together.
For even more fun date ideas, check out other experiences happening on Classpop!