39 Out-of-the-Box Date Ideas for Married Couples for 2023
Last Updated on Jun 7th 2023
| 0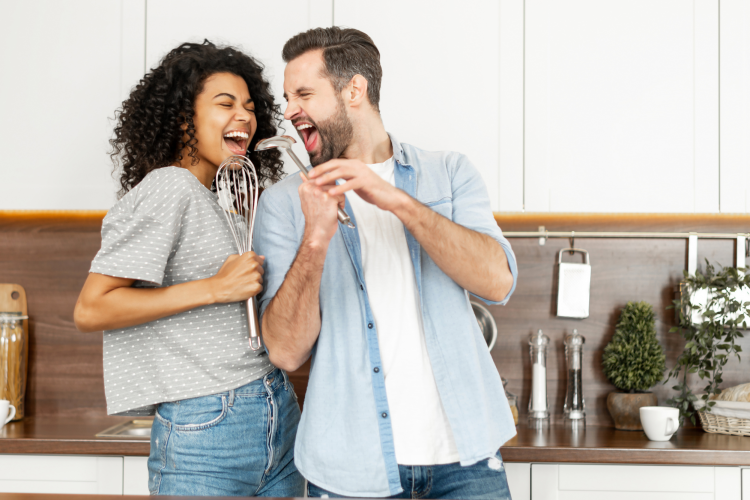 No matter how long you've been married, celebrate your shared happiness with the best date ideas for married couples. Date night doesn't have to stop after the wedding bells ring, and every couple deserves some time to enjoy each other's company and deepen their connection.
However, planning a date night with your spouse can seem daunting with you're juggling careers, chores, errands or children's activities. What can married couples do at night to relax and reconnect? What should couples do on date night?
Whether you're looking for intimate date ideas in Minneapolis, adventurous date ideas in Salt Lake City or stay-home date ideas wherever you are, the following date night ideas for married couples are sure to give your relationship a boost.
Jump to Section
Creative Date Ideas for Married Couples
1. Paint and Sip
Paint and sip experiences are one of the most fun date ideas for married couples. Relax, have fun and learn a new skill with your partner at paint and sip in Indianapolis, paint and sip in Los Angeles, paint and sip in Chicago or paint and sip near you.
Can't make it to an in-person class? Check out online painting classes to get creative from the comfort of your home.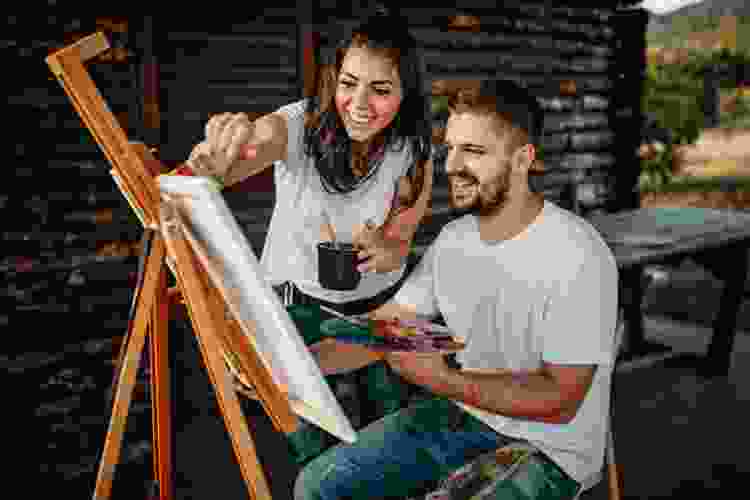 2. Take Dance Classes
Do you and your partner love to show out on the dancefloor? Waltz your way over to dance classes in Las Vegas, dance classes in the Bay Area or dance classes in Los Angeles.
Dancing is a classic, intimate date idea for married couples to have fun and feel romantic. It's even easier to build upon your boot-scooting skills with online dance classes.
3. Sign Up for Pottery Classes
Delight in making something new together when you sign up for a pottery class. It's easy to find pottery classes in Boston, pottery classes in San Diego, pottery classes in San Francisco and pottery classes near you.
After class, you and your spouse can admire your creations and even reenact the classic potter's wheel scene from Ghost — talk about hot date ideas for married couples!
4. Attend Drawing Classes
For your next date night, surprise your spouse by attending a drawing class in person or online. Drawing classes are an awesome date idea for married couples that love to be creative and learn new skills together. Gift your partner with a custom-drawn portrait of themselves, or display your drawings as wall art.
5. Visit an Art Museum
If you love artistic date ideas for married couples but aren't sure about making your own art yet, plan a visit to your local museum. Enjoy wandering between rooms, admiring the artwork and stealing kisses behind the sculptures.
This is one of the best date ideas in NYC or date ideas in Chicago and other cities with many museums to choose from. For a little bonus fun, find a piece of artwork that reminds you of your spouse or symbolizes your future together.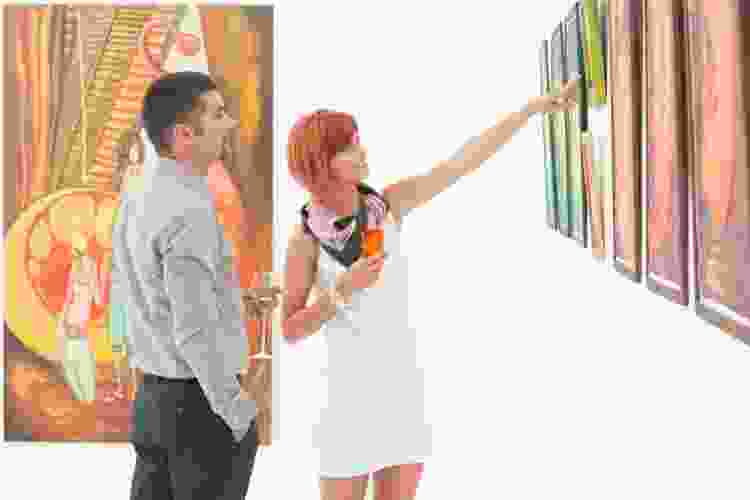 Foodie Date Ideas for Married Couples
6. Join Cooking Classes
If you and your spouse love to cook, don't miss out on cooking classes near you. Check out cooking classes in Dallas, cooking classes in Baltimore or cooking classes in Ann Arbor to take your kitchen creations to the next level.
Looking for intimate date ideas for married couples at home? Online cooking classes can be just as exciting.
7. Cook a Fancy Dinner
Date ideas for married couples don't always have to involve eating out. Serve a classy dinner at home with steak, duck, roasted vegetables and whatever else you'd prefer.
Enjoy sipping on a glass of fine wine and listening to romantic music together while you cook. When it's ready, set the table with your finest china and sit down to a five-star meal.
8. Make Seasonal Dishes
No matter what month it is, there are always date ideas for married couples to celebrate the seasons. One of the best activities for married couples at home is to create dishes and drinks that use in-season produce and other ingredients.
Make the most of your meal by opening the windows or sitting outside, and enjoy the best that the season has to offer for perfect fall date ideas or spring date ideas.
9. Make a Themed Charcuterie Board
Charcuterie boards are always a cute date idea for married couples. What's the only thing better? A customized and uniquely themed charcuterie board.
For example, you could make a board filled with chocolate almonds, licorice ropes, marshmallow whip and more to enjoy while you watch Charlie and the Chocolate Factory. Or see who can make the spookiest charcuterie for a fun Halloween date idea.
10. Sample a New Cuisine
On the hunt for exotic date night ideas? Curious about traditional Swedish, Hungarian or Kenyan cuisine? According to a study by Stony Brook University, trying new things together is a proven way to boost your relationship quality, so it's a great anniversary date idea for married couples. Research an unfamiliar country, pick a few dishes you'd like to make at home, then head to the grocery store.
Unique Date Ideas for Married Couples
11. Taste Wine Together
Visit your local winery to learn all about the winemaking process and taste new wines as you gaze out over the vineyard.
More interested in date night ideas for married couples at home? Check out virtual wine tastings and enjoy a boozy night in with your spouse. The best part about this hot date idea for married couples? You won't have to catch a ride home!
12. Mix It Up at Home
Any date at home is made even better with cocktails. If you and your spouse want to learn how to make top-notch drinks, sign up for online mixology classes for a fun activity for married couples to do together.
You'll explore the elements of a great cocktail, practice with tools and learn techniques to treat yourselves or future guests.
13. Have a Photo Shoot
You don't need to have a special occasion to take pictures — photo shoots are a great date idea for married couples. Dress up and head outdoors or decorate your living room.
Improve your photography skills by signing up for photography classes. Hang your best shots on the wall or build a scrapbook to showcase your best memories.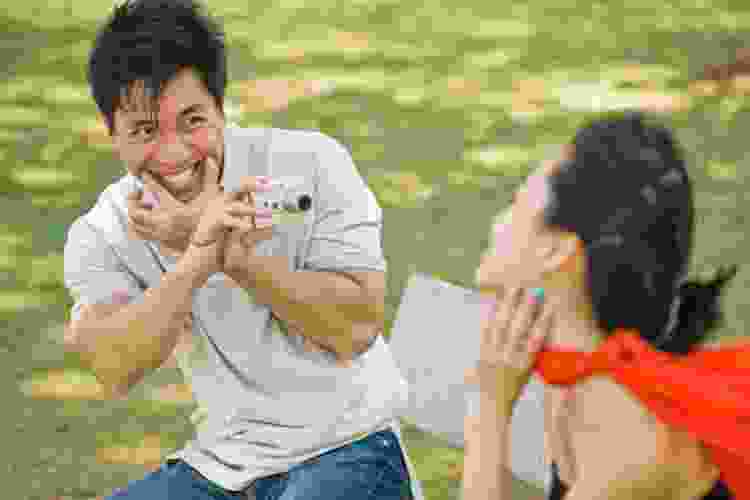 14. Act Up Together
Acting in your own play, acting classes or online acting classes is one of the most novel date ideas for married couples. From comedy improv to beginner's acting courses, you'll love watching your spouse take the spotlight.
15. Visit the Aquarium
For a fun activity for married couples to do together, experience childlike wonder with your spouse by paying a visit to the aquarium. Some aquariums are open late on weekdays, but this could also be a fun and simple weekend date idea for married couples. Stroll past the starfish or sprint past the sharks; just be sure to make lots of cool memories.
16. Go to a Comedy Show
What can a husband and wife do together? Well, lots of things, of course, but they should always laugh together! Take your sweetheart for a night out and enjoy a local comedy show, or make it a double date idea and go with friends. The best date ideas for married couples should always leave you smiling and with plenty of fuel for inside jokes.
DIY Date Ideas for Married Couples
17. Have Fun With Florals
Virtual flower arranging classes are one of the best date night ideas for older married couples, but young couples can certainly enjoy them too. Learn the tips and tricks behind creating the perfect floral arrangements for gifts and special occasions. Plus, you can apply your newfound floral arranging skills to surprise your darling in the future.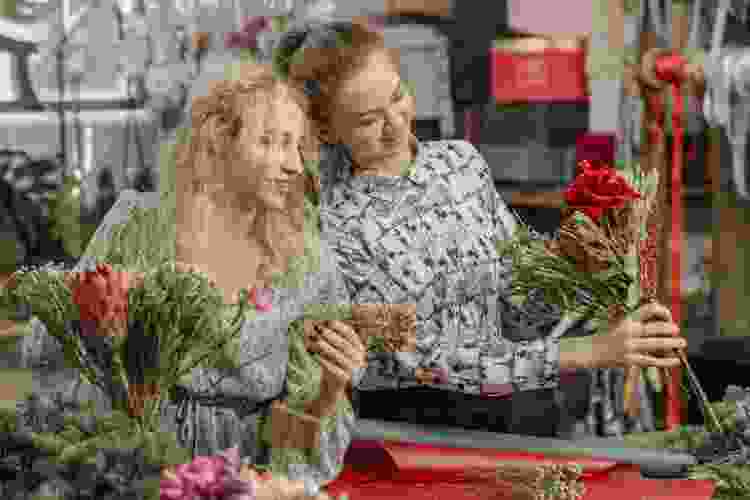 18. Join a Woodworking Class
Woodworking classes make perfect date night ideas for married couples who are serious about improving their DIY skills. Learn how to create and refurbish high-quality wood furniture pieces that will enhance to look of your home. It's also the perfect alphabet date idea for the letter W!
19. Learn About Glass Blowing
When it comes to hot date ideas for married couples, glassblowing takes the cake. Plan a visit to a nearby glassworks studio to learn all about the glass blowing process and watch in awe as artists turn, twist and inflate molten glass. When you're ready to take a spin at it yourselves, check out glass blowing courses.
20. Take a Sewing Class
Sewing is an essential skill that anyone can learn, and it's a relaxing indoor date idea for married couples to enjoy together. In a sewing class, you'll learn how to attach buttons and zippers, sew hems and alter garments for the perfect fit.
Afterward, you can apply your knowledge to create outfits for each other, then take your new fashions for a night out on the town.
21. Play Date Night Jenga
This is a hot date idea for married couples looking to have a little fun. Pick up a Jenga game at your local game store, then take turns writing challenges on each piece.
Examples might include listing three favorite memories or completing the sentence "I love it when you…" Feel free to make the Jenga game as sweet, funny or physical as you'd like.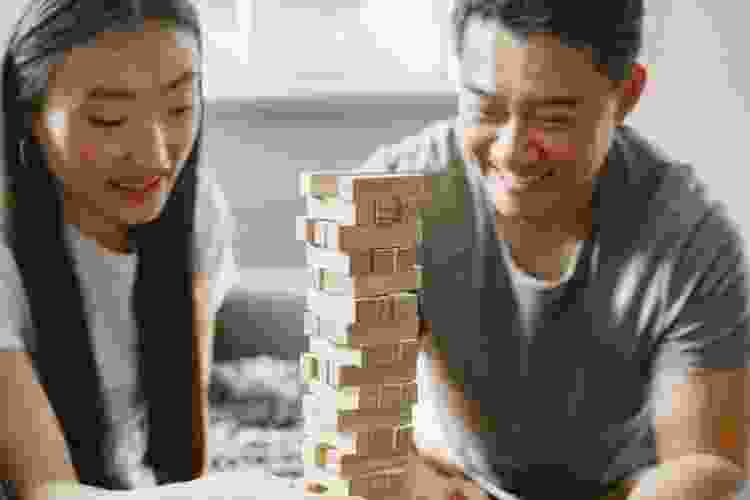 At-Home Date Ideas for Married Couples
22. Have a Game Night
Game night is a classic date night idea for married couples at home. Fun, easy and competitive, game night is the perfect way to relax with your partner for a night in. You don't have to bore yourselves with board games; check out online trivia games, virtual game nights and more.
23. Join a Virtual Scavenger Hunt
Ready to have an adventure without leaving your couch? Interactive virtual scavenger hunts allow you to compete with other teams or each other. Solve hidden puzzles and hunt for clues as you explore the world from the comfort of your home.
24. Beat an Online Escape Room
Escape rooms are one of the best virtual date ideas for married couples who consider themselves a power couple. Modern times are great, and now you can race the clock and overcome challenges from home by joining an online escape room. If you can escape these virtual escape rooms, you'll know you can accomplish anything together!
25. Watch a Home Workout Video
They say couples who play together stay together, and home workouts are one exciting way to play. Find a workout video on Youtube that seems challenging and fun to do together.
One Plos Journals 2016 study found that couples who strive toward common goals experience greater marital satisfaction, so put on your sweatpants, pull out your yoga mats and get moving!
26. Have a Spa Night
Spa night is one of the best date night ideas for couples who love a little "me-time." Play some calming music, then take turns applying face masks, massaging each other with oils and indulging in a little self-care. Finish your spa night with a long, steamy soak in the bubble bath and a glass of your favorite wine.
27. Dress Up and Dance Party
There's no place like home...to have a dance party. Dress up in your funkiest club outfits and crank up the volume as you dance to your favorite songs.
Take turns playing a song that reminds you of your lover, a new song you think they'd like and one that makes you want to shake it until sunrise.
28. Build a Pillow Fort
You can do whatever you want when you're an adult, and that includes building pillow forts in the living room, which is arguably one of the most fun activities for married couples to do together.
Use clips and masking tape to secure sheets and blankets to your furniture, add plenty of pillows and a secret password, then cozy up in your fort for a movie night.
Outdoor Date Ideas for Married Couples
29. Pack a Picnic
When it comes to cute birthday date ideas for married couples, it's hard to beat enjoying the fresh air and fresh food with your spouse. Pack a picnic with your favorite finger foods, fruits, cheese and beverages, then head to your local park. Sometimes, a change of scenery is all you need to ignite sparks.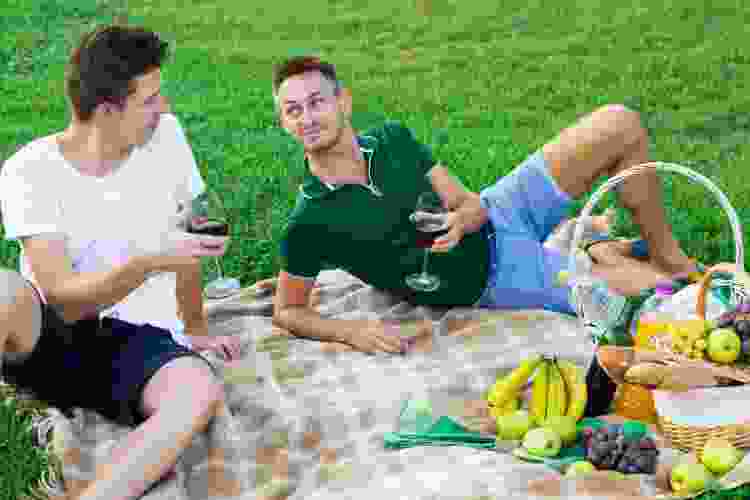 30. Take a Stroll
Next time you search "date night ideas for married couples near me," don't neglect to look out your window. Whether you live in a rural area or a busy city, taking a walk with your spouse is a great way to appreciate nature and reconnect with each other.
Walking together is also one of the most inexpensive date night ideas for married couples, as long as you don't get caught up in window shopping!
31. Build a Campfire
Light your backyard firepit or head to your local state park to enjoy a toasty night under the stars. The best intimate date night ideas for couples involve sweet treats and warm, ambient lighting. Cuddling around a campfire is sure to spark some romance in your evening.
32. Go to a Drive-In Theater
Check out the movie showings at a nearby drive-in theater — bonus points if you can find a vintage black-and-white film. Pack some snacks and lean the seats back as you enjoy a movie in the open night air.
This is one of the best date night ideas for older married couples who may remember a time when drive-in movies were extremely popular.
33. Grill in the Backyard
You don't have to look far to appreciate what you have in life; enjoy the sights and sounds of your own backyard when you grill for two.
For a cute summer date idea, set up a shady table, sip on your favorite cold drinks and savor the smell of freshly grilled foods. Turn your ordinary BBQ into an exotic date night idea by grilling tropical fruits or unfamiliar dishes.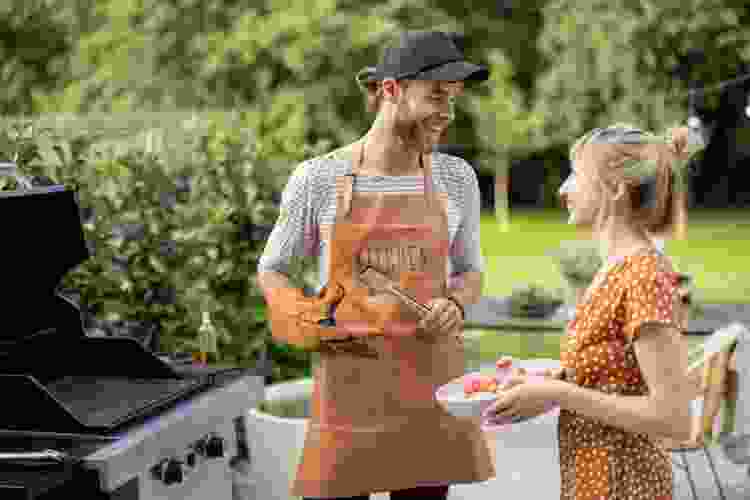 34. Celebrate the Seasons
It's easy to find reasons to celebrate year-round when you're in love. Look up seasonal festivities in your area, such as a holiday trail of lights for winter date ideas, pumpkin patch or summer berry picking. Grab a camera and head out to capture some memories before each season fades.
Inexpensive Date Ideas for Married Couples
35. Listen to a Local Band
Support a small-town band that frequently plays at your favorite bar, coffee shop or other local venues. You and your spouse will love having your own semi-private show. Plus, you'll have a fun story to share if your band ever makes it big.
36. Visit the City Library
Look up the operating hours of your local library and plan to visit with your spouse. Bookworms can make this date extra fun by choosing books for each other to read, or finding a DIY book to read through together. Don't forget that many libraries also carry games, movies and music for free with a library card.
37. Watch a Foreign Film
Spice up your ordinary movie night date by opting for a foreign film. Find a unique foreign film to watch at home or check your local theater for any special showings. Make a night of it by dining on foods from your film's country of origin.
38. Go Out for Desserts
Skip the broccoli at dinner tonight and pick up sweets with your sweetheart. Head out for frozen yogurt, fresh pastries or fine chocolates to enjoy as you take a walk around the city. Going out for just desserts is a more affordable date idea for married couples, but it can still be fun and a special treat.
39. Drive to a Scenic View
The best free date night ideas for married couples are about appreciating what you have. Head to a well-known scenic view near you, or drive until you discover a beautiful place all to yourselves.
To make this inexpensive date extra romantic, pack a few treats or a mini-Champagne to savor as you watch the sunset.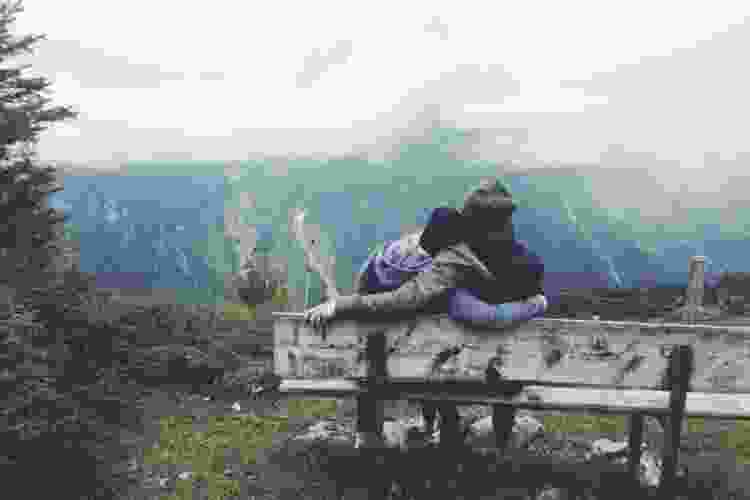 Date night is special, whether you've been married for five months or fifty years. This list of date night ideas for married couples is only the beginning; you can't go wrong treating yourself and your sweetheart to any date idea.
Planning a date with your spouse is a great way to thank them for all of their devotion, relax and have fun together, even if your married lives are very busy. Marriage can be hard work, so celebrate every sweet moment!
For even more fun date ideas, check out other experiences happening on Classpop!