27 Sweetest Date Ideas in Salt Lake City for 2023
Published on Sep 24th 2022
| 0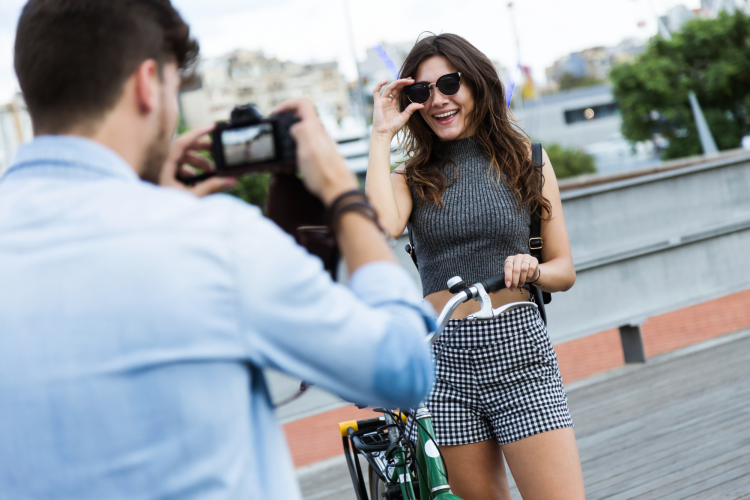 If you're looking for fresh and creative date ideas in Salt Lake City, look no further. Date night should be special whether it's your first date or one hundred and first.
There's nothing wrong with traditional dinner and drinks, but a date should be a time to rekindle the flame and share experiences that will help you grow closer as a couple. Finding just the right activity is key.
Have you fallen into the same-old, same-old dinner-and-Netflix routine? Are you looking for a spark that will take your relationship to the next level?
Whether you need to get out of your comfort zone or get in it, there are more hidden gem date ideas in Salt Lake City than you might think. Don't be afraid to dip your toe into unfamiliar water. The possibilities for date ideas in Salt Lake City run deep.
Jump to Section
Foodie Date Ideas in Salt Lake City
1. Cooking Classes
Classes are a popular first date idea in Salt Lake City, but they're also fun for those in well-seasoned relationships. Learning a new skill together helps both of you get a little vulnerable.
Cooking classes in Salt Lake City are guided by expert chefs so you're sure to get a great meal while relishing in the fact that you don't have to do the dishes. And just think how cute you'd look in an apron! If you've got a well-equipped kitchen and want to stay in your comfy clothes, try online cooking classes.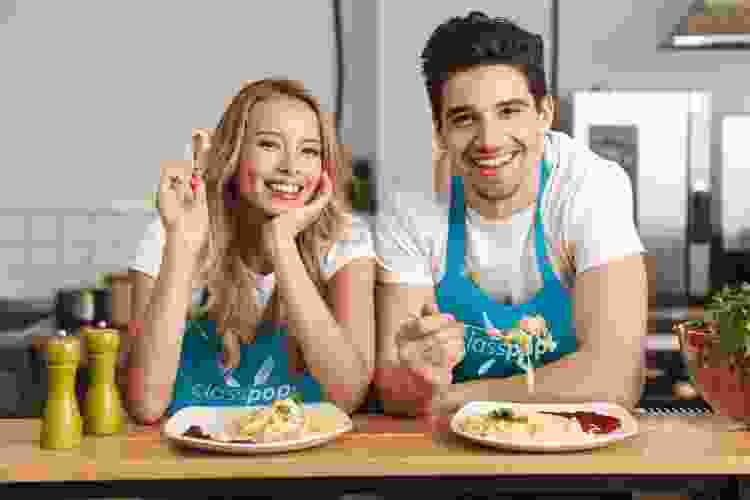 2. Brunch in Bed
No date idea in Salt Lake City says "I love you" like breakfast in bed. Order Sunday brunch online from Pago and have it delivered so you don't have to get out of your pajamas.
Feed each other bites of the beets & peaches starter followed by decadent Croque Madame. Your hearts will be as full as your bellies. We won't judge if you decide to roll over and go back to bed.
3. Food Truck Hop
Variety is the spice of life, so change up the dinner date routine and attend one of Utah's Food Truck League events. These rallies happen every Monday in Legacy Park and there's a different blend of trucks each week. Doing a food truck hop is a good first date idea in Salt Lake City if you aren't sure what kind of food your special someone likes.
4. Fondue for Two
One of the best date ideas in Salt Lake City for foodies is "to fondue". Salt Lake City's Melting Pot has a special Thursdate special for couples which includes a four-course interactive eating extravaganza. Be sure to request a table on Lover's Lane.
Creative Date Ideas in Salt Lake City
5. Art Classes
If your partner has trouble expressing their feelings, put a brush (and a glass of wine) in their hand with paint and sip and online painting classes. Painting is the art of expression after all, and classes are led by teachers who are trained to deliver instruction with kindness and patience.
If painting isn't for you, opt for online drawing classes instead. Drawing classes are just as beneficial so leave the painting to the pros. Grab a nice bottle of wine and a charcuterie board to complete the masterpiece.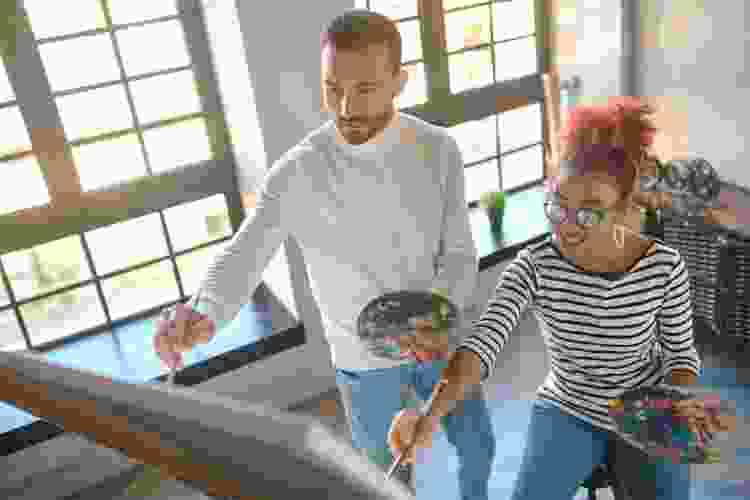 6. Develop a New Skill
Napoleon Dynamite said it best: girls only want boyfriends that have great skills. For couples who love to learn together, there's a growing list of date ideas in Salt Lake City where you can try out your hand and develop a new hobby. From pottery classes to sewing classes or even glass blowing classes, there are things to do in Salt Lake City for every interest.
7. Dance Like No One Is Watching
Scientists have been studying dancing for centuries and trying to understand why it makes you feel so good. According to Harvard Medical School, "dance, in fact, has such beneficial effects on the brain that it is now being used to treat people with Parkinson's disease."
Online dance classes are a great way to heat things up in your relationship, but you don't necessarily have to pay for the experience. Making a playlist that you can jam to at home is one of the best free date ideas in Salt Lake City. If you want to get out on the town, look for local dance classes that have date night specials.
8. Bike and Sip
Combine your love of a bike ride with your love of microbrewed beer. The Bike and Brew tour is exclusively offered by Salt Lake Bicycle Tours and is a great date idea in Salt Lake City for bike riding enthusiasts.
9. Capture the Moment
They say a picture is worth a thousand words, so schedule a private photoshoot that captures your feelings for each other. This is a bold date idea in Salt Lake City for couples who are ready to Instagram their love for each other to the world. Or learn to take your own stellar couples' photos with photography classes or online photography classes.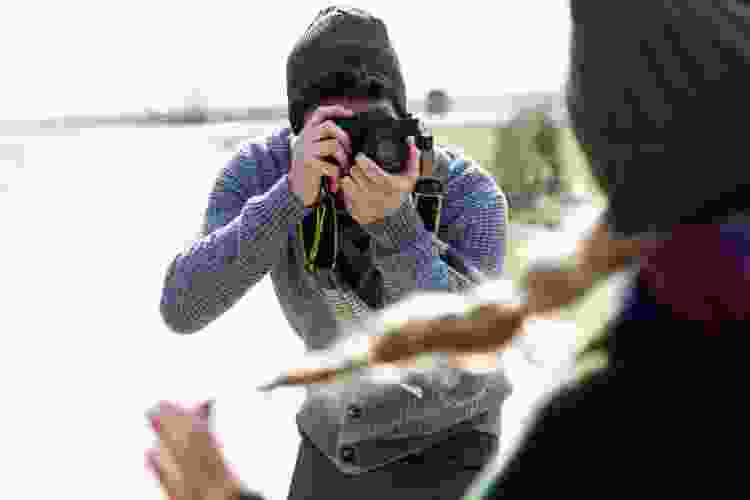 10. Learn to Curl
It's the quirkiest sport that you still don't understand and tops the list for fun date ideas in Utah. Learn how to throw stones (but not at your partner) and sweep the ice.
The Park City Curling Club offers instruction for beginners as well as walk-on nights for their leagues. When you need Salt Lake City winter date ideas that will keep both of you warm, this is it.
11. Learn Couples Massage
What are some ideas for a date when you want to take your intimacy to the next level? You can go to a spa and pay a small fortune for a couple's massage, or you could use that cash to learn how to massage each other. Learning more about what your partner likes and doesn't like can only help in that department.
Out-of-the-Box Date Ideas in Salt Lake City
12. Virtual Wine Tasting
If you're more chardonnay or rosé than Negroni or French 75, raise your glass and your wine game with virtual wine tastings. This is the perfect date idea in Salt Lake City for anyone who wishes they knew a little more about wine and how to pick a good one.
13. Online Mixology Class
If a dance class is a little too much movement for date night, you can still stir it up with online mixology classes. Let's face it — getting cocktails in a restaurant can get expensive fast. Learning how to mix up a couple of standards at home is a smart date idea in Salt Lake City for couples who like a proper cocktail before dinner but are on a budget.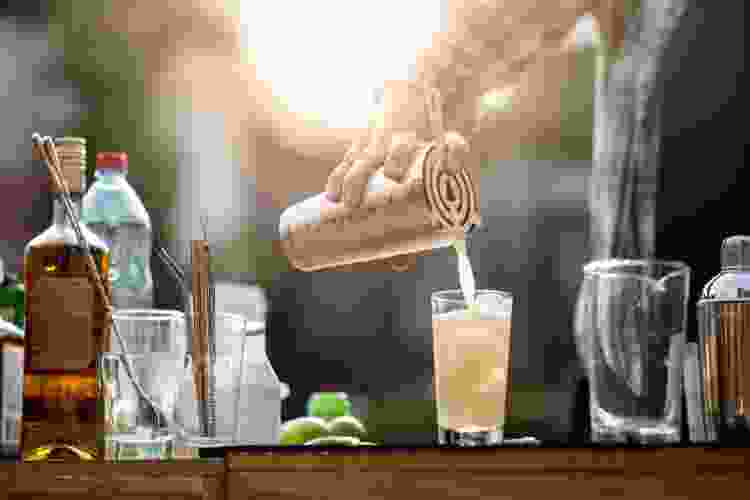 14. Let the Games Begin
What is there to do for a date in Salt Lake City if you don't have a car? Virtual game nights are all the rage. Virtual scavenger hunts are a great bonding experience for couples who love a good challenge or try virtual escape rooms.
If you want to keep things a little less intense, test each other's knowledge with online trivia games. These are a few of the best Salt Lake City winter date ideas too.
15. Support the Local Arts
The Salt Lake Acting Company has been living its mission to "engage and enrich the community through brave, contemporary theater" for more than 50 years.
Live theater always carries a current of electricity, so why not plug in and attend a show? If your special someone is a bit of a ham, encourage them to practice their craft. You can get started with an online acting class for those too nervous to participate in live acting classes.
16. Laugh Until You Cry
They say laughter is the best medicine, so if your relationship needs a little intensive care, a comedy show might be the cure. A review of laughter research conducted by Mayo Clinic reveals that "laughter can help lessen your stress, depression and anxiety and may make you feel happier. It also helps you connect with other people." A visit to Dry Bar Comedy is the date idea in Salt Lake City that's just what the doctor ordered.
17. Go Hot Air Ballooning
Sometimes the best thing for any relationship is a fresh perspective. You'll get that and more from a hot air balloon ride. Let your spirits take flight. As long as you're not afraid of heights, this is one of the most unique things to do in Salt Lake City on a date.
18. Take a Haunted Bike Tour
"What can I do with my girlfriend late at night?" SLC doesn't have as many choices when it comes to late-night date options. That's why Pedal Provo Ghost Tours is a fun date idea in Utah for night owls. The tour stops every 15 minutes and your guide tells a historically true ghost story that will leave her looking for someone to hang on to.
19. Take a Sound Bath
Sometimes a relationship just needs to hit the reset button. Sound healing is the perfect out-of-the-box date idea in Salt Lake City to do just that.
Trained practitioners lead a meditative journey that uses the vibrations created from Himalayan Singing Bowls and other instruments to create an overall sense of relaxation and wellbeing. Any tension that's been hanging between you will become a distant memory and you'll be able to make a fresh start.
DIY Date Ideas in Salt Lake City
20. Practice Ikebana
What can you do on a date with a girl who loves flowers? Teach her the art of Ikebana, Japanese for "making flowers alive". There are virtual flower arranging classes that will inspire her with new ways to enjoy all the bouquets you've been sending. Everything in your relationship will be coming up roses.
21. Carve Wood
If you're significant other loves to binge-watch DIY programs, then a unique date idea in Salt Lake City is to get out there and get in on the action.
Community Woodshop SLC will help you tie on your tool belt and channel your inner Chip and Joanna Gaines. They offer woodworking classes where you can make a butcher block carving board for your next charcuterie party.
22. Throw a Bowl
If your loved one loves to work with their hands, then roll up your sleeves and consider pottery classes. Many local spots offer date night specials, plus you'll be creating something together that you'll cherish for years to come. It's a low-key date idea in Salt Lake City for couples that just need some downtime.
Free & Cheap Date Ideas in Salt Lake City
23. Go Glow Golfing
All's fair in love and war, especially if the battle is on a pirate-themed, glow-in-the-dark mini-golf course. A round of nine holes will only cost you $4, so there will be plenty of money left in the coffers for arcade games and funnel cake fries.
24. Go Thrifting
One man's trash is another man's treasure, and who doesn't love a good bargain? SLC has its share of charming options to peruse. Thrifting is a good first date idea because you can learn a lot about someone by watching them shop.
25. Hit the Drive-In
Turn off Netflix and turn on your F.M. radio! Redwood Drive-In Theatre, open seasonally, is a classic best date night for couples that love movies but are on a budget.
For less than the price of a box of popcorn in your standard theatre, you get to watch in the privacy and comfort of your own car. If they're closed for the winter, Brewvies Cinemapub is a good option.
26. Moonlight Hike
Hiking is an easy date idea. It's a good way to spend time together and to have deep conversation. It's also one of the best free date ideas in Salt Lake City. Check your calendar and pick nights around a full moon, and then head on down to the Ensign Peak Trailhead for an easy out-and-back trail.
27. Picnic at Liberty Park
Sometimes what a relationship needs is a little fresh air. Making a picnic is one of the most classic and romantic date ideas in Salt Lake City. Spread out the blanket, get comfy and breathe life into what's gotten stale. It's also one of the best cheap date ideas in Salt Lake City any couple will love.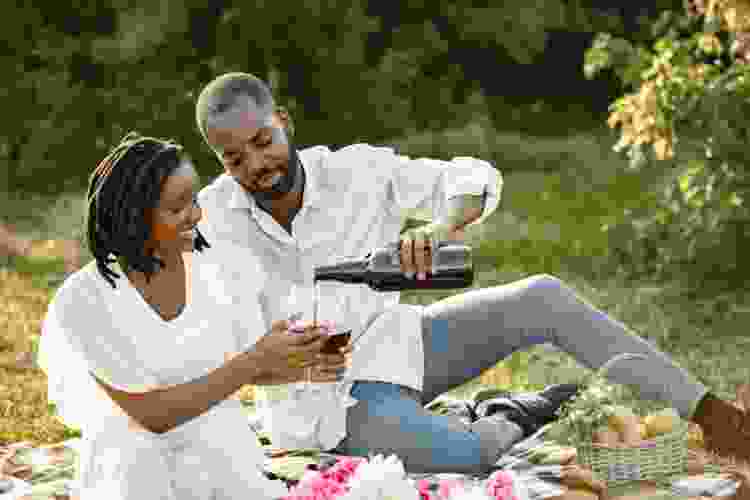 The Beehive state is a-buzz with fun and romantic date spots, and there's much to be discovered if you're looking for the perfect date idea in Salt Lake City.
You can always fall back on an old standard like touring a museum or window shopping at City Creek Center, but variety is the spice of life. The most important thing is that whatever you do, you'll be doing it together.
For even more fun date ideas, check out other experiences happening on Classpop!