69 Creative Hobbies for a Better You in 2023
Last Updated on Aug 9th 2023
| 0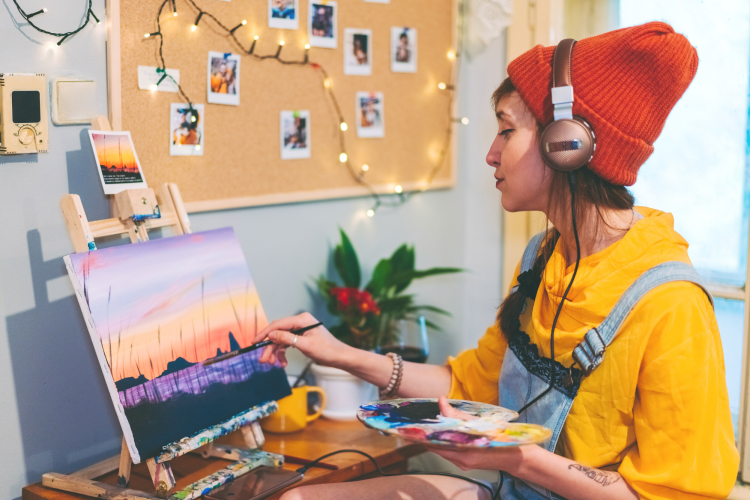 Our editorial team recommends the best products through independent research, selection and careful review. If you make a purchase through one of our affiliate links, we may earn a commission. Prices are subject to change.
Whether you're looking to learn a new skill, make new friends or simply find a more productive way to spend your free time, creative hobbies offer something beneficial for everyone.
Even though many people want to start a new hobby, it's normal to wonder how to find a hobby in the first place. You might even be asking yourself, what is a hobby, or more specifically, what is a good creative hobby?
No matter what your interests are, we're going to help you discover a new creative hobby and become the best version of yourself this year! We've compiled a list of 69 hobby ideas, including creative hobbies to do at home, outdoor hobbies, hobbies that make money and more.
Plus, we'll also cover everything you need to know about finding a hobby and why creative hobbies are good for your mind, spirit and overall wellbeing.
Read on, so you can pick up a new creative hobby today!
Jump to Section
What Is a Hobby?
Hobby Definition
Before you can find a new hobby, you need to know what it is first. A hobby is defined by the dictionary as "an activity done regularly in one's leisure time for pleasure."
That's a very broad hobby definition, but it points out the three criteria that turn an activity into a hobby:
You engage in it on a regular basis (i.e. more than once or twice).
You do it in your free time.
You enjoy doing it.
Don't focus too much on the definition or hobby meaning, though. When you find something you enjoy doing, you'll quickly find yourself doing it for fun in your free time, likely without even having to think about it and before you know it, you'll have picked up a new hobby!
There are all kinds of hobbies out there, but some of the most rewarding are creative hobbies.
What's a Creative Hobby?
A creative hobby is any leisure activity that requires you to think or express your ideas, experiences or emotions in a unique, engaging or creative way. This could include anything from traditionally creative interests.
What are creative interests? Creative interests are things like art and music, or, to those that are less mainstream, things like playing chess, designing a virtual world or woodworking. Creative interests become creative hobbies when your practice becomes habitual.
Why are Creative Hobbies Good?
Creative hobbies have many benefits. They'll help you develop new skills, including problem-solving skills.
MIT Libraries shares the discovery of a positive correlation between creative activity and improved productivity and work performance – so yes, picking up a new hobby just might benefit your professional life too!
Engaging in creative hobbies is often very relaxing and has been used to help treat stress, depression and other mental health conditions.
These types of activities are also great for your mind. They challenge your brain to think in new and different ways, which can help boost your overall cognitive function and even improve memory, as shared by the National Library of Medicine.
What Hobbies Can Make Me Creative?
Hobbies themselves don't necessarily make you creative, but having a creative hobby will help you explore and develop your creativity.
A hobby defined as creative means that it's an activity that requires you to think differently and express yourself in new ways; in other words, a creative hobby encourages your creativity.
So, if your goal is to boost creativity, then adopting a creative hobby is a great first step!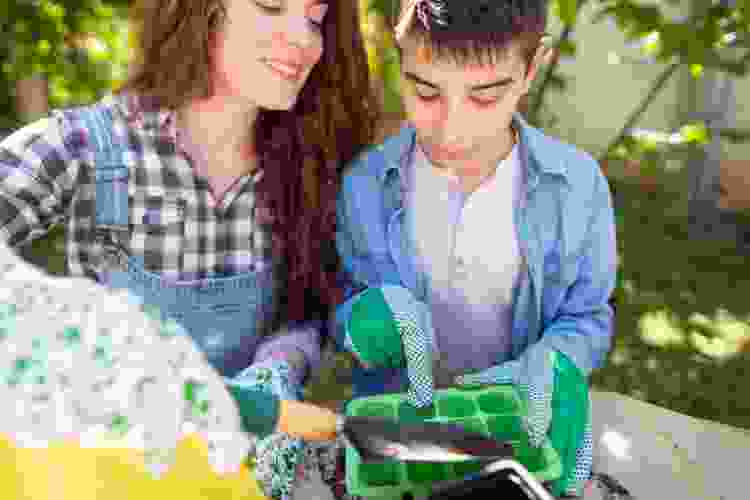 How to Find a Hobby
How do you find a creative hobby? There are lots of different ways to find a hobby, but the most important part is to keep trying new activities.
Tip: Remember the hobby definition — it needs to be an activity you enjoy doing, and the only way to find fun activities you like is by actually trying them!
You might consider reaching out to friends and family members to see if you can join them during some of their favorite pastimes. Chances are they'll be eager and excited to share their hobbies with you.
The internet is also a great resource for discovering new things to do, especially watching videos on TikTok, Youtube and other social platforms.
Finally, what are some creative hobby ideas? We've compiled an extensive list to give you some inspiration, and there truly is something for everyone.
Creative Hobbies for Women
1. Cooking
If you're looking for a creative hobby that is just as practical as it is fun, consider cooking. No matter what your culinary skill level, there are always new ingredients and cuisines to explore.
Taking in-person cooking classes is an exciting way to dive deeper into this hobby with other budding chefs. Explore cooking classes in St. Louis, cooking classes in the Bay Area, cooking classes in Fort Lauderdale and cooking classes near you to find what interests you most!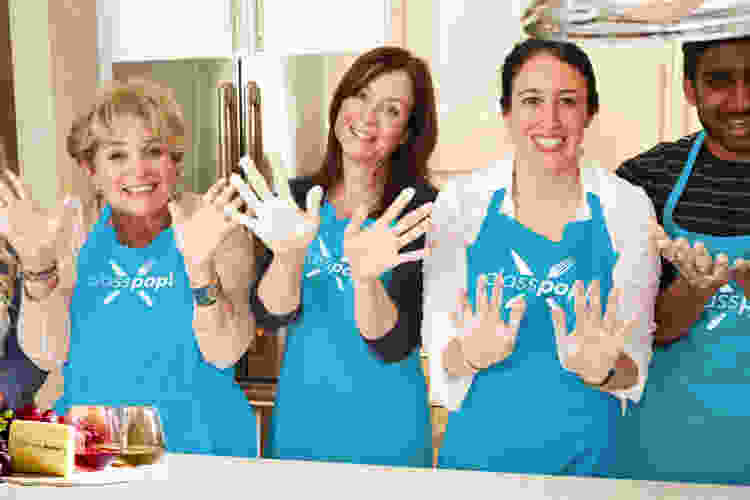 2. Dancing
Dancing is a wonderful creative hobby for expressing your feelings and emotions through movement. Plus, there are so many different styles to explore, from ballroom dancing to hip hop, tap and swing, so feel free to try a few classes to see what you like best.
Browse all the different dance classes in Colorado Springs, dance classes in Orlando, dance classes in Los Angeles and dance classes near you. If you'd feel more comfortable learning in the comfort of your own home, there are also plenty of online dance classes.
Once you've mastered some of the basic moves, you'll be able to bust out your moves whenever you have a few minutes to spare, even if it's just scheduling in a quick workday dance break.
3. Gardening
Gardening is a great creative hobby that helps you feel more connected to the natural world. From designing the layout of your flower beds and boxes to meticulously taking care of your plant babies, this activity has a little bit of everything. To get started, join a plant subscription service and receive new plants and grow kits every month.
4. Basket Weaving
This beloved creative hobby has been around for centuries, and all it requires to get started is wood or willow branches, twine or string and some pliers. It's a great creative hobby for those who love home décor, as you'll be able to place your hand-woven pieces around your home.
Creative Hobbies for Men
5. Pottery Classes
One of the best creative hobbies is pottery, especially for those who love working with their hands. Men who spend lots of time in their workshop making and fixing things may find pottery to be a more natural medium for artistic expression.
Pottery workshops are also a great opportunity to connect with others and expand your social circle. Check out all the pottery classes near you and browse pottery classes in Boston, pottery classes in San Diego and pottery classes in San Francisco.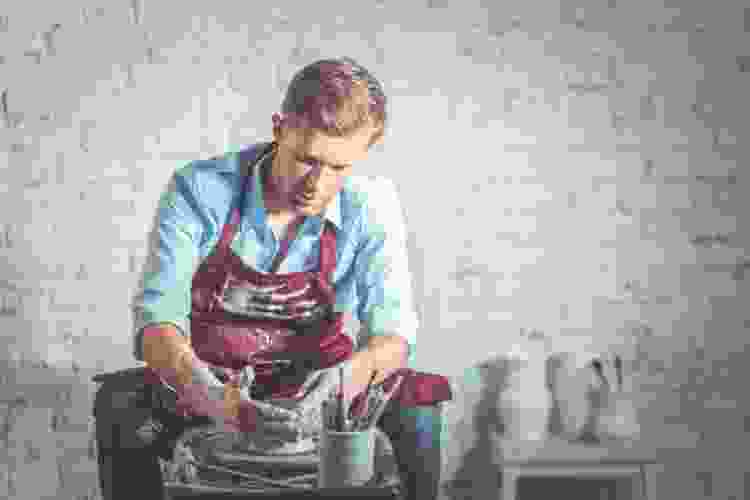 6. Woodworking Classes
Learn how to build furniture, tools and more with woodworking classes. Woodworking is a great creative outlet, and it's also an extremely practical skill to know and can help you outfit your home with DIY objects.
7. Glass Blowing Classes
For a more unique creative hobby that men (but also women) will love, explore how to design mesmerizing glass-blown works of art with glass blowing classes. As you get more practiced, you'll be able to make even more advanced pieces.
8. Woodburning (Pyrography)
Similar to woodworking but a bit more decorative, woodburning involves stenciling and then burning designs onto wooden surfaces. This creative hobby is great all on its own or combined with woodworking.
9. Woodcarving
Another wood-related creative hobby is woodcarving, which might be more suited to those who prefer sculpting to constructing things. It's a very detail-oriented activity and requires a lot of focused attention, but carving your own wooden spoons and figurines feels extremely satisfying.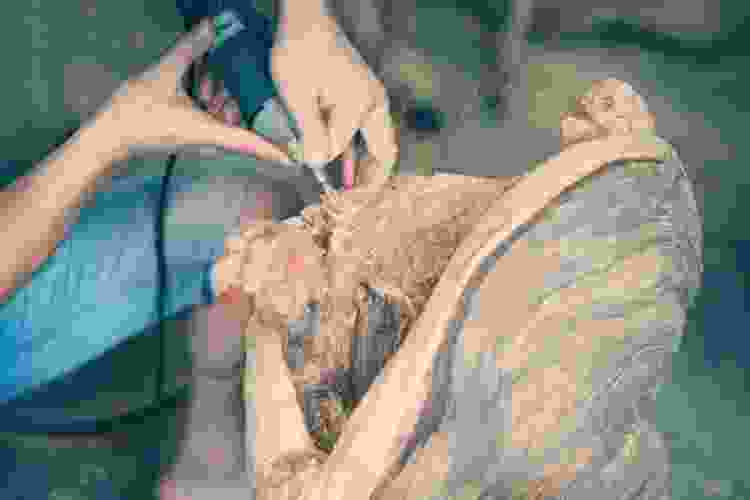 10. Metalworking and Welding
Although it's one of the more involved and complicated hobbies, fashioning metal into tools and other items can be exhilarating and extremely worthwhile.
Welding and metalworking requires lots of heavy tools and poses a safety risk if not done properly, so you'll definitely want to take a few classes before tackling this on your own.
Creative Hobbies for Teenagers
11. Online Trivia Games
Challenge your teenager to test their knowledge with online trivia games. Whether they decide to play against friends, family or strangers, this is a fun activity that will boost their cognitive skills time and time again.
12. Game Nights
The best creative hobbies for teenagers are those that actually engage them and their friends, which is why game nights are perfect. If they can't gather in person with a group, they can regularly engage in nights of brain-stimulating social fun with virtual game nights instead!
13. Paint Night
One of the most popular creative hobbies among teenagers is painting, which makes sense because it can be extremely relaxing and doesn't require a lot of knowledge or skill to get started.
Teenagers who enjoy learning in-person with others may want to explore painting classes near you. Or, for those who'd rather learn in the comfort of their own home, there are also plenty of online painting classes to choose from.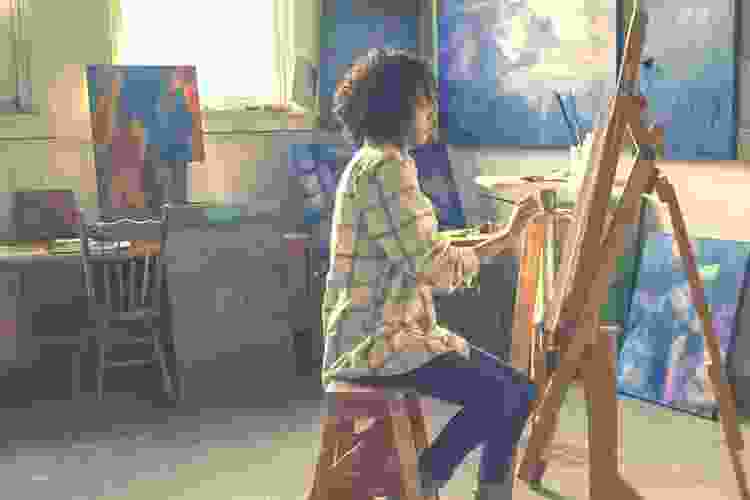 14. Origami
Origami, the art of ancient Japanese paper folding, only requires paper, your hands and maybe some instructions, which makes it an easy activity for teenagers to explore. There are all sorts of unique designs to master, ranging from the paper crane to flowers, dragons and more.
15. Papier Mâché
Kids, teenagers and adults who aren't afraid to get their hands a bit dirty should give papier mâché a try! Using paper scraps and a glue/paste, you create solid sculpture-like structures, which you can then paint and decorate once they dry.
16. Magic
What kid, or adult for that matter, doesn't find themselves amazed by a good magic trick? Exploring the intricate secrets behind illusions and slight-of-hand deceptions is a riveting creative hobby for all ages!
Creative Hobbies for Adults
17. Mixology and Bartending
Shake things up happy hour style with online mixology classes and learn how to mix your favorite drinks all without leaving the house. Pretty soon you'll have your own at-home bar and be creating your own unique craft cocktails.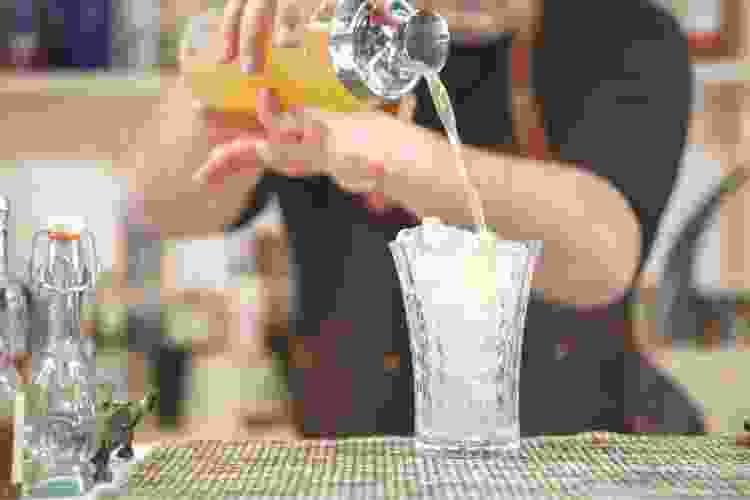 18. Wine Sommelier
With this flavorful creative hobby, there are all sorts of virtual wine tastings to help you build your sommelier knowledge or simply introduce you to new blends and vintages.
19. Flower Arranging
There is something so peaceful about creating beautiful bouquets bursting with blooms and greenery. Virtual flower arranging classes will send you all the flowers and tools you'll need and guide you through the process of creating artful arrangements.
20. Cooking (At Home)
Cooking is one of the best creative hobbies to do at home, as you need a kitchen workspace to practice your culinary skills. You can explore ingredients and cooking techniques on your own, but you can also take online cooking classes for some professional guidance.
21. Baking
While quarantining during the pandemic, many people picked up baking, and more specifically bread-making, as an at-home creative hobby. The combination of having clear steps to follow and having to use your hands makes this a very relaxing and grounded activity for many people.
Plus, you end up with all kinds of delicious baked goods to enjoy either by yourself or with friends and family.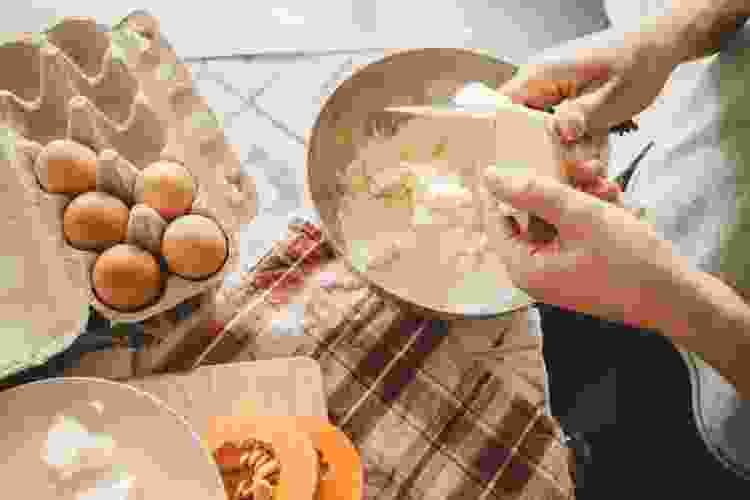 Creative Hobbies to Do at Home
22. Filming Makeup Videos
Another great creative hobby that doesn't require you to leave the house is to film your own makeup videos. Whether you do it just for fun or decide to post them on social media and gain a following, it's a great way to boost your self-confidence and have a bit of fun with beauty.
23. Puzzles
Another creative hobby that gained popularity during the pandemic is puzzling. There's something so calming about fitting together different jigsaw pieces, and of course, the feeling of immense satisfaction when you finish is hard to beat.
24. Reading
There's nothing better than curling up with a good book and letting your mind momentarily escape reality.
When it comes to creative hobbies, reading is one of the most studied, and we know that it has immense benefits for cognition, learning, social skills and can even add years to your life, according to Harvard Medical School.
25. Poetry
A great creative hobby for wordsmiths is writing their own poems. Poetry is one of the most open-ended styles of writing, which means it's a great medium for artistic expression.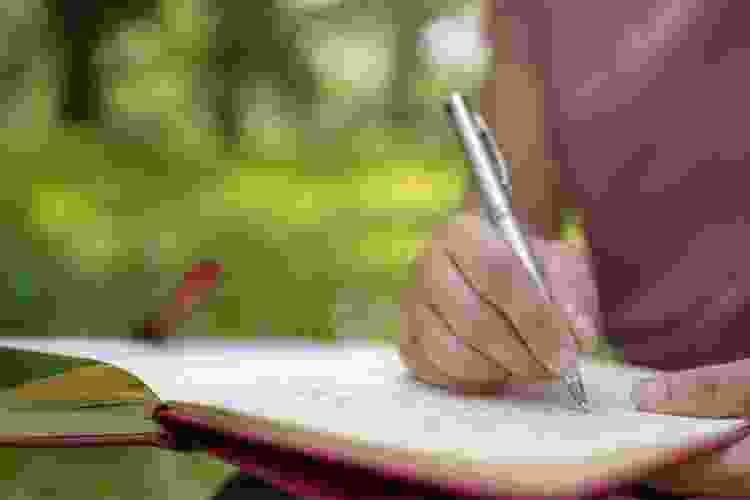 26. Writing
If poetry doesn't speak to you, you can express yourself with other types of writing, whether it be blogging, drafting a memoir or writing a novel! Practicing your writing is also a great way to improve your overall communication skills, which is another reason this is such an excellent creative hobby.
Creative Hobbies That Make Money
27. Drawing
While drawing is a wonderful and stress-relieving hobby all on its own, it can also become a profitable hobby if you're dedicated enough.
Art is subjective, which means you never know who might fall in love with your drawings, so it just might be worth displaying your work at local craft fairs. If you love drawing, but don't really know how to draw, take a few drawing classes and online drawing classes!
28. Photography
When it comes to creative hobbies that make money, photography is probably the most popular and pursued choice. Many people even create separate photography Instagram profiles to showcase their best shots, whether they decide to sell their photos or not.
Photography classes in Houston, photography classes in Austin, photography classes in Los Angeles and online photography classes will help you learn some of the more advanced techniques and challenge you to use your lens in even more creative ways.
29. Soap Making
It won't take long to master the basics of making your own soap and from there, you can start experimenting with different ingredients, molds, colors and more.
While this creative hobby saves you money (you won't have to buy soaps from the store anymore), you can also make a profit by selling your soaps to others, particularly local community members.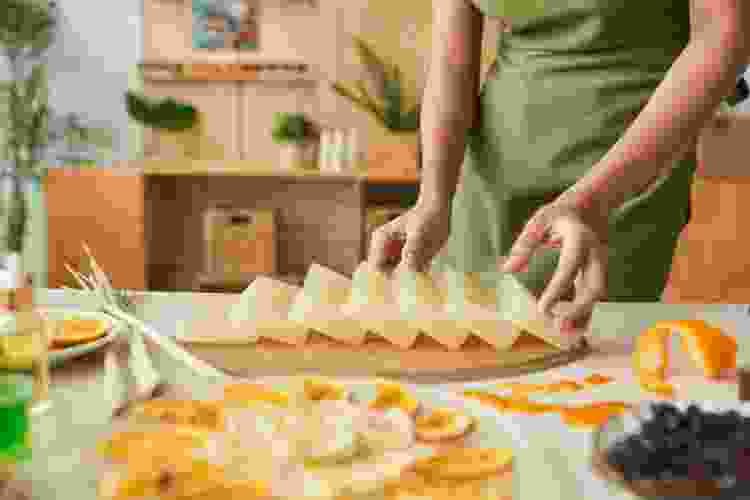 30. Nail Art
After a bit of practice, this creative hobby can quickly make you some extra cash, or at the very least, save you the expensive bill from going to the nail salon. From stickers and gems to painting intricate designs, nail art is a fun way to add some extra glam to your manicure. You can practice with a
31. Computer Coding
Learning how to code requires creative problem-solving skills and practice. Once you've mastered the basics, you can easily turn this hobby into a money-making endeavor and even a professional career!
32. Graphic Design
Similar to coding, graphic design is a creative hobby that can turn into professional work. This type of digital designing requires lots of artistic innovation, especially since you want your computer-generated logos to be unique and recognizable for different companies and organizations. Explore user-friendly online programs like Canva that make it simple for beginners to get started.
33. Jewelry Making
Designing your own necklaces, earrings, bracelets and more is exciting, especially when you start to sell your creations and see others wearing them!
This is also a great hobby to just add a few new accessories to your own wardrobe. Master making gorgeous jewelry by joining the Simply Beads kit of the month club that delivers dazzling beads to your door, keeping you inspired every month.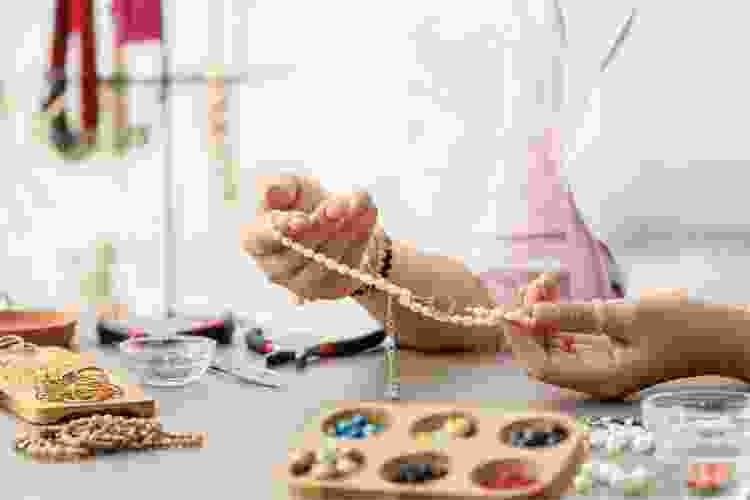 Unique Hobbies
34. Virtual Problem-Solving Games
For those of you who love to challenge your mind, one of the best creative hobbies is virtual problem-solving games. One of the hardest parts about games as a hobby is that you often need to get a whole group of people together.
Luckily, activities like virtual escape rooms and virtual scavenger hunts effectively eliminate that problem, which can make it easier to engage in these types of problem-solving experiences more regularly.
35. Acting and Drama
Acting is one of the more unique creative hobbies; there is something so freeing about pretending to be an entirely different person and behaving in ways you never would normally.
Although it can be a bit nerve-wracking when you first begin, the more comfortable you get, the more fun you'll have. Acting classes and online acting classes offer the perfect atmosphere for exploring your inner thespian, whether you're a novice or old pro.
36. Improv
A specific style of acting, improv requires witty quick-thinking, teamwork and lots of creativity, all of which make it one of the most entertaining creative hobbies. There are tons of improv prompts and games to be found online, and you don't need any props to start acting out hilarious scenes with your friends!
37. Cosplay
Cosplay gives you the chance to act out life as your favorite sci-fi, fantasy or other fictional character, but you'll also have to design an accurate costume. It's a hobby that combines crafting and acting with your love for your favorite stories.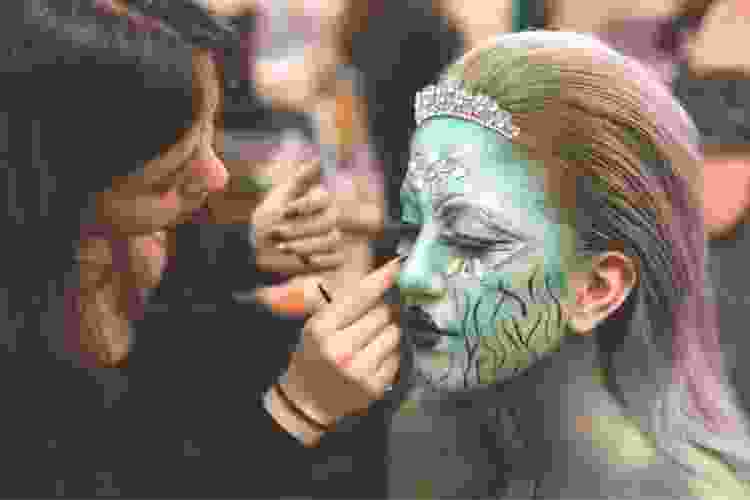 38. Irish Dancing
It may not be the usual style of dancing, but there's something inherently uplifting about step dancing to a lively Irish jig! This is a great activity to boost your mood, and it also challenges both your mind and body.
39. Candle Making
Using wax, wicks and essential oils to mold your own scented candles can be an enjoyable activity for kids and adults alike. If you're feeling extra fancy, you can add beads, glitter and other decorative touches to your candles, too.
40. Weaving
Weaving your own yarns and threads into fabric is a unique skill that requires a bit of time and practice to learn. You'll also need to invest in a loom, but once you know the basics, the creative possibilities for weaving are truly endless!
A great place to start is by exploring fiber art craft kits that come with all the supplies and easy-to-follow instructions you need to make this a hobby.
Weird Hobbies
41. Seed Art
Making art from seeds, also known as crop art, certainly qualifies as one of the more unusual crafts hobbies, but that doesn't mean it's any less fun. People who engage in this uniquely creative activity regularly find it to be rather meditative, and the end results are pretty cool.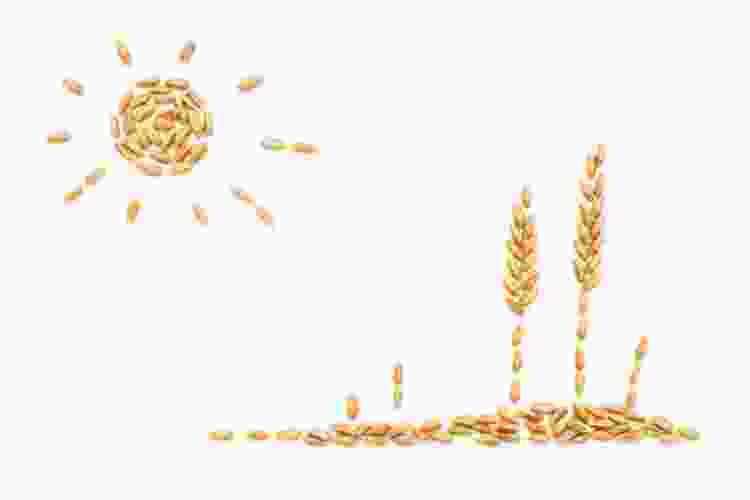 42. Bead Art
Bead art is a bit more mainstream than seed art, but both these craft hobbies are very similar. Instead of seeds, bead art turns piles of teeny, tiny perler beads into 3D structures, and it is also an extremely calming activity.
43. Making Felt Animals
Making felt animals is a niche hobby, mostly because it can be time-consuming and doesn't have much practical application. However, the process can be extremely relaxing, and you'll quickly fall in love with your super adorable felt animals, even if they don't really serve a purpose.
44. Bone Carving
If you have lots of patience and enjoy fine detail work, then bone carving might be a perfectly weird hobby for you.
Using electric tools or just basic files and sandpaper, you'll carve intricate designs into small pieces of bone. It requires a lot of focus, which can help keep your mind distracted from unwanted thoughts.
45. Tarot Cards
Some people are drawn to tarot cards as a means to gain spiritual insight about the world, while others simply admire the beautiful designs and artwork. Either way, this unconventional hobby of collecting (and using) tarot cards is quickly gaining popularity within pop culture.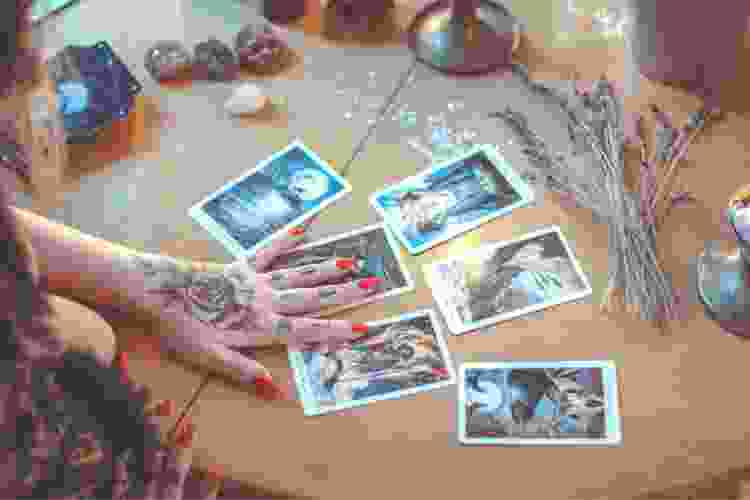 Outdoor Hobbies
46. Hiking
When it comes to outdoor creative hobbies, hiking should be at the top of your list. Connecting with nature has an instantly calming effect, plus you'll see incredible views while getting some physical exercise. You can even get really creative with your route plan by taking some of the less common trails.
47. Backpacking
For those of you who don't get quite enough from a simple day hike, backpacking is the next logical choice of activity.
This is one of those outdoor hobbies that really isn't for everyone, but if your idea of fun is back-country camping in the mountains for a few nights and hiking from summit to summit during the day, you'll fall in love with backpacking adventures.
48. Bike Touring
If you're looking for a creative hobby that combines sightseeing with physical activity, then bike touring is perfect. Spend your free time cycling around and taking in scenic views, whether of the city skyline or natural landscapes.
49. Landscaping
One of the best hobbies for outdoor enthusiasts is landscaping. After you design the layout of your yard, you'll get to spend hours outside transforming your grass and dirt into something beautiful.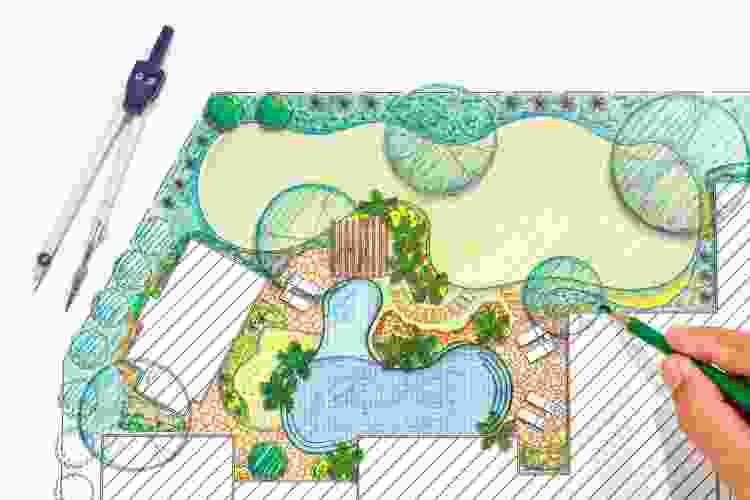 50. Beekeeping
Beekeeping is an excellent hobby for nature and wildlife enthusiasts, and you'll feel better for helping the environment. In addition to tending to your hive(s), you can also design and plant a bee-friendly garden with plants that attract pollinators.
Crafting Hobbies
51. Sewing
Learning how to sew is exciting and also extremely useful, especially when you can suddenly repair your ripped clothes or even create new pieces for your wardrobe.
Some people learn how to sew from their parents and grandparents, but for those who have no seamstresses or tailors in the family, sewing classes are a great way to get started.
52. Art Classes or Paint and Sip
One of the most classic hobbies is art. This is such a broad category and encompasses a wide array of more specific artistic hobbies. Art classes are a great way to explore the different types of art or challenge your artistic creativity in new ways.
If you're looking to make it into a bit of a social activity, grab your friends for weekly paint and sip events, so you can all relax and create together. Try paint and sip in Orange County, paint and sip in Sacramento, paint and sip in San Diego, or paint and sip near you.
53. Scrapbooking
When it comes to crafty hobbies, scrapbooking is one of the most well-known. Not only is it fun to artfully showcase pictures, momentos and other sentimental items, but the scrapbooks themselves become important legacies of cherished memories and past events. Collect supplies like washi tape, stickers, stamps and other decorative elements to bring your memories to life.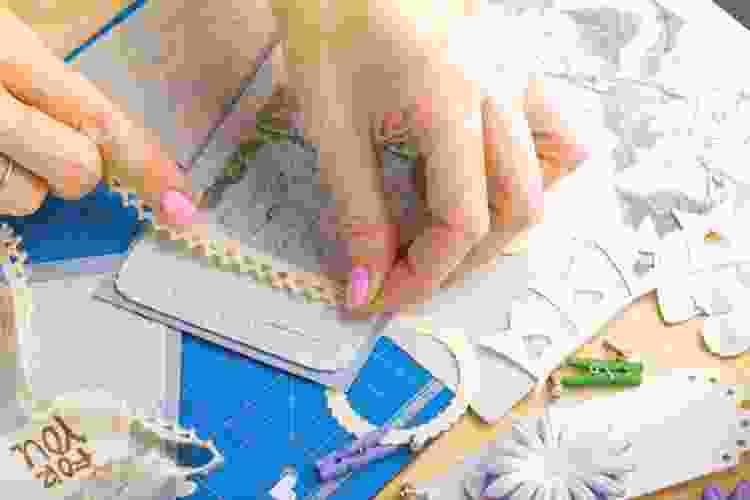 54. Bullet Journaling and Hand Lettering
Bullet journaling and hand lettering combine drawing with organization and design, thus allowing you to be expressive while also calming the mind with order and structure. It's a creative hobby that compliments scrapbooking, as well.
55. Making Friendship Bracelets
No matter how young or old, making friendship bracelets is a great way to unwind and remind your loved ones that you care about them. There are different styles of friendship bracelets, but you'll need fine finger dexterity, creativity and a whole lot of love to make all of them.
56. Quilting
Once you get into quilting, it's hard to turn back. It requires a surprising amount of mental engagement, and your finished products turn out absolutely stunning. Plus, you'll feel even cozier snuggling up under a quilt you designed and made yourself. Speed up the learning process and collect quality fabrics with a monthly fabric craft kit delivery service.
57. Cross-Stitch
Cross-stitch is one of the most beginner-friendly types of hand embroidery in which you create designs on fabric using small x-shaped stitches. There are plenty of beginner project kits, but if you're feeling more creatively inspired, you can buy the fabric, thread and tools to make your own designs.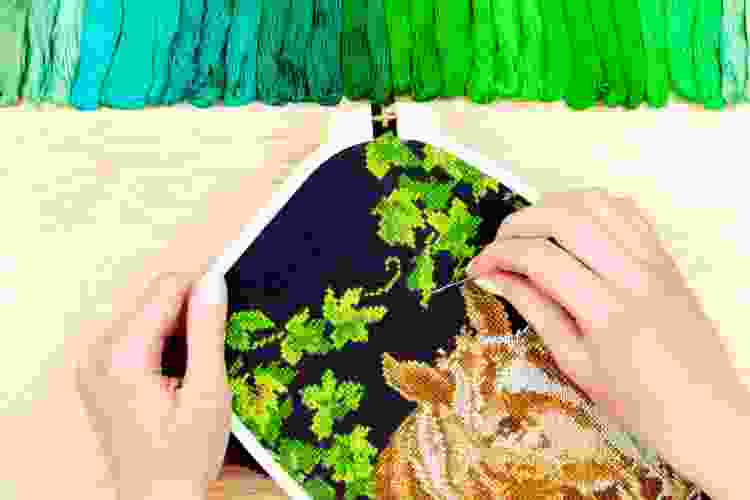 58. Clay Miniature Art
If you have an inexplicable love for all things tiny, you'll likely fall in love with making miniature clay art. You can create anything from tiny food scenes to complicated dollhouse scenes, depending on your desired level of focus and difficulty. For something extra, you can then film short stop-motion videos with your clay miniatures.
59. Knitting
One of the most beloved hobbies, knitting is soothing and relaxing and requires relatively little active thinking. Many knitters pick up their needles while they're watching tv or otherwise relaxing for the evening and find that it's a great way to unwind for the day.
60. Crocheting
Another popular activity among craft lovers is crocheting. It's similar to knitting, except it only requires one needle. As a hobby, though, it produces the same relaxing effect as knitting and is an easy way to make your own hats, scarves and more. Crochet kits for beginners make it simple to start this new hobby at home.
61. Calligraphy
After you learn the basics of calligraphy, the fun begins as you can start to personalize letters and other projects with beautiful decorative letters! You may even find this creative hobby comes in handy for writing wedding invitations, thank you notes and other special notes.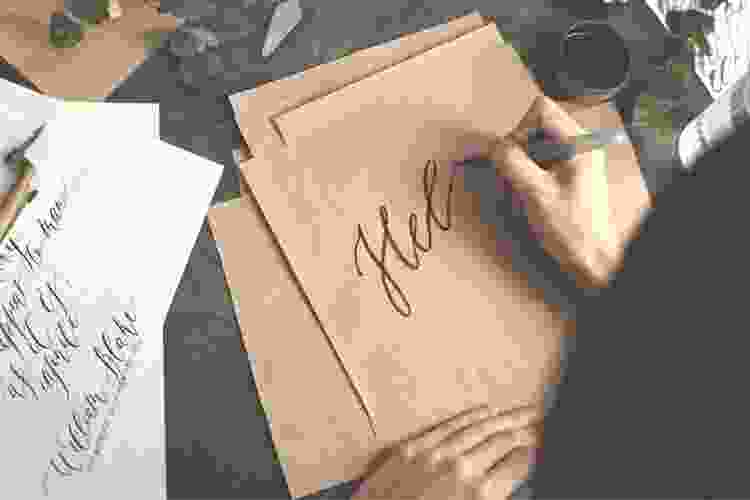 Musical Hobbies
62. Singing
Singing, either by yourself or with a group, is a wonderful way to express your emotions and feel connected to others. It naturally lowers stress and anxiety levels and can help boost your mood. Whether you have formal training or not, singing is a musical hobby all can enjoy!
63. Learning an Instrument
If you've never felt like much of a singer, you can get the same benefits of music-making from learning an instrument instead.
In fact, playing an instrument also requires physical coordination and challenges your mind in ways slightly different than singing. Not to mention, it's always fun to bring out your instrument to impress your friends or serenade your lover.
64. Songwriting
Let your feelings manifest themselves through expressive lyrics or melodies by writing your own original songs. Depending on how extensive your musical knowledge is, you can explore different forms of composition, ranging from simple piano and singer works to complicated orchestral scores.
Other Creative Hobby Ideas
65. Crossword Puzzles
Doing a weekly crossword puzzle is a great way to keep your mind sharp and likely expand your vocabulary in the process. You can find puzzles in most popular newspapers, but there are also plenty of free crossword puzzles online.
66. Sudoku
For one of the more brain-engaging hobbies, consider picking up sudoku. It's a timeless numbers logic puzzle that requires you to arrange numbers 1-9 in a 9x9 grid such that each row, column, and 3x3 grid only uses each digit once.
67. Learning a Foreign Language
One of the best hobbies for improving brain function is to learn a new language! No matter which language you choose, you'll challenge the neurons in your brain in new ways. This is also one of the more practical creative hobbies, especially if you love to travel to different countries.
68. 3D Printing
Using special software, a 3D printer can transform paper and plastic into physical 3D objects! Although you do have to invest in a printer, it's super exciting to explore, especially for those who love engineering and innovation.
69. Become a Cardshark
Spice up your next game night with some serious card shuffling skills! Learning the different ways to shuffle a deck of cards is fun, sometimes challenging, but always impressive. You may even want to start a card deck collection in the process.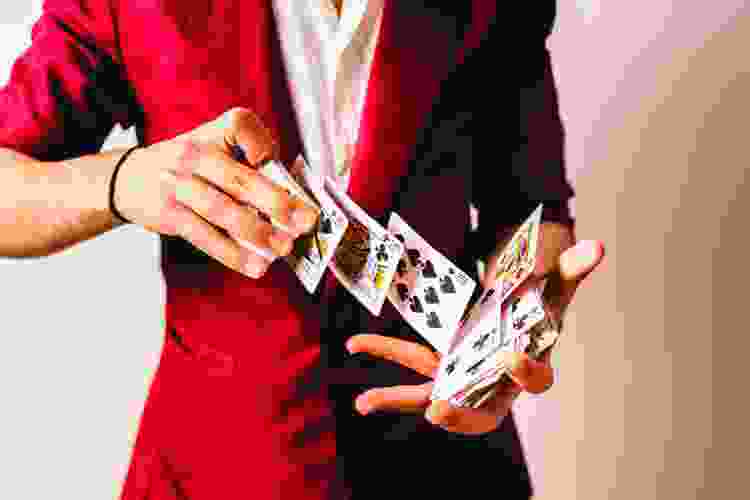 With so many creative hobbies out there, it's up to you to find your favorite! No matter where you start, just keep trying different activities until you find one that really speaks to you, and before you know it, you'll have an exciting new hobby.
Experience the fun and immense benefits creative hobbies have to offer to become the best version of yourself this year!
For even more creative inspiration, check out other experiences happening on Classpop!