How to Waltz Your Way to Becoming a Ballroom Pro
Published on Mar 16th 2022
| 0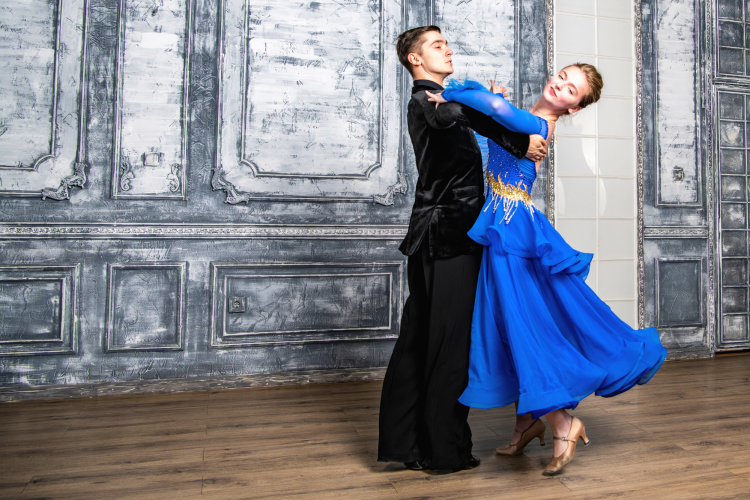 Have you ever wanted to learn how to waltz? Whether it's to surprise a significant other, learn a new dance style or just because it sounds fun, there's never been a better time to learn how to waltz.
According to Fred Astaire Dance Studios, "dancing enhances memory, alertness, awareness, focus and concentration." It's also been known to offer protection against dementia and improve brain health. All that, and it's fun, too!
From the Austrian waltz-like Landler in The Sound of Music to Bridgerton and Bindi Irwin and Derek Hough's magically modern take on the Viennese waltz on Dancing with the Stars, the waltz is an elegant, sophisticated and graceful style of dance.
The waltz evokes a fairytale feeling of enchantment, but it's become much more than aristocrats in pompadours, tuxedos, and the lavish bustles and lace of evening gowns. Let's take a look at some steps (pun intended) you can take to learn how to waltz your way to becoming the next ballroom pro.
Jump to Section
Is the Waltz Hard to Learn?
The waltz is one of the easiest dances for a beginner to learn. If you can step forward and backward, and count to three, you're already halfway there. A great way to learn how to waltz is by taking a dance class. You'll have fun, learn some new steps and get a great workout.
From dance classes in Colorado Springs to dance classes in San Diego, dance classes in NYC and dance classes near you, there are a wide array of waltz and ballroom dance styles to choose from.
Want to start learning how to waltz from the comfort of your own living room? Check out online dance classes. You'll join a live instructor via Zoom or another digital platform. Practice those moves in private before heading to the ballroom or dance studio for more advanced lessons on how to waltz.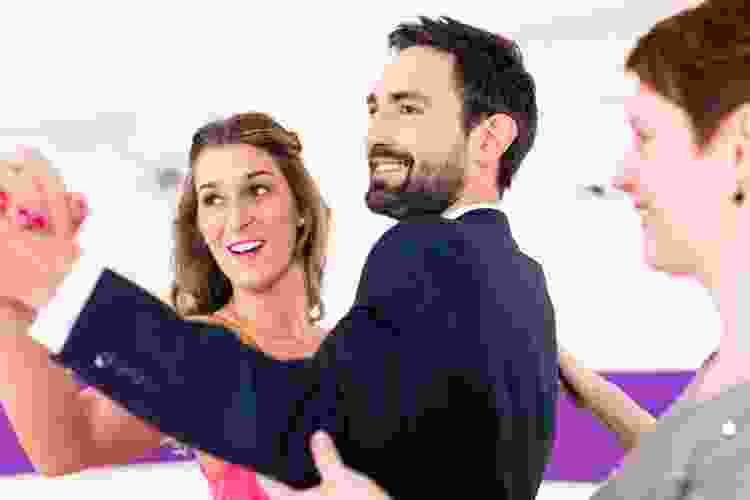 Waltz Definition
So, what is waltz, exactly? As stated in Stanford University reports, the waltz dates back to 17th-century Europe, predominantly Austria and other Bavarian regions, and began as a country folk dance, and was considered "shockingly intimate."
As for the waltz definition, the word waltz derived from the German word walzen, which means "to revolve." This brings about an appropriate visual, as the waltz resembles the look of a revolving circle of dancers flowing around the floor. The rhumba, foxtrot and quickstep are derived from the waltz.
This romantic dance style is done in 3/4 time and includes Viennese, classic American waltz, international style waltz and others.
Types of Waltz
American Waltz
American ballroom waltz is the most common type of waltz. This is the style most dancers learn how to waltz as beginners. The American waltz has six basic steps that are repeated throughout the dance. The dancers move right-left-right in a counterclockwise movement around the room. More arm movement is used in this style than other styles.
Viennese Waltz
Viennese waltz is the original version that developed in Europe. More advanced than other styles, dancers move quickly and do fast turns. Dancers move counterclockwise around the room. Consider learning how to waltz this style once you've mastered American ballroom.
International Waltz
International waltz is like American, but the dancers move left-right-left. This style is often seen in dance competitions and is sometimes referred to as the slow waltz. It's danced to slow music, making it another good choice for beginners who are learning how to waltz.
Country Waltz
There's also a country version of the waltz, which is a slower style of dance. If you already know how to line dance, the country waltz is very similar. It's faster than a traditional waltz and has faster music, making it a little more challenging to learn how to waltz in this style.
Waltz Music
Waltz music is slower than the music of rhythm dances. The first beat is usually a low bass note. The next two notes are a little higher. Classical music is the perfect choice to use when learning how to waltz, but contemporary and even country music can be used for a lovely waltz lesson.
Examples of popular traditional and modern waltz music include:
"The Blue Danube Waltz" — Johann Strauss II (known as the Waltz King)
"The Emperor Waltz" — Johann Strauss II
"Minute Waltz" — Frederic Chopin
"Sleeping Beauty Waltz" — Pyotr Ilyich Tchaikovsky
"Swan Lake Waltz" — Pyotr Ilyich Tchaikovsky
"Skater's Waltz" — Emile Waltdteufel
"Are you Lonesome Tonight?" — Elvis Presley
"Sunrise, Sunset" — Perry Como
"Tennessee Waltz" — Anne Murray
"Piano Man" — Billy Joel
"Unforgettable" — Nat King Cole
"The Way You Look Tonight" — Frank Sinatra
"Perfect" — Ed Sheeran
What are the Basic Steps of Waltz?
When you first learn how to waltz, you'll find that it comes down to a few basic steps that will help you achieve that lighter-than-air look of a true professinal.
Basic waltz steps names include:
Box Step Waltz
The waltz box is the foundation of the entire dance. Dancers perform a series of six movements done in the shape of a box on the floor. The pattern is step-step-close.
Change Step
The change step helps dancers move around the floor.
Underarm Turn
In an underarm turn movement, the dancers break away and do different steps at the same time.
Cross Body Lead
The cross body lead is when you progress from a box step where the leader opens up and the follower goes by.
Hesitation Step
A hesitation step is used to change direction and for turning left or right when you learn how to waltz.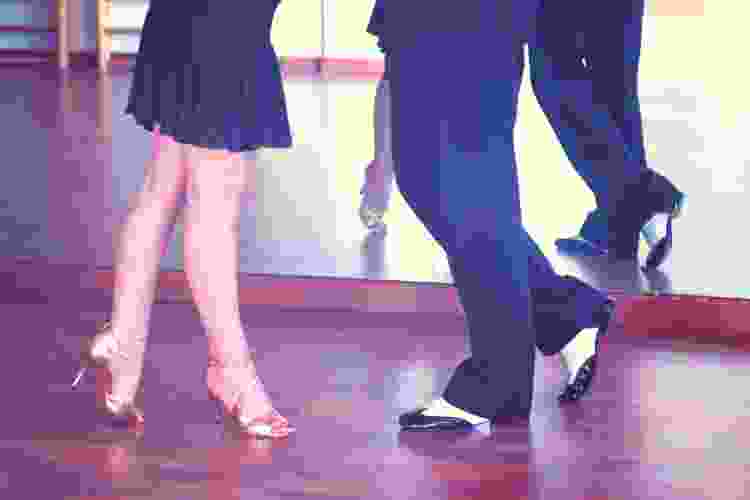 Waltz Step Pattern and Counting
The basic steps of a waltz include three step counts: slow – quick – quick. This sequence is repeated twice to create a box step. Timing is: 1, 2, 3, 1, 2, 3 or 1, 2, 3, 4, 5, 6.
After learning this basic box step, you'll then start rotating the box around the dance floor in a counterclockwise motion. After each half box, you'll take a 1/4 turn to the left. Then, after two full boxes (or four half boxes), you'll complete the turn back where you began. At this point, start all over. Voila! You're waltzing.
How to Waltz Turn
A waltz wouldn't be a waltz without those graceful turns (and spins, dips and flourishes as you get more advanced).
Natural Turn
The natural turn in a waltz is where the partners turn around each other clockwise.
Reverse Turn
With a reverse turn, partners turn counterclockwise around each other.
Turning Rock
Turning Rock is a unique pattern used to change direction using a rocking action.
How to Waltz With a Partner
With flowing fabric and smoothly synchronized steps, watching a waltz is the epitome of elegance and grace.
To learn how to waltz, two partners face each other standing about a foot apart. One acts as the leader, and one acts as the follower. The leader moves forward, and the follower moves backward.
There's a quote that describes this, and it goes something like this: "Just remember, Ginger Rogers did everything [Fred Astaire] did…but backwards and in high heels."
To start learning how to waltz, the leader places their right hand on the left shoulder of the follower. The follower puts their left hand on the right shoulder of the leader. The rest of the dance goes as such:
Steps for the Lead Partner
Step forward with the left foot.
Move your right foot sideways to the right.
Bring the left foot to the right foot. Your feet are parallel and not quite touching.
Step back with the right foot.
Step back with the left foot and move sideways to the left.
Move the right foot next to the left foot. Your feet are parallel and not quite touching.
Steps for the Following Partner
Step back with the right foot.
Move your left foot sideways to the left.
Bring the right foot next to the left foot. Your feet are parallel and not quite touching.
Step forward with the left foot.
Step back with the right foot and move sideways to the right.
Bring the left foot next to the right foot. Your feet are parallel and not quite touching.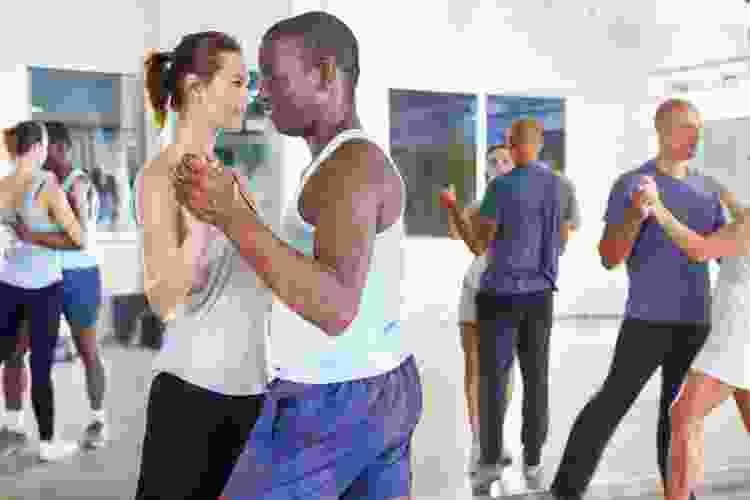 How to Waltz by Yourself
How do you waltz alone? If you don't have a partner or would just like to learn some steps on your own, it's easy to learn how to waltz by yourself. Simply learn the step formations of either the follower or the leader.
You'll have some basics down pat before practicing with a partner. One of the biggest skills when you learn to waltz is learning to effortlessly change weight to appear light on your feet. Keep this in mind when learning how to waltz on your own.
The Waltz in Movies and Television
Spark your dancing dreams by watching some waltzes on the big or small screen.
The Story of Vernon and Irene Castle (1939) — Fred Astaire and Ginger Rogers dance to "The Last Waltz"
The Sound of Music (1965) — Maria and Captain Von Trapp dance to the Landler, an Austrian folk-style waltz
My Fair Lady (1964) — Audrey Hepburn and Rex Harrison and "The Embassy Waltz"
Anna Karenina (1997) — Sophie Marceau and Sean Bean
Anna Karenina (2012) — Kiera Knightly and Aaron Taylor-Johnson
2001: A Space Odyssey (1968) — The ultimate weightlessness of space done to "The Blue Danube"
Bridgerton (2020 – present) — Netflix's hit show features a range of classical and modern music and waltzes done to Max Richter, Kris Bowers, Vivaldi and Shostakovich's "Jazz Suite No. 2"
War & Peace (2016) — BBC's adaptation starring James Norton and Lily James
Beauty and the Beast (1991) — Belle and the Beast dance an enchanting waltz
Downton Abbey (2019) — "The Sunset Waltz" by Johann Straus II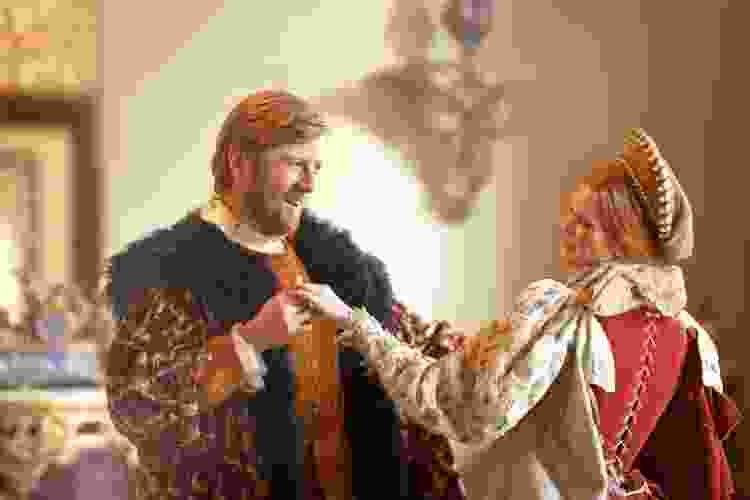 Weddings, anniversaries, retirement parties, holiday events and other special occasions are all worthy of a waltz or two. When broken down into small steps, learning how to waltz is quite simple.
With some practice and our tips, you'll be swooping, twirling, dipping and turning like a ballroom pro in no time!
For even more creative ideas and inspiration, check out other experiences happening on Classpop!