A Beginner's Guide to Cumbia Dancing
Last Updated on Nov 1st 2022
| 0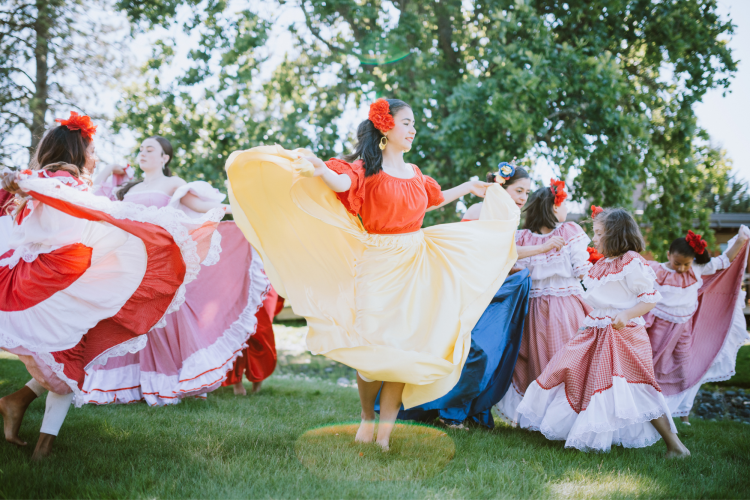 If you've been wanting to learn how to dance cumbia, it's time to grab your dancing shoes and get in the groove! This lively and exciting Latin dance is relatively simple, which makes it one of the more beginner-friendly styles of dance. So, even if you don't consider yourself much of a dancer, you can easily learn how to dance cumbia and master the steps with just a bit of guidance and practice.
Excited to learn how to dance cumbia, but not sure where to start? Our beginner's guide will introduce you to the art of cumbia music and dance and provide you with all the resources you need to learn how to dance cumbia, whether you want to teach yourself or work with professional dance instructors. Before you know it, you'll be dancing away your worries and reaping all the wonderful benefits of dance! As experts at the Better Health Channel state, learning to dance can lead to physical and mental health benefits such as improved aerobic fitness and greater self-confidence. So, let's get started!
Jump to Section
How to Learn the Cumbia
Dance Classes
One of the best and most exciting ways to learn how to dance cumbia is to take in-person or online dance classes. When you take a dance class, you'll receive detailed guidance from top-rated dance teachers and have the chance to practice your skills with a partner, all while getting immediate feedback and tips from the professionals. Not only is it a great and effective way to learn how to dance cumbia, but it's also extremely fun, especially with friends or fellow dancers! Whether you are looking to learn how to dance cumbia or some other style, be sure to check out the dance classes near you, as well as dance classes in NYC and dance classes in Las Vegas.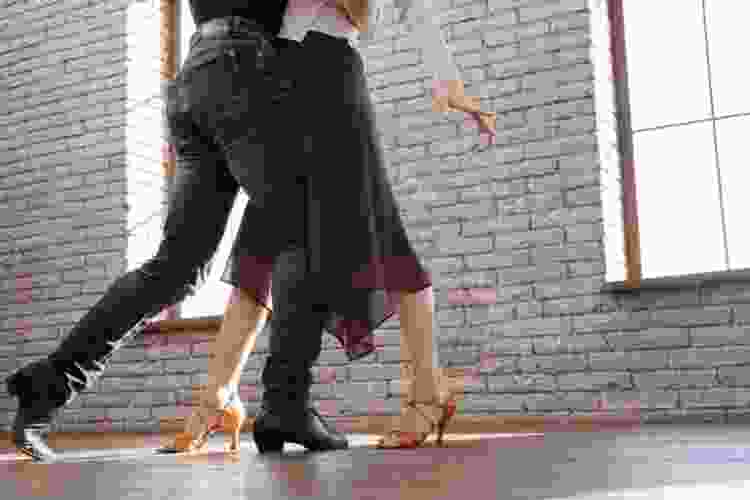 Practice, Practice, Practice
Of course, the best way to learn how to dance cumbia and to really perfect your moves is to practice as much as you can! The good news is that cumbia is not a particularly difficult style of dance, which means it is relatively simple to learn the steps on your own and practice, even just from the comfort of your own home. All you need is some cumbia music (and there's plenty of playlists for free on Youtube), a positive attitude and our handy guide to how to dance cumbia. Keep reading to learn all about how to dance cumbia. We'll explore the history of this art form, including where cumbia is from, and easily break down all the cumbia steps and counts.
What is Cumbia?
History: Where is Cumbia from?
Cumbia music and dance traces its origin back to the country of Colombia during the 1800s, and more specifically the coastal town of San Basilia. Cumbia began as a folk dance that blended together the culture of native Colombians with that of the enslaved Africans, who had been brought over by Spanish colonizers. Then, in the 1940s, Colombian singer Luis Carlos Meyer Castandet emigrated to Mexico and started working with the Mexican orchestra director Rafael de Paz, first bringing this lively style of dance and music to the country. It quickly became popular and as more Mexicans learned how to dance cumbia, it gradually evolved into the subgenre now known as Mexican cumbia. Around the same time as the dance was being adapted in Mexico, cumbia dance was also spreading throughout other Latin American countries, including Peru, Chile and Argentina, and now it has become one of the most popular Latin dances performed throughout the world, both by professionals and amateurs.
Cumbia Music
Cumbia music is largely considered by many to be the "mother of all Latin music." It blends together the rhythm of African drums with the melody of Colombian flutes and maracas, but since its creation has now expanded to incorporate many more instruments, including the guitar, clave, accordion and bass guitar. Cumbia music is lively and energetic, a crossover between salsa and samba. Although it doesn't feel quite natural to dance salsa to cumbia music, dancing cumbia to salsa music is quite popular among dancers in Central America. So, as you learn how to dance cumbia, make sure you've got some authentic cumbia music to play!
Cumbia Steps
The Basic Cumbia Step
The back-break basic is the main step you need to learn when mastering the art of how to dance cumbia, and luckily, it's perfect for beginners. It can be broken down into a four-count pattern. So, here's how to dance cumbia:
First, you start with your feet together, then on count 1, step back with your right foot at an angle – you'll want to make an approximately 45º angle with your angled right toe almost in line with your back heel (keep a fair bit of distance, though, as you don't want your feet to be touching). On count 2, step in place with your left foot (easy enough, right?). On count 3, step your right foot back in place with the left. Count 4, just wait and shift your weight. You can even lightly tap your right heel if you'd like to add a bit more flair to your step.
Then, you'll repeat the same steps, only this time you'll switch sides, stepping back with your left foot at an angle on count 1. On count 2, step in place with your right foot this time before bringing your left foot back in place again and waiting or shifting your weight for count 4. As you are learning how to dance cumbia, go through the steps slowly to start and then gradually speed up as you get more and more comfortable. Before you know it, you won't even be thinking about it anymore, and once you've mastered this basic back-break step, you're ready to move on to the more fancier stylistic elements of the dance.
Dancing With a Partner: Lead or Follow?
When you are learning how to dance cumbia, you'll need to know if you are the leader or follower. Although the cumbia dance doesn't require leaders (traditionally men) and followers (traditionally women) to learn different steps, in order to dance together as partners, you'll need to make sure you are on opposite feet. This means that the leader should first step back with their left foot, while the follower should first step back with their right foot. Doing so will ensure that your feet movements mirror each other and flow in the same direction without your feet unintentionally colliding and disrupting your groove. As you dance with your partner, you can raise your arms in front of you and hold hands before gradually introducing some of the more advanced moves together as you keep exploring how to dance cumbia.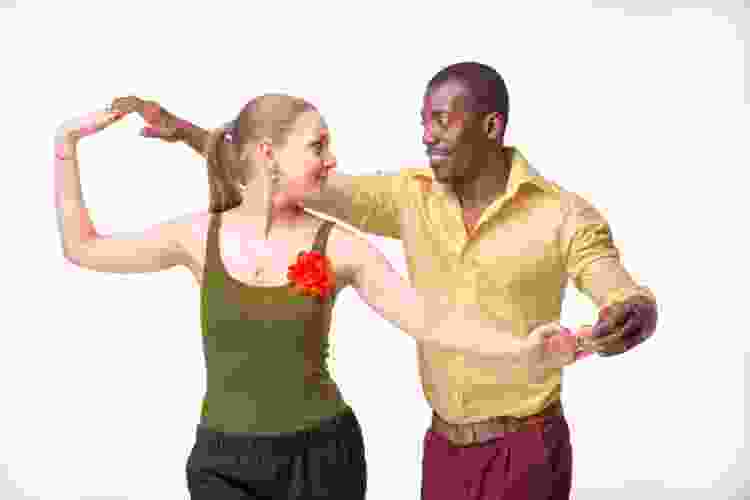 Advanced Cumbia Moves
As you and your partner keep the basic 4-count back-break step pattern going, you can spice things up a bit by adding hip dips, spins and other moves. When learning how to dance cumbia, you must learn how to feel the music, so after mastering the basic 8-count step, you'll want to spend some time practicing the basic dance pattern to music, letting your hips and body sway to the beat. Once you both feel more comfortable moving to the rhythm in step, you can start experimenting and having a bit of fun with learning how to dance cumbia.
Adding a Turn
Adding a turn is one of the more advanced moves when it comes to learning how to dance cumbia. Starting face-to-face, you and your partner will each step backwards together while continuing to hold hands. Then, release hands. The leader will use their left hand to guide the turn by pulling the follower forward on their right foot.
Important note: the follower should firmly plant their right foot at this point, as this is the foot they will turn on, their pivot point. While the follower is planting their foot, the leader grabs their partner's right hand, raising up their arm and beginning the turn. Finally, to finish the turn, the leader steps forward and to the side on their left foot to complete the turn and bring you both back to the neutral starting point.
The counts for the turn are as follows:
Both step back
Follower steps forward and the turn begins
Leader steps forward and to the side, completing the turn
Arrive back at neutral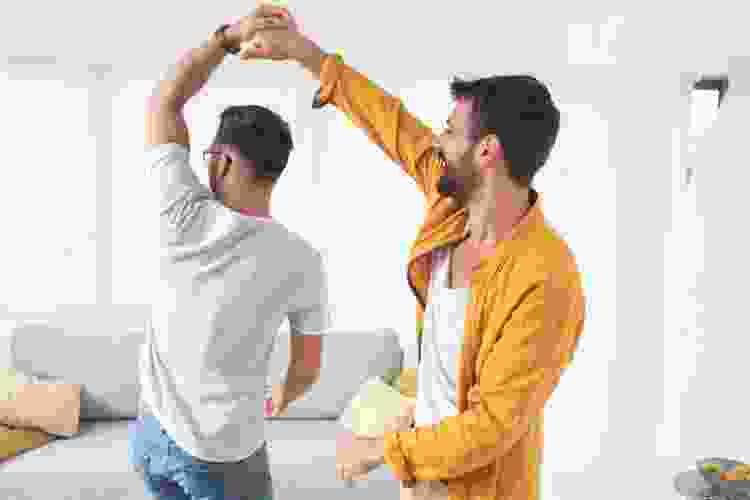 Now you're ready to crank up the music and start exploring how to dance cumbia! Whether you decide to learn on your own, with a partner or at a dance class, the steps are pretty beginner-friendly, which makes this Latin dance a fun and accessible option for everyone, no matter what your skill level. Most important of all, have fun as you learn how to dance cumbia! Keep practicing and before you know it, you just might be a professional Mexican cumbia dancer.
For even more creative ideas and inspiration, check out other experiences happening on Classpop!