How to Slow Dance With Style
Published on Mar 11th 2022
| 0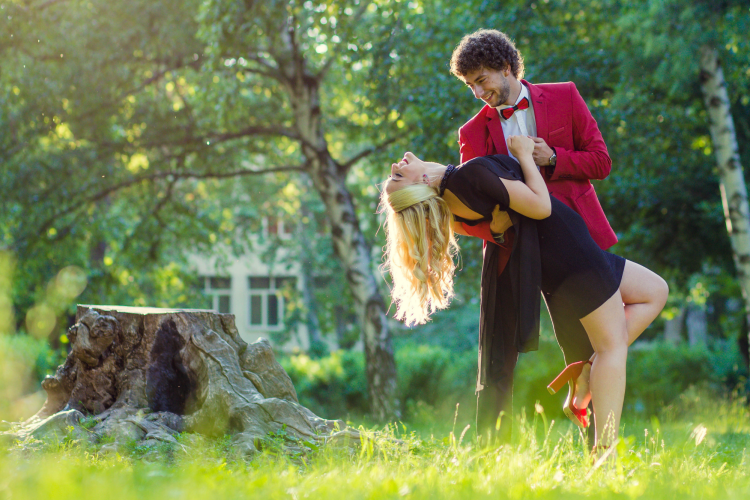 Knowing how to slow dance at a wedding, holiday party, prom and other social events makes attending these special occasions more comfortable, memorable and fun. Whether you are a guest at a wedding or headed to your first school dance, learning how to slow dance with style and confidence is an easy and valuable skill to obtain.
Plus, it's great for your overall health! Psychology Today highlights the importance of slow movement and body awareness, both of which can be improved through practicing dance, as it encourages relaxation and stress reduction, lessens the risk of depression and helps relieve inflammation.
Let's break down how to slow dance step by step, and discover how to add your own style to the slow dance.
Jump to Section
Is Slow Dancing Easy?
You don't need any special skills to learn how to slow dance, but it helps to have some guidance to achieve the posture and attitude that will bring style to your slow dance moves. The slow dance is an easy dance to learn by following a few simple steps.
How Do You Slow Dance Without Being Awkward?
Because slow dance is most commonly performed with another person, learning how to slow dance for beginners can be intimidating. Beginners might wonder where to put their hands, how fast to sway or even how to ask someone to join them for a dance.
Although slow dancing is simpler than other types of dance, practicing the slow dance and learning a few basic moves will build your confidence on the dance floor.
Try Slow Dancing Lessons
So, how do you slow dance well? To master the basic moves, learn more advanced steps or get feedback from a top-rated instructor, try joining an in-person dance class. With a quick search, you can find dance classes in Colorado Springs, dance classes in San Diego, dance classes in NYC and dance classes near you.
If you prefer to learn slow dancing at home or are nervous about dancing in front of a group, try participating in online dance classes!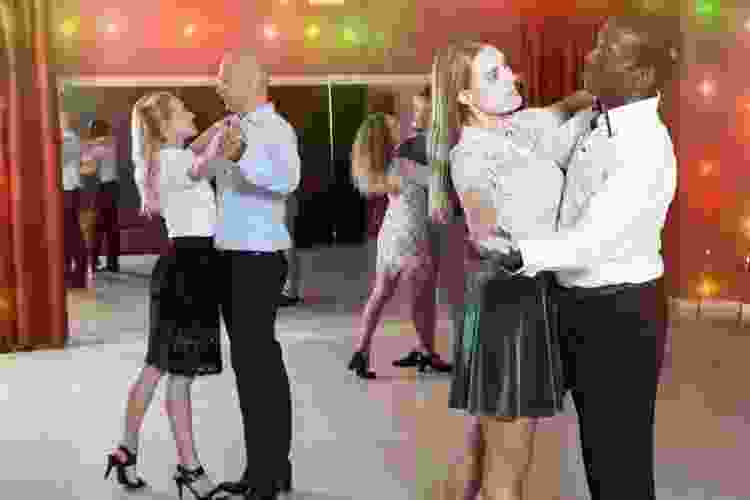 How to Slow Dance Step by Step
1. Ask Someone to Dance
First, ask your intended partner if they would like to dance. If they accept, escort them to the dance floor and choose a place with a little space to move. Once in position, establish a leader and follower.
2. Get Into Position
The leader places their right hand behind their partner's left shoulder with their right elbow up and pointed out to the right side. The follower wraps their left arm over their partner's lifted arm with their hand placed near their partner's shoulder or bicep.
Clasp each others' free hand, raised to approximately eye level of the shorter partner. This is important to keep in mind if you're curious how to slow dance with a tall guy or tall woman.
Now that you are in position, listen to the music to find the beat and begin to sway.
3. Begin Basic Slow Dance Steps
As you get more comfortable, you might try a basic step. The leader steps to the left, then brings their feet together, then to the left and together again. Repeat to the right.
Tip: To avoid stepping on your partner's toes, place your partner slightly to the side so your feet interlock rather than overlap. Remember to keep your knees relaxed and take small, comfortable steps.
4. Add Slow Dance Turns or Dips
Once you have confidence in these basic steps, spice up your dance by performing the basic step in a circle or by adding a turn or dip!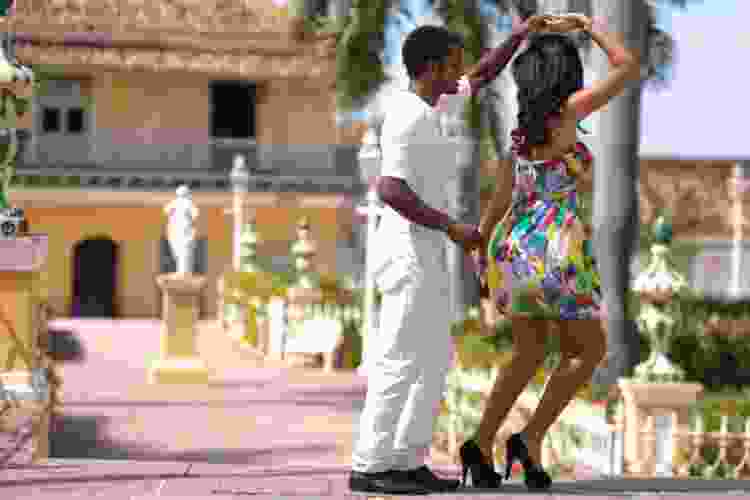 How to Slow Dance at a Wedding
Couples slow dancing at the reception, whether they are the newlyweds or the wedding guests, is a signature moment of many wedding celebrations. By following the same simple steps as listed above, you can practice slow dancing at a wedding and impress friends and family at this special event with your smooth slow dancing style.
Inviting everyone on to the dance floor for a slow dance, from your grandparents to your bridesmaid and her date, can create wonderful moments for the photographer to capture while offering some surprising benefits to the couples slow dancing on the floor.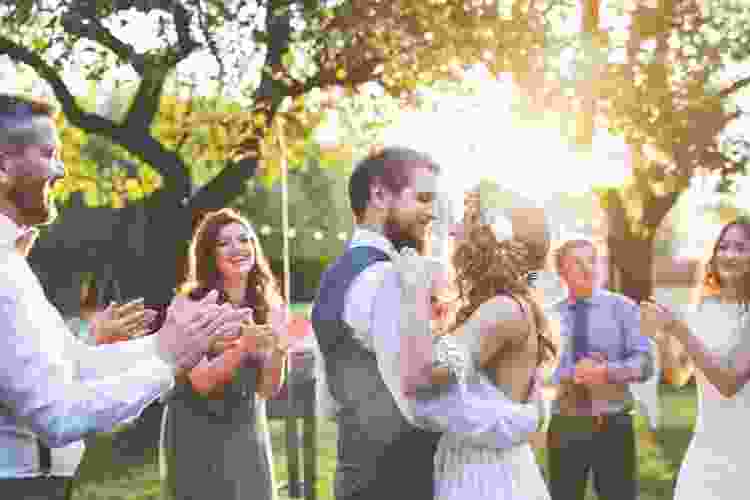 How to Slow Dance at Prom or Homecoming
Slow dancing at a school dance such as prom or homecoming can be one of the most nerve-wracking moments of adolescence. Feeling confident in your ability to slow dance may calm some of those fears and help you enjoy the night with friends or even build up the courage to ask your crush to dance!
Modern Slow Dance Steps
If the traditional steps of slow dancing feel too formal or out-dated, you might consider the hug and sway style of couple slow dancing when learning how to slow dance with your girlfriend or crush.
In this extended hug position, the leader places their hands on their partner's hips while the follower places their arms on the leader's shoulders or loosely around the neck. Leave enough space between you so that you both feel comfortable. In this position, you can simply sway back and forth by shifting your weight from side to side with the rhythm of the music.
Tip: Once you are on the dance floor, have a few topics to talk about if you don't want to dance in silence. Try to ask open-ended questions to spark the conversation and learn more about your partner.
How to Slow Dance by Yourself
Can you slow dance by yourself? If a slow song comes on and you find yourself without a partner, you don't have to leave the dance floor. You can use some of the same moves as partnered dancers when learning to slow dance by yourself.
A gentle sway shifting your weight from side to side is an easy solo move for slow dances. You can also try the basic step to add a little more movement to your solo slow dance.
Relax your arms and shoulders, allowing them to move gently with the rhythm of the music. As you build confidence in your slow dancing, you can begin to add your own style to the movement whether you are dancing by yourself or with a partner.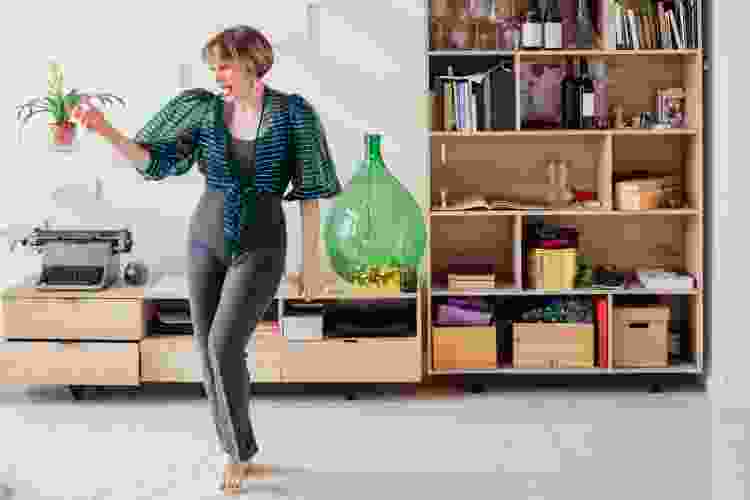 Slow dancing with style will come easily once you learn the basic steps and practice them often. Although, as with any new skill, mastering the slow dance may take a little time and patience.
From weddings or prom to any occasion where there is music and social dancing, knowing how to slow dance with confidence will make the event less stressful and more fun!
For even more creative ideas and inspiration, check out other experiences happening on Classpop!