How to Start Oil Painting for Beginners
Last Updated on Jun 14th 2023
| 0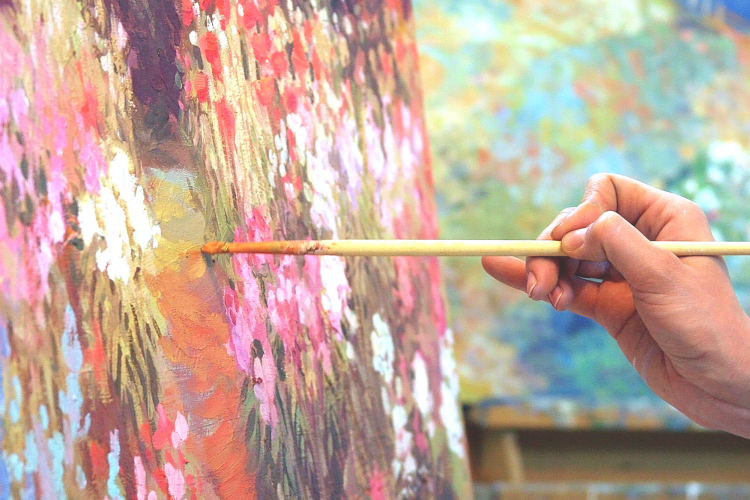 If you have a budding interest in taking up a new creative hobby, this simple guide will help you learn how to start oil painting for beginners with your best foot forward.
Learning any new craft comes with its share of challenges, but no need to stress! In fact, according to the Harvard Medical School, "creative activities can relieve stress, aid communication and help arrest cognitive decline."
Getting accustomed to the materials and what they are capable of is a step in the right direction toward becoming a master oil painter. Read on to learn all you need to know about how to start oil painting!
Jump to Section
Learn How to Oil Paint
The most important first step in your creative journey begins at your foundation. Begin oil painting by taking lessons and words of wisdom from talented artists is your best bet for developing your own skills and techniques.
With fun, interactive painting classes, instructors are eager to share their knowledge and teach you how to start oil painting in no time.
If you really want to make a splash during your painting session, gather friends for paint and sip in Orange County, paint and sip in Sacramento, paint and sip in San Diego, or paint and sip near you.
Plus, for those who would enjoy starting oil painting in their own space, you can learn how to start oil painting with online painting classes where you'll learn painting basics to advanced practices with top-rated artists from the comfort of your home.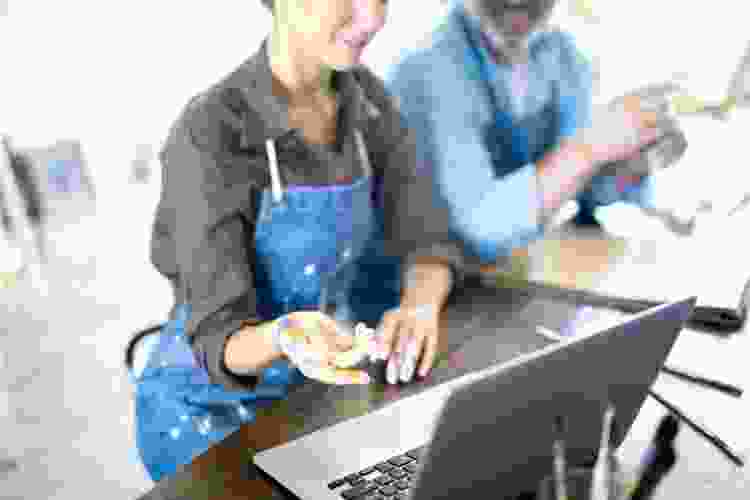 Acrylic vs Oil Paint
Arylic Paint
Acrylic paints are the perfect medium for the artist in a hurry. They can be used straight from the tube and dry quite quickly, which means that even a large painting can be completed in a day. However, this quick drying time can be seen as a negative for the beginning painter struggling to create that perfect shade of fuschia. Still, once the paint medium has been mastered, acrylics can be a great way of getting a last-minute gift out of the way.
Oil Paint
When starting oil painting, it is important to know oil paints require a bit more care and attention. The need to mix the paint with turpentine or linseed oil before even thinking about how to start oil painting is something to be considered.
Something else to think about before wondering how to start an oil painting is that although acrylics are the easier medium to work with, the colors will often end up being less vibrant.
There is some debate on acrylics vs oil paints in the world of art, but the reality is that neither is superior to the other. They are simply different mediums that allow for expressing creativity and emotion. Still, learning how to start oil painting is ultimately a very personal process.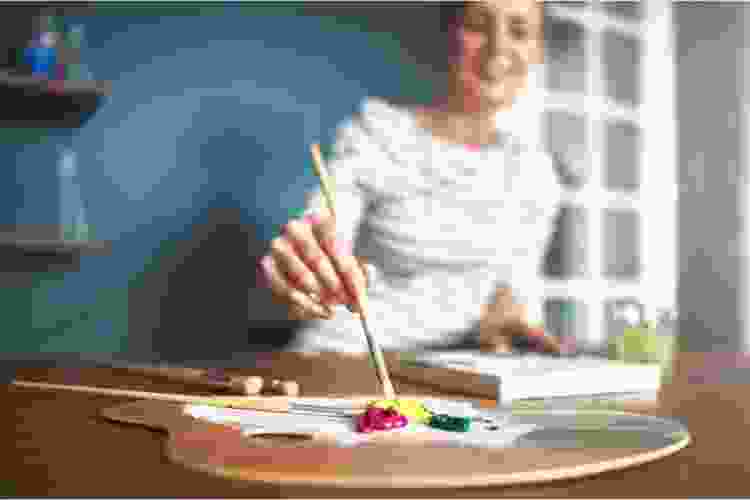 How to Use Oil Paints
So you've gone to the store and agonized over which colors to choose from. Well done. But how to use the oil paints? The first thing to do is to gather your materials.
There is nothing worse than getting excited about starting a new project, only to realize you're missing half of your supplies. Oil paint requires a little more finesse than other mediums when learning how to start oil painting.
Easy on the Quantity
A key tip for those learning how to start oil painting: take it easy on the amount of paint that you blob onto your palette. Because of how concentrated in pigment oil paints are, you don't need so much to start. This is especially true when laying down the first layer of paint.
Cut a small amount of burnt sienna with a few drops of turpentine on your palette to essentially create a rough sketch of the finished product. This mixture dries fairly quickly on the oil painting timeline, so you can move on with the painting within a couple of hours.
Dilute, Dilute, Dilute
Because oil paints are so thick, it's necessary to cut them with a little bit of linseed oil to move the colors around the canvas more effectively. Place the pure oil paints around a palette and add a little bit of the linseed oil, then mix each color with a palette knife.
Be sure to rinse off the knife between colors, without which the colors will become muddled. Otherwise, the efforts made in learning how to start oil painting will have been for naught.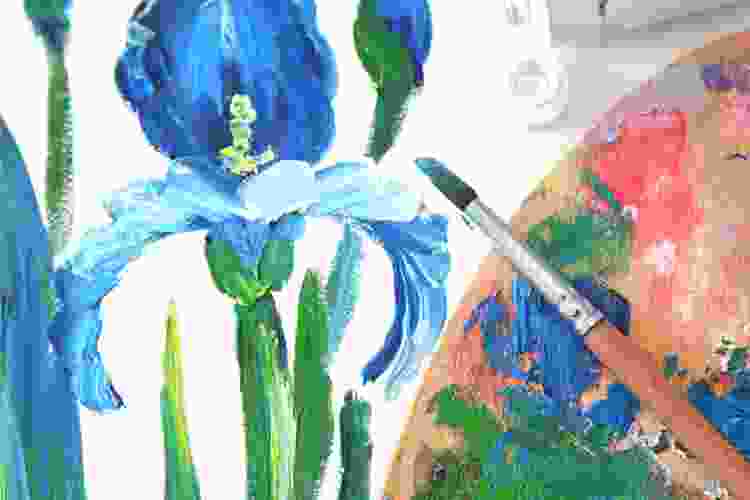 Oil Painting Supplies
A Worthy Investment
What do you need to start oil painting? Many artists may tell you that they don't need much to create inspirational works of art. This is not so much the case with oil painting.
Decent quality oil painting supplies are an essential aspect of creating a piece you can be proud of when you learn how to start oil painting.
As tempting as it may be to buy the most inexpensive oil painting supplies at the local art store, you are best off investing in at least mid-range equipment to motivate you to keep painting.
Where to Paint
The first thing you need to start your first masterpiece is something to paint on. Start small and buy a few canvases or canvas boards. Stick to 12-square-inch surfaces for the first couple of paintings to avoid getting overwhelmed and to have more control over the piece.
Another option is to gesso a piece of paper. Learning how to start oil painting doesn't need to cost a fortune. In fact, many people paint on found or recycled materials.
The Best in Oil Paint Brushes
A nice set of oil painting brushes is key when learning how to start oil painting. Choose between synthetic brushes for smoother brush strokes or boars' bristle for a rougher look.
One each of filbert, round and flat oil paint brushes are all you need to complete most oil painting techniques. Once you get really good, you can look forward to throwing in fancy variations like fan brushes and detailers.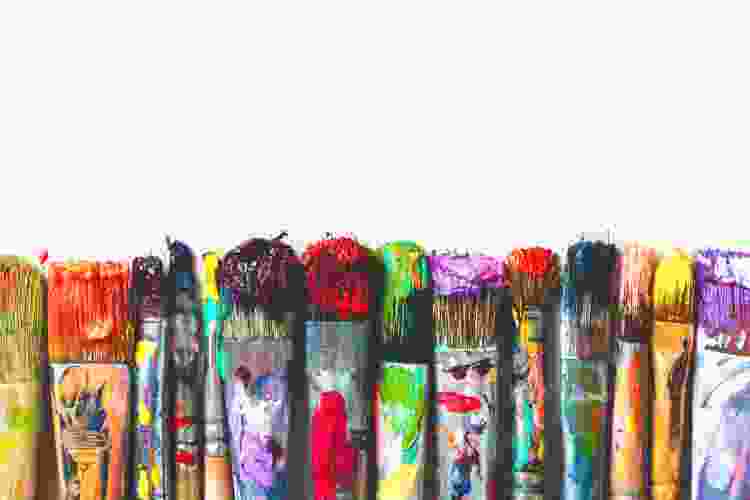 Choosing the Paint
Next up, you need paints. Avoid the student quality paints available at all chain art stores as they are often lacking in pigment, leading to thin and uninspired color.
Select at least the artist range, if not the professional one. As beautiful as all the colors are, it is highly advisable to stick with the primary colors when you are learning how to start oil painting.
Buying smaller tubes of primary red, yellow and blue, plus burnt sienna, black and white is plenty when first learning how to start oil painting.
Linseed and Turpentine
Turpentine and linseed oil take the place of water when oil painting. Use the turpentine mixed with a small amount of paint when creating your first thin layer, then cut the paint with a few drops of linseed oil for the thicker layers that come later into the process.
Be cautious when using these mediums as they are highly flammable. Additionally, make sure to have plenty of ventilation in the room to avoid getting a nasty headache. Learning how to start oil painting can be a little hazardous, so it's crucial to keep up with basic safety practices.
Keeping It Clean
Finally, having a generous amount of paper towels is essential to keeping the work space neat and tidy when learning how to start oil painting. Oil painting is messy, especially when first starting out, so it's best to keep at least one roll within arm's reach at all times.
Use paper towels dipped in linseed oil to clean oil painting brushes between colors, but also try a crumpled dry piece to create interesting textures on the canvas, namely when painting waves or rough terrain. A key part of learning how to start oil painting is experimenting with alternative materials.
Get an Easel
What else do you need to start oil painting? Having a proper easel makes all the difference in the world when learning how to oil paint. They come in all price ranges, with the most economical being tabletop versions, which fold up when not in use.
Having the canvas held vertically ensures that the proportions on the painting stay correct. Working on a table often skews the ratios on even the most basic subjects and creates disasters when painting the human figure. Easels are an essential tool for those learning how to start oil painting!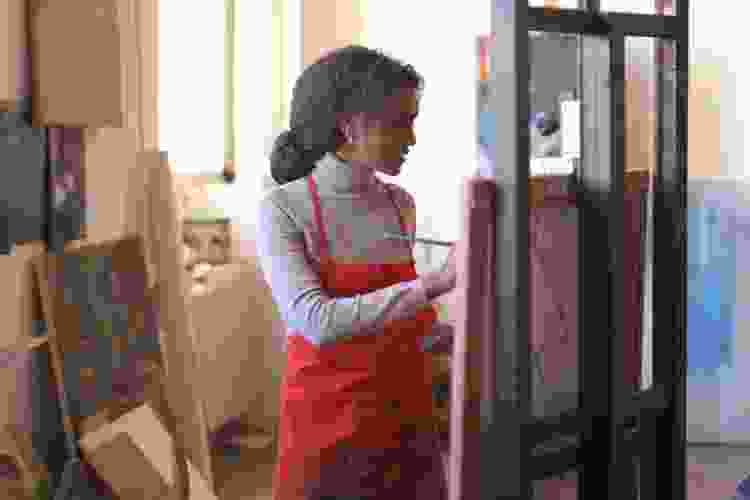 Oil Painting Techniques
Learning how to start oil painting can be intimidating because of the many techniques involved. However, once the basics have been mastered, it's not so challenging to start playing with the materials and find the methods that work best for you and your painting goals.
Playing With the Classics
Working in layers is at the core of oil painting techniques, which can be trying on some people's patience since the paint needs to dry. How does it take for oil paint to dry? Months to years, which is part of the charm of the medium.
Starting with a thin layer of turpentine-cut paint followed by a thick, rich layer of color mixed with just a couple drops of linseed oil makes for an attractive effect when learning how to start oil painting.
Once you've mastered this basic method, explore and experiment with others, such as the dry brush technique. Fittingly named, it simply consists of using a dry brush on a dry surface to create a powdery textured look.
Practice and play with new techniques when learning how to start oil painting. Then come up with techniques of your own to try!
Oil Painting Ideas
Go Outside
If you are lucky enough to live near some stunning nature, pack up your easel, canvas and paints and find a captivating sunset. Don't worry so much about perfectly reproducing the patterns and instead focus on color mixing skills.
Apply classic oil painting techniques to be sure, but make them work for you. Staying true to your voice is essential when learning how to start oil painting. Be cautious when coming home with the painting because of how long oil paint takes to dry!
Keep It Simple
When it comes to establishing the best oil painting ideas for your skill set and needs for how to start oil painting, simplicity is key. You are best off starting off with a basic subject such as an abstract landscape so that you can learn to play with colors and basic brush stroke technique.
Once you have mastered the amount of paint needed to fill each section, it is possible to move forward toward still life and beyond.
Learning a new skill takes time, especially one so refined as art. Taking into consideration how long oil paint takes to dry and the many ins and outs of oil painting techniques is essential. However, patience and resilience pays off when you learn how to start oil painting.
For even more fun painting ideas, check out other experiences happening on Classpop!