41 Epic Date Ideas in Portland for 2022
Published on Aug 26th 2022
| 0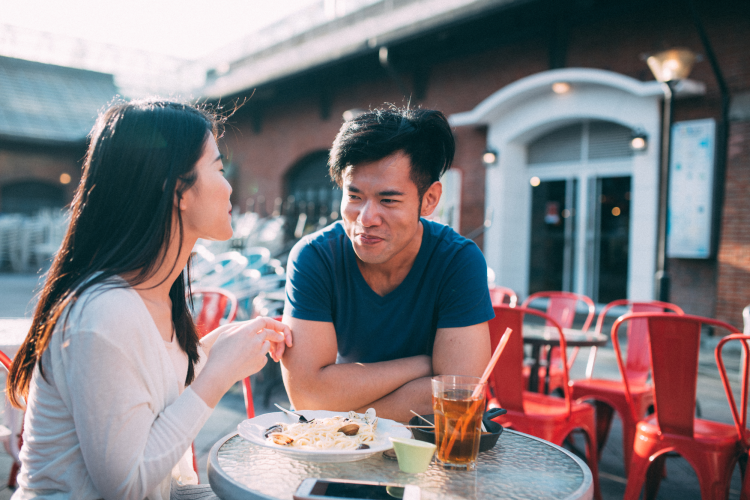 When you let your imagination lead the search, finding fabulous date ideas in Portland becomes an easy endeavor. This gem of the Pacific Northwest combines earthy comfort with artful style and a food scene where fresh equals fantastic.
It may be challenging to find time in your busy week for dates, but it's important to add them to your calendar. Psychology Today points out that even a simple date night dinner or a quick get-together at a coffee shop helps refresh and recharge your relationship. This is as important in new connections as it is in long-lasting couples.
So, what is there to do on a date in Portland, Oregon? With incredible natural spaces and a creative vibe that inspires adventures of all sizes, curious couples are in for a treat no matter what their date ideas in Portland lead them to.
Since taking together time is a must, we've put together some epic date ideas in Portland for you to sample. Whatever your budget and range of interests, you'll find exciting options to keep the love light burning!
Jump to Section
Creative Date Ideas in Portland
1. Paint, Pour and Sip
Share an evening of creativity with paint and sip in Portland. These pressure-free sessions feature vibrant canvases for you to recreate with guidance from talented local artists. Enjoy your favorite drinks and noshes as you work.
For a cozier at-home art experience when planning date ideas in Oregon, log in for online painting classes and turn your love nest into a home studio for the night.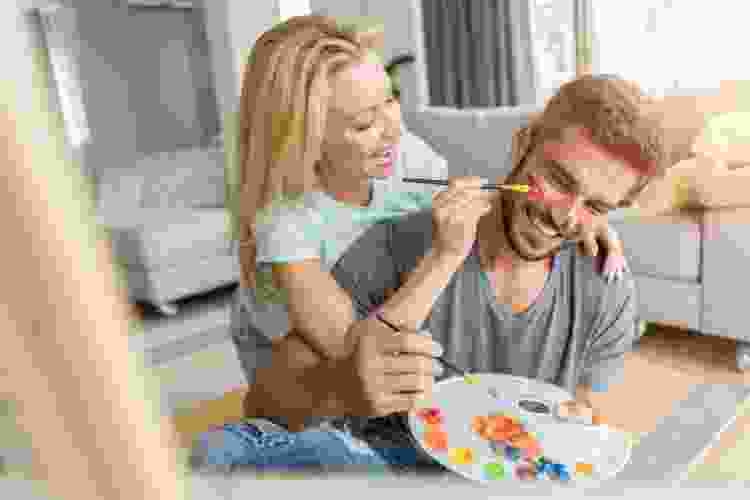 2. Jump and Jive
Romantic moves are all the range in dance classes in Portland. You'll learn the latest trends, rediscover classic steps and impress each other with your fancy footwork.
Learn from esteemed instructors in studios around town or book online dance classes and enjoy a toe-tapping session in cyberspace. Try a tango or a little salsa dancing for Valentine's date ideas in Portland that will spice up the holiday!
3. Snap to It
Take your photo game up a notch by tapping into photography classes as date ideas in Portland. Discover advanced functions on your smartphone camera or dive into traditional film to see your snapshots from a whole new angle.
Online photography classes let you enjoy the fun via remote. You can even work with photo pros to learn digital editing techniques for fast fixes on your flubbed photos!
4. Get a Little Sketchy
Discover hidden abilities or sharpen up existing skills with drawing classes on your list of epic dates ideas in Portland. Even if you've never made it past the doodling stage, you'll pick up useful tips for translating the world around you into art.
If a studio seems like a less-than-desirable date setting, tune into online drawing classes and let your talent flow wherever you're most comfortable.
5. Get Fired Up
For a creative date idea in Portland that explores an ancient artform, get your hands busy with pottery classes. Courses in pinch pottery, slabbing and wheel throwing make perfect forums for practicing new creative skills. With expert potters leading the charge, you'll learn the fundamentals while creating finished keepsakes.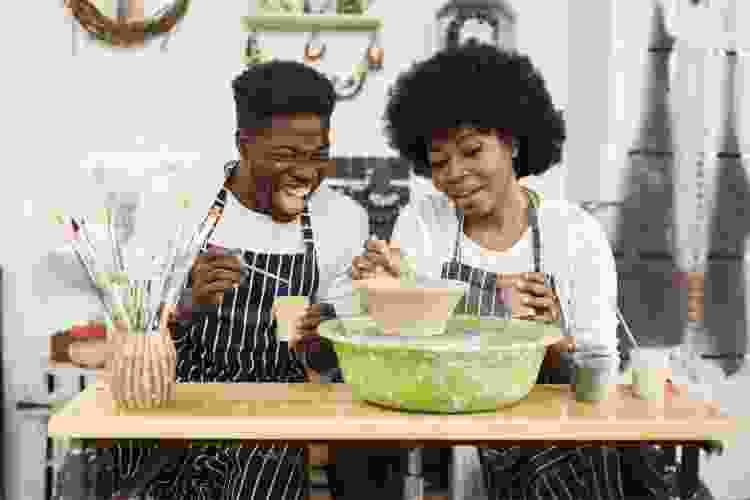 6. Weave it All Together
At Wildcraft, couples can find textile classes that explore the intricate art of dyeing and weaving fiber materials into beautiful works. Try a course in natural dyes, create a practical rug or design a tapestry together. There are also lessons in knitting and crocheting for a more traditional date idea in Portland that will have you hooked.
7. Forge Ahead
Test your hand at the 6,000-year-old practice of metal casting at the Crucible, Portland's public foundry for the forging-curious. Amateur blacksmiths can test out their hammering skills, while budding jewelers tackle the refined techniques required for making fine jewelry.
For couples with diverse creative tastes, there's a selection of courses beyond metalworking, including book binding, glass working and woodturning.
Foodie Date Ideas in Portland
8. Get Sizzling in the Kitchen
Explore the gourmet world together with cooking classes in Portland. These expert-led sessions are a sure-fire way to turn up the heat while learning to prepare delicious menus, everything from magical global specialties to comforting domestic fare. One of the tastiest date ideas Portland has to offer!
9. Cook It Up at Home
With online cooking classes, a cozy evening in your home kitchen cooking up special dishes is only a click away. You'll have step-by-step instruction as you work in your own space, preparing incredible meals to share with your sweet someone. It's a date idea in Portland that can happen anywhere you like!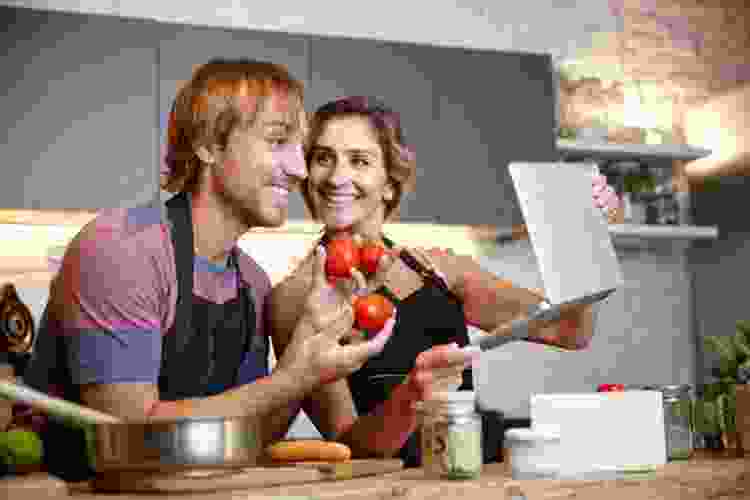 10. Raise the Bar
Turn your home space into a happening hotspot with online mixology classes on your to-do list of date ideas in Portland. You can craft the latest cocktails, mix up new takes on classic concoctions and discover the art of mixology without leaving home. Bottoms up!
11. Taste the Bouquet
Spend the evening savoring new sips with virtual wine tastings, a date idea in Portland that brings sommelier services to you. Each session features a wine expert sharing their secrets for appreciating bouquet, body and vintage, with samples from some of the world's finest wineries.
12. Take Tea
Bliss out with a cup of something sweet and serene at the Tao of Tea. Warm, woodsy interiors invite contemplation for a quiet date idea in Portland with a menu of over 100 different types of teas and tisanes, or herbal infusions.
13. Get Truckin'
Sample the goods from a slew of food truck champions with a visit to Cartopia. This open-air food cart pod turns a simple lunch or dinner time date idea in Portland into a smorgasbord of global specialties.
Indulge in your favorite American fare, try savory Mexican and Middle Eastern dishes or stick to the ever-dependable pizza. No matter what you choose, you're in for a tasty time.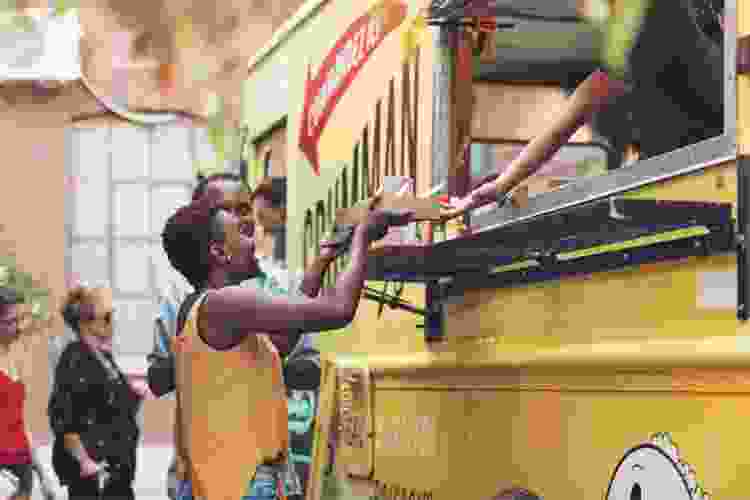 14. Cozy Up
There's nothing cozier than a date idea in Portland that happens around a fire. At Fireside, the camping theme starts with the locally sourced food and carries through the laid-back atmosphere.
Snuggle up with your special someone around an outdoor fire tower while enjoying treats like roasted chicken, stuffed burgers and, of course, s'mores for dessert! The romance makes this one an obvious option for Valentine's date ideas in Portland.
15. Get the Scoop
If you're looking for a different kind of treat, Cookie Dough Café is the perfect place to go when you're wondering "Where can I go on a lowkey date?" These food-safe concoctions are edible without cooking, scooped up cold in an array of tempting flavors. Pair your favorite with ice cream or try a cookie dough cookie sandwich for an extra sweet treat.
Unique Date Ideas in Portland
16. Act It Out
Bring a little drama to your date by checking into acting classes around town. Learn from performers and instructors who'll show you techniques for self-expression where character counts and communication is key.
These courses feature fun acting and improv exercises that are sure to break the ice. Online acting classes let you take the show to a home stage for a more private setting.
17. Get in the Game
Settle in for an evening of at-home fun with virtual game nights and online trivia games, You provide the snacks and drinks, while your esteemed hosts lead you through hilarious party games and raucous rounds of pub-style trivia. A great date idea in Portland for homebodies looking for a fun time.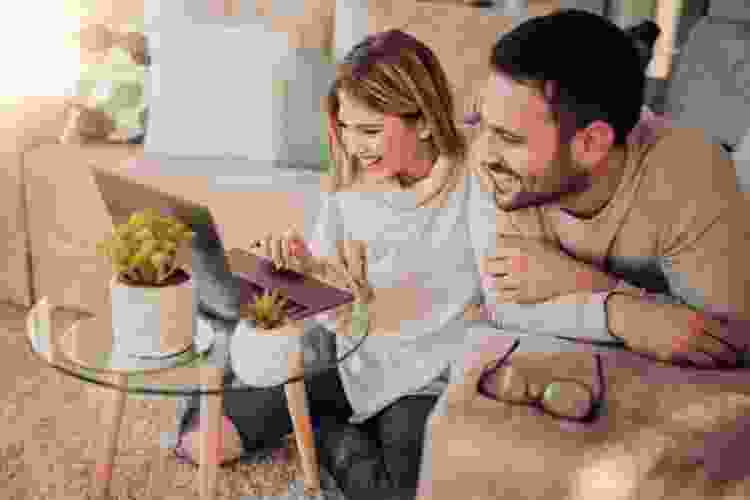 18. Start the Search
If escape rooms are your kind of excitement, add virtual escape rooms to your list of date night ideas. You'll enjoy pulse-pounding puzzle-solving dynamics in an online environment where every second counts.
For an adventure that takes the thrills even further, try virtual scavenger hunts, and scan the web to find landmarks and locales in an Amazing Race-style search!
19. Play Around
Come to the table ready to roll the dice at Guardian Games, a date idea in Portland where friendly competition rules. Couples who love board games, RPGs and jigsaw puzzles can shop for the latest and greatest titles or pick up some classics. Grab a seat in the gaming space for free play to sample selections before buying.
20. Go Cruising
A luxury cruise on the Willamette River gives couples a chance to canoodle while enjoying a different kind of downtown date idea in Portland. Prices start at $82.00 per person for a two-hour excursion that includes lunch, live entertainment and a rundown of local history and attractions.
21. Turn the Page
Bookish sweethearts can get lost in the stacks and racks at Powell's Books, Oregon's favorite bookstores and a must-see in Portland. The airy space is layered with new arrivals and used titles, plus a selection of fun gifts and novelties to root through. Indoor excursions like Powell's make great Portland winter date ideas for couples looking to get out of the chill and hunker down with a good read.
22. Build it Up
Lovebirds with a taste for construction projects can spend precious hours at the Rebuilding Center in Downtown Portland. Over 30,000 square feet of space filled with reclaimed materials and construction elements is yours to peruse, with DIY classes offered in electrical, carpentry and plumbing. Turn your date in Portland into a home reno project to share!
23. Get in Tune
Check out the music action with a concert at Holocene, a club for live bands and DJ-spinning dance parties that makes date ideas in Portland an electrifying prospect. You can enjoy shows from cutting-edge indie bands and tribute nights featuring your popular tunes from bigger name bands.
24. Conduct an Experiment
Oregon Museum of Science and Industry provides a 21+ nighttime event that science nerds should definitely add to their date ideas in Portland. These interactive themed events combine fun learning opportunities involving STEM subjects with food and beverage vendors. The full-blown festival feel of the space celebrates science and all its fascinating fields!
DIY Date Ideas in Portland
25. Make New Arrangements
Share moments of beauty with your sweet one by including virtual flower arranging classes among your date ideas. Skilled floral artists will teach you the principles of form, balance and composition using elegant natural elements to assemble décor pieces that are sure to dazzle.
26. Go With the Grain
Introduce your boo to a different kind of "shopping" when you sign up for woodworking classes! Workshop sessions get you in gear with power tool practice and manual handicrafts.
You'll explore a time-honored tradition that produces modern magic, perfect date ideas in Portland for creating keepsakes of your memorable moments.
27. Be Dazzled
Share the sweet heat of the hot shop with glass blowing classes for a fiery date idea that doesn't disappoint. Led by exceptional glass artists, you'll explore the collaborative process for creating gleaming treasures through a mix of industrial muscle and artistic finesse.
28. Pin Things Down
Sewing classes will thread the needle for fun and informative date ideas in Portland. In addition to learning the finer points of using patterns and fabrics, you'll discover the fun of working a modern sewing machine and learn how helpful hand-stitching skills can be for making quick repairs.
29. Get Artsy in the Pearl District
Weekend date ideas in Portland buck the Friday trend with a First Thursday in the Pearl! On the first Thursday of every month, couples with an eye for contemporary art can explore downtown galleries in the Pearl district, welcoming the public between 5:00 pm and 10:00 pm.
The colorful happenings spill out onto the streets, with local artists selling their wares in a vibrant date opportunity that's absolutely free.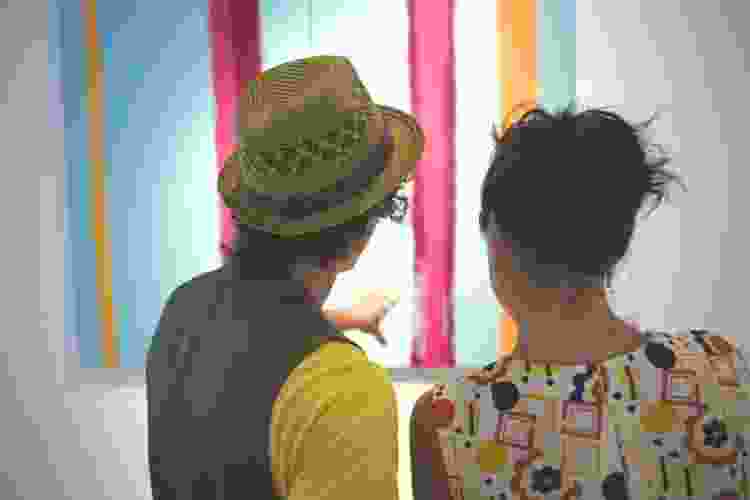 Outdoor Date Ideas in Portland
30. Stick to the Trail
Date ideas in Portland let you take advantage of the natural beauty of the region, like the verdant canopies that shelter Leif Erikson Trail. Couples who are up for the challenge of trekking this 10.3-mile path will be rewarded with lush landscapes and the serenity of the great outdoors.
31. Visit the Witch
Dial up the mystery with an outing to this mysterious ruin, one of the more unique date ideas Portland presents. The crumbling stone house has lived many lives since its creation in the mid-1800s, including a stint as a park ranger station.
Now, it's a fascinating, moss-laden relic, accessible via a moderate hike and a date idea in Portland worth every strenuous step for lovers of forest magic!
32. Try Island Life
Date ideas in Oregon should incorporate nature as often as possible, even if they take you beyond the Portland borders. Travel 10 miles north of the city and you'll find the largest island in the Columbia River waiting to be explored.
Watch for glorious bald eagles, take a boat trip along rustic lake shores or dig your toes in the sand for a beach-centered date idea on Portland's unique island escape.
33. Go Chasing Waterfalls
With 90 falls in its collection, Columbia River Gorge is a one-of-a-kind natural attraction and one of the most breathtaking date ideas Portland provides. The scenic vistas and stunning rock formations make beautiful backdrops for a romantic natural getaway like no other.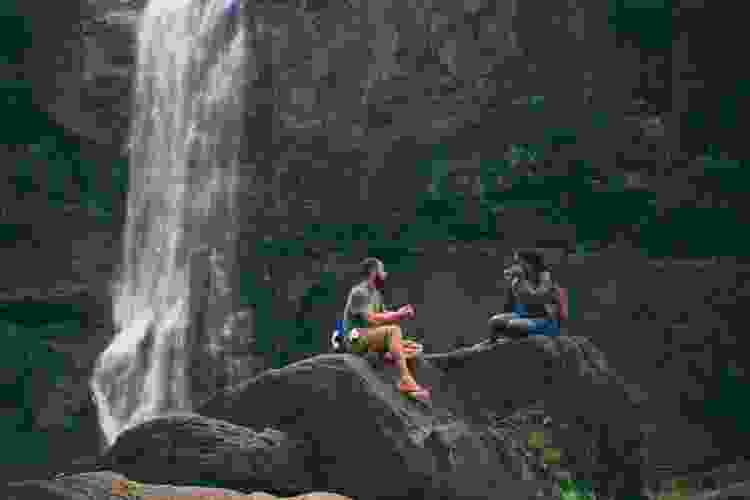 Free & Cheap Date Ideas in Portland
34. Stop and Smell the Roses
International Rose Test Garden in Washington Park is a free greenspace where more than 10,000 rose bushes bloom with 610-plus varieties of blossoms. New breeds were originally sent to the garden for testing in the post-WWI years — hence the name!
Now, it's a fragrant and free date idea in Portland, flowering between May and October to dazzle couples with a nose for budget-friendly activities.
35. Follow the Flow
If the question is "Where can I go on a friendly date?", a sure answer is Keller Fountain Park! This open-air sculpture features man-made waterfalls cascading over sculptural versions of Portland's gorgeous cliffs. It's a thoughtful display and a free and friendly date idea in Portland that shows you the artful side of the city. Pack a picnic and head out!
36. Check the Tape
Plan a kitschy time for two with this throwback theater showing the best of '80s and '90s straight-to-VHS titles. These B-grade movies make for a fun evening blown up on a full-sized screen for easier viewing, all for under $10.00 per person.
37. Flip a Coin
Low on funds and wondering "Where should I take my boyfriend or girlfriend on a date?" Break open your piggy bank and put your spare change to use at Quarter World!
This throwback arcade is a cheap date idea for couples on a budget, with nearly 100 machines onsite, all of which accept actual quarters! Try your hand at old-fashioned pinball or get supercharged with dozens of classic and current arcade titles.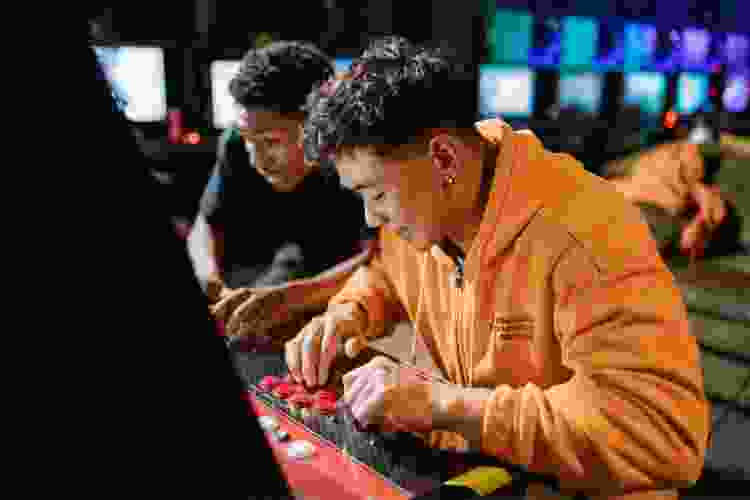 38. Dine on the Cheap
When it comes to affordable eats, Love Belizean is a date night dinner in Portland you can't afford to pass up. A fusion of Belize specialties and Caribbean comfort food with $4.00 a la carte selections, this spirited restaurant offers outdoor seating for al fresco savoring and curbside pick-up for a more intimate home dining experience.
39. Check Your Cards
A date idea in Portland that sets you back only $5.00 each sounds like something from the past. But with Bingo and Bourbon night at Mississippi Pizza, a five-spot is all you need to join the fun.
Every Monday night, you'll find fun times with fabulous prizes to enjoy with your special someone, a Portland tradition for 11 years and running!
40. See the Flea
Fans of vintage everything can stroll the stalls of Portland Flea, a free date idea in Portland that happens on a weekly basis. You'll find clothing and accessories, home goods and collectibles, as well as works by local artists and fantastic food to try. This outing is utterly affordable for couples, scalable to whatever your finances will allow.
41. Get Rolling
Get your wheels on at Oaks Park Roller Rink, the oldest roller rink in America, for a wholesome, lowkey date idea in Portland. $12.00 covers admission and skate rental for open skate during the week, with sessions that include DJs and cheeky group activities like the Hokey Pokey. Cheap date ideas with this kind of kicky spirit are a welcome addition to any social calendar!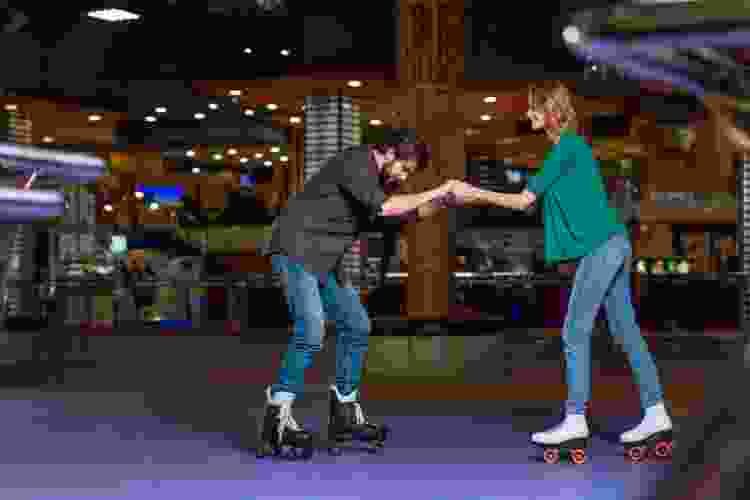 Portland couples wondering "How do I find fun date ideas near me?" can rest assured that the city makes them simple to find. What matters most when choosing dates ideas in Portland is togetherness. Add a little imagination to whatever time you can carve out, and you can turn the simplest of activities into a winsome date that reminds you to stay connected.
If you're still wondering, "What is there to do on a date in Portland Oregon?", the clear answer is just about anything! Whether you're hiking a trail in search of magical falls or settling in to enjoy game night on the home front, remember to take advantage of the date ideas in Portland to stoke the happiness with your sweetheart.
For even more fun date ideas, check out other experiences happening on Classpop!