37 Spooky Yet Simple Halloween Party Ideas for 2023
Last Updated on Aug 30th 2023
| 0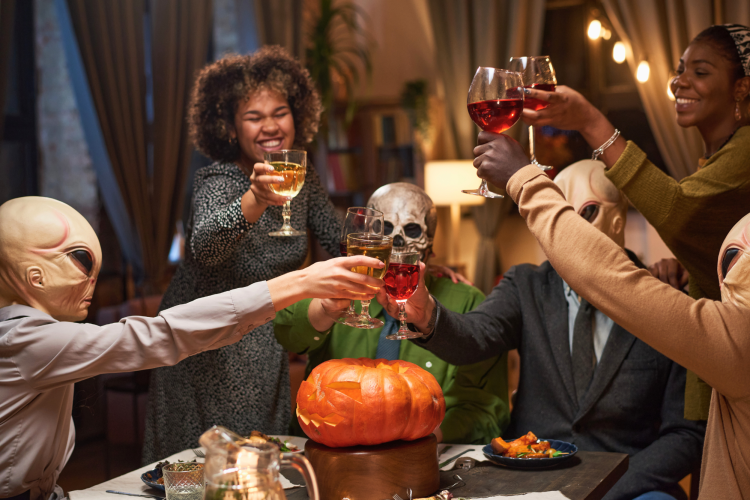 Our editorial team recommends the best products through independent research, selection and careful review. If you make a purchase through one of our affiliate links, we may earn a commission. Prices are subject to change.
Getting your Halloween party ideas together is a great way to get in the spirit for the spookiest holiday of the year. Which other holiday invites you to make things as cheerfully macabre as possible, from decorations to dining?
As Reader's Digest explains, this happily horrifying holiday has been celebrated since ancient times, which gives you a graveyard's worth of Halloween party ideas to play with.
Even before you choose your costume or decide what candy will fill your trick-or-treat bowl, you can start mulling Halloween party ideas to provide a theme that pulls the whole horrifying event together.
How do you host the best Halloween party ever? It doesn't have to be complicated or expensive, and neither do your Halloween party ideas. There are plenty of creative ways to assemble food, décor and games to get your ghoulies grooving and your monsters moving!
What are some ideas for a Halloween party? We've racked our mad scientist brains and pulled out a list of the best Halloween party ideas for making your celebration as creepy and easy as possible. The results are sure to be heart-stopping!
Jump to Section
Best Halloween Party Food Ideas
1. Cook Up Something Chilling
Get your Halloween party ideas off to a roaring start by learning to materialize wickedly flavorful fare for your guests to devour.
With fall-themed cooking classes in Chicago, cooking classes in Atlanta and cooking classes in Dallas, you'll find courses to tempt the most discriminating monsters on your list. Check into cooking classes near you to plan your homemade Halloween food ideas.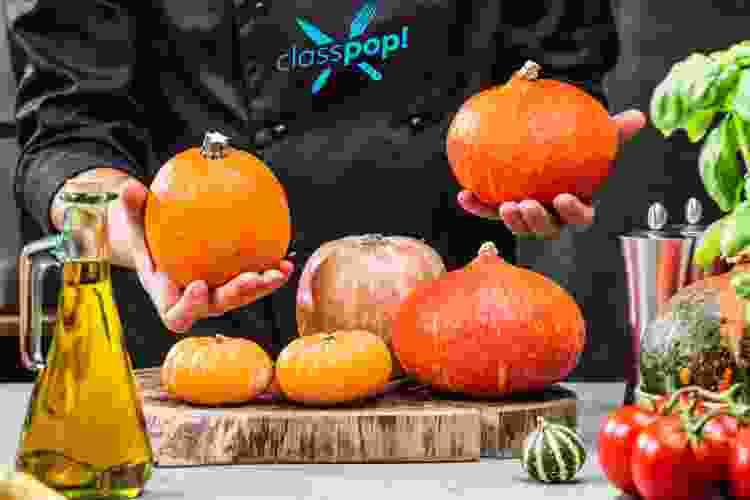 2. Devise a Diabolical Feast Online
With online cooking classes, you're free to haunt your own kitchen as you learn savage new recipes to shake up your gathering. Work with talented chefs who know how to add a touch of sweet danger to every dish they create.
They'll show you cuisine-based Halloween party ideas for a spread tasty enough to wake the dead!
3. Sample Some Sweet Potions
Center your Halloween party ideas around a virtual wine tasting and you'll have your friends and family sipping ravishing reds, bewitching whites and entrancing roses.
These sessions are guided by premier sommeliers with a talent for getting the good times pouring. Plan a suite of ominous snacks to keep everyone's appetite in check while you taste.
Join our email list for exclusive deals, local events and fun inspiration for living a more creative life.
4. Concoct Devilishly Delicious Drinks
Learn how to create powerful potions by booking online mixology classes to give your guests a slew of new poisons to pick from. Add classic cocktails to your goodie bag of Halloween party ideas or stir up trouble with mixology magic that's a little more modern.
Whatever you choose, your party bar will have sips worth screaming about!
5. Chop Up an Array of Finger Foods
Let your culinary imagination run wild with spooky ideas for fun finger foods. By giving your breadsticks almond slice fingernails and knobby knuckles, you'll have demonic dippers perfect for scooping up an array of dips and spreads.
For a sweet version of these vile vittles, coat pretzel rods with green candy melts with candy corns attached as colorful claws.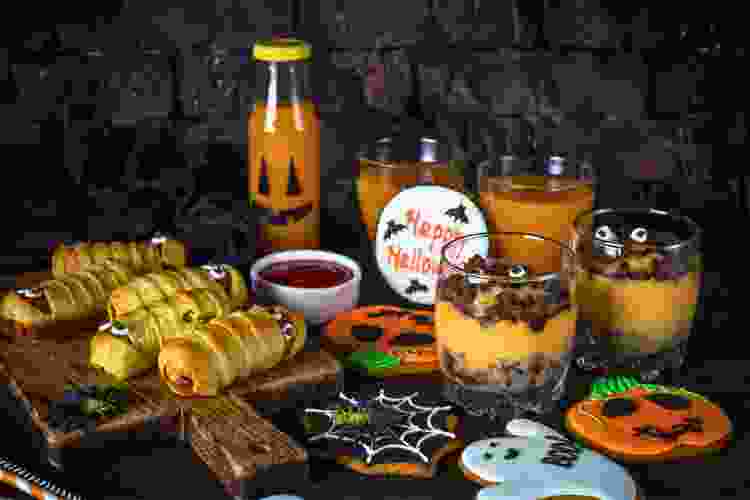 6. Conjure a Devious Party Motif
Exploring fun Halloween theme party ideas will provide a ghastly guide to help you choose decorations, menus, costumes and the other Halloween party ideas necessary for getting your event howling.
From classic creature movies to eerie estates to groovy graveyards, you'll have guidelines that bring every detail into fearsome focus.
7. Summon Some Bloody Good Sauces
A variety of red dipping sauces like marinara, buffalo and salsa roja served in glass jars is a Halloween party idea designed to cast a bloody pall over your garish get-together.
Label each sauce with blood type designations like A+ and B-, serve with finger-shaped breadsticks or garlic knots and invite your most vampiric guests to taste-test and gauge their favorites.
8. Cook Your Guts Out
With Halloween food ideas like cinnamon roll guts on the table, your guests may have a hard time holding back! To create these enticing innards, use a tube of refrigerated cinnamon roll dough arranged in a baking pan in a zig-zag pattern that resembles intestines.
Add red dye to the glaze included in the pack and drizzle after baking to serve up an "offal" sweet treat.
9. Create a Creepy Charcuterie Collection
Halloween food ideas can be cute and creepy at the same time, like a charming charcuterie board with a skeleton or spiders stationed in the center.
Pumpkin-shaped cheese slices, eyeball-like olives stuffed with pimentos and a few plastic spiders sprinkled about help deliver the shiver to your supremely cool cold cuts.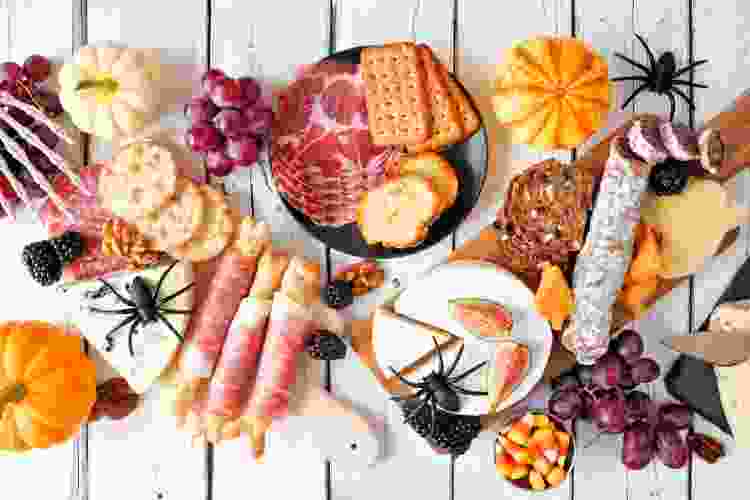 10. Dole Out Deranged Dips
Deconstructed candy apples are a must-have for your Halloween party ideas, especially among your grown-up guests.
Concoct a selection of sweet and spicy dips like buttery caramel flavored with bourbon and fiery hot chocolate made with cinnamon whiskey presented in spooky dishes with "Toxic Sludge" warning labels and served with fresh apple slices.
Creative Halloween Party Ideas & Themes
11. Mold Your Own Urn…
Or coffee mug, or cereal bowl or anything your twisted mind can imagine! You'll find pottery classes in the Bay Area, pottery classes in Portland and pottery classes in Austin featuring talented local potters who'll guide your ogres in your choice of clay or ceramics.
With pottery classes near you to get the celebration spinning, your Halloween party ideas will be fired up in no time!
12. Get Digitally Delirious with Color
Online painting classes are Halloween party ideas that will whip your wild ones into a multi-hued frenzy from the comfort of your own crypt. Even new painters can get their claws dirty creating vibrant images!
These virtual sessions are great for adding fall painting ideas to your decrepit décor, even after the party ends.
13. Paint Yourself Mad
Exorcise your artistic demons with a Halloween party idea that incorporates paint and sip near you. You and your horrific horde will enjoy drinks and snacks as you create colorful canvases that are yours to keep.
Look into paint and sip in San Diego, paint and sip in Boston and paint and sip in Denver featuring Halloween painting ideas to bring your most creative nightmares to life.
A fun twist on pumpkin carving, explore pumpkin painting ideas for a creative Halloween party event perfect for any age group.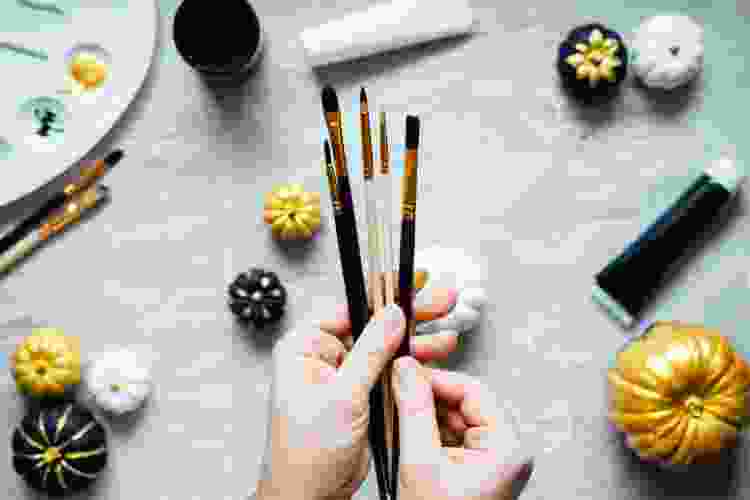 14. Make Movie Monster Mayhem
Invite Frankenstein, Dracula and the Mummy to join your Halloween party ideas, or at least use them as a theme for décor and dining. You'll find amazing examples online for recreating the atmosphere of ghoulish Hollywood glamor.
Using color palettes like green and gray for Frank, red and black for Drac and white and purple for Mum will help you carry the motif through your spine-chilling space.
15. Serve Up a Séance
Treat your coven to a classic séance, complete with printed spirit board placemats on the table and planchette-shaped Halloween party invitations that summon your guests forth.
Offer card readings for entertainment and set up a session departed souls communicate through table raps, ethereal chimes and flickering lights (all controlled by your deceitful partners in Halloween party idea crime, of course)!
16. Cater to the Creepy Couples
Put your Halloween date ideas into action by throwing an affair dedicated to couples! Invite guests to dress as their favorite duos and prepare food eaten in pairs, like PB&J and mac and cheese, all with their own tortuous touches.
This theme is a list-topper for Halloween 21st birthday party ideas that lets your crew cut loose together.
17. Get the Darkness Glowing
If your Halloween party ideas are in need of paint party ideas for adults, get extra groovy with a glow-in-the-dark event.
Station blacklights and day-glow decorations throughout the room, paint glaring green eyes on black paper and tape them along the walls and set a smoke machine seething out a murky mist. Then, invite your guests to paint their own trippy canvases by blacklight only.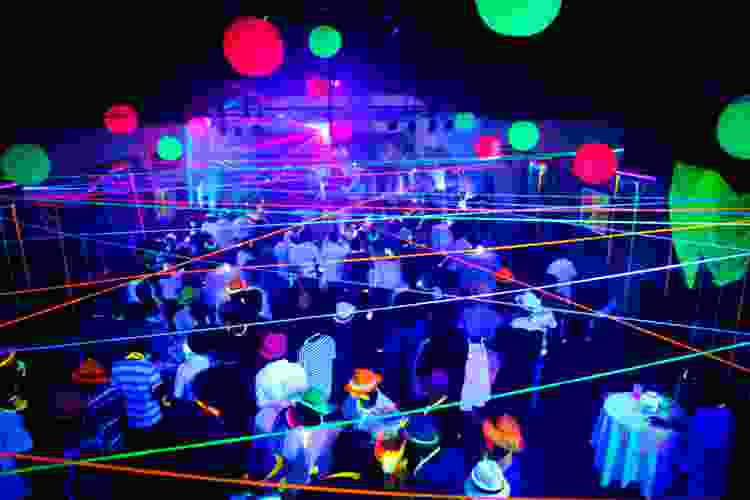 18. Scare Up a Haunted Harvest
For fall party ideas that put the "Aaagghhh!" in autumn, try a haunted harvest theme. Haul a few hay bales from a local feed store to your front porch, make some sinister scarecrows out of old clothes and papier-mâché heads and scatter crow-themed décor about your party room for a murderously fun occasion.
Don't forget candy corn and warm fall dishes to complete the corny concept.
19. Lay Out a Laboratory
Go mad for the mad science motif by transforming your kitchen into a full-blown laboratory. Serve beverages and bites in flask-shaped vessels and set bowls of dry ice lit with glow sticks bubbling along the counter between the dishes.
If you happen to display subjects from some of your experiments among the décor, it makes for an even creepier Halloween party idea!
Fun Halloween Party Games
20. Get Viciously Competitive in Virtual
Add virtual game nights to your Halloween party idea agenda and let the forces of AI help make the most menacing moments more memorable.
You and your brutal bunch will enjoy fully hosted virtual events featuring games you'll recognize as well as new activities that freshen up the idea of game night!
21. Murder Mystery Party Game Kit
Choose a themed murder mystery party game kit for one of the most popular Halloween party ideas, involving plotting the killing, planting clues and determining who the killer is!
Halloween party invitations that use cut-up ransom note letters will alert your guests to the crime afoot, while drinks and dishes that reflect the murder scene will help sell the illusion in a gloriously gory manner!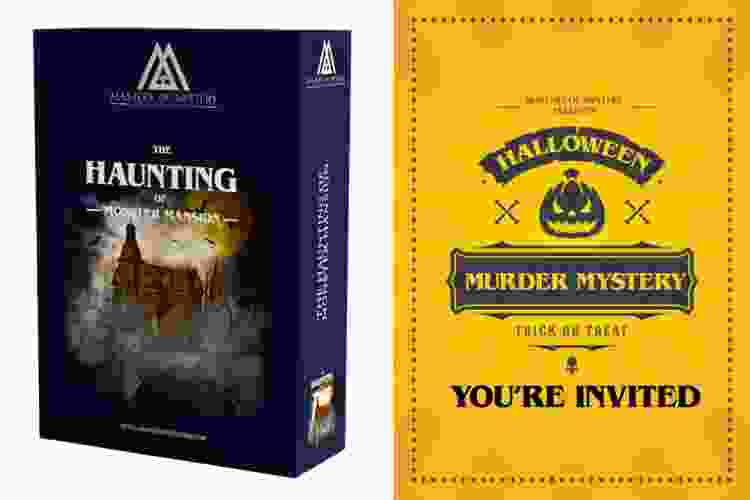 22. Question Your Sanity
With online trivia games on your Halloween party ideas round-up, you can recreate a perfectly putrid pub experience, complete with eerie queries to take the pressure off your overworked party-planning brain.
You'll have a master of ceremonies to guide the gameplay, allowing you to join in on the action as you go for the jugular!
23. Escape the Twisted Web
It will take all the courage you and your unsuspecting guests can muster to make your way out of a virtual escape room. These hosted Halloween party events are insidious for bringing partygoers together.
With a little cooperation and some tricky thinking, you'll evade your captor and earn your freedom before the timer ticks down to your last remaining seconds.
24. Scour the Internet for Victims
Plot a virtual scavenger hunt and set your guests on the scent of some fascinating finds. During these breathtaking Halloween party ideas, you'll be led around the World Wide Web as you seek sites and secrets, the whereabouts of which only your host knows.
Good luck not disappearing yourself during this mind-boggling search!
25. Go Crazy Counting Candy Corns
One of the easiest Halloween party events for your celebration is a candy corn counting contest. Your biggest challenge is counting the candies before adding them to a clear glass jar.
Every guest tests their psychic abilities by guessing how many corns are held captive in the case. Whoever comes closest wins…and whoever guesses the exact figure is a mind-bending mystic to be feared!
26. Play Fangs for Calling
Vampire fangs may not be part of your guests' Halloween party costume, but that doesn't mean they don't come in handy for a fun party activity.
In this hilarious Halloween party idea, which is similar to the game Telephone, players don a pair of plastic choppers as they attempt to repeat a phrase as clearly as possible to one another. Even simple phrases are sure to become mangled victims of verbal carnage!
27. Reassemble a Scattered Skeleton
Set your groovy graverobbers on a search for scattered skeletons and see how well they fare. Cut out basic skeleton parts from different colored construction paper.
Then, hide the bones around the party space and have partygoers team them up to seek out a full skeleton by color. The first team to gather all of their bones in one place for this hurried Halloween party idea wins the loot!
28. Act Out Your Deranged Film Fantasies
Wondering what to do at a Halloween party for adults? How about cueing up horror movie-themed charades as part of your Halloween party ideas?
You can use familiar movie monsters, quotable dialogue and recognizable film titles to give players fun favorites to work with.
Unique Halloween Party Décor
29. Get a Little Batty
Get your kids to help cut out life-like bats in a variety of positions and sizes and tape them in streams along the walls and across the ceiling.
You'll have a fun Halloween party idea that gets the family into the spirit of the occasion while cranking out sweet décor for the big day.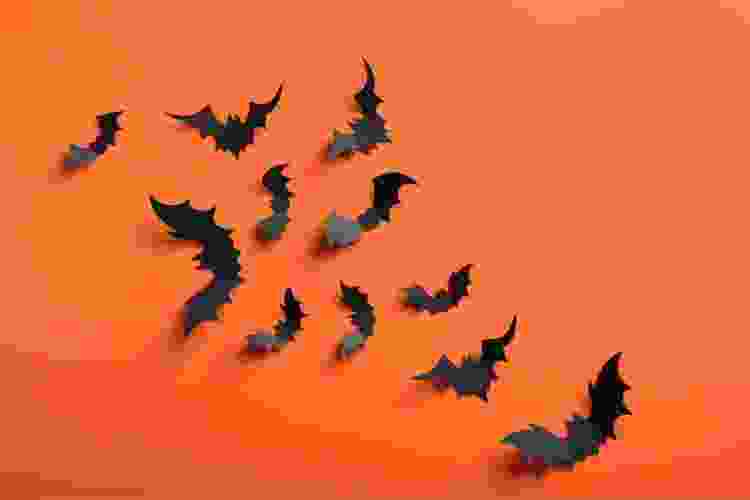 30. Summon Some Silhouettes
The simplest spooky ideas for Halloween party décor can be created with just black construction paper, a pair of scissors and a bit of imagination!
Cut out grotesque monsters and fiendish beasts from black construction paper and tape them in your windows. Make sure to cast light behind them to make the shadows they cast even creepier.
This is a budget-friendly Halloween party idea that gets your creative juices flowing!
31. Make Ghastly Faces
Combine Halloween painting ideas with some clever dimensional art to create ghostly picture frames your guests will die for.
The secret to these spooky specters is cheesecloth dipped in decoupage, draped over mannequin heads or doll face forms. The results are a Halloween party idea that's truly beyond!
32. Wrap a Batch of Mini-Mummies
For a Halloween party idea you can get all wrapped up in, create super simple mini mummy piñatas using a toilet paper tube wrapped in white party streamers. Fill with little candies and mini treats for a cute Halloween surprise.
33. Be a Little Jarring
Simple glass jars from the dollar store are the start of Halloween craft ideas that are both scary and sophisticated. Add a bit of craft store moss and small plastic headstones or skeletons to complete your deranged dioramas.
Pick up a few extras for serving colorful candies and wrapped treats, and you have Halloween party ideas that craftily combine sweet and creepy.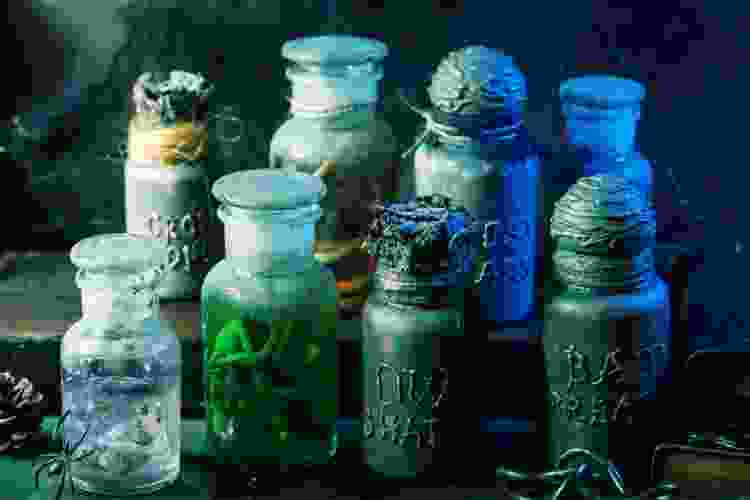 34. Decide Which Hats are Witch
In addition to dressing up classic Halloween party costumes, witch hats make surprisingly effective Halloween party ideas for décor when stood on snack tables and in entryway displays.
Hang a few at varying heights from the ceiling to create the illusion that the witches who owned them might be lingering nearby!
35. Leave a Collection of Clues Lying About
Turn your murder mystery party into a living board game by using the weapons from the game Clue as inspiration for your Halloween party ideas.
A knife standing upright in the center of a cheese ball, a candlestick spattered with cosmetic blood and a rope draped over the back of a chair will give a visual kick to your sinister happenings.
You can even use color-coded characters like Colonel Mustard and Professor Plum as your palette!
36. Light Up the Darkness
Twinkle lights are simple yet effective elements that will add loads of atmosphere to your Halloween party ideas. Grab sets in purple, orange and green for a ghastly glow, or go with simple clear bulbs for a more candle-lit vibe.
You can carry the illumination from outdoors on your porch through your entryway and into the party, like ghost lights beckoning your unfortunate guests to their delicious demise!
37. Paint a Set of Sugar Skulls
Honor Dia de Los Muertos in the form of Halloween painting ideas by transforming pumpkins into sugar skulls for a different kind of Halloween party idea.
Kids will be excited to help out with party prep by painting colorful patterns around skull-style eye sockets, nose holes and skeleton teeth painted in black.
More than any other occasion, coming up with Halloween party ideas invites the dark side of your imagination to come out and play! There are no limits to the possibilities you can entertain, as long as you stay within your budget.
Whether your spooky touches are truly gruesome or more glamorous than gory, your Halloween party ideas can celebrate the true spirit of the day in a way that feels best for you and your guests.
How do you make a Halloween party special? The menacing magic is in the details. By treating your haunted house guests to a celebration where decorations, food and music are all thoughtfully chosen, you can watch your most viciously vibrant Halloween party ideas come to life for everyone to enjoy!
For even more fun party ideas, check out other experiences happening on Classpop!