17 Most Fun Paint Party Ideas for Adults for 2023
Published on Nov 21st 2022
| 0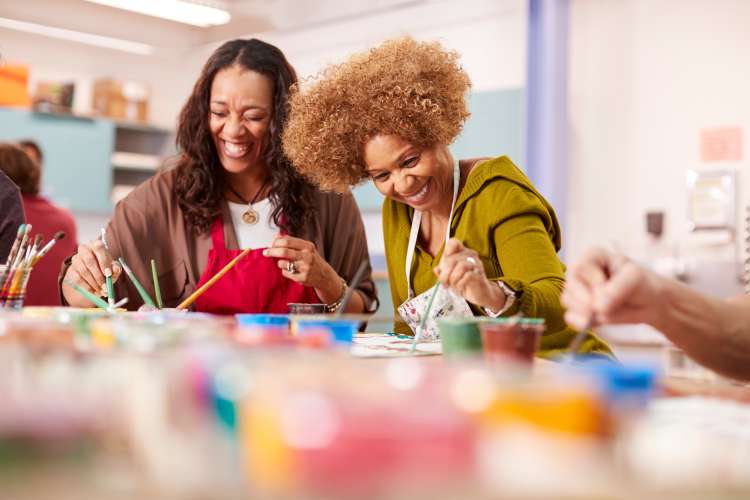 If you're looking for paint party ideas for adults, you might be overwhelmed by the number of options available. How do paint parties work? What type of paint party are you interested in? This list of 17 great ideas will help you decide what type of paint party you'd like to host and what you'll need to make it an unforgettable experience.
Are you still not sure if hosting a paint party is worth it? According to Brookings, creating art benefits your mental health and can also contribute to a stronger sense of community. Why not combine the two by hosting your friends and family members to a communal celebration of art? These paint party ideas for adults are sure to fit the bill.
Jump to Section
Paint and Sip Party Ideas for Adults
By far the most popular category of paint party ideas for adults are paint and sip events. You can visit special studios where the focus is on creating art while enjoying a drink. You'll be guided by an artist who can show you the ropes as everyone paints their own version of the same image.
You can find paint and sip in Sacramento, paint and sip in Boston and paint and sip in Chicago, to name just a few places where these popular locations have sprung up in the last few years, or explore paint and sip near you. Here are a few paint and sip party ideas for adults that will help you make the most of the experience!
1. Pick an Occasion
Birthday parties, retirement parties or bachelorette parties make for a great reason to celebrate with the best paint party ideas for adults. Plus, everyone will leave with their own hand-painted souvenir of the event to remember it by. Throw a bachelorette painting party to remember, or honor your pet's birthday with a custom pawtrait.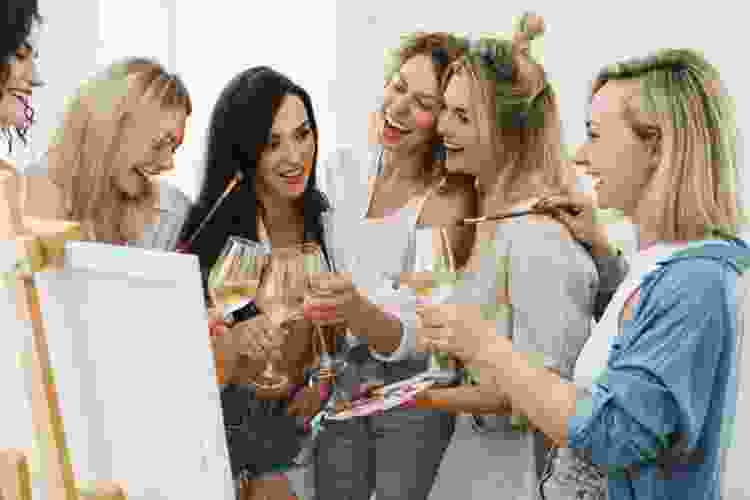 2. Dress the Part
Amp up the fun by adding a dress-up element to your paint party. Invite all of your guests to come dressed as famous artists, or celebrate Halloween with a costume paint and sip party. You'll have fun picking out a costume, and the pictures you take that night will make you smile for years to come.
3. Turn Paint and Sip Night Into a Fundraiser
For this paint party idea for adults, ask your guests to bring items to donate to a food bank or homeless shelter. You could even collect art supplies for a local community center or children's home so that everyone can enjoy the benefits of creating artwork.
4. Find Inspiration at a Museum
Whether a paint and sip party is on your vacation agenda in a different city or you're sticking close to home, spend the morning of the party finding inspiration in a local museum. You can bring your entire group and drink in the famous artwork on the walls before grabbing a drink and creating some of your own art later that evening.
At-Home Paint Party Ideas for Adults
Do you want to experience a paint party from the comfort of your own home? If so, you may be wondering a few things. How do you host a painting party? What kind of paint do you use for a paint party?
The good news is, you don't have to leave the house to attend a paint party. You can stay home and try online painting classes to brush up on your skills, or you can host your own. Here are some at-home paint party ideas for adults.
5. Host a Seasonal Paint Party
Let the calendar decide what you paint. Is it spring? Opt for birdhouses. Fall? Paint a pumpkin to display on your porch. You can even have your guests bring their own item to paint so that all you have to supply is the art materials.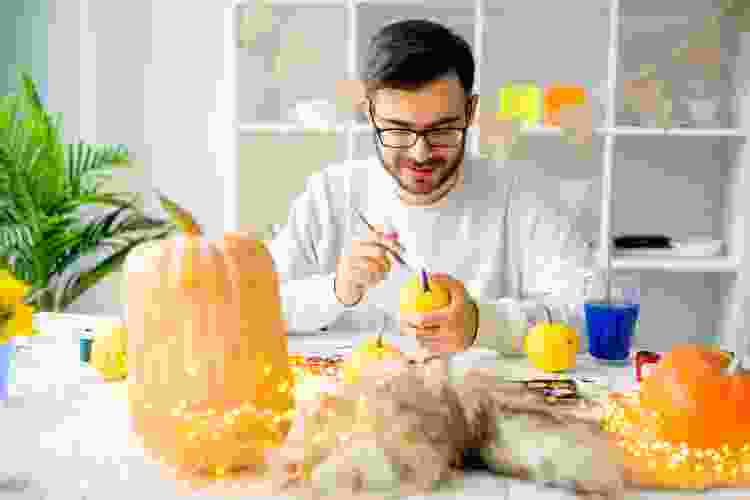 6. Follow a Tutorial
Incorporate this paint party idea for adults by watching an art tutorial online and trying to recreate the artwork from the comfort of your house.
7. Make It a Portrait Party
For this paint party for adults at home, host a portrait party. Have your guests draw names and paint a portrait of another guest. This paint party idea is sure to have your guests laughing.
8. Protect Your Space
Whatever kind of paint party ideas for adults you settle on, be sure to cover your workspaces with plastic or paper before your guests arrive. It's also a good idea to supply aprons and paper towels to keep everyone's clothes and workspace clean throughout the event.
Paint Party Food Ideas for Adults
If you've decided to host your own paint party, you may still have some questions! What do you serve at a paint party? Here are four paint party food ideas for adults that will fit the theme perfectly.
9. Make a Self-Portrait Pizza
Set up a pizza bar for your guests, and have them use the toppings to create their very own self-portrait out of pepperoni, onions, mushrooms other popular toppings.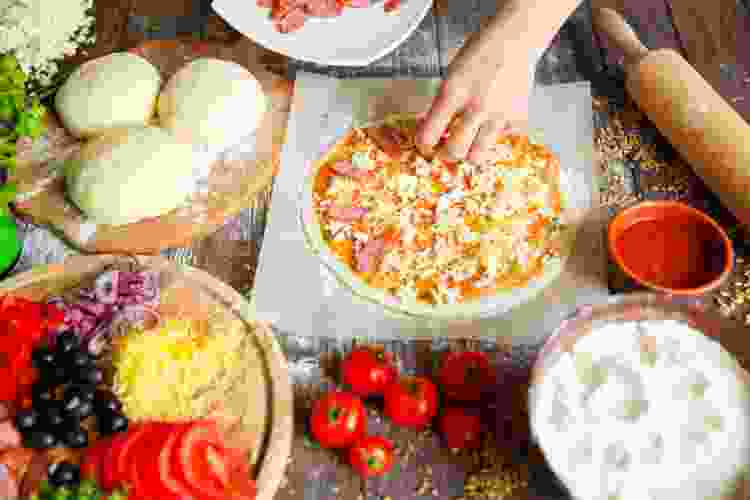 10. Decorate Your Dessert
Keep the paint theme rolling with food you can decorate to show off your artistic ability. Set up a table with cookies or cupcakes to frost and sprinkle with colorful candy and treats of your choice.
11. Make Edible Paintbrushes
Take a square crispy rice treat and add a popsicle stick to one side, then dip the other side in brightly-colored chocolate or candy melts. In no time, you'll have a plate full of cute, edible paintbrushes.
12. Keep a Lid on Your Drink
This paint party idea for adults is a useful trick that will save you from accidentally drinking the water that's been used to clean paintbrushes. Be sure to have lids or covers for your guests' beverages so they know which to drink and which to use for the paint party!
13. Keep the Creative Juices Flowing
Why not serve a cocktail inspired by your favorite artist for a paint party idea for adults with a twist? Look to the internet for inspiration and match the colors in your beverage to the colors in the artwork.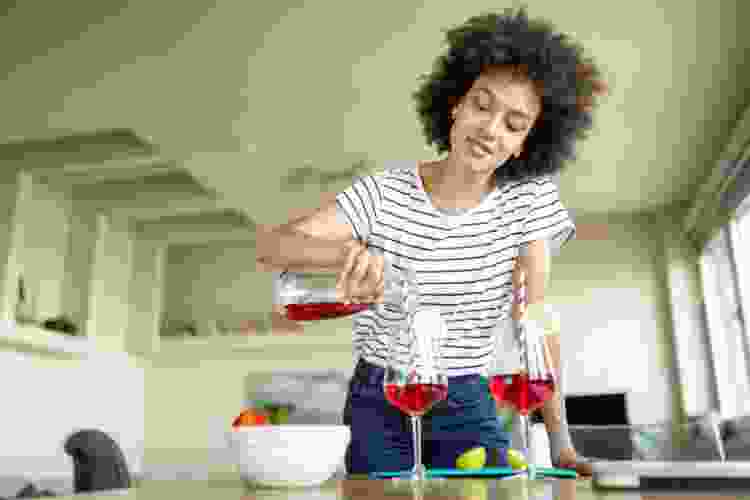 Paint Party Decorations Ideas for Adults
Now that you have the guest list and the food, it's time to set the stage. Here are some paint party ideas for adults that will have your space looking sharp.
14. Make a Paint-Chip Banner
Head to a hardware store and stock up on paint chips; you can string these together to make a colorful banner or garland for your party. Most often, you can collect these paint color samples for free, making for a low-budget painting party decoration idea.
15. Inspire Your Guests
For an inspiring paint party idea for adults, hang posters of famous artists and their work to inspire your guests when they show up to the party. You could even set a meaningful quote from classic artists like Monet or Picasso at each painting station.
16. Keep Things Personal
This paint party idea for adults is sure to be a hit: make personalized aprons for your guests. They'll be able to paint without fear of ruining their clothes, plus the aprons will also make a great souvenir of the evening.
17. Make a Supply Station
Decorate for your paint party by creating a one-stop shop for paintbrushes, paints and water cups. You can arrange this to be a focal point of the event so that even the practical materials serve as paint party decorations.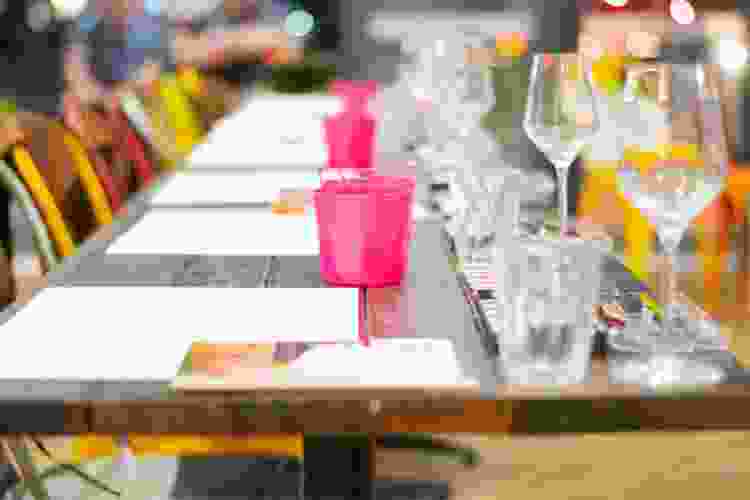 With these paint party ideas for adults in your arsenal, you're well on your way to hosting a great paint party for all your friends. You'll be able to express yourself creatively while also making memories together.
For even more fun party ideas, check out other experiences happening on Classpop!