How to Host the Best Bachelorette Painting Party in 2023
Published on Nov 11th 2022
| 0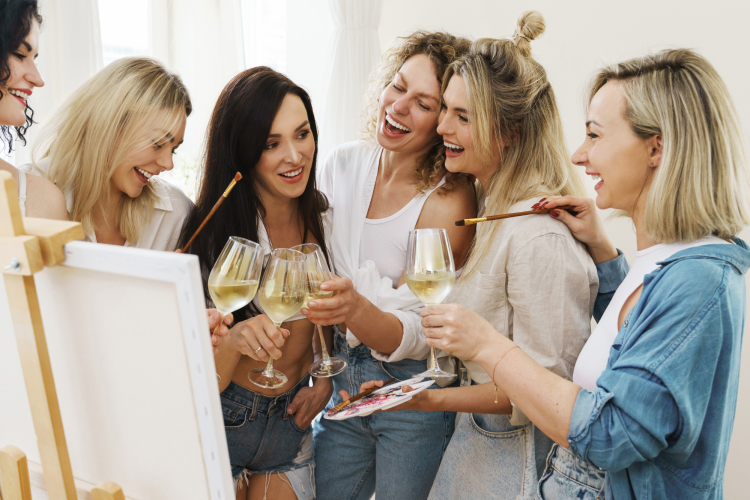 A bachelorette painting party is a great idea for artistically-inclined brides-to-be looking for a creative and laid-back way to celebrate. In terms of girls' night ideas, a bachelorette painting party gives you and your friends something fun to do and a cute keepsake that you can take home.
A bachelorette painting party can take on several forms, ranging from a chill evening at home with wine and easels to a wild, carefree bachelorette party paint night filled with friendship and creativity.
If a paint and sip (or paint and shots, depending on your taste) sounds like a good fit for your friend group, read on to get some helpful tips on how to host the best bachelorette painting party.
Jump To Section
How to Host a Bachelorette Painting Party
Make It a Paint and Sip
A good bachelorette painting party should include the right amount of partying that suits your social circle's preferences. Although a private paint party isn't the same as going out to a nightclub, alcohol can still be a part of your plans.
Paint and sips are extremely popular for folks who want a chill but entertaining bachelorette party. If you want to go out on the town, you can book a private paint and sip in any major city for events such as a painting birthday party or bachelorette painting party. This is a great option if you're planning a bachelorette weekend in a destination city, such as a paint and sip in Sacramento or a paint and sip in Chicago.
On the other hand, a paint and sip outing also works well for planning a bachelorette paint party near you. For instance, brides-to-be living in Texas could easily find paint and sip in Houston and spend the night appreciating their hometown, or browse paint and sip near you.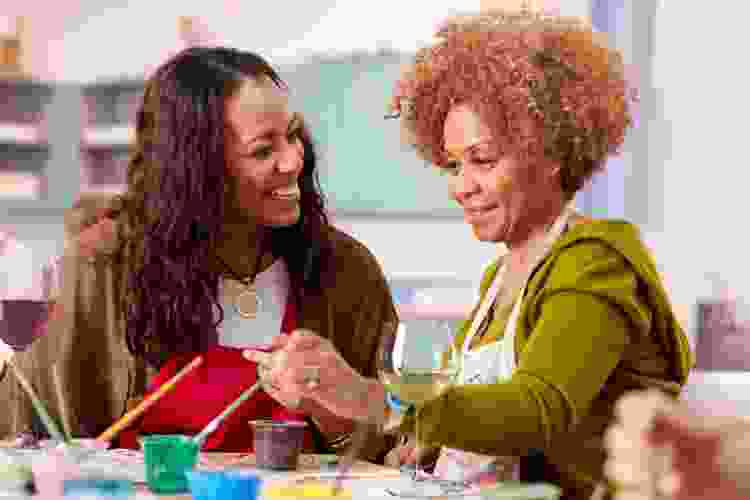 Be Inclusive
A bachelorette painting party can be a memorable and hilarious celebration when well-executed, but it can also be an awkward experience if you don't keep your friends' personalities in mind.
Not everyone is an artistic genius or confident with painting, so leave some time at the beginning of the private paint party for people to settle in and get comfortable by casually experimenting with the paint while chatting and sipping on drinks.
If you're booking your party at a paint and sip, your facilitator will likely create that introductory time for people to gain confidence with the painting materials.
However, if you're hosting a bachelorette painting party on your own, you may want to think about how you can make sure all your friends feel welcome and included.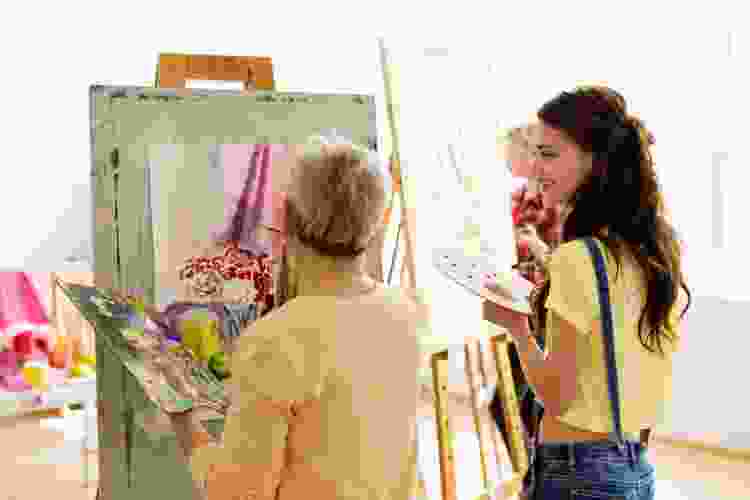 Don't Take It Seriously
A bachelorette painting party should be fun, so don't put pressure on yourself to create a piece of fine art. A lot of bachelorette painting parties end up being goofy events where friends make some funny pictures while enjoying their drinks.
Even if your goal is to create a special keepsake or something you can use as a wedding decoration, remember that the main point of the event is to celebrate your friendships and get excited about an upcoming wedding.
After all, as a study from the Genus Journal of Population Science demonstrates, quality friendships have a big impact on overall life satisfaction — what could be more worth celebrating than life-affirming friendships?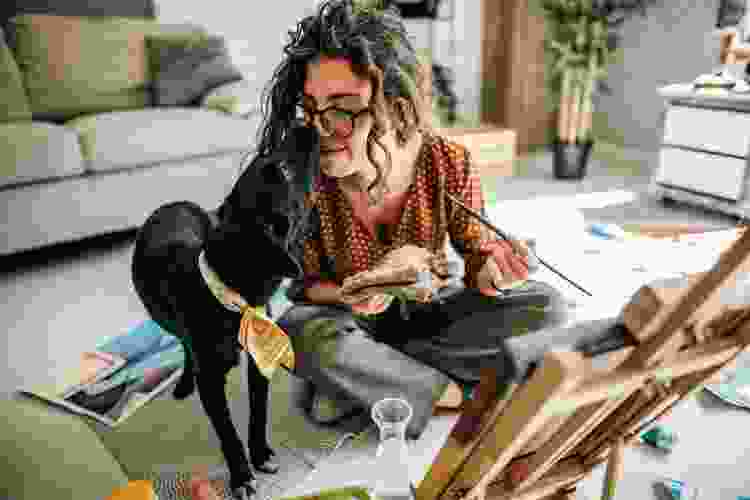 How to Host a Bachelorette Painting Party at Home
Host a Virtual Class
Hosting an in-home painting party is an affordable and low-maintenance option for bachelorette paint party ideas. Planning a bachelorette paint party near you works especially well if your vision of the perfect bachelorette party leans toward a slumber party-style event.
If you want that homey vibe while still having some structure to your party, consider booking online painting classes. An online painting class will give you all the same benefits of an in-person paint and sip, but you get to do it from the comfort of your living room. Furthermore, it will take some pressure off of the host, since they can pass the baton off to the virtual painting instructor.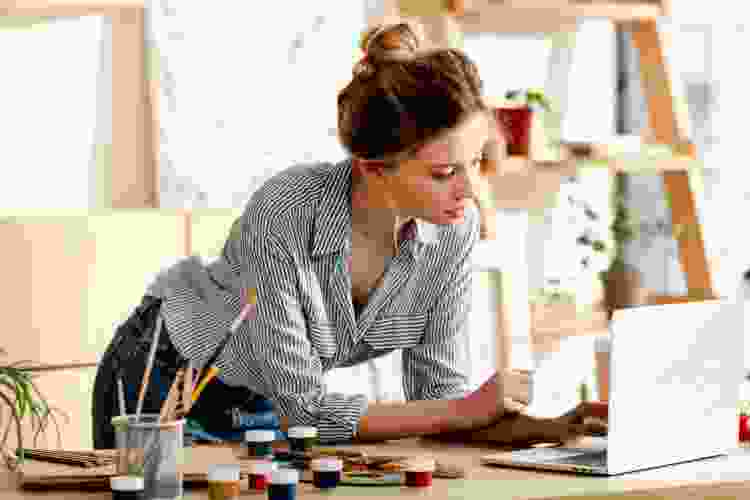 Protect Your Space
Painting can get messy, so be sure to cover your furniture and keep your valuables out of the way. Host your in-home painting party in an open space with plenty of room for chairs and easels.
A patio or other outdoor area is the most ideal, but if you have to host it indoors, consider laying down old sheets or newspapers on the floors and tables to avoid any unwanted stains.
Plan for Other Entertainment
If you and your friends will be spending a long night at your home, be prepared to provide entertainment in addition to the painting. Once folks are done with their paintings they may want to move on to other bachelorette party games or activities.
You could continue with the art theme and set aside a table with extra bachelorette-themed craft supplies. You could also play a trivia game or transition into a movie night as it gets later into the evening.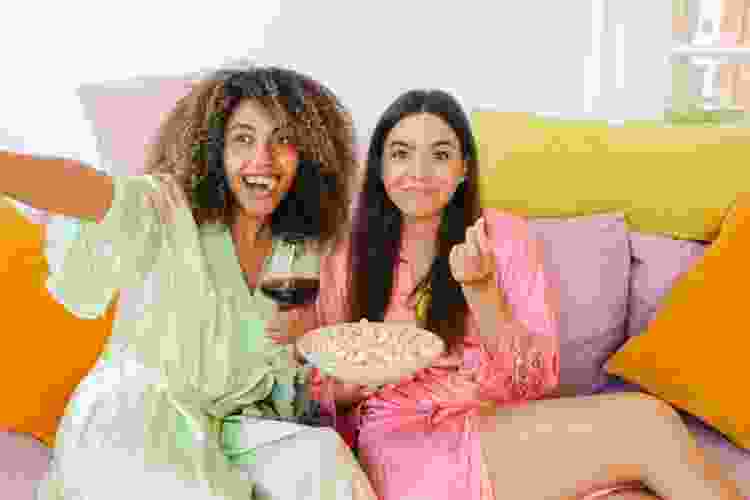 Bachelorette Painting Party Supplies
Painting Materials
A decent bachelorette painting party requires the proper supplies. You will first need to stock up on all the necessary painting materials. The ideal paint for a paint and sip is high-quality while still being affordable. This is a party, not a serious art class, so you want good materials, but you don't need professional-grade.
If you want to use acrylic paint, Dick Blick's student paints are available in bulk containers and come in a wide range of vibrant colors. Watercolor is a little trickier to work with, but watercolor sets are usually quite cheap and create less of a mess if that's a concern.
You will also need paintbrushes and canvases. You can find affordable brushes and canvases at any craft store in your area. Just check to make sure the brush and canvas style you purchase matches the type of paint you plan on using.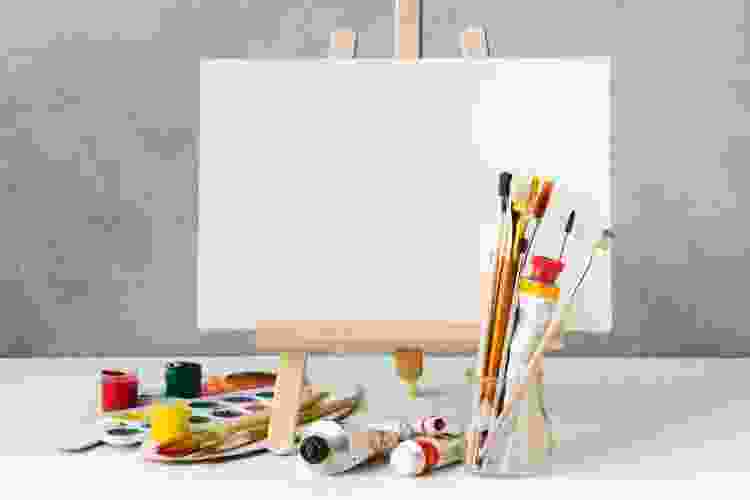 Bachelorette Painting Party Accessories
In addition to the basic painting party materials, you can spruce up your party with some extra painting tools and accessories. You could treat your friends to matching painting smocks as bachelorette party gifts, or cute easels so they can see their artwork from a better angle.
Other extra painting materials include specialty brushes and paints, palettes and stylish artist berets.
Decorations
Don't forget to put up bachelorette-themed decorations. Balloons, banners, and festive plates and napkins are all sweet ways to celebrate the bride's special day and create an upbeat party ambiance. Without the appropriate decorations, it may end up looking more like a painting birthday party than a bachelorette painting party.
You can choose general bachelorette party decorations, or you can stick to the painting theme and get decorations related to art. Either way, simple decorations are a nice touch that shows you put effort into the event.
Fun Bachelorette Painting Party Ideas
Bob Ross Party
Brides-to-be that want bachelorette party painting ideas that add a playful twist should come up with a fun theme, such as a Bob Ross Party. At a Bob Ross bachelorette party paint night, you could play your favorite Bob Ross painting tutorial video as you and your friends attempt to follow along and make your own masterpieces.
If you like, you could take the Bob Ross theme further and invite your guests to dress up like the iconic television painter. That would make for a wacky painting party and some amazing bachelorette party photos.
Painting Games
Another clever bachelorette party painting idea is to combine painting with bachelorette party games. Create a prompt that everyone has to follow, such as painting your favorite memory of your friend group or an image that only your friends would understand.
When everyone is done with their paintings, you'll have a ton of laughs trying to guess what each person has painted and reminiscing about funny moments and old inside jokes.
Group Painting Activity
When it comes to bachelorette paint party ideas, a group activity is always a success. Instead of everyone painting their own pictures, ask your friends to make a group project that commemorates your friendship. You could paint a mural or a quilt, or you could each make coordinating art pieces that go together as a collection.
Some brides also like to make a group activity out of painting wedding decorations. A word of caution, however: check that your friends genuinely enjoy making decorations, otherwise it's just a party where you've put them to work.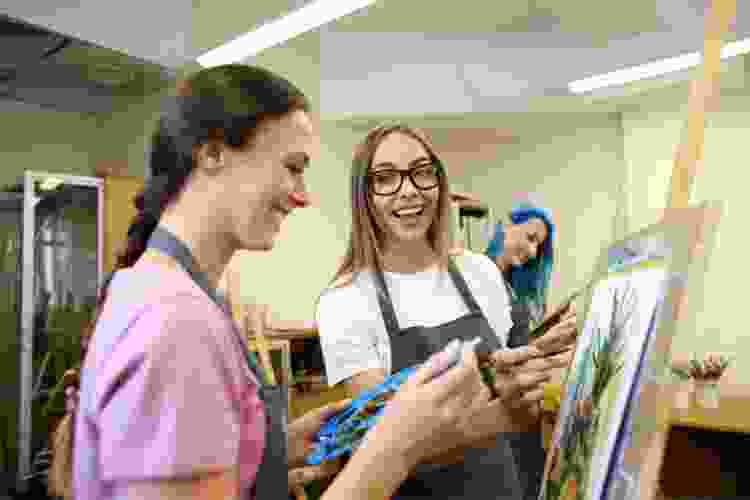 A bachelorette painting party is a unique and creative way to celebrate a friend's upcoming wedding that combines regular bachelorette party fun with an original and engaging activity.
These tips are a great starting point for planning a fantastic bachelorette painting party. And remember, no matter what bachelorette party ideas you come up with, a bachelorette party is a special celebration of love and friendship, and there's no wrong way to do it.
For even more fun party ideas, check out other experiences happening on Classpop!