39 Essential Nashville Bachelorette Party Ideas for the Ultimate Bash
Published on Jun 22nd 2022
| 0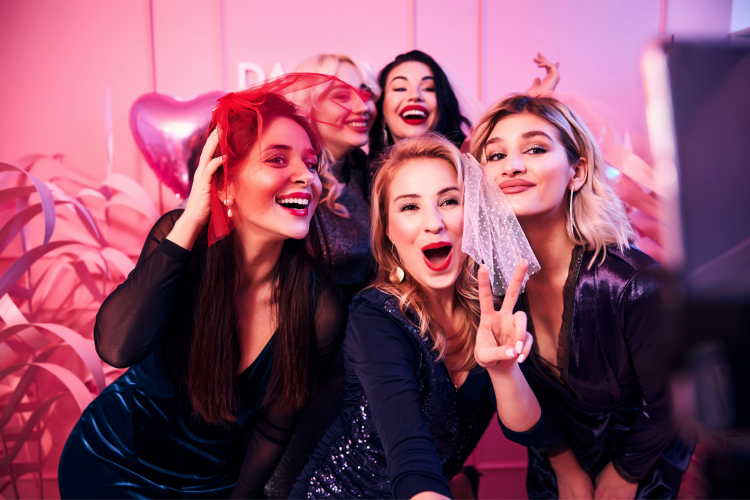 Whether it's a wild weekend of music and dancing, a one-of-a-kind foodie getaway or a relaxing escape brimming with Southern charm, a Nashville bachelorette party offers unforgettable experiences for every bride.
Why is Nashville so popular for bachelorette parties? Renowned for its legendary live music and dance halls, the party never stops in Music City. With a thriving art scene, beautiful scenery and an eclectic food culture, it's easy to host an unforgettable bachelorette party in Nashville.
So, what is there to do in Nashville for a bachelorette party? Make your celebration one-of-a-kind with these epic Nashville bachelorette party ideas!
Jump to Section
Foodie Nashville Bachelorette Party Ideas
Although Nashville is best known for its music, the city's vibrant food scene has some standout stars of its own. From Nashville hot chicken to Tennessee whiskey, foodie brides will love exploring the unique tastes of the town from sophisticated rooftop bars and innovative eateries to homestyle Southern cooking.
1. Cooking Classes
Experience the signature flavors of this iconic city with cooking classes in Nashville taught by local chefs. From rolling sushi to serving up Southern comfort cuisine, there are classes highlighting a variety of skills and cuisines for an unforgettable bachelorette party activity to delight any foodie.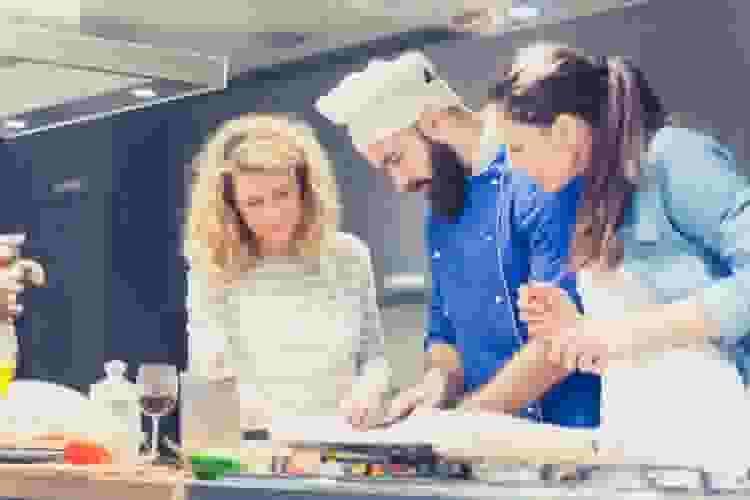 2. Online Cooking Classes
Does the bride-to-be love a specific cuisine or want to elevate her kitchen skills before saying "I do"? Browse online cooking classes to find the perfect match for your Nashville bachelorette party.
3. Online Mixology Classes
Shake up the average bachelorette party with online mixology classes. World-class mixologists teach you how to stir, shake and pour like a pro while crafting unique and classic cocktails.
4. Virtual Wine Tastings
Celebrate the bride-to-be as you sip and sample local regional wines or unique vintages from all around the world during virtual wine tastings. Tastings are a fun and engaging way to bond while learning about each vintage from top chefs and sommeliers.
5. Food Tour
One of the best ways to explore a city is through its food! Lace up your walking shoes and gather the girls for a Nashville bachelorette party food tour. From unique eats to the iconic Nashville hot chicken, get a real taste of the city as you explore the food, culture and history of this vibrant town.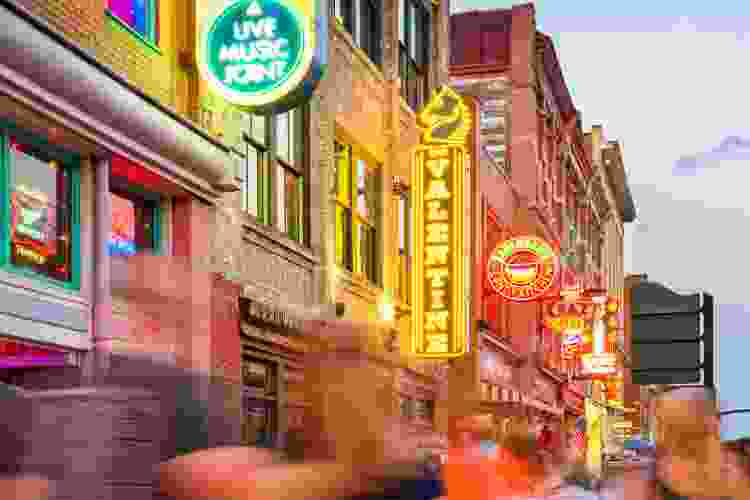 6. Brunch
Brunch is a bachelorette party classic and for good reason. Is there anything better than waking up to a delicious sweet and savory spread paired with sparkling mimosas or tangy bloody marys?
From cozy to classy, Nashville boasts a wide range of impressive brunch options to choose from with innovative menus, spectacular rooftop views or signature live music to kick off the day.
7. Bar Crawl
From brunch to late night, Nashville is home to some truly legendary bars and restaurants. Take in the glamorous lights of the city as you hop across downtown visiting live music venues, historic bars and swanky speakeasies.
Creative Nashville Bachelorette Party Ideas
Nashville is a city that vibrates with creativity, inspiring musicians and artists for generations. Channel that creative energy with these fun Nashville bachelorette party ideas.
8. Drawing Classes
Discover your inner artist with a fun and creative experience for your Nashville bachelorette party. Everyone can create their own masterpiece with in-person drawing classes or choose an online drawing class where you can meet virtually with a talented artist who will lead your group through a relaxing, interactive drawing session.
9. Painting Classes
Get the creative energy going with painting classes. Express yourself with watercolors, oils or a variety of mediums with in-person or online painting classes guided by talented artists that will help you create beautiful keepsakes from this special occasion.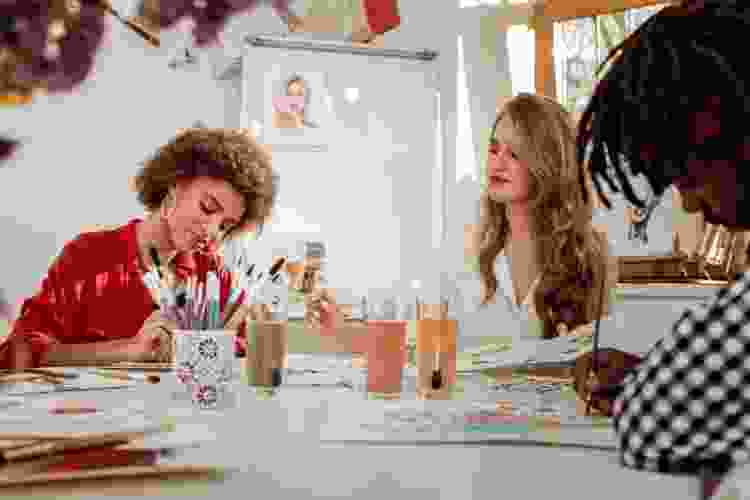 10. Art Classes
Whether practicing calligraphy for elegant invitations or learning crafty ways to DIY your décor, art classes are a great way to celebrate the build up to the wedding day.
With so many types of art to explore, you might get inspired to add personalized touches to the big day or discover a new hobby while enjoying a low-key afternoon with friends.
11. Paint and Sip
Paint and sip events are a casual, relaxing bachelorette party idea that comes with a one-of-a-kind souvenir. Enjoy a glass of wine while letting your creativity flow as you paing unique works of art with your friends.
12. Pottery Classes
Don't be afraid to get your hands dirty with fun and creative pottery classes. Learn the basics of throwing clay while you enjoy a relaxing afternoon with friends shaping handmade souvenirs on the pottery wheel with this artistic Nashville bachelorette party idea.
13. Dance Classes
What could go better with a trip to Music City than dancing? Break away from the classic line dancing as you let loose with a variety of fun and energizing styles with dance classes in Nashville or choose your favorite styles with online dance classes to get your Nashville bachelorette party grooving.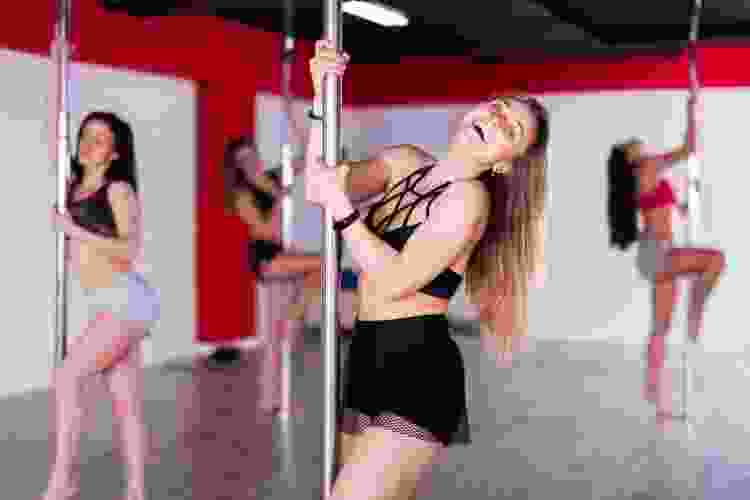 14. Concert
A Nashville bachelorette party wouldn't be complete without some live music. With historic venues, amphitheaters and arenas of all sizes, it is easy to catch an incredible performance in Music City.
Unique Nashville Bachelorette Party Ideas
When traditional bachelorette party activities don't fit the bride's personality or you just want to try something out-of-the-box during this special celebration, consider some of these unique bachelorette party ideas in Nashville for an unconventional and unforgettable experience.
15. Acting Classes
Make the bride-to-be the star of the show with acting classes or online acting classes that tackle everything from stage performance to improv.
This unexpected party idea challenges the group to step beyond their comfort zones and tap into their unique charisma while bonding in an unforgettable way.
16. Virtual Flower Arranging Classes
Learn how to prepare fresh, bountiful bouquets or floral centerpieces with virtual flower arranging classes. This unique Nashville bachelorette party activity lets you channel your creativity and connect with nature while getting some great ideas for wedding décor.
17. Photography Classes
Explore the art of photography with this bachelorette party idea that will have you capturing these special moments with artistic flare.
Photography classes combine art and technology to capture the world from a unique perspective. With online photography classes you can practice everything from fundamental techniques to taking stunning photographs with a smartphone.
18. Woodworking Classes
Tennessee is renowned for its talented artisans. Connect to the heritage of the area by learning the craft of woodworking with one of the most unique bachelorette party ideas in Nashville.
Woodworking classes teach you how to transform rough wood into pieces of art while practicing a useful new skill and creating a one-of-a-kind memento from this special occasion.
19. Glass Blowing Classes
Glass blowing classes blend a primal attraction to fire with a dose of artistry to create stunning ornaments, decorations, bowls, vases and more. This hands-on activity is a unique way to fire up your Nashville bachelorette party.
20. Sewing Classes
Although it may seem old-fashioned, sewing classes teach useful skills along with a unique form of artistic expression.
From crafting impressive outfits for cosplay to stitching beautiful quilts or embroidery, the bride-to-be and her guests can express themselves with needle and thread while learning practical skills like sewing on a button or stitching a hem.
21. Goat Yoga Nashville
Weddings are exciting, but also pretty stressful. Unwind with adorable goats during a relaxing yoga session just outside of the city. Journey to the serene countryside for an afternoon of de-stressing with playful farm animals amidst the rolling Tennessee hills.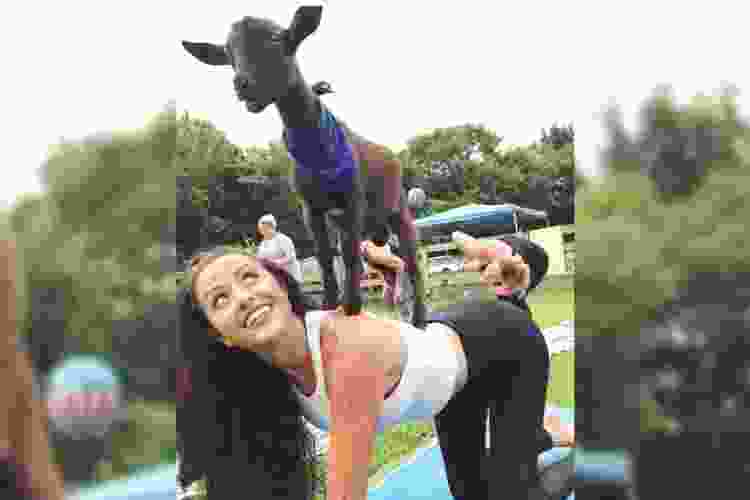 Affordable Nashville Bachelorette Party Ideas
A Nashville bachelorette party doesn't have to be elaborate or expensive. There are plenty of affordable Nashville bachelorette party activities that let you relax and enjoy the city at any price point.
22. Go for a Hike
Journey beyond the hustle and bustle of downtown and take in the natural wonders in and around the city with a relaxing hike. From gentle walking trails in nearby parks to more challenging climbs just outside of the city, celebrate an outdoorsy bride with this low-key Nashville get-together.
23. Picnic
Take advantage of Nashville's beautiful parks and green spaces with a classic afternoon picnic. For this simple Nashville bachelorette party activity, just grab a cozy blanket and pack some snacks and drinks for a tranquil day with friends.
24. Lounge by the Water
Spend a lazy day lounging by the water for a low-key Nashville bachelorette party. Whether paddling around a nearby lake, enjoying a riverside stroll or soaking up some sun poolside, Nashville offers a variety of relaxing aquatic activities.
25. Spa Day
This classic bachelorette party idea has withstood the test of time thanks to its simplicity and the ability to customize. Let the wedding stress melt away while getting pampered with your best friends by choosing your favorite services or grabbing some face masks and nail polish for a DIY spa day at the hotel.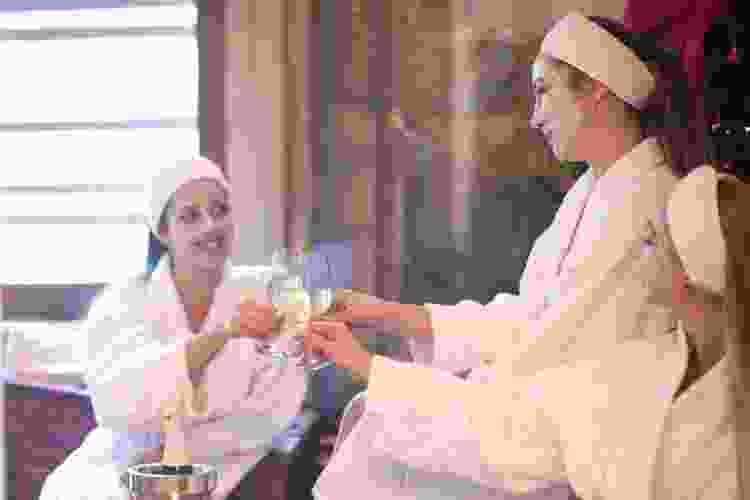 26. Sightseeing
Embrace being a tourist for the day as you explore Nashville's busting downtown or some of its intriguing neighborhoods by foot, bus, tractor or trolley.
Visit the city's signature attractions, check out a gallery or museum, sample the local fare or do some souvenir shopping as you immerse yourself in all that Nashville has to offer.
Quintessential Nashville Bachelorette Party Ideas
From legendary music halls to sultry cowboys, Nashville is home to many iconic attractions and experiences that give the city its unique identity. Be sure to check out some of these quintessential bachelorette party ideas that are signature to Music City.
27. Grand Ole Opry
For fans of American country music, a trip to Nashville wouldn't be complete without a visit to the city's most iconic attraction, the Grand Ole Opry. Catch a legendary performance or get an in-depth look at this historic hall with a backstage tour for an unforgettable Nashville bachelorette experience.
28. Visit Honky Tonk Highway
Grab your cowboy hats and get ready to boot scoot down Honky Tonk Highway! The honky tonks on Lower Broadway keep the party going through the day and into the night with plenty of spots to grab a drink and dance to live music.
Need to brush up on your line dancing? The Wildhorse Saloon offers complimentary lessons to have you rocking the dance floor with confidence.
29. Honky Tonk Express
Roll through town in style on the Honky Tonk Express bachelorette party bus. These custom, open-air party buses embrace the lively spirit of Nashville with a VIP bartender on board to mix your favorite cocktails while you dance the night away beneath the bright lights of the city.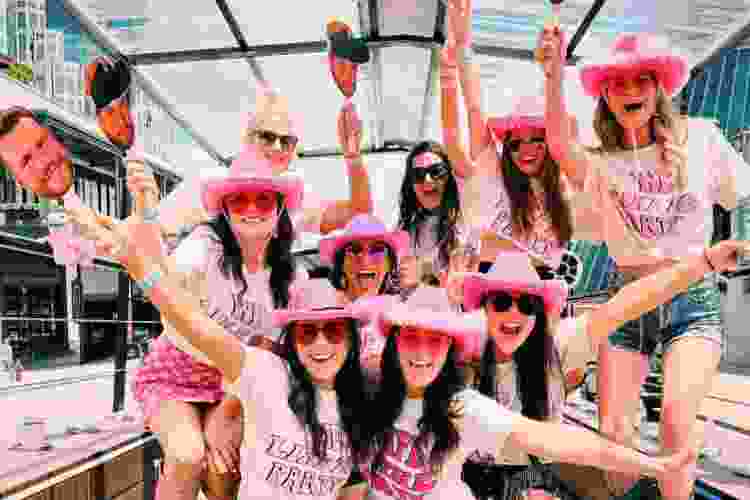 30. Mimosas and Murals Tour
Discover the significance of the murals and how collaborative art strengthens community bonds and gives each neighborhood its unique personality, as shared by The University of Chicago Press.
The Mimosas and Murals Tour takes you to some of Nashville's most Insta-worthy stops for epic photo moments along with sipping mimosas and nibbling delicious doughnuts.
31. Arrington Vineyards
Bask in breathtaking views of the Tennessee countryside while sipping a glass of wine or cool frosé at Arrington Vineyards. Learn about wine-making on a tour of the vineyard and be sure to take lots of group photos with the picturesque backdrop.
32. Moonshine Tasting
Mozy on down to 6th and Peabody for a visit to the YeeHaw Brewing Company where you can tour the distillery and sample some Ole Smoky Moonshine. Along with moonshine and whiskey, enjoy craft beer, live music, local eats and an outdoor beer garden complete with lawn games and lounge chairs.
33. Booze Cruise
Cruise down the Cumberland River and right through the heart of Nashville with a booze cruise! Spend the afternoon lounging, dancing and drinking in style as you celebrate a Nashville bachelorette party.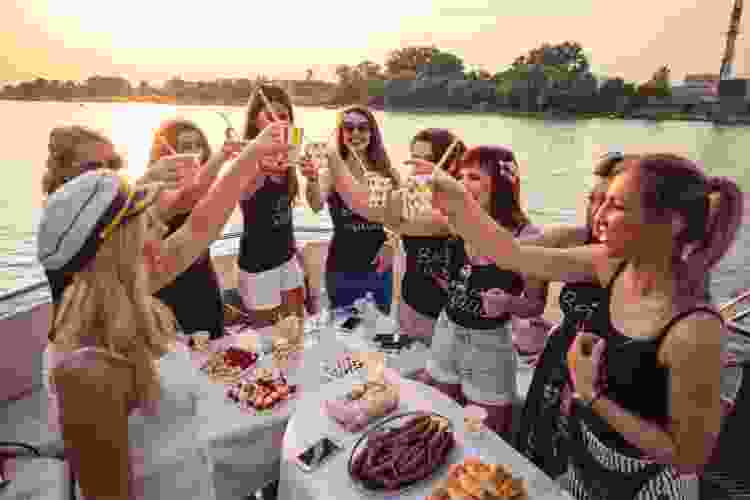 34. Male Revue
This mainstream bachelorette party activity gets a Music City twist with chiseled cowboys ready to put on an unforgettable performance. For the bride-to-be that likes to get a bit wild, a sultry male revue show is an epic addition to a Nashville bachelorette party.
Nashville Bachelorette Party Games
No bachelorette party is complete without some fun and games. These Nashville bachelorette party games invite you to update the classics, spark some friendly competition or put your heads together to take on challenging puzzles and tasks.
35. Virtual Game Nights
Competitive brides and gal pals will love challenging each other in everything from trivia or bingo to virtual game shows or even solving murder mysteries with virtual game nights. Entertaining hosts drive the friendly competition for an unforgettable night of fun and laughter.
36. Online Trivia Games
Entertaining hosts put your knowledge to the test with interactive, themed online trivia games. From foodie or pop culture factoids to the ultimate trivia showdown, choose your topic and face off to find out who is the brainiest of the bridal bunch.
37. Escape Rooms
Bring the fun and adventure of an escape room to your Nashville bachelorette party without trying to fit everyone into those tiny rooms. With virtual escape rooms, an entertaining host challenges you to crack the codes, unravel the clues and race against the clock to solve the mystery.
38. Virtual Scavenger Hunts
Race the clock and each other while searching for secret items, deciphering clues and completing checklists with virtual scavenger hunts. This interactive activity is great for groups of all ages, including junior bridesmaids.
39. Prosecco Pong
Add a touch of class to the iconic drinking game by swapping the regular brew for an effervescent prosecco to get your Nashville bachelorette party going.
Sparkling grape juice offers a bubbly alternative for those opting to go alcohol-free while playing this sophisticated version of the classic party game.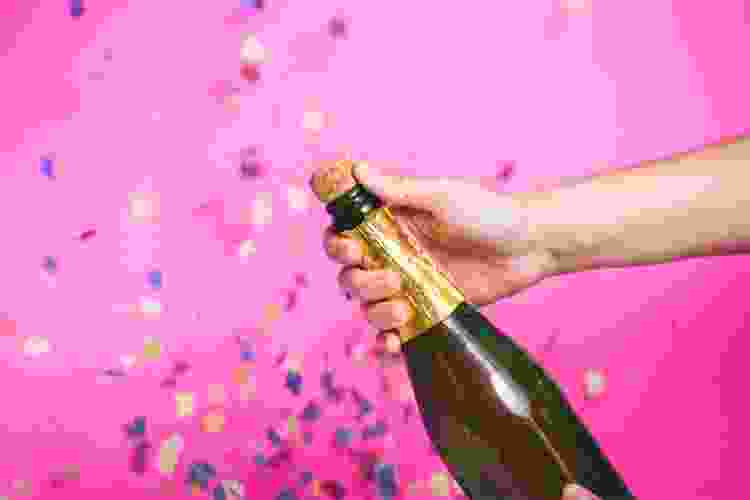 Nashville bachelorette party ideas are as unique as the brides themselves with a bounty of fun activities and ideas to create an unforgettable event.
Whether you party all night along Honky Tonk Highway, channel your artistic side or enjoy a low-key celebration by the water, your Nashville bachelorette party is sure to be epic.
For even more fun event ideas, check out other experiences happening on Classpop!