39 Most Creative Easter Craft Ideas for Adults & Kids in 2023
Last Updated on Jun 14th 2023
| 0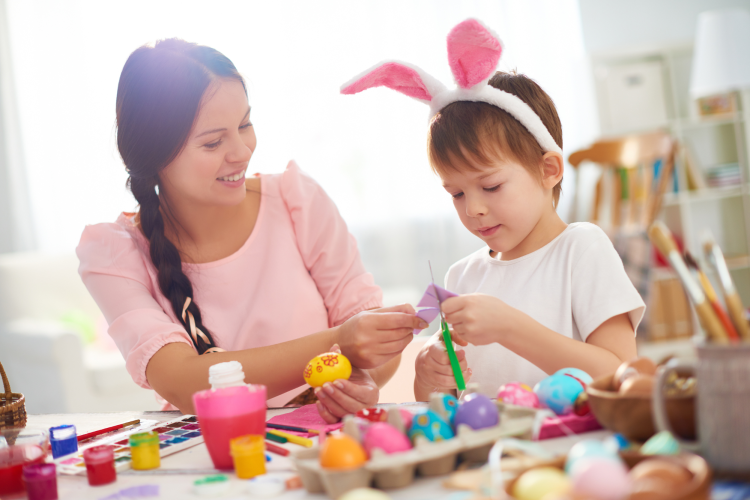 Spring is in the air so 'tis the season for fun and fresh Easter craft ideas. This year, resist the urge to buy mass-produced Easter décor. Do your Easter shopping at Hobby Lobby instead of Walmart. Because this year, you're going to DIY. 
Crafting is good for the soul. According to The Conversation, "At a time when many of us feel overwhelmed by the 24/7 demands of the digital world, craft practices, alongside other activities such as coloring books for grown-ups and productive home gardens, are being looked to as something of an antidote to the stresses and pressures of modern living."
We know when it comes to arts and crafts for adults, we know that the secret recipe is to make it quick and easy. No major investments in materials or tools. Foolproof instructions to follow.
We've gone on an Easter-inspired hunt to find a selection of seasonal craft ideas requiring no prior crafting experience and we've included links to tutorials to make it easy. Let's hop to it!
Jump to Section
Simple Easter Craft Ideas for Adults
1. Paint and Sip 
Feeling creative? Ready to take on some Easter craft ideas you can DIY but need a little nudge in the right direction? Sign up for a class, like paint and sip in Houston.
Taking an instructional class is a great way to get new and fun ideas for home décor, and creativity always gets a boost when there's a little wine in the mix.
Signing up for a paint and sip in NYC or paint and sip in Portland is a good way to learn simple Easter craft ideas for adults while also having a good time. Explore paint and sip near you for a creative Easter activity.
2. Pottery Classes
One of the best instructional classes to take if you want to explore Easter craft ideas is a pottery class. Pottery classes in Chicago and pottery classes in San Francisco aren't just about vases and mugs.
Local studios always have fun arts and crafts for adults that are just in time for the next holiday. Hop on down to pottery classes in Boston or browse pottery classes near you to see what Easter craft ideas are on offer.
3. Peeps Easter Cake
Nothing says Easter like Peeps, but did you realize peeps also make a great tool for crafts? You don't even have to make a cake from scratch.
Use a box mix or go full-cheat by buying an undecorated bakery cake. All you'll need besides the peeps is a simple frosting tip that's available in most grocery stores.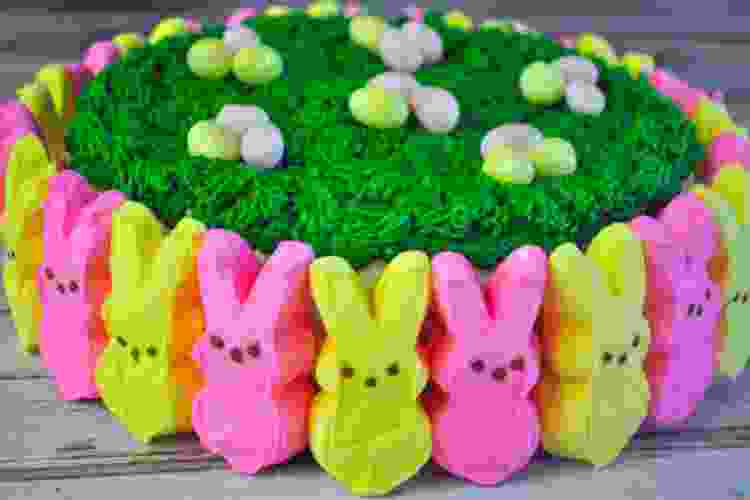 Join our email list for exclusive deals, local events and fun inspiration for living a more creative life.
4. Easter Bunny Mason Jars
Everyone has mason jars lying around. Converting them into candy jars is an easy Easter craft idea you can DIY. This simple craft doesn't require any special tools. Decorative mason jars are good Easter crafts for adults that also make great teacher gifts.
5. Bunny Cake Dome
Have the desire to make arts and crafts, but don't have the patience for major projects? A bunny cake dome is the perfect craft for you. It's as simple as spray painting a basic mixing bowl and gluing on a cute handle.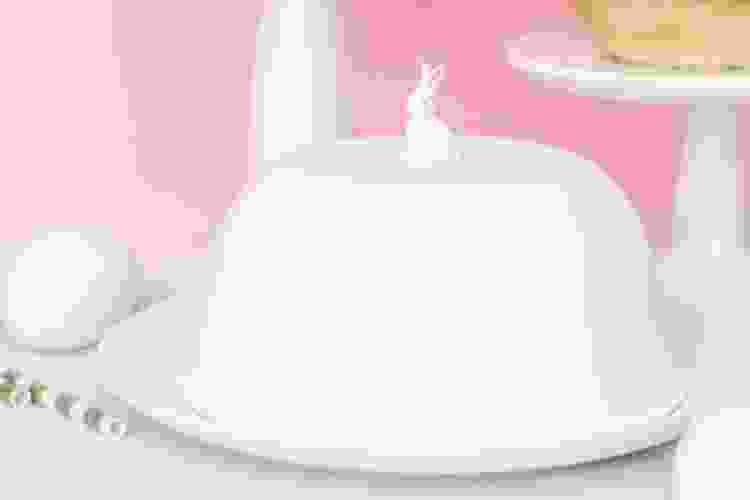 6. Easter Egg Balloons
Looking for easy and inexpensive Easter egg craft ideas? Here's another one that any adult can conquer with minimal time and minimal skills. Flipping regular balloons upside down instantly turns them into eggs. From there, a little craft paint and a string are all you need for this adorable bouquet of Easter egg balloons.
7. Polka Dot Sticker Eggs
Love the idea of colorful Easter eggs but hate the idea of dyes and paint? Polka dot sticker eggs are a fun and easy Easter craft idea that gives you much more creative control without the mess of paint. Go beyond polka dots and select any fun stickers you like!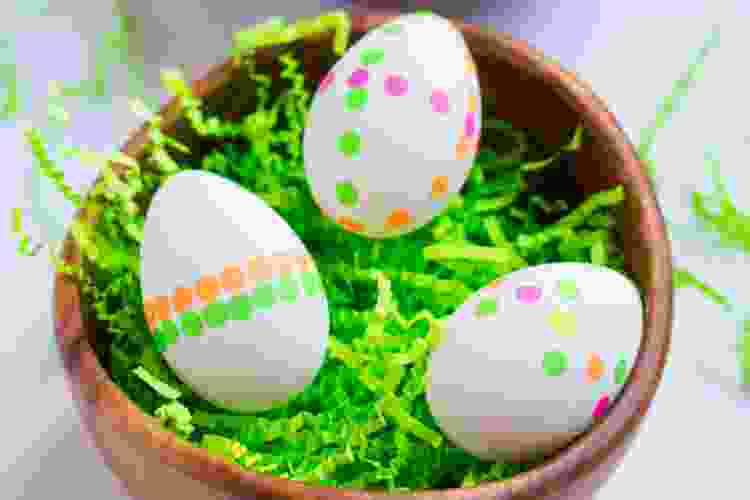 8. Peeps Place Card Holders
If you are planning an Easter dinner for friends or family, then you'll want some easy Easter craft ideas to help decorate your table. Peeps place card holders are a creative way to add color to your table while also knocking out dessert. Just trim a little notch in the Peeps' ears to hold the place card and voilà!
9. Easter Bookmarks
Save the page in your latest crime novel with precious chick or bunny Easter bookmarks. Once find the perfect template online, you just need colored paper. The end result is fun and functional.
10. Egg Carton Flowers
Are you starting to get inspired? There are so many easy Easter craft ideas for adults who want to create something homemade but who don't know where to start. Egg carton flowers are Easter craft ideas DIY'ers with minimal skills will love. They also make unique Easter gifts. 
Cut, dye and add accessories like buttons or pipe cleaners to your egg carton to bring your Easter floral arrangement to life.
11. Paper Hyacinth Flowers
This craft idea is easier than it looks yet makes for an impressive centerpiece. The hardest part of making paper hyacinth flowers is finding the perfect display vessel to show them off.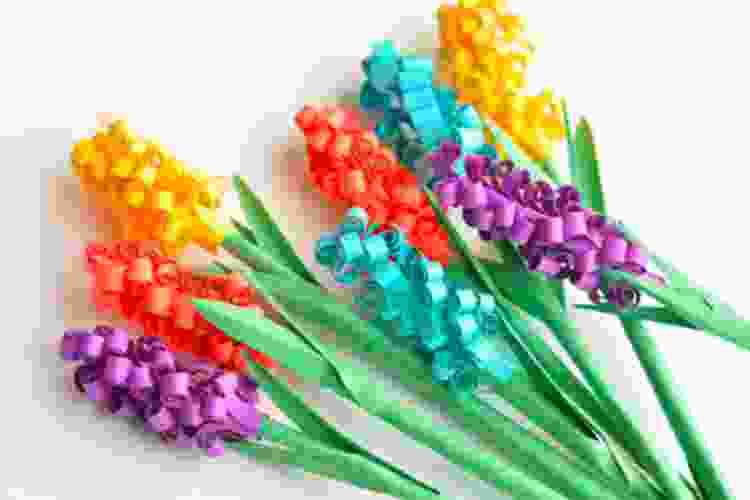 12. Cupcake Liner Flowers
Here's another easy craft idea to try using a simple pantry item — cupcake liners! Buy a variety of colors including some metallic or multicolor liners, and stack three or four together to make these cupcake liner flowers in a variety of interesting floral patterns. 
13. Easter Message Eggs
Looking for a little humor this year? This Easter egg craft idea has all kinds of possibilities. From funny bunny phrases to something more risqué, it's an easy way to have a little adult fun.
If you use the real thing for Easter message eggs, all you'll need are some colored markers. Otherwise, get crafty and use stamps.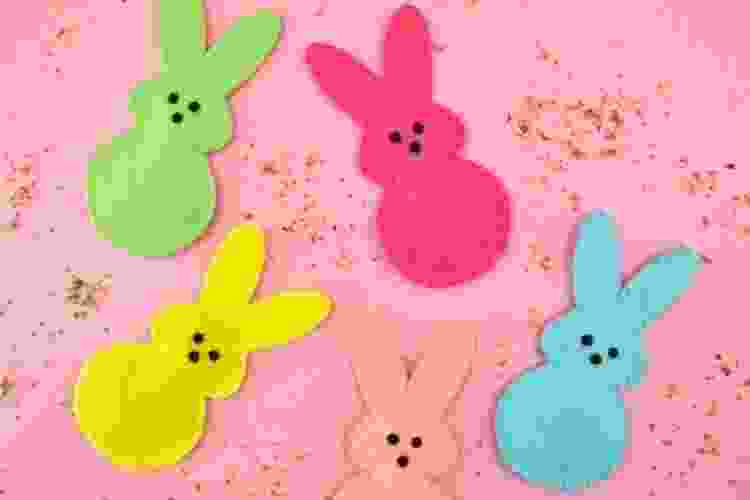 20. Bird's Nest Wreath
Yes, this Easter craft idea takes a little more patience and skill than some of the others on our list. But you can do it! A bird's nest wreath is cute and will allow you to stretch your creative muscles. Wreaths are also one of the best Easter craft ideas to sell. 
21. Greenery Easter Baskets
Looking for some more Easter craft ideas that you can sell? Greenery baskets are an ideal place to start. Plus, baskets fit naturally into the Easter theme.
They come in all kinds of shapes and sizes, as does the variety of craft greenery that you can use to bring them to life. Find greenery in your own backyard to wrap the basket in green and add flowers for a pop of color.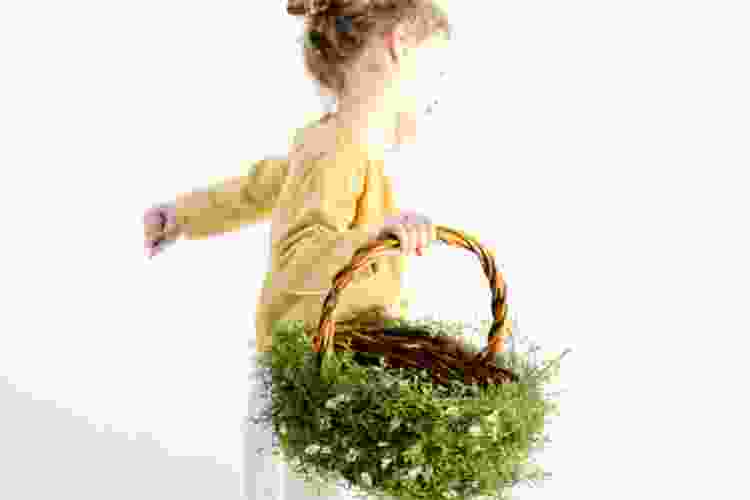 22. Bunny Topiary Wreath
Here's another impressive wreath Easter craft idea that won't require a major investment but is attractive enough to sell. A bunny topiary wreath is made using embroidery hoops, felt leaves and festive ribbon. If you don't have the patience to cut out and attach the leaves, use this idea as inspiration and consider using craft greenery.
23. DIY Eggshell Candles
This Easter craft idea is unique and makes a cute gift. Eggshell candles can be scented or unscented depending on whether you have access to fragrance oils. Get creative by mixing and matching white and brown eggshells, or using colored dyes in the candle wax.
DIY Easter Craft Ideas for Kids
24. Mandarin Easter Bunny
Here's a simple Easter craft idea that kids will love. The mandarin Easter bunny makes a cute table decoration plus gets your kids to pay more attention to their fruit! This is also a fun Easter craft activity for primary school teachers to use.
Just take a small mandarin orange and use toothpicks, pipe cleaners and construction paper to make bunny ears, a nose, and whiskers and add to the orange to make a little bunny snack!
25. Rice Krispies Easter Kabobs
Looking for some fun and edible Easter party ideas? Check out these Rice Krispies Easter kabobs.  First, put a little colorful Easter spin on the traditional sticky treat with pastel sprinkles. Then use Easter-inspired cookie cutters to get your shapes.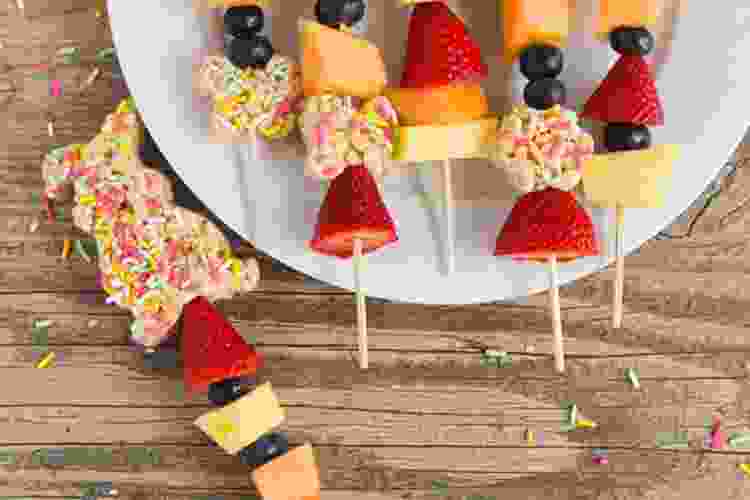 26. Spring Chicks Egg Carton Craft
Wondering what to do with leftover egg cartons? Put them to use in this kid-friendly and inexpensive spring chicks egg carton Easter craft idea. A little acrylic paint makes the project fun, and the addition of simple orange paper beaks and drawn-on eyes is an easy finish. 
27. Bunny Treat Cups
Bunny treat cups are easy Easter craft ideas that also make simple gift ideas for your kid's friends. And they're easy enough for the kids to make. Just supply the paper cups to hold snacks and let the group decorate their cups with bunny-themed craft supplies. Don't forget to add a cotton ball tail!
28. Chick and Lamb Easter Crafts
Simple crafts like a chick and lamb Easter craft are proof that DIY projects can be easy and don't require fancy materials. Simply supply the group with colorful paper plates to serve as the body of the chicks and lambs.
Then add things like feathers, googly eyes, construction paper and other fun decorative materials to bring your chicks and lambs to life!
29. Easter Egg Flower Art
One of the simple joys of childhood is sitting down with friends and gluing stuff onto construction paper. If you need a simple Easter craft idea that will keep kids busy for a few hours, get them to work on Easter egg flower art. 
30. DIY Easter Headbands
This Easter craft idea for kids couldn't be simpler and it's going to put big smiles on their faces. Make some DIY Easter headbands by supplying a plan headband, some glue and decorations like pastel pom-poms, but don't be afraid to experiment. Maybe some felt bunny ears would be fun?
31. Mini Bunny Garland
"What can I make for my grandchildren for Easter?" you ask? Nothing is more festive than garland, and there's something very special about homemade.
A mini bunny garland project is an easy Easter craft idea to do with or without the kids. Once you prepare the bunny cutouts and string, it's just a matter of gluing on the tails. Hang up your masterpiece for a perfect Easter party decoration. 
32. Pom-Pom Easter Tree
Use this Easter craft idea as inspiration and create a simple, colorful, egg-shaped pom-pom by using pre-purchased pom-poms or other egg-shaped craft items so you can get the kids involved. Add ribbon to each and hang from an Easter tree!
Wooden Easter Craft Ideas
33. Peek-a-Boo Clothespin Eggs
This Easter craft idea using wooden clothespins is simply precious. Peek-a-boo clothespin eggs are way easier to make than you'd think and they are unique. Add a magnet to the back and showcase your wooden Easter craft idea on your refrigerator.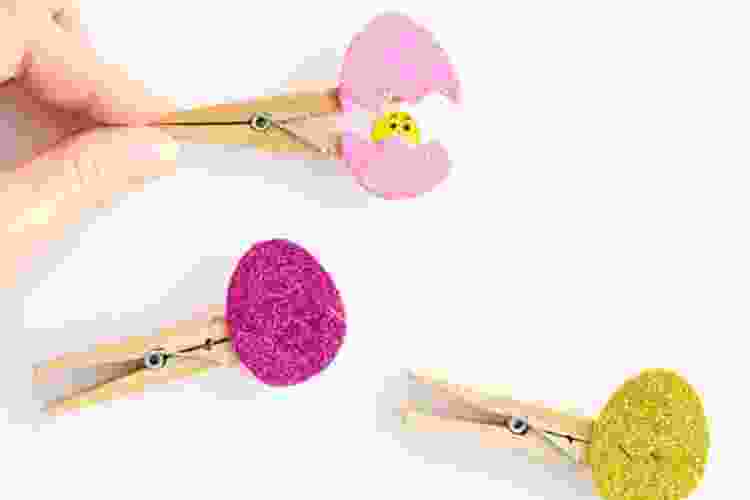 34. Bunny Crossing Sign
Easter is the time for hunting more than eggs. Take a little time to hunt down scrap wood in your garage or yard to make a wooden "Bunny Crossing" sign. If you also use up those half-empty paint cans, this wooden Easter craft project is free!
35. Wooden Easter Cross
Looking for free Easter craft ideas? Recycle, upcycle. A wooden Easter cross can be easily fashioned from odds and ends that you probably have laying around. Add a colorful fabric sash for the full effect. 
36. Paint Stick Basket
Here's another creative Easter craft idea using up items that many people have laying around the house. Paint stirring sticks make the building blocks for this rustic wooden crate. Complete the look with real or synthetic potted plants.
37. Farmhouse Wooden Centerpiece Box
What can I make for Easter crafts that will also last past the holiday? Check out this farmhouse wooden centerpiece box that is made using an old library card drawer. Finish this easy Easter craft idea out with glass mason jar vases and change out the flowers to fit the season.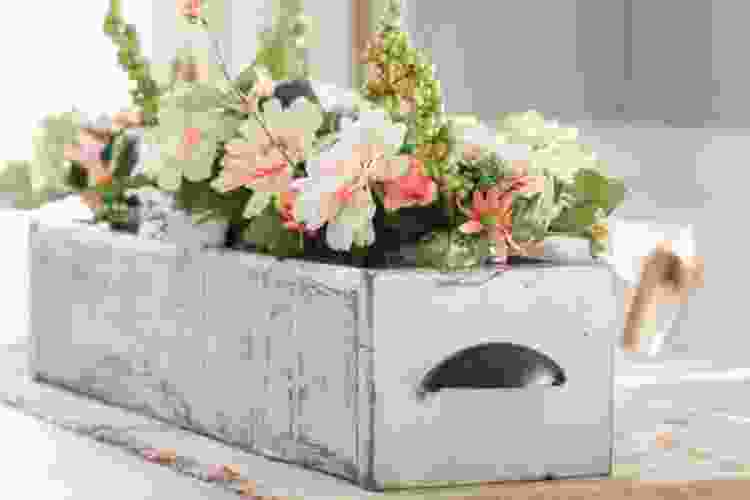 38. Scrap Wood Block Bunnies
"What can I make with kids for Easter?" Scrap wood block bunnies are an Easter craft idea that doesn't require a lot of money or time. A few simple additions turn something very basic into festive home décor.  
39. DIY Spring Birdhouses
Baby birds are as sure a sign of Spring as Easter. You could decide to take on the challenge of building your own or just grab a premade birdhouse from the nearest craft store. The best part of this Easter craft idea is decorating it in the pastel colors of spring. 
This list is just the beginning of the possibilities for homemade Easter craft ideas. Use them as inspiration to find a project that gets you excited and then let your Easter imagination run wild.
The beauty of DIY Easter craft ideas is that they don't have to be perfect. And anything that you create yourself is something you should be proud to display in your home.
For even more fun craft ideas, check out other experiences happening on Classpop!