27 Most Fun Fall Painting Ideas for Beginners in 2023
Last Updated on Aug 8th 2023
| 0
From pumpkin spice lattes to apple picking, fall is full of fun, fresh activities waiting to be explored, which makes it the perfect season to pick up a new hobby — why not try some fall painting ideas?
As the colder, darker months appear on the horizon, it's important to discover new ways to feel happy to reduce the chances of seasonal depression and a creative outlet like learning to paint is a great way to do just that.
According to an article by the Whole U, a program launched by the University of Washington to promote community and holistic wellness, exploring art ideas at any skill level or through any medium can reduce stress, lower the risk of depression and boost self-esteem.
In this instructional guide to perfect your fall painting ideas, you'll learn how to use various materials, techniques and fall inspirations to study the wonders of the autumn equinox.
Whether you're looking for painting tips for beginners or a fun project for the experienced, these fall painting ideas are perfect for the solo creative, the partnered inventive, and the family oriented.
Jump to Section
Fun Fall Painting Classes
1. Seasonal Paint and Sip
Unwind, hang out and craft through the autumn season at a paint and sip near you. Local artists will guide you through the step-by-step painting process of bringing your fall painting ideas to life as you enjoy your favorite beverages and snacks.
Explore paint and sip in Atlanta, paint and sip in Washington, D.C, paint and sip in San Diego or simply search paint and sip classes in your area!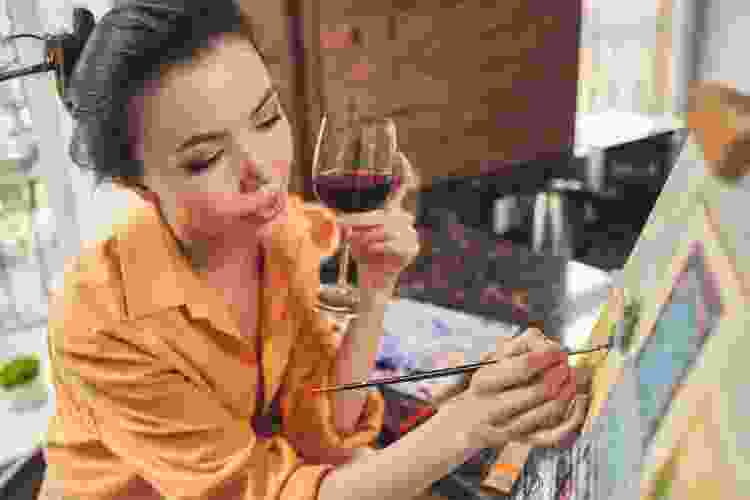 2. Fall-Themed Art Classes and Craft Workshops
This fall painting idea will improve your artistic abilities in no time. Try out art classes near you to uncover a whole new world of creative vision.
Experienced artists will share the best tips and tricks behind creating a one-of-a-kind masterpiece. Art classes in NYC, art classes in Chicago and art classes in Los Angeles are just a few of the hundreds of cities to choose from.
3. Online Painting Classes
Learn to paint from your kitchen, living room, bedroom or rooftop if you wish! Online painting classes offer all the creative comforts of the brush adventure from the coziness of your own home.
With an arsenal of top-rated instructors from around the world you can learn how to paint no matter the season.
Join our email list for exclusive deals, local events and fun inspiration for living a more creative life.
4. Pottery Painting
Try painting off the canvas with this fall painting idea. Swap the canvas for a ceramic bowl and give fall pottery painting ideas a go.
If you're feeling creatively blocked, sometimes changing the medium can help bring that artistic spark back. You'll use the same tools you would to paint on a canvas, it's that easy. Find pottery classes in Chicago, pottery classes in NYC, pottery classes in Los Angeles or pottery classes near you.
Easy Fall Painting Ideas for Beginners
5. Paint the Strings
If you're more creative in the musical sense, try combining one passion with a new hobby for an especially unique fall painting idea that's sure to ignite your inner artist.
Paint your very own wooden ukulele along with paints and stencils to customize the body of your instrument however you'd like. Take it home to hang on the wall as a piece of décor and take it home to play.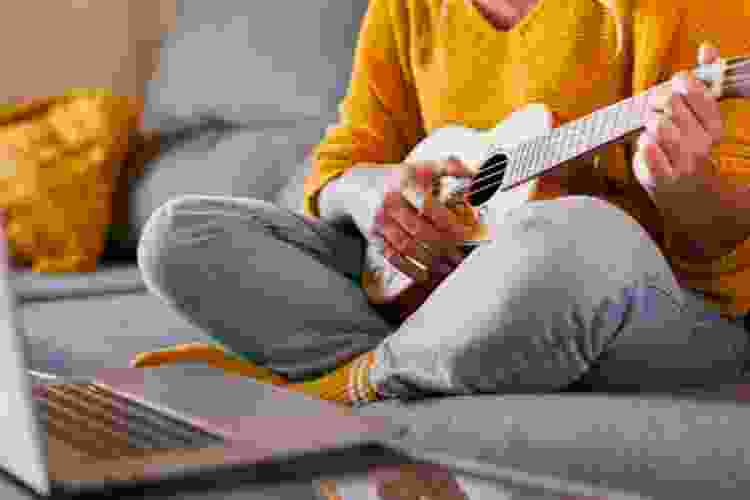 6. A New Kind of Grind
If you're looking for things to do when you're bored, consider this fall painting idea that you can pull off using ingredients you probably have in your cupboard.
Use coffee to create a watercolor-like paint that brushes on smooth and looks great on the canvas. After taking this class you'll be able to bring the fun home with you and paint with coffee time and time again.
7. Linocut Painting
Turn a linoleum block into a beautiful work of art with linocut painting, also known as relief painting. This fall painting idea is the perfect opportunity to try something new for an explorative fall date idea.
Carve any design you'd like into a linoleum block for a customizable experience you won't forget. This is the perfect opportunity to spend some quality time with the person you love. And who knows, maybe it's a new hobby you'll learn to love together.
8. Put Some Pep in Your Step
Art ideas for teens can make great creative outlets for those trying years of growing up. If your teen isn't interested in painting on a canvas, try swapping out the canvas for something they're interested in.
If they have a closet full of sneakers then this fall painting idea may be the perfect fit. In fact, shoe painting is so enjoyable, they'll be running back to the paint supply store in their new shoes.
9. Lean Into Fall
Get your porch fall time ready and make a porch leaner with your friends or turn it into a solo date idea for a night of relaxation. Let your neighbors know your autumn-ready and become the talk of the neighborhood.
10. Pour Painting
Paint on a canvas… but with a fall painting idea twist! Pour painting is an abstract technique for the innovative painter, but one you'll master in no time. Watch as the colors of autumn form a striking pattern for a piece you'll want to hang up at home.
11. Bottle Painting
Looking for a creative, couple painting idea to reconnect with your partner? Try wine bottle painting for a night of crafts you and your partner can enjoy together.
Use your beautifully painted wine bottle as a stylish centerpiece or a sophisticated light fixture for as a fall painting idea for your Thanksgiving table.
12. Wine Glass Painting
Fun paint party ideas for adults are hard to come by, but this fall painting idea is sure to become a regular addition to pals' night. Customize your own wine glass however you'd like — tap into your creative vision and cheers to a fun fall painting idea for adults.
13. Flower Pot Painting
Add some inventory to your fall décor. Anything can become a canvas if you want it to be as long as you have the imagination! Pumpkin spoons, autumn coasters… the opportunities are endless. You can even practice flower pot painting ideas for some festive fall décor.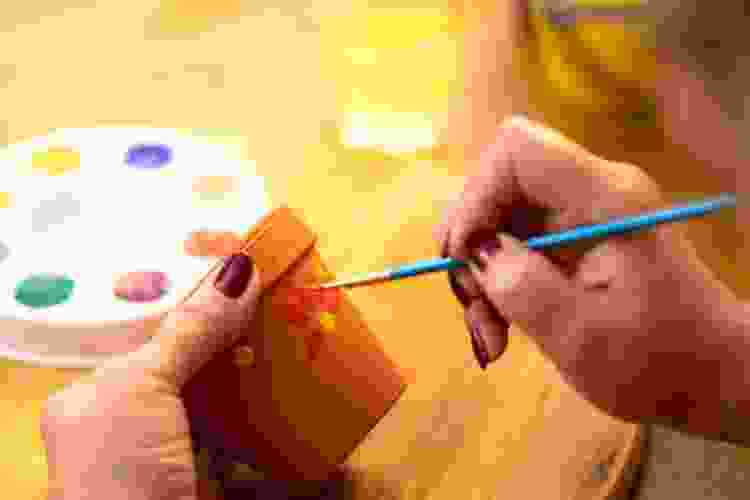 14. Van Who?
Find your inner Van Gogh for trippy painting ideas for fall that will have you seeing a starry night. Channel the spirit of Van Gogh himself as you bring the spirit of autumn to the canvas in this fall painting idea. Simply mimic the classics but use an autumn-leaf-colored palette.
15. The Aspens of Colorado
As the season changes, it's time to turn over a new leaf, so why not learn how to paint one? In this fall painting idea, you'll take inspiration from nature herself by painting the beautiful fall season trees.
The wilderness brings with it an inspiration like no other and Colorado Fall Aspens stand tall in the face of a hindrance.
16. Get in The Halloween Spirit
If your favorite holiday of the year is Halloween, this fall painting idea is just for you. The greatest symbol of spooky season has got to be the jack-o-lantern so paint one for yourself and ring in the Halloween season.
17. Pick Ups and Pumpkins
Painting pumpkins can be just as fun as picking them. Get a load of this quant, small-town scene and get in the mood for fall by bringing it to life! Paint an adorable truck full of pumpkins and welcome the solaces of autumn.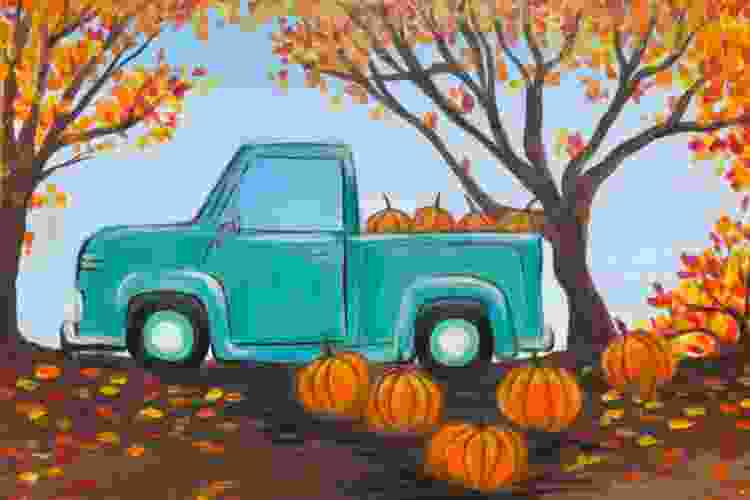 18. Autumn Wreath
Paint an autumn wreath featuring sunflowers, pumpkins and accent flowers and greet the golden tones of fall. Hang the finished project on the front door for a wreath you can use year after year.
19. Pumpkin Painting
If you're looking forward to pumpkin, pumpkin and more pumpkin this autumn season, take the obsession to a new level and turn it into a hobby by learning to paint one.
From large pumpkins to small pumpkins, from white ones to blue pumpkins, these gourd-like fruits make wonderful muses!
20. Autumn Lakeside Landscape
Painting a landscape is perfect for beginners, and it's a fun process to learn and a fall lakeside makes for a tranquil experience. Capture the chilly notes of a fall breeze, the vibrant colors of an autumn tree and relax the night for a soothing creative session you can share with your friends, your partner or enjoy on your own.
21. A Simple Autumn Sunset
As far as fall painting ideas go, there's nothing more inspiring than painting an autumn sky. Discover the fall rainbow of oranges, reds, pinks, greens and blues as you take from nature to bring new life to a blank canvas.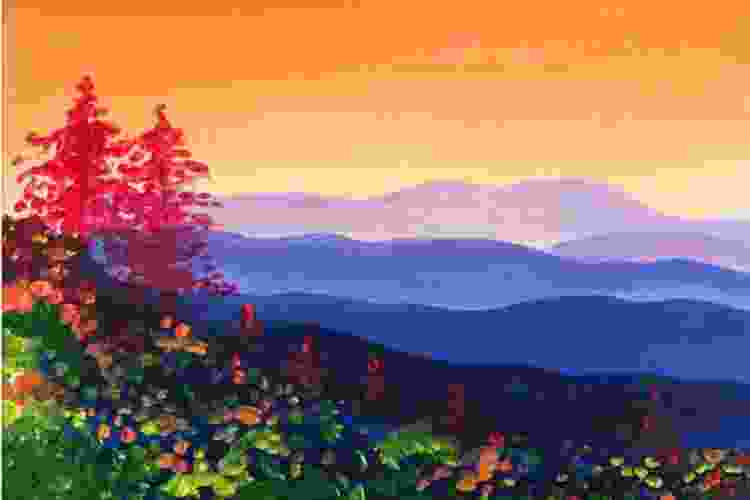 22. Favorite Fall Florals
You may associate sunflowers with summer, but they make wonderful centerpieces for a fall festive painting. In fact, sunflowers bloom into the middle of fall and once they're ready to go, you can harvest the seeds for planting next season.
23. Fall Pet Farm Fun
If you're over painting human portraits, try an animal portrait instead! Bring fall to the petting farm and create new furry friends like a flower-wielding llama. Use bold colors to bring your favorite animals to life and honor the bold critters of the world.
24. Escape the City
City landscapes come to life in the fall, which makes it the perfect backdrop as the season changes from green to orange. On the outskirts of the hustle and bustle of the city grind rests an autumn sanctuary that you can escape to through canvas with this fall painting idea.
25. "The Scream" (Revised)
If you're a fan of the movie Scream, you'll love this fall painting idea. Put a Halloween spin on one of Edvard Munch's most beloved and recognized paintings, "The Scream." Even after 130 years, Munch's painting still makes an impact today, so why not give it a new kind of charm?
26. An Autumn Desert
What do the desert and autumn have in common? A similar color pallet! Explore their similarities and their differences in this simple fall painting idea for beginners.
27. Magic of the Moon
There's something magical about the moon in fall as it pears through the flaming leaves of autumn, surrounded by twinkling stars, shining its pale light onto an otherwise lightless night. Consider musing on the moon this fall.
Painting can help process emotions by providing "a direct connection between the mind and the body to help with the healing process." So, apart from simply enjoying a fun pass time, by exploring these fall painting ideas you're doing something good for your mind, body and your soul.
We hope you found some fun inspiration to get a little crafty and creative this season. Learn to paint a masterpiece step by step in unique fall painting classes, then take what you learned to create some of these beautiful fall painting ideas for your home.
For even more fun art ideas, check out other experiences happening on Classpop!