27 Most Romantic Gifts for Any Occasion in 2023
Published on Nov 7th 2022
| 0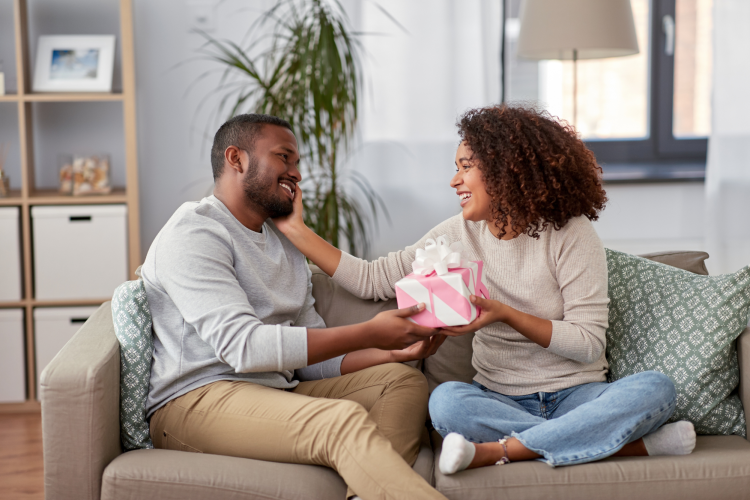 When you're in love, you don't need a special occasion to give a romantic gift. In fact, romantic gifts tend to have a greater impact when they are given spontaneously instead of on traditional occasions. When you feel the urge, take action. Life is too short not to.
How creative are you when it comes to picking out gifts that are especially romantic? While some people are natural-born gift givers, it can be really challenging for others.
Are you looking to make a statement? Or do you want to be more subtle? Check out this list of the most romance-inspiring gifts for any occasion. If you listen to your heart, you're sure to find just the right one.
Jump to Section
Creative Romantic Gifts
1. Paint and Sip
For a whimsical date night idea, check out options in some of the most exciting art cities like paint and sip in Chicago or paint and sip in Sacramento to see what techniques are offered. If you live in California, check out paint and sip in Los Angeles to browse classes.
Browse paint and sip near you to get some ideas of what venues offer romantic date night packages. You can even decide to have an artist come to your home or try online painting classes.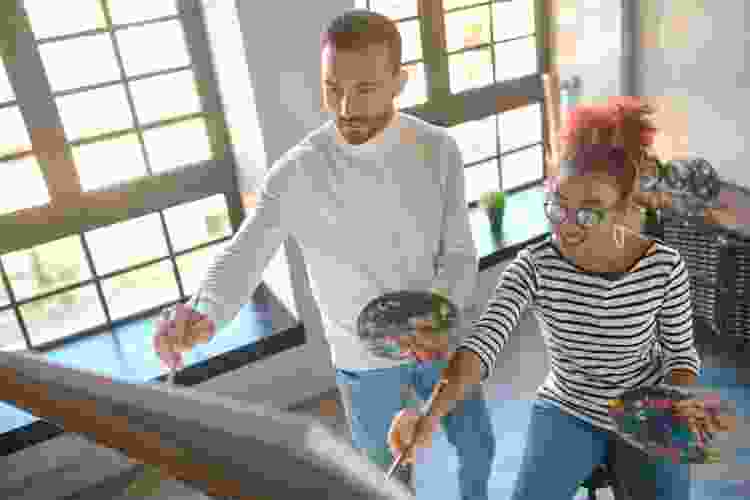 2. Pottery Classes
Pottery classes are great gifts for artists, and a romantic gift idea because you'll be creating something for keeps. Taking a class together is also a good way to do something as a team.
West coast couples can check out pottery classes San Diego or pottery classes the Bay Area to get the creative juices flowing, and midwesterners can browse ideas for pottery classes in Minneapolis.
3. Dance Classes
Taking a dance class is definitely a romantic gift idea, but also one that requires a little courage. You can make it fun with dance classes in Orlando, or look for a class that teaches something a bit more intimate. Dance classes in Los Angeles might offer a totally different selection of styles than dance classes in Las Vegas. Learning to tune into each other's rhythm is the most important thing.
4. Weekend Getaway
Looking for a romantic gift for her birthday? The spontaneity of a last-minute weekend getaway is a very romantic gift idea. It doesn't have to be a lot of work.
Check out sites like VRBO that always have last-minute and budget-friendly ideas. If you know a couple who really needs a weekend away, why not plan it for them? Sometimes the best gifts for couples are the ones they are least expecting.
5. Couples Massage
What gift can you give to a lover that will give you back as much as you gave? Getting a couples massage is a romantic gift idea. But taking it one step further by learning how to massage each other is really next level.
In a recent study published in the National Library of Medicine, researchers found that "massage had a significant positive impact on couples' mental wellbeing, and perceived stress and coping."
This is a perfect gift idea for couples who are already very comfortable with their intimacy, and truly is the gift that keeps on giving.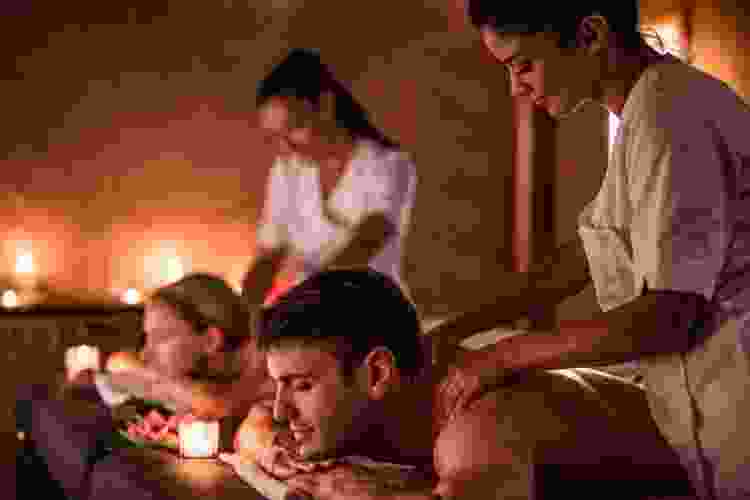 Foodie Romantic Gifts
6. Cooking Classes
Cooking classes come in all shapes and sizes and are great gifts for foodies. Depending on where you live, you might opt for cooking classes near you that have date night specials. But online cooking classes are also fun and are not limited to just your geography.
Check out the different culinary styles between cooking classes in Chicago and cooking classes in Baltimore. Some chefs, including the ones who offer cooking classes in San Jose, will even come to your home, making this a memorable romantic gift idea.
7. Candlelight Dining
It goes without saying that having an intimate candlelit dinner is a romantic way to spend an evening together. Go the extra mile by finding restaurants that will help you create the perfect occasion, whether it be rose petals on the table or a heart-shaped dessert. It doesn't have to be an anniversary. Dinners out of the house are great romantic gifts for her just because.
8. Chocolate
Life is like a box of chocolates, or at least it should be. From chocolate-dipped strawberries and Champagne to over-the-top chocolate fountains, you simply can't go wrong when it comes to chocolate gifts.
Find a local chocolate artisan shop to support nearby, or check out the multitude of delicious gift packages and subscriptions from Fran's Chocolates in Seattle. Their dark chocolate sea salt caramels will make anyone fall in love.
9. Breakfast in Bed
When cold months are upon us, there is nothing more romantic than staying under the covers all day. Surprising your special someone with breakfast in bed is a romantic gift that you can pull off without too much planning.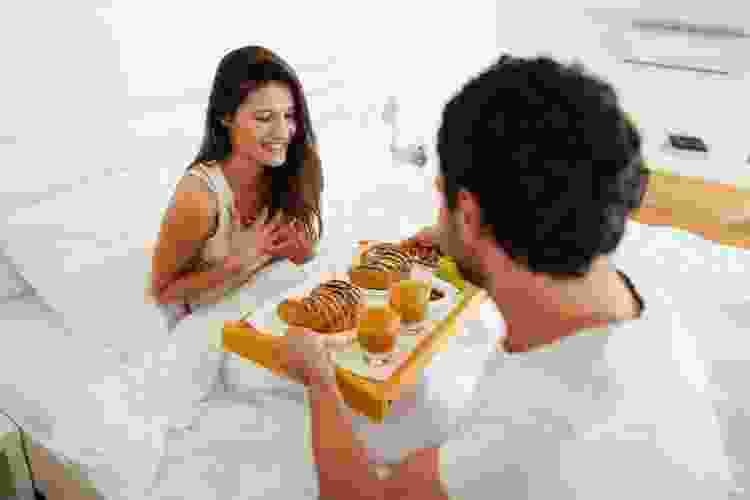 10. Cookbook With Personalized Inscription
What are the best romantic gifts for the person who always nourishes you with a home-cooked meal? Buying them a new cookbook and writing a special inscription is a romantic gift idea.
Find something by their favorite chef, or even better, with recipes you'd like them to cook for you. Then write a note about how much you enjoy and appreciate their cooking on the inside.
Unique Romantic Gifts
11. Online Mixology Class
Craft cocktails are sexy, and so is anyone who can make one. Broaden your horizons beyond beer and wine with online mixology classes. Giving your partner the confidence to know how to prepare a proper cocktail is a romantic gift idea and will make them the star of your next party.
12. Virtual Wine Tasting
Virtual wine tasting is a fun way to learn more about what you do and don't like when it comes to wine. Get beyond the basics of red and white, and be better prepared to make a good choice from a restaurant menu.
Even the most practiced wine snob has room to learn, so wine tastings always make perfect gifts for wine lovers.
13. Customized Playlist
Songwriters have already found the best ways to say "I love you," so if you're not good with words, then a sweet gift is to try putting together a customized playlist of songs that say what you can't. Once it's ready, you can queue it up over a romantic dinner or just text them the link when they're least expecting it.
14. Personalized Journal
If your special someone likes to remember the special moments in life, then a journal designed to keep track of them is a very thoughtful gift. Check out The Purple Onion Books for gift-worthy journals appropriate for either men or women. Then jot down a few of your favorite together memories — or a love poem — to get it started.
15. Commission a Painting
A picture says a thousand words, but a painting is a true work of art. Finding a local artist that you can commission for a customized piece is a romantic gift they'll cherish for years to come. Choose an intimate portrait of two lovers gazing at each other or go bold with a nude.
16. Name a Star
There are lots of online sites that will let you "buy a star" for someone and you'll even get a certificate to prove it. Be aware that you can't really buy a star, but as with most gifts, it's the thought that counts.
Plan an evening picnic under the stars to make the big reveal. And if you're skeptical about actually giving your money away, just get creative and make a star certificate yourself.
17. Plant a Tree
Putting roots down is very symbolic, so planting a tree together is a unique romantic gift. Do your homework. Pick something with meaning and something that is likely to thrive. If you get one big enough, you can even carve your initials in it.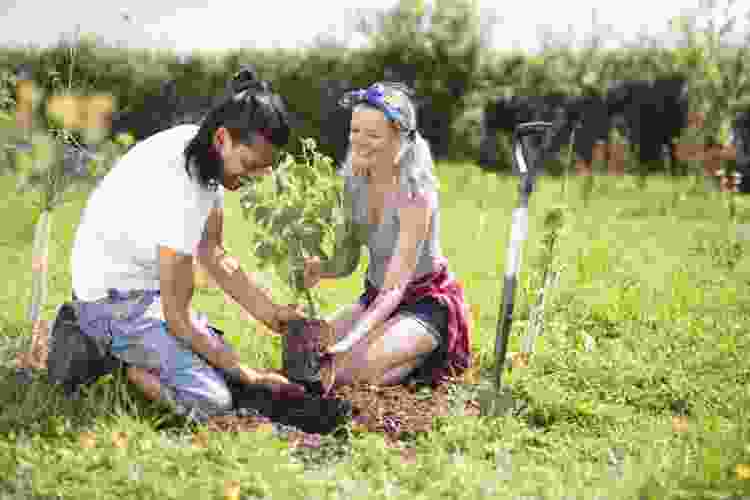 Romantic Gifts for Her
18. Learn Ikebana
On the list of lesser-known gift ideas for her is to take an ikebana class, the traditional art of flower arranging. Instead of buying a beautiful bouquet for your next special occasion, surprise her with baskets of individual flowers and watch her create a reflection of her own inner beauty. Or try a virtual flower arranging class and learn together from home!
19. Photography Classes
On the top 10 list of romantic gifts for your girlfriend who is a shutterbug is to gift her a photography class. She'll enjoy learning more about the best ways to capture all your special moments. If she doesn't already own a real camera, then maybe the perfect romantic gift idea is to buy her one.
20. Matching PJs
If you're wondering what to buy a woman to show her you love her, how about matching PJs? Women love comfy pajamas, and there is something irresistible about matching sets. She'll get a kick out of the thought, plus it sets you up for cozy nights of snuggling on the couch.
21. Candle of the Month
Candles scream romance, and no woman can ever have too many. Signing her up for a candle of the month is a romantic gift idea, and it's easy.
There are lots of clubs to choose from in every price range, but Broken Top Brands is a great choice because all their products are gluten-free, paraben-free, phthalate-free and vegan. They also donate one percent of their revenue to environmental causes.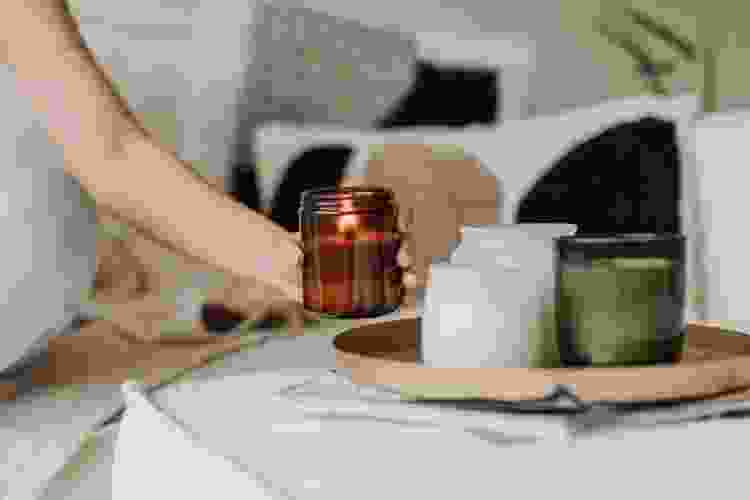 22. Bubble Bath Gift Set
As with candles, no woman ever said she had too many bath bombs. Put together a gift basket with all her favorite scents, or check out Cosmopolitan's recommendations. Having a hot bath drawn tops the list of unique gifts for her, and is a true joy. If you really want to spoil her, have a brand new fluffy bathrobe for her when she gets out.
23. A Ring
What do you buy for a bae? The ultimate gift when it comes to true love is an engagement ring, so if you're browsing this list, maybe it's time. If you're not there yet, you can always gift a fun set of fashion rings or gift her a ring with her birthstone.
Romantic Gifts for Him
24. Woodworking Classes
If you've been a bit critical of his home projects, then a unique romantic gift for him is to treat him to some woodworking classes. He might think he doesn't need them, but deep down inside he'll be thrilled at the chance to learn some new tricks. Don't forget to wrap up that new tool he's been wanting to go with.
25. Glass Blowing Classes
While romance may not be the first thing that comes to mind when you think glass blowing, these classes are definitely a unique idea and will be something they'll talk about for years to come.
26. Customized Picture Frame
Yes, these have been around forever. But they still make unique gifts, especially for those in long-distance relationships. You can find rotating photo frames that can be updated via WiFi which makes it easy to keep the images fresh.
27. Sunset Hike
Sometimes the best way to get a man into a romantic mood is to get him outdoors and away from all the troubles of the world. Greater Good Magazine's recent article on hiking highlights that, "hiking in nature is not only good for our bodies, it's good for our moods, our minds and our relationships, too."
AllTrails can help you locate a sunset hike near you and their site has reviews from others to help you pick just the right one. Spending time watching the sunset is a classic romantic gift idea.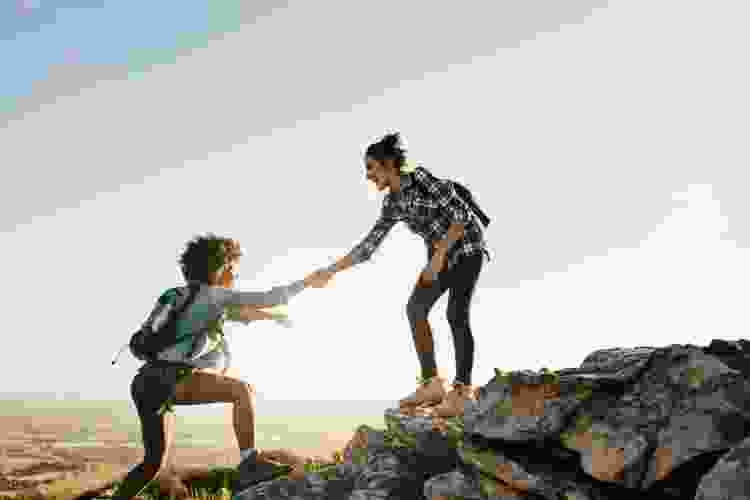 Not being sure what to buy someone when you want to give a romantic gift is actually a good problem to have. Life is more colorful and joyous when you're in love, and giving a gift out of love is good for the soul. No matter what you decide, remember that it's truly the thought that counts.
For even more fun gift ideas, check out other experiences happening on Classpop!