53 Unique Gifts for Couples Who Have Everything
Published on Jul 21st 2022
| 0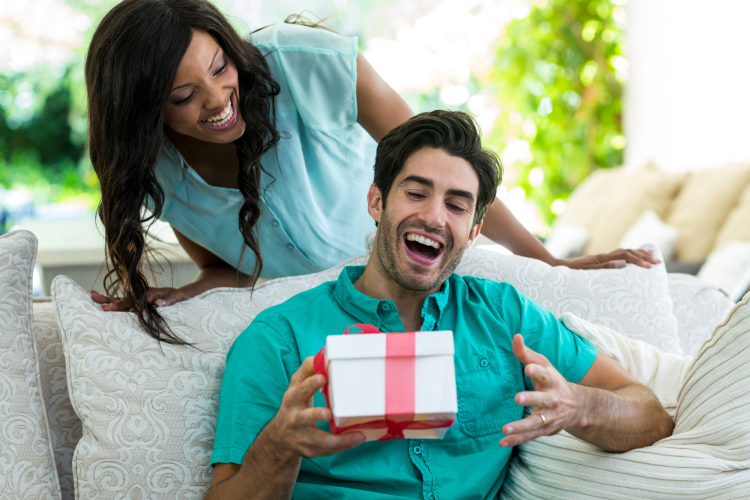 Sometimes it feels like shopping for the perfect gifts for couples is an impossible puzzle. The challenge of tracking down a great gift that will thrill not one, but two of your favorite people can be tricky. So, what can be the best gift for couple that is memorable and/or useful?
There are tons of awesome gifts for couples that are bound to impress even the most unique duo in your life. As it turns out, the best gifts for couples aren't always something you can wrap in a bow, and they're just as memorable as a pair of matching tattoos (without the chance of regret).
Jump to Section
Creative Gifts for Couples
1. Paint and Sip Date Night
For the artsy couple that loves to express themselves visually or a duo who loves trying new hobbies, paint and sip is just the ticket. This gift for couples gives them the flexibility to choose when they'd like to set out on their date night, and will leave them with perfect souvenirs and probably lots of laughs.
Try paint and sip in Sacramento, paint and sip in NYC, paint and sip in Chicago, or paint and sip near you.
2. Painting Classes
Interactive, in-person painting classes make a great gift for couples that are a little more determined in their artistic endeavors.
There are classes for pairs of varying experience and skill, and participants can look forward to developing and learning new painting techniques. If you think the happy couple would rather stay home and hone their skills, you can give the gift of online painting classes.
3. Pottery Classes
There's a reason pottery classes can seem so romantic, and it's not all because of the iconic scene from the 90s romantic fantasy, Ghost (okay, maybe it's mostly because of that).
Working side by side and creating something cool is a great way to celebrate an occasion by making more memories. You can find pottery classes in Boston, pottery classes in the Bay area, pottery classes in San Diego and more in countless other cities.
4. Drawing Classes
Every one of us has spent time drawing or doodling, and drawing classes are a fun gift for couples that combines quality time with a fun hobby anyone can do.
Group or private lessons are available at many art studios where classes are offered. For a cozier experience, online drawing classes are also available to help couples bring out their inner Van Gogh wherever the inspiration strikes.
Dinner Gifts for Couples
5. Cooking Classes
There's no better way to treat your favorite foodies than by giving them a gift that will bring them together for meals and years to come. Cooking classes are absolutely perfect for the pair that loves to eat and cook together, particularly if they like to get a little adventurous with their home menu.
No matter what type of cuisine they love or which city your favorite duo calls home, you can find culinary events in countless cities, including cooking classes in Portland, cooking classes in Sacramento, cooking classes in Austin or look for cooking classes near you for neighbors and nearby friends.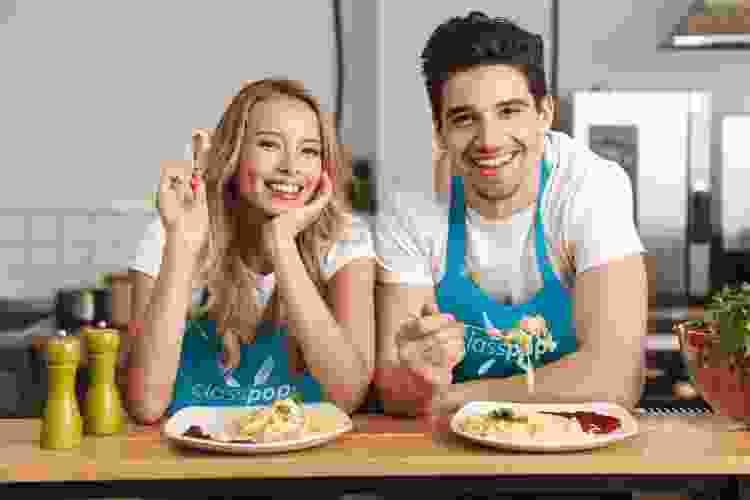 6. Online Cooking Classes
If you're searching for a gift for couples who prefer to stay in for date night, online cooking classes are the perfect way to facilitate a night in. In these interactive cooking classes, participants cook alongside an expert chef to create their own delectable meal, with a few pro tips and pointers, then power down the screen and enjoy the meal and evening to themselves.
7. The Perfect Cookbook
It's true that cooking together sparks a little something extra in relationships. In fact, Study Finds reported that seven in ten Americans think cooking together is more intimate than, well, you know.
Cookbooks make great gifts for couples because they provide endless opportunities to create and enjoy new things together. What they do after dinner is up to them!
8. Pizza Oven
Over the top? Maybe. Too much? Definitely not, especially for a duo that loves making their own pies at home. Home pizza chefs will go crazy for this saucy gift that can be used any time of the year, but is especially awesome for outdoor parties or romantic, cozy nights by the fire pit. This makes for a fun anniversary gift for parents that the whole family will enjoy!
9. Fondue Set
No, it's not a blast from the past. Fondue has never lost its cool, and a brand-new fondue set makes a great dinner gift for couples who love to cook and dine together at home. Great for intimate dinners or larger parties, fondue sets are also the perfect gift for couples who love to entertain.
10. Foodie Dice
This fun, foodie gift is a choose-your-own-adventure kit that will encourage them to sharpen their culinary skills and go with the flow. Couples can roll the dice to unveil the makings of their meal, head to the grocery store for ingredients and begin their cooking challenge together.
11. Food Mill
For foodies who are ready to take their recipes and food storage to the next level, a food mill is an unusual but oh so useful kitchen tool that makes a great gift for couples who are interested in making their own jams, sauces, or even baby food.
12. Portable Dishwasher
Not everyone has the good fortune of living in a home with a dishwasher. If your foodie couple loves to cook at home, but the sink full of dirty dishes kills their vibe, a countertop dishwasher will make one of many great gifts for foodies.
Unusual Gifts for Couples
13. Virtual Game Night
If you're looking for group events, virtual game nights can be fun for the whole crew! Get together for a good time without leaving your respective couches.
Each couple can set up their screens and get ready to go head to head with their opponents in digitally connected events like online trivia games, virtual scavenger hunts and even virtual escape rooms.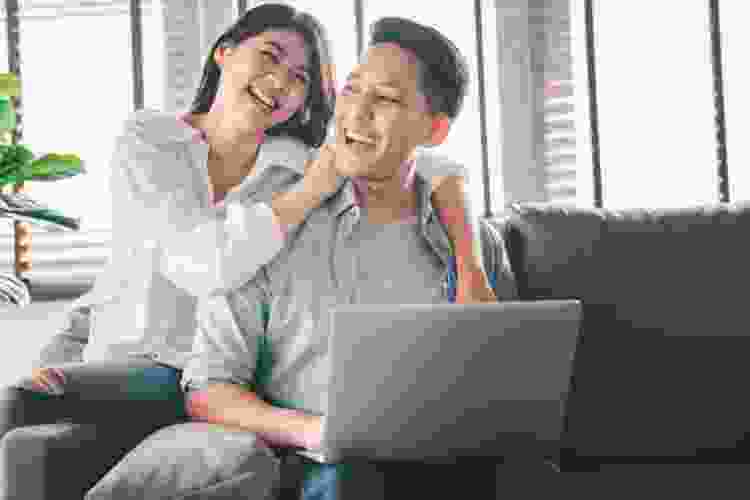 14. Acting Classes
If you're wondering what to get a married couple who has everything, acting classes are a fun gift for couples who love to put on a performance. What better way to re-spark your drama club flame than by acting out a few scenes together. You can also try online acting classes if you're not ready for your public debut just yet.
15. Glass Blowing Classes
Glass blowing takes art to an extremely cool level, and glass blowing classes are an adventurous way to turn up the heat. These classes make great gifts for couples who have everything because they'll get a one-of-a-kind self made souvenir and an experience they'll never forget.
16. In-Home Garden System
What do you get couples for Christmas if they love gardening but live in the middle of the city, with no garden space to speak of? In-home garden systems are great gifts for couples who are aspiring plant parents, house plant newbies or homesick homesteaders.
17. Just for Swingers
Actually, anybody can enjoy the slow swinging motion of a brand new hammock, and they make a great gift for couples to share (or buy two to avoid any fighting). Depending on where your couple lives, you may be able to gift them a hammock that's perfect for their yard, balcony or to save for their next camping trip.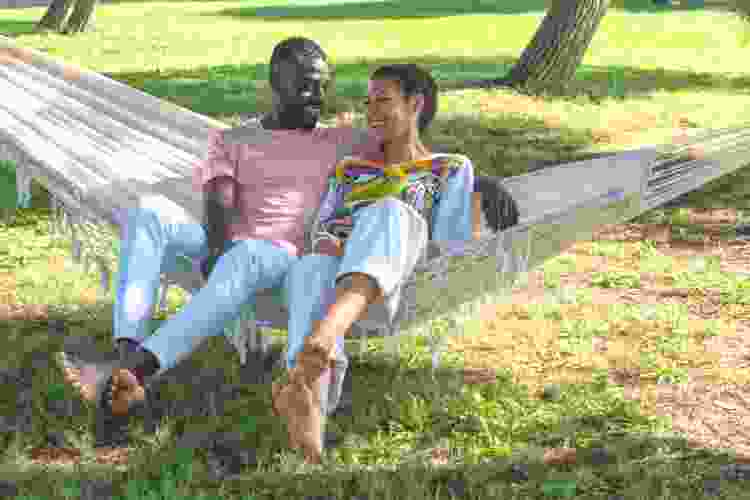 18. Dog DNA Kit
If you're looking for a unique gift for a couple who really loves their four-legged friend, consider snagging a dog DNA kit. They'll love learning more about their pooch, and will simply adore you for helping them do the digging on where they came from.
19. Gaming Passes
Looking for a gift for the couple that can't stop gaming together? Gift cards for their favorite gaming system or the new release of their go-to game will be a win in their book, as the happy duo gets to spend more time together crushing their gaming goals. Besides, a little competition is good for a healthy, balanced relationship.
Romantic Gifts for Couples
20. Virtual Cocktail Hour
It's not always possible to bring your favorite duo out for the distinguished cuisine or fancy cocktails they deserve. If you're looking for birthday gifts for couples, or other ways to celebrate a momentous occasion, consider grabbing a bottle or two of their favorite spirits and gifting some online mixology classes. For the couple that enjoys wine country, opt for virtual wine tastings.
21. Dance Classes
A dance class can be a very romantic gift for couples interested in learning how to dance salsa, bachata and other intimate couples dances. Or gift them a first-dance class to practice for their wedding day!
There are so many different styles of dance you can choose from, like modern dance classes in Las Vegas, ballet dance classes in NYC or hip hop dance classes in the Bay area. For those who may be too shy to show off their moves in-person, online dance classes are available.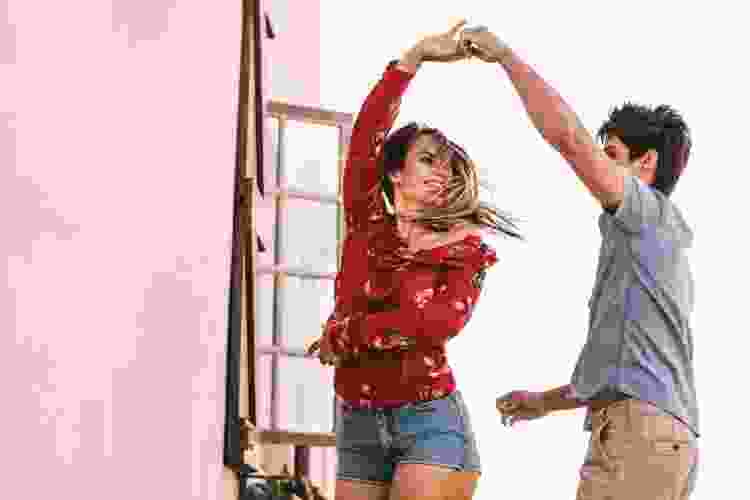 22. Pampering at the Spa
Nothing says luxury quite like a day at the spa. Treat your favorite couple to a relaxing, luxurious day of massage, facials and a steamy trip to the sauna. This is one gift you're really going to have a hard time handing over.
23. Bucket List or Date Night Chart
Take the work out of deciding on date night, or help kick things up a notch when your favorite couple is planning their next big trip. Customize a bucket list or date night chart and pass along the perfect gift for those who have a hard time deciding on where to go for dinner.
Personalized Gifts for Couples
24. Personalized Sushi Board
A personalized sushi board is a great, unique gift idea for married couples. They may have a few personalized items lying around the house, but not like this. Take things to the next level and pair it with some sushi making classes so they can put their new gift to use again and again.
25. Matching Robes
What do you buy a just-married couple, still settling into the comfort of married life? Matching, personalized robes are great practical gifts that also add just a bit of luxury to relaxation. The newlyweds can hang out in their customized robes before or after bathtime, in the mornings, and any other time they please.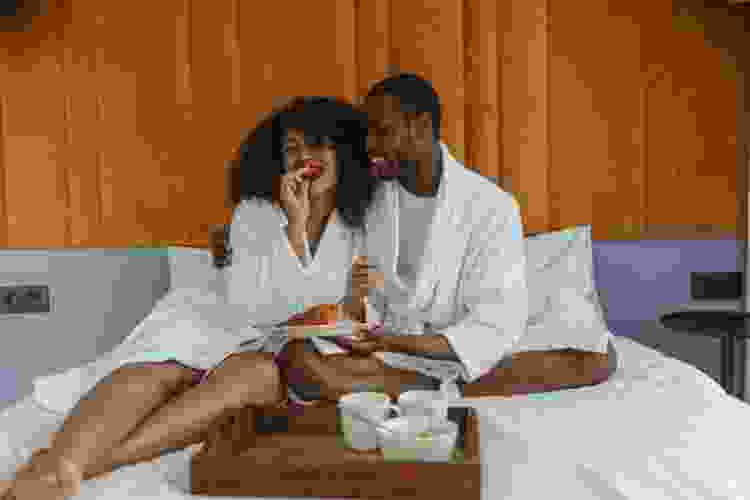 26. Custom Cornhole Boards
This action-packed gift is great for a pair that loves a little friendly competition between one another, or enjoys hosting friends and family for an edgy cornhole tournament. Find these custom beauties online on sites like Etsy.
27. Custom Engraved Bracelets
For a truly special gift for couples, try gifting the duo a custom engraved pair of bracelets. An engraving as simple as a date or a few initials will be enough to please the happy couple and adds a sweet touch to their daily routine and wardrobe.
28. Let the Adventure Begin
A personalized adventure map is an adorable way to help a couple proudly display their travel accomplishments. These customized maps can be ordered online and personalized in any way you like, and make a great gift for travelers.
29. Picture This
Another perfect gift idea for married couples, snagging a few gorgeous picture frames gives couples a new, fresh way to display their happiest times, like their wedding day or honeymoon.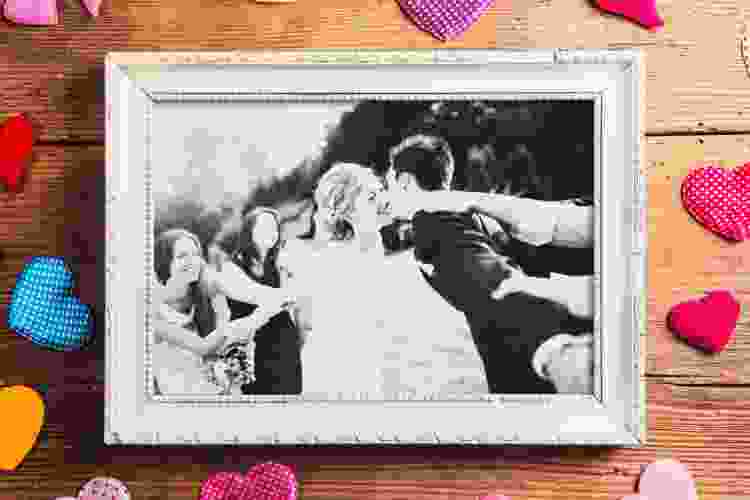 30. Wish Upon a Star
Customized star maps are one of the most popular gifts because they're so meaningful. Capture a special moment in their life in a star-studded snapshot with these maps that display the moment the perfect pair met or the time they said "I do."
31. Custom Jigsaw Puzzle
Immortalize the happy couple's wedding day, first home or another happy memory with a custom jigsaw puzzle. There are countless websites that can turn your favorite photos into a puzzle, creating a gift couples will love.
Practical Gifts for Couples
32. Virtual Flower Arranging
Nothing says romance like a beautiful bouquet of fresh flowers. Virtual flower arranging is a perfect gift for sweet couples who love to surprise one another, or a duo that simply loves having fresh flowers in their home.
33. Photography Classes
With smartphones now serving as appendages to many limbs, everyone today is an amateur photographer. If you're looking for a fun gift for couples who love to snap the perfect shot, photography classes can bring them together to learn skills that will be useful for years to come.
You'll find artsy photography classes in Los Angeles, unique photography classes in Austin and even some nature-inspired photography classes in Houston. Your giftees can even get close right at home or in a fun, picturesque location of their choosing with interactive online photography classes.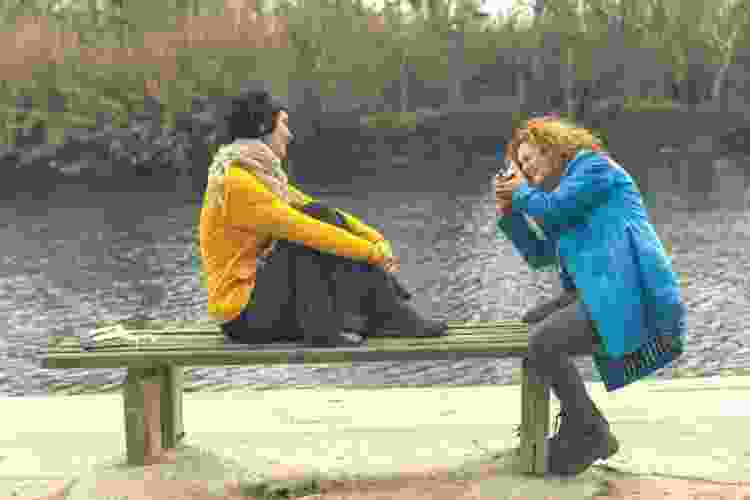 34. Sewing Classes
One highly underrated and unique gift for couples is sewing lessons. These crafty courses can show participants how to repair tears or damage to their favorite jacket, but will also reveal the basics behind fun activities like cross-stitching or pattern sewing. Seriously, these classes are sew fun!
35. Woodworking Classes
If you're wondering which gift is best for a boyfriend, woodworking classes are both fun and practical, and make a perfect gift for couples who love to tackle DIY projects. Instructors will show the happy couple how to create home décor, fun trinkets and even demonstrate the basics behind building furniture and other wooden creations.
36. Book of the Month Subscription
If you're looking for the perfect gift for couples who always have a new read on their nightstand or coffee table, a book of the month subscription could make you their new favorite person. You can choose different plans based on the couples' interests and how frequently they turn pages.
37. Camping Tent
A new, state of the art camping tent is a great gift for couples who love the outdoors and spend plenty of time hiking, camping and setting off for new adventures.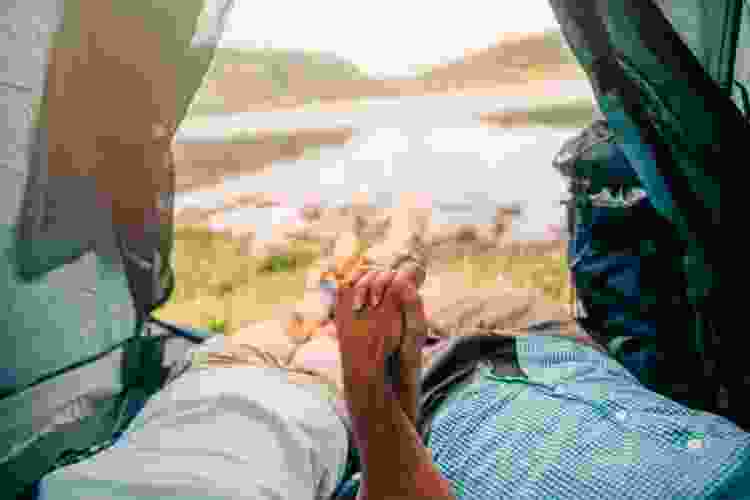 38. Smart Soundbar
For the couple that can't get enough of their favorite music or movies, a smart soundbar that connects to their TV and media players is going to be a home run. These speakers are a great gift for anyone who always has a perfect soundtrack for their day.
39. Smokeless Fire Pit
While we're on the subject of camping, there's nothing quite like building an awesome fire — whether you're hanging in the yard at home or traveling cross-country in a camper, a smokeless fire pit is the easiest way to transport the power of fire. The unique design of these firepits allows couples to sit around them for hours without getting smoky.
40. Solar Powered String Lights
When the firelight goes out, solar powered string lights make a great gift for couples who want to keep the party going outdoors. String lights can be used for camping or simply sprucin up the ambience of a backyard barbecue or engagement party.
41. An Espresso Maker
Having your very own espresso machine at home changes everything. From late nights crushing work projects to lazy weekend mornings, having the power of espresso right at your fingertips is amazing. This gift will give the gift of pure life via caffeine.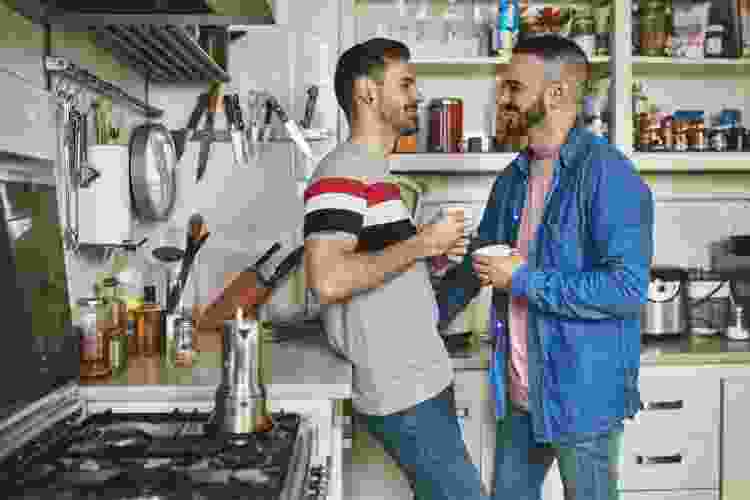 42. Stay on the Grind
Good espresso is nothing without freshly ground beans. Treat the coffee-loving couple to a grinder that will help them brew their favorite beverage, just right, making this a great gift for couples who love coffee of any kind.
43. A Plant Stand
Your perfect little plant parents are going to need somewhere to keep their green babies. A sturdy, stylish plant stand is a great gift for those who are getting their gardening journey started. You can find plant stands for indoor or outdoor use, of all shapes, material and colors.
44. A Cozy Throw Blanket
For late nights or cold days spent lounging on the couch, this gift will go to good use keeping your favorite lovebirds all warm and snuggly while they peruse their subscriptions for a new movie.
Luxury Gifts for Couples
45. Luxury Wine of the Month
A perfect gift for wine lovers, splurge a little on a luxury gift for couples they'll absolutely love. Sending a case of their favorite wine, or a membership to their choice vineyard's monthly club will give them a little sip of luxury whenever they want it.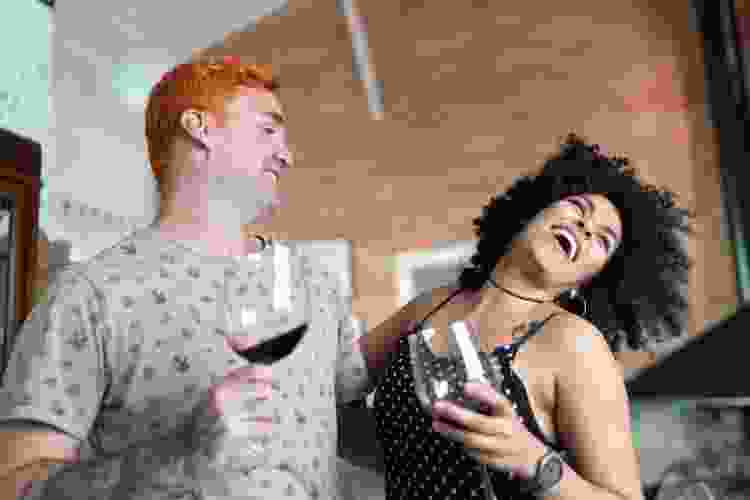 46. Wine Knowledge Books
Just because someone enjoys wine, doesn't mean they know all there is about it. Treat your luxurious, wine loving couple to a book that walks them through the true process of appreciating and tasting wine. This gift for couples goes along great with other wine-based gifts.
47. A Fancy Decanter
While we're on the subject of luxury and wine, make sure your duo is getting the most out of those brand new fancy bottles. A top-of-the-line decanter will make those great wines smooth and oh-so-drinkable, preserving the flavor and aroma of the wine and earning you a spot on the list of most awesome friends.
48. The Softest Sheets
If you're looking for luxury gifts for couples who have everything, you really can't go wrong with a new set of incredible sheets. From Egyptian cotton to flawless linen, luxurious sheets are the perfect gift for lounging lovebirds.
49. Snuggle Up
A weighted blanket goes far beyond the luxury of a standard throw blanket. These things are top of the line when it comes to luxurious ways to snuggle up and catch up on binge-worthy shows and make great gifts for couples who love to stay cozy together.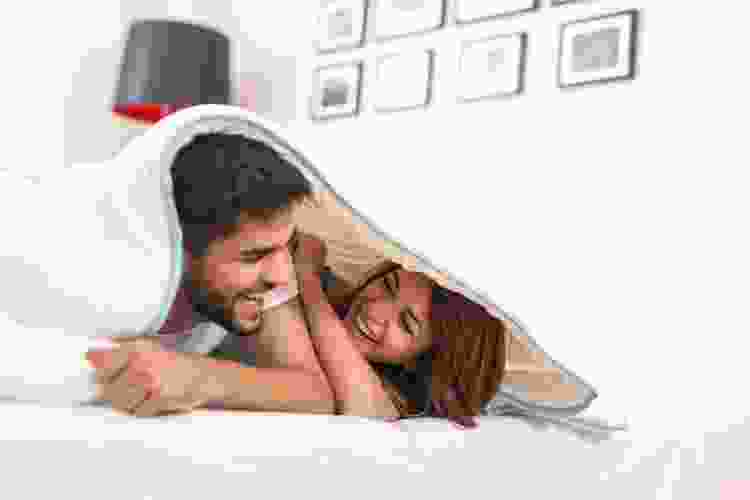 50. Skin LED Mask
For a couple that's really into skincare, the CurrentBody Skin LED mask is proven to reduce wrinkles, even skin tone and make your favorite couple look even more flawless. This is the definition of luxury skincare, done at home and is a great gift for couples who have everything (except this).
51. Luxury Bidet Toilet Seat
Yes, seriously. A gift for the couple who has everything, or the pair that just likes to be extra clean and fancy, a bidet toilet seat will really take luxury to the next level, from the bottom up.
52. Hand-Blown Glassware
When standard cups and wine glasses simply won't do, hand blown cocktail glasses are a great gift for couples who like things to be just a little more elegant and a lot more custom.
53. Travel or Experience Gift Cards
Nothing beats a memorable experience, and helping a happy couple make memories is one of the best couples' gifts you can offer. There are tons of rental and travel companies that offer gift cards, so you can give the best gift without lifting more than a finger.
For non-travelers, encourage learning something new together with a Classpop! Gift Card that lets them choose their own fun, unique experience.
Giving the perfect gift isn't always easy, and finding great gifts for couples can be doubly tough. But if you stick to gift giving that provides access to fun memories, lots of laughs, and a little luxury, you're sure to hit the nail on the head.
For even more fun gift ideas, check out other experiences happening on Classpop!