51 Top Engagement Party Gifts for the Lovebirds
Published on Jun 30th 2022
| 0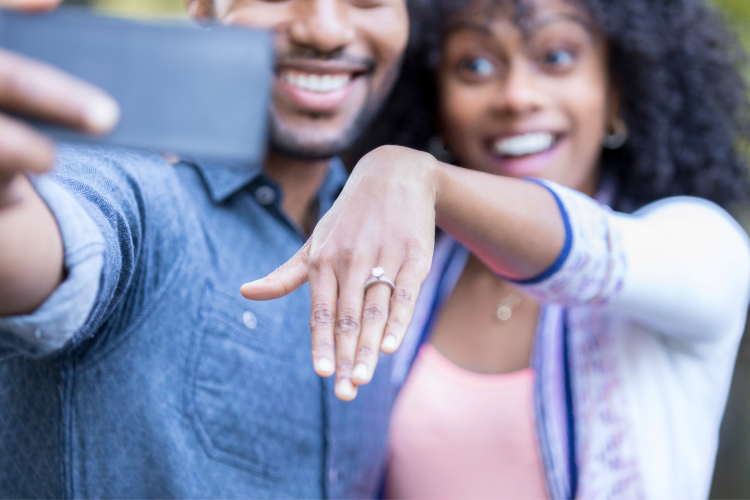 Are you stressing over just the right engagement party gifts for a special couple? Are you wondering "Do you bring a gift to an engagement party?" The answer is yes, it's perfectly acceptable to bring gifts to an engagement party. It's not required (some couples may request no gifts), but many people choose to bring a gift.
You also might be wondering "What is engagement party etiquette?" Bloggers at Arizona State University share that an engagement party is meant to be a fun and relaxed way to celebrate the couple and kick off the start of their life together. First, here are a few basic tips to remember for engagement party gifts etiquette:
Decide who will host the party or a venue to hold it. For a small party, a backyard is perfectly fine.
Keep it casual and low-key so other members of the family or the wedding party can get to know each other.
Only invite people who are also invited to the wedding.
That leads us to the next question, and that is "What gifts are appropriate for an engagement party?" You probably don't want to go all out (or maybe you do), but thoughtful and unique gifts like monogrammed items, planning tools and journals, home décor, accessories and even cooking classes all make great engagement party gifts. As do bottles of wine and bouquets of flowers.
Whether you're going for fun or functional (or a little bit of both) with your gifts, we have a few ideas to get you started.
Jump to Section
Creative Engagement Party Gifts
1. Paint and Sip
With paint and sip in NYC, paint and sip in Orange County, paint and sip in Sacramento, and other fun cities, the lovebirds on your list can learn how to paint portraits, landscapes and more watercolors, charcoal or pen and ink while sipping their favorite beverage. You can even book online painting classes, which makes a convenient gift for couples who like to be creative from the comfort of home.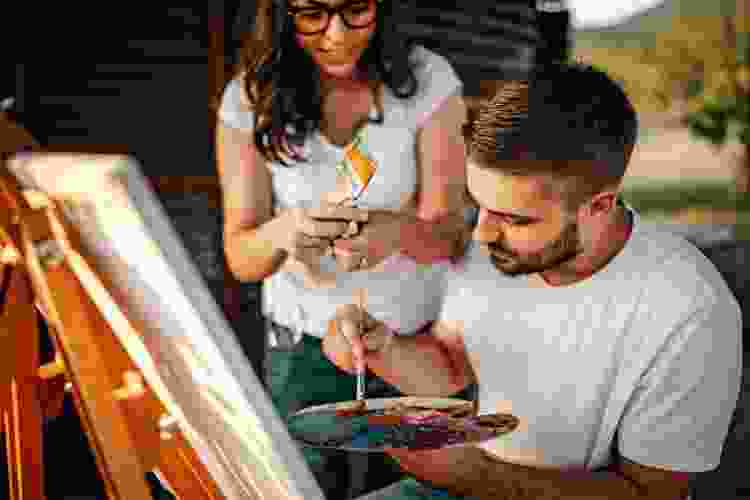 2. Dance Classes
If the happy couple is into dance, or they want to learn for their reception, dance classes in Las Vegas, dance classes in Orlando, dance classes in Colorado Springs and even online dance classes make terrific engagement party gifts.
They can choose from ballroom, waltzing and the tango or hip hop, line dancing and ballet. Dance classes are an excellent way to stay fit and get in a workout together.
3. Pottery Classes
Pottery classes in San Francisco, pottery classes in San Diego and pottery classes in Boston make great engagement party gifts for couples who like to mix, shape and paint clay and ceramic vases, mugs, plates and figurines.
4. Drawing Classes
Give them the gift of creativity with in-person or online drawing classes. They'll join professional artists who will share expert skills and techniques for drawing people, animals, buildings and nature.
5. Couples Bucket List Journal
The personalized couples bucket list journal from Etsy's Oakdene Designs allows them to plan out all the cities, sites and adventures they hope to visit or achieve.
Foodie Engagement Party Gifts
6. Cooking Classes
For the engaged foodies, you can't get much better than culinary experiences. Whether it's cooking classes in San Antonio, cooking classes in Portland or cooking classes in Boulder, they can learn how to prepare a fresh seafood menu, grill steaks like a pro or prepare crisp and crunchy French bread. Check out cooking classes near you to find the perfect classes.
7. Online Cooking Classes
Online cooking classes are just like traditional cooking classes, but they can enjoy them from the comfort of their own kitchen. They'll join gourmet chefs via a platform like Zoom. All they need is a mobile device and a can-do attitude.
8. Online Mixology Classes
One of the best engagement party gifts for cocktail lovers is the gift of online mixology classes. Top-rated bartenders lead fun and interactive classes while teaching how to mix, stir, shake and muddle a wide array of drinks.
They can perfect their gin fizz, learn all about different liqueur combinations and develop their shaking techniques.
9. Virtual Wine Tastings
Wine aficionados will enjoy virtual wine tastings led by expert sommeliers. Learn about food pairings, grape varieties and wine regions with this fun and interactive engagement gift idea.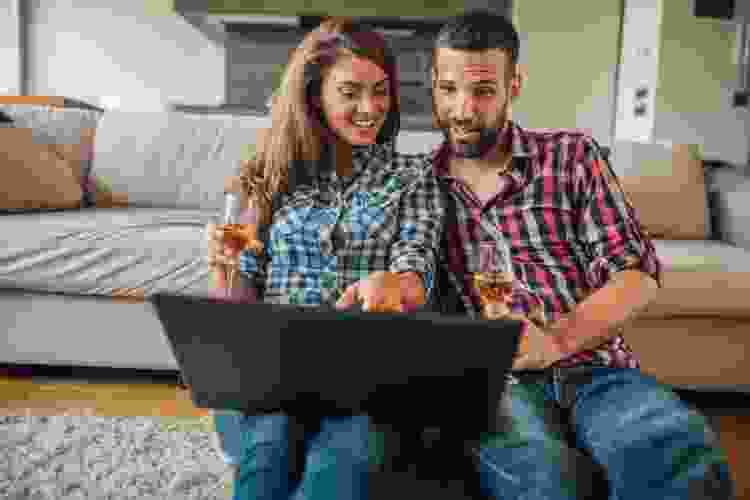 10. Personalized Charcuterie Board
Present them with a personalized charcuterie board embellished with their first names, last name and wedding date. Many are made of rich maple or walnut and polished with food-safe oil. It makes a unique way to serve cheese, fruit, meats and more.
11. Cookbook
For the culinary couple, a gourmet cookbook by a master chef makes a unique engagement party gift. Mastering the Art of French Cooking by Julia Child is a great one to start their collection.
12. Matching Aprons
Fun, thoughtful and practical, matching aprons make perfect gifts for the couple who spends a lot of time in the kitchen. They'll stay clean while preparing their favorite recipes for friends, family and each other.
13. French Press
A French press is a perfect, classic engagement party gift for fans of flavorful and fresh-brewed coffee. Sleek and stylish or retro and funky, this is a timeless gift that will last a long time.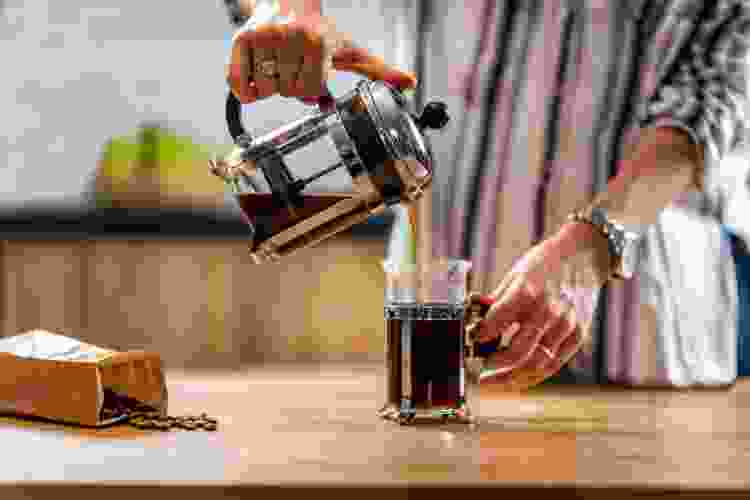 14. Gift Box
Help stock the couple's freezer with Omaha Steaks. This is an engagement gift box for couples that they'll appreciate every time they get the urge to grill. Selections include top steak, Polynesian pork chops, filet mignon, boneless chicken breast and more, all delivered right to their door.
Unique Engagement Party Gifts
16. Acting Classes
For the comedic and dramatic couple, acting classes make a great engagement party gift. Choose from improv, voice overs, comedy and more. They can even book online acting classes if they prefer the comfort of home.
16. Virtual Game Nights
For engagement party gifts they can share with friends and family, virtual game nights are a terrific choice. They'll be able to play BINGO and board games, take trivia and agility challenges and guess their way through Clue-inspired mystery games for fun and unique gifts.
17. Photography Classes
Give them a boost on a favorite activity or help them find a new hobby with photography classes in Austin, photography classes in Houston, photography classes in Los Angeles or even online photography classes.
They can explore their local neighborhood capturing nature, sights and scenes while learning how to use shadows, light and motion to create interesting photos.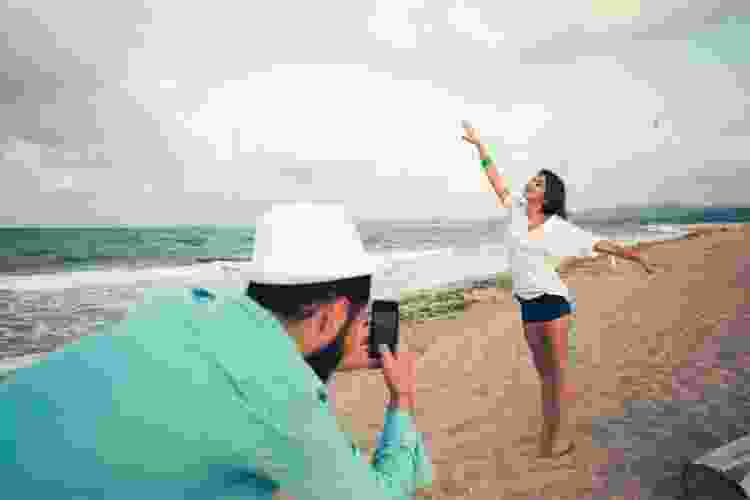 18. Online Trivia Games
From pop culture, TV moms and music to The Office, Marvel and more, online trivia games are fun for all ages. The happy couple can invite friends and family to play, making this an all-inclusive engagement party gift.
19. Virtual Scavenger Hunts
Take part in cyberspace races using Google Maps or hunt down items in and around your house. All you need is an internet connection for these fun and interactive virtual scavenger hunts.
20. Virtual Escape Rooms
With themes like murder mysteries, Harry Potter, cursed forests and time travel, virtual escape rooms are a fun engagement party gift for any couple.
21. Personalized Coaster Set
This personalized wooden coaster set from Etsy's Wood Luck Engraved is available in several shades of wood. Personalize with their names in script and a cute heart in between. This is an engagement party gift they might use more for décor than sitting their drink on.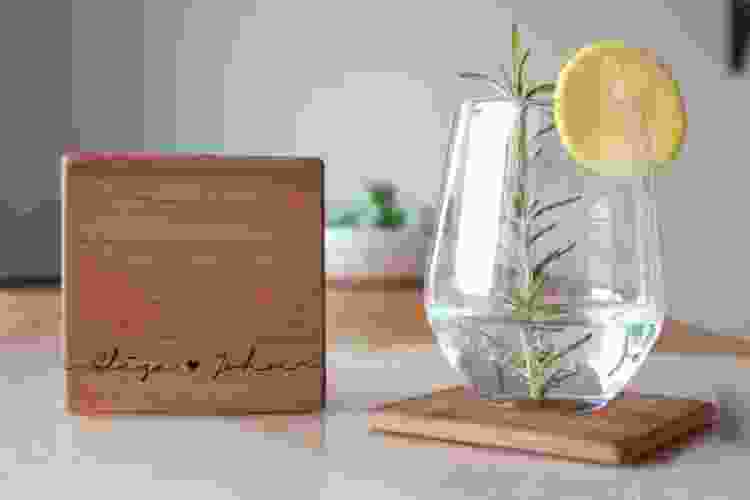 22. Wedding Countdown Calendar
The wooden blocks (or more modern style) wedding countdown calendar is a great engagement party gift for any couple to display on their coffee table, countertop or mantle. Blocks spell out the number of days until the big day.
23. Personalized Ornament
The personalized engagement ornament from Etsy's Well Threaded features the month of their engagement with the date noted by a heart and their names. It's three inches in diameter and made from ceramic with a gold ribbon to hang from a tree or wherever they choose.
24. Custom Magnets
Custom magnets from Etsy's Kit Atlas make fun engagement party gifts for the quirky couple. You'll need to send a photo of the happy couple (or even their dog, if you like) and it will return as a super cute magnet version of their faces.
Designs are hand-drawn and measure 1.5-inch x 2-inch from top to bottom and are 1.5-inch wide (perfect for the fridge).
25. Personalized M&M's
Who doesn't like M&M's? Explore cute designs like yellow "Meant to Bee" packages, monogrammed M&M's and other fun options. It's a great engagement party gift that they can use at the party, or they can take it home to enjoy later (while they're stressing over whether to choose the light blue or the dark blue napkins, for instance).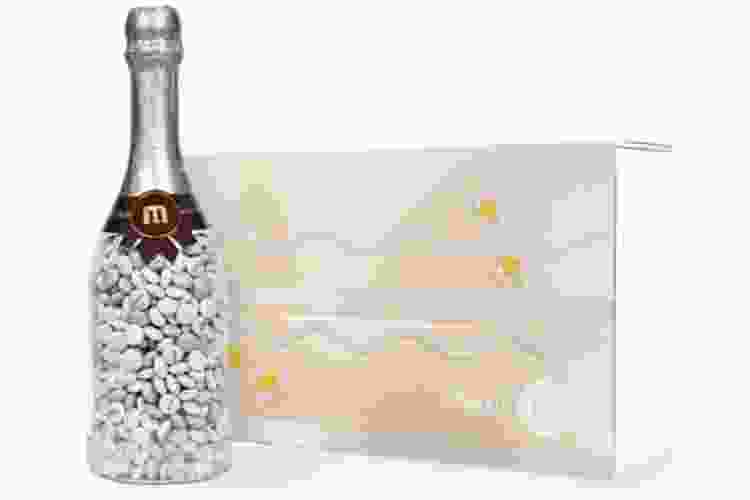 Traditional Engagement Party Gifts
26. Address Stamp
A custom address stamp is a thoughtful engagement party gift. Couples will save themselves hand fatigue from addressing all those thank you notes.
27. Leather Luggage Tags
Leather luggage tags are an excellent engagement party gift. You can choose from leather tags with a monogram or travel quote or a special newlywed "Mr. and Mrs." set.
28. Crystal Vase
Traditional engagement party gifts can't get any more classic than an exquisite Waterford crystal vase. This will be a piece to present beautiful floral arrangements at every special occasion for years to come.
29. Luggage Set
Engaged couples need a great set of luggage for honeymoon travel and beyond. Find a set that is light and durable with a textured surface to prevent scratches. The best suitcases include telescoping handles and multi-directional wheels for quick and easy transport between flights.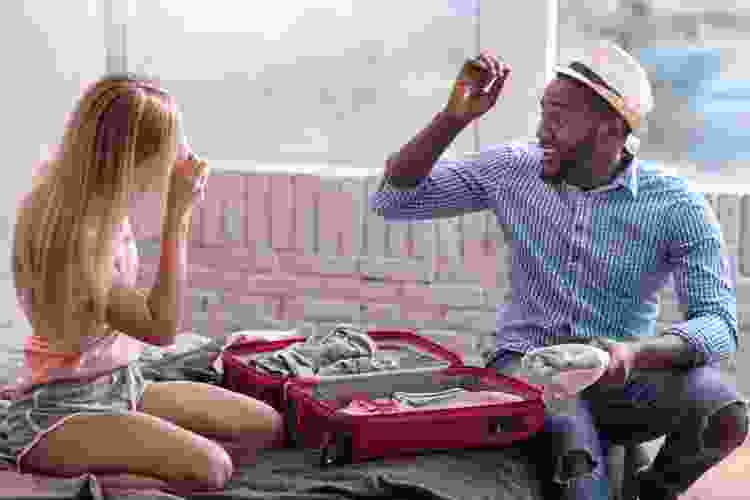 30. Stemless Wine Glasses
Glassware always makes a useful engagement party gift idea. Many brands come as a set of 6 or 12, perfect for all the parties and gatherings they'll be hosting as a couple.
31. Bottle of Bubbly
Whether they serve it at the party or take it home for a later celebration, a bottle of wine or champagne is always one of the best traditional engagement gifts. Choose their favorite or pick out a new one for them to try.
32. Cake Serving Set
Why not present them with something they can use at the wedding reception? Cake serving sets come in a wide array of gorgeous designs, from elegant to modern, personalized and more.
Last Minute Engagement Party Gifts
33. Custom Doormat
They'll welcome friends and family to their home with this custom doormat from Etsy's Avadir and Co. Personalize with their initials, last name and the year they say "I do."
34. Engagement Map Print
The engagement map print from Etsy's Paper Emporium Co. is a thoughtful last minute engagement party gift idea. Choose the state where they go engaged (complete with a heart in the location) or choose the state they call home (with a heart in their home city).
35. Instant Camera
Capture all the party, planning, honeymoon and day-to-day moments with the help of the Fujifilm Instax Mini 11.
It's like an old-school Polaroid with updated colors and modern technology. It has a selfie lens and comes with a carrying case and extra rolls of film sheets to make a fun and useful engagement party gift.
36. Matching Socks
Looking for funny gifts for engagement party couples? The "Future Hubby" and "Future Wifey" socks from Etsy's Koysar Socks are available in a variety of colors for a matching engagement party gift. They would make a super cute photo session for any couple.
37. Fluffy Robes
Whether it's spa day, pre-wedding relaxing or just lounging in front of the TV, a luxurious set of matching robes make great engagement party gifts for the happy couple.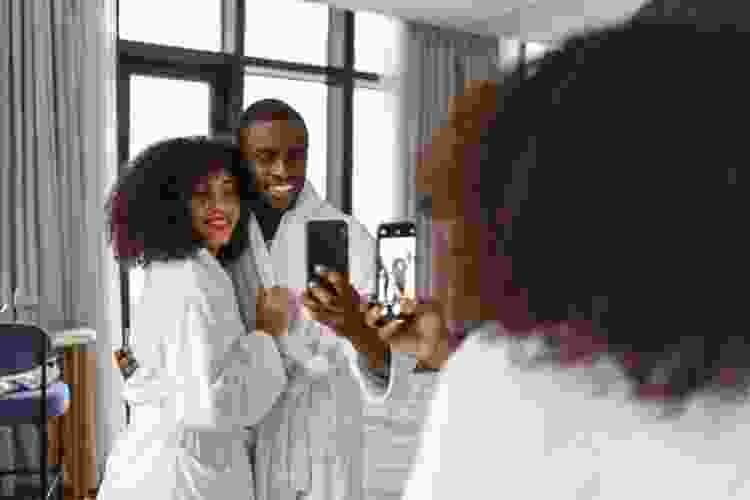 38. Matching T-Shirts
Looking for something to go with those hubby/wifey socks? Find a humorous set of matching tees for another idea for last minute engagement party gifts.
Engagement Gifts for Women
39. Virtual Flower Arranging Classes
Virtual flower arranging classes are an excellent engagement party gift for couples who enjoy the creative side of nature. She can learn how to arrange bouquets, make floral wreaths or craft corsages and table arrangements for friends, family and special events.
40. Sewing Classes
A great engagement gift from parents who want to encourage the young newlyweds to learn timeless, useful skills, sewing classes allow them to join experienced tailors and other sewing experts for classes in apparel, home décor and arts and crafts.
41. Personalized Succulent Planter
Made of ceramic with a bamboo bottom, This planter from Etsy's A Special Dot is all abloom with "Love grows here" across the front. Personalize with their names and date and fill with echeveria, haworthia, aloe and a pincushion cactus or even herbs for a super cute and useful engagement party gift.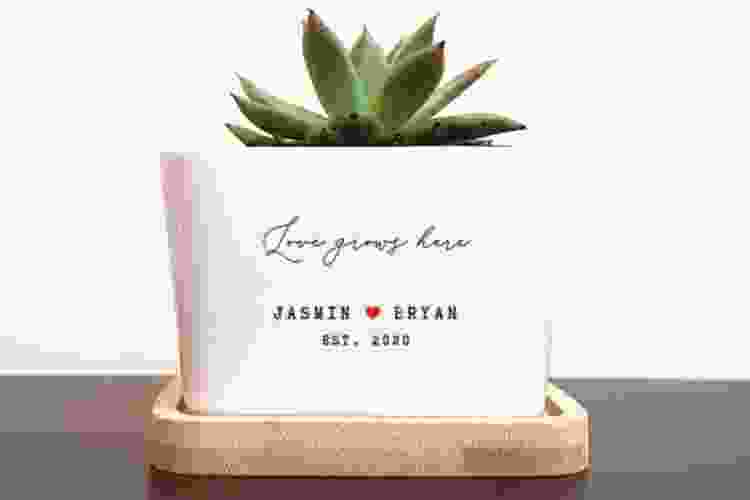 42. Wedding Planner
If she doesn't already have one, wedding planners from Etsy's The Paper Memory make excellent gifts for the organized bride (or groom, for that matter). She'll have somewhere to plan and jot down all of those appointments, dress fittings, cake tastings and photo sessions.
43. Jewelry Cleaner
One of the best engagement gifts for women is a Hagerty ultrasonic jewelry cleaner. She'll want to keep that sparkling ring and other jewelry bright and shiny.
44. Miss to Mrs. Tumbler
All those early morning appointments require a full tumbler of fresh coffee (or whatever she prefers). The 16-ounce Kate Spade Miss to Mrs. tumbler is made of double-wall stainless-steel with a lock-tight lid for no-spill transport.
45. Personalized Ring Holder
This personalized floral ring holder from Etsy's Eggutama is made of high-quality walnut and will safely hold rings, bracelets, earrings, necklaces and other jewelry. Customize with a name, initials or a date. It's protected with a beeswax seal for a semi-gloss finish.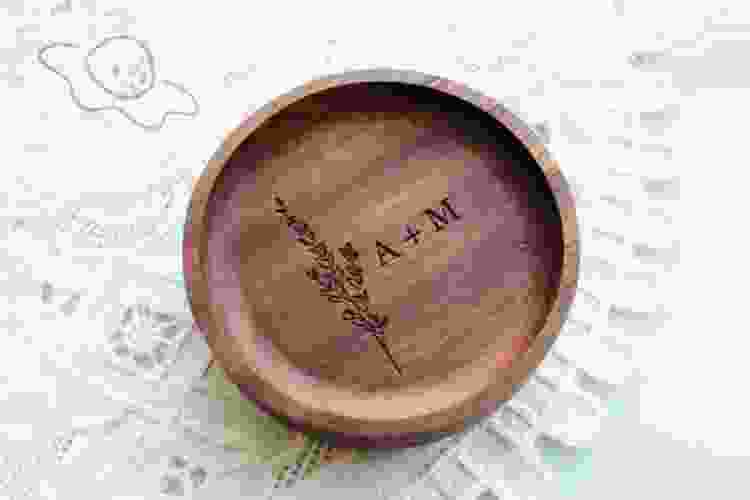 46. Totes Engaged Bag
She'll need somewhere to stash that wedding planner and all of the fabric swatches, flower samples, magazines and brochures that she'll likely collect at bridal shows and shops. The "Totes Engaged" bag from Etsy's Prazoli Products is totes cute and ready to hold makeup, wedding supplies, beach gear and so much more.
Engagement Gifts for Men
47. Woodworking Classes
Woodworking classes make excellent engagement gifts for friends who enjoy working with their hands. He can learn how to measure, cut, sand and stain slabs of oak, maple and pine into things like birdhouses, lamps, small furnishings and more.
48. Glass Blowing Classes
For a unique and creative engagement party gift, consider glass blowing classes. He can learn how to turn molten blobs of glass into stunning vases, figurines and paperweights.
49. Swiss Army Knife
Designed especially for the wine connoisseur, the Victorinox Wine Master Swiss Army knife is made of stainless steel and has a two-step lever for uncorking, a bottle opener, a corkscrew, a foil cutter and a large locking blade.
Even outdoor enthusiasts will appreciate the rugged construction and functionality of this gift.
50. Bluetooth Speaker
He can take his tunes with him whether on vacation, hiking the trails, at work or working around the house. The JBL Clip 3 is waterproof, durable and wireless.
The carabiner-style clip keeps it safely attached to backpacks, beach umbrellas, belt loops and more. While the rugged rubber housing protects it from drops. It includes a noise-canceling speakerphone for seamless business calls, Facetime and Zoom meetings.
51. Custom Whiskey Decanter Set
This elegant decanter set from Etsy's Flowertown Weddings comes with a 750 ml glass decanter with two, four, six or eight matching glasses. Once it's engraved with an initial or name, it'll look fabulous sitting on their home bar or countertop.
We hope you've found a helpful solution to your engagement party gift giving question of "Is it customary to give an engagement gift?" As well as what to give. Even if you don't know one of the recipients very well (or both since this could be an office co-worker or a distant family friend), you're sure to be inspired by something on this list.
Designed for a variety of interests, personalities and price ranges, this list was meant to get those creative juices flowing. Take one or a few of our ideas and combine them with your own. You may be surprised at what you come up with!
For even more fun gift ideas, check out other experiences happening on Classpop!