33 Most Fun Team Building Games to Liven Up the Workplace in 2023
Last Updated on Aug 31st 2023
| 0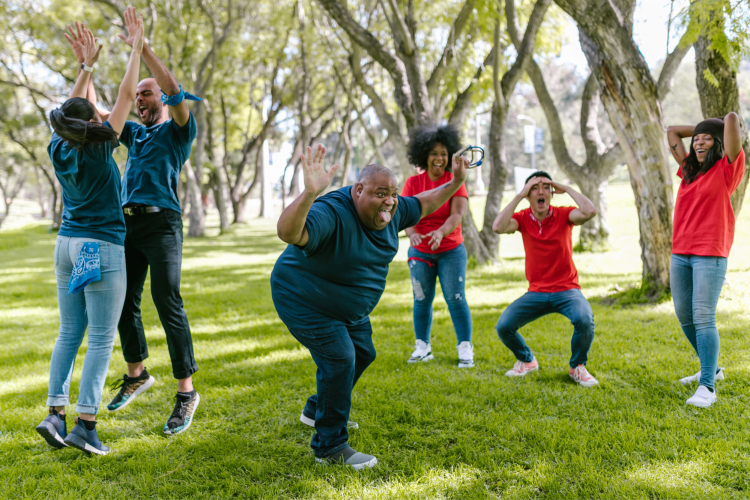 Our editorial team recommends the best products through independent research, selection and careful review. If you make a purchase through one of our affiliate links, we may earn a commission. Prices are subject to change.
Have you been tasked with choosing a few team building games for your next meeting or workplace event? When you're wondering what games to play for team building, it can be hard to come up with even one idea that feels fun and genuine.
If you need to fill a lot of time or really encourage some peer bonding, you might be panicking at the question, "what are five team-building activities?"
Luckily, we've gathered a list of cool bonding games and activities that are sure to inspire you and bring your team closer together. Take a look at these awesome team building games and ideas before your next event!
Start by exploring team building activities in Houston, team building activities in NYC, team building activities in San Francisco or team building activities near you to get your team motivated and inspired in a fun new way.
Jump to Section
Creative Team Building Games
1. Join a Paint and Sip
Bringing everyone to a paint and sip near you is one of the easiest ways to boost team morale. At paint and sip in Colorado Springs, paint and sip in Chicago and paint and sip in NYC and other major cities, you'll get to treat your team to some tasty vino while you follow along and paint your own masterpieces.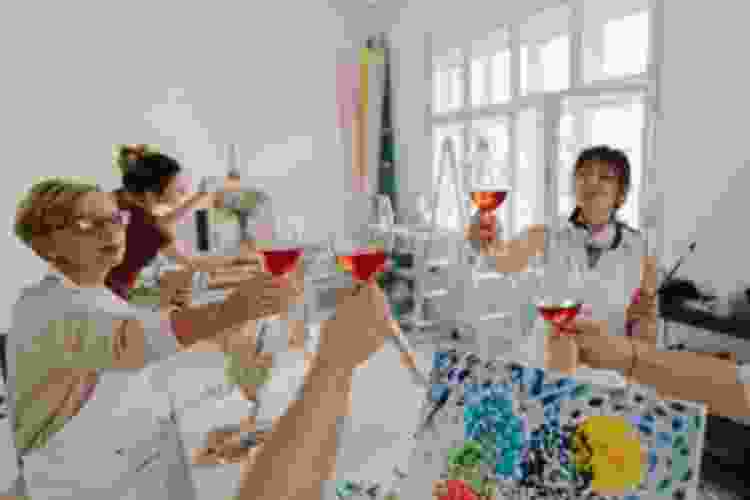 2. Attend a Pottery Class
Not afraid to get your hands dirty during team building games? Pottery classes in Boston, pottery classes in Houston or pottery classes in Los Angeles are the perfect opportunity to bond with your team while you sculpt unique and useful clay pieces. If you aren't based in those cities, check out other pottery classes near you.
3. Groove Together in Dance Class
When it comes to team building games that'll help your group gain a rhythm, it's hard to beat dance classes. With dance classes in Las Vegas, dance classes in NYC and dance classes in the Bay Area, it's easy to get your groove on.
If you need games online or long-distance, online dance classes also make awesome team building activities!
Join our email list for exclusive deals, local events and fun inspiration for living a more creative life.
4. Take a Penny for Your Thoughts
Team building games don't have to be complicated to be fun. Collect a bunch of pennies in a shoebox or other container, making sure the years stamped on the pennies are all prior to your youngest team member's birthday. Have each person draw a penny from the container and share a memory from that year.
5. Solve a Murder
This team building murder mystery game will surely get your group thinking together, and it's a great way to put a twist on your holiday work party. Purchase, download or create your own murder mystery party kit, then declare to your coworkers that the investigation is on!
For extra excitement, split everyone into small groups and see who can solve the mystery first for a fun ice breaker game.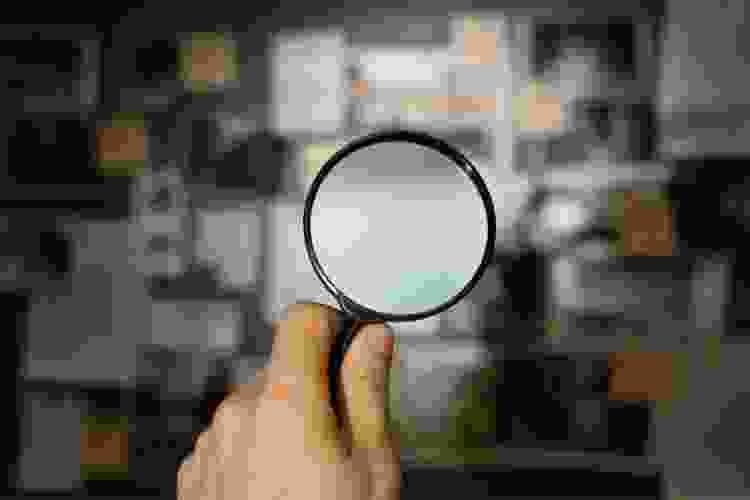 6. Play Fax Machine
Fax machine is like the team building game "telephone," except instead of whispering in each other's ears, everyone will start the round by drawing something on a notepad, then passing their notepads to the right.
The next person will write down what they think the drawing is, then pass the notepad again, and the next person will draw. Once you've completed a full circle, look back to see how the message changed.
7. Office Olympics
Set up the king of all team building games: office Olympics. Even if you don't have a ping-pong table or other game space, you can still play paper basketball, have a water cooler staring contest and shoot long-distance rubber bands. Convert your scores into points and crown a gold, silver and bronze winner at the end of the tournament.
Foodie Team Building Games
8. Try a Cooking Competition
Cooking classes in Houston, cooking classes in Washington, D.C. or cooking classes in Portland are great choices when you need team building games indoors. You can even join exciting cook-off events and challenges to face off against teams in the kitchen — some will come right to your office!
In cooking classes near you, you'll get to learn new skills with your group and enjoy delicious food together. If you can't meet up in person, online cooking classes make great virtual bonding games or gifts for employees.
9. Decorate Desserts
What are some fun team building games when you've got a group of sweet tooths? Decorating cookies and cupcakes is one of the most classic ideas for kids, teens and adults. Bake or purchase plenty of plain cookies or cupcakes, then chat with your group as you ice, sprinkle and swirl to your heart's content.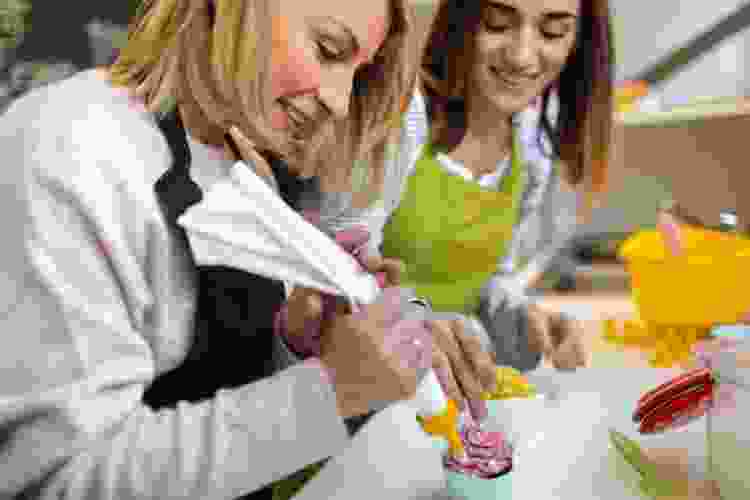 10. Build the Leaning Tower of Pasta
Wondering what are some five-minute challenges? For this team building game, split into small groups of two to five people, and each group will receive a box of spaghetti noodles, a roll of masking tape and a marshmallow. Set a timer for five minutes and have your groups race against each other to build the tallest tower with the marshmallow on top.
11. Have a Food Show-and-Tell
Who doesn't love games that involve delicious food? Either host a potluck meal or ask one person to bring a food item each week. Before you can dig in, the cook gets to explain why they chose this food, how it's made, its sentimental value or a fun memory behind it.
12. Play "What Am I?"
On several index cards, write down foods or drinks like salad, pizza, tea, curry, piña colada and Jell-O. Tape an index card to each person's back, then have them walk around asking yes or no questions like "am I spicy?" or "would you eat me at the movie theater?". Once someone guesses their food, they can step aside while the others keep playing this fun team building game.
Online Team Building Games
13. Play Virtual Game Nights or Trivia
Team building games don't have to take place in person. With online trivia games and virtual game nights, you can get to know your team from the comfort of your home or desk. Online activities are the perfect team games for work if you have socially distanced employees or international offices.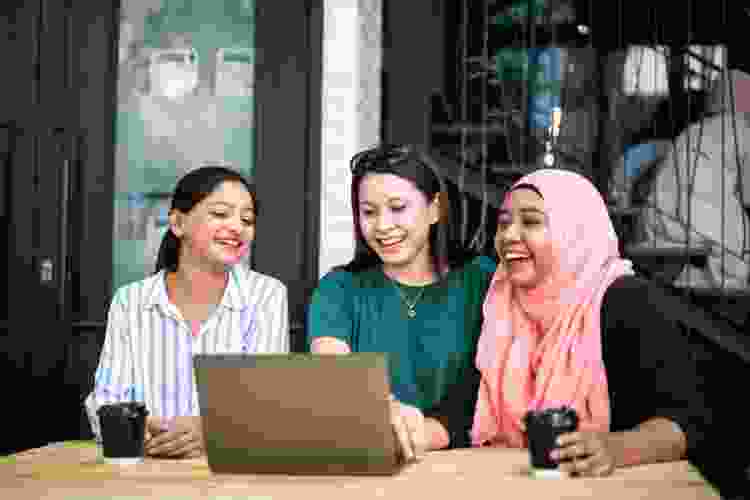 14. Have a Virtual Adventure
Looking for games that are a little more thrilling? Take your team on an adventure with virtual scavenger hunts or virtual escape rooms. Your entertaining, live host will guide you and your team through a series of challenges, allowing your event planner to join in on the fun, too!
15. Plan an Online After-Five
Team building games online don't have to involve strictly game-like. With online mixology classes and virtual wine tastings, you and your team can craft incredible cocktails and gain new knowledge about spirits and wine. Enjoy a little Friday night cocktail party from the comfort of your home or breakroom!
16. Try a Virtual Flower Arranging Class
Virtual flower arranging classes make great team building games for students, coworkers and friend groups. Together, you'll get to develop new skills that will beautify your homes and level up your employee appreciation gift ideas.
From succulent terrariums to preserved flower bouquets, virtual flower arranging classes are a team building activity that never gets old.
17. Play GeoGuessr
GeoGuessr is one of the simplest team building games online where you and your team will be dropped at a random location on Google Maps.
Each person has a few minutes to explore the area before guessing where they think they are in the world. The closest person to the correct location earns the most points, and the winner is decided after a few rounds.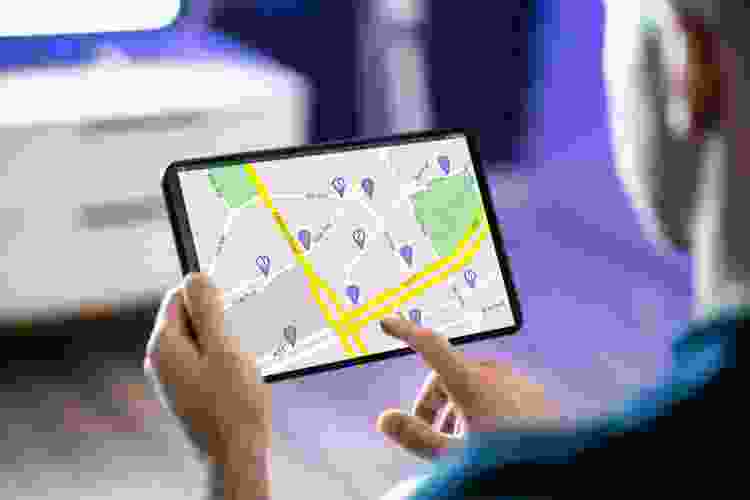 18. Take Personality Tests
Personality tests are classic team building challenges for work because they help you understand your group members and your strengths and weaknesses, and make for an effective employee engagement idea.
The tests you take can be serious workplace tools, such as the enneagram or Myers-Briggs, or just fun and silly like "what flavor of La Croix are you?" Discuss your results when you're done (what does it mean to be a lemon La Croix?).
Indoor Team Building Games
19. Attend a Glass Blowing Class
For team building events you'll never forget, check out glass blowing classes near you. This unique art form will have your coworkers blown away as they twist and shape colorful molten glass into their own gorgeous creations. Bring a camera — this is one for the books, especially as a team building activity in Houston, team building activity in or another artsy city.
20. Try a Sewing Class
Looking for practical and unique team building games indoors? Sewing is a useful skill that's actually quite fun to learn, and one of the best team building activities in San Francisco or other fashionable cities with classes open to the public.
Enjoy spending time together as you lay patterns, cut fabric, attach buttons and show off your finished projects.
21. Join a Woodworking Class
Take a break from your standard icebreakers by signing your team up for woodworking classes. During woodworking class, you'll get to try your hand at sawing, sanding and sculpting your own unique wooden creations.
22. Play the Barter Puzzle
Great games for team bonding require lots of communication and cooperation, and The Barter Puzzle is no exception. Split into two groups and give each group a set of puzzle pieces to complete within ten minutes.
The catch? Some of their pieces are swapped with the other team, so they'll need to barter pieces, players, extra time or whatever else they can to try to finish their puzzle first.
23. Untie the Human Knot
One of the most classic games for teens, The Human Knot is an easy game that people of all ages can enjoy.
To play, everyone reaches their hands into the center and joins hands with two other people. Then, everyone takes a few steps back and the group must communicate and work together to untangle themselves.
24. Play Coworker Bingo
Write B-I-N-G-O across the top of a sheet of paper and fill each column with five qualities like "read a book last night," "has four or more children," or "loves Star Wars."
Make enough copies for every person, then have everyone walk around the room to collect signatures from people who fit the descriptions. The first person to get a bingo wins, and everyone learns something in the process!
25. Rock, Paper, Scissors Tournament
In this classic team building game, Everyone turns to the person next to them and plays three rounds of rock, paper, scissors. If you lose, you must follow your conqueror around and cheer them on in their next challenge. In the end, only two will remain, and only one can be crowned the RPS Champion.
Outdoor Team Building Games
26. Volunteer Together
According to a study explored by Business News Daily, volunteering raises employees' morale, helps coworkers bond and increases individuals' perception of the company.
Volunteering is one of the best team building activities in Austin or other cities where there are a lot of unhoused people. Volunteering in the community is undoubtedly one of the best ways to bring your group together — and it can be rewarding and fun!
27. Try Group Geocaching
Geocaching has been used as a team building game for generations. If you aren't familiar with the term, geocaching is an outdoor recreational hobby where you discover mini treasure chests hidden all around the world.
Sometimes these "caches" will contain cute trinkets like buttons or toys, but the real fun is in the adventure of finding them.
28. Build Cardboard Boats
This game is sure to make a splash, so it's great to try while you're on a beach trip or company retreat. Collect several large cardboard boxes, duct tape and whatever else you'd like to create cardboard boats. Split into two or more teams, then assemble your boat and choose two people to race around the pool or lake.
29. Visit a Climbing Ropes Course
Another adventurous option, ropes courses are great team building games for teens and physically active adults. Challenge your fear of heights on the tightrope or test your strength as you swing between platforms. Most of all, remember to cheer on your teammates and encourage them to get out of their comfort zones!
30. Try the Egg Drop Challenge
For this team building game, you'll need some fresh raw eggs, a ladder and various craft supplies like tape, paper, rubber bands, straws, yarn and popsicle sticks.
Split into groups of three to four people and have each group work together to create a basket design that will protect their egg from cracking when it's dropped from 10 feet in the air. Once the baskets are built, put them to the test!
31. Hike a Local Trail
Grab some fresh air with your teammates as you hike around your local city park or state park. Hiking is a great team building activity because it's physically and mentally challenging, but it's absolutely worth it to enjoy the views. To make a whole day of a hiking trip, bring picnic lunches and play a scavenger hunt game while you hike.
32. Play Helium Stick
Helium stick is one of the easy team building games that can be played indoors or outdoors (or while you're on your hike!). Find a long, straight and light rod or create one out of plastic straws, then lay it across the top of everyone's pointer fingers. The group starts standing, but they'll have to figure out how to get the stick to the ground without dropping it or removing their fingers.
33. Arrange a Scavenger Hunt
Whether you need team building activities in Atlanta or a small rural city, scavenger hunts are great games because they can work anywhere.
Take your group outside and give them a list of items to collect or take photos of. These could be as easy as an acorn or an advertisement, or as difficult as finding a person with red rollerskates!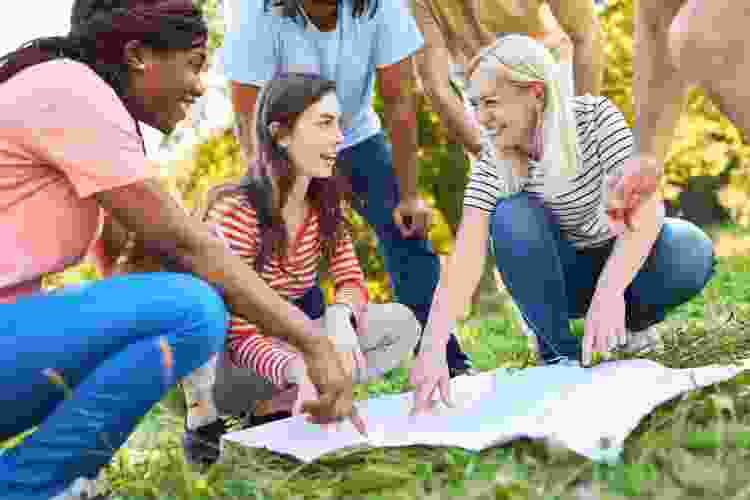 Team building games are usually pretty fun and exciting, but they also serve an important purpose in the workplace. When your peers and team members feel comfortable with each other, they'll be able to communicate more efficiently and strive towards common goals together. Some of the best workplace successes can start from a simple game!
For even more team building ideas, check out other experiences happening on Classpop!