23 Fun and Festive Holiday Work Party Ideas for 2023
Published on Nov 1st 2022
| 0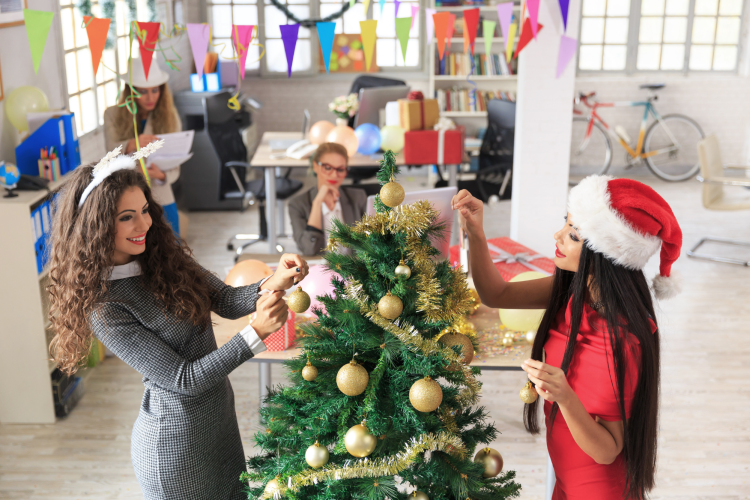 Anyone who works with other people understands the complexities of planning a holiday work party. You want to show appreciation for colleagues and celebrate the season without turning the event into dull, mandatory fun.
So, what do you do at a work Christmas party? A good holiday work party is inclusive, entertaining and acknowledges employees as valuable individuals outside of their professional roles.
Whether you're having an intimate get-together or a massive office party, these holiday work party ideas will create happy memories and strengthen workplace friendships.
Jump to Section
Creative Holiday Work Party Ideas
1. Paint and Sip
Some of the best holiday work party ideas involve getting the team out of the office. If your colleagues have a creative spirit, they'll love attending a paint and sip near you.
You and your coworkers will share a laugh while experimenting with painting and enjoying a glass of fine wine. Plus, at the end of the night, everyone has an original artwork to display in their home or give away as a holiday gift.
Paint and sip are easy to find in any area: you can book a paint and sip in Los Angeles, paint and sip in Indianapolis or paint and sip in San Diego, to name a few. If you can't find paint and sip in your region, or if you have a remote work team, you can also have your office host online painting classes.
2. Pottery Classes
A group pottery class is a great way to entertain your coworkers through an engaging, tactile activity. Pottery is a simple, accessible art form that allows everyone to confidently exercise their creativity.
Talented pottery instructors throughout the country offer group classes, ranging from pottery classes in Boston on the east coast to pottery classes in San Diego and pottery classes in San Francisco on the west coast.
3. Dance Classes
If your team enjoys physical movement, a dance class would be a memorable and exciting holiday work party. You and your colleagues will have a blast learning a cute, holiday-themed dance routine that you can record and save for years. Dance classes are also fantastic as team building holiday party ideas.
You can arrange to have a dance class in your local area, or, if you have an upcoming group business trip around the holidays, add it on as a special travel experience. For instance, many common business convention destinations have an abundance of dance teachers — you can easily book dance classes in Los Angeles, dance classes in Las Vegas or dance classes in Orlando.
4. Office Decorating Party
You can execute some creative work Christmas party ideas without leaving the office. For instance, you can hold an office decorating party. Supply your employees with an abundance of decorating materials and let them deck the halls (or the cubicles, as the case may be).
Add extra fun to the holiday work party by making it a competition: challenge different departments or working groups to make the most festive and original decoration design. Don't forget to put out some holiday treats and beverages to accompany all that creative activity!
Foodie Holiday Work Party Ideas
5. Cooking Classes
If you frequently overhear conversations in the office about restaurant suggestions or recipe tips, that might be your sign to plan a cooking class holiday work party. You can take your colleagues to one of the cooking classes near you where everyone can learn how to make a delicious holiday feast.
While cooking classes may sound like an upscale activity exclusive to select cities, there are chefs in practically every city and town willing to lead a class. For example, you can discover many affordable options for cooking classes in New Orleans, cooking classes in Chicago or cooking classes in Portland. Remote offices can have a cooking holiday party as well by signing up for online cooking classes.
6. Themed Food Night
Food-obsessed colleagues will love a themed food night. You can choose from a wide range of themes, such as winter holiday foods from around the world or a traditional Victorian Christmas feast.
This works exceptionally well if you need small office Christmas party ideas since it's more affordable to have an authentic, multi-course meal when it's for a small group.
If you want to make your holiday work party extra special, you can encourage your colleagues to dress according to the theme and end the night with a costume contest.
7. Food Truck Party
Folks who live and work in a region that stays warm in December might enjoy an outdoor holiday work party. One option is to plan a food truck party. Hire a few local food trucks to park in your office's outdoor space and treat your team to delicious street food.
Not only does a food truck party provide your coworkers with tasty bites, but it also allows your company to engage with local restaurants and form new professional relationships.
8. Gingerbread House Party
When all else fails, you can easily put together the classic foodie holiday event: a gingerbread house party. Encourage your coworkers to get in touch with their inner child and decorate gingerbread houses and gingerbread people.
You can build a gingerbread office, design your dream holiday home or recreate your favorite traditional gingerbread designs. By combining an entertaining activity with a yummy dessert, a gingerbread holiday work party is sure to be a hit.
Virtual Holiday Work Party Ideas
9. Virtual Beverage Tasting
Virtually holiday parties are tough. People trying to plan one may be wondering, what do I need for a holiday work party? Fortunately, you can do more for your virtual holiday work party than hold an awkward video conference. One way to spice up a remote holiday Christmas party is to have a virtual beverage tasting.
Virtual beverage tastings will give your remote gathering a festive focus and infuse the event with class and culture. Depending on your colleagues' tastes, you can sign up for holiday-themed virtual wine tastings or practice amateur bartending skills with online mixology classes.
10. Virtual Games
You can take advantage of a virtual holiday work party setting by planning original games that you might not have the resources to arrange in person. When it comes to unique corporate holiday party ideas, virtual game nights provide you with a plethora of opportunities.
Based on your coworkers' interests, you can plan some holiday-themed online trivia games, or, for a more hands-on game, look into virtual scavenger hunts. If your team is competitive or obsessed with brain teasers, you can even find virtual escape rooms with festive themes.
11. Party Packages
Sometimes a virtual holiday work party can get a little boring, so it helps to bring a piece of the party to each employee's home. Ahead of your virtual event, mail holiday party packages to all of your colleagues.
Holiday work party boxes can contain decorations, snacks, drinks and any other Christmas party entertainment ideas you come up with. By having everyone eat the same foods or playing with the same decorations, your virtual holiday party will feel much more like a shared experience.
12. Virtual Holiday Movie Night
If your work team is more introverted and doesn't enjoy chatting over a video conference, try hosting a virtual holiday movie night instead. Using screen sharing or a streaming watch party extension, your colleagues can watch the same movie from their separate homes.
You can make this a family-friendly party by choosing a children's holiday movie and inviting everyone to get in snuggly pajamas and make hot chocolate and seasonal snacks. If it's a musical film, you can even make it a sing-along event.
13. PowerPoint Party
At a PowerPoint party, each person makes a humorous slideshow presentation about an area of interest. Examples could be a ranking of holiday cookies, an in-depth analysis of an old Christmas movie or a breakdown of how long it would actually take Santa to deliver all those presents.
During the holiday work party, you can sip on holiday cocktails while applauding your colleagues' hilarious Christmas party entertainment ideas.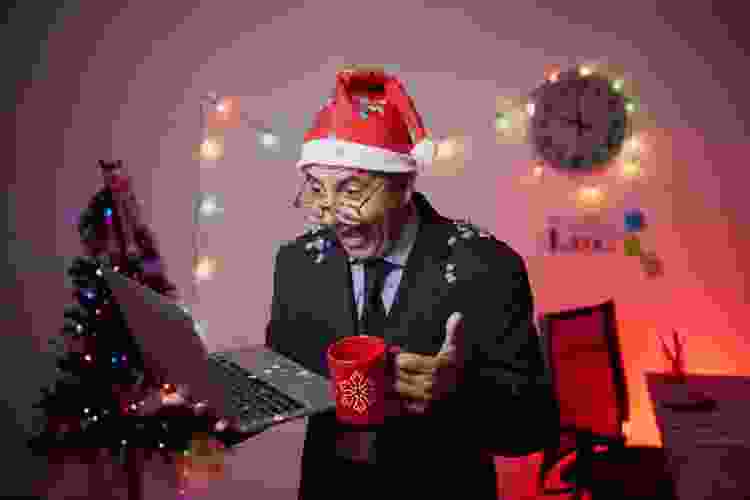 DIY Holiday Work Party Ideas
14. Flower Arranging Class
For a fresh take on a group activity for a holiday work party, consider signing your colleagues up for a flower arranging class. Flower arranging is a creative skill that employees can use in their personal lives to decorate homes or exchange gifts.
Christmas party entertainment ideas that celebrate your team's lifestyles outside of the office show that you genuinely care about your colleagues. You can hold flower arranging classes in person or find virtual flower arranging classes.
To elevate a holiday flower arranging party, give out special holiday vases as employee appreciation gifts. Incorporating employee gifts into your holiday work party is always a good idea — after all, if you aren't making your colleagues feel valued, what is the purpose of a company holiday party?
15. Photography Classes
Photography classes are another interactive holiday work party option. You can take your colleagues on a photography walking tour of the scenic festive locations in your area, such as a Christmas market or snowy public park.
Alternatively, you can invite your coworkers into a professional photography studio to learn more about the technical skills involved in taking quality photos. Either way, your employees are sure to have a blast, and you may end up with some great holiday photos to share on your company's social media.
16. Glass Blowing Classes
Much like woodworking, glass-blowing classes are sure to be a fun change from the run-of-the-mill holiday work party. At a glass-blowing class, your team can enjoy a magical demonstration from the instructor before attempting to make their own glass items. After the class, take your coworkers out for some festive cocktails and share funny tales of your glass-blowing attempts.
17. Woodworking Classes
If you're looking for truly unique corporate holiday party ideas, consider woodworking classes. Woodworking is an incredible skill that people rarely have the opportunity to learn. In a holiday woodworking class, your colleagues can make small ornaments and trinkets to celebrate the winter season.
18. Holiday Arts and Crafts
Your coworkers might appreciate a chance to create handmade decorations and gifts for the upcoming holidays. If you need a quick, easy holiday work party idea, set up an arts and crafts table with supplies and a few how-to guides. Pair the arts and crafts with some fun music and holiday cookies for a simple and fun daytime office party.
Low Budget Holiday Work Party Ideas
19. Potluck Dinner
Not every office has an infinite party budget, and your employees may appreciate the extra money going towards a holiday bonus rather than a social event. A manager on a low budget may be asking, how do I host a work holiday party? If that's the case, a potluck dinner may be one of the best low-budget office party ideas.
You can host a potluck dinner at your home and invite everyone to bring a dish. Folks can share their favorite childhood holiday recipes or show off their baking skills.
20. White Elephant Gift Exchange
Low-budget work Christmas party ideas can still include exchanging gifts. The best affordable gift exchange system is a white elephant party. At a white elephant gift exchange, everyone brings one wrapped, inexpensive gift. The gifts can be funny, unusual or practical.
During the exchange, each person chooses an unlabeled gift and gets a surprise present. For a more involved version, you can create a system for folks to swap gifts after they've been unwrapped.
21. Soup Kitchen Trip
The best team-building holiday party ideas are the ones that focus on engaging with your local community. Instead of a traditional holiday party, arrange for your office to volunteer together at a soup kitchen or other nonprofit.
According to the University of California Berkeley, research proves that people who volunteer have measurably greater mental health improvements than those who don't. Thus, a volunteer day will give back to the community and strengthen your team's emotional well-being.
22. Family Fun Day
Family fun days are awesome small office Christmas party ideas. Instead of throwing a holiday work party just for the employees, have your team get together and plan a special holiday event for their kids, partners and loved ones.
A casual family day will be cheaper than a formal holiday party and demonstrate that your organization cares about people's families and personal lives. This kind of holiday event can involve a few festive DIY activities, foods and decorations. If you want to go all-out, you can transform the office into Santa's workshop or a winter wonderland.
23. Ugly Sweater Party
If you're looking for office Christmas party themes 2022 employees will love, host an ugly sweater party. Ugly sweater parties are iconic low-budget office party ideas that will get everyone excited for the holiday break.
You can make your ugly sweater party a contest or simply a festive theme. An ugly sweater theme is especially convenient if you want to have an inclusive holiday work party — no matter what holidays someone celebrates during winter, they'll have a funny sweater to show off.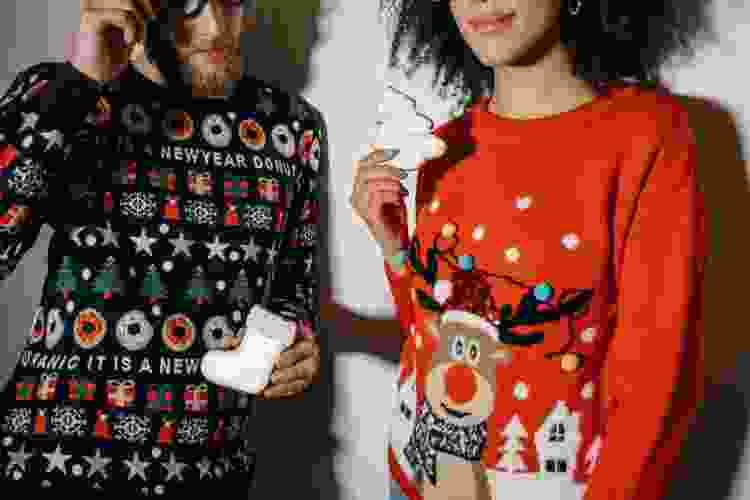 A great holiday party creates space in your work culture for joy, rest and friendship. Regardless of the size or budget of your holiday work party, you can use these ideas as a starting point to create a magical moment for your colleagues.
For even more fun gift ideas, check out other experiences happening on Classpop!