37 Creative Team Building Activities in NYC for 2022
Published on Jun 15th 2022
| 0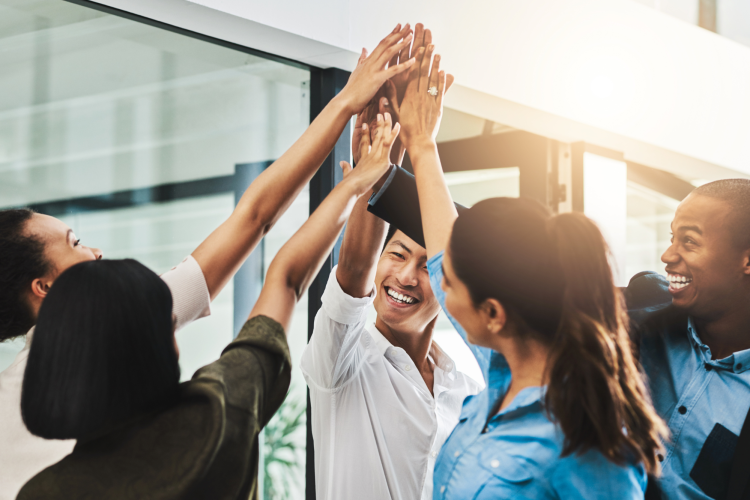 Engaging, creative team building activities in NYC are an effective way to bring a team together and encourage group cohesion. According to Forbes, team building "builds trust, mitigates conflict, encourages communication and increases collaboration."
This creates engaged employees who want to work hard. But what kind of group activities for adults are best for achieving this kind of engagement between colleagues?
There are endless possibilities, but the best team building activities simply bring your group together and provide an opportunity for relationship building. Read on for a list of fun team building activities in NYC for 2022!
Jump to Section
Culinary Team Building Activities in NYC
1. Take a Cooking Class
Gather your group for a culinary team building activity in NYC led by a top-rated chef to boost your team's sense of community. Whether you gather at a trendy local venue or the chef brings the fun to your own New York office, your team will love competing in challenges like fiesta flavors cooking competitions, making their own personalized pizzas and more!
There are also many other cooking classes in NYC for all tastes, from pasta making, to sushi, to Asian fusion and beyond.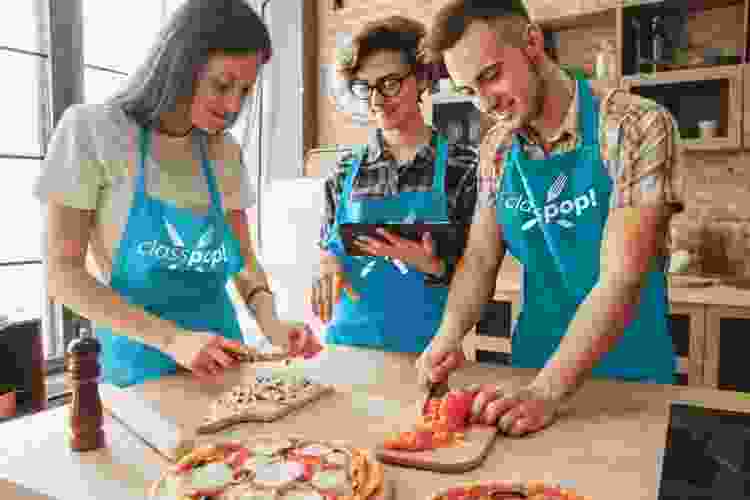 2. Gather Remote Teams With Online Cooking Classes
Remote teams can still enjoy meaningful team building activities in NYC through online cooking classes. In this experience cooking and team building in NYC, an esteemed chef will lead a live, interactive cooking class over video chat for your team members to join from anywhere in the world.
3. Chocolate Noise Chocolate Tasting
Create a custom chocolate tasting experience with Chocolate Noise NYC. The team at Chocolate Noise will work with you to create the perfect chocolate tasting experience for your group to create a fun team building event.
Creative Team Building Activities in NYC
4. Make Beautiful Pottery
Your team will get their hands dirty while making something beautiful with this group activity in NYC for adults: making pottery. Learn how to make pottery from an experienced potter in an interactive pottery class.
5. Take Dance Classes
For a creative team building activity in NYC, sign the group up for team building dance activities in NYC or other dance classes in NYC for an hour or two of music, dancing and laughter.
Get out of your comfort zone in events like Team Building With Your Co-Twerkers, host your own private dance party and more. Your team could even tune in to online dance classes from the office for an energizing lunch break!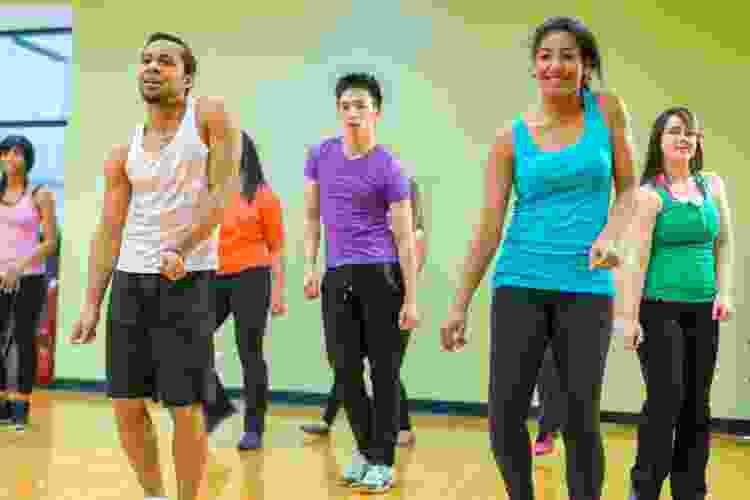 6. Get Creative in a Painting Class
For creative teams (or to spark creativity) consider taking a painting class together. An experienced artist will teach your group the basics of how to paint and give you space to explore the medium. For remote teams, try live online painting classes to get the creative juices flowing for your group.
7. Paint and Sip
Treat the team to a relaxing, fun evening of painting and sipping wine with paint and sip in NYC! Team members will follow an instructor's lead to paint a scene while sipping on a drink of choice.
8. Learn to Draw
An artistic team may be interested in learning how to draw (or learning more advanced techniques) by taking a team building drawing class. Live online drawing classes are also available for remote groups.
Unique Team Building Activities in NYC
9. Learn to Woodwork
For a hands-on team building event, take your group out for a few woodworking classes. An experienced woodworker will teach your team the basics of working with wood and lead you in a creative project.
10. Take Glass Blowing Classes
Learn this funky art form from a seasoned glassblower by taking your group to glass blowing classes. They will learn the art and science behind the art and enjoy an unforgettable few hours in the glassblowing studio together.
11. Snap Professional Pictures
Take your group to photography classes for a unique team building activity in NYC. They will learn how to take stunning photos using a professional camera or just their phones. Online photography classes are also available for teams who would prefer to tune in remotely.
12. Loosen Up with Acting Classes
Your team will loosen up, get in touch with their emotions, think on their feet and more by taking acting classes together as a fun, improv team building activity. Live and interactive online acting classes are also an option for your team building event.
13. Relaxing Yoga Class
Treat the team to a relaxing yoga class at the end of a busy season or a big project to help everyone relax, stretch out those muscles and feel refreshed.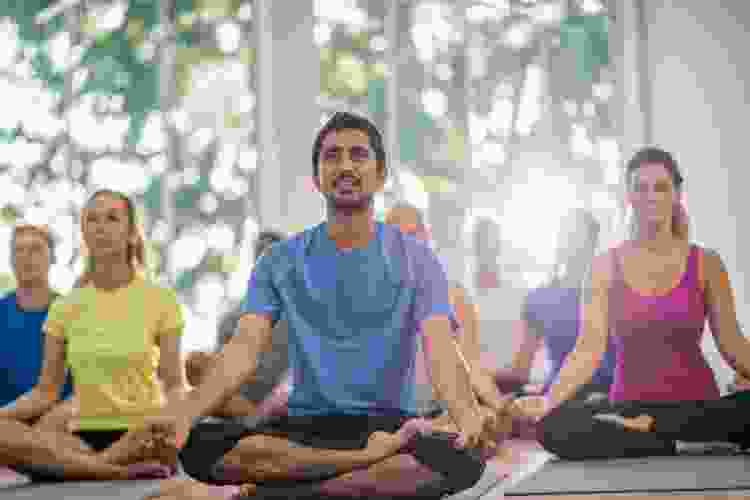 14. Museum Hack Tour
Museum Hack Tours are made for people who are interested in history and art, but don't necessarily like aimlessly wandering around museums. Engaging guides provide insight, fun games and more as they lead groups through museums like the MET.
15. Summit One Vanderbilt
Mirrors and glass make this thrilling group activity in Manhattan a surreal experience. Summit One Vanderbilt is one of the newest observation decks in the city, and offers a series of exhibits with views of the city that are meant to create a weightless feeling.
Virtual Team Building Activities in NYC
16. Shake Things Up in Online Mixology Classes
Fun team building activities in NYC for a close team are online mixology classes! Your group will learn how to mix, shake and stir cocktails from a mixologist in a live, interactive course.
17. Sip Through Virtual Wine Tasting Classes
Enjoy a virtual wine tasting for your next team building event. Gather your team for a live session led by a sommelier to learn how to taste wine and enjoy it (even more).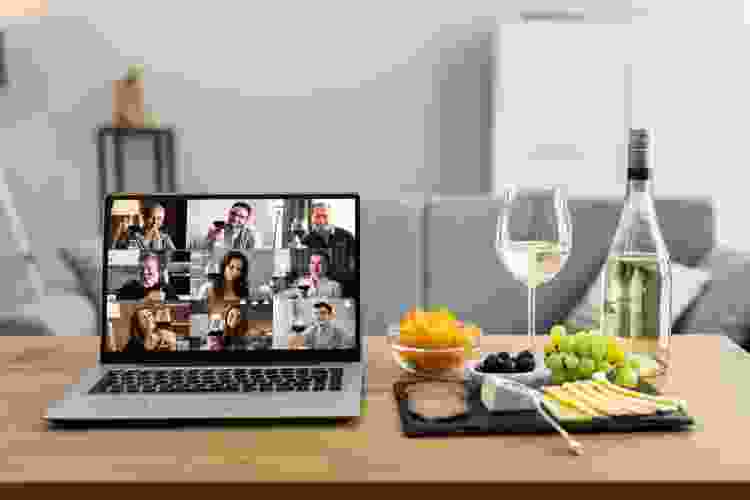 18. Take a Virtual Flower Arranging Class
For a creative team building activity in NYC, treat your team to a virtual flower arranging classes led by a florist. Learn the principles of floral design and create beautiful arrangements in a creative, fun group activity.
Game Team Building Activities in NYC
19. Book a Virtual Game Night
For a competitive crew, channel those energies into a fun virtual corporate event idea in NYC — a virtual game night! Compete in a murder mystery, bingo and more when you book a virtual game night hosted by a live MC.
20. Host an Online Trivia Game Night
See who knows the most about Harry Potter, The Office and other topics by hosting an online trivia games event for your team. These team building games in NYC happen live and online, perfect for a mid-day office treat or for gathering remote team members.
21. Beat the Bomb
At Beat the Bomb NYC, your team will play four high-tech games that include dodging lasers and solving puzzles, then try and disarm a paint bomb before you and your collegues get blasted in this team building game event in NYC!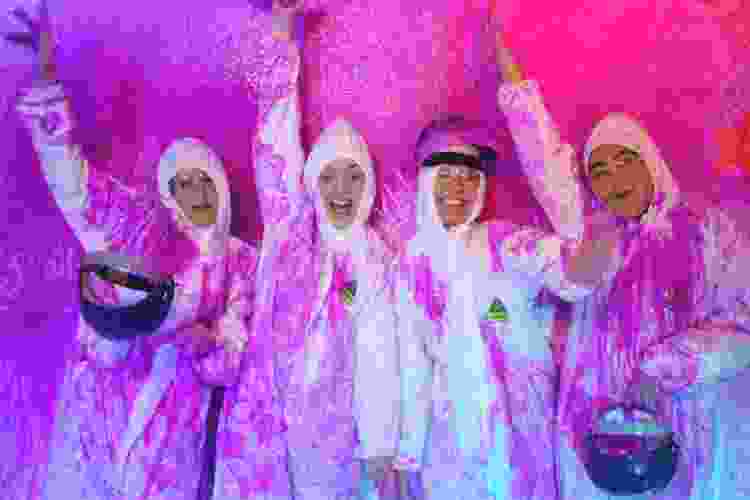 22. Bowl at Chelsea Piers
Take the group out for an evening bowling at Bowlero Chelsea Piers. Their corporate party option offers blacklight bowling, fantastic food and more. If you're looking for corporate event ideas in NYC, this would be an excellent option.
23. Cellar Dog
Team building in NYC offer a chance for your group to let loose and have fun at places like Cellar Dog, an adult arcade with games like pool, shuffleboard and Pac Man. The venue also books live jazz musicians and offers food and drink for purchase.
Corporate Team Building Activities in NYC
24. Complete a Virtual Scavenger Hunt
Teams can work collaboratively (or go head-to-head) with a virtual team building activity like virtual scavenger hunts. Teams will receive clues and challenges to complete an online scavenger hunt as they race against the clock to claim victory!
25. Escape a Virtual Escape Room
Work together to escape from a virtual "locked" room in a virtual escape room team building night. Your team will need to put their heads together to solve puzzles and interpret clues to escape from a themed virtual escape room.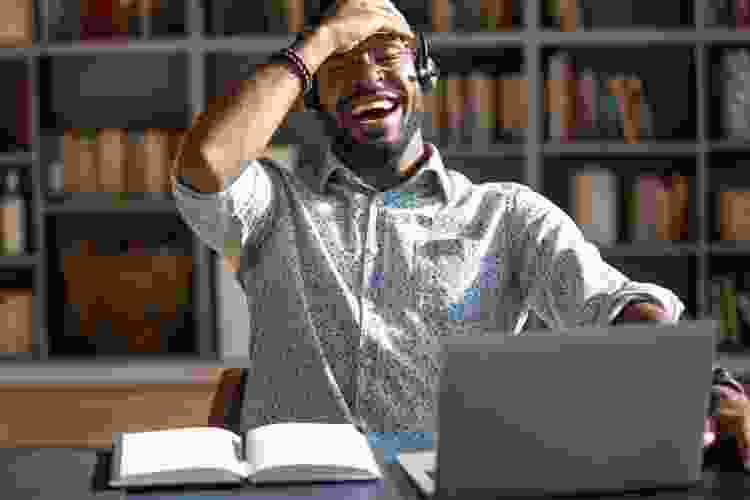 26. Throwback Fitness Play Day
For active teams, a "play day" with Throwback Fitness may be the perfect team building activity in NYC. The instructors at Throwback Fitness will lead your group through a series of fun outdoor games that will take you back to school field days.
27. Tour the Empire State Building
See the city from above at the top of the Empire State Building. Your team could have their breath taken away on the 86th floor open air deck or get floor-to-ceiling, glassed-in views from the 102nd floor.
28. Catch a Baseball Game
Bring the crew to a baseball game in the spring or summer for a team building event that supports the local home team. If they don't win, it's a shame!
Outdoor Team Building Activities in NYC
29. Tour the Statue of Liberty
Your team of New Yorkers may not have visited the Statue of Liberty in years (or perhaps not at all!). See one of NYC's top sites as a group and enjoy a day on the water as you see Lady Liberty with this patriotic group activity in Manhattan.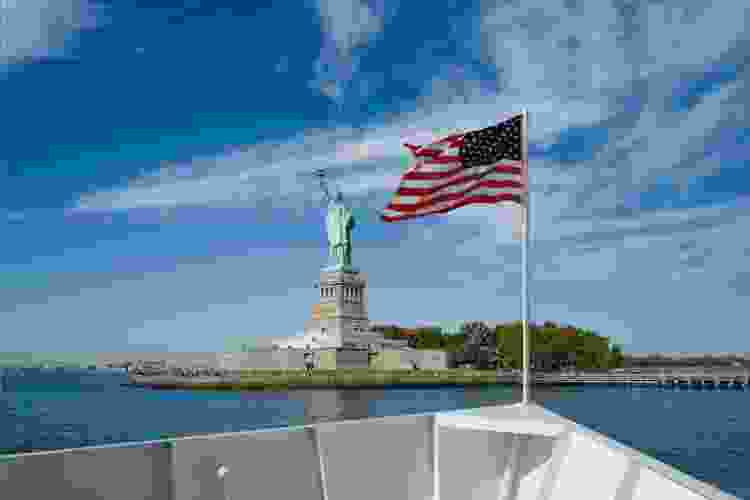 30. Stroll Central Park
On a beautiful spring or fall New York City day, spend an afternoon team building in Central Park. Team members can grab snacks from vendor carts, visit popular park spots or simply sit in the sun and relax. It's a great way to encourage a little R&R for teams who need a boost.
31. Visit Govenor's Island
In the warmer months, take the team to Govenor's Island for the day to enjoy outdoor activities and food. Your team members can explore historical sights, relax in hammocks in the Hammock Grove or grab food at the food trucks on Liggett Terrace.
32. Go on a Harbor Cruise
Enjoy a day on the water and impressive views of the NYC skyline while on a harbor cruise for your next team building activity in NYC.
33. Walk the High Line to Chelsea Market
There are more outdoor team building activities in NYC than you could do in a year — including a long walk on the revitalisted High Line. Your team will enjoy fresh air and beautifully landscaped scenery while walking on the High Line. End the walk with lunch at Chelsea Market.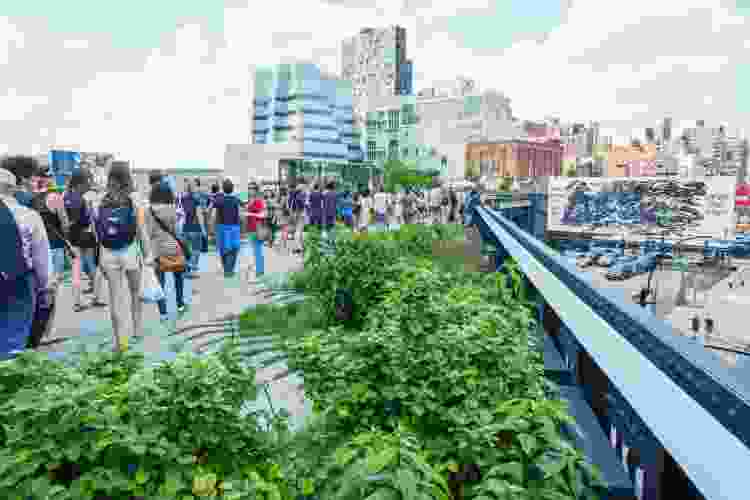 34. Hudson River Kayak Tour
Get outside and get the blood flowing with a kayak tour of the Hudson River! In this team building activity in NYC, your group will get a guided tour of the city's river while taking in fantastic Manhattan skyline views.
35. Tour the New York Botanical Garden
For a great group activity in NYC for adults, spend hours enjoying the beautiful botanical life on a team building trip to the New York Botanical Garden, located in the Bronx.
36. Spend the Day on Little Island
Little Island is one of NYC's newest greenspaces to enjoy. Take your team to this artificial island made of white, tulip-shaped structures where they can enjoy a picnic and a view of Manhattan.
37. Visit the Central Park Zoo
Enjoy a couple of hours of team building at the Central Park Zoo seeing the animals and enjoying the atmosphere for another outdoor team building activity in NYC.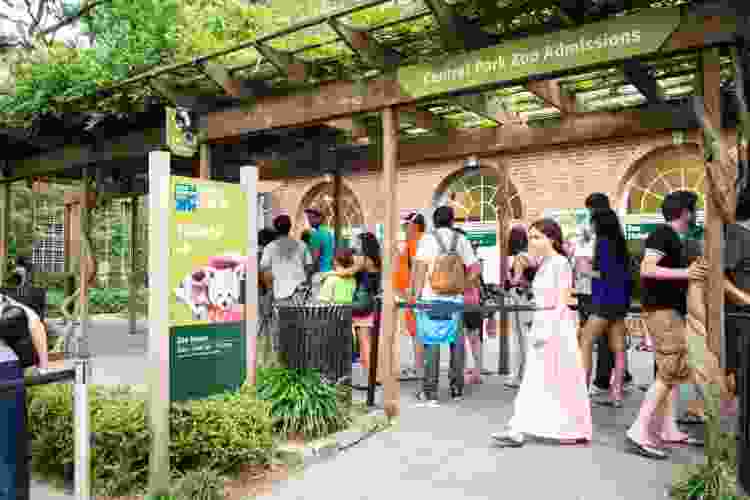 From popular corporate event ideas in NYC to low-key things to do in NYC with a group of friends and everything in between, we hope this list of team building activities in NYC contained an idea or two that would be perfect for your next team building event.
For even more fun team building ideas, check out other experiences happening on Classpop!