33 Inspiring Team Building Activities in Austin for 2022
Published on Jun 7th 2022
| 0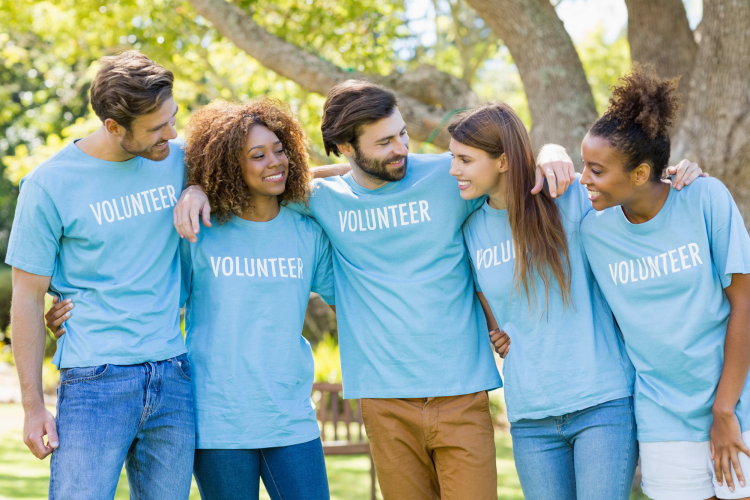 There is no shortage of unique and inspiring team building activities in Austin. With a vibrant arts and culture scene, mouthwatering cuisine and unforgettable outdoor experiences, Austin is brimming with fun opportunities to connect with your team!
Why is team building important? Team building activities are an integral part of the employee experience and developing a positive work culture, which Business News Daily reports is critical to attracting new employees as well as employee retention.
What are the top team building activities in Austin? From interactive activities for foodies and creative gatherings for virtual teams to memorable outdoor adventures and relaxing team building retreats in Texas, here are 33 inspiring team building activities in Austin.
Jump to Section
Foodie Team Building Activities in Austin
1. Cooking Classes
Austin is renowned for its iconic food scene from legendary barbecue to signature Tex-Mex. With cooking classes in Austin, your team will learn how to make delicious dishes with guidance from talented local chefs.
Or explore the wide array of fun culinary challenges, like a fiesty fiesta cooking competition or a sushi roll rivalry! Designed to be held in any location, these events can bring the heat right to your office. Find the perfect fit for your team with more exciting team building activities in Austin.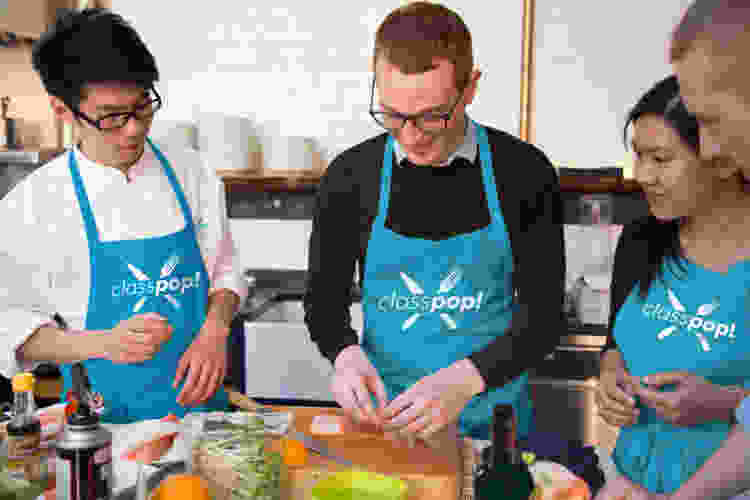 2. Online Cooking Classes
If your team is hybrid or remote, consider bringing everyone together with online cooking classes. These completely virtual events can be attended from anywhere, making them perfect for long-distance colleagues.
Choose from an array of lessons such as sushi-making, preparing fresh pasta or crafting a plant-based menu.
3. Online Mixology Classes
For a fun twist on company happy hour, invite your team to join online mixology classes. Learn tricks of the trade from top-rated mixologists who will help you level up your bartending skills while crafting classic and innovative cocktails.
4. Virtual Wine Tastings
Connect with your team as you sample and sip specially-selected wines with virtual wine tastings led by top chefs and sommeliers. Tastings are a fun and engaging way for teams to bond as they share their thoughts on each style of wine.
5. Food Tour
Explore the heart of Austin's culinary scene with a food tour. One of the best team bonding ideas in Austin, food tours are a great way to bring teams together while getting some exercise, learning about the local culture and history and enjoying the signature flavors of the city.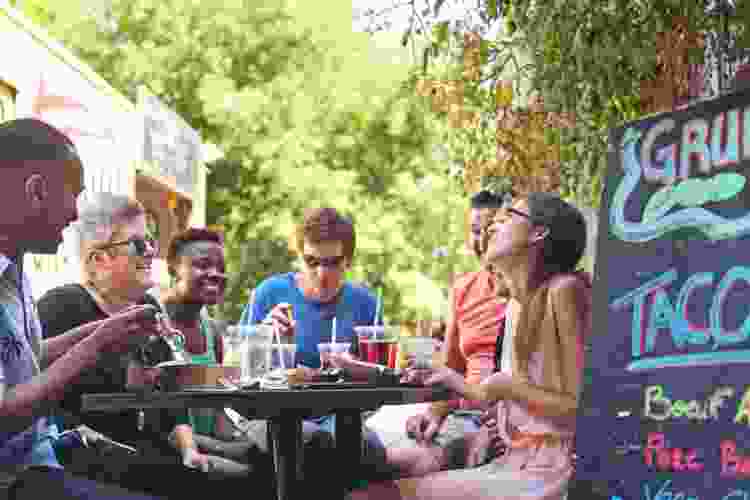 6. Cook-Off
Fire up your team's competitive side by hosting a cook-off. Find out who makes the best chili or crafts the most decadent desserts with a friendly cooking competition.
Other cook-off themed company party ideas in Austin might include a guacamole tasting, taco competition, team barbecue challenge and more.
7. Team Dinner
Experience the local cuisine together with a team dinner as you connect over delicious bites from street tacos or Korean barbecue.
With plenty of renowned restaurants to choose from whether you prefer a vibrant outdoor patio or cozy private dining room, you can select a restaurant with the atmosphere and cuisine that best suits your team.
Creative Team Building Activities in Austin
8. Dance Classes
Give your team a break from their desks as they experience joyful movement with dance classes in Austin or online dance classes. With a range of low-impact to high energy styles to choose from, dance classes are fun team building activities in Austin to consider for your next team event.
9. Pottery Classes
Pottery classes are a hands-on way to inspire your team's creativity. Shape and paint handmade souvenirs on the pottery wheel with this unique team building activity.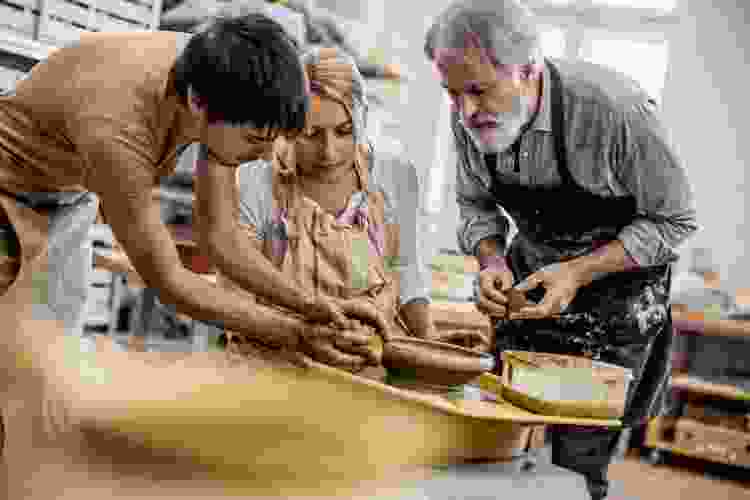 10. Drawing Classes
Drawing classes in Austin, or online drawing classes for remote teams, are led by top-rated artists and art teachers and offer a low-key environment for your team to channel their creative energy while supporting and encouraging one another.
11. Acting Classes
Strengthen your team's social and improvisation skills with acting classes and online acting classes for unique and memorable team building activities in Austin. Benefits of acting classes include improved communication, self-awareness, confidence and adaptability!
Relaxing Team Building Activities in Austin
12. Art Classes
Encourage your team to express their artistic side with relaxing art classes from watercolor or oil painting to sketching or sculpture. With a wide variety of types of art to explore, your team members might find a new skill or hobby that can help lower stress and calm their minds.
13. Painting Classes
There is something soothing about the way a paintbrush glides across a canvas. Invite your team to relax with painting classes and online painting classes with this tranquil team bonding idea.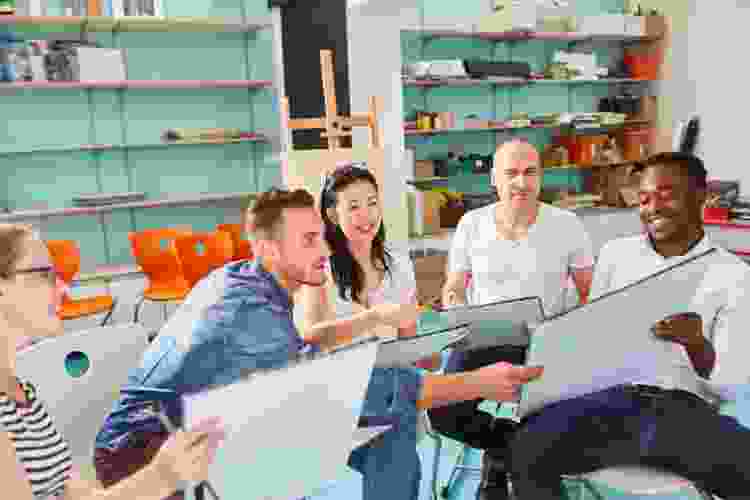 14. Paint and Sip
Paint and sip events are fun, low-stress activity that offer a great way for your team to unwind, especially after completing an intense project or period of high productivity.
Combining two of the best team building activities in Austin, painting and sipping wine makes for a relaxing event that includes a hand-painted souvenir!
15. Sewing Classes
Sewing has seen a resurgence of interest over the past several years with everyone from survivalists to cosplayers learning this helpful skill. Discover your team's interests and perhaps even secret talents with these unconventional team building activities in Austin.
16. Virtual Flower Arranging Classes
Adding a little greenery to a space can enhance your mood by livening up your environment with a splash of color. Learn how to prepare fresh, bountiful bouquets or floral centerpieces as a team with virtual flower arranging classes.
These team building activities are a great way to challenge the mind as you consider color, shapes and height while composing your floral designs.
17. Team Picnic
If you are looking for outdoor team building places that get your team out of the office, consider a modern twist on the classic company picnic in the park.
Tailor company party ideas in Austin like these to reflect the personality of your team. With plenty of green spaces or waterfronts to choose from such as Zilker Park or Auditorium Shores, you can gather your team for some fresh air, field day games and a picnic potluck.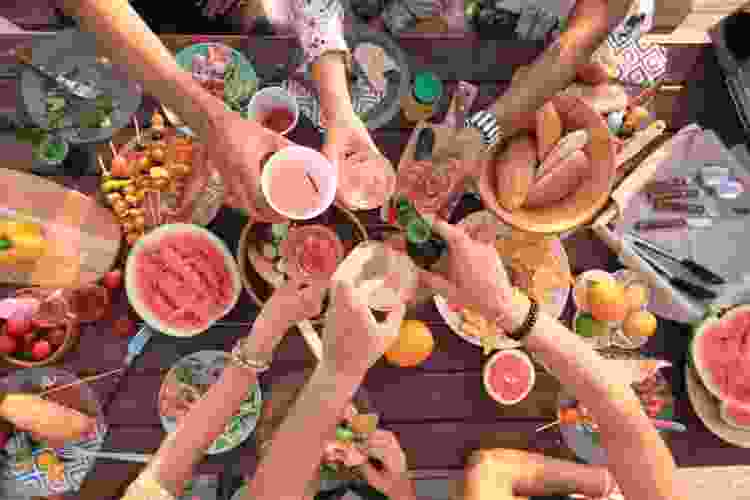 18. River Cruise
Invite your team for a relaxing day on the water with a charming river cruise. Your team can connect with one another while enjoying the natural beauty of the area as the boat meanders along the river during this corporate team building in Austin.
Outdoor Team Building Activities in Austin
19. Woodworking Classes
Woodworking classes are hands-on activites for adults in Austin that help fine tune skills such as concentration, spatial awareness and artistic finesse. Your team can create custom pieces of handcrafted art with out of the box Austin team building activities like these.
20. Glass Blowing Classes
Experience the impressive and entrancing art of glass blowing with these unforgettable team building activities in Austin. Your team can connect throughout this unique activity while they create beautiful handmade glass keepsakes.
21. Adventure Course
Challenge your team to take on an adventure course for one of the best team building activities in Austin. Fun activities in Austin for adults like the zipline at Zip Lost Pines are a great way for your team to bond as they get their hearts pumping and support each other through the experience.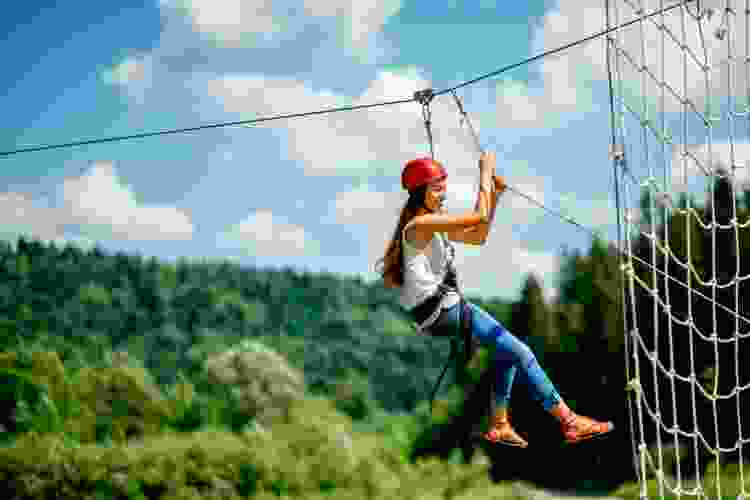 22. Obstacle Course
Build leadership and camaraderie with outdoor team building activities in Austin such as an obstacle course like the ones by MYLO Obstacle Fitness. Work together to solve physical and mental challenges to make your way through the course.
Some obstacle course companies have pre-planned corporate team building activities in Austin that you can choose or you can work with their groups or events team to tailor the activities to fit your needs.
23. Day at the Ranch
Lean into quintessential Texan culture with a day at the ranch. Venues such as Lone Star Ranch host some of the top team building retreats in Texas with a variety of fun experiences from horseback riding to rodeo shows.
24. Go for a Hike
From a gentle stroll along Lady Bird Lake to hiking past the waterfalls and along the forest trails of the Greenbelt, gathering your team for outdoor team building activities in Austin like a leisurely hike can be a rejuvenating experience.
With this self-paced activity, your team will have a chance to connect while enjoying the fresh air and some easy movement.
Virtual Team Building Activities in Austin
25. Virtual Game Nights
With a growing number of employees working outside of the office, finding engaging team building activities that everyone can participate in can be a challenge.
Virtual game nights are a fun, online activity that the entire team can experience from wherever they are based. Energetic hosts challenge your team to bingo, virtual game shows and more.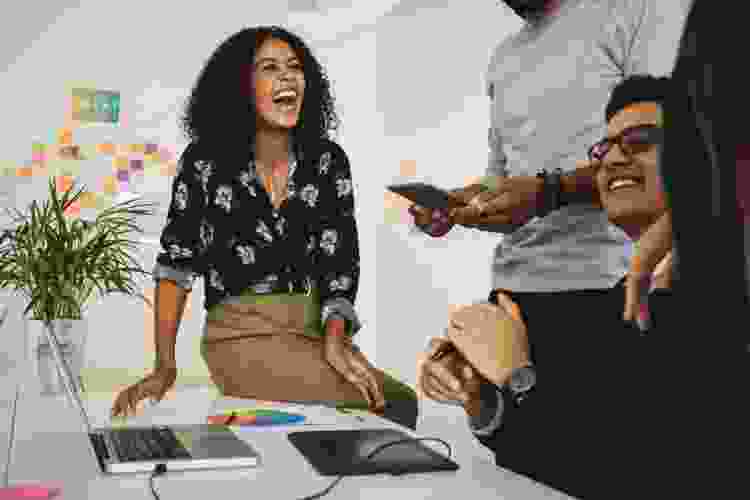 26. Online Trivia Games
Online trivia games are a fun way to test your team's knowledge with a little friendly competition. Your group will have to think fast as they answer trivia questions in categories from pop culture to foodie knowledge.
27. Virtual Escape Rooms
Remote teams can still work together to solve riddles and puzzles as they conquer virtual escape rooms. Choose from a variety of themed adventures that challenge your team to use teamwork, communication and logic to crack the clues and escape.
28. Virtual Scavenger Hunts
Virtual scavenger hunts are fun and entertaining online team building activities perfect for remote groups. Energetic hosts will challenge your team to search for secret items, decipher clues and complete checklists to beat the clock and claim victory in this unique team building event.
Small Team Building Activities in Austin
29. Photography Classes
Photography classes in Austin as well as online photography classes for teams that telecommute are perfect team building activities for small groups. Practicing photography trains the mind to look at the world from different perspectives, which may enhance problem solving and creative thinking!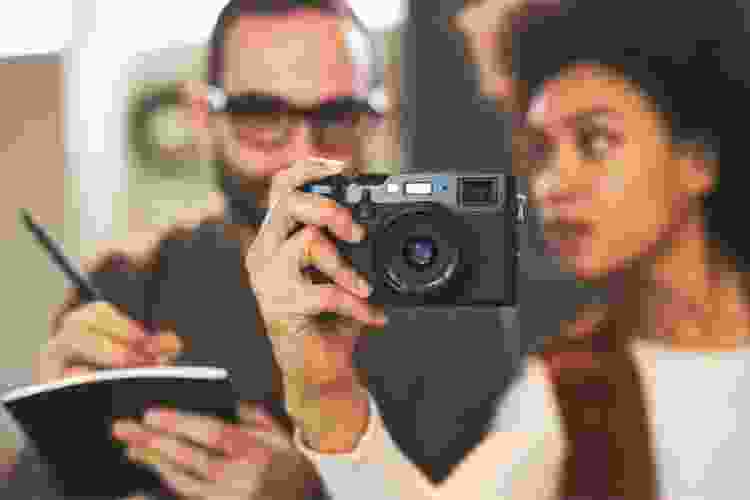 30. Museum of the Weird
Challenge the status quo of corporate team building activities in Austin with a visit to the Museum of the Weird.
This most unusual of Austin activities invites your team to think beyond what is considered normal and embrace the mysteries of the unknown. Enjoy the intriguing stories and unexpected oddities gathered in this colorful museum.
31. Volunteer
Many charity organizations welcome corporate team building in Austin with opportunities to give back to the local community.
With Austin activities that support local causes, your team can build camaraderie while volunteering in community gardens, food banks, neighborhood clean-ups and more.
32. Explore Local Art and Culture
With a variety of museums, cultural centers and art galleries to discover, exploring local art and cultural Austin activities can inspire a range of memorable team building experiences.
Browse the Blanton Museum of Art to cultivate creativity or learn about the history and experience of indigenous and Latino people at the Emma S. Barrientos Mexican American Cultural Center.
33. Book Club
Book clubs are great team building activities for small groups and remote colleagues that promote connection and strengthen communication. Learn more about your teammates as you rotate choosing books and discuss different topics and genres.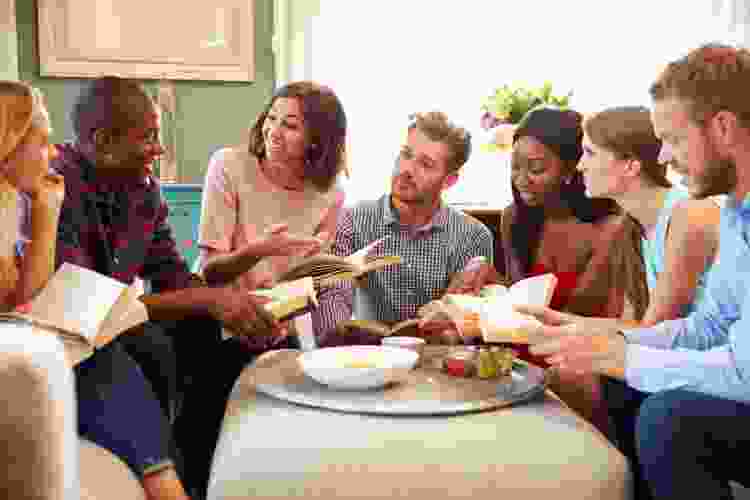 No matter which industry you work in, these fun team building ideas offer refreshing alternatives to traditional corporate conferences and overused icebreakers.
These inspiring team building activities in Austin will challenge and encourage your team to think, laugh out loud, learn new skills and create special memories while growing as professionals.
For even more fun team building ideas, check out other experiences happening on Classpop!