How to Plan a Birthday Party: 39 Best Tips for 2023
Last Updated on Nov 1st 2023
| 0
Our editorial team recommends the best products through independent research, selection and careful review. If you make a purchase through one of our affiliate links, we may earn a commission. Prices are subject to change.
Are you wondering how to plan a birthday party for a friend, family member or coworker? Birthday parties are an important rite of passage that should be celebrated. They allow the person to feel special and appreciated as well as realize how much their friends and family care about them.
Learning how to plan a birthday party that is stress-free can seem like an impossible task. We're here to make it simple! So, put away the stress balls and check out some of our ideas for ways to plan a birthday party that guests will enjoy.
According to the Journal of Public Policy & Marketing, "celebrations reinforce participants' social support...social support is associated with a wide array of health benefits such as...improved sleep quality, better mental health and decreased levels of anxiety and depression."
So, there you have it! Parties are good for you. We'll teach you how to plan a birthday party step by step, and even share fun themes and venue options for the best sweet 16 party ideas, 50th birthday ideas and every year in between.
Whether you're wondering how to throw an extravagant soiree or leaning to the "how do you plan a simple birthday party?" side, our guide will help you plan every last detail.
Jump to Section
Party Planning Ideas: 2-3 Months Prior
1. Start With the Time, Date, Theme and Venue
Once you decide the best time and date for the birthday party, your next task is to choose a theme and venue. Having a theme is the best way to get started with organizing your party. It gives you a plan for food, decorations, invitations and activities and can even help with venue choice.
Themes can range from movies and TV shows (could a Friends theme be any more fun?) to Golden Globes, music, sporting events and hobbies like gardening, horseback riding, painting or dancing.
So, what are good ideas for birthday party venues and themes? Keep reading for some inspiration for the best theme party ideas and venue spaces that make your party planning process as simple as possible.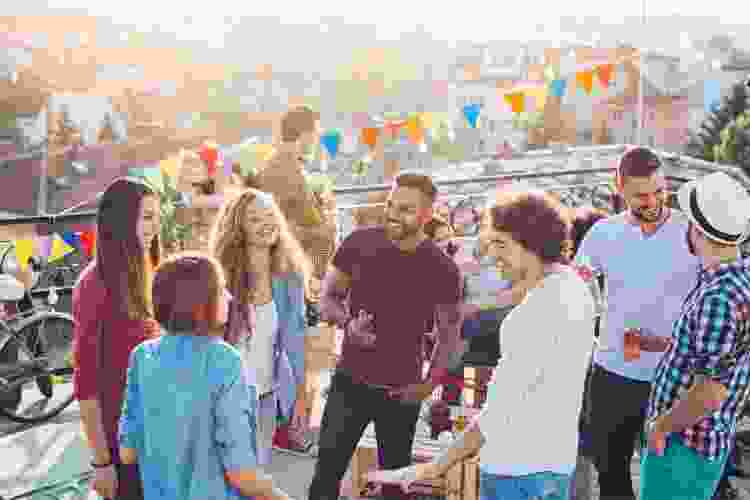 2. Paint and Sip Party
Booking a paint and sip session is one of the best tips for how to plan a birthday party for adults. From paint and sip in Los Angeles and paint and sip in San Diego to paint and sip in Atlanta, your guests will spend a fun and interactive evening learning how to choose colors, shade and outline like a pro.
Experienced art instructors lead these classes, which are designed for all ages and group sizes. Plus, this takes care of your venue and activity in one swift brushstroke! Check out paint and sip near you to get started.
3. Pottery Painting Party
Pottery classes and events are a unique way to get everyone involved and learn a new skill, making it a wonderful idea for how to plan a birthday party with ease.
With pottery classes in Chicago, pottery classes in Portland or pottery classes in the Bay Area, party guests will learn how to shape, throw or hand-form lumps of clay into vases, mugs or fun sculptures. You can also find cute pottery painting ideas for creative paint party ideas for adults.
Check out a wide variety of pottery classes near you to get started on learning how to plan a birthday party that guests will love.
Join our email list for exclusive deals, local events and fun inspiration for living a more creative life.
4. Dance Party 
Whether you're wondering how to plan a birthday party for adults or teens, the answer is to make it fun. Shake things up with a dance class birthday party.
From dance classes in Nashville to dance classes in NYC and dance classes in Las Vegas, experienced instructors can teach your guests how to perform ballet moves, salsa steps or hip hop, line dancing and jazz moves.
Book dance classes near you to find the perfect class for your party. Looking for a virtual event? Online dance classes make terrific virtual birthday party ideas as well.
5. Murder Mystery Party 
These murder mystery games are an easy answer to your how to plan a birthday party questions. Play online or in person and with up to 20 guests. It offers an opportunity to dress up for the theme and an activity to keep guests entertained all in one.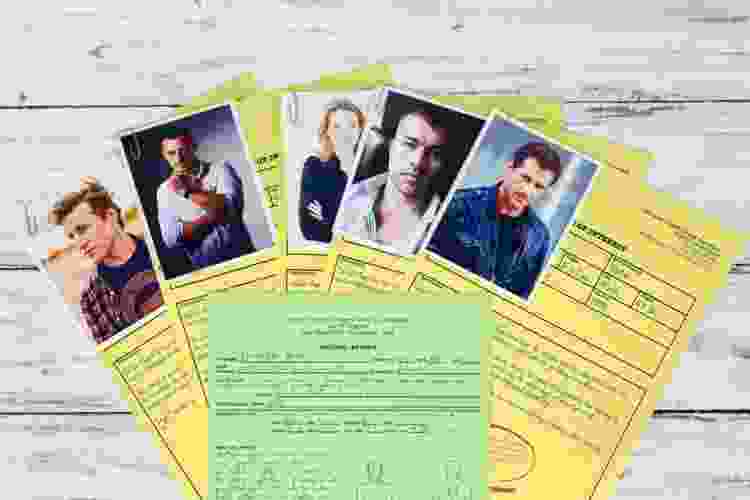 6. Garden Party
If the birthday girl is an expert gardener, consider a garden-inspired party in your backyard or at a local botanical garden.
Decorate with trellises and potted plants and serve platters of finger sandwiches, scones and fruit. This is a terrific idea for how to plan a birthday party as you can use items already in the garden.
7. Western Party
Is the birthday guy or girl an avid horseback rider? A party at a ranch or barn is a terrific theme for a birthday party. Decorate with hay bales, horseshoes and lots of burlap and twine. Learn how to line dance, break out the Western wear and cowboy boots and book a country band.
8. Sports Party
Wondering how to plan a birthday party for a sports fan? Go all out with their favorite college or pro team colors. Have fun with the food and think about football, soccer ball, basketball or even hockey-inspired pastry products.
Party Planning Ideas: 1 Month Prior
One month before the event, you'll want to send your invitations, plan and order food, plan and book activities, and buy or make décor. You can order food from catering companies and local grocery stores, or you can prepare items yourself.
Better yet, choose from these exciting activities that combine food, fun and games all into one with these hacks for how to plan birthday party menus and activities with ease.
9. Plan the Menu With Cooking Classes
Treat your guests to birthday parties where they'll learn how to mince, chop, broil and grill. Whether it's cooking classes in Tampa, cooking classes in Chicago or cooking classes in Boulder, they can bake cookies, make homemade pasta or create a four-course Italian seafood menu.
Look into cooking classes near you to find fun and interactive classes while you're learning how to plan birthday parties.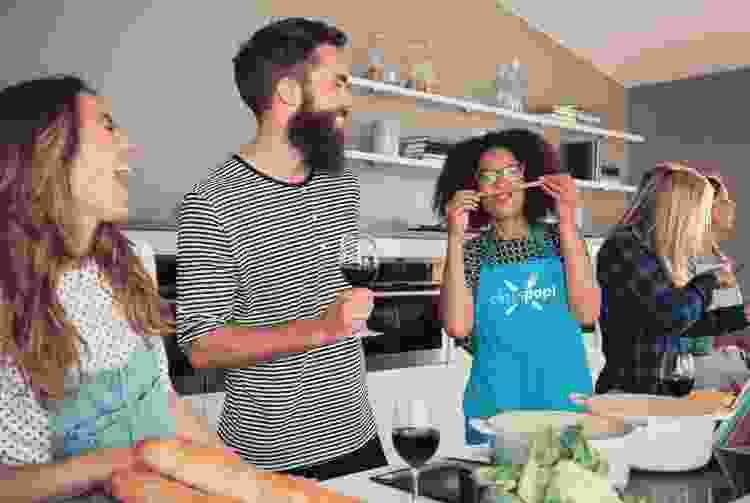 10. Online Mixology Classes
Looking for 21st birthday party ideas? Get the party going with online mixology classes. Partygoers join expert bartenders who will teach them how to stir, shake, mix and muddle a variety of tropical and classic cocktails.
On the other hand, you could brush up on your own bartender skills with these fun classes that will help you on your quest to learn how to plan a birthday party.
11. Virtual Wine Tasting
A virtual wine tasting is an excellent choice for a wine aficionado's 60th birthday party ideas or even for birthday date ideas. World-class sommeliers lead sessions on wine pairing, grape varieties and more while guests sip and learn the difference between cabernet, chardonnay and Riesling.
12. Virtual Game Night
How do you plan a fun birthday party at home? A virtual game night is a great activity for everything from 17 birthday ideas and adult birthday party ideas to golden birthday ideas and beyond. With the help of a handy mobile device, guests can join virtual games around the world.
13. Online Trivia Games
Choose online trivia games if you're at a standstill on how to plan a birthday party. Guests can challenge each other and show off their knowledge about world events, sports, music and movies.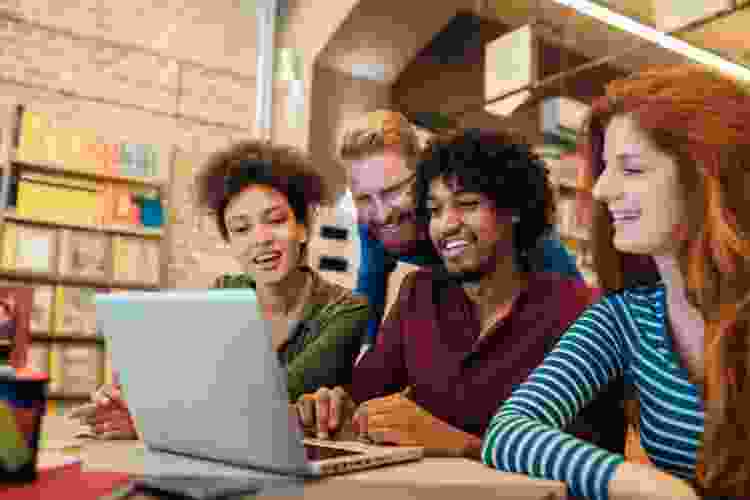 14. Virtual Scavenger Hunt
A virtual scavenger hunt allows guests to hunt for clues all over the world from the comfort of your own living room. Join cyber hunts or search for clues around the house.
15. Virtual Escape Rooms
Virtual escape rooms are a fun and interactive way to celebrate a milestone birthday. Guests join virtual hosts who lead them as they solve riddles and find clues. Be the first to escape the virtual world with themes like wizards, spies and bank robbers.
16. Finalize Décor
Flowers are an easy way to bring cheer to a celebration. Booking virtual flower arranging classes is a terrific way to up the wow factor at your party. You'll learn how to make centerpieces, wreaths, corsages, floral crowns and bouquets to take the event to the next level.
Take cues from the official flower or birthstone of the month. For example, an April birthday could be blooming with daisies and all things yellow, while June overflows with roses and honeysuckle.
Party Planning Ideas: 1 Week Prior
The week before the event, make sure you have all the details worked out so you're not stressed out on the day of. Trying to stay stress-free is our best advice for how to plan a birthday party where you'll have as much fun as the birthday person and the guests.
17. Order Up
Order baked goods like a birthday cake, pie or cupcakes. Make sure you have a plan for delivery and where to store cold desserts to make sure they are the right temperature and consistency come cake time.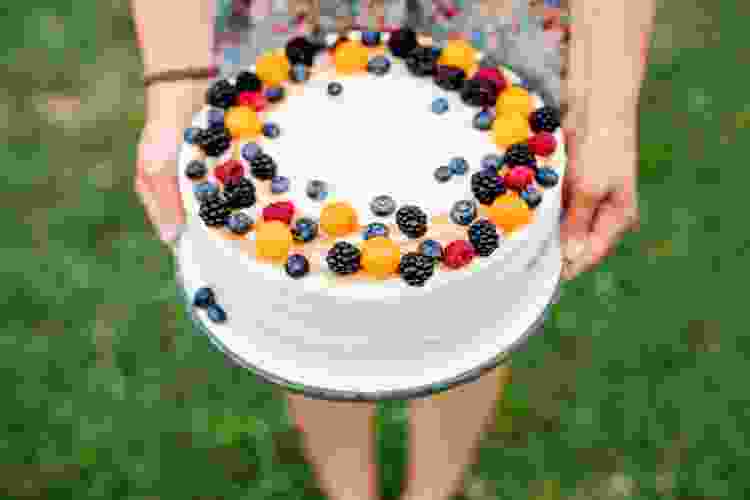 18. Food and Beverages
If you're not working with a caterer, purchase food items and ingredients. If you planned ahead and booked a cooking class, mixology class or wine tasting, your food and beverages will already be included in your party activity!
19. Adult Beverages
Purchase wine, beer, plenty of bottled water and soft drinks. Don't forget to include ice and any beverage garnishes, like lemons or cherries. If you plan to serve liquor, make sure you plan for liquor licenses at your venue in advance.
If you're serving at home, be sure to include mixers like club soda, Diet Coke or other popular preferences.
20. Follow Up on RSVPs
Finalize the guest list by following up with anyone you haven't heard from yet.
21. Ask for Assistance
Enlist assistance to pick up orders, set up, clean up and help with the organization and flow of the party. This is one of the best tips for planning a low-stress, smooth-running event.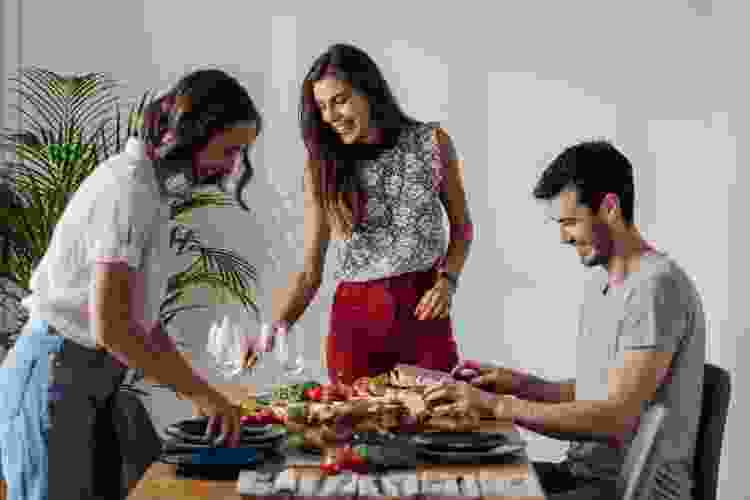 22. Get Social With a Hashtag
If your group is into the social media scene, create a fun hashtag for the event. That way, guests can share all the planned and unplanned photos from the party. 
23. Organize Party Stations
While you're getting social, consider photo backdrops, props and accessories for guests to have fun with selfies or groupies. Make a plan for other stations, such as where the food station will be set up, where any dancing will take place, etc.
Party Planning Ideas: Day of Event
24. Keep It Cool
Remember to supply ice, along with coolers and ice buckets to keep the ice from melting throughout the event. 
25. Get Decorative
Set up decorations, centerpieces and tables. You can DIY your own paper pendants or shop for themed party decorations at your favorite party supply store. 
26. Meet Up With the Entertainment
If you want to know how to plan birthday parties with less stress, keep following up with any vendors or entertainers. Meet DJs, bands and other hired entertainment to show them where to set up. Be sure to plan for any equipment or technology needs, like outlets, lighting, etc. 
27. Birthday Party Order
To alleviate any worries about what is the order of a birthday party, write up a quick order of events. You'll want to welcome guests, plan some ice breaker games and allow plenty of time for snacking and drinking.
If you want to know how to plan a surprise birthday party, be sure to plan distractions and hiding spots ahead of time to make sure the surprise goes off without a hitch. 
Finally, the birthday cake usually comes toward the end of the event, but it's not a hard and fast rule. Cake is good any time!
How to Plan a Birthday Party on a Budget
Party planning can easily get out of hand with all the cool decorations, yummy treats and fun activities available. You'll want to set a budget and stick with it when dealing with how to plan a birthday party decisions.
28. Itemized Lists
Break down each part of the event (invitations, food, activities, decorations, etc.), then decide how much you want to spend on each to come up with an overall budget.
29. Virtual Activities 
Planning virtual events is a budget-friendly approach to traditional activities like bowling, mini golf or ax throwing and going out for dinner and drinks.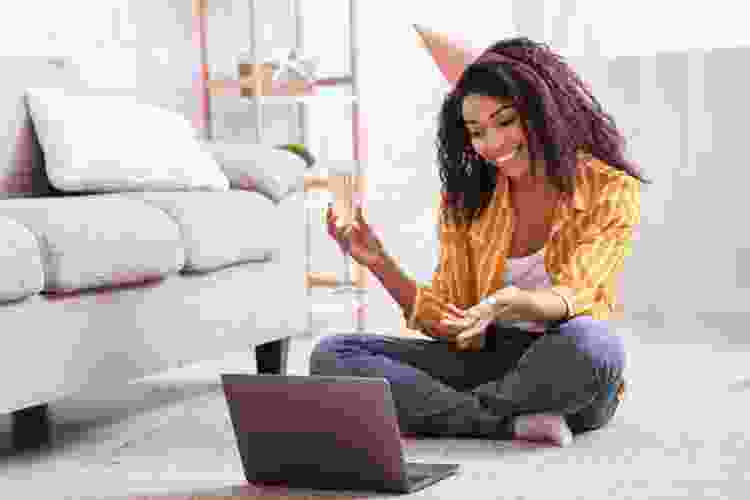 30. Guest List
Keeping the guest list small will help with staying on budget. Narrow down your guest list to people you know will likely be able to attend and who you know will enjoy being there as much as the birthday celebrant will enjoy having them there.
31. Reuse, Borrow and Recycle
Reuse or borrow decorations if you're looking for pro tips on how to plan a birthday party on a budget. Turn a colorful tablecloth you already have into a DIY photo backdrop or borrow some leftover party decorations from a friend.
32. Keep the Menu Small
If you want to know how to plan a birthday party on a budget, consider cutting down the menu. Serving finger food and appetizers is just as fun and delicious as a full spread. Or make it a potluck and have everyone bring their own favorite dish!
33. Have a Party at Home
If you're wondering how can I arrange my birthday party at home, go with that idea since using your home as the party venue is another way to stay on budget.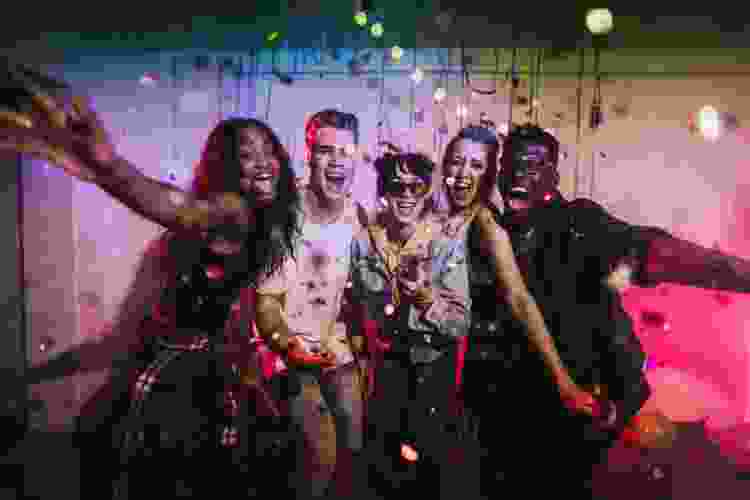 Party Planning Checklist
34. Make a Checklist
While you're in how to plan a party mode, it's time to make a checklist. This How to Plan a Birthday Party checklist will keep you organized and prevent you from forgetting any important details, like the following.
35. Venue Access
Find out what time you can enter the venue (if you're not having the party at someone's home) to start setting up. You'll also want to find out what time you'll need to be out of the venue.
36. Venue Parking
Check into what the parking situation is at the venue. Is there a designated parking lot? Will you need to hire a valet, or can you enlist the help of a friend to assist with the parking process?
37. Birthday Party List for Teens
If it's a checklist for birthday party ideas for teens, you'll want to check off things like picking up balloons and streamers, ordering a cake or cupcakes, and booking fun activities like dance classes, painting sessions or cooking classes for teens — essentially the same list you'd have for an adult party, minus the alcohol.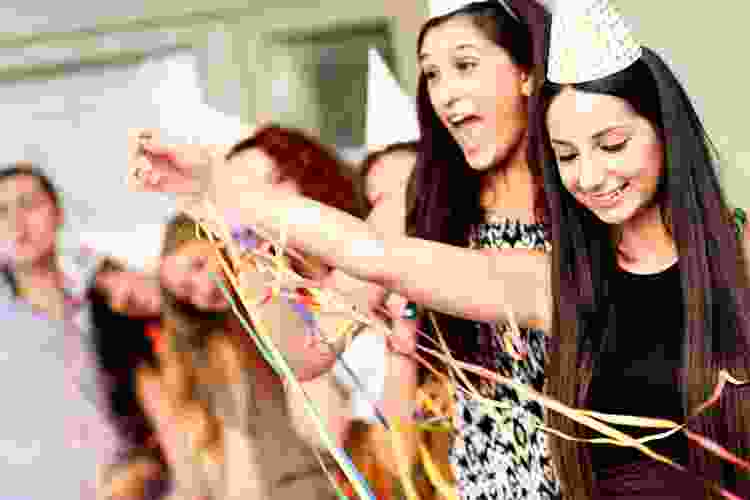 38. Birthday Party List for Adults
Similarly, a birthday party checklist for adults could include things like buying wine and beer, booking DJs and entertainment and decorating the venue. If you plan to serve alcohol, make sure ahead of time that the venue has the proper certifications to do so.
39. More Event Planning Checklist Ideas
Some of the things you need for a birthday party that you'll want to add to your How to Plan a Birthday Party checklist include:
Date and Time
Venue
Theme
Budget
Guest List
Activities, Games and Entertainment
Invitations and RSVPs
Plates, Cups, Napkins and Flatware
Food, Beverages and Ice
Cake
Music
Lighting
Tables and Chairs
Organized Stations (Gift Station, Food Station, etc.)
Party Favors
Balloons, Streamers, Tablecloths, Centerpieces and Other Décor
Plan for After-Party Cleanup 
So, how do you give a good birthday party? Whatever the budget, hobbies or interests, our party planning guide and tips offer a good way to get the planning process started and answer your questions. It will be a fun and memorable event whether you're planning a party for 50 guests or a family of five.
Don't let the task of mastering how to plan a birthday party get the best of you. By using our tips, suggestions and event planning checklist, your party will go off without a hitch.
For even more fun party ideas and inspiration, check out other experiences happening on Classpop!