50 Best 50th Birthday Ideas
Published on Aug 31st 2021
| 0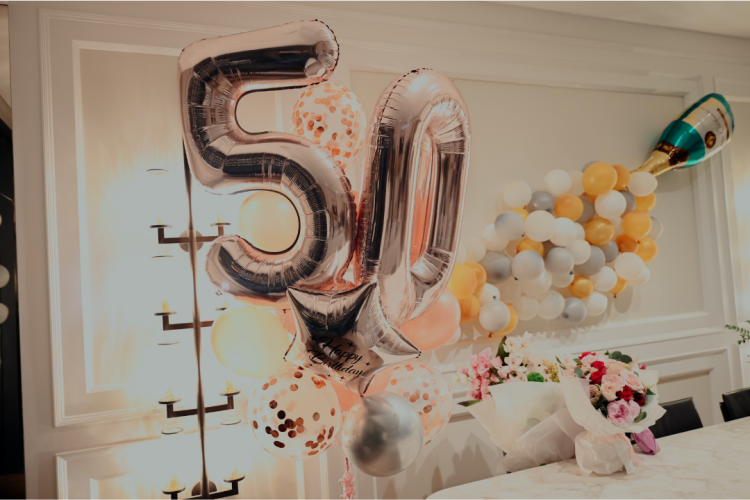 Looking for the best 50th birthday ideas? The best 50th birthday ideas offer even more great reasons to surround yourself with friends and family, create new memories, commemorate the half-century you've lived so far and have some fun while you're at it. You deserve a special and extraordinary 50th birthday party to kick off the new decade ahead. Here are 50 of the best 50th birthday ideas to help make it happen!
Jump to Section
50th Birthday Party Classes
1. Celebrate With a Cooking Class
Cook up a fun, one-of-a-kind 50th birthday idea by joining world-class chefs at local venues. You'll learn new and exciting dishes and hone your kitchen skills while you sip on your favorite drink.
Whether you are looking to learn how to make your own pasta, are interested in the mastering art of sushi or want to take a culinary journey through Southeast Asia, cooking classes are a great 50th birthday idea.
You can find cooking classes in Portland, cooking classes in Boston, cooking classes in Boulder and beyond. Browse all cooking classes near you today.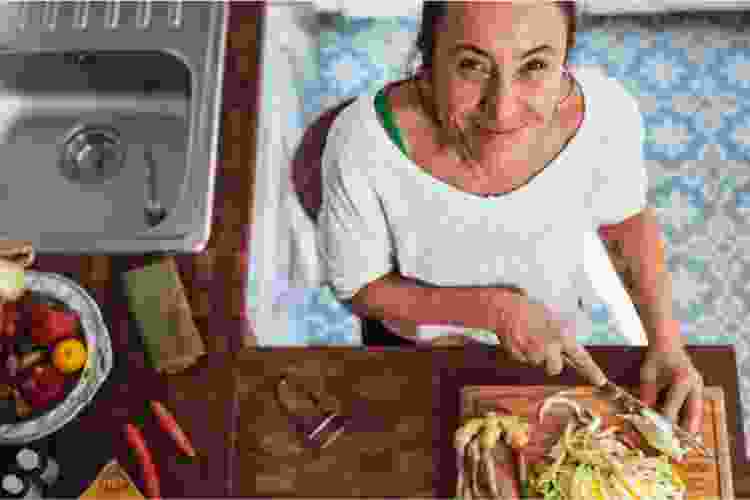 2. Take an Online Cooking Class
For unique and fun 50th birthday party idea, try participating in an online cooking class. Gather your group of food-loving friends or family and immerse yourselves in a virtual and interactive culinary experience.
Learn new techniques, tips and tricks for the kitchen in the best Zoom cooking classes that will serve you well in your next half-century!
Follow along with a professional chef as your learn how to make delicious dishes such as fresh homemade pasta, handrolled sushi or a fabulous crème brûlée all from the comfort of your home.
3. Shake Things Up in a Mixology Class
For some, the bar-scene birthday may be so last decade. Shake things up this year by taking your drink of choice to the next level. For an especially unique 50th birthday idea, how about learning to create your own signature cocktails with online mixology classes?
Add a little sophistication and creativity to your celebration this year; after all, you only turn 50 once!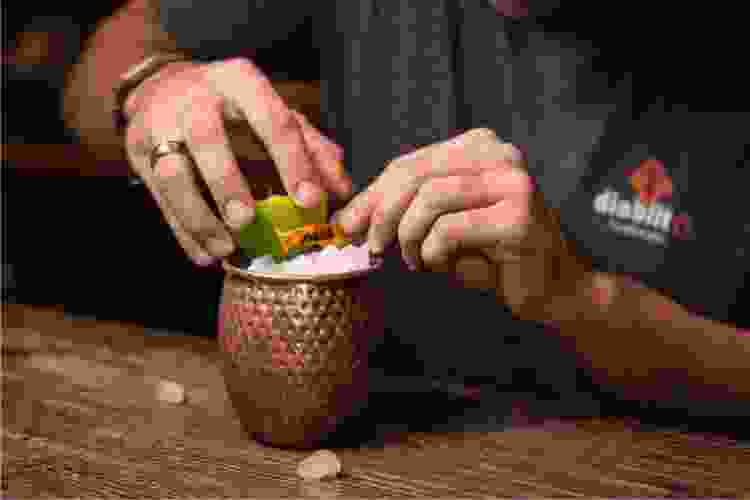 4. Register for an Art Class
Speaking of getting creative, why not leave your mark by creating a work of art in fun and interactive art classes? Or, pair your art lesson with your favorite vino in paint and sip in Boston, paint and sip in Los Angeles, paint and sip in San Diego or paint and sip near you for a fun night of brushstrokes and bubbly!
If painting isn't for you or you'd rather create from home, draw a self-portrait or sharpen your photography skills with the guidance of experienced and enthusiastic artists in other classes like online painting classes, online photography classes, online drawing classes and more.
You can even create vases, bowls, mugs and other functional artworks with pottery classes in San Diego, pottery classes in San Francisco, pottery classes in the Bay area or pottery classes near you. The artisitic possibilities are truly endless!
5. Sign Up for a Performing Arts Class
Signing up for a performing arts class is a fun 50th birthday idea with a wide range of options, including online dance classes, online acting classes and beyond!
Whether you choose an in-person class, such as dance classes in Orlando, dance classes in Los Angeles or dance classes in San Diego, or an online performing arts class experience, you'll head into your next decade with a brand-new set of skills to show off!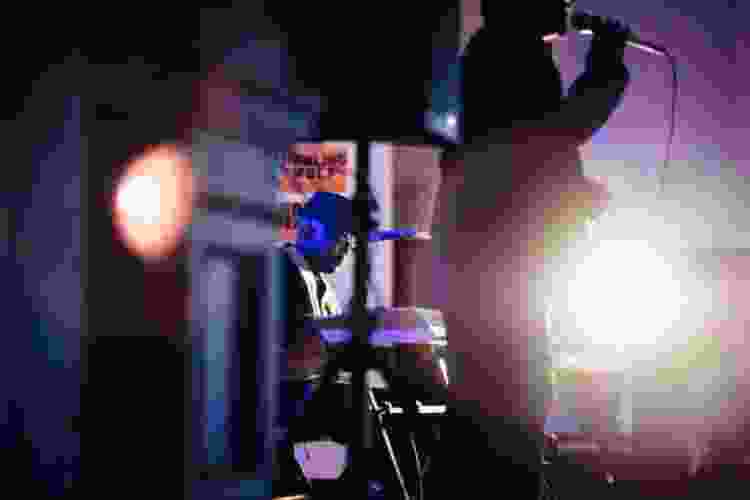 6. Register for a Virtual Flower Arranging Class
Turns out there is much more to flower arranging than simple birthday bouquets!
Whether you want to learn how to create cascading centerpieces, how to create one-of-a-kind crafts with dried botanicals or simply want to learn how to display your garden's bounty, virtual flower arranging classes are a great 50th birthday idea.
7. Take a Cake Decorating Class
Treat yourself with this tasty 50th birthday party idea! By taking an online cake decorating class, you can make the birthday cake of your dreams.
You'll learn from professinal bakers the step-by-step process of making a cake worth gathering around, from best ingredients to perfecting your buttercream texture, to assembling, garnishing and, of course, tasting!
Explore cooking classes in Seattle, cooking classes in Dallas or in a city near you to find the perfect hands-on cake decorating class to fit your needs.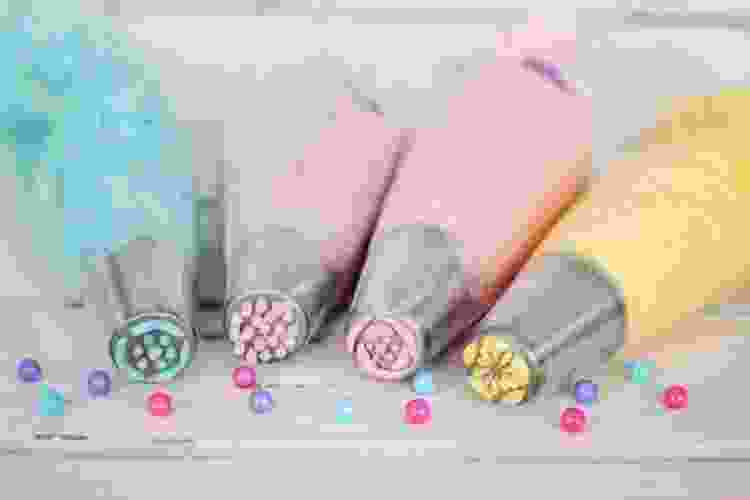 50th Birthday Party Tours and Tastings
8. Try Virtual Wine Tasting
A great 50th birthday idea is to enjoy a relaxing evening at home with a virtual wine tasting experience.
You and your group will tune in to live wine tasting classes offered by experienced sommeliers and chefs from all over the world. You'll get to sample incredible wines and whip up delicious hors d'oeuvres that pair perfectly with each glass.
9. Go on a Food Tour
You and your friends can indulge in a unique culinary landscape and experience what your locale has to offer by going on a food tour led by the city's best guides.
Food tours are a great 50th birthday idea and cater to every flavor palate and personality. You'll stop by local restaurants or food trucks sampling the best regional cuisine with the expertise of a local food expert.
For a more hands-on culinary experience, try cooking classes in Denver and explore a new foodie district.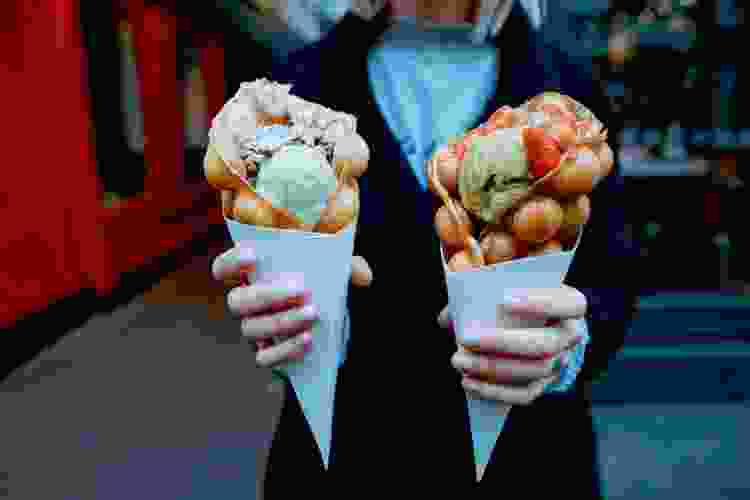 10. Go on a Brewery Tour
A brewery tour is one of those 50th birthday ideas that never gets old — partly because there are always new craft breweries and microbreweries popping up all over the place.
Do a little research and check out what tours are available in your city. Or, hire a designated driver, round up your friends and make your own itinerary!
11. Book a Winery Tour
Spend an afternoon winding through picturesque vineyards on an all-inclusive winery tour. Wine regions around the country are often replete with agencies that offer private wine tours and transportation, making it easy to make the most of this 50th birthday idea.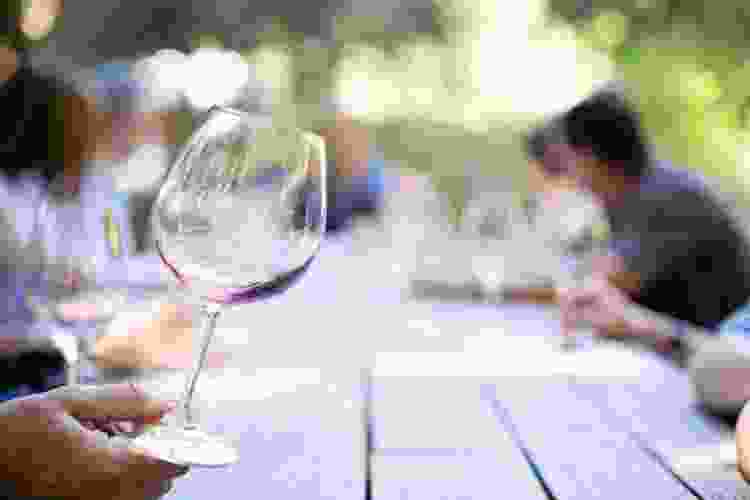 12. Go Whiskey Tasting
Whiskey tastings are a fun 50th birthday idea where world-class experts will teach you all about flavor notes, food pairings, age statements, distilling methods and more.
With classes that cover everything from scotch to bourbon, you'll be on your way to becoming a whiskey aficionado.
50th Birthday Party Ideas for a Woman
13. Try a Sewing Class
Calling all fashionistas! If you've ever dreamed of a custom piece of clothing or accessory and can't find what you're looking for, why not take the opportunity to learn to make it yourself?
By enrolling in a sewing class, you will learn how to create your own remarkable masterpiece that will be truly one of a kind!
14. Enjoy an Elegant Brunch
Brunch is always a great 50th birthday idea. Whether as sustenance for the day ahead or as recovery from the night before, there's no better way to celebrate than surrounded by your favorite friends, eating indulgent fares, sipping bottomless mimosas or building your own bloody mary.
15. Head to a Yoga Retreat
For a simultaneously energizing and relaxing 50th birthday idea, head to a yoga retreat with your 'omies. Some friends may think a yoga retreat might be a bit of a stretch, but whether you're looking for beaches or mountains, rustic or lux, the physical or the spiritual, there's a yoga retreat out there for you.
16. Relax With a Spa Day
Book a day at the spa for one of the most relaxing and rejuvenating 50th birthday ideas. Indulge in a mud bath, enjoy a hot stone massage, go all out with a spa smorgasbord or try out a trendy new spa treatment.
50th Birthday Party Ideas for Men
17. Try Woodworking or Glass Blowing Classes
Learn new and useful skills that allow you to work with your hands, get creative and craft something you will actually use and enjoy! With woodworking classes, you will learn to craft custom shelves, cabinets, tables and more.
If woodworking isn't for you, try glass blowing classes where you'll learn how to design and create beautiful jars, vases or figurines!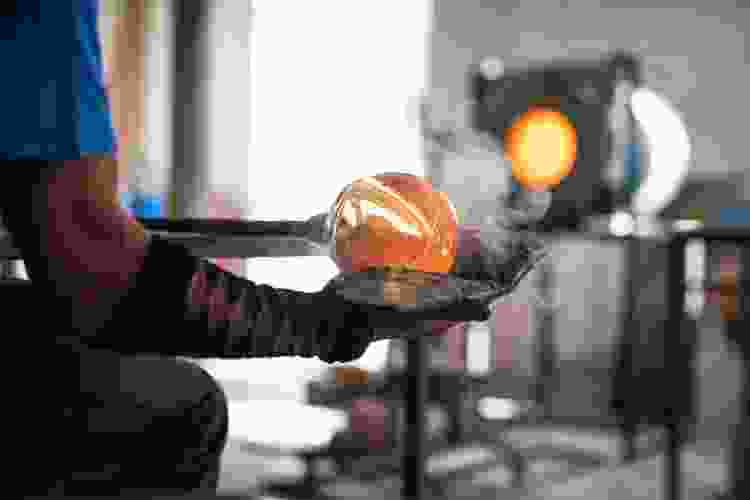 18. Have a Casino Party
You can bet the house that a casino-themed 50th birthday party is a surefire winner. The stakes are high when conjuring up 50th birthday ideas, so don't take a gamble on a lackluster theme for the big bash.
19. Go Golfing
Looking for some activity with your leisure? Head out on the golf course with your friends for 18 holes of 50th birthday fun.
20. Exotic Car Driving
Drive an exotic car on a real race track for a souped-up 50th birthday idea. There are many tracks and raceways that offer experiences that allow you to get behind the wheel of some of the world's fastest and most exotic cars like a Ferrari, Lamborghini, Ford Mustang Shelby GT500 and more!
50th Birthday Party Themes
21. Have a Virtual Game Night
A virtual game night is a fun 50th birthday idea that can include anything from professionally hosted virtual trivia nights to classic board games that just got virtual makeovers.
Whether you're looking to get the whole family together, team up with friends or spend a one-on-one celebration with your significant other, virtual game nights make for a unique 50th birthday party experience.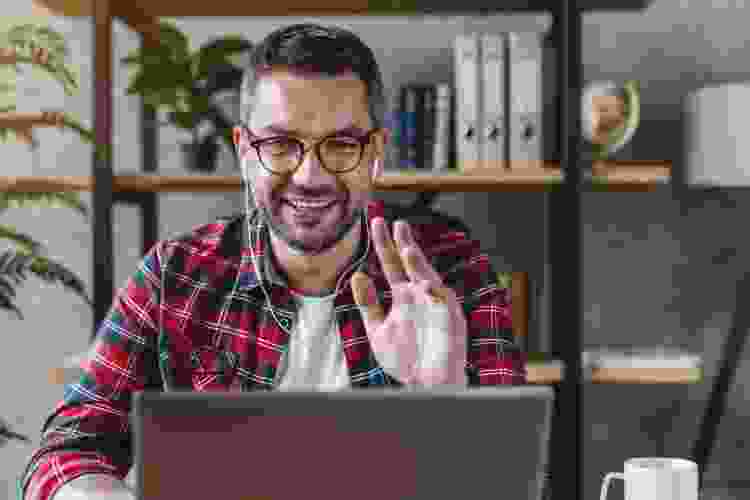 22. Enjoy a Progressive Dinner Party
Progressive dinner parties, where each course is served at a different home or location, transform a basic meal into a fun and engaging activity. These moving feasts offer hours of entertainment with a limited amount of prep work.
It's a great 50th birthday idea and a way to entertain a group without one person having to plan it all.
23. Host a Black Tie Affair
Have guests to dress to the nines with this elegant 50th birthday party idea. Instead of gifts, make it a charity event where guests are invited to donate to a charity of the birthday honoree's choosing.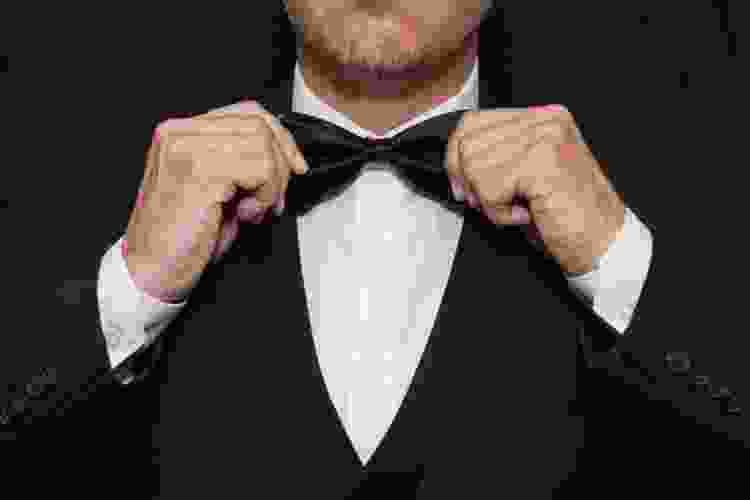 24. Host a Murder Mystery Party
For a thrilling 50th birthday idea, try a downloadable murder mystery party.
Guests receive a detailed character description in their invitation along with some hints and clues on the party. Guests will arrive in character to mingle and sleuth before a murder occurs. Dun dun duuunnnnn…
25. Throw a "Golden Milestone" Party
Enter your golden age with an all-gold-themed 50th birthday party. From décor to dress code, go all-out for your big day. Gold streamers, confetti, tableware and mylar balloons will make the space sparkle. Don some gold garb to top off the look!
26. Flashback to the 50s Party
What about throwing a 50s party — as in the 1950s? Putting together a sock hop is a great 50th birthday idea sure to be filled with great music, swinging poodle skirts and leather jackets galore.
27. Have a Board Game Night
Have your guests bring their favorite board game and host a little friendly competition for a fun 50th birthday idea. Try the quick-game version of Monopoly or the Game of Life and have a tournament, rotating between game stations.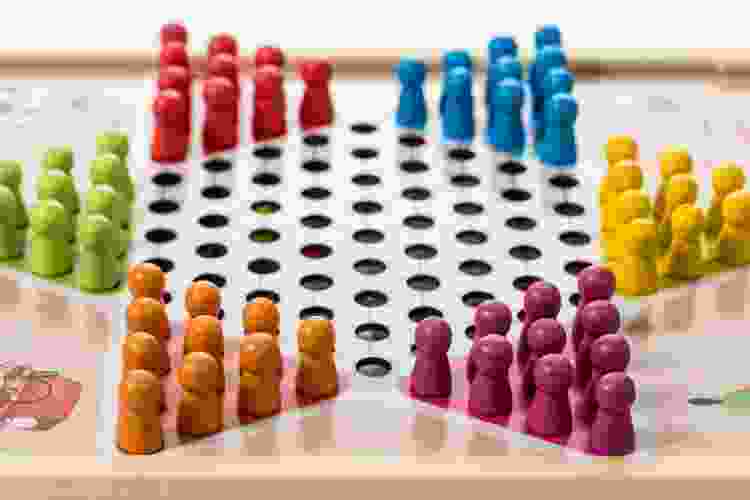 28. Go for the Gold With an Olympic Party
This is a 50th birthday idea that will definitely win the gold. Organize a handful of games and an array of international food and drinks and you've got a party that will carry the torch for years to come.
29. DIY a Double Feature Drive-In Movie Night
Though you might be hard-pressed to find an operational drive-in theater, it doesn't take much to set up your own backyard movie night. All you need is a projector, a screen and all the proper concession stand fixings for a double feature drive-in movie 50th birthday idea.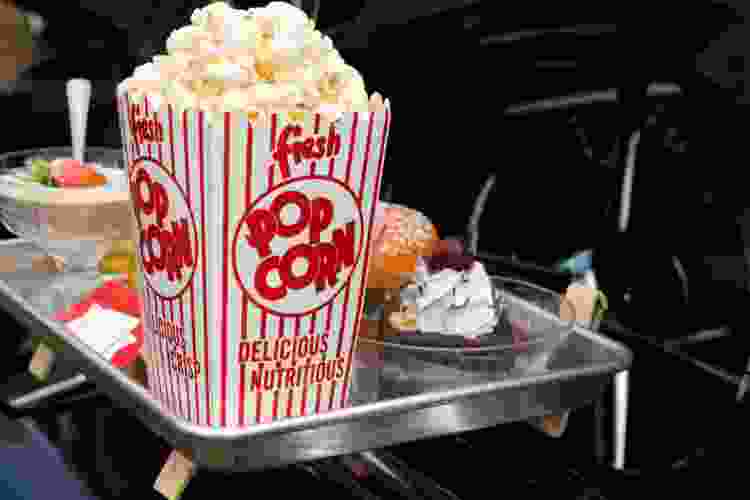 30. Backyard Grill and Chill
Nothing beats a good old-fashioned American cookout. So fire up the grill and have a classic backyard birthday barbeque filled with food, fun, friends and family for a 50th birthday idea everyone will love.
50th Birthday Party Events and Activities
31. Get Out of an Escape Room
Escape rooms have become a go-to group activity for a reason — they're a ton of fun! For a 50th birthday idea that requires teamwork, problem-solving and creative thinking, see if you and your group can solve the clues to get out of an escape room.
There are even virtual escape rooms for a long-distance celebration.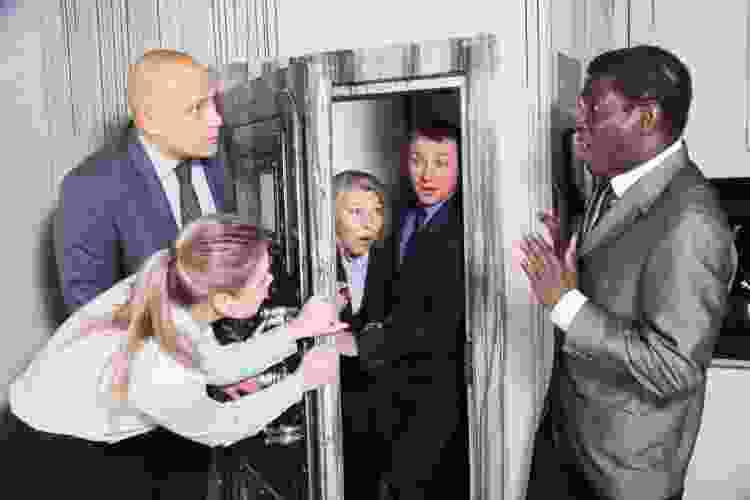 32. Enjoy a Relaxing Picnic
Skip the noisy restaurant and lay out a 50th birthday party picnic instead. Find the perfect park or rent a picnic area for the day, get creative with fun drinks and finger foods, and prepare classic picnic games like wheelbarrow relays and egg and spoon races.
33. Indulge in a Michelin-Quality Meal
Treat yourself to a Michelin-quality meal made by a private chef for an all-out indulgent 50th birthday. You can find multi-course menus that feature incredible high-quality dishes prepared by some of the best chefs in the country.
Or, learn to make your own five-star food with gourmet cooking classes in NYC or cooking classes in Chicago, home to the world's most renowned Michelin-star chefs and restaurants.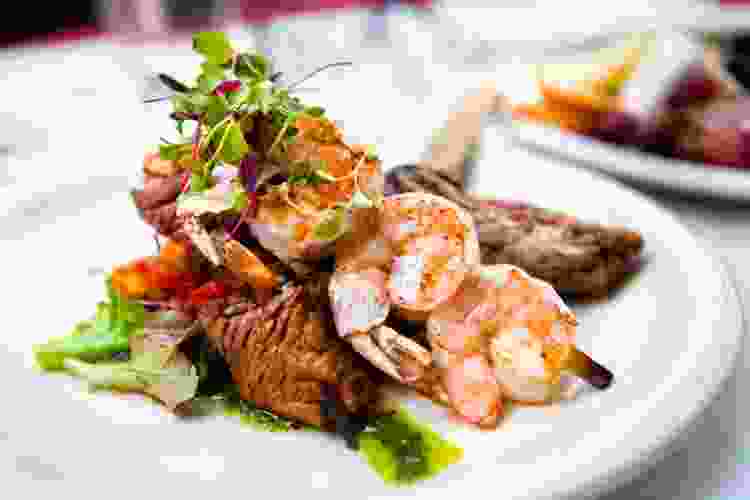 34. Take a Helicopter Tour
Take your 50th birthday ideas to new heights with a local helicopter tour! You'll get to explore the city from above, seeing incredible views and learning more about the place you're living or visiting.
35. Set Sail for a Booze Cruise
Ahoy, party people! Why limit your 50th birthday ideas to shore? From happy hour party boats to sunset pontoon rides to moonlit sails, make a splash with birthday booze cruises equipped with open bars, light hors devours, live music and a dance floor to keep you afloat on your birthday.
36. Check Something Off the Bucket List
What's on your bucket list? Bungee jumping? Cage-diving with sharks? No matter what still needs to be checked off your bucket list, there's no better time than the present. Pick a few items on the list for a truly memorable 50th birthday idea.
37. Attend a Comedy Club
Consider checking out a local comedy club or show for a 50th birthday idea. Comedy clubs are often overlooked but can make for unforgettable nights full of laughter. Who knows? You may even end up center stage on account of the special occasion!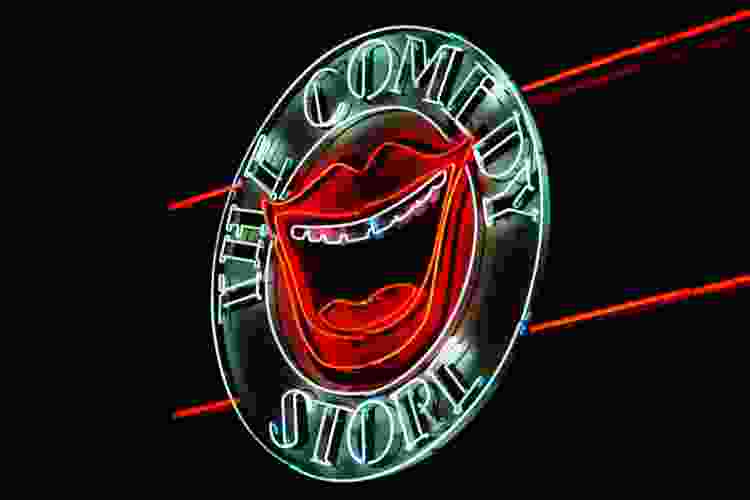 38. Score Big With a Scavenger Hunt
Some things just get better with age: fine wine, cheese, jeans, a 401(k) and… scavenger hunts! Scavenger hunts are a great 50th birthday idea that provides hours of unbridled fun and excitement. You can even embark on a virtual scavenger hunt with your crew!
39. Explore New Heights on a Hot Air Balloon Ride
The more birthday balloons the merrier! But for a 50th birthday party idea, bigger is better. Go all out this year by taking a ride in a hot air balloon! You'll see the world in a new perspective and reach new heights.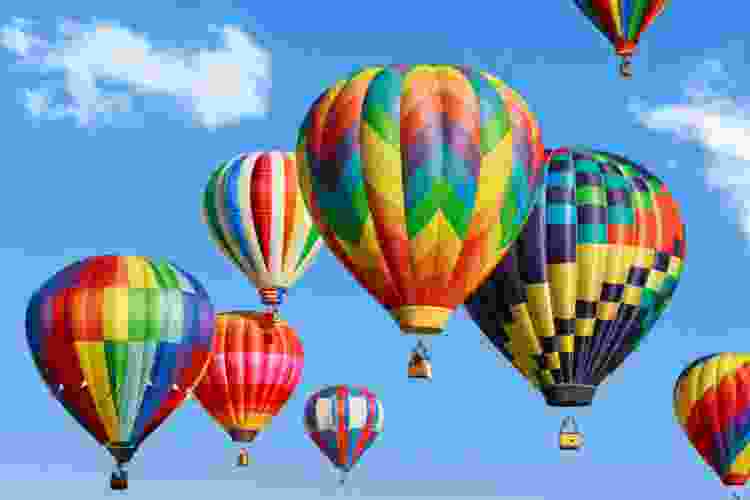 40. Get Your Groove on at Roller Disco
Bust a move and break out your favorite 70s outfit...it's time for roller disco! This throwback 50th birthday party idea will have you and your friends movin' and groovin' to the beat.
41. Host a Lawn Games Tournament
From cornhole to bocce, ladderball to croquet, there are a host of lawn games that have all the makings of a great 50th birthday idea. Don't forget about giant Jenga and outdoor bowling!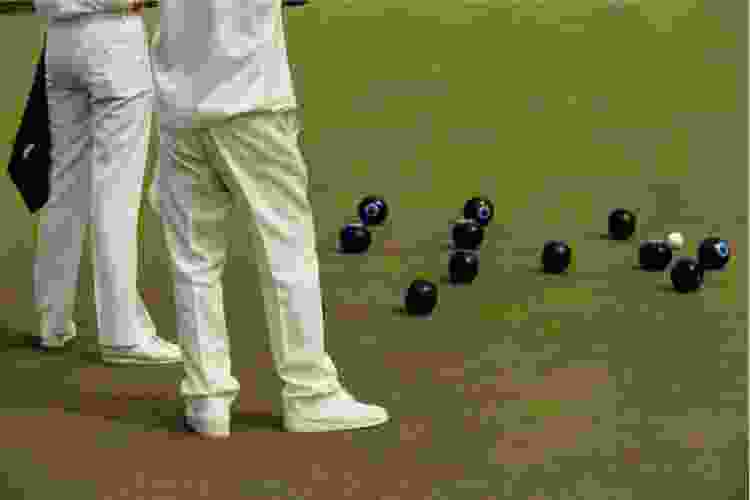 42. Float Down a Lazy River
If waterparks aren't your speed, take the slow-paced, refined approach to a day on the water with an afternoon float downriver. Grab your inner tube and friends and take your time as you enjoy the views, your company and the water on your toes.
43. Go Glamping
Camping isn't for everyone, but glamping may be perfect for you. Enjoy a more luxurious approach to a night out in nature with glamorous and roomy tents, wi-fi, Champagne and more for a high-end 50th birthday party idea outdoors.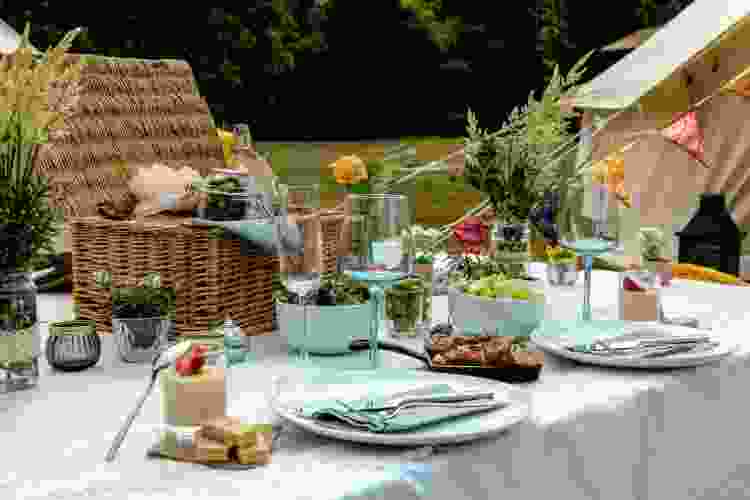 44. Get Rowdy at the Rodeo
Get roped in with this wild 50th birthday party idea. Wear your favorite boots and cowboy hats (or even decorate your own beforehand!) and enjoy the show, ya'll.
45. Build a Beach Bonfire
A beach bonfire has the magical ability to transform any evening into a special occasion. Add together s'mores fixings, someone who knows how to build (and tend) a fire, cozy blankets, a cooler full of favorite beverages and snacks, and family and friends for a fun and relaxed 50th birthday idea.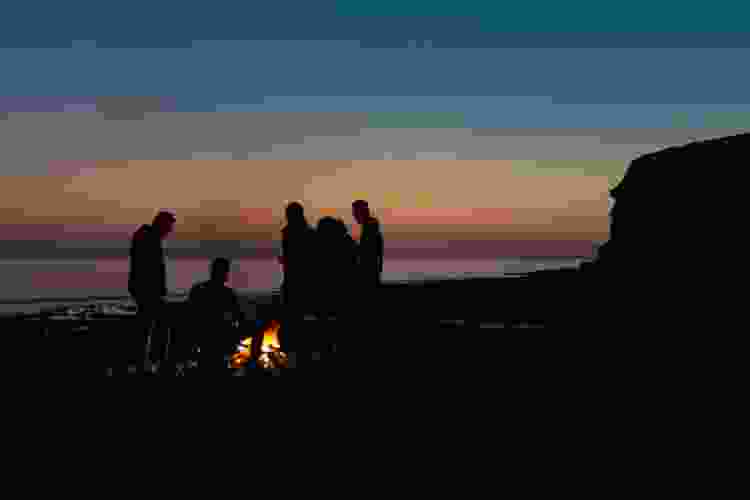 46. Road Trip to a Weekend Getaway
Spend an entire weekend away! You can take a road trip to a new destination or one of your old favorite haunts. Grab your entourage, find a fun motel to bunk for the night, make a playlist full of classic road trip jams and hit the road for a combination road trip and weekend getaway.
When you've reached your destination, plan fun events for the group, like painting classes in Los Angeles or wine tasting in Napa. The possibilities are endless!
47. Watch a Polo Match or Horse Race
For a posh 50th birthday party idea, don your most over-the-top hat and bows and sip mint juleps at a horse race or polo match. Check out what race or events are coming near your area and horse around with family and friends for your birthday celebration this year!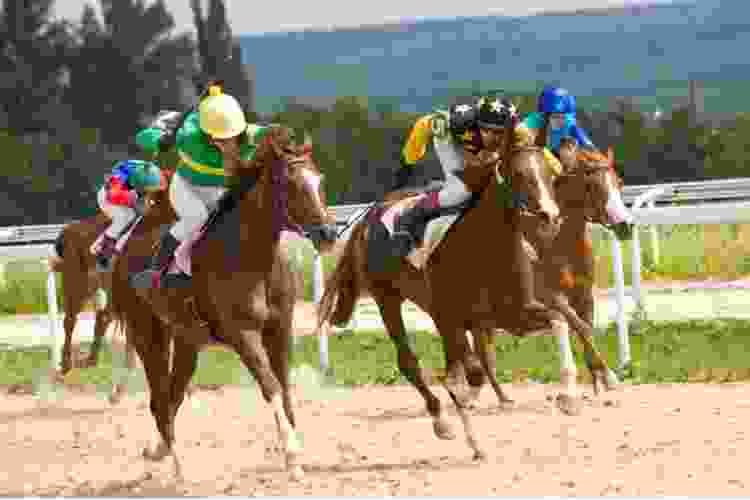 48. Sign Up for a Fun Run
Whether you like the Color Run, the Mud Run, the Warrior Dash or obstacle races, fun runs get the body, mind and spirit off to the races. And you'll have even more to celebrate after crossing the finish line!
49. Celebrate at a Music Festival
Music festivals come in all shapes and sizes and feature every genre of music under the sun. Find out what music festivals are scheduled on or near your big day for an amped-up 50th birthday.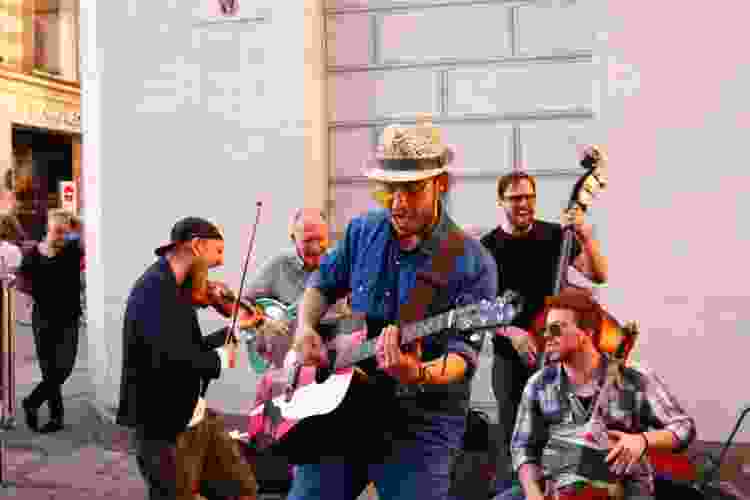 50. Sunset Horseback Riding
Ride off into the sunset and experience the spectacular lighting on horseback during the golden hours before sundown! This is one 50th birthday idea that will go down in history as one of the best birthdays of all time.
FAQs
What is a traditional gift for a 50th birthday?
With the 50th birthday being the golden jubilee, the traditional 50th birthday gift is an item made of gold. For a man, gold cufflinks are one of the more traditional 50th birthday gifts. For a woman, you can't go wrong with gold jewelry.
What can you do for a man's 50th birthday?
There are many ways to celebrate a man's 50th birthday. The best way to start cooking up ideas is to think about what his hobbies are and how you can turn that into a gift, party or experience.
Some popular 50th birthday ideas for a man include a brewery tour, whiskey tasting, an exotic car experience and a golf outing.
What is the best gift for a 50-year-old woman?
Whether it's a gift for your mom, sister or girlfriend, the best gift for a 50-year-old woman is one that's thoughtful or meaningful. And an experience gift is one she's sure to remember and appreciate.
Spend some time reminiscing on your time together and write down some of the things you like to do. This will help you brainstorm, and a running list will help spark ideas.
How do you celebrate your 50th birthday in style?
There are many ways to celebrate your 50th birthday in style. Some ideas include hosting a black-tie affair, going glamping and attending a horse race or polo match.
What's the color for a 50th birthday?
Turning 50 is all about entering the golden age, so don't be afraid to add some sparkle to the occasion!
Coming up with some creative ways to celebrate a 50th birthday isn't always easy. Adequately honoring this incredible life milestone is a big deal and deserves nothing short of an unforgettable occasion.
By using the list above, you'll find there are many 50th birthday ideas to choose from that will make this your best birthday yet.
For even more fun 50th birthday ideas to keep the party going, check out other experiences happening on Classpop!