33 Top Glass Painting Ideas and Tips for a Crafty 2023
Published on Aug 31st 2023
| 0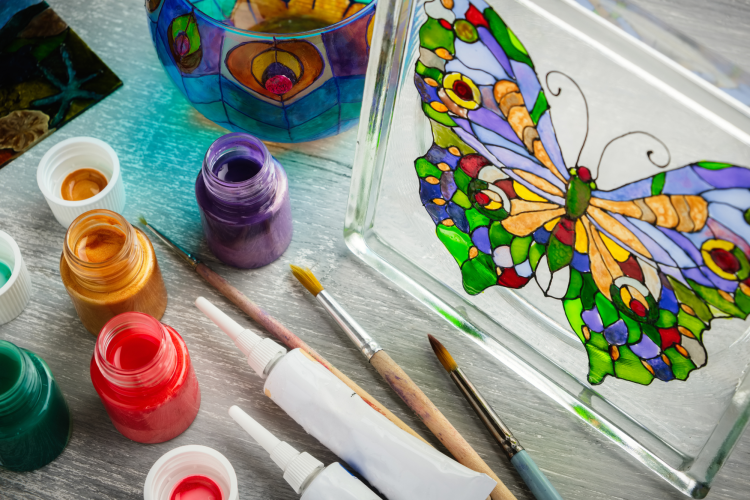 Exploring different mediums is a great way to explore your creativity and these glass painting ideas are one of the best ways to try something new in your art practice.
Canvas and paper are the most popular materials to paint on. However, glass can offer an exciting and unique artistic medium with both decorative and practical uses. You can try glass painting ideas on windows, vases, bottles and more to create a totally customized and unique accent or detail in your home.
Not only is painting fun, but it has benefits for people of all ages. According to Empowered Parents, painting can be a way for young children to develop both fine and gross motor control, hand-eye coordination and creativity.
These can translate to wider skills, like holding pencils and turning pages. Similarly, adults can benefit from painting by improving memory and concentration, developing problem-solving skills and boosting emotional well-being, according to Flavours Holidays.
So, is there a trick to painting on glass? This guide will provide you with tips to get started, the materials you need and glass painting ideas for your first–or next–project.
Jump to Section
Learn How to Paint Glass for Beginners
If you've always wanted to learn to paint, you can learn from experts. Take art classes in Chicago, art classes in Houston, art classes in Portland and art classes near you.
These classes are taught by local artists who will teach you all the tips and techniques to create stunning glass painting ideas and other projects. Or try online painting classes so you can learn how to paint in the comfort of your home.
Painting classes can teach you how to paint on glass and you can walk away with a completely unique piece of art you created yourself.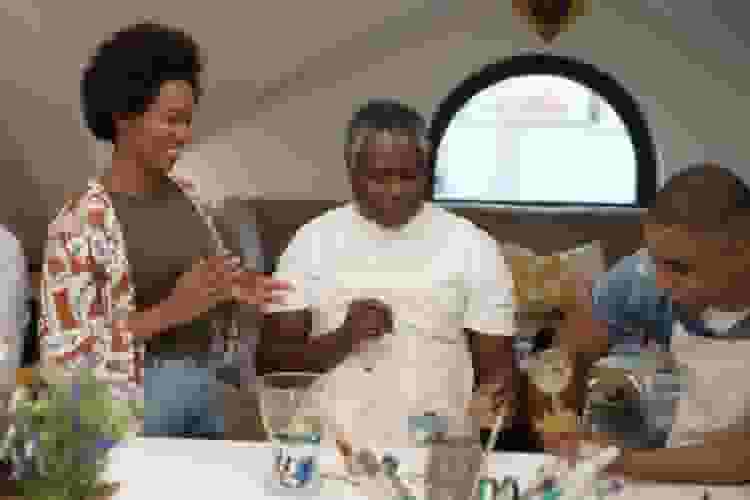 Glass Painting Basics & Essentials
What Kind of Paint Do You Use on Glass?
Before getting started making your glass painting idea, you need to gather the right materials. What kind of paint can you use on glass? It depends on what the final product is. The two most common are standard acrylic paints and enamel paints.
How Do You Permanently Paint on Glass?
Standard acrylic can be used on glass but can easily scratch. It's best to use acrylic paint on decorative objects that won't be handled too much.
So, how do you permanently paint on glass? Use an enamel paint instead. When enamels are dry and cured, they're scratch-resistant, making them more durable and the better option for projects like wine glass painting ideas and or glass jar painting ideas.
What Do You Need for Glass Painting?
What do I need for glass painting other than the paint? First, you'll need to decide on the type of glass that you'll be painting on. This can be a wine or drinking glass, an old bottle, a glass jar or even a sheet of glass.
You'll also need paintbrushes, a jar of water and a paper towel to dry off your brush. You may also want newspaper or a drop cloth to prevent paint from getting on other surfaces. The next step is to start painting your glass painting ideas!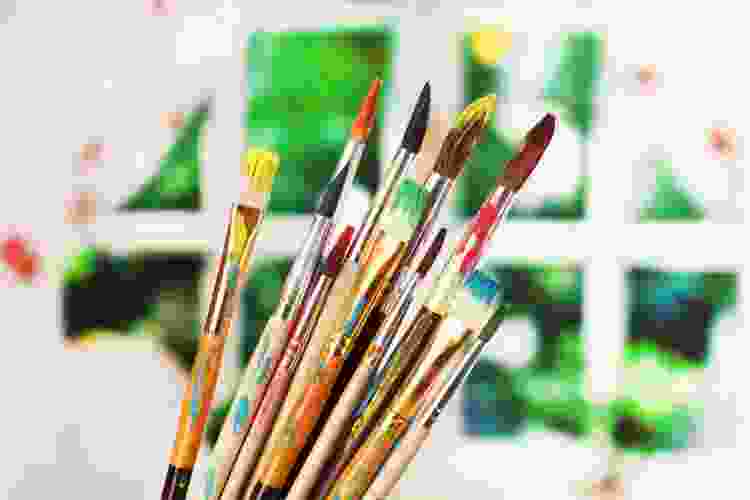 Best Glass Painting Kits
Window Cling Art Kit
Window cling art is a great way for kids to try glass painting ideas that look like stained glass. Use the paint on traceable designs in this window cling art kit.
Then, once it's dry after 24 hours, you can stick them to the windows. Kids will love seeing their art and the sun shining through it.
Stained Glass Painting Kit
If you've ever wanted to make your own stained glass painting ideas, here is the kit for you. Stained glass painting kits come with everything you need to make stunning stained glass art, including the cut pieces of glass, solder wire and the tools to hang it.
Once you follow the steps, you'll have a stunning stained glass piece that you can hang in the window.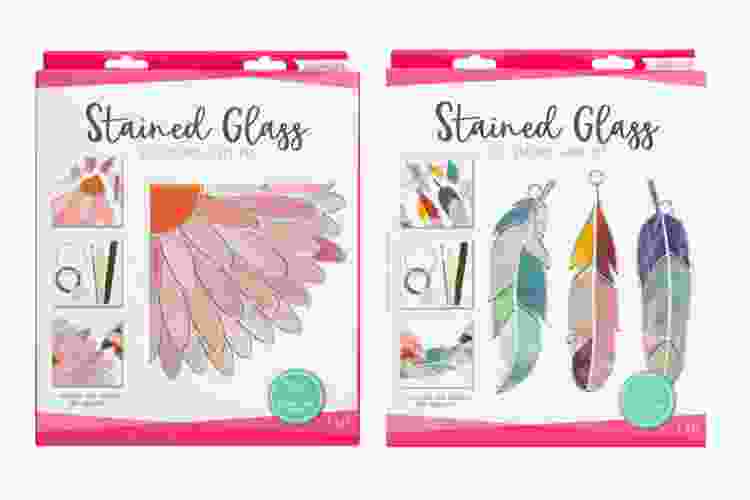 Window Glass Painting Ideas
1. Happy Little Rainbows
If you're looking for aesthetic painting ideas that spark joy, why not fill your windows with lots of little rainbows? You can create a scalloped-like effect by placing the rainbows on top of each other.
Or try creating an ombre rainbow design with monochromatic rainbows that gradually fade from one shade to another.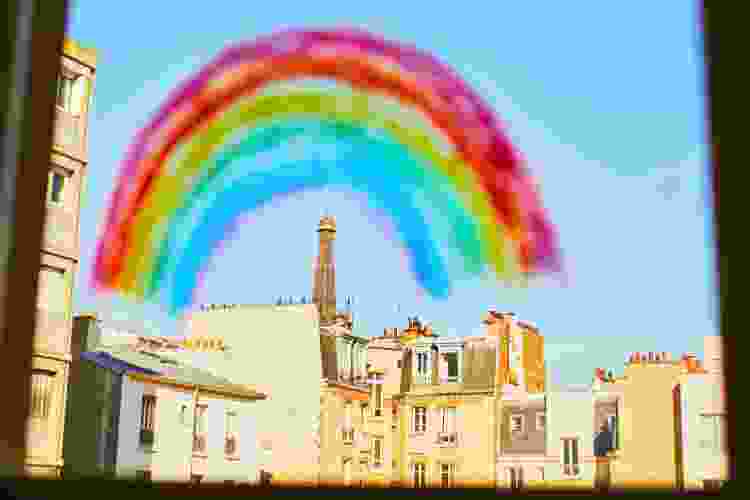 2. Pretty Butterflies
Decorate your windows with colorful butterflies for a joyful glass painting idea to add to your everyday space. Painting windows can be fun arts and crafts for adults and a great way to spend a Saturday with friends or family.
Look up different butterfly species and paint them on the window. Or paint cartoon butterflies fluttering around your window pane.
3. Buzzing Bees
For a glass painting idea for a window that overlooks a garden or greenspace, consider painting a bunch of buzzing bees. Paint the black and yellow bodies with white wings.
Use black or white paint to create a dotted line that marks the flight path of the busy bees. You can paint flowers and a beehive to accompany the bees buzzing around your window.
Join our email list for exclusive deals, local events and fun inspiration for living a more creative life.
4. Floating Bubbles
Bubbles are a simple glass painting idea that can look very impressive on windows. All you have to do is learn the proper painting techniques.
You draw a circle in white then add highlights of blue, orange, pink, yellow, green, purple and other colors around the edges. Accent with white strokes and dots to make the bubble look shiny. You'll have bubbles that'll never pop floating around your windows.
5. Reflect on the Seasons
You can also paint your windows to reflect the current season. In the winter, you can make it look like there's snow on the windowsill or falling from the sky with snowmen.
Christmas glass painting ideas are also great in the winter. For Christmas painting ideas, think of a tree, presents and Santa Claus himself. In the spring, do a field of flowers, and you can do a beach scene in the summer.
Autumn can showcase falling leaves or make it Halloween-themed. Halloween glass painting ideas include skulls, bats, monsters and other spooky things. These Halloween painting ideas can get you in the mood for spooky season.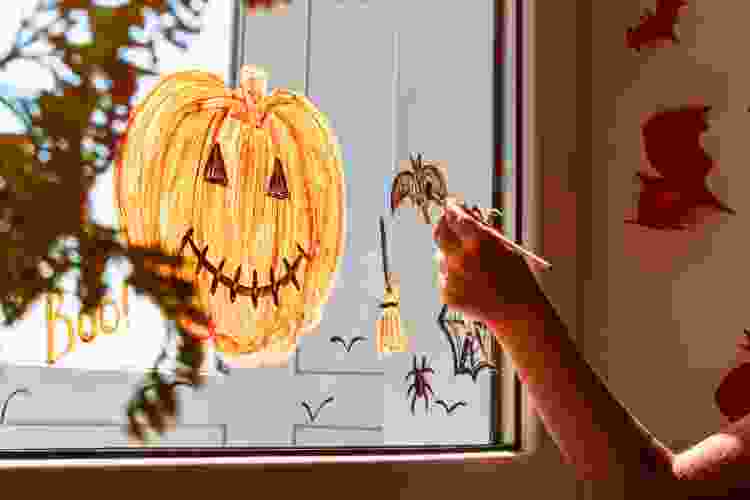 6. Birds on a Perch
Bring some of nature to the forefront by painting birds on a perch on your window. This window glass painting idea is fun for anyone who loves watching the birds.
Paint your favorite feathered friends in brilliant colors on the windows. If you have a view of trees, it'll look like the birds are sitting on the branches.
7. Cute Critters
Have a favorite animal? Here's your chance to display them on your window. Paint cute critters all over the windows. You can try a theme, like a jungle or the Sahara. This easy glass painting idea can be a great option for kids' bedrooms and playrooms.
8. Sunset Scene
The colors of a sunset are absolutely stunning. And with this simple glass painting idea, you can have a sunset at all times of the day.
Recreate this scene with shades of pink, orange, yellow and blue bleeding into each other. When the sun streams through, it'll illuminate all the colors. This is also a fun glass wall painting design if you have this feature in your home.
Wine Glass Painting Ideas
9. Glitter Wine Glasses & Bottles
Show off your glamorous side with one of the most fun wine glass painting ideas. Paint the outside of the wine glass a solid color that matches the glitter. Then, apply a thin layer of clear glue before sprinkling some glitter on top.
Shake off the excess and let it dry. Then, apply more clear glue on top of the glitter to seal it in.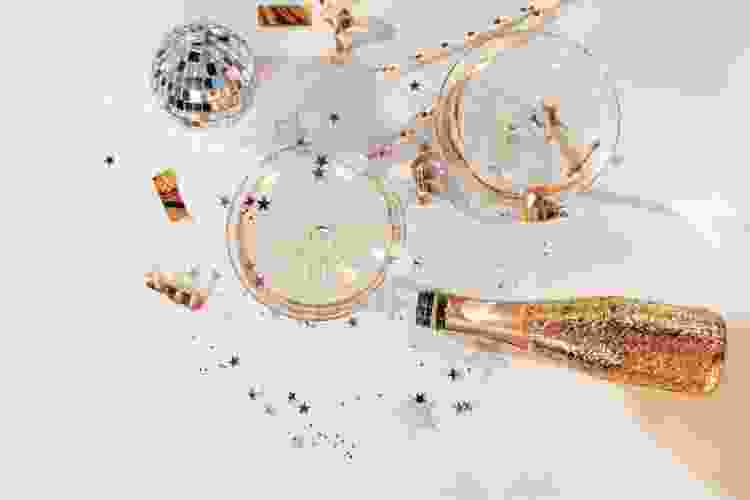 10. Forest Design
Paint a collection of evergreen trees around the exterior of the wine glass. Use a dark, medium and light shade of green to create depth in the painting.
You can also make this a Christmas glass painting idea by decorating the trees with strings of light and ornaments.
11. Abstract Brush Stokes
Abstract art can make a big impact. Playing around with brush strokes is a fun glass painting idea for beginners because there's no right or wrong way to do it.
Use different-sized paintbrushes and fun paint colors. Dip the brushes in the paint and swipe them across the glass. You can use as many or as few colors as you want.
12. Cheeky Sayings
Customize your wine glass by painting cheeky sayings on the side of wine glasses. Look for wine puns to display directly on the glass.
These can make fun sip and paint ideas that you can do with friends, competing to see who can come up with the most creative pun. Then, you can use the glasses for future paint and sip nights.
13. Marbled Wine Glasses
If you can't decide on one color, a marbled wine glass is the answer. This easy glass painting idea will be a fun project and make great gifts for wine lovers. For this, you'll need multiple colors of paint, a container and a stick.
Layer the paint into the container, then use the stick to swirl it around. Then, dip the wine glasses into the paint to collect those swirls. Be careful not to get any paint on the inside or the lip of the glass because most are not food-safe.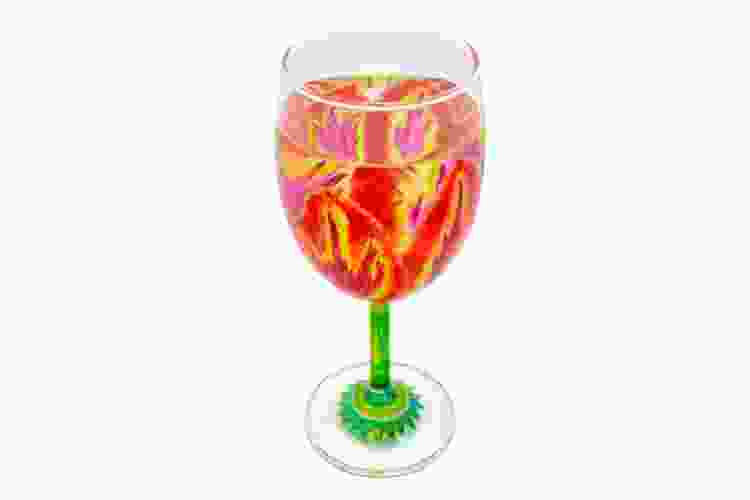 14. Metallic Polka Dots
Use metallic paint to create polka dots with a punch. Gold, bronze, rose gold and silver will surely make your wine glasses stand out.
Plus, this is an easy glass painting idea for beginners because all you'll need to do is paint a bunch of circles. The result is a fun and bold design.
15. Negative Space
Sometimes, the areas that don't have paint on them can take center stage. Start by painting the base color, either by using a solid shade or a mix of colors.
Then, use a Q-tip to wipe away the paint and create a design. For this project, it's best to work in small sections so the paint doesn't start drying.
16. Portraits From a Photo
Make custom wine glasses by painting a portrait onto the side of the glass. Print out your photo and tape it to the inside of the wine glass to use as a reference. You can trace the people in the image and then fill in the lines with colored paint.
17. Dainty Florals
Sweet little flowers make for an easy project when painting wine glasses. These painting tips for beginners can give you tips like how to mix and layer colors so you can create flowers with lots of dimension. Dainty and colorful flowers make pretty, feminine wine glasses.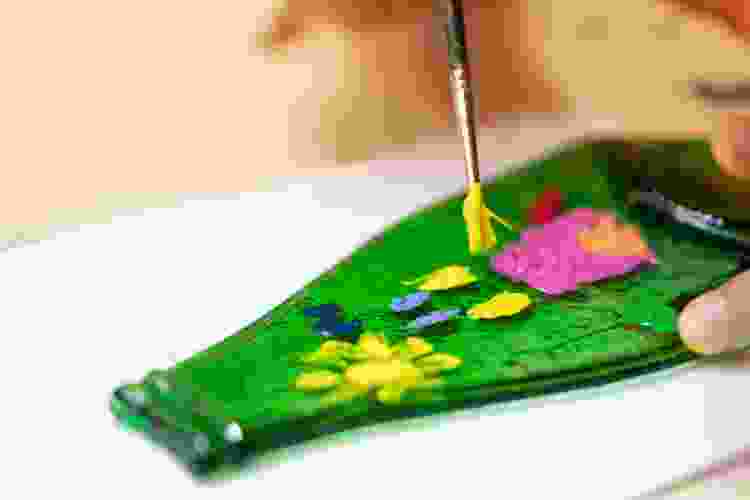 Glass Jar Painting Ideas
18. Frosted Colored Glass
Love the look of antique-colored glass jars? You can recreate the look at home by mixing food coloring with Mod Podge. Then, paint the inside of the glass until it's coating.
Allow the excess to drip out and then place the jars in a 200-degree oven for 25 minutes. When you pull them out, they'll look like antique glass.
19. Koi Fish Vase
You can transform a glass jar into your own personal koi pond. Start by painting the base of the jar blue to look like water. Then, paint koi fish swimming around the water. Once it's dry, you can put a candle inside and let the light from the flame illuminate all the colors.
20. Confetti Jars
Create a confetti jar by using a bunch of different colors of paint. Use Q-tips or a small paintbrush to create dots around the exterior of the jar. Layer different colors on top of each other to get the effect of confetti being thrown in the air.
21. Kitchen Jars
This glass painting idea can create a functional piece of decor for your kitchen. Find glass jars and canisters. On the exterior, label each jar in paint.
Create jars and canisters for flour, sugar, coffee, straws, spices and anything else you might need. This is a stylish way to keep your kitchen organized.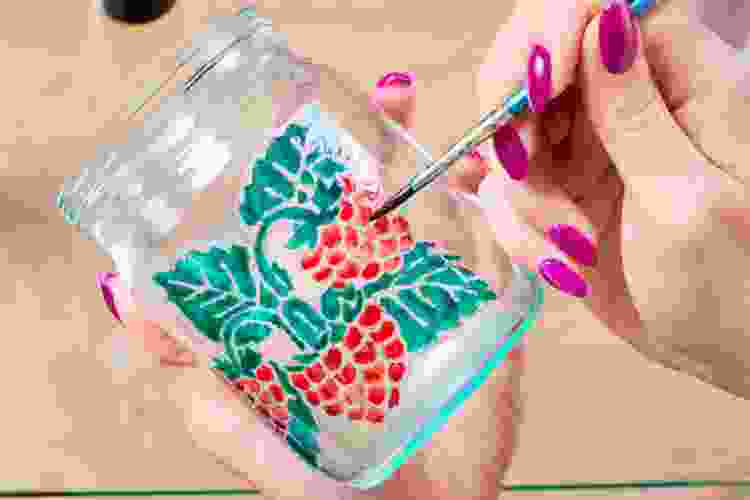 22. Spray Painted Glass Jars
While enamel works the best on glass, you can also use spray paint. Spray-painted glass painting ideas look very smooth, and it's great by itself as well as the base for other projects. Try different spray paints like metallic and frosted to create unique finishes on the jars.
23. Abstract Painting
Get inspired by modern and abstract art for these glass jar painting ideas. Check out abstract art and recreate some of your favorites on glass jars. Then, you'll have a little piece of art to display in your home.
24. Blackout Design
A blackout design is all-black and is one of the coolest glass jar painting ideas. Use black paint with a glossy finish and one with a matte finish to create a design.
You can also use hot glue to create a design and then paint the jar black to create a textured blackout design.
25. Painted Date Jar
Need couple painting ideas for a fun night together? Spend the evening painting jars together however you want or feel represents your relationship.
Then, write date ideas on pieces of paper and fill up the jars. Each jar can represent different types of dates like outdoor dates, dinners, cheap activities and other categories that work best for you. Need more creative glass date jar ideas? Try more painting and creative project nights.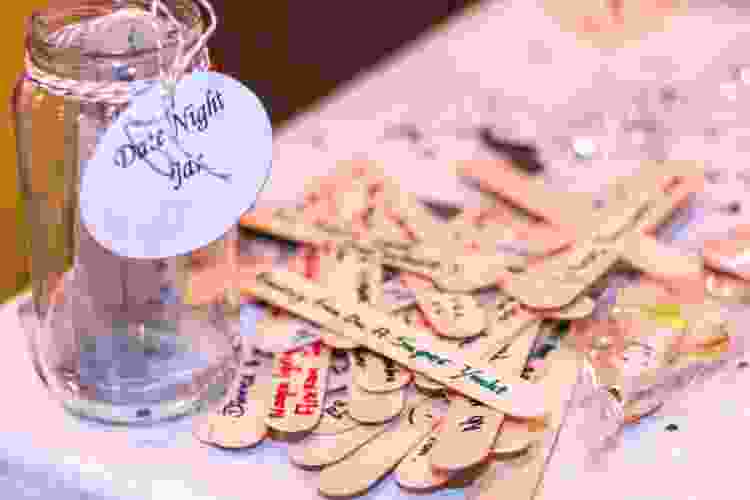 Easy Glass Painting Ideas for Kids
26. Faux Stained Glass Painting
Stained glass painting ideas that you can do at home with the kids make for a fun project. You can do this by mixing paint with Mod Podge with a little bit of paint.
Have kids paint a thin layer on the glass of a floating picture frame. Once it's done, hang it in the window to catch the sunlight.
27. Character Portrait
Kids always have a favorite character, whether it's a superhero or their favorite cartoon. This glass painting idea for kids will get them excited.
Trace their favorite character onto the front of a glass frame and have them paint the back. This way, when you flip it over, the black outline will still show.
28. Drip Paintings
If you're looking for glass painting ideas for kids, there's a good chance they'll want to get a little messy. Create drip glass painting by applying an excess of paint to the top of a jar or vase and letting it drip down the side. This is a painted glass vase idea that can be fun and easy at any age.
29. Glass Painted Lamp
Have your kids help create some décor for the home. Purchase a glass lamp and have the kids paint it however they want. They'll love seeing their artwork displayed in the living room or their bedroom every time they pass it.
It's a glass painting idea that makes for a perfect DIY home décor project for kids and adults alike.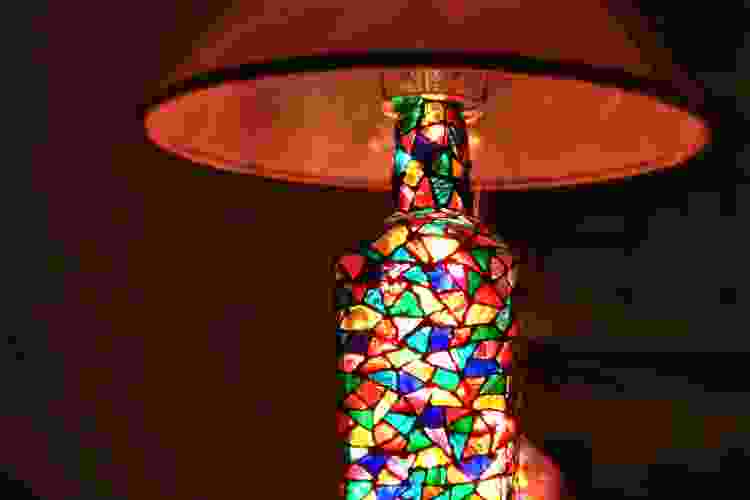 30. Dragon Scales
This glass painting idea is for the fantasy lover. Paint a pane of glass with a pointed scallop design that looks like scales layered on top of each other. By using lots of color and thin layers of paint, you can also turn this into faux stained glass.
31. Animal Print
A stained glass painting idea that takes a little walk on the wild side. Have the kids paint the windows or a jar with their favorite animal print. Each window can even be its own animal. From tigers to giraffes to zebras, your house will transform its own little zoo.
32. Chalk Paint
Swap out the enamel glass paint for this project. For this painted glass vase idea with the kids, use chalk paint to create a DIY chalkboard.
If you need glass wall painting designs, this can work as well. After the chalk paint has dried, you can use chalk to draw and write right on the surface.
33. Holiday Themed Glass
Paint holiday-themed glass windows or jars for a fun kids' project. For Halloween glass painting ideas, transform a jar into a Jack-o-lantern, a monster head, or a skeleton. Get creative with the other holidays for year-round projects.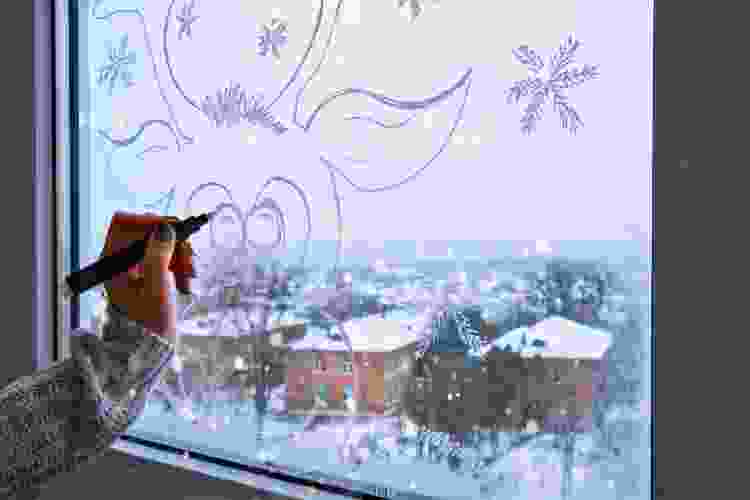 Painting is a great way to let out your creativity. Whether you're looking for glass date jar ideas or window glass painting ideas, there are plenty of ways to express yourself with glass as the medium.
Give one or a few of these a try with friends, partners or the kids for unique projects you can display in your home.
For even more fun art ideas, check out other experiences happening on Classpop!