51 Easy Acrylic Painting Ideas for Beginners
Published on Jan 6th 2022
| 0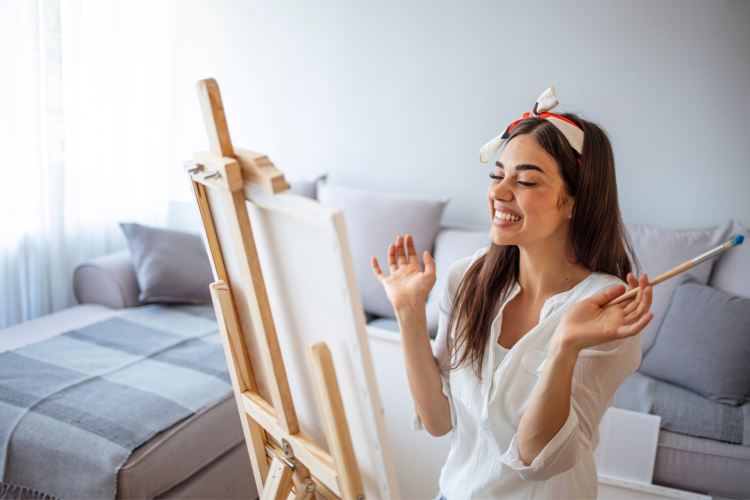 You have your brushes, paints and canvases ready to go; all you need are a few acrylic painting ideas for beginners! As fun as it is to paint with acrylics, sometimes it's difficult to decide what to paint. This list of easy acrylic painting ideas is perfect for beginners, but would also be a perfect launch point for more difficult paintings.
When you're ready to get started, peruse through this list of 51 easy acrylic painting ideas for beginners for some painting inspiration.
Jump to Section
How to Get Started With Acrylic Painting
Whether you've never picked up a paintbrush or you've dipped your brush in a few palettes, painting classes are a perfect place to get started with acrylic painting.
If you prefer to learn from home, online painting classes provide a comfortable, interactive space for beginners to learn acrylic painting techniques led by top-rated artists from studios around the country!
Another great way to learn acrylic painting is to gather a few friends and your favorite beverage for exciting paint and sip in San Diego, paint and sip in Boston, paint and sip in Chicago, or paint and sip near you.
After a fun, helpful acrylic painting class, you'll be ready to try your hand at any of the easy acrylic painting ideas for beginners below!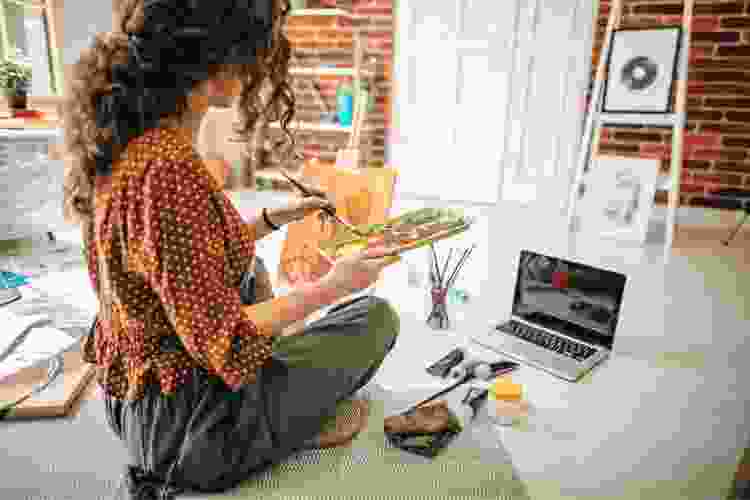 Acrylic Canvas Painting Ideas for Beginners
1. Fruit Still Life
For a great starting point acrylic painting idea for beginners, gather seasonal fruit and arrange them in a pleasing way in a bowl, on a plate or on a table. Then, take to your canvas to capture the fruit in acrylic paint. Notice how the light creates highlights and shadows and the particular colors of each unique fruit.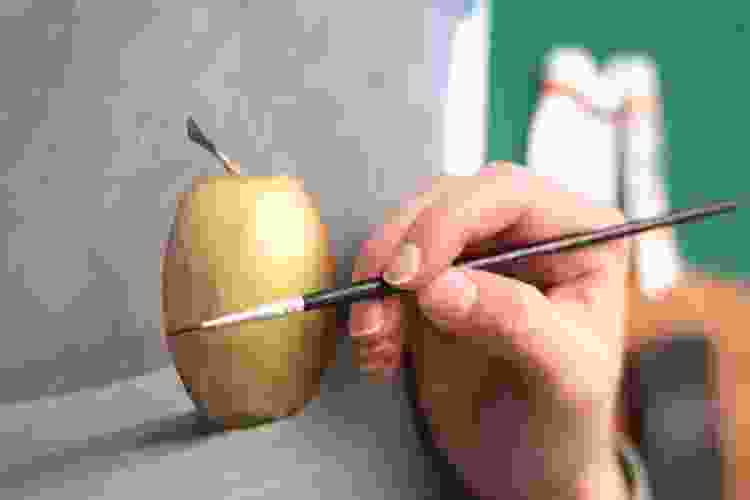 2. Brushed Colors
This is one of the more simple ideas, but it creates a stunning impact. Use a large brush to swipe coordinating colors across the canvas for a beautiful brushed color scape.
3. Your Pet
This easy acrylic painting idea for beginners on canvas is a fun one: pets, who are so loved by their people, deserve a special portrait! Try your hand at painting your pet. We recommend basing your painting on a photo rather than trying to keep your animal friend still for a portrait sitting!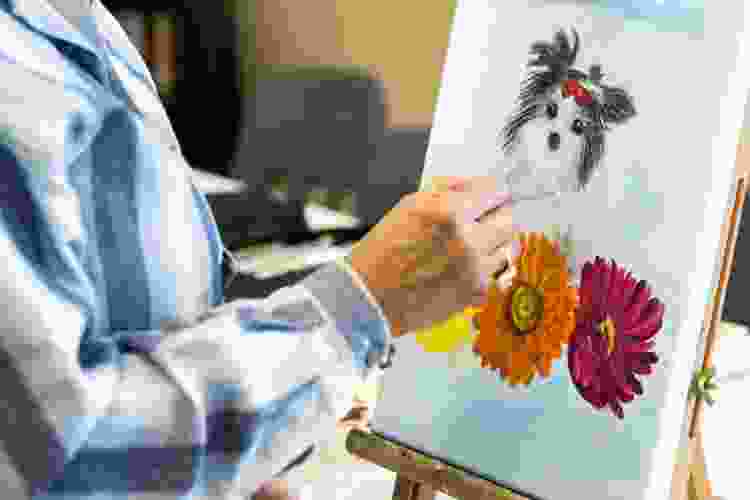 4. Starry Night
Draw inspiration for acrylic canvas painting ideas from the heavens and paint a starry night sky. Include scenery details like lakes, mountains or buildings, or keep the focus on the sky alone for a stunning scene.
5. Fluffy Clouds
For another example of acrylic canvas painting ideas that involve texture, paint a canvas of fluffy clouds on a sunset-hued background for the opportunity to play with how to mimic the delicate, cotton-candy like texture of clouds with acrylic paint.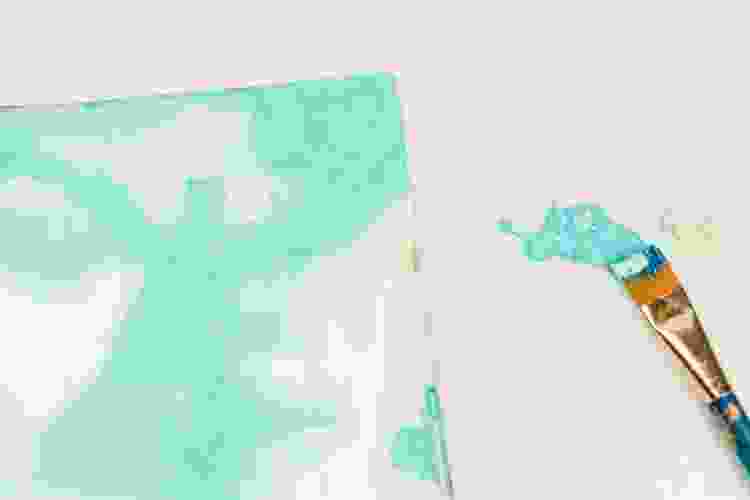 6. Colorful Bird
Play with color and texture by painting a colorful tropical bird on canvas. Research a few bright birds online, then practice mixing paints to create the perfect hues for your paintings. You can also take the opportunity to practice new acrylic painting techniques for feathers.
7. Flower Arrangements
Memorialize a beautiful bouquet in an acrylic painting on canvas. Perhaps the bouquet is from a loved one, a special place or just a particularly beautiful arrangement of florals. Preserve it forever in an unfading painting!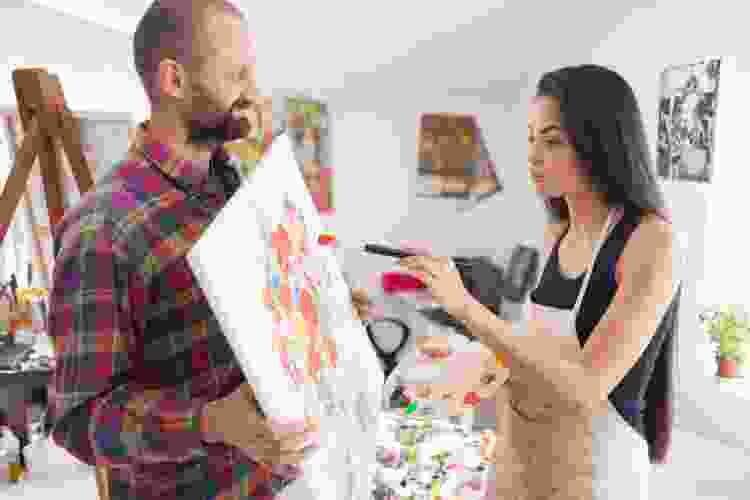 8. Cactus
Another acrylic painting idea for beginners is to take inspiration from the desert and create an acrylic painting on canvas of a green cactus. Add a splash of color by including a cactus flower!
9. Different Kinds of Trees
Take to the outdoors and note different kinds of trees in your area. Snap a few pictures, then try and recreate each tree species in acrylic paint on canvas.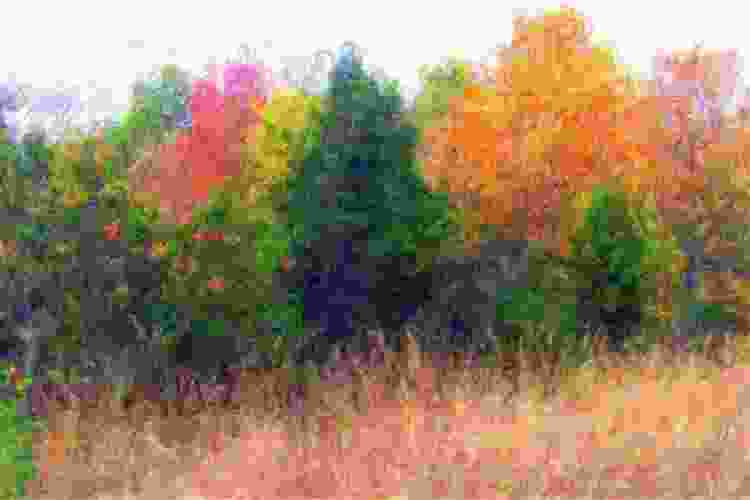 10. Bouquet of Peonies
A bouquet of peonies is one of the more forgiving acrylic painting ideas for beginners. These large, loose flowers leave lots of room for interpretation.
Simple Acrylic Painting Ideas for Beginners
11. Potted Plants
Potted plants make for adorable acrylic paintings. Pull inspiration from plants around your own home to create simple acrylic paintings that are fresh and colorful — the perfect acrylic painting idea for beginners.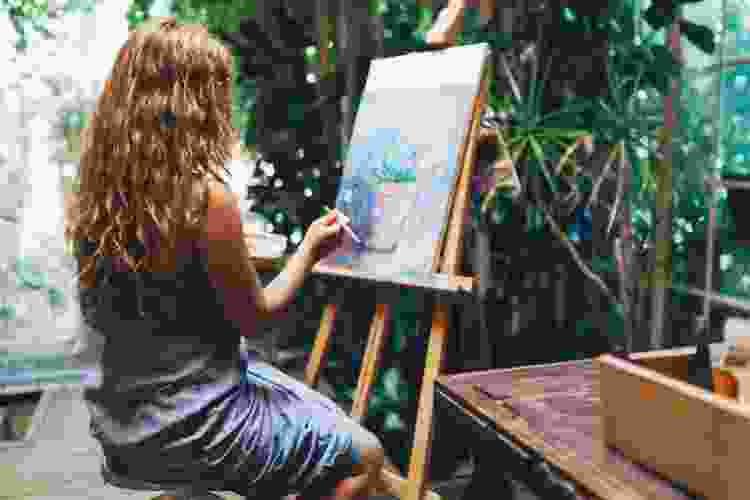 12. Paint a Few Bookmarks
Create simple acrylic paintings on a small scale by painting bookmarks! Cut out sturdy, thick paper to your desired bookmark size, then paint a scene on the bookmark. You could paint a floral pattern, simple shapes or a favorite quote.
13. Wooden Door
For a mysterious yet homey painting, an easy acrylic painting idea for beginners is to paint a wooden door. Pull inspiration from wooden doors around your neighborhood or from your travels. Dress up the door with a fancy knocker, or vines wrapping around the door frame.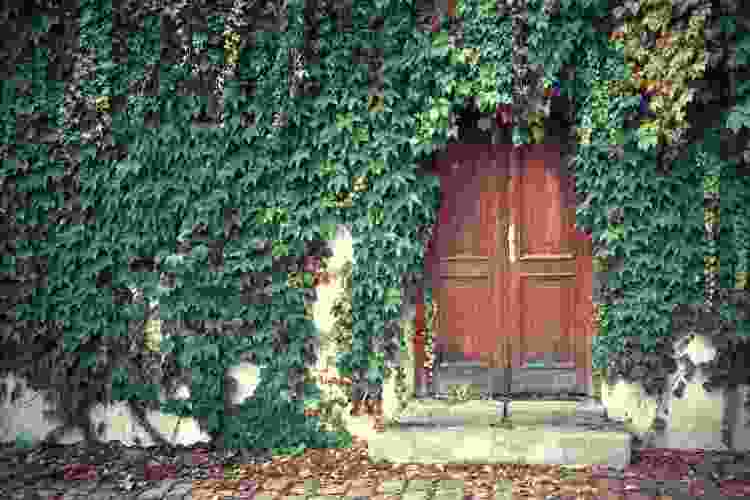 14. Christmas Tree
If you're looking for a festive acrylic painting idea for beginners, this is it. Get in the Christmas spirit and personalize your holiday decor by painting a simple acrylic painting of a Christmas tree!
15. Sunflower
A friendly sunflower is a great place to start if you are looking for acrylic painting ideas for beginners. It does not require too difficult of acrylic painting techniques for a new painter.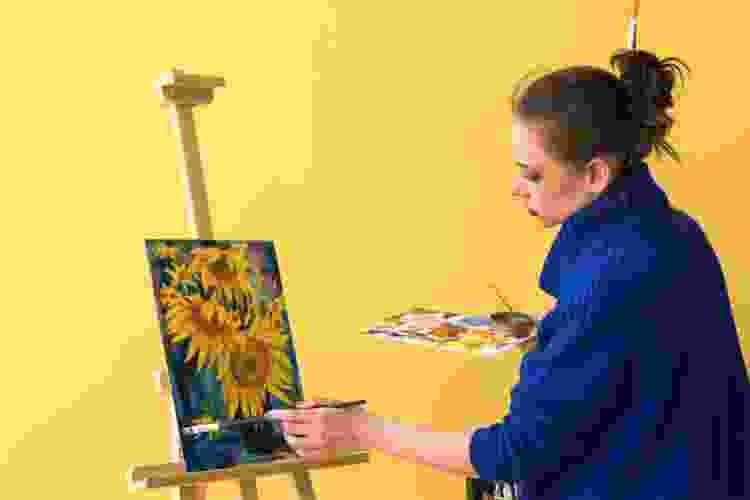 16. Neutral Rainbow
Of all the easy acrylic painting ideas for beginners on canvas, a neutral-hued rainbow is the simplest place to start. Create a palette of gentle colors like pale pink, beige, brown and dark red, then arch the colors into a rainbow on your canvas.
17. Sprawling Galaxy
Swipe deep purples, black and blues across your canvas and then use white paint to dot stars into place. One of the simpler designs to create, a galaxy still makes for a stunning painting.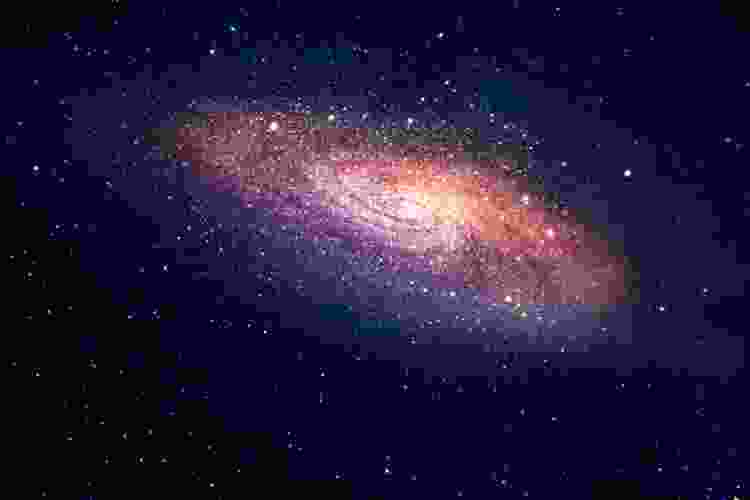 18. Your Favorite Mug
Create simple acrylic paintings out of ordinary dishes like your favorite mug. This idea allows you a chance to practice acrylic painting techniques for painting three-dimensional objects on a canvas.
19. Rose
Like peonies, paintings of roses are simple acrylic painting ideas for beginners with lots of room for interpretation. Keep the painting simple by painting the roses without much detail, or practice your skills by detailing each petal.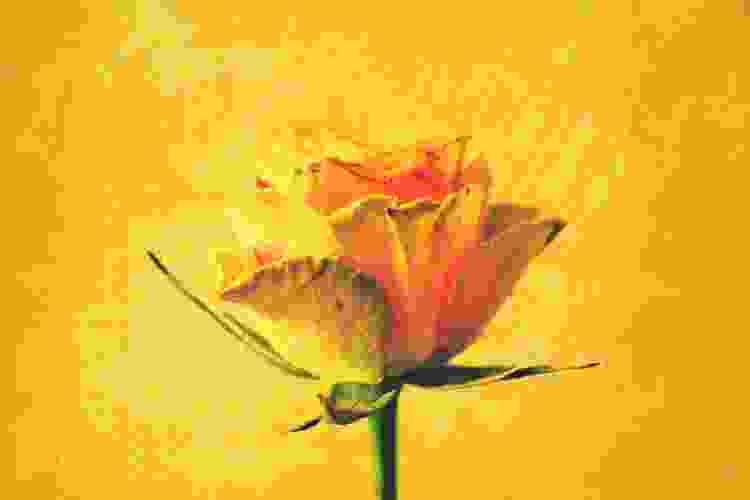 20. Your Favorite Quote
Next on this list of easy acrylic painting ideas, try your hand at painting text by making an acrylic painting of your favorite quote. Keep water handy to water down the paint a bit so it applies smoothly to the canvas. Additionally, you'll want to use a very small brush for your lettering.
21. Cute Fruit
An acrylic painting of graphic-style fruit would be a great addition to a kitchen or dining space! Keep your painting of fruit whimsical — don't worry too much about details!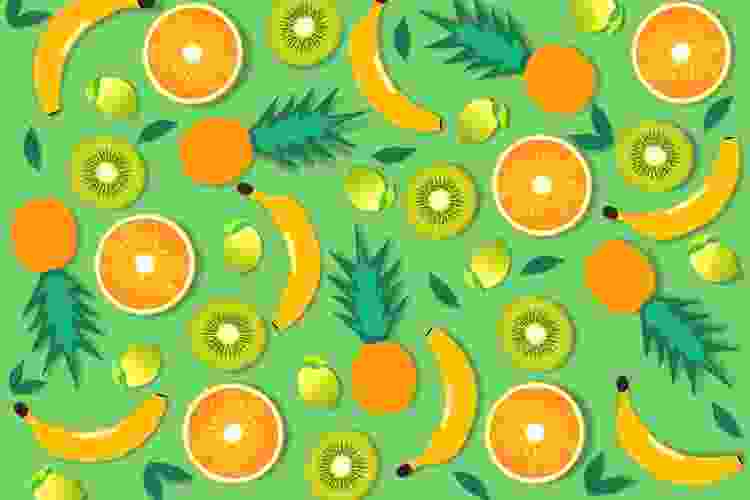 Abstract Acrylic Painting Ideas for Beginners
22. Color Block Design
First on the list of abstract acrylic painting ideas for beginners, a simple color-blocked canvas. Use painters tape to create a simple design, then paint inside each taped shape. Once the paint is dry, remove the tape to reveal your masterpiece!
23. Modern Shapes
For this idea, create a palette of coordinating colors, then take to your canvas to create a cohesive abstract design of modern shapes. Play with organic circles, ovals and lines to create a one-of-a-kind modern artwork.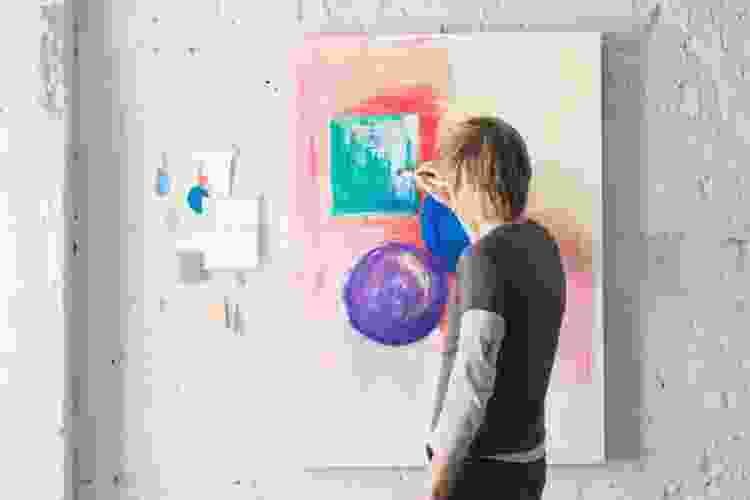 24. Gold Leaf Layering
Add a thin layer of gold leaf to your canvas to create a stunning acrylic painting. Begin by painting a base of beautiful color, then layer gold leaf on top for a shimmering effect.
25. Abstract Triptych
A triptych is a set of three paintings. Create your own set of abstract triptych canvases for a modern centerpiece to your decor. Carry a shape or a line across all three canvases, or paint coordinating but separate colors and shapes on each canvas.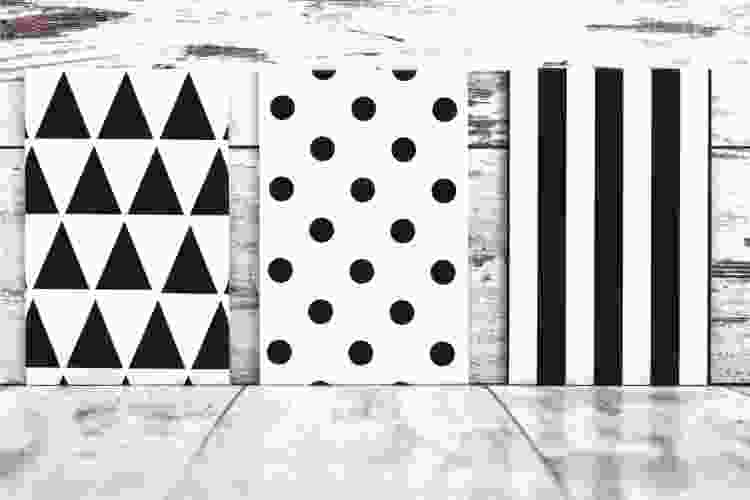 26. A Single Shape
This is one of the simplest abstract ideas to try: a single shape on canvas. This acrylic painting idea for beginners would work well as a triptych, too.
27. Abstract Animal
Break down the features of an animal into simple shapes to create a mysterious, Picasso-like acrylic painting of an animal. Play with color and arrangement of the features for a truly abstract design.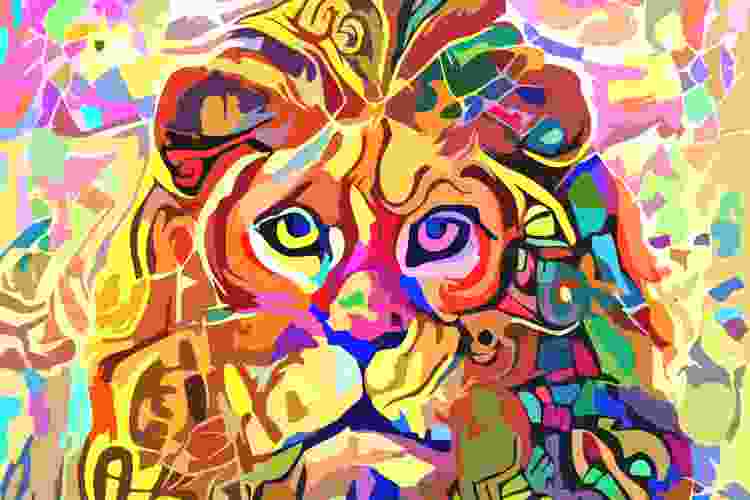 28. Simple Stripes
If you are going for abstract, painting stripes on a canvas is a simple yet impactful idea. Use painters tape to keep the lines crisp, or go freehand for a more organic look!
29. Abstract Seascape
Try and capture the essence of the ocean by painting an abstract seascape. What colors, textures or layers can you use to capture the sea in an acrylic painting?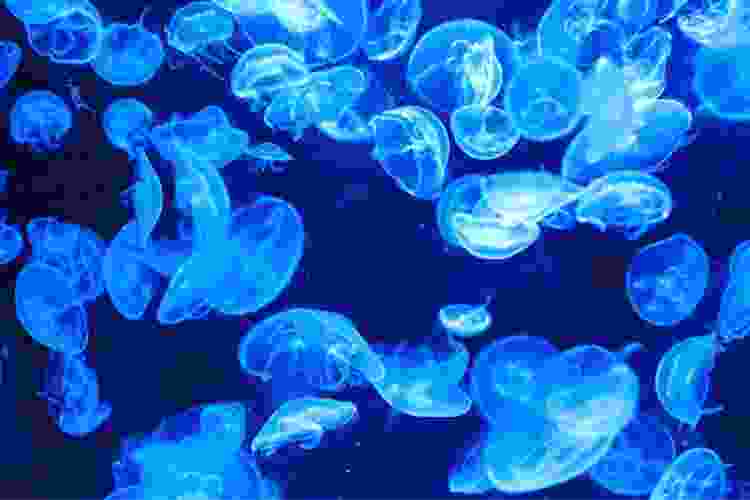 30. Bold Single-Color Canvas
Evoke the abstract impressionism artists of the mid-century by painting your canvas with just one bold color. Blue, red or even black would be particularly impactful.
31. Line Drawing of a Face
Next up on this list of acrylic painting ideas for beginners, you could paint a face on your canvas using a single line. It may be helpful to sketch the face out on paper or your canvas before you begin painting.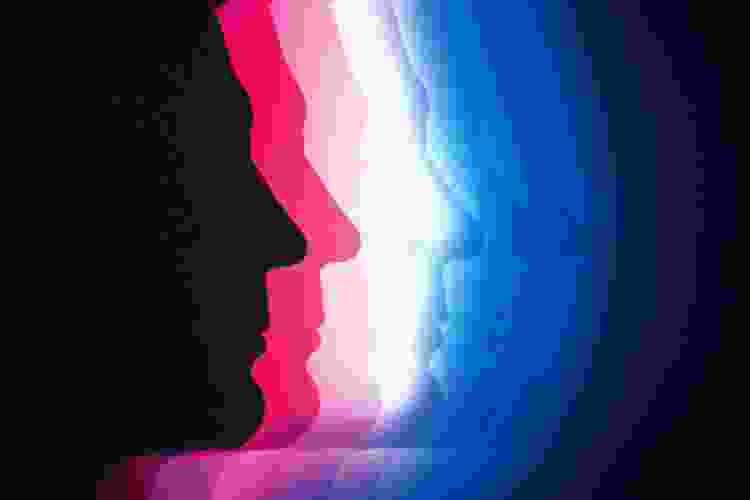 Acrylic Landscape Painting Ideas for Beginners
32. Rolling Meadow
Create a palette of verdant hues and then paint a rolling meadow. Fill your meadow with grasses or wildflowers, and don't forget to add a few puffy clouds to the sky in your acrylic landscape painting.
33. Forest or Stream
Dive into the world of acrylic landscape painting by painting a forest of trees. Play with depth and texture to create a realistic forest, and convey a seasonal scene by the color you pick for the leaves.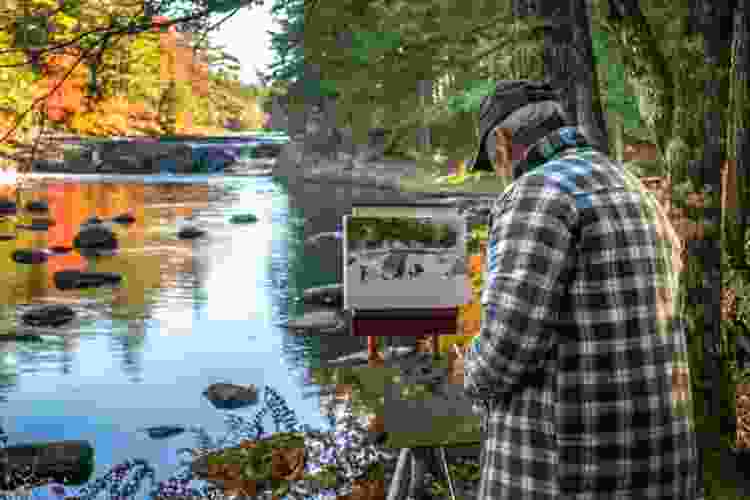 34. Shady Lane
A beautiful landscape acrylic painting idea is to paint a shady lane. Practice painting in perspective as you paint a gently winding lane, then fill in the sides of the lane with large, shady trees.
35. Beach
Create a stunning landscape acrylic painting by painting the beach. For a more moody painting, try painting Oregon's misty Cannon Beach. For a more tropical landscape painting, draw inspiration from Florida's Destin beaches.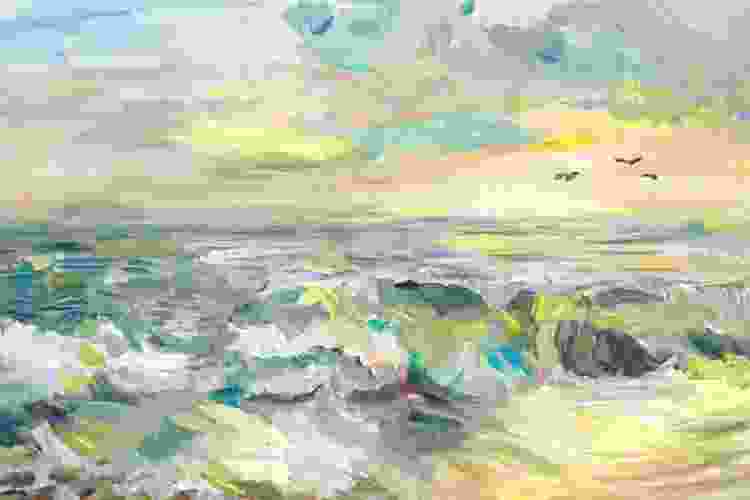 36. Flowering Garden
Go wild with color and paint a flowering garden. We recommend pulling inspiration from English countryside gardens, which are usually wonderfully wild and full of color.
37. Countryside Scene
Another easy acrylic painting idea for beginners is a simple countryside scene. Focus your painting on the landscape alone, or include a few unique details like animals, homes or barns.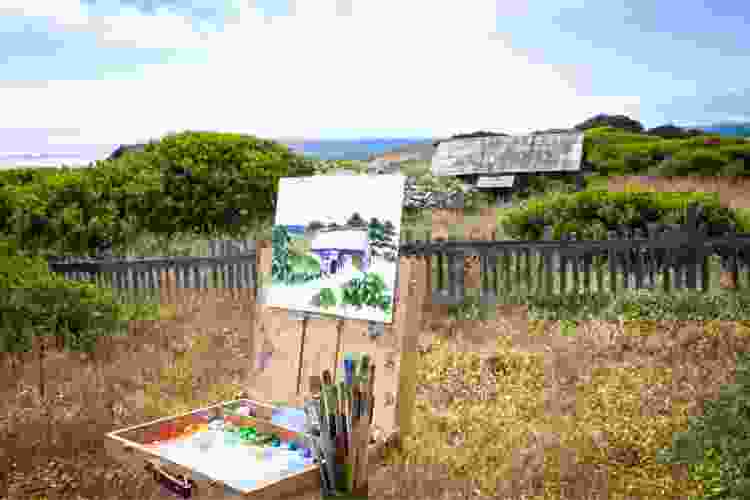 38. Vacation Photo
Preserve a memory in acrylic paint and create a landscape vacation photo! Your acrylic landscape painting will become a conversation piece at every dinner party.
39. Mountain Range
Mountain ranges are standard subjects of landscape paintings for a reason ⁠— their craggy peaks and bold silhouettes make for beautiful paintings. Try your hand a painting shadows and in perspective to create a truly realistic landscape painting of a mountain range.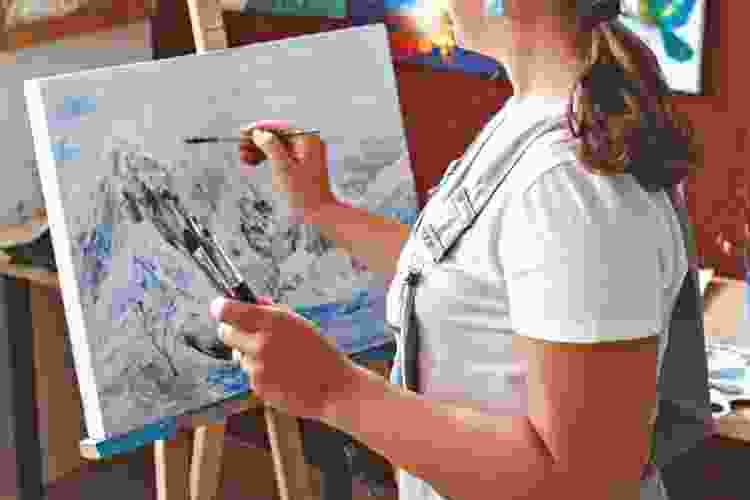 40. City Skyline
More of a city person than a countryside person? Next up on this list of easy acrylic painting ideas for beginners is a city skyline. Paint the skyline of your favorite city at sunset or sunrise for added effect.
41. Wildflower Field
Evoke a sunny summer day with this easy acrylic painting idea for beginners: a rolling green field of wildflowers. Begin your landscape painting by painting the field in hues of green, then dot in a variety of kinds of wildflowers.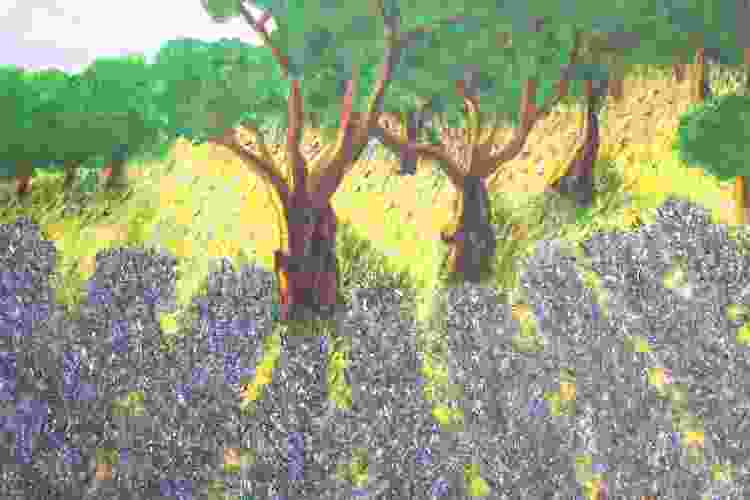 Sunset Acrylic Painting Ideas for Beginners
42. Sunset Over a Stormy Sea
For a dramatic sunset painting, paint a sunset over a stormy sea. This acrylic painting idea for beginners allows you to incorporate gray and deep blue into your sunset to create a stormy effect.
43. Beach Sunset
Paint a romantic sunset acrylic painting set at the beach. Don't forget to add a few sunset hues to water to recreate the ocean's mirror-effect at sunset.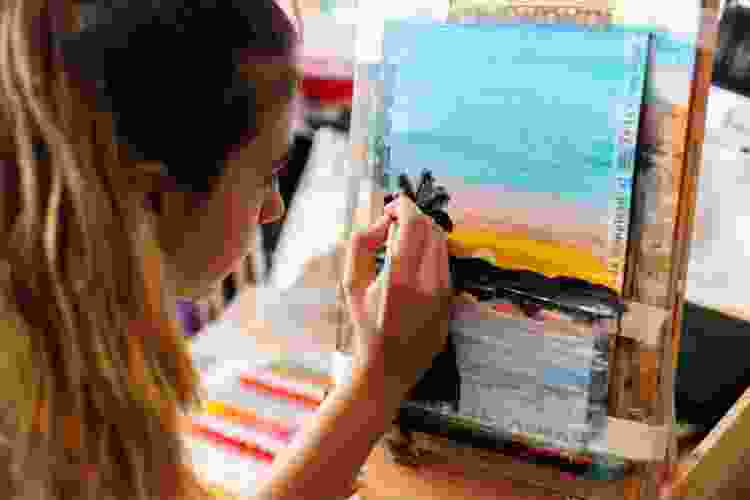 44. Sunset Through a Window
For a different perspective, paint the sunset view as seen through a window. Imagine the setting of the sunset and what a window may look like in that setting. Then take to the canvas to begin your sunset painting!
45. Sunset Couple Silhouette
Create a romantic acrylic painting of the sun setting behind a couple. Paint the sunset first, then after the paint dries, paint the couple over the sunset.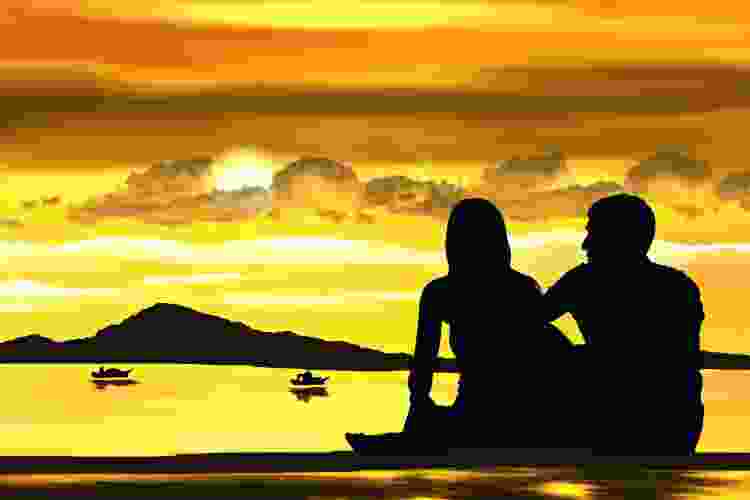 46. Sunset Over a Green Field
Another painting idea is to paint a sunset over a green field. Whether it's a wildflower field, a pasture or a field of crops, you'll have plenty of sky to fill with sunset hues!
47. Sunset Over a Mountain Valley
Another example of easy acrylic painting ideas for beginners is painting a sunset over a mountain valley. Paint a valley surrounded by mountains, then pain the sunset in vibrant reds, oranges and yellows as it slips behind the mountains.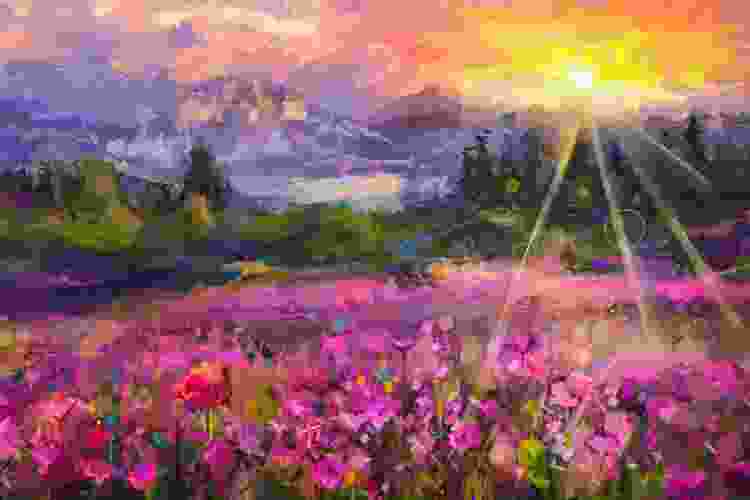 48. Pink and Blue Sunset
For a more muted sunset, fill your canvas with gentle pinks and blues and a few wispy clouds. It's a dreamy kind of sunset!
49. Red-Orange Sunset
Another easy acrylic painting idea for beginners is a red-orange sunset. Fill your canvas with varying shades of red, orange and yellow to mimic a vibrant red-orange sunset.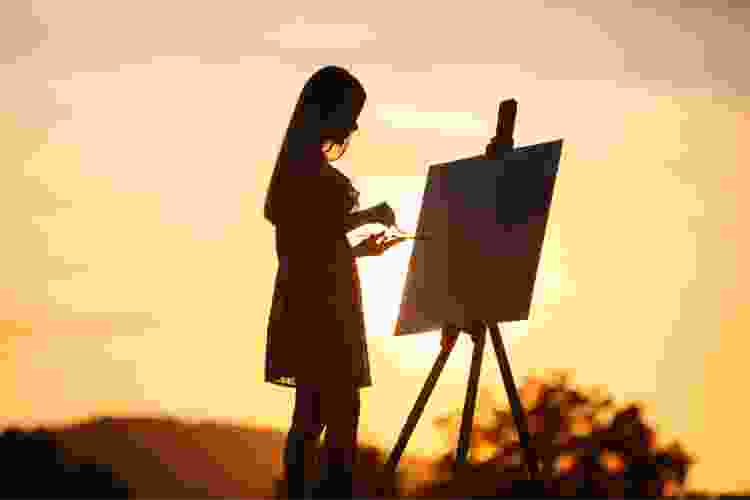 50. Sunset Hidden by Clouds
Make fluffy clouds the star of your sunset painting. Paint a vibrant sunset on your canvas. Once the paint dries, paint translucent and opaque fluffy clouds on top.
51. Sunset With Birds
Add character to your sunset painting by including a few simple black birds. After painting your sunset on the canvas and waiting for it to dry, add a few black birds flying across the canvas.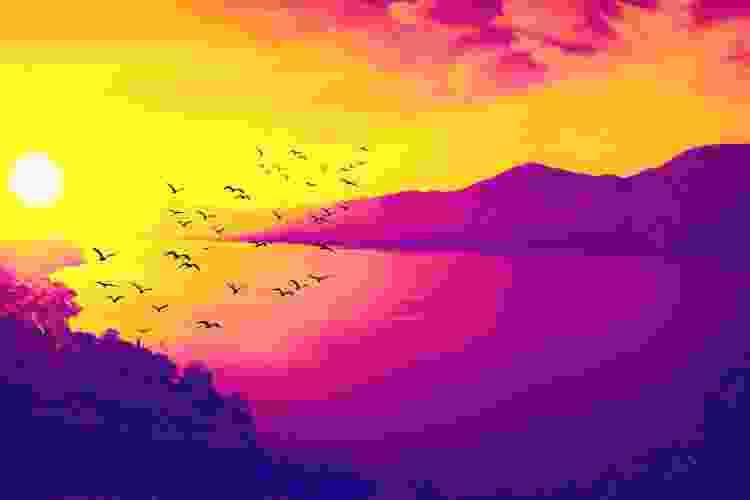 With 51 easy acrylic painting ideas for beginners to choose from, we hope you feel inspired to start your journey as an acrylic painter. Want to learn the skills, tools and techniques for painting works of art like the ones here? Give painting classes in San Jose a try, or explore painting classes in your area. You never know what fascinating creations you'll design!
For even more fun painting ideas and class opportunities, check out other experiences happening on Classpop!