31 Most Memorable Date Ideas in Orlando
Published on Oct 11th 2022
| 0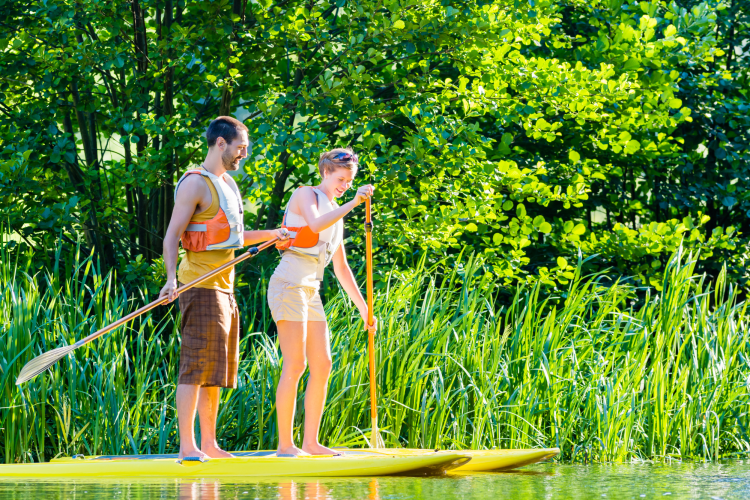 Are you searching for fun date ideas in Orlando? Is it a first date, a birthday, an anniversary or another special occasion? Maybe you're simply looking for something beyond the typical dinner and a movie? Regardless of the occasion or couple status, Orlando is filled with fun, romantic and unique activities, attractions and dining experiences.
As shared by Syracuse University, dating apps can only get you so far. Eventually, you'll need to find some fun activities for you to do together that really help you connect and get to know one another on a new level.
Whether it's a first date or a 50th, date ideas in Florida are so numerous and varied that the hardest part is deciding which one to choose. That's where we come in to help.
From hidden gems and unique experiences to world-famous attractions and landmarks, we've got your questions on "What can a couple do in Orlando?" and "Where should I go on a first date in Orlando?" covered.
Jump to Section
Creative Date Ideas in Orlando
1. Dance Classes
Date ideas in Orlando include the fun, fitness and movement of dance classes in Orlando. Whether it's salsa, samba or tap, you'll be spending time together while learning a skill you can share. Remote couples can even get in on the act with online dance classes.
2. Paint and Sip
Pop the bubbly for paint and sip in Orlando or join online painting classes for artsy date ideas in Orlando. Top-notch artists know how to infuse fun and connection into Zoom sessions while guiding you through landscapes, portraits and other works of art. Learn how to use acrylics, oils, watercolors and more.
3. Pottery Classes
For creative date ideas in Orlando, consider pottery classes. Join experienced potters as they teach you how to shape, throw, glaze and paint pottery. Make vases, bowls and other vessels out of earthenware, stoneware and porcelain, and learn proper kiln safety techniques.
4. Photography Classes
Learn how to take those digital and smartphone pics to the next level with online photography classes. Likewise, you can take up new skills by diving into SLR cameras and manual techniques. Spend time together exploring the town while taking posed and casual photos of interesting architecture, historic buildings and each other.
5. Drawing Classes
Spend an animated evening learning how to draw cartoons, portraits, sketches or landscapes with drawing classes or online drawing classes. You'll learn the basics of shapes, shading and outlining while using charcoal, pen and ink, or watercolor brush lettering techniques. This date idea in Orlando is designed for all levels of artistic couple.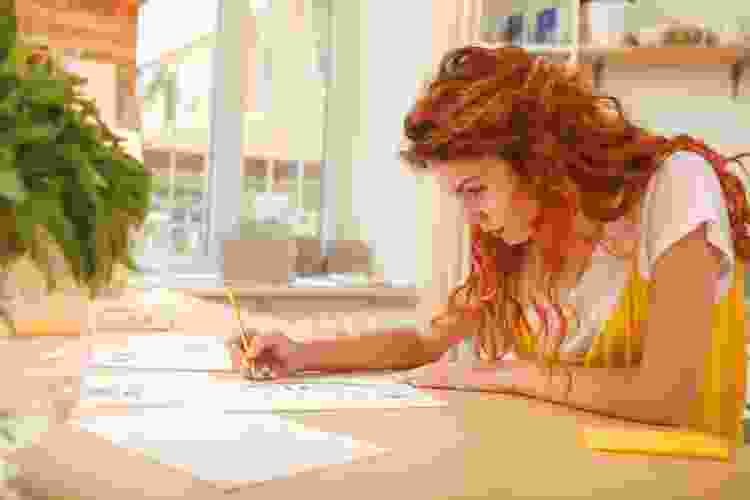 6. Literary Events
Looking for literary date ideas in Orlando? If you and your significant other are literary explorers, this attraction will answer your question of "How do I date in Orlando?" Jack Kerouac's House, located in College Park in northwest Orlando, features a full calendar of events like potluck dinners, book launch parties, author readings and open mic "bad" beat poetry readings.
Kerouac lived in this 1920s-style cottage at 1418 ½ Clouser Avenue from 1957 – 1958. His book On the Road was published while he lived there, and the manuscript for Dharma Bums was typed there. On the National Register of Historic Places, the house has been refurbished and is now a tribute to Kerouac as well as a retreat for up-and-coming writers.
Foodie Date Ideas in Orlando
7. Cooking Classes
Cooking classes make terrific date ideas in Orlando for couples who like to cook. You'll be able to connect in the kitchen while learning expert tips from gourmet chefs.
Choose your favorite cuisine or try your hand at something new. Whether it's authentic Indian fare, traditional Spanish tapas or the delicate art of French pastries and artisan breads, this fun and interactive experience provides you with recipes you can recreate together.
8. Online Cooking Classes
If you prefer the comfort of your own kitchen, or you're currently apart, online cooking classes are a great option. Connect with each other and a gourmet chef via a Zoom session. Fully interactive, you'll be able to ask questions, learn culinary techniques and learn how to prepare nutritious and delicious recipes while spending time together.
9. Brewery and Winery Tours
Do you share an interest in craft beer and the beer- and wine-making processes? While artisan brew doesn't normally come to mind when searching for date ideas in Orlando, the city is filled with breweries, wineries, gastropubs and wine bars.
Orlando Brewing is the city's first craft brewery and offers organic craft beer and tours. Other local breweries, wineries and wine bars to try include Crooked Can Brewing Company, Rockpit Brewing, Quantum Leap Winery, Lakeridge Winery and Vineyards, Tavistock Wines, Eola Wine Company and Wine Bar George.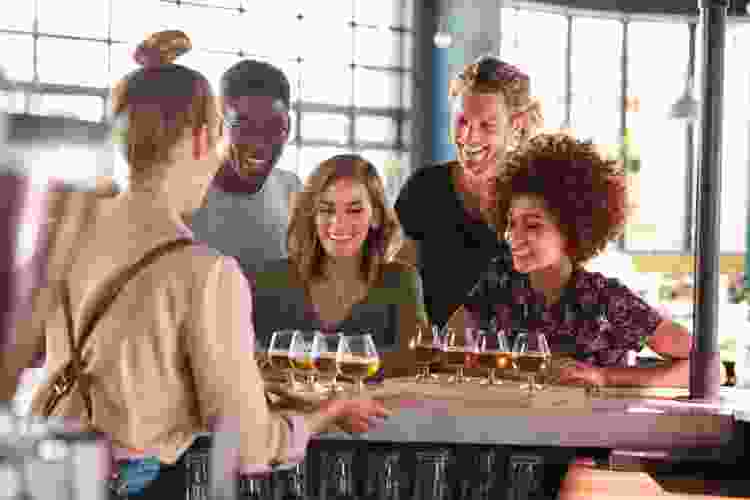 10. Mango's Live Dinner Show
Dinner and a show make fun date ideas in Orlando. Located on International Drive (or I-Drive), this venue is one to put at the top of your list. Mango's Live Dinner Show features Cuban cuisine and performances of samba, belly dancing and other acts.
11. Epcot's International Food and Wine Festival
Looking for magical first date ideas? It doesn't get much more magical than the Happiest Place on Earth. Add delicious to that title as you check out the annual International Food and Wine Festival at Disney's Epcot.
The event takes place over a time frame of July through November. Sip and sample your way around the world as you visit kiosks from Asia, Africa, Morocco, Germany and many more. Live music and other fun events take place during this time.
Unique Date Ideas in Orlando
12. Acting Classes
Who's the comedian and who's the drama queen (or king)? Acting classes and online acting classes are a fun way to spend time together while learning or boosting your theatrical talents in stand-up, improv and more. This date idea in Orlando allows you and your date to share laughs and get to know other sides of your personalities.
13. Online Mixology Classes
Forgo the traditional happy hour and mix up drinks at your home bar or kitchen counter. Best of all? No cab fare to get home with this date idea in Orlando. Book online mixology classes to learn how to mix margaritas, muddle mojitos and shake the perfect martini.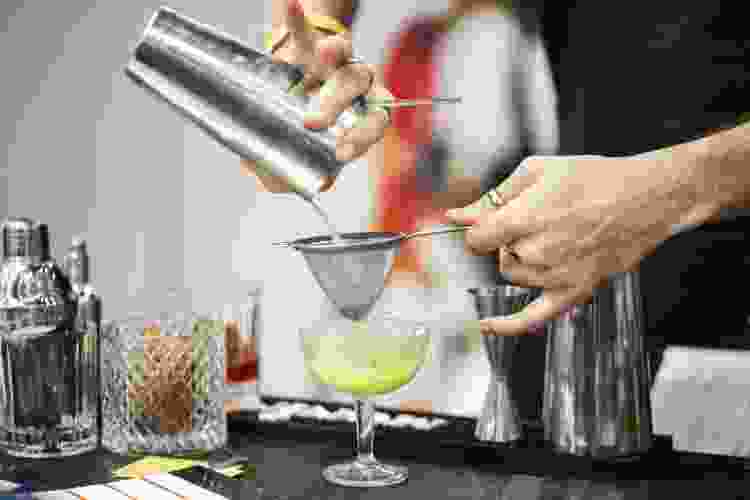 14. Virtual Wine Tastings
If you and your sweetie are budding wine connoisseurs, virtual wine tastings will be right up your alley. Explore global grape regions and varieties, food pairings and how to tell the differences between merlot, cabernet sauvignon and chardonnay. You can even combine wine tastings with cheese and chocolate for a romantic experience.
15. Axe Throwing
Sharpen your relationship by learning the precise steps to throwing an axe and hitting a target. As axe throwing has become all the rage whether it's team building, birthday parties or date ideas in Orlando, this activity is an adrenaline and confidence booster for all kinds of couples.
Check out the Axe Trap + Remedy Bar and Lounge, a 1920s-inspired venue that serves coffee in the early hours and cocktails in the evening.
16. Cirque du Soleil: Drawn to Life
Experience the music, magic and motion of Cirque du Soleil at Disney Springs. This all-new production is a collaboration between Walt Disney World and the globally famous Cirque du Soleil.
It tells the story of bringing to life drawings and animation that only Disney can do. Spend a mesmerizing evening watching acrobatics, lively entertainers, contortionists and aerialists accompanied by a soaring musical score.
17. Theme Parks
When in Orlando, you've got a universe of choices to share your love of roller coasters, thrill rides, musical shows, nostalgia and whimsical worlds.
Consider Walt Disney World's Magic Kingdom, Epcot, Animal Kingdom and Hollywood Studios as well as Universal Studios and Islands of Adventure. Share your fandom of Harry Potter, Star Wars, Avatar and other popular movies with this date idea in Orlando.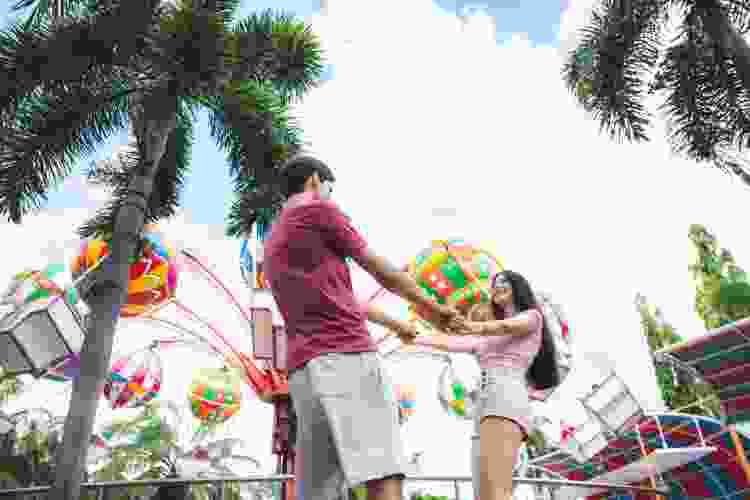 18. Disney Springs or Universal's City Walk
You don't have to go into the theme parks to get a taste of the fun. For shopping, dining and entertainment, spend time strolling around Disney Springs or Universal's CityWalk while shopping for apparel, home décor, hats and accessories or trying new food, restaurants and bars.
DIY Date Ideas in Orlando
19. Virtual Flower Arranging Classes
Gather your favorite flowers, blooms and trailing vines and join your sweetie for virtual flower arranging classes. You'll learn how to use the techniques of color, texture and height to create beautiful bouquets, centerpieces, decorative wreaths and corsages.
20. Woodworking Classes
Even if you've never handled a saw or measured a piece of wood, you'll gain new skills and have a fun evening with your significant other through woodworking classes. Learn how to properly and safely measure, cut, sand and saw slabs of wood into birdhouses, candlesticks and other small objects.
21. Glass Blowing Classes
Creating and learning a new craft together make for wonderful date ideas. Explore the exciting world of molten glass as you learn how to use a blowpipe, jacks, paddles and shears to shape, blend and blow hot glass into beautiful works of art.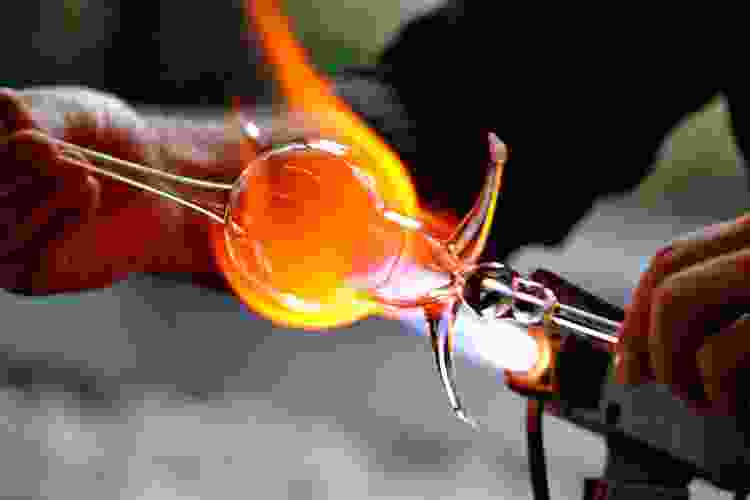 22. Sewing Classes
Sewing classes are a unique date idea in Orlando for crafty couples. Whether it's hand or machine stitching, you'll learn how to lay out, pattern, cut, trim, hem and stitch a variety of fabrics while making apparel, home décor, crafts or quilts.
Indoor Date Ideas in Orlando
23. Game Time
If the two of you share a love of board games, trivia and friendly competition, game nights make a terrific date idea in Orlando. Book virtual escape rooms where you can explore global destinations to find clues and landmarks to solve riddles that will eventually help you to escape the room.
With the assistance of a virtual host, you'll enjoy online trivia games, virtual game nights and virtual scavenger hunts from the comfort of your own living rooms.
24. Day at the Museum
Spend an afternoon or evening strolling hand-in-hand while picking out your favorite paintings, portraits and other works of art. Museum date ideas in Orlando include the Orlando Museum of Art, the Orlando Science Center, the Albin Polasek Museum & Sculpture Gardens and the Morse Museum of American Art.
25. Race Around the Track on Go-Karts
Indulge your need for speed and show off your competitive side by revving up at the go-kart track. Andretti Indoor Karting and Games offers indoor go-karting, laser tag, bowling and arcade games.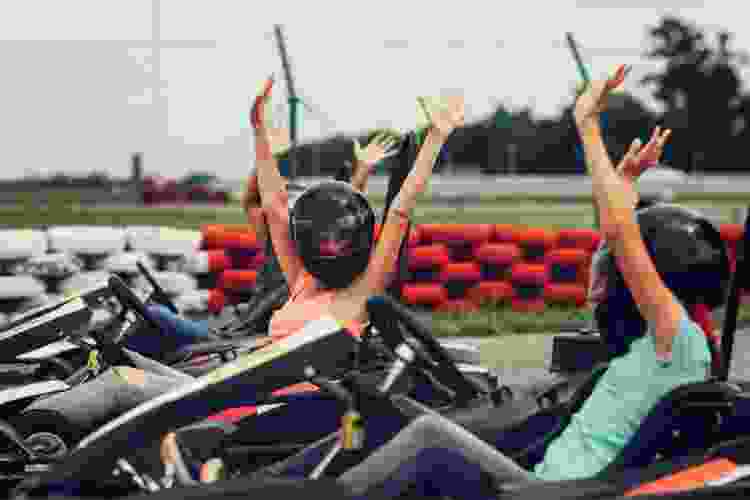 26. Sporting Events
Sporting events make terrific indoor date ideas in Orlando. Sports fan couples can head to an Orlando Magic basketball game or an Orlando Solar Bears hockey game at the Amway Center.
Outdoor Date Ideas in Orlando
27. Romantic Swan Boat Ride
For unique and sweet outdoor date ideas in Orlando, it doesn't get much more romantic than swan boat rides. You and your sweetie can enjoy floating around Lake Eola aboard these giant swan-shaped boats. This date idea in Orlando is one you'll both remember. It's equally great as a first date or a 50th date.
28. Stand-Up Paddleboard Tour
Paddle through the Winter Park chain of lakes with a company such as Epic Paddle Adventures. This is a unique entry for date ideas in Winter Park. You'll learn all about balance, paddling techniques and making your way along the canals. Enjoy scenic tunnels, beautiful homes, towering trees and turtles, fish and other wildlife.
29. Horseback Ride for Two
Take a trail ride for two at Hidden Palms Ranch in Sanford. You'll travel along Lake Jessup and trails of live oaks, palm trees and seasonal sunflowers. Bring your binoculars along to catch a glimpse of eagles, osprey and white-tailed deer. Rides last about 60 minutes and expert training is supplied.
Free & Cheap Date Ideas in Orlando
30. Share a Love of Nature at Wekiwa Springs State Park
Enjoy Florida's natural sparkling springs at Wekiwa Springs State Park. At about 7,000 acres in size, it's located in Apopka about 20 minutes north of Orlando. The crystal clear water is a refreshing 72 degrees year-round. The springs flow into the Wekiwa River through forests of tropical shade trees and flowering plants.
Admission is $6 a car, which is a super inexpensive way to enjoy birdwatching, swimming, picnicking and fishing with your significant other. There are also trails for hiking, bicycling and horseback riding.
31. Stroll Among Flowers at Bok Tower Gardens
Looking for cheap things to do in Orlando for couples? Bok Tower Gardens features 250 acres of historic buildings and gardens designed by landscape architect Frederick Law Olmstead Jr. Adult admission is $16.
Enjoy flowering azaleas, magnolias and camellias as well as ferns, oaks, palms and more. This beautifully landscaped area has been open since 1929 and features a carillon bell tower, a children's garden and nature trails. It's part of the Great Florida Birding Trail, which will make the birders in your duo happy.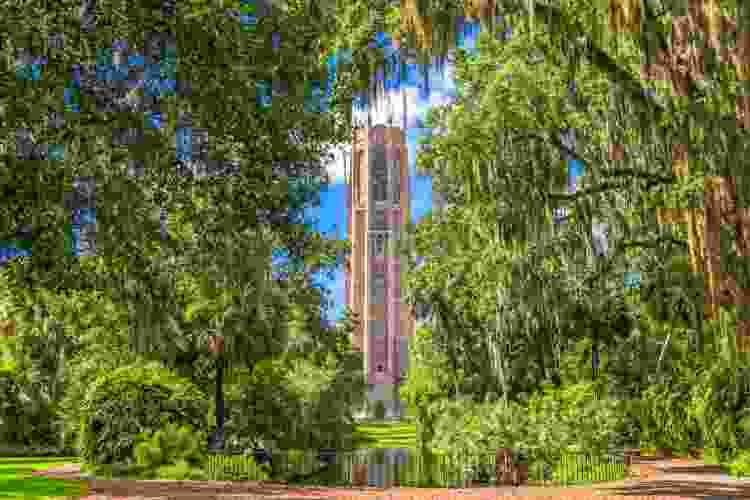 We hope we've answered all your questions about "What are good ideas for a date in Orlando?" Whether you're going for something adventurous, seeking a romantic evening out, want to share a culinary experience or prefer a leisurely day of fun, we've designed this list to cover a wide range of interests, price ranges and personalities.
With Orlando and central Florida's historic attractions, theme parks and natural springs as a backdrop, you're bound to have a terrific time you'll both remember. Any of these date night Orlando 2022 ideas are bound to be a hit!
For even more fun date ideas, check out other experiences happening on Classpop!