43 Best 40th Birthday Party Ideas for 2023
Last Updated on Jun 14th 2023
| 0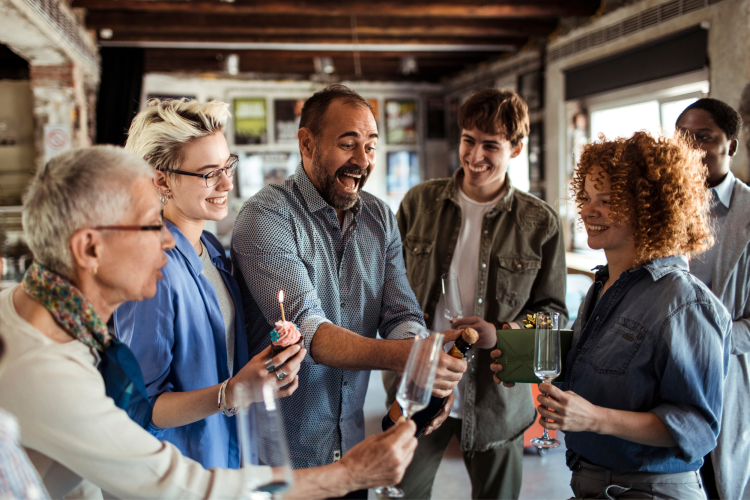 Turning 40 is all the more exciting when you get to brainstorm some 40th birthday party ideas. So how is it possible to do justice to the big 4-0? Let your imagination run wild with these thrilling ways to celebrate just how fabulous you are. 
Wondering what you can do for your 40th birthday? It's quite possible to come up with festive ideas on a budget with a little creativity. From stimulating foodie experiences to enjoying the great outdoors, the possibilities are endless.
So, how will you celebrate your 40th? Get inspired with our list of the best 40th birthday party games, themes, activities and more.
Jump to Section
Foodie 40th Birthday Party Ideas
With the increasing ease of access to the culinary world, it's no wonder that suddenly everyone has become a foodie. Keeping that in mind, there are unlimited related activities that you can use as 40th birthday party ideas. 
1. Hands-on Cooking Class
A simple way of developing culinary aptitude is by joining a cooking class. These classes are run by all-star chefs who will help turn your special day into something magical.
Find cooking classes in Houston, cooking classes in Washington, D.C., cooking classes in Boston and beyond. Start by browsing cooking classes near you today!
2. Online Cooking Class
If in-person cooking classes aren't available in your city, or if your nearest and dearest are scattered across the globe, why not try online cooking classes?
Taught live by reputable chefs, they are the perfect way to bring everyone together for a day to remember. There are many skilled chefs to choose from to help you figure out what to do for your 40th birthday. Get inspired with our list of the best Zoom cooking classes of the year.
3. Online Mixology Class
Celebrate cocktails of all kinds with one of the best adult birthday party ideas. From Aperol spritz to zesty lime coolers, they just make the day feel more accomplished. And unsurprisingly, they taste so much better when made in the (relative) peace of your home rather than in a noisy bar.
One of many festive 40th birthday party ideas that is certain to uplift everyone's mood, online mixology classes are the way to go.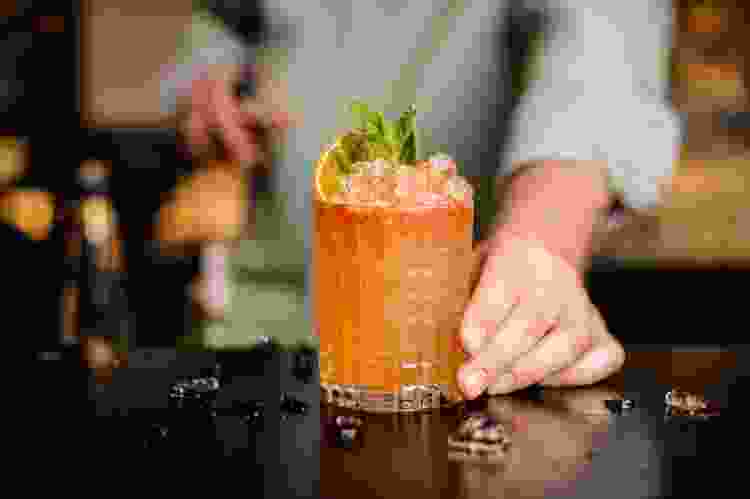 Join our email list for exclusive deals, local events and fun inspiration for living a more creative life.
4. Wine Tasting 
As fabulous as wine tasting is, there isn't always a winery nearby. For an informative and pleasant afternoon, try out a virtual wine tasting experience. Run by top sommeliers and chefs who are eager to answer all your questions, it is sure to be a blast.
Plus, it's one of many fun gifts for wine lovers perfect if you're also in search of the best 40th birthday gift ideas for the occasion.
5. Private Chef Experience
If you really want to get fancy with your 40th birthday party idea, consider hiring a private chef. An experience designed to make your celebration even more spectacular, the chef will come to your home armed with all the tools to make you a five-star meal.
Simply sit back, relax and watch the chef work while catching up with friends and savoring a luxurious meal. If you'd rather go out, make it extra special by traveling to your favorite foodie destination. Find incredible birthday dinners in NYC and other popular locales.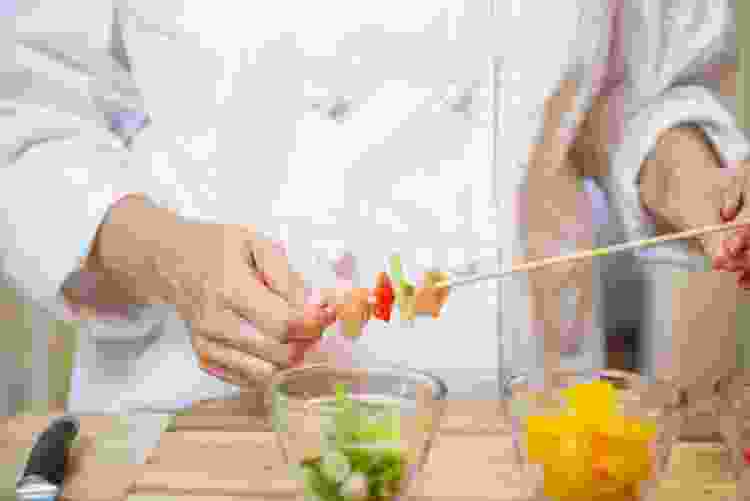 6. Bar Crawl 
Are you a 40-year-old in a 21-year-old's body? Consider taking your friends out to a bar crawl so you can revisit favorite haunts from your college days.
This casual setting allows for a fantastic trip down memory lane and an excuse to make fun of the many cringe-worthy moments of youth. 
Creative 40th Birthday Party Ideas
Because turning 40 is such a big deal, it's important that the celebration be as creative as can be. This is no small feat given just how many ideas have been copied over the millennia, but there are still a few creative 40th birthday ideas to choose from. 
7. Art Night 
Embrace your inner artist with your very own art classes! Add your favorite beverage with paint and sip in San Diego, paint and sip in Boston, paint and sip in Chicago, and paint and sip near you, and who knows? Perhaps you'll create something worthy of hanging over the mantlepiece. 
If paint isn't for you, get your hands dirty with pottery classes in San Diego, pottery classes in San Francisco, pottery classes in Minneapolis or pottery classes near you.
If you'd rather opt for other art forms, art classes in Portland, art classes in NYC and art classes in Los Angeles offer drawing, sewing classes, glass blowing and more unique mediums. Explore art classes near you to learn crafty tips and tricks from skilled artists.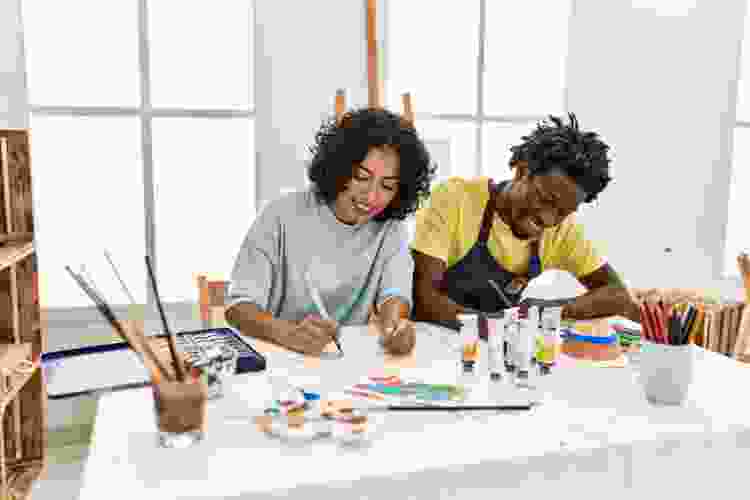 8. Dance Class 
Learning to dance is a crucial life skill, and a highly embarrassing one to acquire. Show off your skills in a local studio with fun, interactive dance classes in Orlando, dance classes in Los Angeles or dance classes in San Diego, or do so in the privacy of your home with online dance classes so no one can watch you battle your two left feet. 
9. Flower Arranging Classes 
There's nothing more beautiful than a well-assembled flower bouquet. Learn to make your very own floral creations with virtual flower arranging classes. Compare your bouquets with friends and decide who will become a florist in their next life.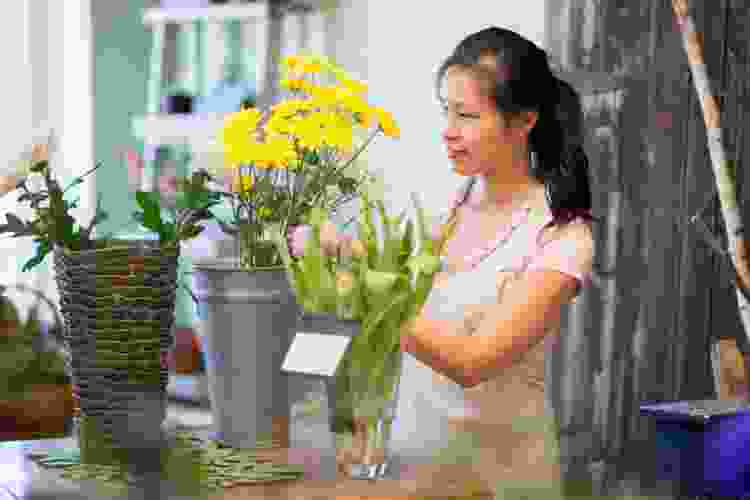 10. Game Night 
Playing board games is always fun, but not everyone has the time or energy to travel all over town to play Monopoly. Instead, try out a virtual game night or virtual scavenger hunt to find out who is the most competitive of your friends. 
11. Tea Party 
Sometimes, we just have to look to our friends across the pond for 40th birthday party ideas. This elegant yet surprisingly wallet-friendly approach to celebration entails not much more than breaking out your grandmother's tea set, slapping together some cream cheese and cucumber sandwiches (with the crusts cut off, please and thank you!) and ordering some scones with jam from the local bakery.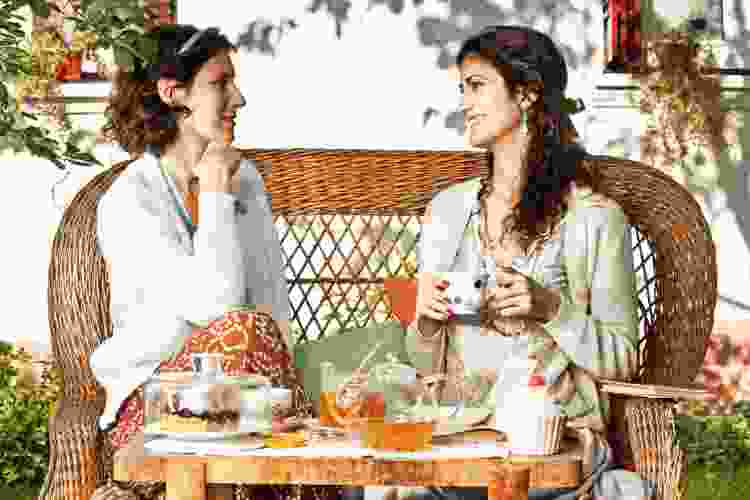 12. 80s Party 
If the word Instagram makes you howl in protest, consider this for a 40th birthday party idea. An 80s-themed birthday party is something that can be thrown together on every budget and ensures that all of your guests, down to Generation Z, have a marvelous time.
If the 80s isn't your style, explore other theme party ideas to find the perfect 40th birthday theme for you.
13. Photo Booth 
If you are a social media guru, what better way to rake in the Instagram likes than by creating your very own 40th birthday photo shoot ideas? Gather up fun props and costumes and take turns snapping away!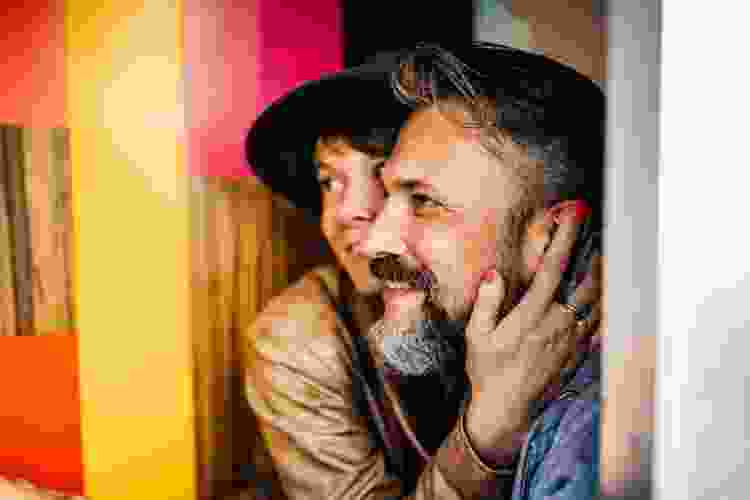 14. Martial Arts 
When you're surrounded by active folks, a martial arts class might be the way to go for a unique 40th birthday party idea. Many dojos have a free or discounted introductory class and the instructors are always happy to welcome new students.  
15. Fimo Clay
It's wonderful to be surrounded by creative types as they are always interested in trying something new. Breaking out lots of colors of fimo clay and getting everyone's hands busy is sure to create a successful afternoon.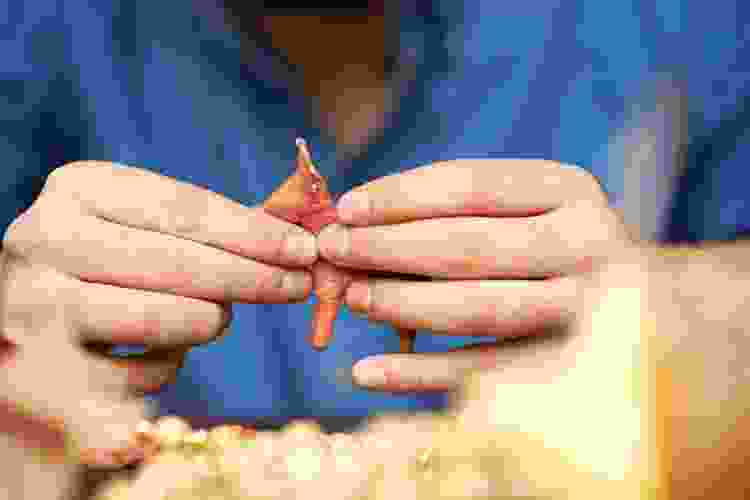 40th Birthday Party Ideas on a Budget
These days, it appears that every dollar is worth less and less, which is why it's important to plan your 40th birthday party ideas on a budget. Still, that doesn't mean a fantastic time isn't to be had.
16. Host a Movie Marathon
Is money really quite tight on your birthday this year? Stop fretting and invite your people to your place for a movie marathon. Choose a fun theme, like terrible horror movies or everything Ben Affleck, throw together some popcorn and enjoy a healthy dose of bonding.
Tip: Make sure to set up your living room with lots of pillows and blankets to get everyone feeling cozy. 
17. Beach Birthday
If you're lucky enough to have been born during the summer months, why not grab your towel and most over-the-top sunglasses and head to the beach?
This 40th birthday party idea is a fun-for-all-ages way of spending the day together with your loved ones without spending a dime. Pack a picnic and some beer cans and let the sun work its magic.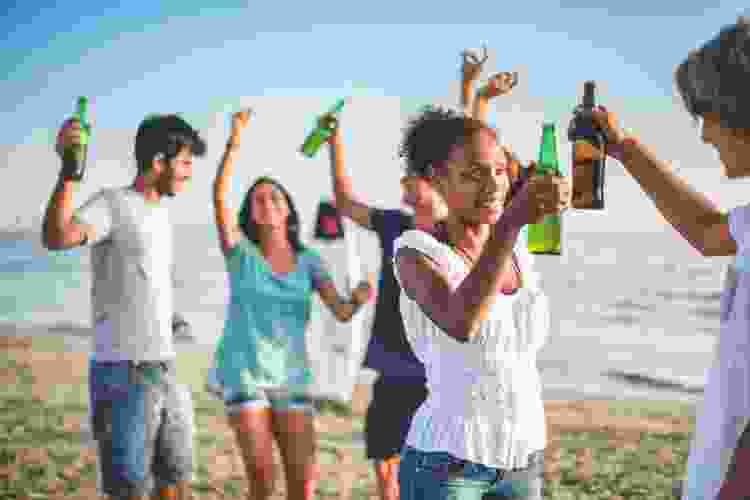 18. Poetry Slam 
If it's something of interest to you, invite your friends to the local pub on poetry slam night. Poetry slams are a lovely way to spend the evening listening to other people's life work, and they're often by donation.
They usually take place near universities, so scout establishments in those areas for a location. This 40th birthday party idea on a budget will have you snapping your fingers in no time. 
19. Baking Party 
Get your hands dirty and make your birthday cake all at once! Having a baking party means you get to show off your skills in the kitchen and teach your guests how to master cake batter and buttercream frosting for a sweet day.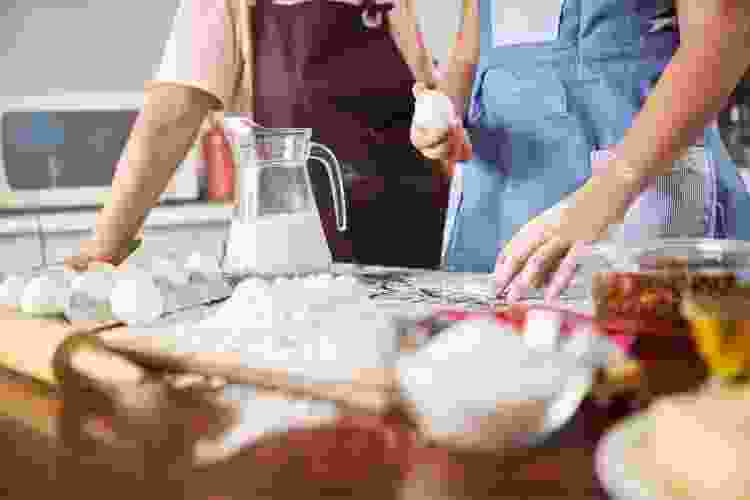 20. Scavenger Hunt 
This one takes some planning, but if you have the time and patience to run around town planting clues, you'll be sure to have a successful birthday. This 40th birthday party idea is cost-effective as all you need are some basic office supplies and a small prize for the winner.
21. Potluck
If you love to eat and hate to cook, try this 40th birthday party idea out for size. Having a potluck means it's possible to enjoy your guests' company without the annoyance and expense of having to cook for a crowd. Make two dishes and let everyone else provide the rest of the food.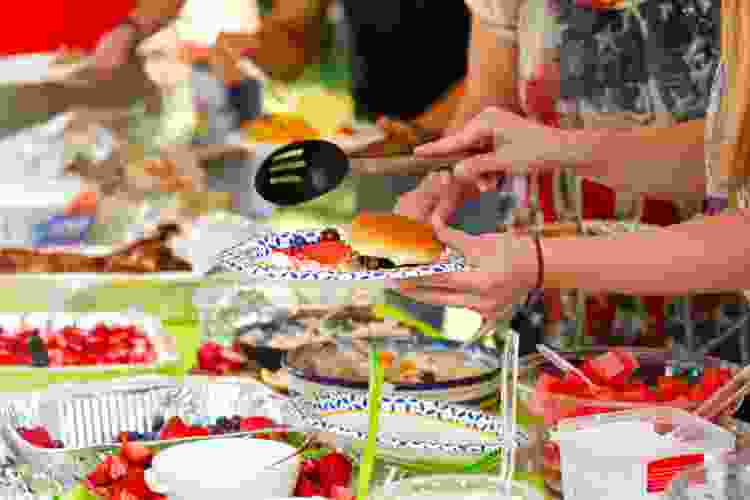 Themed 40th Birthday Party Ideas 
What's the best 40th birthday party theme? Learn how to plan a birthday party by using your personal interests and hobbies as a starting point, or try some of these themed birthday party ideas. 
22. Star Wars
Nerdy and proud of it? Hijack the kids' light sabers and run to the Halloween store for Jedi outfits to spend the day deciding which of George Lucas' masterpieces is the most epic. Add on a Darth Vader shaped cake and elaborate decorations for a particularly special 40th birthday dress-up theme.  
23. Vegas 
If you're interested in making (or losing) some extra cash, plan a Vegas-themed night for a 40th birthday party idea. Pick up a roulette set and a poker table and spend an evening gambling. Chips or cash, the decision is yours. 
24. Grunge Rock 
As a Gen Xer, there's a good chance you grew up head-banging to the sounds of Nirvana and Pearl Jam. That time need not be over. For a musically themed 40th birthday party idea, break out the dusty cassette tapes and dance the night away. 
25. Theme Park 
When you're out of ideas for a themed 40th birthday party idea, head over to the nearest amusement park and let the establishment take you on for the ride. See if you're still brave enough to ride the roller coasters, or stick to the Ferris wheel for a classically romantic moment.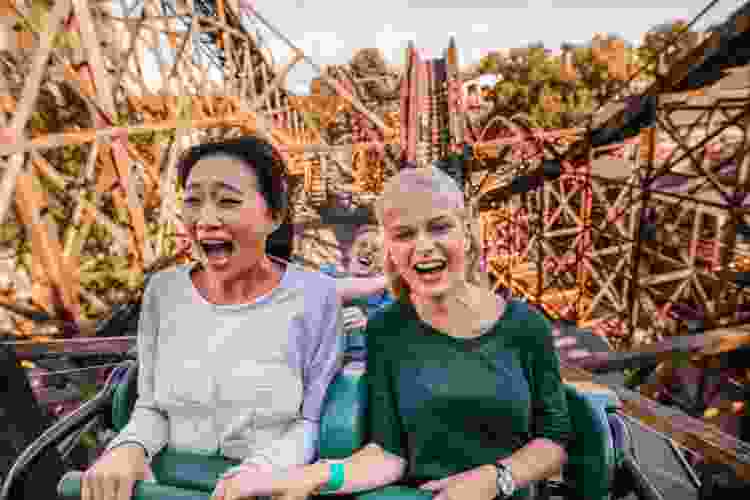 26. Comedy Night 
Provided that you mingle with performers, an at-home comedy night is a fantastic 40th birthday entertainment idea. Have everyone come prepared with a two-minute sketch and their favorite roasts. 
40th Birthday Party Ideas for Men
Guys have very specific visions of how they want to celebrate, but there are plenty of unforgettable 40th birthday party ideas for him that are sure to keep everyone partying until dawn. 
27. Woodworking Class
Learn a new, useful skill by signing up for a woodworking class! Design and build custom furniture such as shelves, tables, maybe even a whiskey cabinet. Get creative this year and make something that will last for years to come.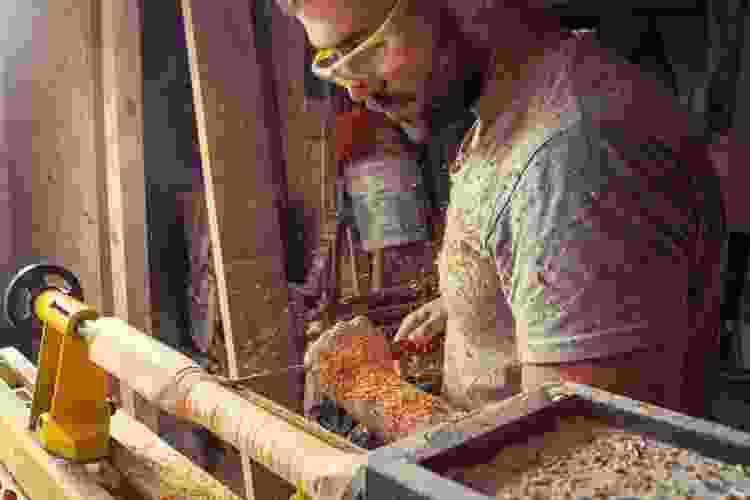 28. Sporting Event 
There's nothing quite so riveting as cheering on your home team as they pummel the opposition, and who better to do that with than your guy crew. As an added bonus, this sporty outing won't cost much if you choose bleacher seats. You'll also have all sorts of space to spread out. 
29. Guys Night 
Of course, women are wonderful, but sometimes the guys just need an estrogen-free space to hang out. Enter the classic guys night, where the boys head to the local watering hole to drink beer and chow down on hot wings for a memorable 40th birthday party idea.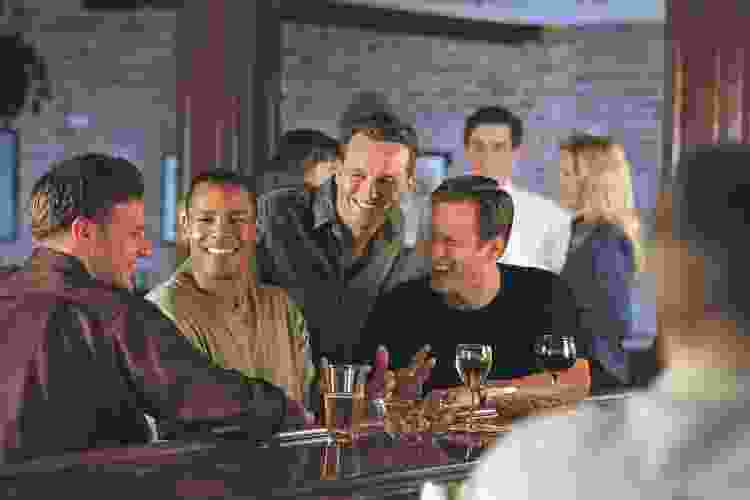 30. Whiskey Tasting 
For a more sophisticated version of guys night, consider taking your crew on a whiskey tasting. Big cities will have a selection of options, such as going to a local distillery or perhaps an upscale bar that offers whiskey flights.
31. Fishing Trip 
Interested in a trip down memory lane? Gather the gents and stick them on a fishing boat for a couple of hours to try their luck on the water. Being outside is a great way to bond, making for a lovely 40th birthday party idea for men.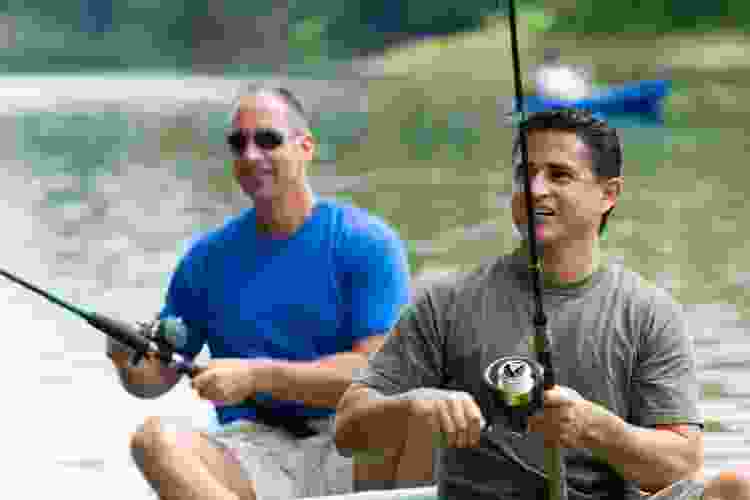 40th Birthday Party Ideas for Women
It's important for women to feel special, so having a truly spectacular celebration is crucial. Check out a few 40th birthday party ideas for women to ensure a fantastic time is had by all.  
32. Broadway Show 
Being in a big city means easy access to high-end theater, specifically of the musical variety. Excellent ticket deals can be found if you book the day off.
The trick is to call the venue directly and ask for the best ticket for your budget. Or are you the star of your own show? Sign up for acting or improv classes and add a little drama to your 40th birthday party! 
33. Spa Day 
There's nothing better than a spa day to shoo away the stresses of everyday life. Indulge in a massage and a mani-pedi and feel pampered for a couple of hours. This outing is sure to please everyone and leave the group ready to tackle the rest of the week. 
Tip: Make it a relaxing and rejuvenating weekend getaway 40th birthday trip idea when you book a hotel that includes a spa.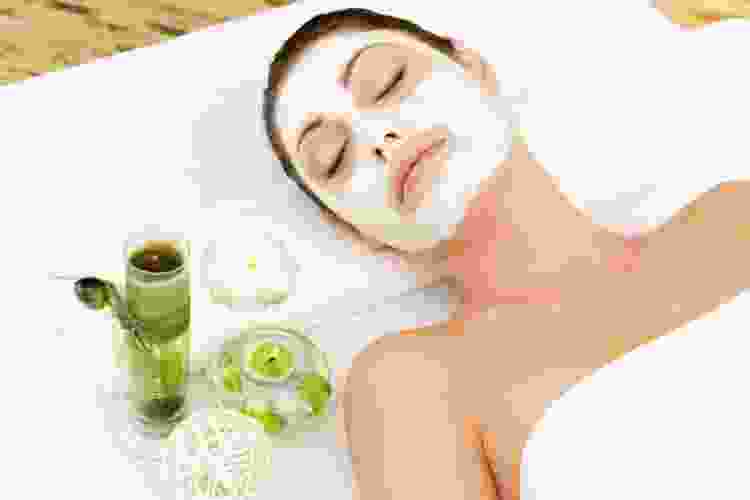 34. Figure Drawing Class 
Feeling creative? Look no further than a live figure drawing class to get those juices flowing. A figure drawing class is a fun way to be just a little naughty while also learning a fascinating new art form. Choose from charcoals, inks or graphite pencils and jump in with both feet. 
35. Girls Night or Weekend
Just like guys need their space, women require time to themselves, too! Grab your girls and run to the nearest salsa club or bar to dance until dawn.
Not so much into dancing? Consider a yoga class, a horseback riding session or other fun girls night ideas and girls weekend ideas for an unforgettable 40th birthday party idea for her.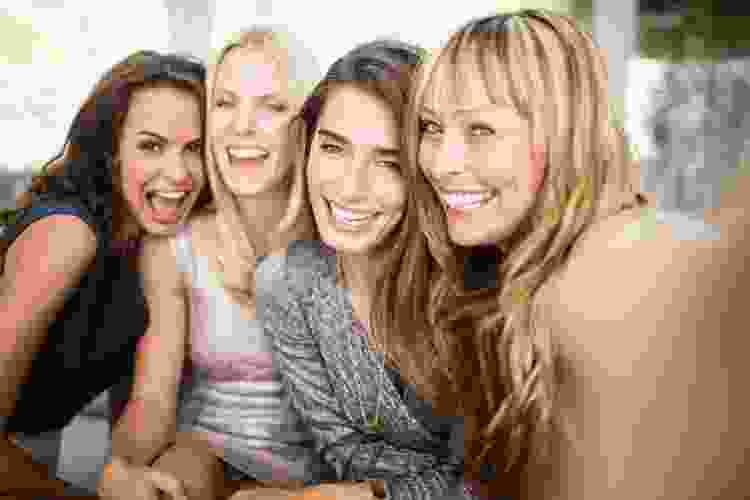 Outdoor 40th Birthday Party Ideas
There's nothing more epic than the great outdoors for an unforgettable 40th birthday party idea. Bring your crew along to any of these memorable activities for fresh air and exercise.
36. Helicopter Tour 
Being on a chopper for the first time is an exhilarating experience and a worthy 40th birthday party idea. Admire the views from above with your best friend for a genuine bonding experience, and learn more about the city to boot. 
37. Backpacking Trip 
There's a huge advantage to having outdoorsy friends, and that's that they will always be up for a fantastic backpacking trip. Pack lightly and head to the nearest forest or desert for two to seven days of trekking and flower picking.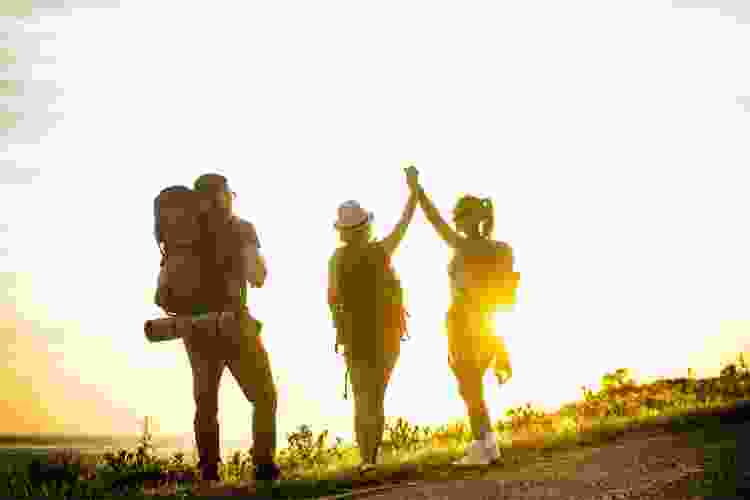 38. Hiking 
For a less committed 40th birthday party idea, consider taking your crew on a day hike, ideally ending at a beach or grassy area to have somewhere to cut the cake. This all-ages activity is a great workout worthy of many photographs. 
39. Boat Ride 
When you are lucky enough to live near a body of water, it only makes sense to spend your birthday celebration on a boat. Look into river cruises or even a long ferry ride for a way to spend the afternoon with the wind in your hair.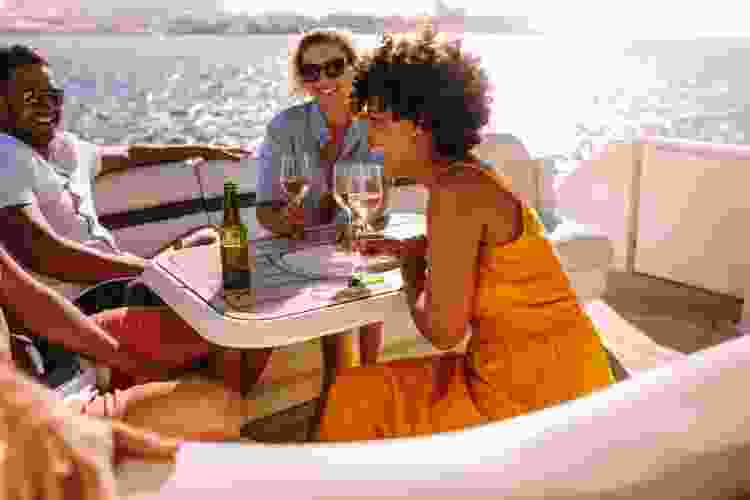 40. Water Skiing 
For a memorable 40th birthday party idea, consider bringing your friends along on a water skiing trip. A sure fire way to get a rush of adrenaline, this exercise in balance is not for the faint of heart. 
41. Winter Sports 
Speaking of skiing, if you were born in the winter, you may as well enjoy the beautiful snow that comes along with freezing your tail off while warming your hands on birthday candles. Go up to the mountains and spend a weekend snowboarding or hiking cross country.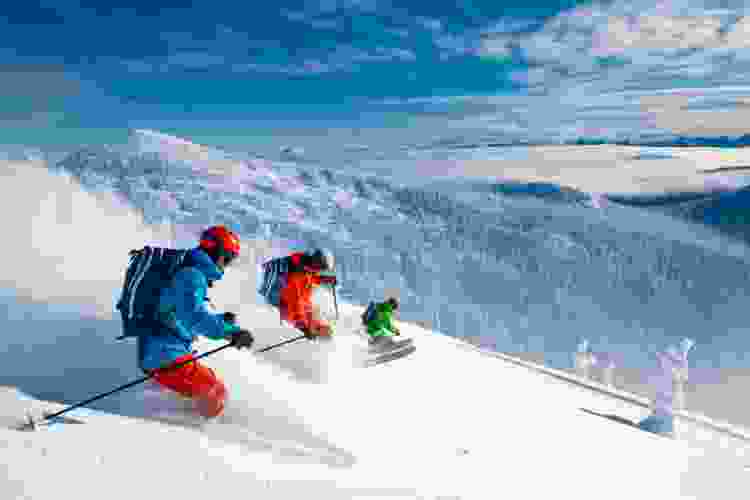 42. Horseback Riding 
There's nothing quite so impressive as being on horseback. For an unforgettable 40th birthday party idea, consider taking your loved ones to a dude ranch for a day of riding and learning how to lasso. 
43. Stargazing 
Spending time learning about the stars or even just enjoying the vastness of the world is a beautiful if humbling way of spending your 40th birthday. Bring your life partner to a lovely spot away from light pollution and spend the night lounging on a blow up mattress identifying constellations.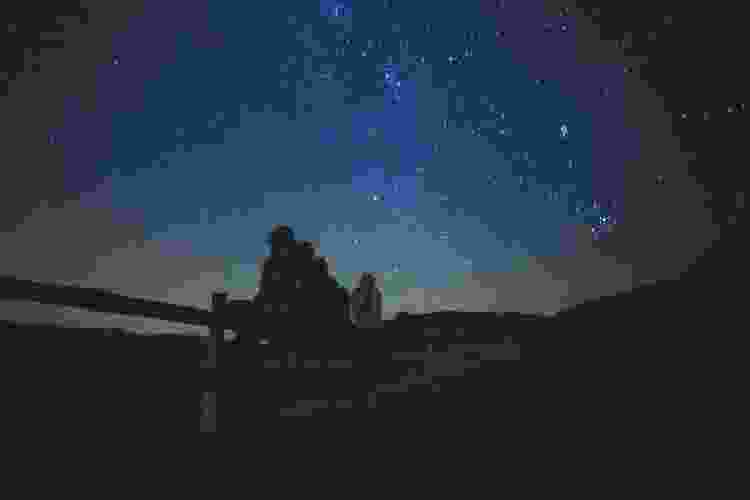 As important as the best 40th birthday party idea is, the perfect celebration is nothing without the people you love, so spend this special day relaxing and enjoying their company. Take full advantage of your resources, both in person and online, to have a fun-filled day.
For even more fun party ideas, check out other experiences happening on Classpop!