27 Most Fun Team Building Activities in Seattle for 2022
Published on Aug 15th 2022
| 0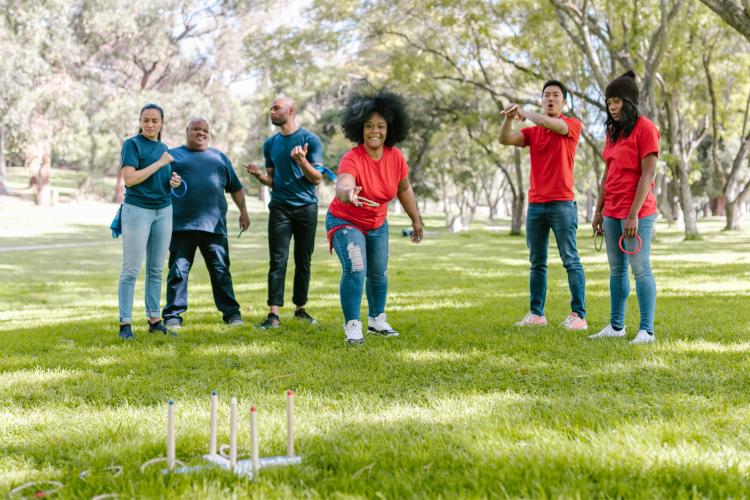 Whether you are planning an adventurous corporate outing or a unique activity to inspire your team's creativity, there are lots of fun and engaging team building activities in Seattle for your group to explore. From its diverse cuisine to stunning natural wonders, Seattle is home to an abundance of opportunities to create unforgettable moments with your team.
Our list of some of the most effective team building ideas will bring both remote and in-office teams together in new, creative ways. As shared by leading networking hub, Linkedin, building trust amongst team members is vital to a thriving work environment.
So, what are the most fun places for team building in Seattle? Are there interesting team building activities in Bellevue and other nearby areas? Of course! As office life evolves, so do the possibilities for fun team building activities that allow your team to connect and grow together.
From exciting experiences for foodies, creative endeavors and activities for virtual teams to relaxing company outings and unforgettable outdoor adventures, here are 27 of the most fun team building activities in Seattle for 2022.
Jump to Section
Culinary Team Building Activities in Seattle
1. Cooking Classes
Ranging from noodle shops to fresh seafood, Seattle's food scene reflects the city's bountiful natural surroundings and its diverse, international population. Learn how to make delicious dishes inspired by the local cuisine in sessions guided by talented chefs with culinary team building activities in Seattle.
Explore other cooking classes in Seattle, or bring together your hybrid or remote colleagues with online cooking classes that can be attended from anywhere, making them perfect opportunities for connecting long-distance teams.
Choose from a wide variety of cuisines and techniques from rolling handmade sushi to the foundations of French pastry for fun Seattle cooking team building experiences.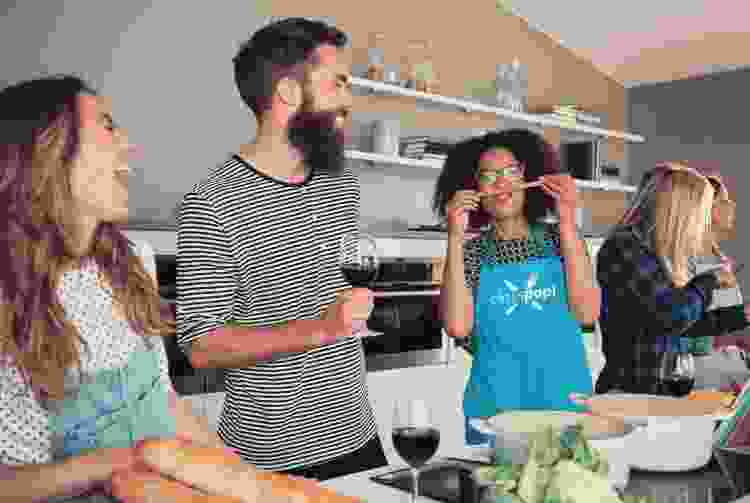 2. Food Tours
Head out on the town to explore Seattle's vibrant street food, restaurants, bars or bakeries with local food tours. One of the most fun activities in Seattle for adults, food tours are an engaging way to bring teams together while getting some exercise, learning about local history and culture and enjoying the signature flavors of the city.
3. Farmers Market
Spend the afternoon at a Seattle farmers market to explore fresh, local ingredients. Sample new cuisines, take home some treats and experience Seattle from a foodie's perspective.
Creative Team Building Activities in Seattle
4. Dance Classes
Get your team in sync while taking a break from the desks and Zoom meetings by adding some joyful movement into the day. Dance classes in Seattle range from fitness focused to learning fun, basic techniques. Browse online dance classes with music or style themes that will have your remote colleagues joining in on the fun.
According to Greatest, dancing offers a long list of benefits that have been shown to uplift team morale and enhance performance. With a range of low-impact to high energy styles to choose from, dance classes are fun team building activities in Seattle to consider for your next team event.
6. Paint and Sip
Paint and sip events are fun team building activities in Seattle that provide a low-stress opportunity for your team to unwind. Combining two favorite team building activities in Seattle, painting and sipping wine, these relaxing classes are especially enjoyable after completing a major project or period of high productivity. Each participant will even go home with a unique, hand-painted memento.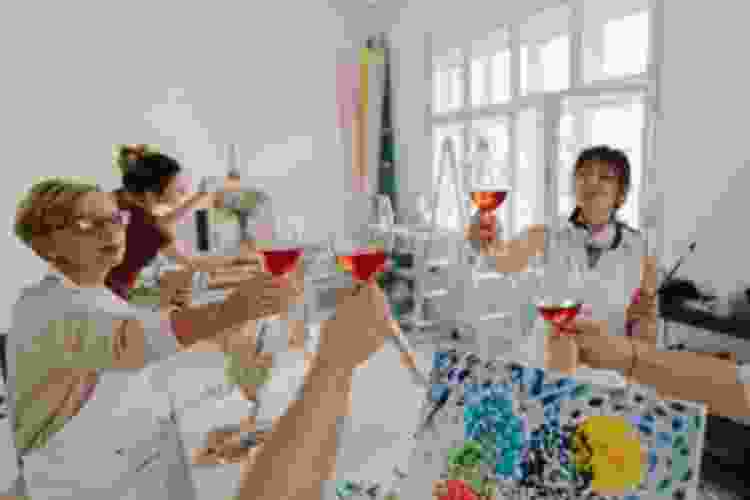 6. Painting Classes
Painting classes are fun and relaxing team building activities in Seattle to inspire your team's creativity. Encourage your colleagues to embrace their artistic expression through watercolor, oils, acrylics or a variety of other mediums with in-person or online painting classes guided by talented art instructors.
7. Drawing Classes
Creative team building activities in Seattle such as drawing classes and online drawing classes led by experienced artists and instructors offer a low-stress environment for your team to channel their creative energy.
They can support and encourage one another while exploring a variety of drawing styles from cartooning and illustration to portraits and free drawing.
8. Pottery Classes
Pottery classes are hands-on team building activities in Seattle that can unlock creative thinking in a fun and soothing atmosphere. Your team can reap the benefits of working with clay as they shape and paint handmade keepsakes on the pottery wheel while engaging the senses, lowering stress and improving mental focus.
Unique Team Building Activities in Seattle
9. Photography Classes
Practicing photography challenges the mind to view the world from unique and unexpected perspectives which enhances problem-solving and creative thinking.
Canva summarizes the many benefits groups can experience from participating in creative endeavors like photography classes and online photography classes including positive outcomes from mental clarity to stress reduction.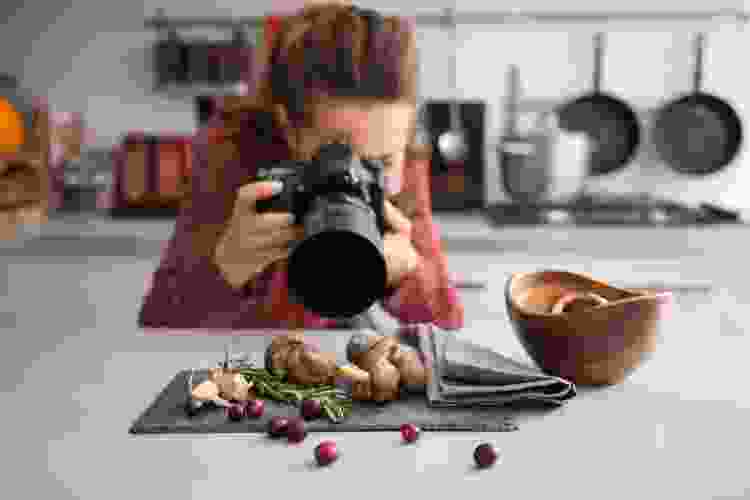 10. Acting Classes
Unconventional team building activities in Seattle like acting classes and online acting classes are fun and unique ways to engage your team. Participants will build their social and improvisation skills, including improved communication, self-awareness, confidence and adaptability, while learning more about the fascinating world of performing for stage and screen.
11. Sewing Classes
Seemingly old-fashioned skills and hobbies such as sewing have seen a resurgence of interest over the past several years with everyone from survivalists to cosplayers practicing these useful techniques.
Practical team building activities in Seattle like sewing classes are a fun way to challenge your team while discovering more about their unique interests and talents.
12. Woodworking Classes
Woodworking classes are unique, hands-on team building activities in Seattle that help fine tune your team's mental focus, spatial awareness and artistic finesse. Each team member can create custom pieces of handcrafted art while building stronger bonds with one another and learning a fun, new skill.
13. Glass Blowing Classes
Blending a primal attraction to fire with a dose of artistry, glass blowing classes are thrilling and unique team building activities in Seattle where teams can create stunning ornaments, bowls, decorations and more. Fire up your team with this unforgettable activity that allows your group to connect throughout this mesmerizing, artistic experience.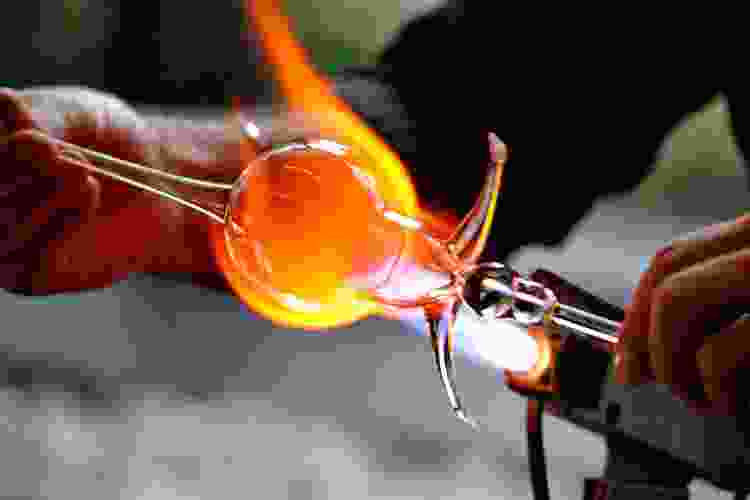 14. Blacksmith Classes
Forge stronger bonds with fun activities in Seattle for adults like unforgettable blacksmith classes. Companies like Lawless Forge offer specialized team building activities in Seattle with opportunities for the group to create handmade and functional pieces of metalwork from elegant chopsticks to rustic bottle openers.
15. Rage Industry
Sign your group up for a time slot at Rage Industry for one of the most smashing Seattle team offsite ideas. Rage rooms have become increasingly popular as a unique and surprisingly relaxing way to relieve stress and frustration. It turns out that breaking stuff is a lot of fun!
Host a super smash party where your team is supplied with protective gear and an array of smashable objects as groups of two to four rage in a designated room. Unique Seattle team offsite ideas like rage rooms break through corporate barriers while promoting self-expression and creativity.
16. Museum of Flight
Rekindle the wonder of taking to the skies and beyond at the Museum of Flight. Your team can strengthen their communication and teamwork while learning about the history of air and space travel at this interactive museum.
Challenge your team to travel to the moon and back with the virtual reality experience, Spacequest VR, and feel the thrill of performing daring aerial maneuvers in dynamic flight simulators.
Virtual Team Building Activities in Seattle
17. Virtual Flower Arranging Classes
Interacting with nature or adding a touch of greenery to your workspace can enhance your mood by livening up the environment with a splash of color. In virtual flower arranging classes, creative instructors guide you as you learn how to prepare fresh, vibrant bouquets or floral centerpieces.
Especially well-suited for remote or hybrid groups, virtual team building activities in Seattle like these are a great way to challenge the mind while considering color, shapes and height as you compose original floral designs.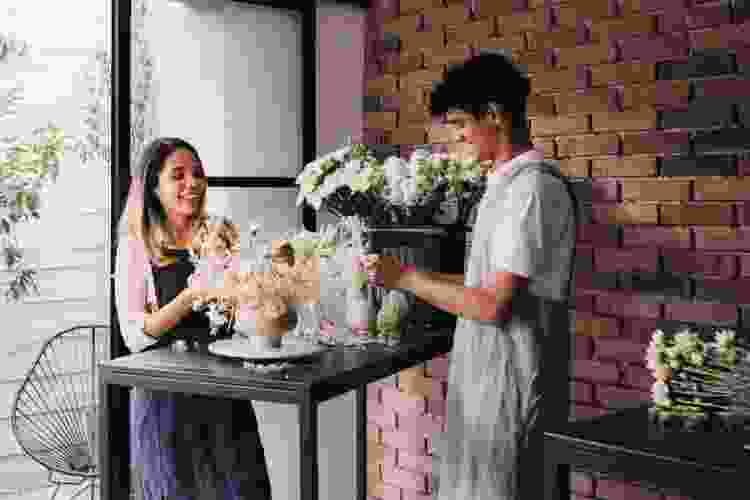 18. Virtual Game Nights and Online Trivia Games
With a growing number of employees working remotely or in hybrid environments, finding engaging, virtual team building activities that everyone can participate in can be a challenge.
Virtual game nights are fun, interactive activities with energetic hosts that invite teams to compete in friendly rounds of bingo, virtual game shows and online trivia games that can be experienced from wherever your team members are based.
19. Virtual Scavenger Hunts
Fun and entertaining online team building activities like virtual scavenger hunts are perfect for groups of all types. Energetic hosts challenge your team to beat the clock while searching for secret items, deciphering clues and completing checklists to achieve victory with this engaging team building activity.
20. Virtual Escape Rooms
Remote or hybrid teams can still work together to solve puzzles and riddles while taking on interactive virtual escape rooms. Choose from a variety of unique, themed adventures that challenge your group to employ team work, communication and logic to crack the clues and race against the clock to escape.
Corporate Team Building Activities in Seattle
21. Online Mixology Classes
Set aside the average corporate for a fun twist on the classic company happy hour with online mixology classes. Hosted by talented mixologists, your team will learn tricks of the trade while crafting a variety of classic and innovative cocktails.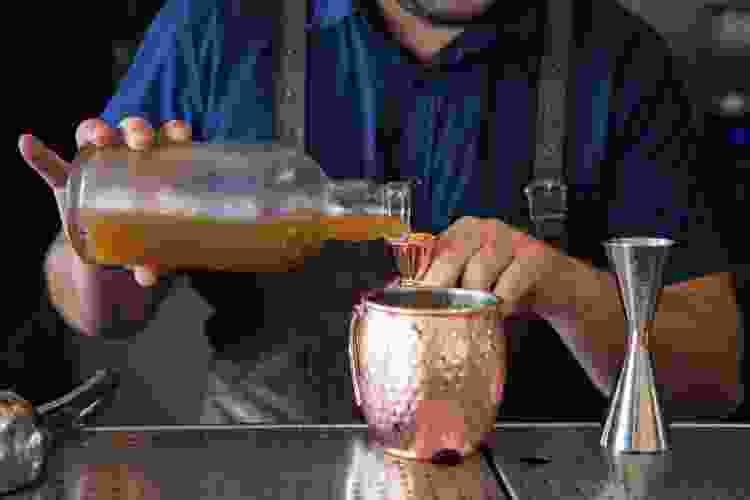 22. Virtual Wine Tastings
Relax and connect with your team while sampling specially-selected wines under the guidance of top chefs and sommeliers in virtual wine tastings. Tastings are an interactive way for teams to bond as they share their thoughts on each style of wine in a casual, low-stress environment.
23. Community Service
Charity organizations love to welcome groups in search of corporate event ideas in Seattle with heartwarming opportunities to serve the local community.
Organizations like Seattle Works make it easy to find the right volunteer experience for your team by connecting companies with a variety of programs to support. By working together to provide a positive impact, your team can build camaraderie while volunteering in schools, food banks, parks and more.
Outdoor Team Building Activities in Seattle
24. Sailing
Surrounded by beautiful bays, team building activities in Seattle that take advantage of the city's easy access to water activities come in a variety of memorable options. Enjoy a relaxing cruise with a party charter or sightseeing tour for a fun team event.
For a more challenging sailing experience, organizations like Seattle Sailing Club offer unique team building activities like regatta or racing programs focused on improving communication, decision making, trust, confidence and collaboration.
25. Kayak Tours
See the city from a new perspective with group kayak tours. With plenty of waterways and stunning scenery to enjoy, outdoor adventures are perfect Seattle team offsite ideas for groups to relax and bond.
From the tranquil bays that surround downtown to the thrilling views along Puget Sound, experienced guides will lead your team on an unforgettable boating adventure.
26. Roam Consulting
Seattle's Roam Consulting combines team building expertise in leadership development and emotional intelligence with the wide open spaces of a beautiful horse farm.
The great outdoors offers plenty of fun places for team building, but none is as uniquely targeted to your company's needs as Roam Consulting. The one of a kind leadership with horses program focuses on relationship building through experiential interactions with these majestic animals.
27. Local Parks
There is no shortage of natural beauty for your team to enjoy in and around the Seattle area. Adventurous teams might make the trek over to Olympic National Park or explore the numerous city parks, greenspaces, beaches, gardens and more in the heart of downtown Seattle.
Nearby Bellevue is a more off the beaten path area with plenty of options as well. Team building activities in Bellevue range from lakeshore beaches and gentle walking trails to the beautiful Bellevue Botanical Gardens.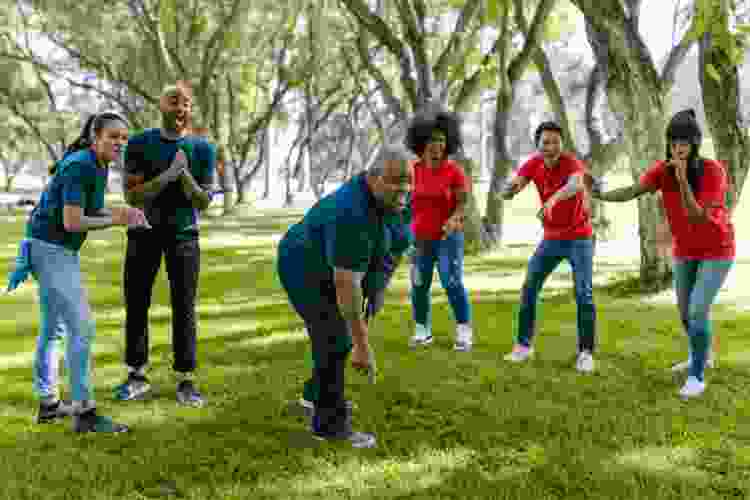 With plenty of diverse options to choose from, team building activities in Seattle offer a wide range of benefits from improved decision making and communication skills to boosting morale while strengthening bonds.
No matter which industry you work in, effective team building is a critical part of the employee experience and building the foundations of a positive work culture. With team building activities in Seattle you will find a variety of fun alternatives to traditional corporate team building events that your team will actually be excited to join.
From sampling the local cuisine to taking in the area's natural wonders, these team building activities in Seattle will inspire your team to think creatively, learn new skills and build trust while creating memories together.
For even more fun team building ideas, check out other experiences happening on Classpop!