33 Best Team Building Activities in Portland for 2022
Published on Aug 8th 2022
| 0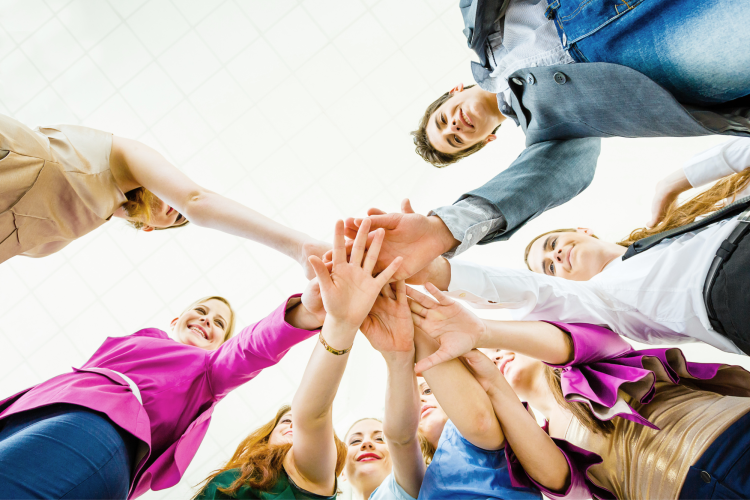 There's no shortage of fun and interactive team building activities in Portland. From culinary adventures to outdoor excursions, you can find the ideal fit for your team. There are even plenty of virtual versions that allow remote teams to connect online.
But why should you prioritize planning a group activity in Portland for your team? According to HR Morning, effective team building activities allow your team to bond in meaningful ways.
This can pay off with a boost in creativity, improved communication and cross-departmental collaboration. Plus, you and your employees will have fun in the process — a win-win!
With our list of the most effective and fun team building activities in Portland, Oregon, you're sure to find the best fit for your crew. Let's get started!
Jump to Section
Culinary Team Building Activities in Portland
With a bustling foodie scene, there's no shortage of culinary team building activities in Portland for whatever type of cuisine your group is into.
1. Cooking Classes in Portland
Culinary team building activities in Portland are some of the most fun and innovative corporate events to boost your group's teamwork skills. Work together as you combine ingredients to make everything from Asian fusion dishes to Mexican street food.
Then, bond as you enjoy the delicious results of your hard work. With a wide variety of other cooking classes in Portland and neighboring areas, you're sure to find one that everyone in your group will love.
2. Online Cooking Classes
If you are looking to plan a team building activity in Portland that also works for a remote-based team, meet virtually! Online cooking classes allow your group to gather via video chat as you connect over the culinary arts.
Your team can conveniently log on from their own kitchens as you learn everything from rolling sushi to crafting pastries from a professional online instructor.
3. Portland-Area Food Tours
A food tour is an awesome way to explore the foodie scene and discover new favorite eateries. With an expert guide, you'll explore the city like never before, discovering unique flavors along the way. Your group will bond over the shared experience as you participate in some of the most delicious team building activities in Portland.
4. Dinner and a Show
For a fun compnay party idea in Portland, Oregon, gather your team and enjoy a fun meal with a team building activity in Portland full of entertainment.
Work together to choose from a comedy, musical or even a mystery show. Then, enjoy the performance with your meal. Plan some time after the show to unwind and discuss the show and your thoughts as a group.
5. Whiskey or Bourbon Tastings
Take your happy hour up a notch and discover more about your team's favorite drinks. With whiskey or bourbon tastings, you'll work with an expert to find new beverages and expand your palette. Your group will get to know each other's preferences as you learn about the liquor-making process.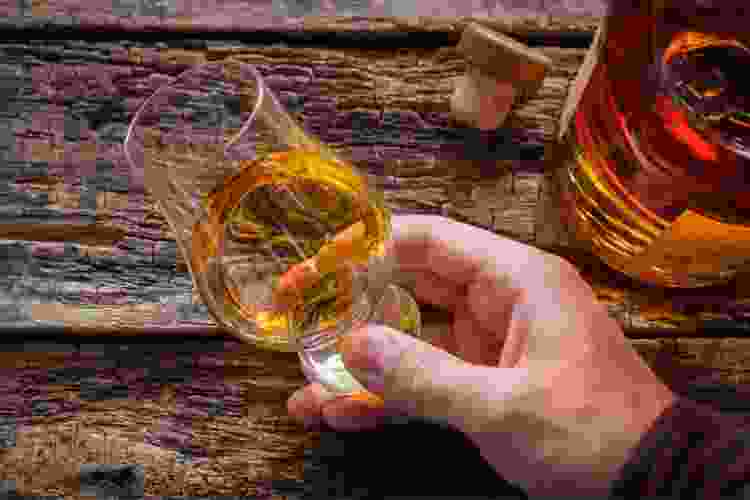 Creative Team Building Activities in Portland
As The Harvard Business Review reports, when employees are encouraged to utilize their creative skills, engagement and collaboration can improve, as well as the customer experience. So, why not check out these great team building activities in Portland to get your group's creative juices flowing?
6. Paint and Sip
Thanks to the wide variety of paint and sip events, painting classes and online painting classes available in the Portland area, your group can gather either in person or virtually.
The awesome features of these classes are that they are created with every skill level in mind and led by expert instructors. Work with your team as you learn new skills and create your own unique masterpieces.
7. Dance Classes
Learning a new dance is a fun way to get a workout in. Look into dance classes and online dance classes so your team can have a fun new experience together.
You can take a series of energizing swing dance classes or learn some classic ballroom favorites. Your team can even opt for a customized class where everyone can pick a song for the list, getting to know more about each other's musical tastes.
8. Pottery Classes
Pottery is one of the most interesting art forms. It's also one of the most fun to learn. Take group pottery classes to learn more about three-dimensional art and to even create your own.
Your team will enjoy this hands-on experience as you learn new artistic skills at one of the most creative team building activities in Portland.
9. Drawing Classes
Take drawing classes and online drawing classes so your team can learn to sketch like the pros. These are led by experts and designed for all skill levels to create various hand-drawn projects. You can attend in-person options or hop online and gather virtually with your team as you learn a fun new skill.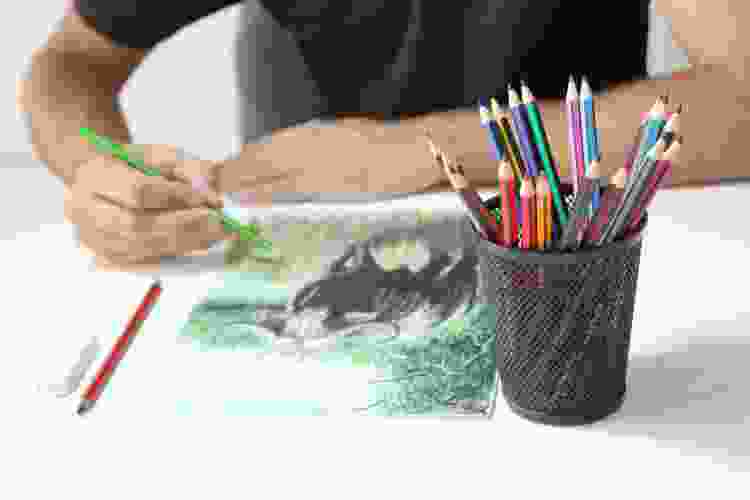 10. Graphic Design Workshops
Learn to make stunning cards and digital images like a pro with a group graphic design class. These fun workshops allow you to make custom creations that you can use for everything from social media to greeting cards. Your group will have a ton of fun as you chat and learn new skills that you can use both in and out of the workplace.
Unique Team Building Activities in Portland
If you are looking for some unique team building activities in Portland, including interactive and fun craft workshops in Portland, you're in luck. There are tons of interesting things to do and fun ways to bond your team in new and exciting ways.
11. Photography Classes
With photography classes and online photography classes, your team can learn to snap high-quality images and share them with the group. Choose from a variety of options and learn this dynamic art form. Add a little friendly competition and create a weekly photo contest within the office or on an online forum.
12. Acting Classes
Test your group's acting chops and take a fun and engaging class. With both in-person and online acting classes available, remote teams can also get in on the theatrical action.
For this unique team building activity in Portland, you'll work together to create a dramatic scene or test your quick wit with an improv class. Either way, your group will bond over learning these new skills at one of the most interactive team building activities in Portland.
13. Sewing Classes
Hem, stitch and learn to follow a pattern at a group sewing class. The is an awesome team building activity in Portland for those that want to learn a new life skill. Your team will learn basic machine usage and maybe even tackle a simple sewing project to take home.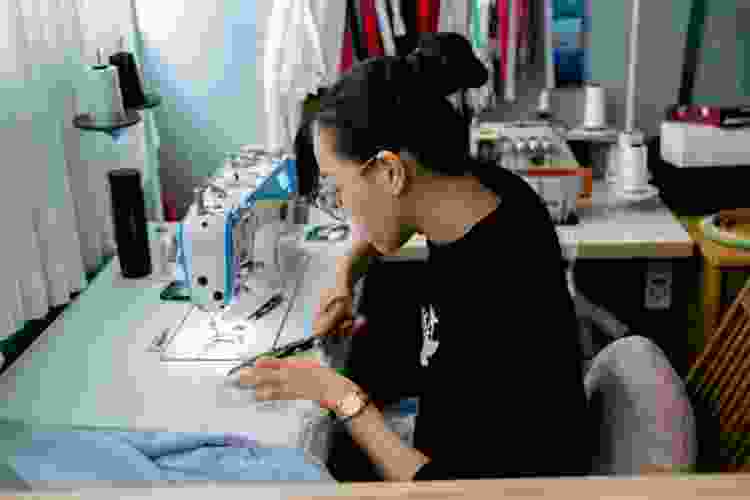 14. Woodworking Classes
A woodworking class is a great way for your team to learn useful skills together. Your instructor will teach you the proper usage of tools and the best techniques for successful building. This is an awesome opportunity to work on a collaborative project as you sharpen your woodworking skills.
15. Glass Blowing Classes
Glass blowing is a team building activity in Portland that gives you a peek into a captivating art form. Take a class as a group and learn about this unique technique together. Learn the ins and outs of the delicate art of glass-making and even take a stunning piece home to show off.
Virtual Team Building Activities in Portland
Virtual team building activities in Portland and beyond allow you to connect with your team both in the area and in other locations. These are interactive and allow you to connect in meaningful and lasting ways despite being physically distant.
16. Virtual Flower Arranging Class
With a virtual flower arranging class, you'll learn to make beautiful bouquets to fill your space with cheer. You'll gather with your team and an expert instructor on a live video call. Then, you'll make a custom arrangement to display or give as a gift.
17. Online Game Nights
Virtual game nights allow you to engage in a little friendly competition with team members both near and far. Enjoy a fun game of Bingo or participate in a version of your favorite classic game show. By the end of the evening, you're sure to have had a ton of fun and created lots of shared memories.
18. Virtual Trivia Games
If you are looking for a fun way to test your team's combined knowledge, look into the variety of online trivia games available. These are a fun and exciting way to use your skills and problem solve together as you earn points for the win. Plus, with tons of virtual options, your group can compete from nearly anywhere.
19. Online Scavenger Hunts
Virtual scavenger hunts are an engaging activity for collaboration and team building. Work together to be the first group to check all of the items off your list. These are a great way for remote employees to get to know each other better and deepen their personal bonds.
20. Online Escape Rooms
With virtual escape rooms, you can gather remote teams online and work towards a common goal—to escape before the time expires. Boost your teamwork skills as you discover clues and solve the riddles that will ultimately lead to your escape.
21. Virtual Happy Hour Meetup
Head into the weekend with a fun virtual happy hour meet-up where team members can enjoy an engaging chat with their favorite beverages. This is a super easy activity to plan.
Simply schedule a video call and prep some fun ice breaker questions or games. Your team will end the week on a great note and get to know each other better in the process.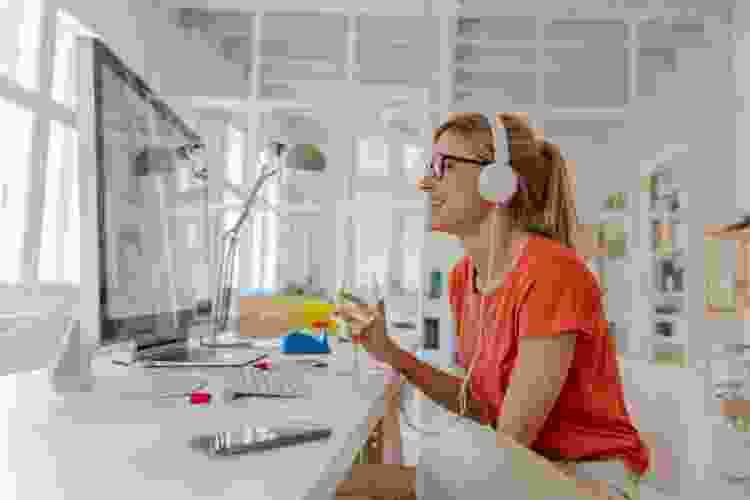 22. Online Coffee Chat
What better way to start the work day than by catching up over a hot cup of coffee? You can still reap the benefits of this routine if your team is remote. Schedule a morning video call and gather for a casual chat.
For an extra special touch, send an e-gift card to remote employees so they can pick up a gourmet drink at the local coffee shop before the scheduled call.
Corporate Team Building Activities in Portland
There are lots of team building activities in Portland designed for corporate groups of all sizes and types. These include some laid-back activities as well as some that will get your adrenaline pumping.
23. Mixology Classes
Learn to bartend like seasoned pros at either in-person or online mixology classes. You and your team will learn to make classic drink recipes and might even discover a new favorite. You'll learn the proper use of bar tools and gadgets and pick up some fun tips and tricks.
24. Wine Tastings
Wine tastings are some of the most fun and educational team building activities in Portland. And if you have a remote team, you can also participate in virtual wine tastings together as a group. Either way, you'll learn from a wine expert that will help you expand your palette and give you a glimpse into the winemaking process.
25. Brewery Tours
Portland is full of unique breweries of all sizes. Book a behind-the-scenes tour and your group will get a peek at where some of the city's best beer is crafted. Enjoy a flight to try a variety and discuss your favorites as a group.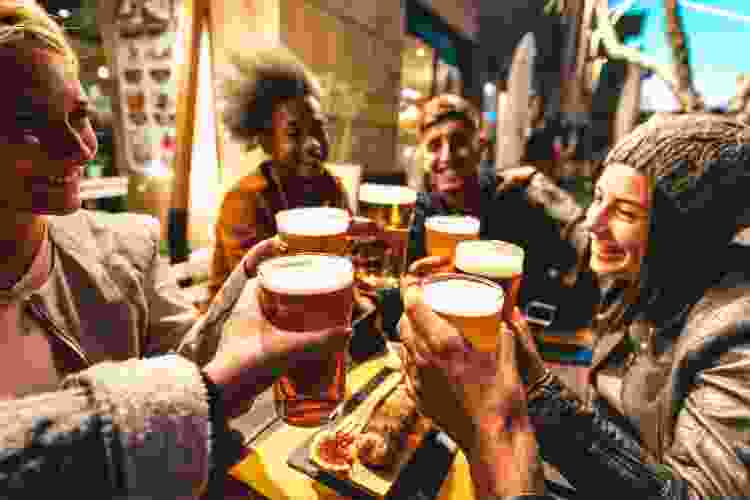 26. Indoor Obstacle Course
Take on an obstacle course and cheer each other on as you tackle each challenge. Indoor options take weather out of the equation meaning your team will have a great time no matter the forecast. You'll break a sweat, get a killer workout, and grow closer as a group.
27. Sporting Event
There are some awesome teams that make being spectators a must-do team building activity in Portland for sports lovers. From the NBA Trail Blazers to the MLS Timbers, there's an athletic event for all interests. Take advantage of a group ticket deal and bond over your shared love of Portland's best teams.
28. Museum Visit
Check out a museum for an educational group experience. What's great is that Portland has a variety of options that are unique and interesting.
Check out the Oregon Museum of Science and Industry or the Oregon Historical Society for fascinating experiences. The Oregon Maritime Museum will have your group learning about boat life aboard a historic steamboat.
Outdoor Team Building Activities in Portland
29. Segway City Tour
Book a segway tour and head out to explore the city with a knowledgeable guide. You'll learn fun facts about the area and check out notable landmarks. These tours make awesome team building activities in Portland for their flexibility.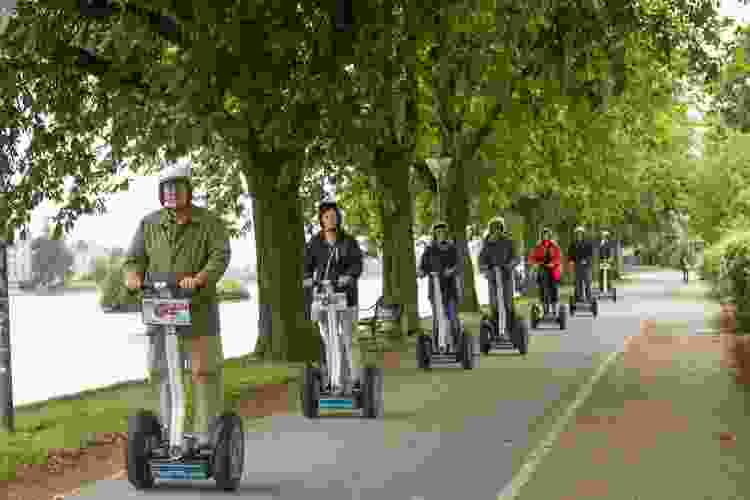 30. Ropes Course
Explore Portland's many treetops high atop a ropes course. Encourage other team members to navigate challenges as you take in the bird's eye view. Your group will love the scenery and bonding as a group over a love for nature.
31. River Hike
Check out the scenery along the waterway and eliminate distractions with a group river hike. This is an ideal team building activity in Portland for active teams that enjoy nature. There are tons of beautiful waterfalls and photo ops to enjoy along the way.
32. Lunch or Dinner Cruise
There are some relaxing lunch and dinner cruises in the Portland area that are perfect for a fun team outing near you. Enjoy each other's company and a meal on the water. Learn about the sights of the city or schedule a sunset cruise for stunning scenery.
33. Plan a Park Outing
Oregon is home to lots of beautiful parks and green spaces. For the perfect thing to do in Portland as a group, plan a park outing for a low-key team building activity in Portland. Pack a picnic or opt for potluck style and snack under the sun. This is also a perfect option if you'd like to get team members' families involved.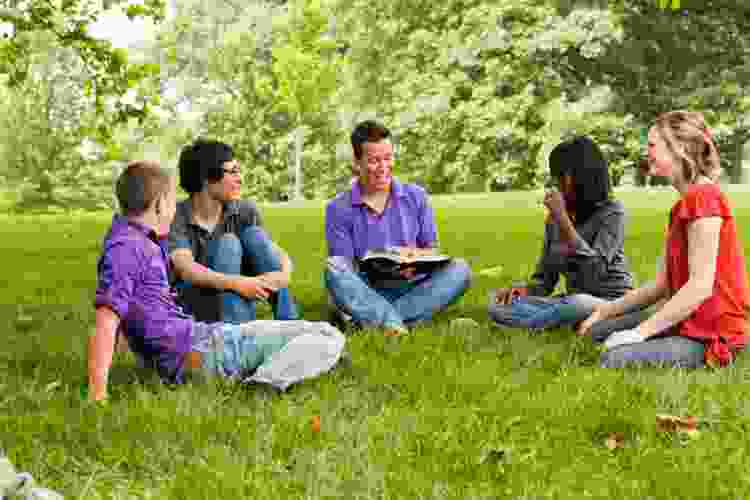 Planning a team building activity in Portland is easy with such a wide array of options. As a busy city nestled in nature, there are diverse opportunities for meaningful interaction. Plus, with virtual options, even remote teams can experience all of the amazing perks that team building provides.
For even more fun team building ideas, check out other experiences happening on Classpop!