37 Fun Friendsgiving Ideas for a Carefree Fall Gathering in 2023
Published on Sep 14th 2023
| 0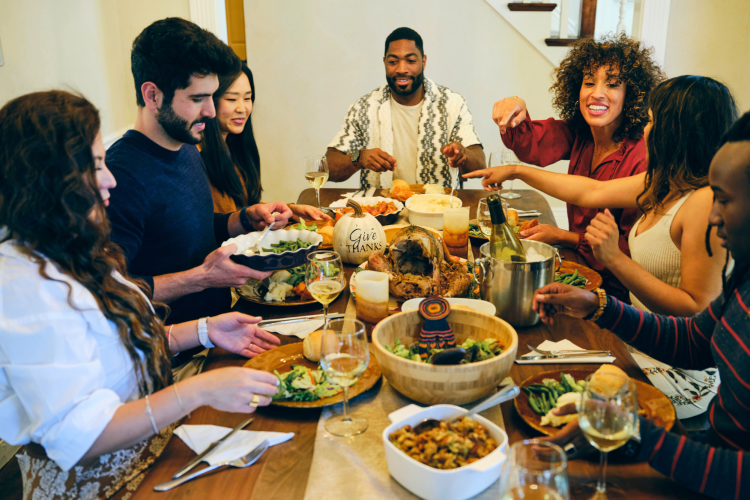 Our editorial team recommends the best products through independent research, selection and careful review. If you make a purchase through one of our affiliate links, we may earn a commission. Prices are subject to change.
If you're hosting your friends for Friendsgiving this year, you might be looking for the best Friendsgiving ideas for a fun gathering. From deciding how to decorate to what meals to serve, hosting might feel a little overwhelming.
So, how do you host an easy Friendsgiving? While there are tons of ways to create a memorable Friendsgiving this year, we've compiled a list of the best Friendsgiving ideas for a fun and carefree fall gathering.
Jump to Section
What is Friendsgiving?
Friendsgiving Meaning
If you usually spend Thanksgiving with family, you might be confused by the Friendsgiving meaning. Merriam-Webster's Dictionary defines Friendsgiving as a blend of Thanksgiving and friends.
This usually involves a large meal that's enjoyed together on or near Thanksgiving. It can be a traditional Thanksgiving meal or an entirely different menu for the big event. Here are some of our favorite Friendsgiving ideas for fun things to do with friends this fall.
Best Friendsgiving Food Ideas
1. Cooking Classes
Create a fun Friendsgiving menu by taking hands-on cooking classes for the best Friendsgiving ideas. Learn a new recipe from a skilled and entertaining chef to elevate your meal on this special celebration.
Invite your friends to join in on the fun by making the most memorable meal. Discover fun cooking classes in NYC, cooking classes in Chicago and cooking classes in Houston. Wherever you're located, there are tons of cooking classes near you to help you prepare for your Friendsgiving.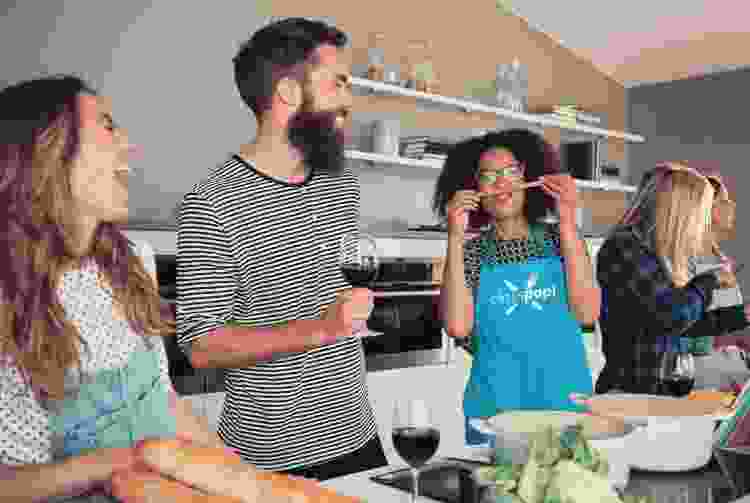 2. Online Cooking Classes
If you're hosting a virtual Friendsgiving, book online cooking classes with your guests to cook your big meal together. A talented chef will lead your crew through an unforgettable menu in a live, digital setting.
After preparing your meal, stay online to enjoy your food together for one of the best Friendsgiving ideas.
3. Classic Thanksgiving Meal and Sides
What kind of food do you have at a Friendsgiving? Why not serve the traditional turkey and sides? If you're hosting Friendsgiving, prepare the turkey in your kitchen and invite your guests to bring their favorite sides. This potluck style might just become a new tradition!
Join our email list for exclusive deals, local events and fun inspiration for living a more creative life.
4. Drink Station
Provide a drink station at your party for one of the best Friendsgiving ideas. Include a variety of wine and beer your guests can enjoy with their meal.
If you can fit it into your budget, hire a local bartender to serve signature fall cocktails at your festive gathering.
5. Festive Cookie Decorating
What do you do for Friendsgiving? Have a cooking decorating contest with your friends for the best Friendsgiving ideas.
Bake cute cookies in the shape of leaves and pumpkins in advance. Provide frosting and sprinkles your guests can use in the epic competition.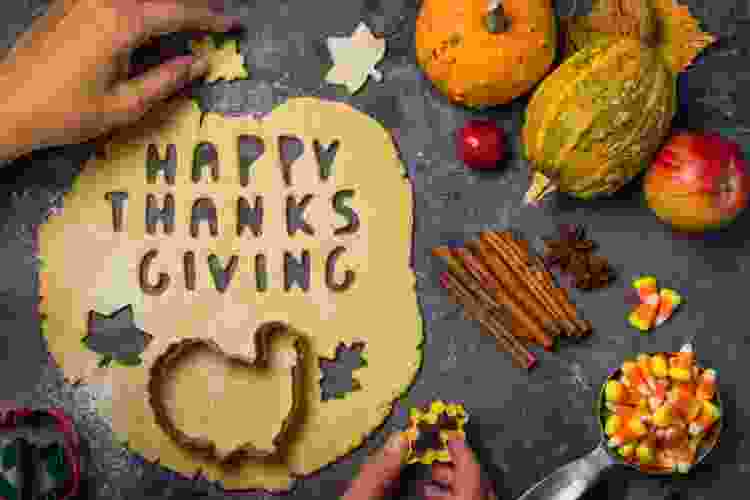 6. Thanksgiving Cake
Supply cake rather than pie for untraditional Friendsgiving ideas. Bake a cute pumpkin or turkey-decorated cake for a festive idea. Or serve a multi-layered chocolate cake for an indulgent dessert for your guests.
7. Dessert Station
What's a good thing to bring to Friendsgiving? Whether or not you're hosting, having a variety of desserts is a Friendsgiving idea that everyone will love.
From the classic pumpkin pie to cute apple fritter cupcakes, every partygoer will want to save room for dessert!
8. Appetizer Table
Provide an appetizer table for the best Friendsgiving ideas. Fill the table with a festive charcuterie board or invite guests to share their favorite snacks at the station. This will prevent anyone from becoming "hangry" while waiting for the delicious meal to cook.
9. Friendsgiving Brunch
If you're looking for a more untraditional Friendsgiving menu for fun Friendsgiving ideas, cook up an unforgettable brunch. From delicious pumpkin spice waffles to a savory omelet with roasted vegetables, finding the best brunch party ideas will ensure a successful fall gathering.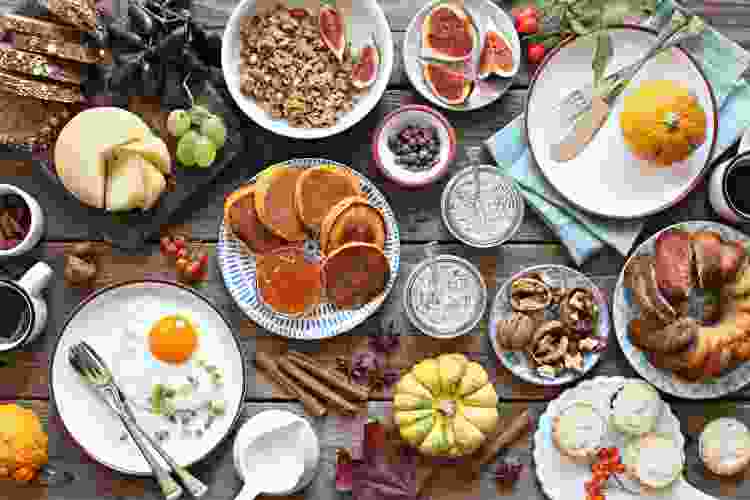 Creative Friendsgiving Games & Activities
10. Paint and Sip
For unique fall activities, schedule paint and sip classes with your friends. As one of the most creative Friendsgiving ideas, you and your crew can relax with your favorite adult beverage and paint a beautiful masterpiece.
No matter your skill level, a knowledgeable artist will guide you through a fall-themed portrait you can hang in your home. Find fun paint and sip near you, including exciting paint and sip in Atlanta, paint and sip in Los Angeles and paint and sip in Portland.
11. Art Classes
Discover art classes near you for fun Friendsgiving ideas. A talented instructor will teach you how to create fun fall crafts like wreath-making or cool pumpkin painting ideas you can use to decorate your home for the fall season.
Invite your friends to creative art classes in San Diego, art classes in Boston or art classes in NYC.
12. Friends Over Fam Friendsgiving Drinking Game
Invite your friends to play the Friends Over Fam Friendsgiving drinking game for one of the best Friendsgiving ideas for adults. With cute drinking glasses and wooden dice included, this exciting game might just become a tradition at your Friendsgiving every year!
13. Murder Mystery Game
Elevate your Friendsgiving ideas with a thrilling murder mystery game. From solving a crime at a mysterious carnival to sleuthing at a Wild West saloon, these Friendsgiving games are sure to be the highlight of your Friendsgiving party.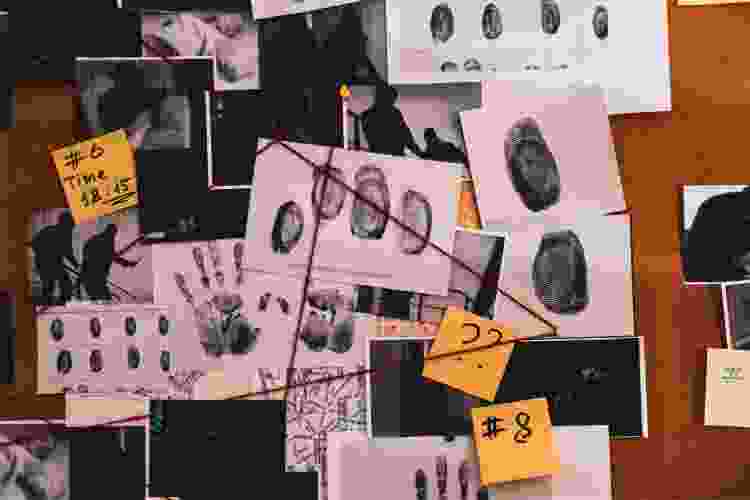 14. Friendsgiving Piñata
Break open a festive piñata for fun Friendsgiving party ideas. Fill the item with your favorite hard candies for a sweet reward. From a cute turkey to a fun pumpkin piñata, your guests of any age will love this creative activity.
15. Gratitude Board
Invite your friends to contribute to a gratitude board for unique Friendsgiving ideas. Reflect on the meaning of the holiday as you express your appreciation for your friends and loved ones.
16. Thanksgiving Bingo
Print off Thanksgiving-themed bingo cards for fun Friendsgiving games. From filling out a classic turkey to a cute pumpkin, your friends will love competing in this themed activity. Provide prizes to the winners of the Thanksgiving bingo board!
17. Photo Scavenger Hunt
Put your friends to this test with one of the most thrilling Friendsgiving ideas. Split your guests into groups and invite them on a photo scavenger hunt around the neighborhood. Give the winning group a prize for finding the most items in a specific time period.
18. Friendsgiving Photo Booth
For fun Friendsgiving party ideas, create a festive photo booth for your gathering. Designate a wall in your home for a cute backdrop and provide exciting props for photos. Grab an instant camera so your friends can print and take their photos home with them.
Cute Friendsgiving Invitations
19. Digital Invitations
For fun invitations for Friendsgiving ideas, create digital cards to send through text or email. Personalize each invite with your friends' names and remember to list the date, time and address of your Friendsgiving soiree.
20. Social Media Event Page
Create a social media event page to update your friends on your fall party ideas. Ask your guests to RSVP through the page to ensure you have enough food and party favors. As one of the easiest Friendsgiving ideas for invitations, this page will make sure you stay on track for your big event.
21. Custom Friendsgiving Invitations
Send out the perfect Friendsgiving invitations with these custom, personalized Friendsgiving invitations. From cute pumpkin watercolors to sweet and simple invites, each card can be customized to fit your unique friend group for the best Friendsgiving ideas.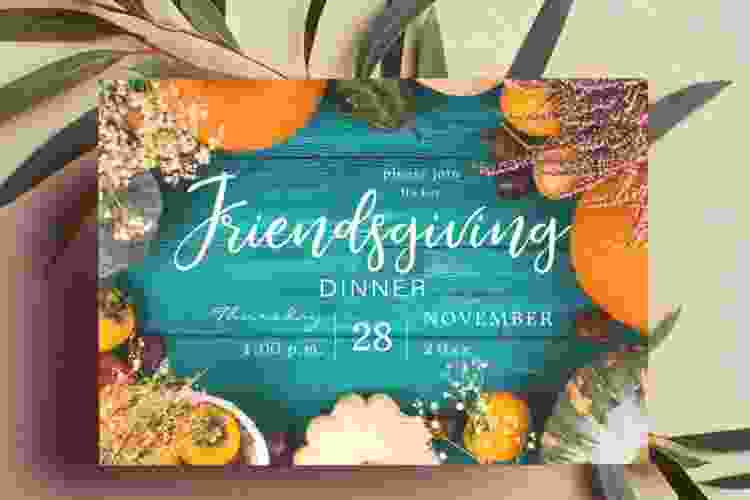 22. Video Invitation
Create a custom video for fun Friendsgiving invitations. Set up your phone and send your invite through Vimeo or a private YouTube link. This invitation will be a great way to give your friends a sneak preview of your festive Friendsgiving gathering.
Festive Friendsgiving Decorations
23. Personalized Place Settings
Create personalized cards on the dining table for unique Friendsgiving ideas. Include your guest's name and why you're thankful for them in your life. These cards will spark conversation and be a memorable gift they can take home.
24. Friends-Themed Friendsgiving
Find inspiration from the many Thanksgiving Friends episodes for the best theme party ideas. Create a banner and gather cute Turkey head napkins for fun Friendsgiving decorations. Re-create Rachel's infamous trifle recipe for a unique table setting.
25. Decorative Friendsgiving Party Supplies
Discover fun and decorative Friendsgiving party supplies at Zazzle. From cute signs to festive plates, Zazzle makes it easy to decorate for your big gathering. Connect with creative artists on the platform to find unique designs to level up your Friendsgiving party.
26. Upbeat Friendsgiving Playlist
Don't forget a fun playlist for the best Friendsgiving ideas. Set the vibe with classic alternative tunes for nice background music for your conversations with friends.
27. Fresh Greenery and Organic Pumpkins
Gather organic white and orange pumpkins for cool decorations for Friendsgiving ideas. Use eucalyptus and juniper to create a lush table decor that will add to the festive aroma in the room.
28. Edible Centerpiece
Elevate your Friendsgiving decorations with a cute edible centerpiece. Prevent any guests from becoming "hangry" by supplying a delicious cheese, fruit or vegetable decoration. They'll appreciate the snack while waiting for the main course.
29. Banner Decorations
Create a fun banner for the best Friendsgiving ideas for your decorations. Spell out "Happy Friendsgiving" or decorate an entire wall with this Friendsgiving decorating kit for a cool backdrop for photos.
30. Butcher Paper Tablecloth
Replace a traditional tablecloth with butcher paper. Supply colorful Sharpies and invite your guests to write what they're thankful for. This sentimental decoration is a great way to get your entire party involved.
Thoughtful & Fun Friendsgiving Gifts
31. Friendsgiving Bakeware Set
Buy a Friendsgiving bakeware set for the best cooking gifts to give the host. With a cute ceramic baking dish and a fun "Happy Friendsgiving" towel included, this item will be perfect for serving any delicious side dish at the gathering.
32. Personalized Placemats
Create personalized placemats for your guests for fun Friendsgiving ideas. Include their name and the date for a memorable gift they can take home with them.
33. Friendsgiving Aprons
Gift your crew with Friendsgiving aprons for the ultimate cooking party. From classic styles to hilarious options, everyone will love this gift.
You can also invite your friends to bring a Thanksgiving apron for fun gift exchange ideas during the party.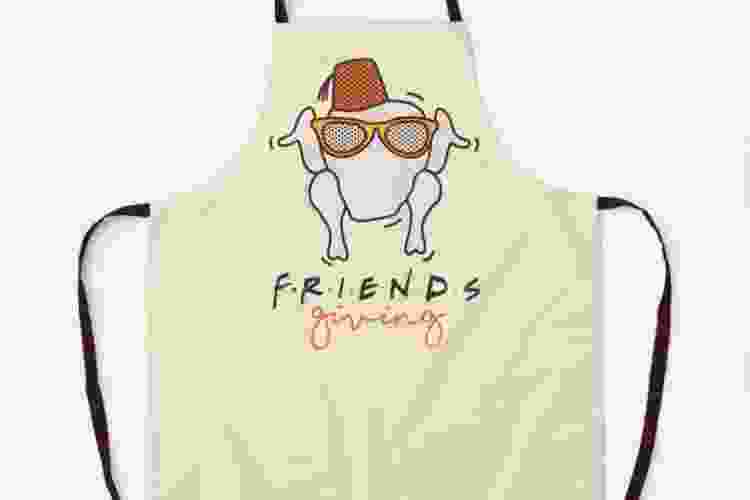 34. Customized Wine Glass
Design customized wine glasses for the best Friendsgiving ideas for adults. Why have wine charms when your guests can find their glass with their name? Make it a painting party event with these fun wine glass painting ideas!
35. Festive Leftover Containers
Remember to supply festive containers for the best Friendsgiving ideas for your gathering. With plenty of leftover food remaining, your guests will love the ability to take home delicious leftovers for another meal.
36. Warm Fall Candles
In addition to decorating your place with fall candles for the best Friendsgiving ideas, give candles as fun thank you gifts for your guests.
With traditional scents like cinnamon and pumpkin spice, these candles will help everyone feel warm and loved this holiday season.
37. The Friendsgiving Plate
Start a new tradition with The Friendsgiving Plate. Cook up a side dish and serve it on the plate. After the meal, clean the dish and pass it on to a friend to carry on the tradition next year.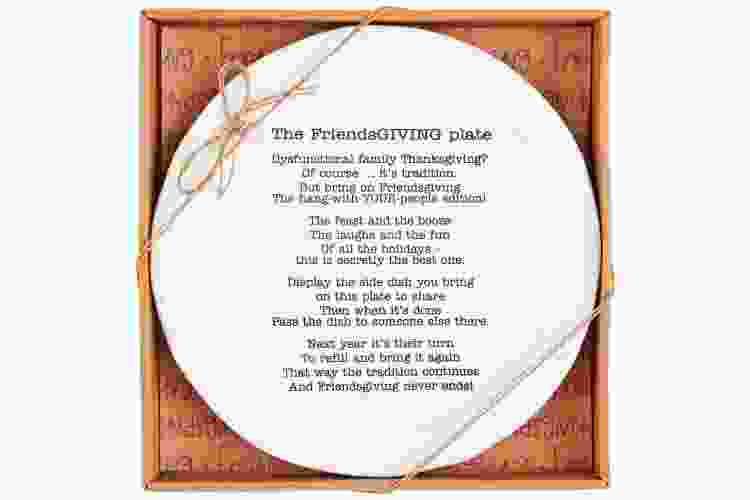 From giving your friends wonderful scented candles to creating a fun photobooth, there are tons of cool Friendsgiving ideas you can use to elevate your party.
Whether you take cooking classes together or invite your friends to a potluck, having the best food will ensure an awesome Friendsgiving this year.
For even more fun things to do with friends this fall, check out other experiences happening on Classpop!