37 Top-Notch Date Ideas in San Antonio for 2022
Published on Sep 9th 2022
| 0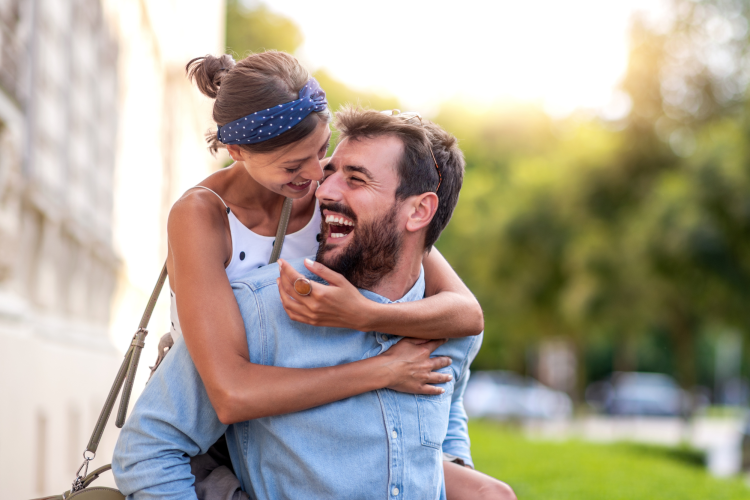 It's time to make sparks fly with these incredible date ideas in San Antonio. The city has plenty to offer from historic sites to aerial views to one-of-a-kind experiences.
Regular date nights aren't only a fun way to explore the city and try something new. According to For Your Marriage, date nights provide an opportunity to communicate and can help deepen your understanding of your partner.
Plus, couples who do activities together tend to have higher levels of relationship quality. So you'll know that as you have fun and make memories around the city, you're also strengthening a relationship.
But is San Antonio good for couples? Yes, absolutely! No matter what you and your partner are into, there's something fun to do in the city. From outdoor adventures to creative endeavors to laid-back activities, every couple will find a date night idea in San Antonio to try.
Jump to Section
Foodie Date Ideas in San Antonio
1. Try a New Recipe During Cooking Classes
Improve your kitchen skills and learn a new recipe with cooking classes in San Antonio. World-class chefs will teach you how to master flavorful dishes from around the world, from Spanish tapas to authentic German dinners.
You can even have a private experience in your own kitchen with online cooking classes for a cozy at-home date idea in San Antonio.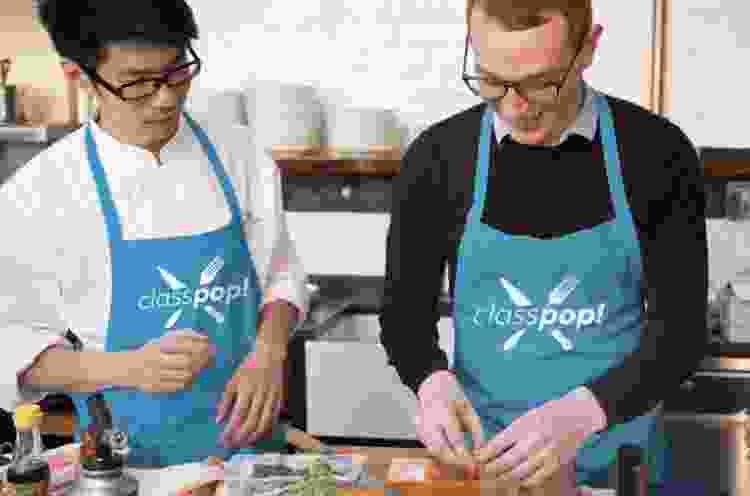 2. Get Drinks in the Sky
A classic date idea in San Antonio is drinking with a view at the Tower of the Americas. This incredible tower is 750 feet tall and you can head to the top floor at Bar 601, where you'll get an uninterrupted aerial view of the city as you enjoy deliciously crafted cocktails. This is sure to be a date night at San Antonio restaurants you won't soon forget.
3. Do Wine Tastings
Embrace your inner sommelier and try a wine tasting at a local San Antonio winery. If you've been asking yourself, "Where should I take my girl on a date?", a winery is a fun and romantic option. You can sip on different wine varieties and maybe discover a new favorite with this date idea in San Antonio.
4. Look for the Best "Blank"
Always in search of something good to eat or the next big thing? This date idea in San Antonio will have you exploring the city to do just that. Pick an item like the best pumpkin doughnut, cheese pizza, or strawberry-based cocktail and try different restaurants, bakeries and bars until you find it.
The best "blank" searches can be fun first date ideas in San Antonio that can become recurring dates throughout the relationship. It's also a fun way to spice up date night at San Antonio restaurants.
Creative Date Ideas in San Antonio
5. Get Moving With Dance Classes
Bust a move and get your groove on with dance classes in San Antonio. Talented dancers and movement experts will lead you and your partners as you learn the basics steps to a variety of dance styles like hip hop and ballroom.
And if you want to shake it in the comfort of your home, you can try online dance classes for a date night.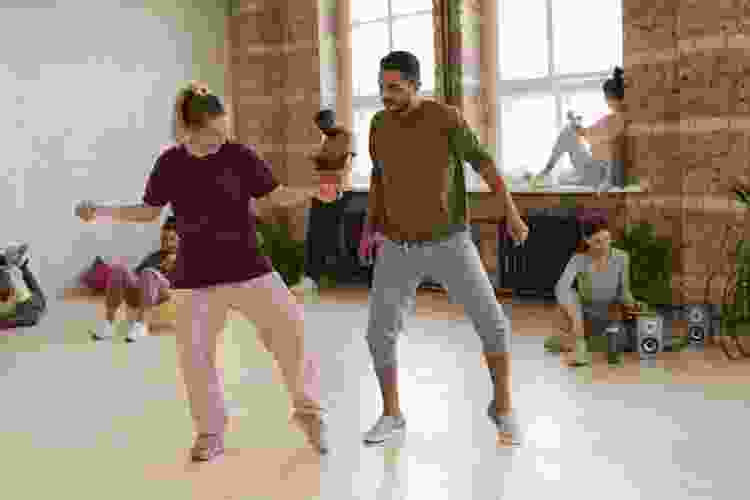 6. Relax With Paint and Sip
Let your creativity run free with this date night idea in San Antonio. You can relax with a paint and sip class, where an artist will teach you, step by step, how to paint a work of art. And throughout the entire class, you can sip on your favorite glass of wine or a cocktail. For nights you want to be creative at home, try online painting classes.
7. Snap Some Shots in a Photography Classes
Save some of your favorite memories with photography classes in San Antonio. You and your partner can learn how to take pictures with both digital and film cameras.
Plus, learn the basics like how to use shadow and light to create artistic photos. Or learn photography just the two of you with online photography classes in your own home.
8. Try Drawing Classes
Soon you'll be able to draw portraits of each other after taking drawing classes. This creative date night idea in San Antonio can teach you how to draw in different styles like portrait, cartoon and watercolor. Or learn all the basics with online drawing classes and have a creative night at home.
9. Craft Something in Pottery Classes
Make each other new go-to mugs during fun pottery classes. This creative date idea in San Antonio will have you spinning clay on a wheel to make mugs, bowls and chip dishes you can use while cuddling with hot chocolate or to use after making dinner together.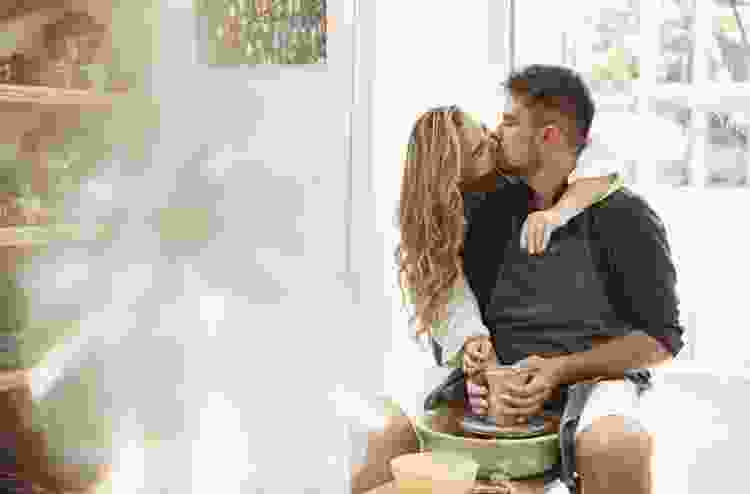 Unique Date Ideas in San Antonio
10. Shake and Stir in Online Mixology Classes
Grab your cocktail shakers and a few ingredients and have a spend the night crafting new concoctions. With online mixology classes, you can learn from expert mixologists how to create classic cocktails using fresh ingredients and juices. You may even learn a recipe for your new favorite drink.
11. Virtual Wine Tastings
Wine tasting is a fun fall date idea in San Antonio, especially when you can do it cuddling at home. With virtual wine tastings, you can get the full winery experience in the comfort of your living room. Expert sommeliers will teach you how to taste wine varieties and pair them with any food.
12. Acting Classes
Explore your creativity with acting classes in San Antonio. Acting classes are a great way to work on your communication and confidence, which can benefit your relationship.
No previous experience or dreams of fame are needed. And for a unique date for a stay-at-home weekend, online acting classes can be a fun date idea in San Antonio.
13. Visit a Salt Cave
Get out and explore what lies below the city with this unforgettable date idea in San Antonio. This unique salt cave has a bit of a twist: it's also a spa. You can relax and rejuvenate in this mystical location with spa treatments meant to help you unwind and come out more glowing. This tranquil setting is sure to make a memory.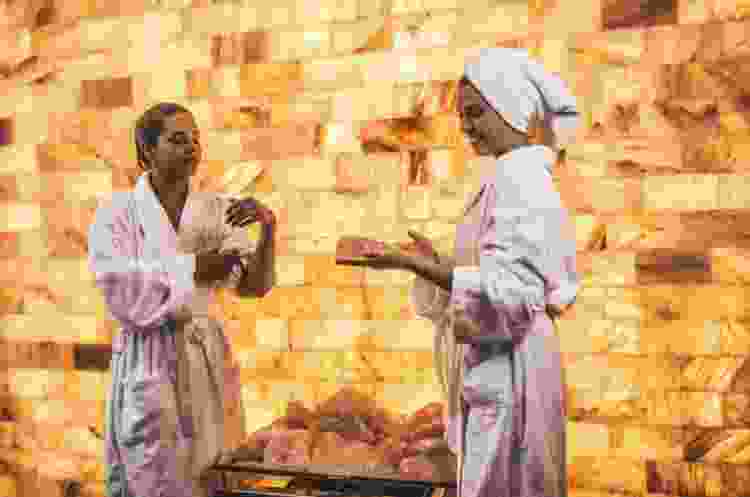 14. Take a Helicopter Ride
When you're with your sweetheart, it often feels like you're floating through the clouds. Now you can do it for real with his high-flying date idea in San Antonio.
Take a romantic helicopter ride over the city. It's sure to be unforgettable as you soar high in the sky, looking for your next date location or reminiscing over your favorite date spots.
DIY Date Ideas in San Antonio
15. Blossom Creativity with Flower Arranging Classes
Why bring home a bouquet when you can make one together? Flower lovers will love virtual flower arranging classes, where florists will teach you the art of arranging flowers of different colors, textures and sizes. After this creative date idea in San Antonio, your home is sure to be filled with beautiful blooms.
16. Get Handy with Woodworking Classes
If you've ever considered making your own furniture, you might enjoy woodworking classes for a unique DIY date idea. You'll be led by experts who will teach you how to turn, build and carve items from wood. It's the perfect date night for creatives who want to try a new medium.
17. Take Glass Blowing Classes
Another way to get creative and work with your hands is with glass blowing classes. This creative date idea in San Antonio will teach you how to make vases and decorative items you can display in your home.
Glass blowers will teach you the techniques and safety protocols to help you learn how to blow glass even if you don't have previous experience.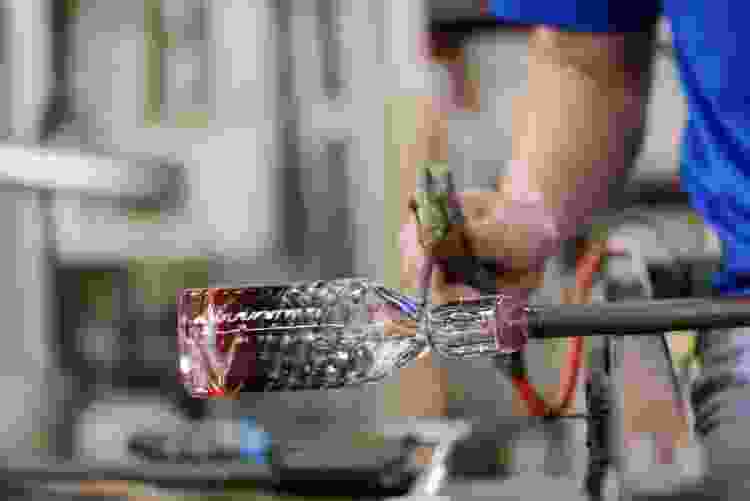 18. Make Something Memorable in Sewing Classes
Ever wanted to make your own clothes? You can learn how by taking a few sewing classes. This fun date idea in San Antonio will teach you all the basic stitches as well as the advanced techniques to make everything from pillows to curtails to an entire outfit.
Indoor Date Ideas in San Antonio
19. Host Virtual Game Nights
Love playing games, you can have virtual game nights to get a taste of some friendly competition. You can even get your friends together no matter where they live for online trivia games and virtual scavenger hunts. Or, if you like to solve a mystery, try virtual escape rooms for fun indoor date ideas in San Antonio.
20. A Night of Live Music
Where can I take a girl on a date in San Antonio? If you want it to be memorable, why not spend a night watching live music? San Antonio has plenty of music venues that cater to every genre for couples to enjoy year-round. The two of you can take turns choosing a concert and sharing your music tastes with each other.
21. Have a Staycation
Who says you have to leave the house for an eventful date idea in San Antonio? Spend a day gathering your favorite foods, games to play and movies to watch to spend the day inside together.
You can even have a spa day by giving each other massages and facial treatments. Spending a day or weekend just the two of you can help you communicate better and have a deeper understanding of each other.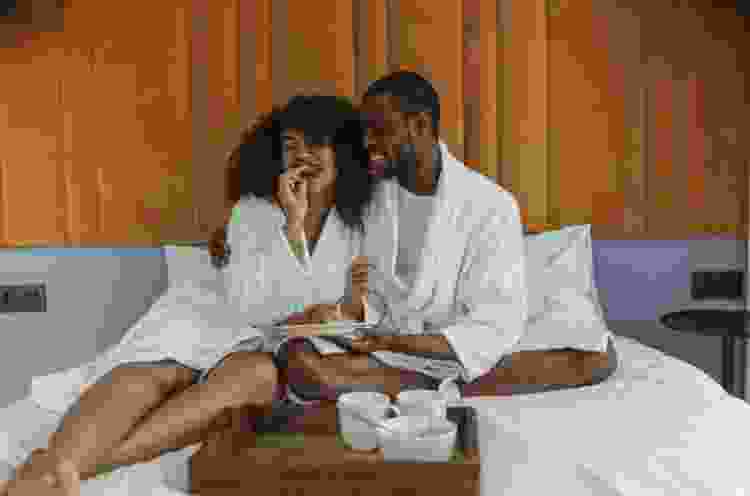 22. See Comedy Show
Everyone wants to laugh with their partner, so why not spend the night laughing by going to see a comedy show together? You can see a professional stand-up comedian or an ametuer improv group. Just be prepared for your sides to hurt at the end of the night.
23. Climb the Walls at Armadillo Boulders
Challenge each other to a friendly competition at Armadillo Boulders. Indoor rock climbing is an active date idea that can keep you active even when the weather isn't too pretty behind you. The climbing gym has a variety of walls of varying difficulties, so you can climb even as a beginner.
Outdoor Date Ideas in San Antonio
24. Visit the Safari Park
For couples who want to get up close and personal with animals, you should head to Natural Bridge Wildlife Ranch. You can drive through the safari park with bags of food to feed the wild animals and may come into contact with antelopes, ostriches, giraffes, bison and many more exotic animals.
25. Explore the San Antonio Botanical Garden
San Antonio has plenty of views for couples to enjoy together. You can take a walk through the city's official botanical garden that boasts 33 acres of greenery. You can walk through the Texas Native Trail or the Water Saver Garden for a serene outdoor date idea in San Antonio.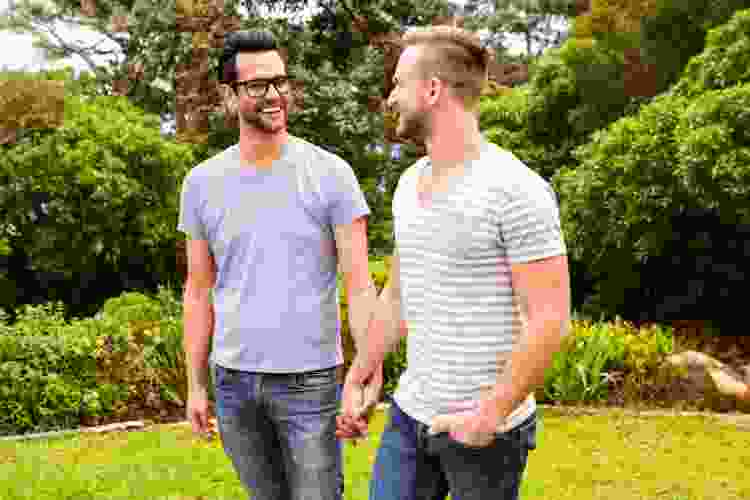 26. Take a Ghost Tour
Get a little spooky when planning your fall date ideas in San Antonio. Take a ghost tour of the city and find out which locations may have some otherworldly guests. You'll also learn about San Antonio's history and culture while hearing about the city's most unique residents.
27. Check out Enchanted Rock State Natural Area
Located just north of San Antonio, Enchanted Rock State Natural Area is the perfect location for couples who want to get outside. The mountain here is made of pink granite and has plenty of space for outdoor activities like hiking, camping and climbing.
Last-Minute Date Ideas in San Antonio
28. Go Mini Golfing
Mini golfing is a go-to date that's perfect when you're in need of last-minute date ideas in San Antonio. You can find plenty of courses in the city that will allow you to have some friendly competition. A mini golf date is also quick and easy enough to have on weeknights.
29. Check Out the Farmers Market
Need a cheap date idea in San Antonio that you can do on a Saturday morning? Explore the local farmers market. You can spend the day going from booth to booth, sampling foods or buying products to make for your next dinner date.
Farmers markets also often feature local artisans, so you can find little gifts for each other, like prints and trinket dishes.
30. See a Movie at Alamo Drafthouse
See a new blockbuster and enjoy a meal at the same time with this twist on the classic date night in San Antonio. If there's a movie you've been wanting to see, why not head to Alamo Drafthouse, where waiters serve you dinner during the movie?
You'll have your choice of food, milkshakes, drink and desserts to enjoy during the film. Don't worry, they still serve a movie favorite: popcorn.
31. Try a Karaoke Bar
While karaoke bars may be popular on the weekends, you can still enjoy them on a weeknight. You can make quick reservations on the same day and be singing your heart out within a few hours.
Most places welcome walk-ins. You'll be in a private room where you can take turns singing your favorite songs or even do a few duets together.
32. Go Ice Skating
A winter weather date night idea in San Antonio that's always a hit? Ice skating! You and your partner can glide around the rink holding hands or even racing.
Best of all, you can walk up to these rinks and skate without having to prepare in advance. Ice skating is a fun date no matter how long you've been together and an incredibly easy date to plan.
Free & Cheap Date Ideas in San Antonio
33. Stroll Down the San Antonio River Walk
If you're looking for a fun first date idea in San Antonio that takes a lot of pressure off, head to the San Antonio River Walk. This iconic location has plenty to do, but it's also free to simply walk around and get to know each other. Sometimes there are events like river parades and artisan shows to explore.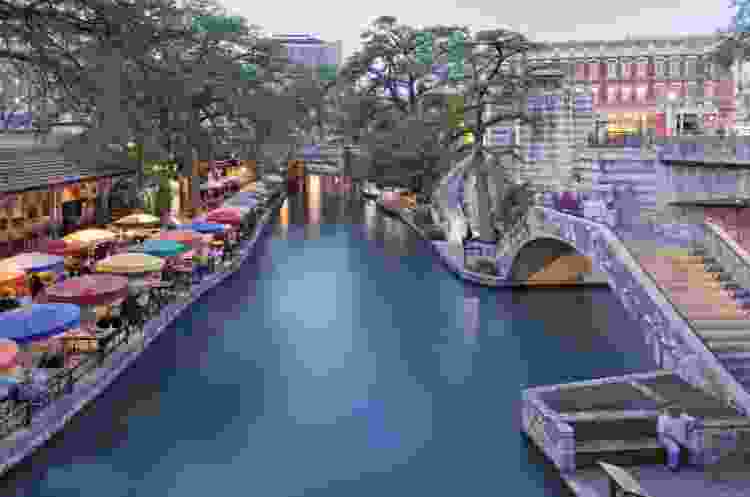 34. Explore the McNay
Spend the day exploring the exhibits at the McNay Art Museum. You can view pieces from European Art, American Art, modern and contemporary works, and more. Not to mention, admission is only $20 and the general admission tickets don't expire!
Looking for a fun, free thing to do in San Antonio for couples? General admission is also free every Thursday from 4 p.m. to 9 p.m. and every first Sunday from noon to 5 p.m.
35. Yanaguana Garden
This engaging free date idea in San Antonio is a great way to spend a Saturday. Yanaguana Garden is 4.1 acres of fun you can walk through, play and explore.
The park has oversized game boards to play checkers and chess. You can also play ping pong, foosball and Bocce ball in this park. And nearby are food trucks and a brewing company, so you can grab a bite to eat or drink while you're out exploring.
36. Check Out Art Space
Another free thing to do in San Antonio for couples is to check out Art Space. This non-profit gallery has artists in residence that create new art and engage with the community.
Admission is always free, and anyone can come and check out this creative space that showcases new work from around the art community.
37. Rent Bikes to Ride Downtown
Need cheap date ideas in San Antonio that still allow you to explore? Rent bikes Downtown. These bikes often only cost a few dollars to rent, and you can ride them all around the city, as long as you return them when you're done. Feel free to stop your bike ride to admire the view, check out a local shop or head to a restaurant for lunch.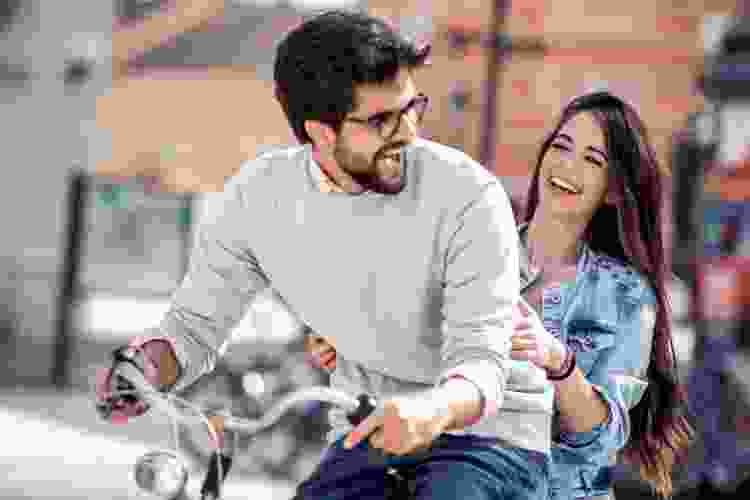 Plan them together or plan a surprise; these date ideas in San Antonio are sure to make sparks fly. Spending time together doing something new is a key way to ensure a strong and healthy relationship. You may even find your new favorite activity together after trying these date ideas in San Antonio.
So, how do you date in San Antonio? Find new and exciting ways to explore the city with your sweetheart. With these date ideas, you'll never be left asking what you should do for date night.
For even more fun date ideas, check out other experiences happening on Classpop!