31 Coolest Date Ideas in Kansas City for 2023
Published on Oct 7th 2022
| 0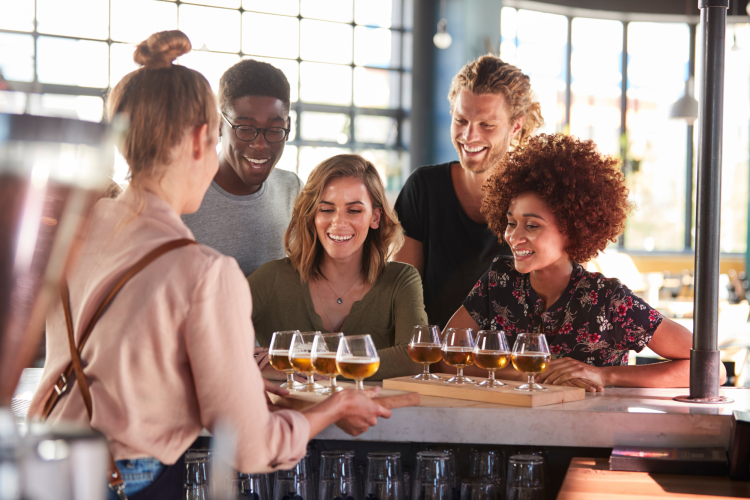 Known for great BBQ, funky jazz music and a beautiful cityscape, date ideas in Kansas City abound in this fun and eclectic spot. The rich history and relatively mild climate mean there's no shortage of activities for you and your partner to enjoy together.
If you've ever wondered "how do I date in Kansas City?" or even "is Kansas City good for dating?" then read on to see why this midwest town is making a name for itself with both food and fun.
Whether you've been dating for years or you're nervous for your second date, taking the time to continue dating is important and beneficial for your individual health and that of your relationship.
In fact, University of Virginia news reports that prioritizing dates, even late in the relationship, fosters better communication, increased feelings of intimacy and strengthens your bond. Plus, it can lower your individual stress levels, too!
With a list of 31 date ideas in Kansas City to choose from, there should be no added stress on your plate when it comes to picking fun activities for adults in Kansas City that you and your lover can enjoy together.
Jump to Section
Foodie Date Ideas in Kansas City
1. Learn to Cook Together
Even if you're lucky enough to be dating someone who knows their way around the kitchen, there are tons of different cuisines and styles of cooking that can be new to you and a super fun date idea in Kansas City to bond over.
The variety of cooking classes in Kansas City is incredible and you can select anything from rolling sushi by hand to making Caribbean favorites from scratch. Online cooking classes make it easy to craft an amazing meal from the comfort of your own kitchen.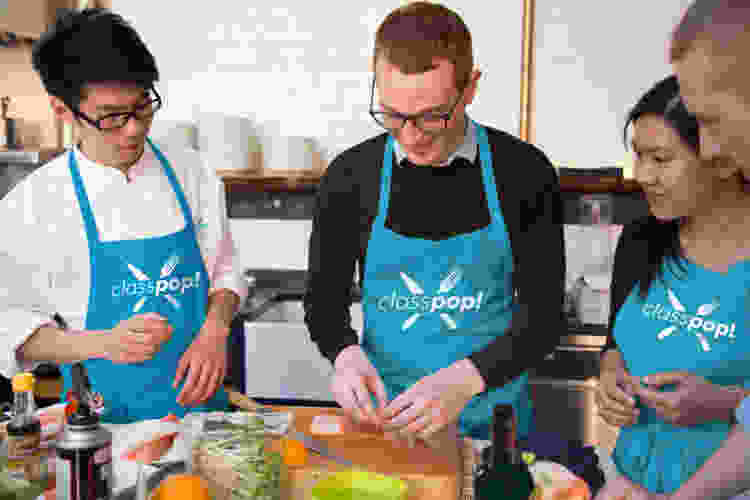 2. Eat BBQ
You can't be in K.C. and not have some barbeque! There are too many good spots to name, but check out the smoked wings at Q39 or the smoked meats from Char Bar. Add a side of mac and cheese and a cold beer and you've got yourself the perfect date idea right in Kansas City.
3. Dine at Gram & Dun
Gram & Dun is a Kansas City staple and one of the coziest dining environments around, making it the perfect dinner date idea in Kansas City, especially on a cool night.
This totally romantic spot has a big menu with everything from salads to tacos to Wagyu steak. Don't skip dessert- they're known for a delicious blueberry lemon trifle or German chocolate cake.
4. Get Fresh Produce at City Market
Sometimes all it takes to get you inspired in the kitchen is some fresh, in-season produce that is just begging to be made into a meal. Take your date to the City Market for a laid-back date idea in Kansas City that just might lead to a delicious home-cooked meal as a result. The market offers beauty and pet products as well as cafés, restaurants and other specialty stores.
5. Go to the Farmers Market
Nothing is better than fresh, local produce especially when you can buy it from a local farmer. Looking for date ideas in Overland Park? Check out the Overland Park Farmers Market where you can pick up fresh flowers, local jams and fresh baked goods. This easy date idea just outside Kansas City is the perfect Sunday morning activity for couples.
Creative Date Ideas in Kansas City
6. Learn a New Skill Together
Learning something new together is a great way to strengthen your bond, and you never know, you just might find your next favorite hobby together.
Plus, you can learn new skills from home with more online class options than ever before. Check out online dance classes (or visit a local studio) or online photography classes for a chance to let your artsy side shine.
7. Paint and Sip
Let your inner kid out for the night with a creative painting class with an adult twist for the ultimate creative date idea in Kansas City. Online painting classes bring the fun right to your living room and make for an awesome double date or group date as well.
Bonus: the art you make serves as a fun keepsake from the date as well! If painting isn't your thing, check out online drawing classes (or in-person!) or even pottery classes for an easy date that will be sure to relax you and let your creative juices flow.
8. Visit LEGOLAND
If you haven't heard, LEGOS aren't just for kids anymore! Visit the LEGOLAND Discovery Center featuring LEGO-themed rides, exhibits and even interactive displays.
This date idea in Kansas City will have you feeling like a kid again, and you'll be tempted to buy a fresh LEGO set to go home and set up your very own world together.
9. Plan a Staycation
Spend a weekend at the Elms Hotel and Spa for a relaxing weekend date idea in Kansas City that will leave you feeling recharged and refreshed.
Just 30 minutes outside the city, you will feel like you've been transported to another country with the beautiful luxury European-style furnishings and the beautifully manicured grounds. The spa is complete with a sauna, hot tubs and exfoliating mud baths for couples to enjoy.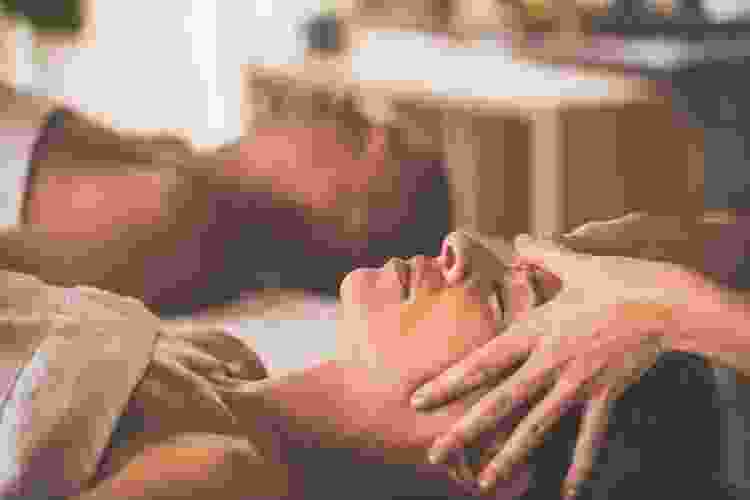 Unique Date Ideas in Kansas City
10. Mix Up a Cocktail
Sometimes you're in the mood for a tasty nightcap, but you don't feel like being a part of the bar scene. Cue online mixology classes so you can sip and savor a perfectly balanced cocktail right at home.
Be sure to also check out virtual wine tastings for an easy date idea in Kansas City that transports you to Napa Valley with all the coziness of being at home.
11. Act the Part
If painting and drawing isn't your idea of an artsy good time, try your hand at acting with in-person or online acting classes. This is a fun date idea in Kansas City that really encourages both of you to let your guard down and have a good time. Great for first or second dates, or even your hundredth date.
12. Have a Game Night
Especially when the weather is cool or rainy, you still want to have an awesome date night with your loved one. Make it a double date and stay home with a cocktail and some snacks for online trivia games or virtual game nights. You can even enjoy virtual escape rooms or virtual scavenger hunts if you're looking to up the ante.
13. Rage KC
Okay, so losing your temper in front of your date is probably not on your to-do list, but what if there was a controlled and fun way to let out your stresses together? Rage KC is an awesome date idea right in Kansas City that features a whole warehouse full of breakable stuff that you get to well… break!
Don some safety gear and a hammer or blunt object of choice and get to work smashing everything from dishes to printers as you vent your frustrations together.
14. View Contemporary Art
Head over to the Nerman Museum of Contemporary Art for a colorful date idea in Kansas City that you're sure to enjoy. Featuring a variety of mediums, you and your date can stroll around before dinner or after as you take in the stunning art exhibits.
DIY Date Ideas in Kansas City
15. Improve Your DIY Skills
There is a great sense of satisfaction that comes from doing things yourself, whether it's refurbishing a piece of furniture from Facebook Marketplace or decorating your home just to your liking.
There are tons of classes available that make for an easy date idea in Kansas City that can have some tangible benefits to your DIY game as well. Check out options from virtual flower arranging classes to woodworking classes, sewing classes and even glass blowing classes.
16. Go Chiefs!
Even if you're not a football fan (or even a Chiefs fan) it's hard to deny how fun a live sports game can be. Start with a tailgate celebration and end the day in the stadium at a Chiefs game for an enjoyable date idea that truly celebrates Kansas City pride. The crowd is electric and the team is pretty good — they won the Superbowl in 2020 after all!
17. Bike K.C. Together
Explore the city by bicycle with Kansas City B-Cycles that you can rent from hundreds of stations across the city. This DIY date idea in Kansas City lets you see a lot more of the city than you could on foot, and you can stop at any time for a beverage or a bite. Consider planning a DIY food or brewery tour throughout the city with bikes for transportation.
18. Go for Brunch at Raphael Hotel
You don't need to spend the night to indulge in the incredible restaurant at the Raphael Hotel. Available only on weekends, this date idea in Kansas City offers a beautiful restaurant with a killer brunch spread that your sweetheart is sure to enjoy.
Day Date Ideas in Kansas City
19. Play Pickleball at Chicken 'n Pickle
Pickleball is quickly gaining popularity and after your first game, you'll understand why. This is a super fun date idea downtown Kansas City that all ability levels can enjoy.
Get your sweat on with a game of singles or doubles in this tennis-meets-ping-pong game that anyone can play. Then, enjoy some well-earned refreshments after the match.
20. Stop and Smell the Roses
What could be more romantic than strolling through the roses hand-in-hand? Enjoy a sunny day surrounded by over 3,000 roses spanning 130 different varieties.
Pack a picnic to make an afternoon of it, or enjoy the beautiful rose garden for a pre-dinner stroll. This spot is easily one of the most romantic date ideas in Kansas City.
21. Take a Winery Tour
It's not exactly Napa Valley, but K.C. is home to several beautiful, local wineries that make for an easy day date idea in Kansas City for you and your lover. K.C. Wine Co. or Albonee are a couple of favorites and they offer stunning views, wine flights and live music on the weekends. There are usually a few food trucks on rotation as well, so you can eat and sip while you soak up the beautiful weather and landscape.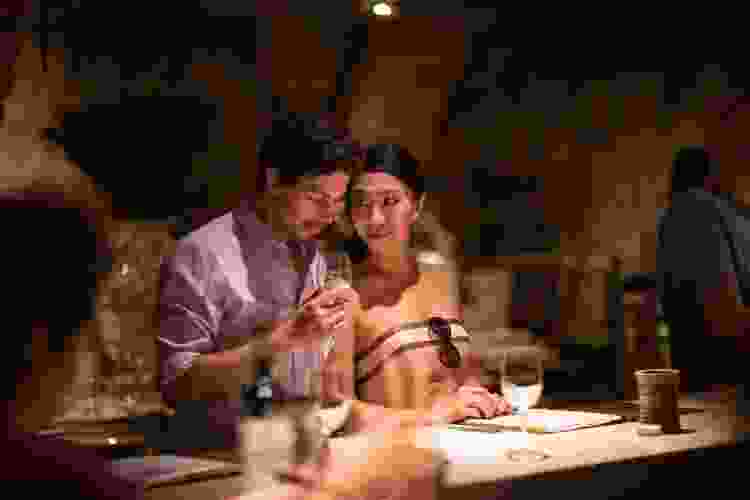 22. Sea Life Kansas City
Step into a scene from Finding Nemo at Sea Life Kansas City. This perfect day date idea in Kansas City is surprisingly romantic and super colorful.
You and your date will watch with wonder all the brightly colored fish and underwater animals with over 1,000 different underwater species — an easy and enjoyable experience that gives you plenty of time to talk and get to know one another while you soak up the underwater environment.
Late Night Date Ideas in Kansas City
23. Go to Green Lady Lounge
K.C. is home to a thriving jazz scene that bleeds into the culture of the city, so when in Rome… you've got to check out live jazz music. The Green Lady Lounge is a staple in K.C. and they feature a different live jazz performance every night of the week, so you and your date can sip cocktails and sing the blues with this late night date idea downtown Kansas City.
24. See a Show at Midland Theater
The Midland theater is a totally classic date idea in Kansas City that leaves plenty of room for your individual taste. With an ever-changing array of live performances to choose from, this beautiful theater is the perfect backdrop for a romantic late night date.
25. Hit Up Holladay Distillery
Sip fresh, local bourbon with your lover for this date idea just outside Kansas City. Holladay specializes in bourbon so we recommend touring the facility and learning a little something about the distilling process before sitting down for a flight or the best Old Fashioned you've ever had.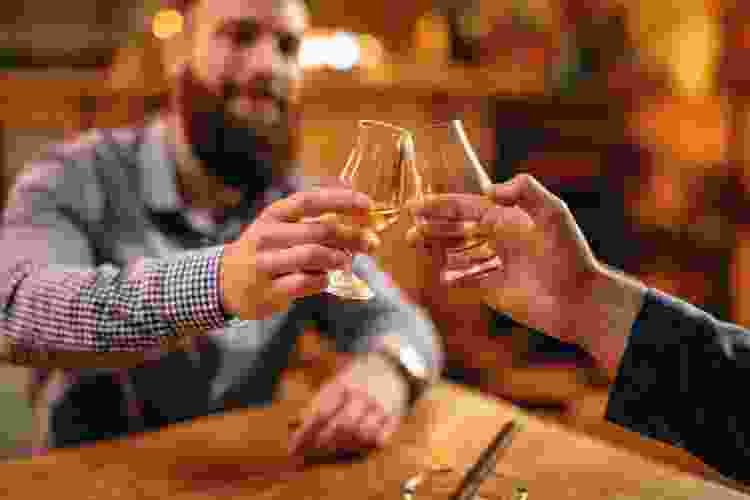 26. K.C. Bar Hop
This date idea is right in the heart of Kansas City and is quintessential K.C. that you just can't miss. Wander the streets late at night hopping from bar to bar, maybe stopping to ride the mechanical bull or dance atop a bar. This spot is especially lively after a Chiefs game, especially a win!
27. Top Golf
Enjoy the game of golf no matter the season at Top Golf, an interactive and fun date idea in Kansas City. Also a fun double date idea, you can play games or just practice your swing with plenty of food and drinks brought right to your table. Certain seasons and times of the day can be busier than others, so it's best to make reservations ahead of time.
Free & Cheap Date Ideas in Kansas City
28. Go Hiking at Cave Spring Park
When the weather is nice there's no better place to be than out in nature, and the approximately four-mile hike at Cave Spring Park is a great loop to soak in the natural beauty all around you.
Once owned by Harry S. Truman's grandfather, this free date idea in Kansas City features caves, creeks and old-fashioned cabins for you to enjoy with your partner.
29. Sip on Something at Oddly Correct
The coffee shop date is an old classic, but it never fails and for good reason. Enjoy a lazy Saturday with your lover with this date idea right in Kansas City where you can soak up the quirky ambiance with some tasty takes on classic coffee drinks. Check out the bourbon vanilla or brown sugar hazelnut latte for a twist on your morning cup.
30. Walk Around Powell Gardens
Head over to the Powell Botanical Garden for a laid-back, beautiful date idea right in Kansas City that you and your date can enjoy. Comprised of over 930 acres, there's no shortage of beautiful landscaping to enjoy. Stroll hand-in-hand with your lover and escape the hustle and bustle of the city as you connect with nature and walk among the wildflowers.
Whether you enjoy a laid-back, lazy night or an action-packed day, you'll find a little bit of everything in K.C. to enjoy with your partner. Whether you're locals or visiting for a getaway weekend, there are tons of date ideas in and around Kansas City that will help the two of you bond.
31. Have a Picnic in the Park
K.C. is home to a fair number of gorgeous outdoor parks and green spaces, and they make for the perfect cheap date idea right in Kansas City. The WWII Memorial Lawn is a beautiful place for remembrance that also features an incredible view of the city skyline from the lush grass. Pack up your favorite meal from home and a blanket to snuggle up on and you've got yourself a date!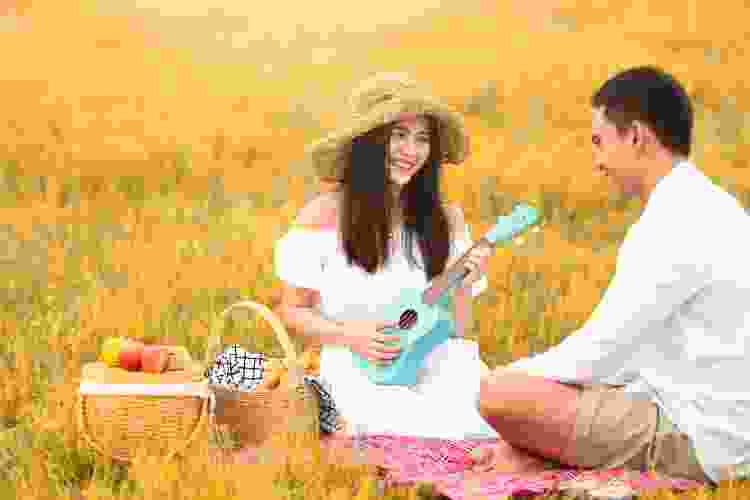 Whatever you're into, Kansas City has something for you. This jewel of the Midwest is full of town pride and no shortage of fun to be had for all. Work your way down this list, experiencing new parts of your town and watching your love flourish.
For even more fun date ideas, check out other experiences happening on Classpop!