31 Best Team Building Activities in Nashville for 2023
Last Updated on Apr 18th 2023
| 0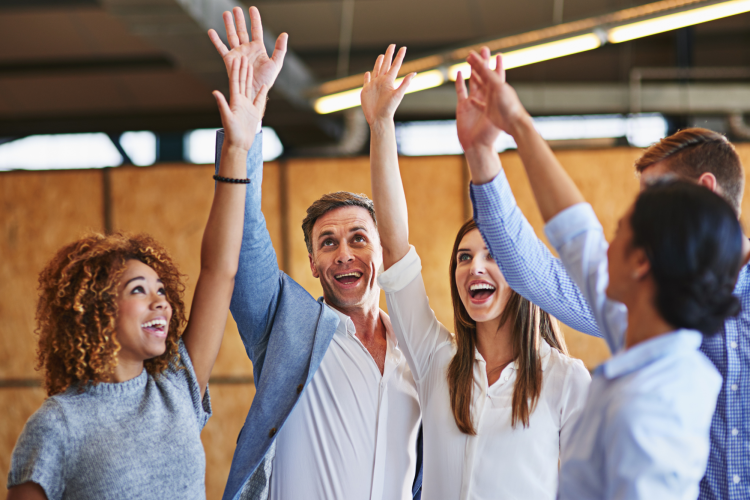 It's not hard to find team building activities in Nashville if you know where to look, and we're here to guide the way. This city is full of incredible food, one-of-a-kind experiences and sights worth exploring. You really can't go wrong, but there are a few ways you can really do it right.
How do you make your team building activities effective? As shared by the U.S. Geological Survey (USGS), if teams want to become more collaborative, work more effectively and genuinely enjoy working with one another, they should practice trust, clarifying roles, appreciating diversity, communication and balancing focus.
So, what are the best things to do in Nashville for teams who need to work on these essential skills? From hands-on activities that promote collaboration to mind-boggling experiences to test your problem-solving prowess, these are the best team building activities in Nashville, TN.
Jump to Section
Culinary Team Building Activities in Nashville
1. Cooking Classes
Cooking together is one of the best team building activities in Nashville, or anywhere else for that matter! These culinary competitions will have you all showing off your chef's skills, and picking up a few new ones, as you get to know one another on a whole new level.
Choose from a variety of cuisines, cooking styles or unique themes for a team building experience your taste buds won't forget, and serve it up with a side of guaranteed laughs. A talented chef instructor will even bring everything you need to the office!
Try a mystery ingredient cooking challenge, create an Italian feast from scratch or explore other cooking classes in Nashville.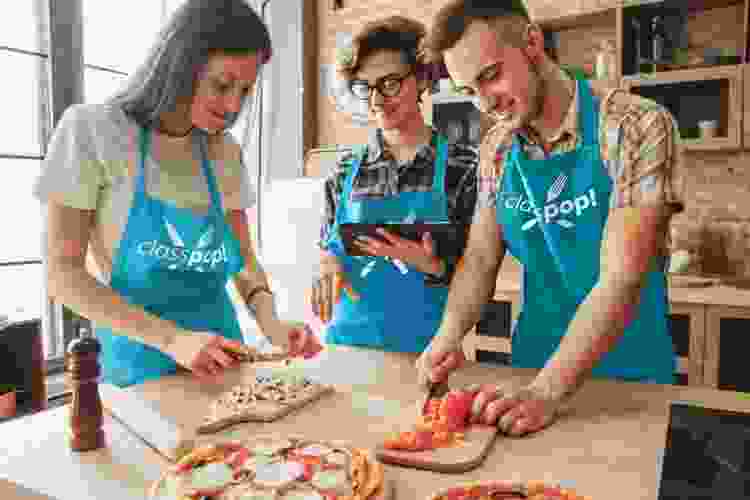 2. Online Cooking Classes
If the weather isn't exactly on your side, or you're looking for team building activities in Nashville for remote and hybrid teams, online cooking classes may be just the ticket. Each participant can dial in from the comfort of their own kitchen, or combine forces to tackle these flavorful custom menus as a team.
3. Grab Some Nashville Nosh
Even if you're a full-time resident, there's just something about that Nashville hot chicken that never gets boring. For the perfect team building activity in Nashville, introduce fellow team members to some outrageous barbecue and the other incredible flavors that this city has to offer.
According to the UK's National Lottery Community Fund, dining together makes for awesome team building because "Food is always a great connector and we use it in meetings to make people feel valued, at ease and less formal which helps in building relationships."
Full bellies and real connection; what more could you ask for in a team building activities in Nashville?
4. Take a Food Tour
Let someone else do the guide work, so you can sit back and enjoy the mouthwatering offerings that Nashville has to offer. Food tours are fun team building activities in Nashville, TN that also give you the chance to do some sightseeing as you snack on local favorites and down a few refreshing drinks.
Choose a tour that takes you around your favorite part of town, or focus on a cuisine that your team has been dying to try!
Creative Team Building Activities in Nashville
5. Dance Classes
Make sure you're wearing your dancing boots, because this Nashville team bonding event is bound to get those toes tapping, whether you like it or not.
Get your team out of their boring, placant comfort zones and get grooving with some dance classes in Nashville — no real coordination required. We promise you'll see your accounting manager in a whole new light after this!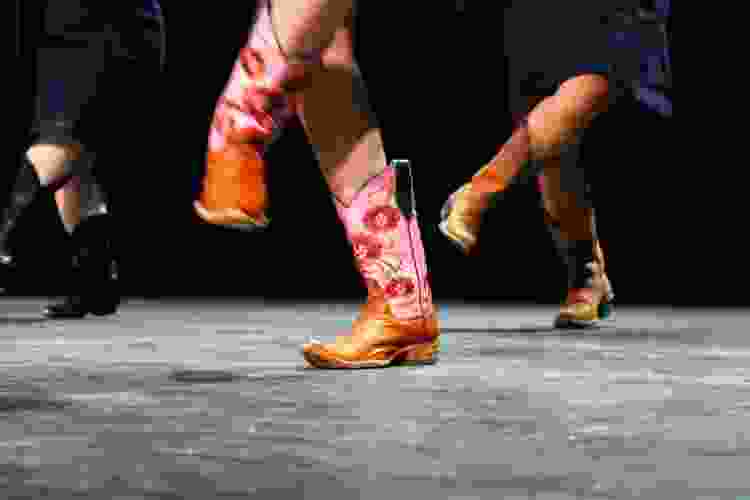 6. Painting Classes
Harness your inner Picasso and bring your crew to some painting classes for a team building activity in Nashville that leaves lots of room for creativity and artistic expression.
If part of your team works remotely, or you'd prefer to tackle the easels from a more private location, online painting classes are also available. Who knows? You may discover a hidden talent or new passion project to pursue together, maybe the new guy in the art department is really onto something!
7. Paint and Sip
Paint and sip events are hands down some of the most fun activities in Nashville for adults, and they make for hilarious and effective team building and bonding. Grab your favorite bottle of vino and gather your team as you let your creative side loose and build your confidence with a brush.
There are lots of studios in the surrounding area that offer these super fun gatherings, so whether you're looking for team building activities in Franklin, TN or in the heart of Nashville, this is it!
8. Drawing Classes
If you're looking for creative things to do in Nashville for teams, but you don't want to get messy with painting or pottery, drawing classes are the perfect way to hone your creative skills as you get to know each other.
For a team building activity in Nashville that the whole team can join from anywhere, online drawing classes help you learn drawing basics and a few special techniques from the convenience of the office or home.
9. Pottery Classes
Even if your last experience with clay involved brightly colored dough and cookie cutters, pottery classes make for super fun team building activities in Nashville, TN.
Connect with teammates as you learn to shape and create fun, decorative pieces or even just nail down the basics of pottery. You'll even have a cool souvenir to take home when it's all said and done.
10. Record Some Tunes
If some of your team members are musically inclined (or even if they're not), you can't resist the call of The Music City to create some tunes of your own for an effective employee engagement idea that gets your team focused.
Organizations like Kidbilly Music will help your team write your own song, put it to music and lay down some sweet tracks. If you're looking for a teambuilding activity in Nashville that's iconically and uniquely, well, Nashville, this is it.
Unique Team Building Activities in Nashville
11. Woodworking Classes
Woodworking classes make for a fun team building activity in Nashville, providing a hands-on activity that gives you insight into an age-old craft that few people today have mastered.
Learn a little bit about what it takes to create furniture, decor and other household trinkets, then make your own memorable souvenir. Stepping into a new, creative environment will encourage team members to drop their workplace personas and branch out.
12. Glass Blowing Classes
Glass blowing is exactly as awesome as you think it is, and is a hot team building activity in Nashville. Get a little nerdy as you learn the science behind melting and forming glass creations, and try your own hand at it.
These undeniably interesting classes are so cool, they make the list of fun things to do in Nashville, whether you're team building or exploring on your own.
13. Photography Classes
Anyone can be a photographer now that smartphones have become essential accessories or, for some of us, extensions of our own limbs. But knowing how to take truly stunning photos takes some practice and a little expert instruction. Plus, better photos could step up the company's social media content!
That's where photography classes come in as an awesome team building activity in Nashville, to help your team learn some cool, applicable skills as you let go of work and focus on fun. Try online photography classes for remote teams or as a quick mid-week break from the grind.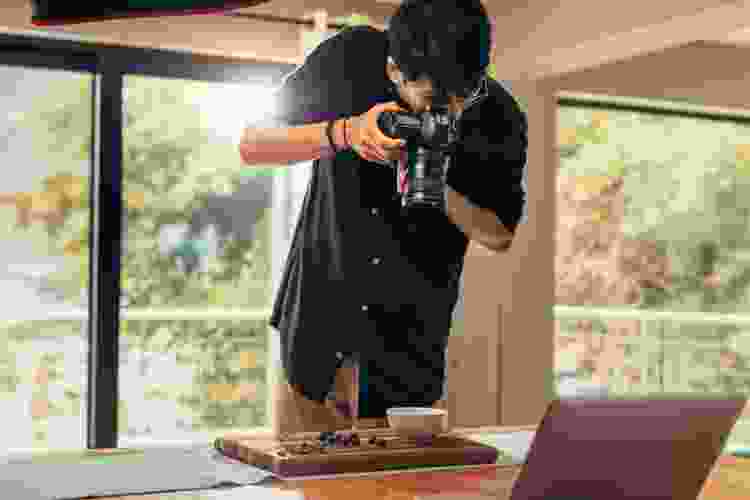 14. Acting Classes
If you're really ready to drop the workplace personas and try on something new, acting classes are a fun team building activity in Nashville that is sure to produce a few laughs.
If your team isn't totally comfortable with adopting new roles in person, online acting classes provide a little more leeway for those who may feel shy acting out in public. Try an improv class to help teach the team how to think on their feet!
15. Sewing Classes
For a unique team building activity in Nashville that's also highly functional, try sewing classes. Your team will get to learn a new skill that can become a new hobby to pass the time, or simply banish holey socks for good.
Craft fun creations together, and leave with the chops to neutralize the situation next time you pop a seam at your desk.
16. Plan Your Escape
Escape rooms are just the right amount of fun with a little bit of a thrill to go along with it. In these perfect team building activities in Nashville, your team will need to put their heads together to solve riddles and get the heck out of there.
17. Give 'em the Axe
Axe throwing is one of the best team building activities in Nashville, TN, and not just because it helps you get your frustrations out in a healthy way. There are a few spots where you can connect with teammates and get in on this action, like Blade & Timber Axe Throwing.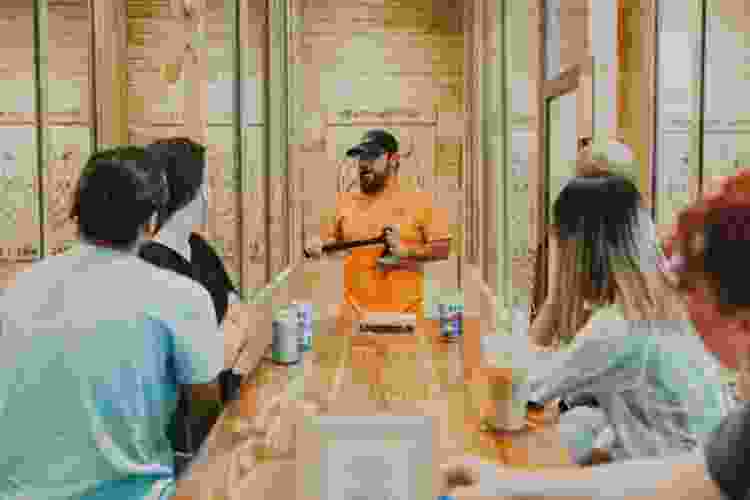 Virtual Team Building Activities in Nashville
18. Virtual Flower Arranging
If some (or all) of your team members work remotely, that doesn't mean you can't enjoy some fresh, fun team building activities in Franklin, Nashville or anywhere else. Virtual flower arranging classes will help your team beautify their space and create gorgeous conversation pieces.
19. Virtual Game Night
Never underestimate the power of game night. Your team can get in on virtual game nights from anywhere they call home. Hosting game night from afar is a great option for groups who may not be able to gather together for in-person team building games.
20. Virtual Scavenger Hunts
If the whole team can't make it for a Nashville scavenger hunt, bring the fun to you! Virtual scavenger hunts are a perfect addition to your team building activities in Nashville and let group members join the hunt, no matter where they dial in from.
21. Online Trivia
Dial in to some online trivia games to liven up a midweek meeting or supplement your corporate events in Nashville. Online trivia makes for great team building as it allows team members to show off their fun, strange or useful knowledge while encouraging collaboration with a little edge of competition.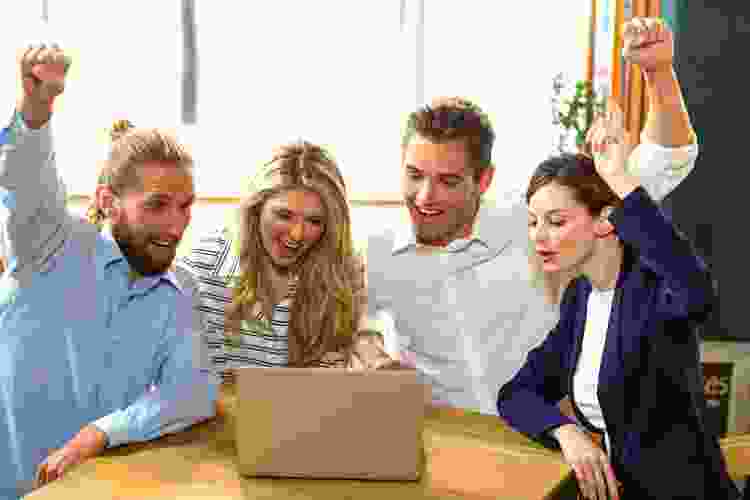 22. Virtual Escape Rooms
Virtual escape rooms are perfect for teams that love to put their heads together and solve problems, particularly if you do so from afar. If your crew can't get out and about for a team building activity in Nashville, this virtual event brings the experience straight to you without the side of claustrophobia.
Corporate Team Building Activities in Nashville
23. Online Mixology
Corporate events in Nashville can be tricky to coordinate when you're working within a large corporation or one that brings team members in from all over the country.
Online mixology classes are an excellent option because they let the whole team join in on the happy hour, no matter where they are! Everyone can be their own bartender and sip on crafted cocktails without braving the happy hour crowd.
24. Virtual Wine Tastings
A wine tasting brings it all to the table. For fun activities in Nashville for adults, you can't beat the sass and class of virtual wine tastings. Team members from all departments can tune in to learn about some incredible wines and their even more awesome teammates.
25. Go on a Nashville Scavenger Hunt
There's nothing like a Nashville scavenger hunt to help your team get to know the city they live in, as you get to know each other. Scavenger hunts make great team building activities in Nashville because they bring members of every department together to encourage teamwork, collaboration and problem-solving.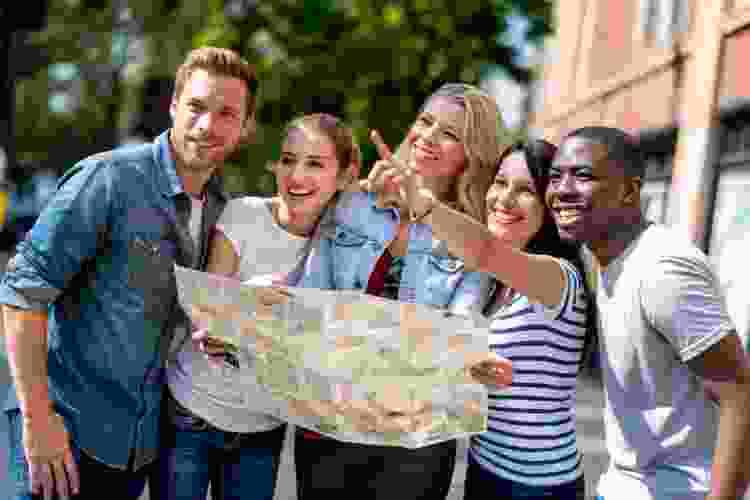 26. Get Real (With VR Games)
This team building activity in Nashville is virtual… but you've got to be on-site to join in. At the Rabbit Hole VR Arcade, you and your teammates can compete in over 30 VR arcade games, VR escape games and explore the free-roam VR arena. When you're done feeling pixelated, you can enjoy classic arcade games as well.
Outdoor Team Building Activities in Nashville
27. Adventureworks Nashville
Check out Adventureworks in Nashville for one of the best team building activities in the area. There's no better way to get to know your city — and your coworkers — than by experiencing the thrill of ziplining through a forest with incomparable views.
28. Take a Trolley
Get out of the boardroom, get some fresh air and take in the sights around the city in a trolley. This is not just a team building activity that gives you the chance to relax and start a cool conversation, but it's one of the most popular things to do in Nashville and makes you feel like you've traveled back in time.
29. Take a Tour Aboard a Tavern
When the weather is nice, there's nothing like a breezy, boozy bike ride to get your blood moving and put a smile on your face.
Leave the boardroom chat at the office, grease up your wheels and enjoy the sights as you cruise through one of the coolest team building ideas. Check out spots like the Nashville Pedal Tavern to reserve your seat.
30. Beach Volleyball at Sandbar Nashville
You don't have to head all the way to the coast or lakefront to find fun in the sun and get a little sandy. Sandbar Nashville is one of our favorite things to do in Nashville for teams for a lot of reasons, but especially because it feels like taking a fun trip to the beach with friends. Work on teamwork and collaboration as you serve, set and spike!
31. Hit the Ropes Course
Dangling haphazardly, high up in the air is undoubtedly one of the most fun things to do in Nashville for teams who like a challenge. Popular courses include SOAR Adventure Tower, where you can choose different courses and adventures.
These heart-pounding activities are great for building trust and forming genuine relationships with other team members!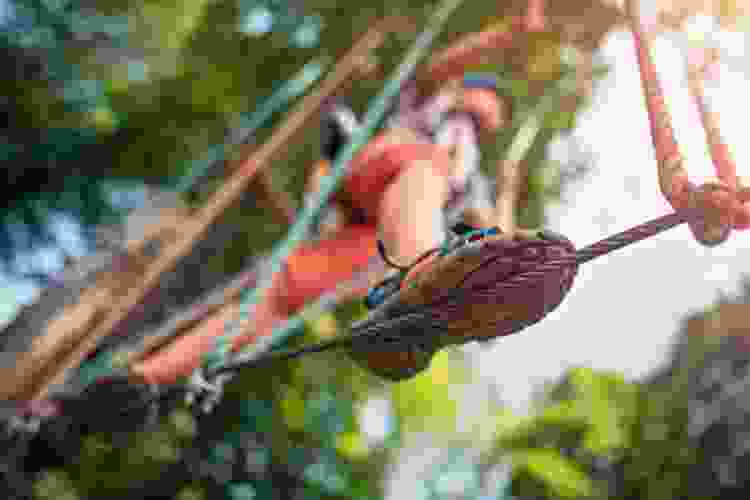 Fun team building activities in Nashville are in no short supply, and these collaboration-inducing events and destinations are getting more popular by the day. What are you waiting for? Grab your team, pick your favorite gigs, and get ready for some serious fun and laughs.
For even more fun team building ideas, check out other experiences happening on Classpop!