23 Most Festive and Fun Holiday Party Ideas for 2022
Published on Nov 21st 2022
| 0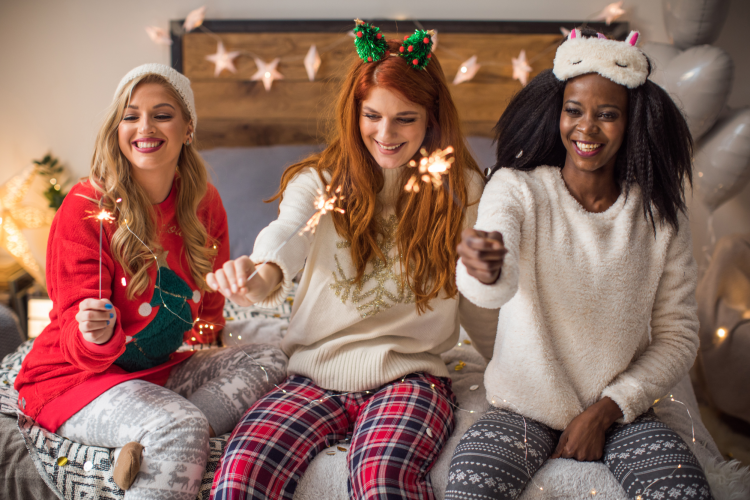 Are you wondering, what are some good holiday party ideas? Maybe you're thinking, how can I celebrate this festive time with my friends, family or coworkers? Well, you're in luck. This guide will cover everything you need to know to through a seasonal bash that your attendees will remember for years to come.
From simple at-home celebrations to unique corporate holiday party ideas, there are awesome ways to ring in the season. Some are budget-friendly and some allow you to get your creative juices flowing. Others allow you to bond over some festive food experiences to celebrate your culinary skills. No matter what activity you choose, you're sure to have a joyous time with your amazing guests.
Jump to Section
Creative Holiday Party Ideas
These creative holiday party ideas allow you and your guests to express their artistic sides. Plus, you'll likely create a fun project or memento to remember the occasion by.
1. Paint and Sip
You can find some awesome painting classes that are both holiday-themed and ones that are designed for year-round enjoyment. Classes, where you can enjoy a beverage while you work, can make for a fun holiday party idea.
There's paint and sip in Houston for Midwestern groups and paint and sip in Los Angeles for west coast fun. You can even check out paint and sip in Chicago for some of the best artistic outlets that The Windy City has to offer. Or explore paint and sip near you!
If your team is spread out geographically, look into online painting classes where you can grab a drink and party virtually from the comfort of your own homes.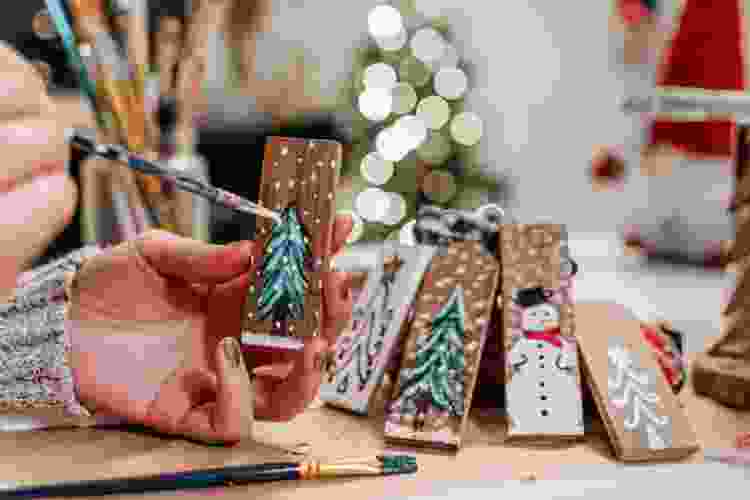 2. Pottery Classes
There are tons of sculpting classes all over the country where you and your guests can get your hands dirty and create some three-dimensional art. Find a hands-on studio in your area for a unique holiday party idea where guests can learn a new skill.
There are fun and engaging classes up and down the East Coast like pottery classes in Boston for sculpting fun. If you're looking to plan a party on the West Coast, there are pottery classes in San Diego and pottery classes in San Francisco that make perfect group gatherings.
3. Dance Classes
Dance classes are an awesome winter holiday party idea to get moving indoors and get some good exercise. There are dance classes in Las Vegas that are bursting with the energy of Sin City. West coast groups are sure to enjoy the plethora of dance classes in the Bay Area and dance classes in Los Angeles for upbeat fun. If you'd like to party remotely, look into online dance classes and meet together over video in real time with a fun instructor.
4. Makers Workshops
Check out a makers studio to book a holiday party class. These diverse spots specialize in helping attendees make everything from wooden signs to embossed leather goods. You can select from a menu of projects for attendees to learn a new fun skill and make a one-of-a-kind project. These events are also great small office holiday party ideas as well as festive gatherings for groups of friends.
Foodie Holiday Party Ideas
These fun holiday party ideas immerse you and your group in all things culinary. From creating your own spreads to enjoying unique dishes, you'll enjoy each other's company as you delight your tastebuds.
5. Cooking Classes
Few things say "the holidays" than a delectable handmade meal. With hands-on cooking classes, you'll learn new kitchen skills you can use to host your own holiday celebrations. Depending on where you are, you can gather your group for cooking classes in Portland, cooking classes in San Antonio or cooking classes in Dallas.
No matter where you are located, there are likely cooking classes near you to make the perfect team building holiday party idea or night out with friends. If not, check out online cooking classes where you can all gather via video from nearly anywhere in the world.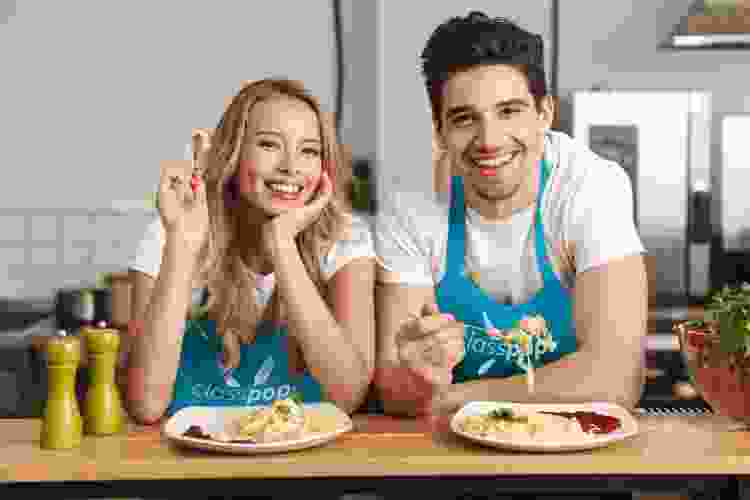 6. Potluck Party
A potluck party is a great way to get to celebrate the holidays and get to know each other better. This is a great holiday work party or a meaningful way to gather with friends. For a festive twist, ask everyone to bring their favorite holiday dish.
This could be anything from something that celebrates their cultural heritage or a staple from their childhood. Ask each guest to also bring a copy of the recipe to share with other attendees. Provide dishes, drinks and cutlery, then celebrate the season as you sample each other's favorites.
7. Winery or Brewery Visit
Book a tasting room at a winery or a group brewery tour for a unique and fun holiday party idea. This will allow you to get to know the wine-making or brewing process as a group. Plus, you'll get to toast each other with your new favorite finds. Look for options that also include food or have the event catered for a well-rounded experience.
8. Private Chef Experience
If you are looking for small office holiday party ideas or a way to celebrate with close-knit friends, hire a private chef. This is a great way to relax and unwind while also enjoying some delectable dishes. From delightful brunch to steakhouse spreads, there is an option out there to fit your group's vibe. Plus, you get to plan your party wherever you want it while still enjoying fine dining quality food.
9. Hire Food Trucks
This is the perfect winter holiday party idea if you live in a warm climate. It's also doable for large groups like neighborhoods or big work teams. Hire food trucks to come to you and bring gourmet dishes on the go.
Consider how many people will be attending when deciding on the number of trucks and, look for a mix of diverse options like Asian food, burgers and sweet treats to please everyone's palettes.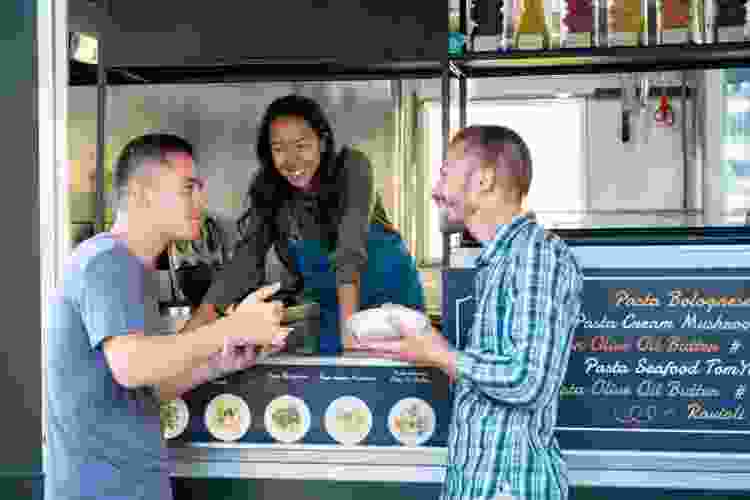 Virtual Holiday Party Ideas
Sometimes you can't be physically together to celebrate the holidays. That's ok! With these options, you can plan fun work Christmas party ideas for remote teams or have awesome ways to reconnect with distant friends. These virtual holiday party ideas allow you to be together in spirit — and online!
10. Online Cocktail Hours
Finding a time and place that works for everyone might make it difficult to host a holiday happy hour or festive cocktail hour. This feat becomes pretty much impossible with remote teams or long-distant friends. Instead, why not host a virtual get-together over drinks?
You can schedule online mixology classes where you can all learn to whip up new drinks and enjoy them together. Or, for a more laid-back vibe, look into virtual wine tastings. Your group will taste new vinos and learn from a wine expert together, all online!
11. Plan Virtual Crafting
What's more fun than gathering around the table and doing crafts as a group? Online crafting sessions are an awesome idea for groups that love to get their creative juices flowing. They are also perfect for getting into the spirit of the season.
You can take virtual flower arranging classes to make impressive seasonal bouquets or log into an interactive ornament-making session. Chat and reconnect as you complete a seasonal project to remember your fun time with.
12. Play Games Online
Play virtual games for a fun team building holiday party idea with a twist of friendly competition. Challenge each other to online trivia games to test each other's knowledge or look into virtual game nights to play rounds of your old favorites.
You can also take part in virtual scavenger hunts to compete as your mark items off your list in an interactive online world. For a collaborative gathering, look into virtual escape rooms that allow you to work together to solve a series of clues on the way to victory.
13. Virtual Movie Watching Party
Gather online to watch your favorite holiday movie together in real time. There are several apps and websites that allow you to stream a movie while still interacting and chatting.
Select from classics like Christmas Vacation or It's a Wonderful Life and bond over the nostalgia. Or, if you'd like a holiday party idea that works for all ages, stream kid-friendly flicks like Home Alone or Elf.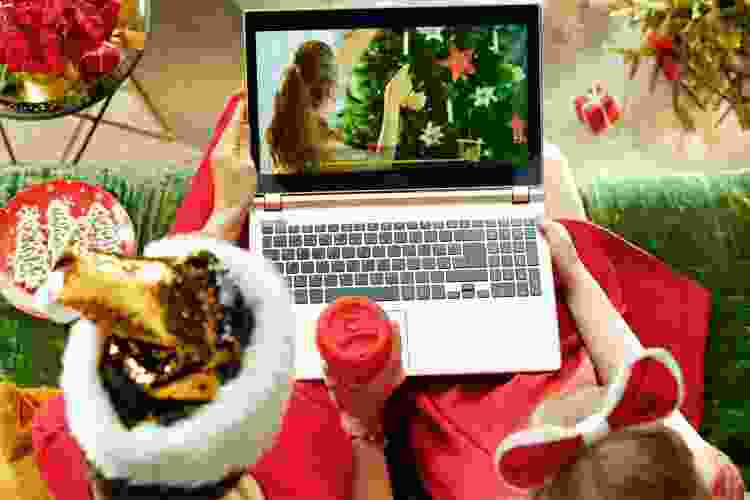 14. Online Cookie Decorating
Cooking decorating is one of the most classic hallmarks of the holiday season. Why not gather together to ice and sprinkle your favorite recipe? Chat as you work and discuss your favorite holiday memories and plans for the season. As a fun bonus, vote at the end for the top decorated cookie.
Unique Holiday Party Ideas
If you're wanting to think outside the traditional box, these unique holiday party ideas provide for memorable celebrations. Plus, they can be tailored to your group and its unique needs.
15. Holiday Card Game Night
Gather for an evening of classic card games with your crew for a fun and festive holiday party idea. Put a seasonal twist on old favorites by playing with winter-themed decks of cards or betting with peppermints instead of poker chips. For kids, print a fun holiday-themed memory game to test their matching skills.
16. Gather to Do Good
Get your group together and complete a charitable project to celebrate the spirit of the season. Maybe the local food bank needs peanut butter and jelly sandwiches assembled. Or perhaps a nearby women's shelter could use some help putting together care packages.
You'll have fun while giving back to your community. Plus, as The University of Sydney points out, volunteering boosts your mood and is uplifting to those around you. What better way to encourage cheerful holiday vibes?
17. Make Your Own Candles
Create your own candles to appeal to your senses this holiday season. This is a fun idea that allows guests to make a custom candle in their own wintertime scent. Look for candlemaking studios in your area that will help guide you through the process. You can also order a DIY kit and whip some up in your own kitchen.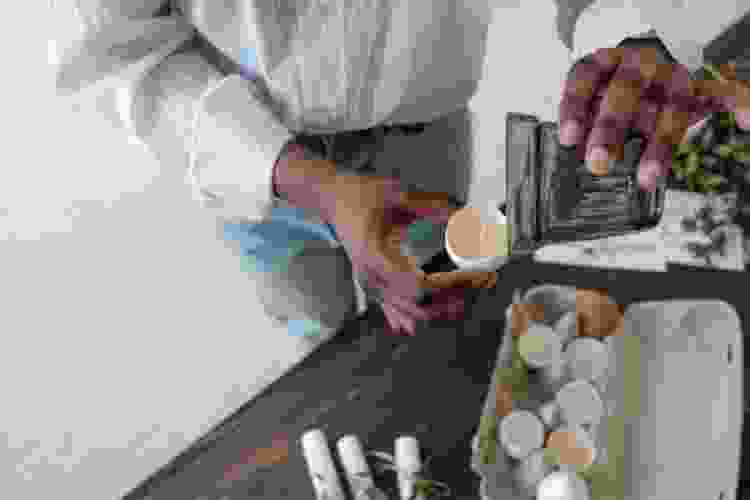 18. Christmas Light Tour
Head out on a fun tour to check out the festive decor in your community. To take this up a notch, rent a limo or party bus to cart you around the city. Research your route ahead of time to make sure you hit all of the can't-miss displays. Pack your favorite winter treats, including spiked eggnog and festive cookies, and enjoy the sights and sounds of the holidays.
Free Holiday Party Ideas
You don't have to spend a ton of cash to have a festive back. These free holiday party ideas allow you to celebrate with your crew while still sticking to your budget.
19. Have an Old School Snow Day
Scope out a sledding hill and skating pond in your area and bundle up for the day. Go ice skating and zoom down the slopes as if you were young again. See who's can be the first to reach the bottom or which guests can still glide across the ice like a pro.
20. Host a Bring Your Own Game Night
Host a fun game night with a unique twist. This is a great holiday party idea where everyone can contribute and choose an activity. Have each guest bring their favorite board or card game from home. Then, take turns trying each out and learning the rules. Who knows? You may just find your new favorite game in the process.
21. Check Out a Local Event
From parades and outdoor concerts to holiday light displays, the season is chock full of free and festive events. Check your local area's calendar and find a free community event to attend together as a group. You'll have a cheer-filled time with this holiday party idea that doesn't have to cost a dime.
22. Host a Watch Party
The holiday season is also a perfect time to catch some awesome live events on TV. It's the height of the NFL season and there's still plenty of hockey to watch. There are also tons of Christmas concerts and festive events to watch. Gather your group for a holiday party idea that's both free and entertaining. Set out homemade snacks and welcome any contributions from guests.
23. Create Repurposed Décor
Host a challenge where each guest has to repurpose unused household items into seasonal décor. This is a free holiday party idea that's also eco-friendly.
For example, you can instruct each guest to bring an old Christmas tree bulb and several small items from home. Then, challenge each other to reuse the items to take the ornament to the next level. Encourage the trading of items between participants for a fun, collaborative twist.
Don't get hung-up worrying "how do you throw a fun Christmas party?" Planning the perfect, joyful get-together doesn't have to be hard, stressful or even expensive.
Armed with this list of holiday party ideas, you have the perfect jumping-off point to plan your festivities. And keep in mind, spending time together is the meaning of the season after all.
For even more fun party ideas, check out other experiences happening on Classpop!