33 Magical and Meaningful Christmas Gifts Moms Will Adore
Published on Oct 10th 2022
| 0
The holiday season is coming up and it's time to find the perfect Christmas gifts for mom. You might be thinking "What should I give as a gift for my mother this year? What do moms really want for Christmas anyway?"
It's true that finding the perfect gift is a challenge, especially if you're looking for a gift for a mom who says she doesn't want anything! We're here to help. Read on for our favorite Christmas gifts for moms in 2022.
Jump to Section
Creative Christmas Gifts for Mom
1. Paint and Sip
This is a fantastic gift idea for a mom who enjoys a nice drink just as much as she enjoys a creative project. Gift her a paint and sip class that she can either enjoy with a friend or with you!
Because paint and sip classes are so popular, you can find them almost anywhere from coast to coast. There's paint and sip in Los Angeles, paint and sip in Sacramento, paint and sip in Chicago and beyond. Find paint and sip near you and sign your mom up for a fun evening painting session with a twist.
2. Pottery Classes
This is a great Christmas gift for a mom who doesn't mind getting her hands dirty and who loves making new things. Pottery classes will let your mom start making her own home decor items, so they're the gift that keeps on giving!
You can find pottery classes in Boston, pottery classes in San Francisco, pottery classes in San Diego and elsewhere. Sign your mom up for a class with one of her friends or go with her yourself!
3. Dance Classes
Does your mom love to dance but has never gotten the opportunity to take classes with an expert? Dance classes are a ton of fun, and that makes them great Christmas gifts for moms.
Regardless of what style of dance your mom prefers, there's something for everyone. Dance classes in Los Angeles for moms who want to salsa, dance classes in Las Vegas for moms who want to learn to dance in heels, dance classes in Orlando for aspiring belly dancers and so much more.
4. Drawing Classes
This is a good Christmas gift for a mom who loves to doodle but has never had the time to take actual drawing classes. Drawing classes will show your mom how to turn her doodles into masterpieces.
If your mom is short on time or if you can't find any great drawing classes in person, online drawing classes will open up a whole new world of drawing opportunities. Your mom can learn any drawing style she wants!
5. Adult Coloring Book
Adult coloring books are so relaxing. They're perfect gifts for moms who want to get creative but also want to wind down after a busy day!
They're more in-depth than coloring books for children and they require a bit of concentration. Many people find them therapeutic. While you're at it, get a nice set of markers or colored pencils so your mom can get started on her coloring book right away.
Foodie Christmas Gifts for Mom
6. Cooking Classes
Whether she loves to cook or she's never been the best in the kitchen, cooking classes near you are a great Christmas gift for mom.
There are cooking classes in New Orleans for moms who love Southern cooking, cooking classes in Baltimore for moms who want to roll sushi, cooking classes in Orange County for plant-based moms and many more unique options nationwide with all types of cuisines.
7. Mixology Classes
So what if your mom prefers a drink? No problem. She can be her own bartender after taking mixology classes. Online mixology classes allow your mom to learn to make her favorite drinks from the comfort of her own home. Whether she loves boozy frozen daiquiris or classy Manhattans, she'll be an expert in no time.
8. Wine Tastings
If you're looking for a great Christmas gift for a boyfriend's mom or girlfriend's mom, why not offer a wine tasting? Wine tastings are classy and elegant and also a lot of fun.
If the giftee doesn't have time to go visit wineries nearby, gift her some wine instead and sign her up for virtual wine tastings. She may find a new favorite bottle.
9. Unique Snack Subscription Box
If she loves fun and unique snacks, a snack subscription box is a perfect Christmas gift for mom. There are all types of snack subscription boxes available, so whether your mom has a sweet tooth or a love for salty snacks there's something for her.
We love the snack boxes that expose you to snacks from around the world. Let your mom visit Japan, Mexico and beyond with her tastebuds!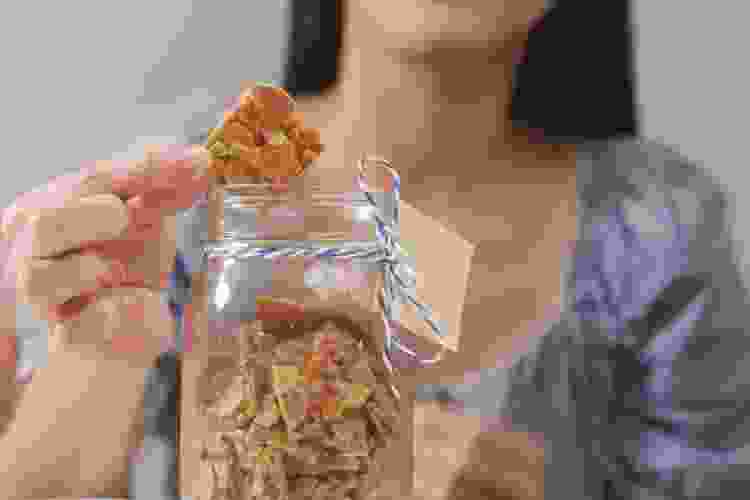 10. Local Food Tour
Why not help your mom find a new favorite eatery? A local food tour makes a great Christmas gift for mom. There are likely many hole-in-the-wall restaurants that your mom has never visited even within her own city. A food tour is the best way for your mom to see all those tasty dishes she might miss!
Unique Christmas Gifts for Mom
11. Fun Virtual Game Nights
A fun game night is a great Christmas gift for a mom who loves family or friend bonding time. If your mom isn't a "gamer," no problem. Virtual game nights aren't just for gamers.
There are online trivia games for moms who want to show off their knowledge, virtual escape rooms for moms who love a good puzzle and virtual scavenger hunts for moms who love to put their detective skills to good use.
12. Acting Classes
This is one of the best Christmas gifts for moms who like to get a bit dramatic. Let her bring that drama to the stage with acting classes. Acting is fantastic for self-confidence so it can bring your mom out of her shell. Online acting classes are a great place to start.
13. Exciting Experiences
This is a great Christmas gift for a mom who has everything. Give her the gift of a fun experience instead. Tailor this one to your mom's unique interests. From ziplining to tickets to your mom's favorite band, she'll appreciate those memories just as much as a physical gift.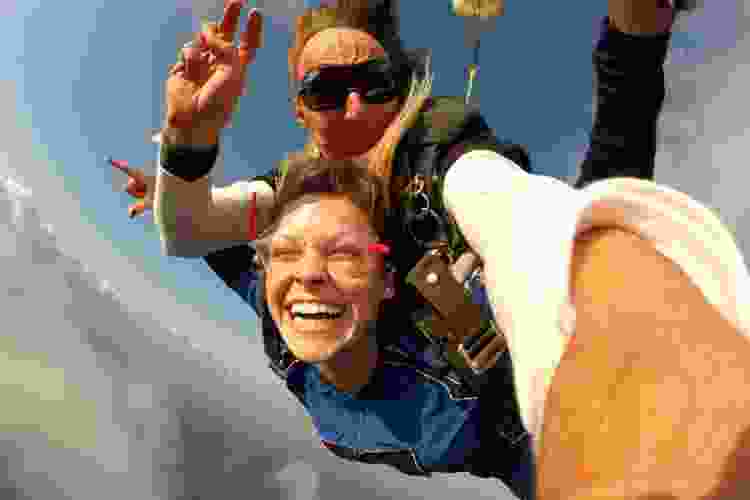 14. Custom Star Map
A custom star map is a fantastic Christmas gift for a sentimental mom. Pick an important moment (or several) and capture it with a star map from The Night Sky.
There are plenty of good options for dates to capture. The dates of your and your siblings' births, your parents' wedding day or any other important occasion will work wonderfully.
15. Indoor Herb Garden Kit
The National Library of Medicine published a study that suggests gardening is great for mental health. You'll be giving your mom a gift that's sure to relax her.
Give her the gift of fresh herbs for Christmas. Indoor herb garden kits come in all varieties so you can find your mom's favorite herbs. They come pre-made with pots, seeds and tiny gardening tools. Get her a plant lamp, too, if she doesn't have a sunny spot for her herbs.
16. Custom Advent Calendar
Custom advent calendars are so much fun to make (and receive). The calendar is a Christmas gift for moms that lasts all season long. You can either do the 12 days of Christmas or all 25. Pick small gifts that you know your mom will love. She'll be excited to open one up every day.
17. At-Home Spa Day in a Box
This is a great Christmas gift for moms who deserve to pamper themselves. Instead of buying a pre-made spa day kit, we recommend putting together your own. Get some face masks, a luxurious lotion, some candles, bath bombs and anything else your mom might need to sit back and relax.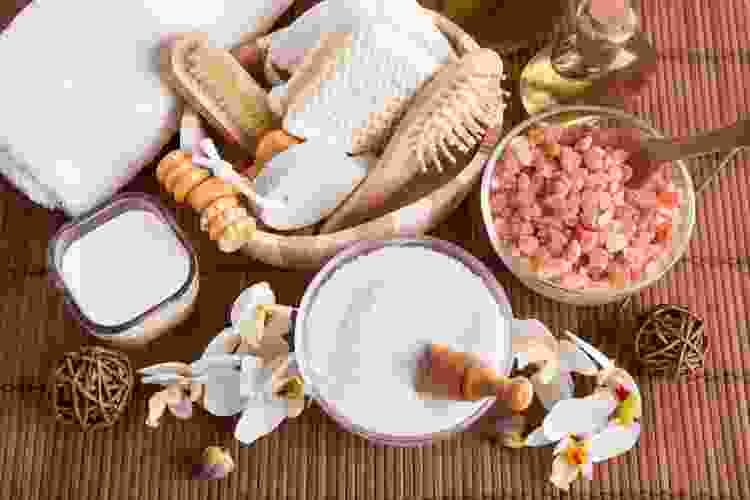 DIY Christmas Gifts for Mom
18. Flower Arranging Classes
Whether you want to make a beautiful bouquet for your mom or involve her in the fun, flower arranging classes make a fantastic Christmas gift for mom.
Flower arranging is relaxing and you finish the class with a beautiful decorative craft. You can even sign up for virtual flower arranging classes so your mom doesn't have to leave home. She can make a sweet succulent garden, a preserved bouquet and more.
19. Woodworking Classes
Crafty moms will love woodworking classes. This is a fun Christmas gift for a mom from a son or daughter who already loves carpentry and wants to share their passion.
Your mom will learn the basics of woodworking and she may end up finding a whole new hobby. Before you know it, she'll be making her own furniture!
20. Glass Blowing Classes
Glassblowing is a beautiful art form and it's not as inaccessible as you think. With this Christmas gift for your mom, she can learn how to make her own beautiful glass artwork. She'll be making glass gifts for everyone by next Christmas.
21. Ceramic Painting Day
Pay a visit to a ceramic painting studio for a relaxing DIY Christmas gift for mom. Instead of making your own ceramics, you pick pre-made ones and personalize them with paint! Browse options with pottery classes in Portland, pottery classes in Minneapolis or wherever you are.
There are usually all sorts of ceramics to choose from. From cute figurines to plates and mugs there's something for everyone. You'll leave them at the shop to get fired in the kiln and get them back in a few days.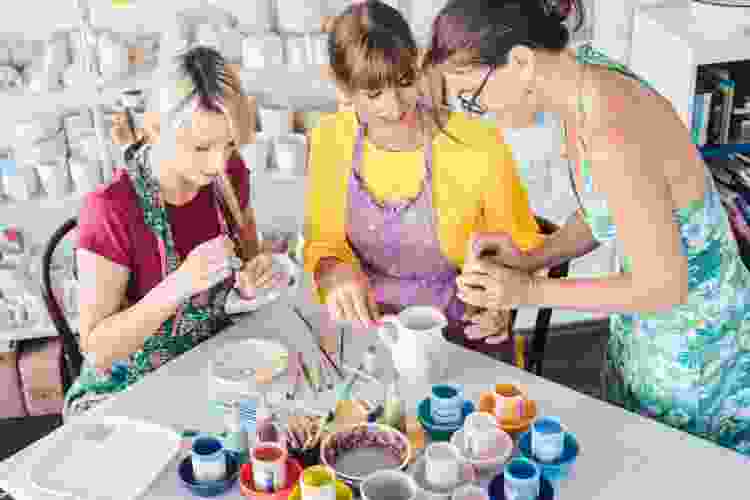 22. Personalized DIY Ornaments
There are several ways to do this, but an easy and quick one is to fill a clear plastic ornament with mementos like a shadow box. A family photo, some souvenirs from a vacation and a few symbols that represent your mom can turn a basic ornament into something special.
You can do this either with your mom or for your mom. Either way, it makes a great Christmas gift!
Useful Christmas Gifts for Mom
23. Photography Classes
Photography classes are a perfect Christmas gift for a mom who wants to capture every moment.
Photography is more than just snapping a quick shot with a smartphone. Classes from experts will teach your mom how to take photos that will impress all of her friends (and look great in any family scrapbook).
Check out online photography classes so your mom can learn from home with her own gear! Bonus tip: Now might be the perfect time to splurge on a new camera for your mom as well.
24. Sewing Classes
Sewing is a dying art, but it's so useful that sewing classes make a great Christmas gift for mom. When your mom learns to sew, not only will she be able to fix her favorite clothing items but she'll also be able to make her own custom clothes and crafts. Before you know it she'll be making you a pillow for your next birthday.
25. Robot Vacuum Cleaner
What do working moms want for Christmas? They want someone else to do some of the cleaning! Vacuuming is a tedious chore and it has to happen so often, especially if your mother has pets.
Robotic vacuum cleaners make daily vacuuming a breeze so your mom doesn't have to worry about it. These spendy little gadgets will save your mom so much time and energy. They're one of the most useful Christmas gifts for moms.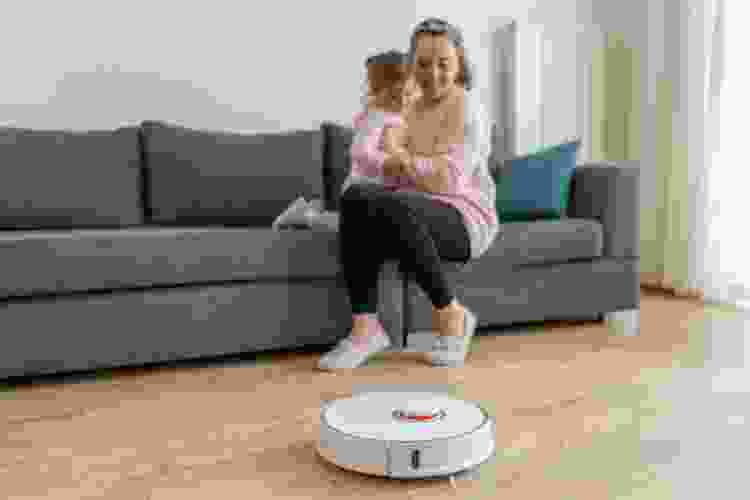 26. Instant Pot
If you're looking for a Christmas gift for a mom who likes to cook but doesn't always have time for it, an Instant Pot is a game changer. These handy kitchen tools make dinner a breeze.
Your mom can just put in all of the ingredients for her favorite meals, set the timer, and have dinner on the table in a matter of minutes. An instant pot is also a great tool for desserts and snacks!
27. Stylish Luggage Set
Does your mom love to travel? Has she been using the same luggage set for as long as you can remember? It's time for an upgrade.
A fancy new luggage set is a perfect Christmas gift for a mom who loves to see new places. Make sure there's a carry-on item as well as a traveling suitcase large enough for her to bring back plenty of souvenirs.
28. Meal Box Subscription
This is one of the best Christmas gifts for new moms. Being a new mom is tough. She's trying to take care of a tiny human for the first time! Make her life easier by taking care of her meals.
A meal box subscription from a company like Hello Fresh will provide her with healthy and filling meals that are easy to assemble in minutes. She can spend more time relaxing and taking care of her baby and less time trying to plan meals.
29. Smartwatch
Smartwatches are smarter than ever. They're great high-tech gifts for moms! Many moms won't buy one of these handy tools for themselves, so they make perfect gifts.
For fitness-oriented moms, they're great for tracking exercise. They're great for health management, mobile payment, playing music and more. It's like having a smartphone that you don't have to hold.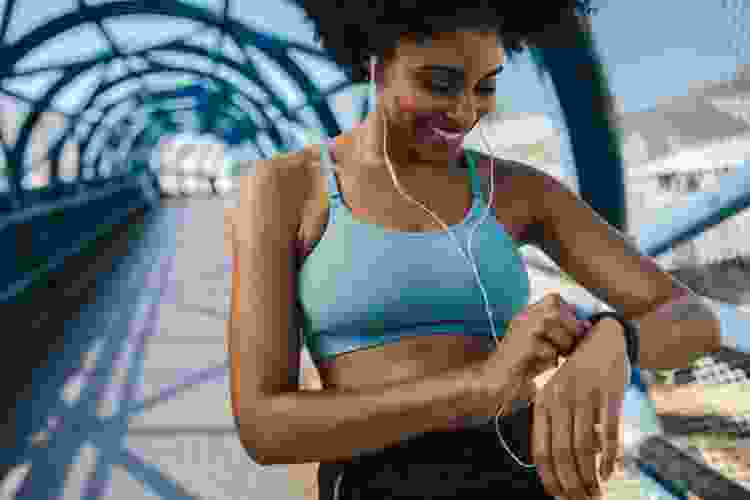 Last Minute Christmas Gifts for Mom
30. Thoughtful, Specific Gift Cards
You might think that gift cards are cop-out gifts, but when done right, this isn't the case. If you put thought into the gift cards, they make perfect Christmas gifts for moms.
Consider what your mom actually enjoys or wants but never buys. Classpop! gift cards let mom choose her own fun, creative activity like dance, painting, pottery, cooking and more.
31. Instant Photo Printer
This is a great Christmas gift for a mom who takes so many photos but never takes the time to get them printed. With an instant photo printer, she can print her favorite photos right from her phone in seconds. This is a great gift to pair with online photography classes.
32. Hometown Scented Candle
A hometown-scented candle is a great gift to get your mom for Christmas. While all scented candles make great gifts, hometown scented candles are special. They'll remind your mom of her favorite places.
While you could do your actual hometown, you can also pick other special places like vacation spots, where she went on her honeymoon or even places she'd love to visit in the future. Hometown Candle Co. is a great place to pick up one of these special candles.
33. Fancy Coffee Kit
Looking for a great Christmas gift for a mom who needs her daily caffeine fix? Make her a fancy coffee kit so she can replace her boring daily brew.
Gather together a bag of high-end coffee beans, a French press and a coffee grinder. Pack it all in a basket with a new insulated travel mug and it makes a great Christmas gift for a mom from a daughter or son who understands the importance of a perfect cup of coffee in the morning.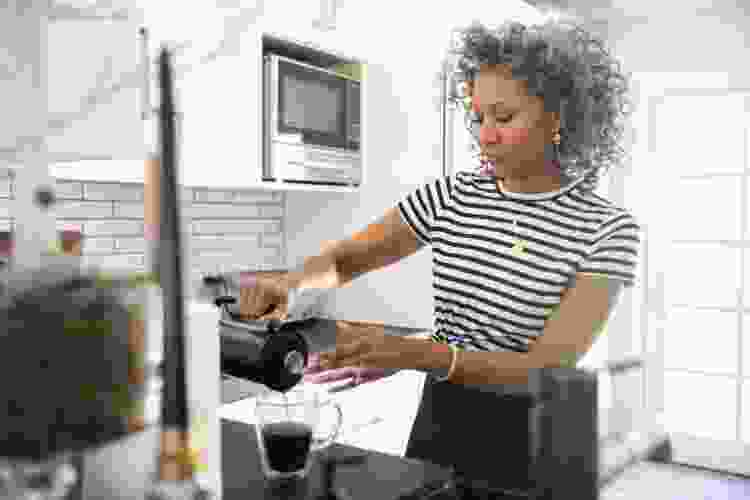 It's time to start preparing your Christmas gifts for mom. What are you going to choose this year? Whatever you pick, she's sure to love it!
For even more fun gift ideas, check out other experiences happening on Classpop!