How to Master Slab Pottery
Last Updated on Jun 14th 2023
| 0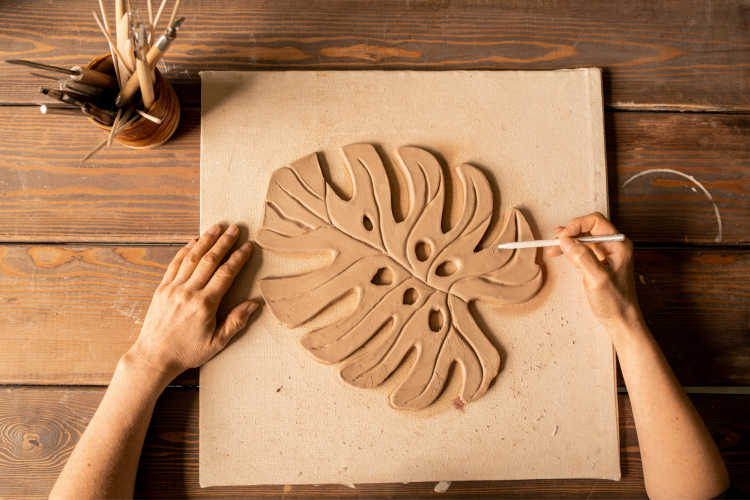 If you've ever wanted to try creating your own pottery but were intimidated by the idea of using a pottery wheel, slab pottery may be the art form for you! It's a method favored by ancestral and pre-Columbian potters, which gives it a rich heritage and deep history. In fact, researchers at the Massachusetts Institute of Technology claim slab construction dates back to 8000 B.C.!
More sophisticated than making pinch pots but less technically demanding than thrown pottery, slab pottery allows for easier control of your tools and materials as you work. There are also unique designs and forms possible with slab pottery that no other pottery technique will allow.
Though slab pottery is a simpler technique that produces beautiful results, it isn't without its challenges. You're still working with soft clay, which always presents an opportunity for a learning process no matter how much you've worked with it in the past.
So, what makes it more manageable than other types of pottery making? And how does a beginner get started learning? We've gathered a handy introduction to what slab pottery is all about and how you can try it out for yourself!
Jump to Section
Learn the Basics of Slab Ceramics and Pottery
If you have even just a general understanding of clay or pottery, you're well on your way to learning how to create slab ceramics. Because the materials are the same as with other pottery styles, there's no real learning curve involved with preparing the clay itself.
The exciting difference lies in the creation of slabs — or panels — of clay, adorned with designs that can be pressed into or cut through the surface. Discovering what it takes to make the slabs do what you want them to is where the learning really begins.
Even though there are no complex tools involved in slab pottery for beginners, getting the hang of designing and constructing your pieces can take a bit of maneuvering. It's always best to have a teacher on hand to help you get started.
By taking pottery classes in San Francisco, pottery classes in San Diego or pottery classes in Boston, you'll have a skilled instructor to guide you every step of the way. If you aren't in those areas, check into pottery classes near you and sign up for a proper introduction to slab pottery.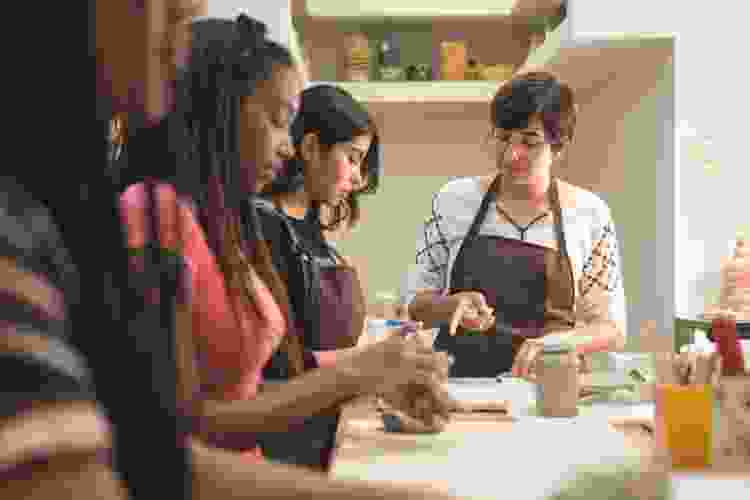 What is Slab Pottery?
Unlike thrown pottery that's created on a spinning potter's wheel, slab pottery is created by connecting pressed or rolled slabs of clay into a vessel shape. It's the fundamental hand building pottery form used by ancestral potters to create works we see in historical museums today.
In some ways, it's easier to master than wheel throwing, since there's no need to learn how to operate a wheel or work on your pottery while it's in motion. In other ways, it's more of a challenge; fitting slabs together and making sure they hold firm without the seams cracking or splitting takes special know-how. It's nothing a little practice can't conquer!
Because slab pottery doesn't require unique knowledge or unfamiliar tools, it's an ideal technique if you're looking to get a feel for pottery in general. It's also great a way for intermediate potters to move beyond pinch pots and simple bowls into more complex shapes and structures.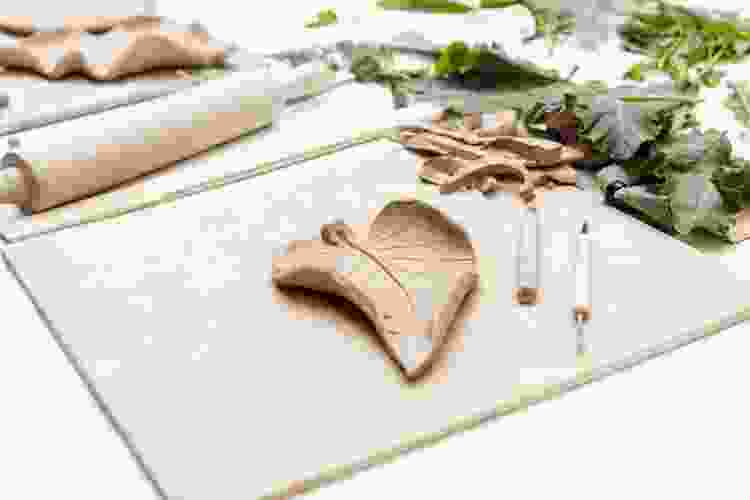 The Slab Construction Process
Design
To determine the proper thickness for your piece, you'll need to have an idea of the design in mind. It's always best to work from a sketch, even a simple one, to keep an eye on dimensions and measurements.
The weight and thickness of the clay will make a difference in how well your piece cures and holds together, especially while it's under construction. Be ready to make a test run to see if your design is sound and make adjustments before starting on the final piece.
Tools
The tools required to make slab pottery are familiar if you've worked on modeling clay in the past. Even cutting dough to make cookies and create gingerbread houses is a form of slabbing. Like cookie dough, clay is flattened with a rolling pin to create smooth surfaces and even thickness.
Guides are used on either end of the rolling pin to ensure equal pressure is used on all edges. If you're creating linear edges, it's a good idea to use rulers and straight edges to measure and direct your cuts. And to create designs, various carving tools, punches and knives can be utilized to emboss or dig out any pattern or motif your imagination can conjure up!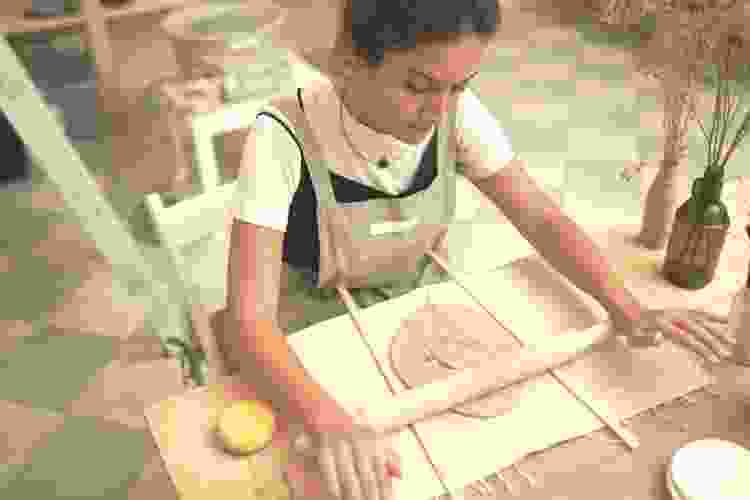 Preparing the Clay
Once your clay has been softened a bit, you can begin slabbing. Depending on your intended design, you may choose to use soft or stiff slabs for your slab pottery.
Soft slabs are created by using rolled-out clay that's still damp. This allows you to create shapes with a more subtle, natural flow that mimics fabric. Stiff slabs are rolled out damp and allowed to dry for a tougher, less flexible texture.
These slabs are great for creating stronger geometric shapes with a defined structure. Both are wonderful for allowing a variety of effects in your slab construction projects.
Building With Slabs
Rolled-out soft slabs can be used in various ways. The easiest is draping the slab over a form or pressing it into a mold and smoothing out the surface. The clay is soft enough to be pinched or mashed to produce interesting textures and designs.
Stiff slabs, on the other hand, can be sliced into panels that will be joined using wet clay to create seams that hold it all together. The panels can be strictly angular or take on more of a curved shape. If the project is a vessel, careful design should be used to make sure the pieces fit together properly. Try designing and building clay tiles for a simple project to get your feet wet!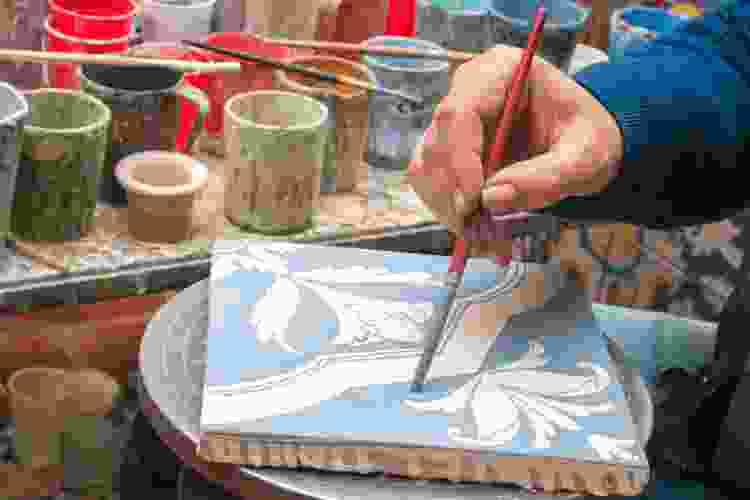 Drying, Glazing and Firing
The process for drying and firing slab structures is the same as the process for other pottery forms. The type of clay used in your project and the thickness of the slabs will determine the length and temperature of firing.
The bold shapes you'll create with your slab pottery will inspire you to thrilling new combinations of glazes for colors and textures that finish your piece beautifully. Don't be afraid to experiment when glazing pottery to create unique, one-of-a-kind designs.
You can also opt to decorate your piece by painting ceramics and trying out some fun pottery painting ideas.
Slab Pottery Ideas for Beginners
Boxes
Though clay pot making is possible with slab pottery, you're also free to move beyond the usual thrown pottery shapes and create linear structures like boxes. Five slabbed panels are all it takes to build a simple box to hold jewelry, knickknacks or desk accessories.
Make a fitted lid out of a sixth slab and you'll have a keepsake box that can house old letters or photos. By bending a single slab around a circular form, you can make a rounded box instead.
Once you've mastered the basics, you can experiment with ovals, diamonds and other unique shapes for your boxes. Add handles and feet out of soft clay for extra detail.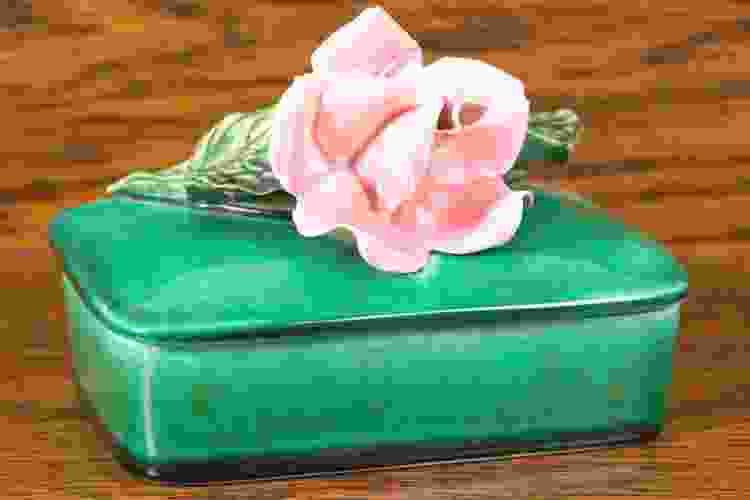 Masks
Masks are whimsical slab pottery ideas for beginners that let you create more expressive projects with incredible spirit and personality. The flat nature of slab pottery makes it perfect for cutting and shaping artful mask and face forms. You can cut away eyes and mouths or create relief versions by building them up with extra clay.
Your mask can be designed with primitive, classical or modern motifs and adorned with other decorative elements like wires, beads and ribbons. Make sure to include holes for threading a hanging wire through so you can display your finished mask on a dedicated wall in your personal art gallery.
Sculpture
Why stop at masks when exploring the possibilities for unusual shapes in slab pottery? When it comes to pottery for beginners, you can achieve breathtaking results with freeform standing sculptures by slicing clay slabs into interesting shapes and fitting them together. Design and testing is important in this type of project, to make sure your intended shapes fit together and support one another properly.
You can also try a hanging sculpture like a mobile or a simple chandelier made from pieces with holes punched to accommodate wires or filaments. Sculptures created with slab pottery are a striking way to bring your creations away from shelves or walls and into the spotlight of your collection!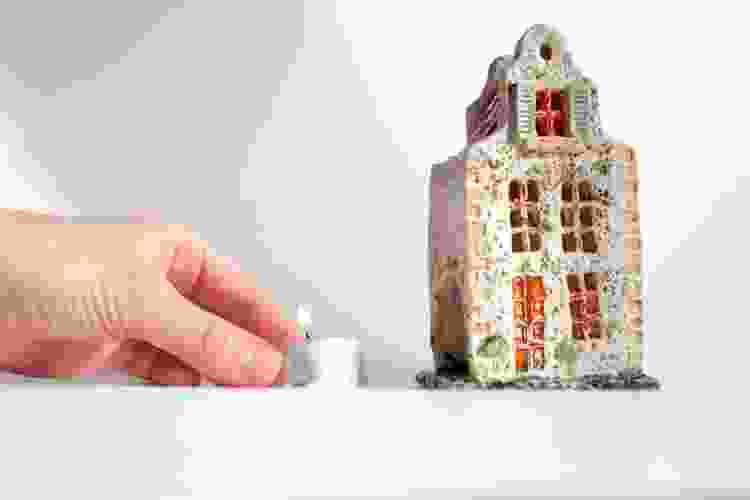 Slab pottery is a fantastic art form for adding new elements and intriguing designs to your growing handmade pottery collection. It takes your creativity beyond the basic pot-and-bowl concept and into more organic shapes and constructions. These forms can really emphasize the transformation of clay from a soft substance into something solid and stone-like.
With the proper choice of clay for your slab construction project, you can add elements of translucence to lend an elegant, airy quality or include heavier earthy textures to emphasize strength and density.
If you've experimented with pinch pots and simple bowls and feel ready to take your clay art adventure to new heights, try heading in the direction of slab-constructed pottery and see what exciting pieces you can produce!
For even more creative ideas and inspiration, check out other experiences happening on Classpop!