The Best Types of Clay for Pottery
Published on Jan 11th 2022
| 0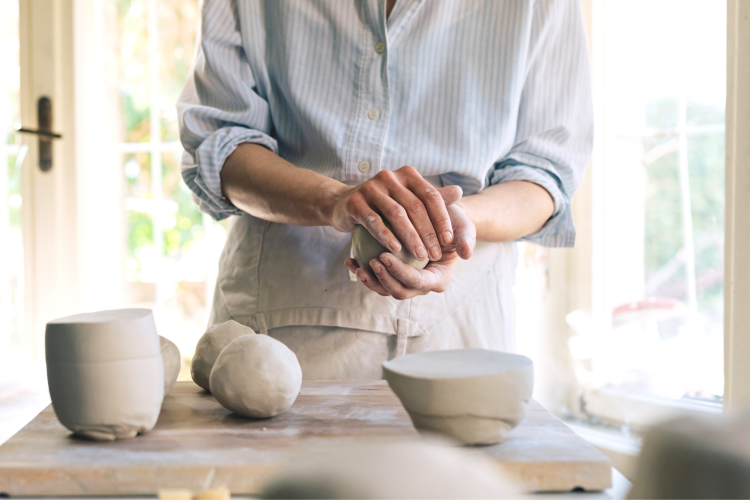 Have you ever thought about experimenting with pottery using different types of clay? If so, you may be wondering: what types of clay are the best options for a novice potter just getting started? There's really no wrong choice, though your decision should be based on the purpose of your finished piece. With so many options available, it may be difficult to know how to choose. The helpful guide that follows breaks down the types of clay used in pottery, along with the history, benefits and best uses of each.
Jump to Section
Working with Different Types of Pottery Clay
Whether you're interested in working with pottery for the artistic aspects or simply looking for a creative hobby, you're adding to your well-being no matter what types of clay you choose. Graduate studies at Lesley University have discovered that handling clay can produce a calming effect, improving mood and reducing anxiety even more than drawing. If pottery sounds like the sort of helpful outlet you need for increasing your happiness, it's time to get busy and figure out which types of clay and pottery are right for you.
Are you a wheel-thrower, a slabber or a hand-builder? Maybe you're all three and you just don't know it yet! When starting pottery for beginners, the best way to get a sense of the types of clay used in pottery and which process suits you best is to join a pottery class. With pottery classes in San Francisco and pottery classes in San Diego, you'll have the advantage of working with an instructor who can guide you in the use of all the different types of clay available. If you're not in these cities, there are pottery classes near you that can get you started, too.
Ceramic Clay Definition
What is Ceramic Clay?
When it comes to ceramics vs pottery clays, they are essentially one and the same, though ceramic clay contains fortifying minerals not contained in pottery clays. The image that most people have of ceramics are finished pieces that can be decorated with glaze and fired. Pottery, on the other hand, is what people associate with the process of creating vessels out of wet clay. Once fired, they become ceramic pieces for glazing. For all pieces produced during the pottery process, different types of clays can be used.
Stoneware Clay
Where It's From
One of the oldest pottery substances, stoneware clay was originally used in China more than 3000 years ago. The highest concentration of stoneware pieces occurred during the Han Dynasty between 206 B.C. and 240 A.D. Its non-porous surface after firing made it perfect for usable items such as tea sets and dishware. Copper glazes produced green finish, while iron produced either brown or yellow finishes. Eventually, stoneware made its way to Europe as a popular clay for making teapots.
What It's Made Of
Stoneware clay is composed of minerals including quartz, mica and impure forms of iron. Certain forms of stoneware contain compounds that give it more plastic qualities, though all stoneware takes on very stone-like attributes when fired, which is where the name derives from.
What It's Used For
As a high-firing clay, the stoneware type of clay cures at temperatures of 2200 degrees Fahrenheit. This is much hotter than other types of clay used in pottery and ceramics. Because of its non-porous nature, fired stoneware doesn't require glazing to be waterproof. Glazes used on stoneware are purely decorative.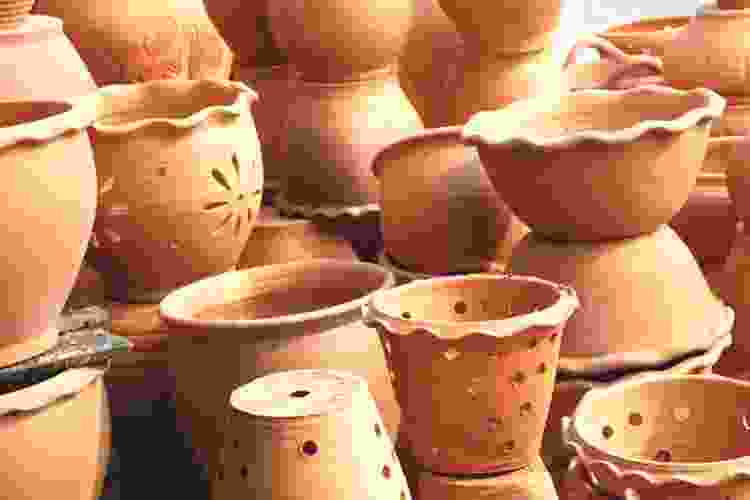 Earthenware Clay
Where It's From
Earthenware is one of the earliest types of clay used for making pottery, believed to be used around 20,000 years ago. Because of its high iron impurity content, it's a clay that fires at a lower temperature than stoneware or porcelain, between 1700- and 2200- degrees Fahrenheit. Its regions of origin are widespread, with earthenware pieces found in early Egyptian, Greek, Mediterranean and Persian sites.
What It's Made Of
The ingredients for earthenware clay are a relatively balanced mix of kaolin, ball clay, quartz and feldspar. These are all elements of the other types of clay mentioned, though there are no extra elements added to earthenware. It's a very humble clay in its composition and uses, familiar to people everywhere whether they recognize it as earthenware clay or not!
What It's Used For
If you've ever owned a terracotta flowerpot, you've owned a piece of earthenware! Earthenware clay is generally left raw and can be found in its fired form as bricks, roofing and floor tiles and other useful items produced worldwide. It can be glazed and fired to create dinnerware and mugs, though its tendency to chip makes it a less popular clay for these items.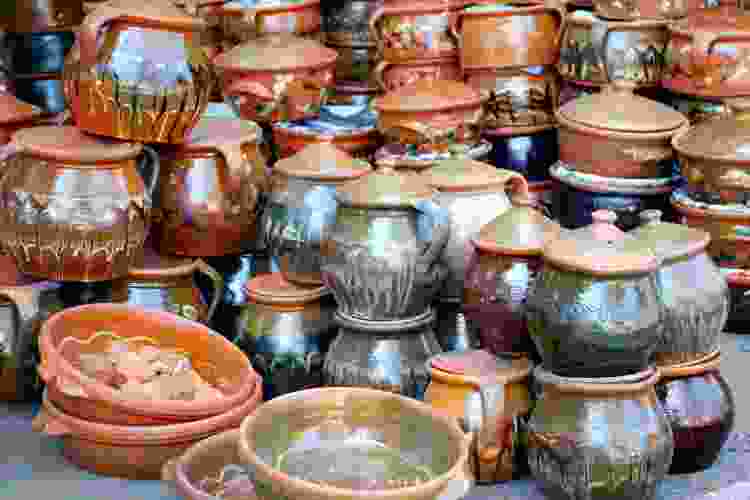 Porcelain Clay
Where It's From
Known for its creamy, translucent texture, porcelain clay is used to create "fine china" — elegant decorative pieces and higher-quality, usable items. Like stoneware, it originated in China and slowly spread through Eastern Asia to Europe. As a pottery clay, it can be made incredibly thin, which makes it extremely delicate. Its surface accepts glazes quite nicely, too. It's a preferred clay when creating more refined artistic works and sculptures characteristic of decorative European art.
What It's Made Of
While it has a higher concentration of a mineral called kaolinate than other clays, porcelain clay is also available in hard paste form, which contains alabaster, and soft paste form, which contains soapstone and lime. Each form produces different qualities of finished pottery, with soft paste pieces generally being of lower quality than hard paste.
What It's Used For
As a raw clay, porcelain is notoriously difficult to use. It's known to be gummy to the touch and less plastic than other types of clay. Porcelain works can collapse easily during the throwing process. If a piece survives wheel throwing, it may still become damaged during firing. For these delicate tendencies, porcelain is a type of clay that requires a greater amount of skill than other clays.
Bone China Clay
Where It's From
When the English wanted a form of pottery that could compete with porcelain imported from Eastern countries, they created a variation that emulated the composition of Chinese porcelain with additional ingredients, most notably ash from animal bones. This formulation became known as bone china. It produces a stronger, smoother form of porcelain for potters to work with.
What It's Made Of
Bone china clay is formulation of porcelain consisting of 50 percent charred cattle bone. The addition of bone provides translucence, which is only found in this kind of clay. When a bone china piece is held up to the light, it appears illuminated from behind, making it a much sought-after material for pottery making.
What It's Used For
Because of its strength, durability and beauty, bone china is a prevalent clay used for tea sets, dishes and tableware. It lends an elegance that other types of clay can't match. Its resistance to chipping makes it sturdy during repeated use and cleaning. Its thinness also makes it lighter, a great benefit for multi-piece serving sets.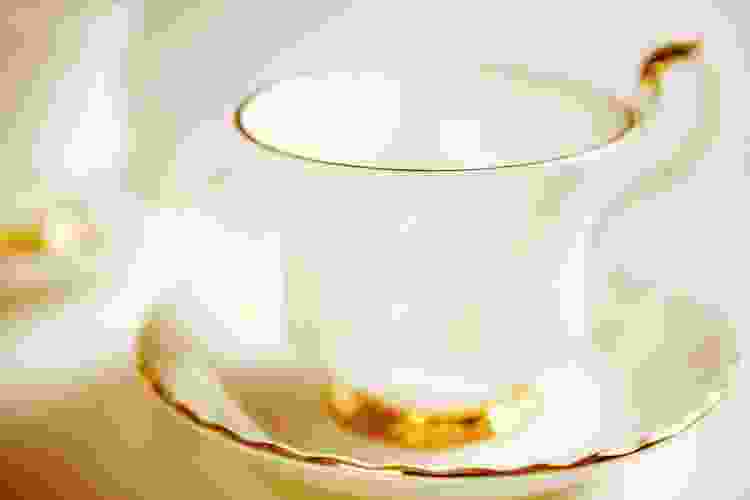 The look and use of your intended piece will determine which types of clay you choose for your pottery work. To make the right choice for your purposes, it's best to research finished pieces by other potters to see for yourself which you types of clay you prefer. You're sure to identify a clear winner among the various clays. Once you've identified your chosen clay, study up on how to use it to create the pieces you have in mind. This is especially important when you're starting out, to give yourself the greatest chance for success with your pottery. If you're feeling particularly adventurous, test out a few different types to find the one that helps you achieve your artistic vision. And be prepared for some exciting surprises along the way!
For even more creative ideas and inspiration, check out other experiences happening on Classpop!