101 Spooky Yet Simple Pumpkin Carving Ideas for Fall 2023
Published on Sep 14th 2023
| 0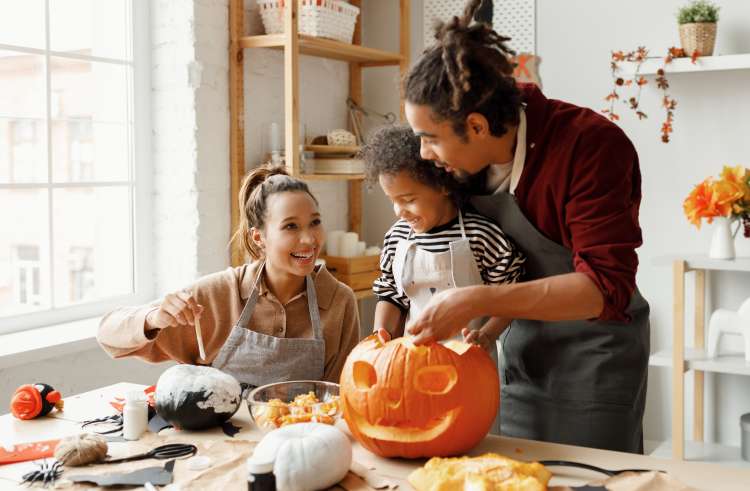 If you are looking for a wealth of creative pumpkin carving ideas, we've got you covered! This guide to 101 spooky yet simple ideas will help you enjoy the changing temperatures and cozy autumn nights.
Whether you are looking for pumpkin carving ideas for a contest or simply wondering "What should I do for my pumpkin carving?", we are here to help. After all, trying out fun pumpkin carving ideas is one of the quintessential fall activities.
Though there is some debate over the exact origins of Jack-o-lanterns, most agree that the story began with a man named "Stingy Jack," who managed to trick the devil in exchange for a few more years of life. As legend has it, after Jack died, he was forced to roam in the darkness with just a burning coal for light.
According to the University of Michigan, Irish children began putting candles into turnips or other vegetables to commemorate this notorious trickster. Once the legend spread to the United States, pumpkins were used, as they made a much better lantern shape.
Over time, carving pumpkins has become one of the hallmarks of the fall season. Who could have imagined when the legend of "Stingy Jack" began that there would be so many creative and unique ways to carve pumpkins into a fun celebration of Halloween?
Now that you are all caught up with a brief history of pumpkin carving, let's dive into 101 pumpkin carving ideas to brighten up your fall evenings!
Jump to Section
Pumpkin Art Classes & Workshops
While this guide is written with beginners in mind, you might feel more comfortable jumping into the world of pumpkin carving with a few art classes under your belt.
Whether you are taking a class to learn new painting skills or trying a paint and sip class focused on creating fall landscapes, all of the skills you learn at art classes in Los Angeles, art classes in Boston, art classes in Dallas or art classes near you will come in handy when you turn your talents to creating cute and quirky pumpkin designs.
During the fall, many studios offer pumpkin-themed and Halloween-themed classes, so explore some in your area for a fun fall activitity.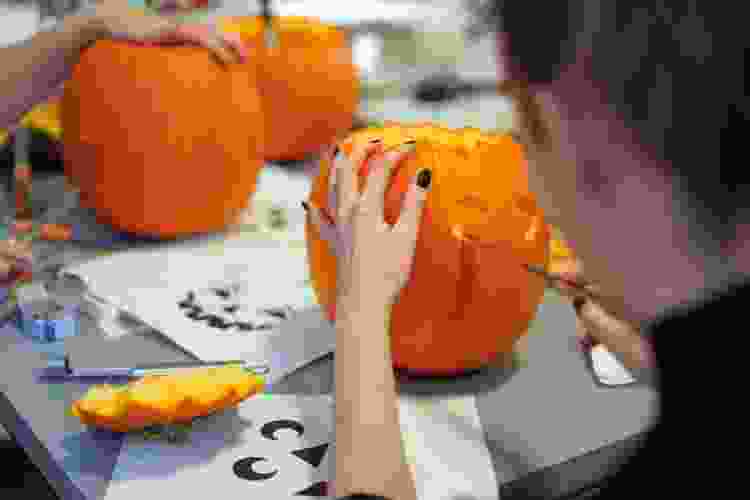 Best Pumpkin Carving Tools & Kits
What are two tips for pumpkin carving techniques? First, use good tools, and second, let your imagination run wild! You certainly don't need a fancy pumpkin carving knife or expensive pumpkin carving tools to make a great Jack-o-lantern, but they can help you achieve the look you're going for more easily.
You can find value pumpkin carving kits at grocery stores or other large retailers, or you could even try this more professional pumpkin carving kit, which features a carrying case and double-sided instruments.
If you are hosting a Halloween party with a pumpkin-carving contest, an inexpensive set of tools like this one from Wal-Mart would make a great party favor for your guests.
But don't feel like you need to spend lots of money on special tools. There are also plenty of budget-friendly tools you can find at home, from regular kitchen or steak knives to spoons, cookie cutters and even power tools like drills you might have hiding in the garage.
There are plenty of ways to get the DIY fall décor look you want without breaking the bank. Top-notch tools will help bring your pumpkin carving ideas to life!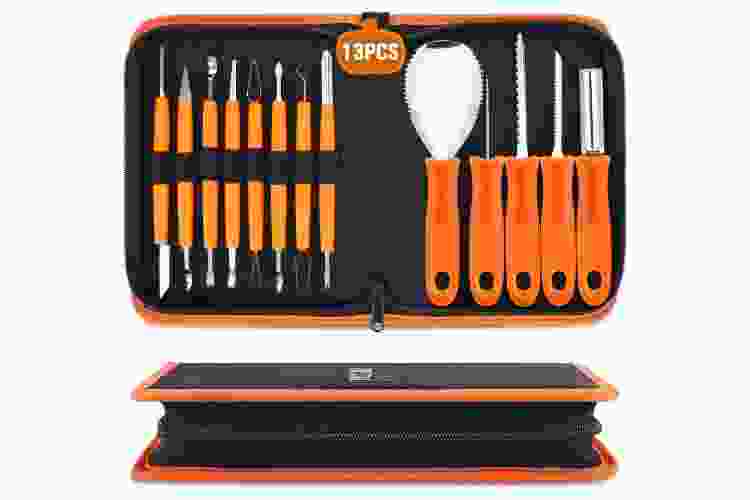 Easy Pumpkin Carving Ideas for Beginners
1. Basic Jack-o-Lantern
Wondering how to make easy pumpkin carvings? Start with the basics and make a traditional Jack-o-lantern face. Don't worry about the shapes and sizes of each face's features matching. What could be cuter than a line of pumpkin carving faces on your front porch?
2. Fantastic Faces
After mastering traditional pumpkin faces, try a new spin. Make a Cyclops pumpkin with just one eye, or give your pumpkin carving faces lots of eyes like little alien pumpkins.
3. Use Googly Eyes
Use your pumpkin carving tools to carve out a crazy mouth, but let pre-packaged googly eyes do the rest of the work. These creepy pumpkin eyes will really follow you wherever you go.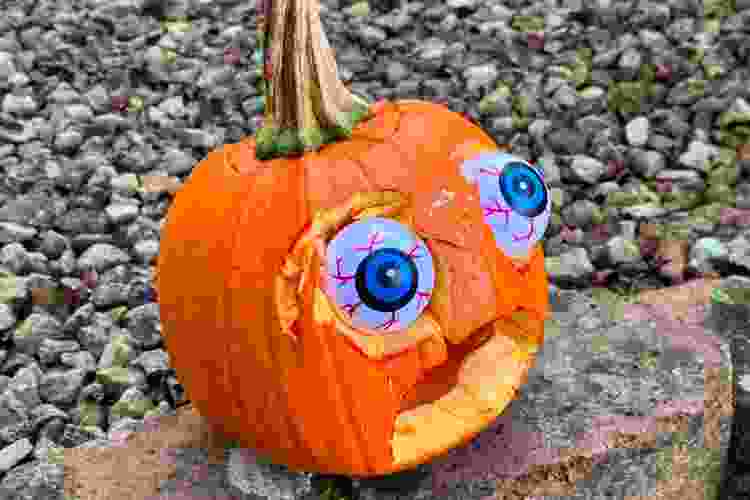 4. Use a Stencil
Carving pumpkins is one of the most common Halloween crafts, but it doesn't have to be difficult. You can find plenty of stencils online to help you carve more intricate designs into your Halloween decor.
5. Paint your Pumpkins
If you have small children who can't be around sharp blades, try pumpkin painting ideas as a fun alternative to pumpkin carving ideas. You can have a good time while keeping little hands away from dangerous tools.
6. Polka Dot Pumpkins
Use cookie cutters or even a drill to punch perfectly circular holes in your pumpkin for a polka dot effect. Use different-sized circles to increase the variety and visual interest of this pumpkin carving idea.
7. Ghostly Pumpkins
Paint your pumpkin white or purchase a white pumpkin on your next trip to the pumpkin patch. Then, carve a ghostly grin into the white, sheet-like appearance for a fun twist on the traditional Jack-o-lantern.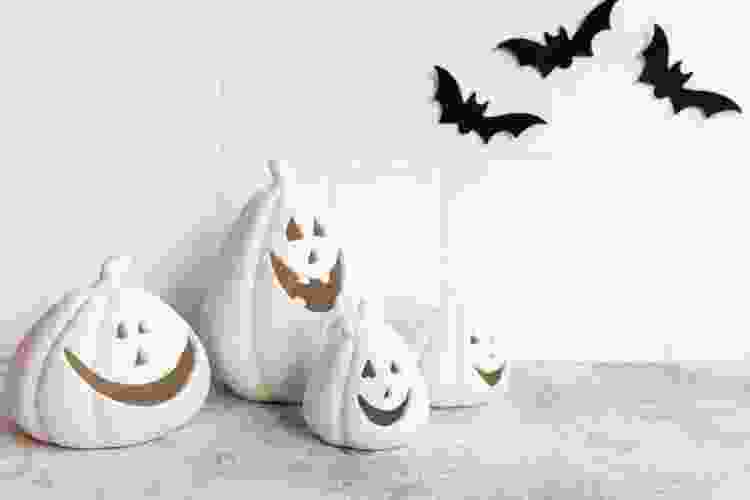 8. Glitter Pumpkin
Carve a simple pattern like stars or hearts into your pumpkin, then paint it with glitter paint for an extra sparkly pumpkin carving idea.
9. Trick or Treat
For this pumpkin carving idea, use two larger pumpkins and one small pumpkin to spell out the classic Halloween catchphrase, Trick or Treat!
10. Floral Pumpkins
Flowers are easy shapes to carve. You can freehand them or use cookie cutters or a power drill to punch out circle shapes for the centers and petals of each flower.
11. Black Cat Silhouette
Of all the cat pumpkin carving ideas out there, this one might be the simplest and most popular. Carve a classic silhouette of a cat arching its back for a traditional jack-o-lantern without the face.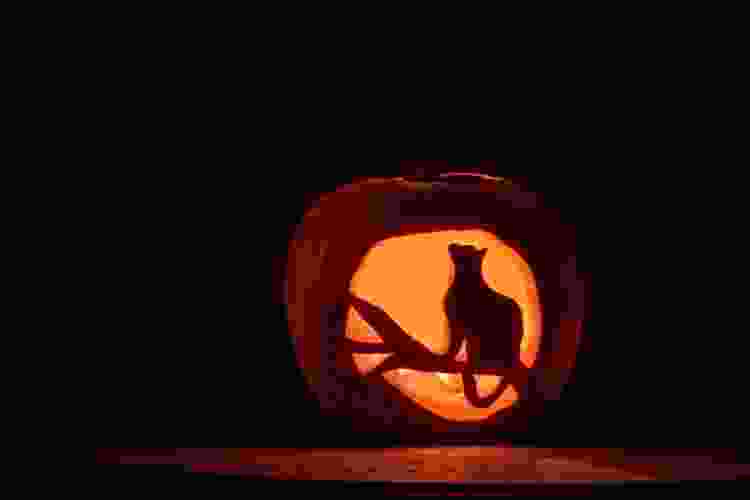 12. Use Artificial Pumpkins
Instead of staring at your mushy Jack-o-lantern in November or wondering "How long will a carved pumpkin last?", use artificial pumpkins that will hold their shape perfectly for several Halloweens!
13. Night Sky Pumpkin
Carve a simple crescent moon surrounded by a few stars for this dreamy, easy pumpkin carving idea for beginners.
Scary Pumpkin Carving Ideas
14. Horror Movie Villains
Try your hand at carving movie villains from your favorite horror franchises into your pumpkin. Think of the creepiest character ideas like Jason's mask, Pennywise the Clown and others for a super-scary pumpkin carving idea.
15. Spiders
Spiders are one of the spookiest Halloween motifs, so why not embrace them for your pumpkin carving ideas? Turn a pumpkin into a spider by adding legs to it, or create a spider web carving on the front for extra spookiness.
Carving and peeling out spider legs from the bottom of the pumpkin, as in the photo here, is a clever and unique pumpkin carving idea for a contest!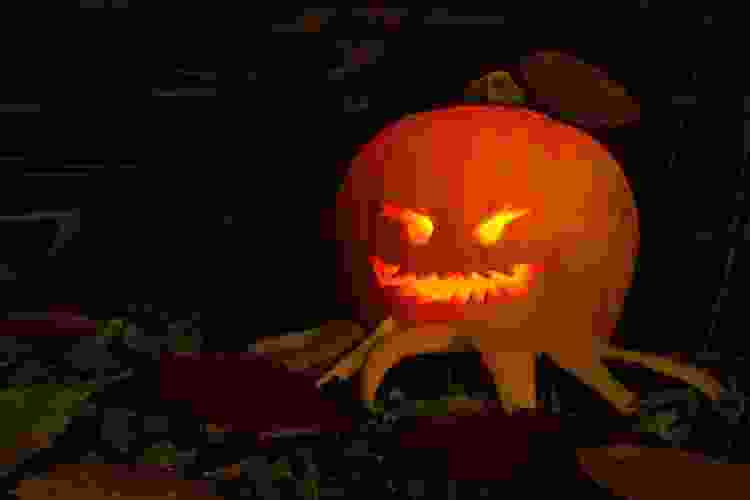 16. Going Batty
Create a large bat on one pumpkin, or use a stencil to create a pattern of bats all around the shape of the pumpkin. You could also make a regular Jack-o-lantern face and glue a pair of paper bat wings to its back.
17. Frankenstein
Frankenstein is a classic novel that has inspired many scary stories. Carve Dr. Frankenstein and his monster on corresponding pumpkins for a spooky side-by-side.
18. Pirate Pumpkin
Give your pumpkin its own Halloween costume by adding a pirate-themed skull and crossbones, a tattered pirate flag or ship, or simply add an eyepatch to a traditional Jack-o-lantern.
19. Vampire Fangs
Dracula is a classic Halloween villain, and for good reason! Use your carving skills to create a vampire pumpkin complete with creepy glow-in-the-dark fangs.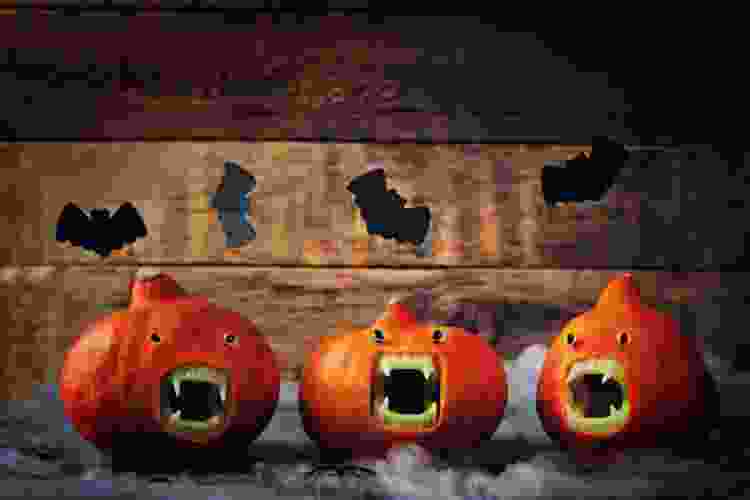 20. Slithering Snake
For this scary pumpkin carving idea, you'll need a fake snake. Carve a hole for the snake inside your pumpkin so it looks like the snake is emerging out of its den just in time for spooky season.
21. Bloody Pumpkin
Use a white pumpkin for this scary pumpkin carving idea. First, carve out a scary-looking face, then use red paint to dab fake blood for a fully terrifying effect.
22. Sliced Mummy
Take a white pumpkin and carve a face into it, then cut it horizontally so that it is in strips. Reassemble your sliced-up pumpkin so that the slices are off-center, creating a mummy wrap out of the pumpkin itself.
23. Spikey Teeth
Use sharp sticks or toothpicks to create creepy, pointy teeth on your pumpkin for an extra scary look. Use a half-rotten pumpkin for a creepy zombie effect.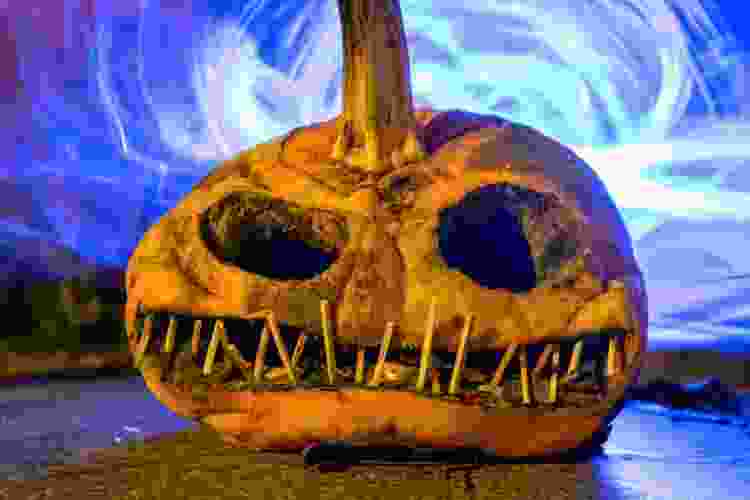 24. Alien
Looking for green pumpkin carving ideas? Turn those green gourds into spooky alien faces. This can also be a simple design — all you really need is two eyes shaped like upside-down teardrops to create an alien face shape.
25. Stitched-Up Pumpkin
Make a pattern of scars and stitches on your carved pumpkin to add some extra grit to your Halloween decorations.
26. Skull Pumpkin
This pumpkin carving idea requires a white pumpkin to really be successful. Make your pumpkin look like a spooky skull by combining carving and painting methods.
Funny Pumpkin Carving Ideas
27. Pet Portrait
Why not take this opportunity to create an ode to your furry friends? Adding your cat or dog's likeness to a pumpkin is a fun pumpkin carving idea that adds personality to your front porch.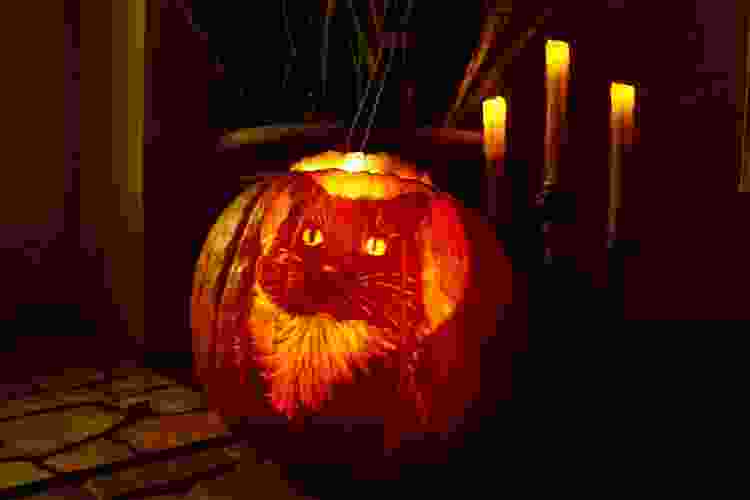 28. Pumpkin Selfies
If you are looking for Halloween party ideas or pumpkin carving ideas for a contest, why not challenge your guests to create a self-portrait in pumpkin? The closest resemblance wins!
29. Funny Quotes
Paint or carve your pumpkins with your favorite lines from classic films or TV shows. This pumpkin carving idea is especially great for lines from your favorite Fall or Halloween movies.
30. Pumpkin Turkey
Why not get ready for Thanksgiving by stacking your pumpkins and giving them a large fan tail like a turkey? If pumpkin statues aren't your thing, why not carve a turkey into the surface?
31. Sick Pumpkin
Do you party a little too much on Halloween? Carve your pumpkin into a funny face and then use the pumpkin seeds and strings to make a funny pile of pumpkin throw-up on the ground next to your Jack-o-lantern.
This pumpkin carving idea might be a little gross, but it's sure to give your guests a laugh.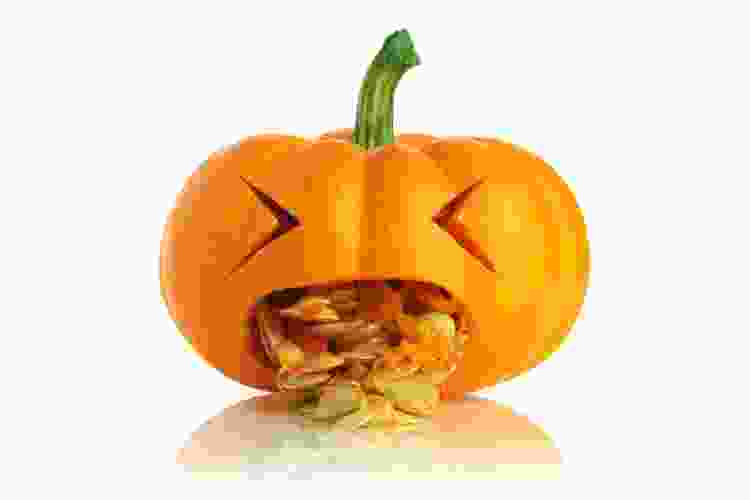 32. Pumpkin Snowman
If you really want to get ahead of the holiday rush, stack three pumpkins like a snowman and decorate it like you would at the holidays. If you use artificial pumpkins, it's a Halloween painting idea that will last through December!
33. Warty Monsters
Buy the gourds and pumpkins nobody wants and turn the knobbly, warty gourds into funny little monsters with carved faces.
32. Scary Because It's True
Maybe one of the funniest pumpkin carving ideas for adults, use your pumpkins as a way to express funny but true statements about things that are scary to adults, such as "death," "taxes" or even "student loans!"
35. Pumpkin Scarecrows
Let your carved pumpkin be the head of another seasonal favorite, a scarecrow! Stuff some old clothes with hay and prop up your pumpkin. Don't forget a funny hat!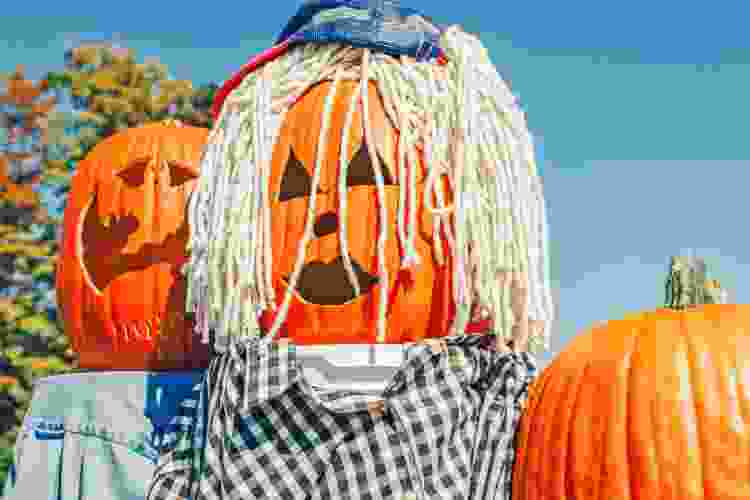 36. Nesting Pumpkins
Carve pumpkins into Russian-style nesting dolls. Be sure to arrange your pumpkins by size and carve enough room in the mouth area to nestle a second, third or even fourth pumpkin inside.
37. Hocus Pocus Pumpkins
Use a stencil or freehand the silhouettes of the three Sanderson sisters from the Halloween classic, Hocus Pocus, onto your next Jack-o-lantern trio.
38. Beer and Wine Pumpkins
Carve your favorite alcoholic beverages into your pumpkins and use them to decorate the bar at your next Halloween party. It's a clever pumpkin carving idea for adults perfect for a Halloween party decoration.
39. Toilet Paper Mummy
Skip the carving and wrap your pumpkins in toilet paper to create a mummy effect. Paint eyes on your pumpkin or add some googly eyes before you wrap it to complete the look.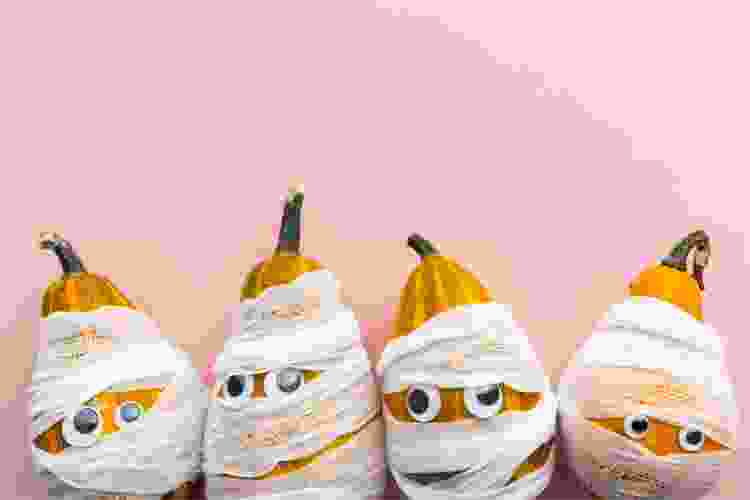 Pretty Pumpkin Carving Ideas
40. Fall Leaves
Use the changing leaves as your inspiration for this pretty pumpkin carving idea. Sketch out leaf shapes and carve delicately, leaving a perfect silhouette of the fall foliage on your pumpkin.
41. Fall Quotes
Paint your favorite fall-inspired quotations on a pumpkin and use it as a décor that helps greet guests on their way inside.
42. Candle Pumpkins
For this pretty pumpkin carving idea, find irregularly shaped pumpkins and gourds and carve out spaces that look like old-fashioned taper candles.
These taller pumpkins will add some height to your décor and provide plenty of light.
43. Intricate Stenciling
Go beyond basic stencils with intricate patterns and details that create a doily-like appearance when you put a candle (or flameless LED version) inside.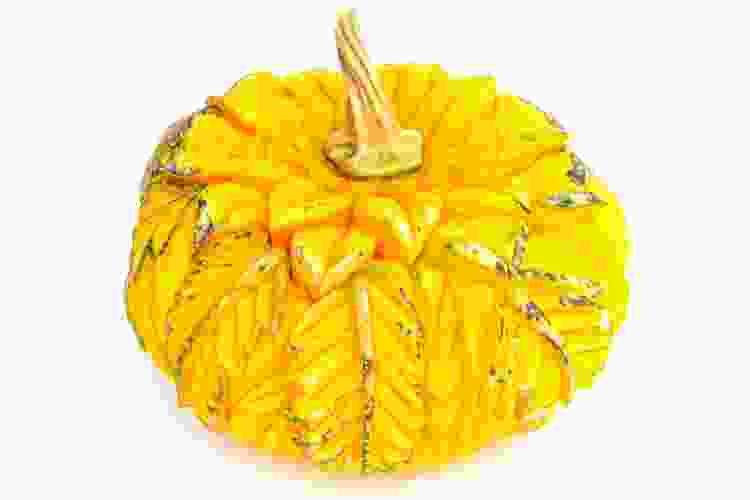 44. Mini Pumpkins
For this pumpkin carving idea, buy a bag of mini pumpkins and hollow them out. Then, use tealights or flameless candles to create mini pumpkin candles that are perfect for lining your dining table or placing them throughout the room at your next Halloween party.
45. Patterned Pumpkins
Put your pumpkin carving ideas to the test by making striped or even diamond-patterned pumpkins. This will require a steady hand, but the results are so worth it.
46. Lacy Pumpkins
For another spin on a lacy pumpkin, buy paper doilies and place them on the pumpkin-like stencils. Then use a sponge to dab paint over the doily. When you remove it, you'll have a perfect lace-covered addition to your home décor.
47. Pumpkin Planters
Cut the top off your pumpkin and remove the insides, then use it as a pot or planter for mums or other fall plants. These make a great addition to your front porch or entryway.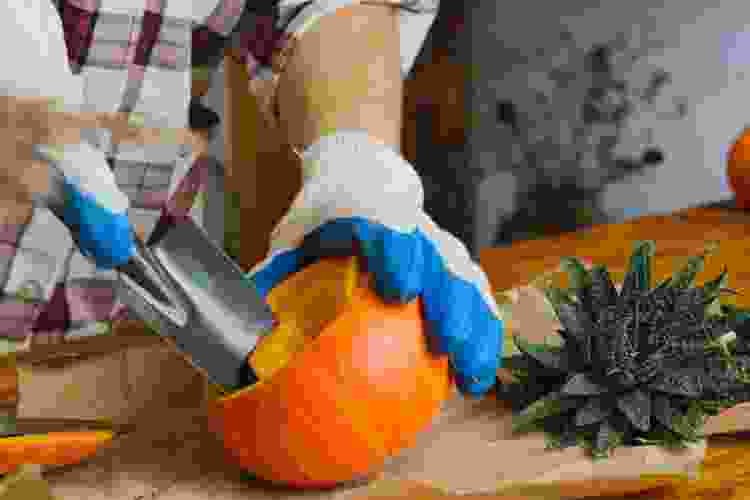 48. Scalloped Pumpkins
Carve scalloped or ruffly-looking edges onto your pumpkin to create a more stylish alternative to the traditional Jack-o-lantern.
49. Personalized Pumpkins
Another classy, pretty pumpkin carving idea involves a classic monogram. Use your pumpkin to spell out your initials, or combine them all into one pumpkin for a sweet and simple porch decorating idea.
50. Pumpkin Proposal
Use your carved pumpkins to spell out "Will you marry me?" If your significant other loves fall, this is a cute marriage proposal idea to set the scene as you pop the question.
51. Cozy Pumpkin Knits
If you knit or crochet, make cute yarn cozies like hats and scarves for your pumpkins and bring them inside to add to your cozy and warm fall decorations.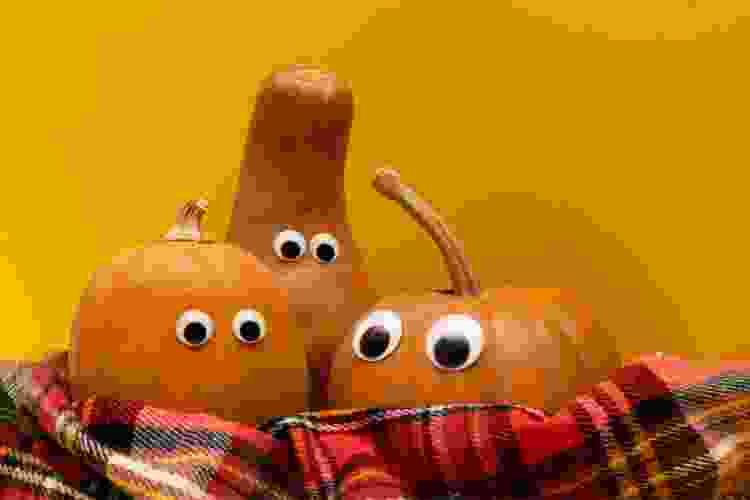 52. Welcome Pumpkins
For a simple, homey pumpkin carving idea, carve a welcoming greeting into your pumpkin to serve as an inviting decoration on your doorstep.
Pumpkin Face Carving Ideas
53. Celebrity Faces
Make your Jack-o-lantern faces into famous faces by carving caricatures of your favorite celebrities. From rock stars to presidents and comedians, you could have a whole group of A-listers represented on your front porch with this pumpkin carving idea.
54. Angry Faces
Carve strong eyebrows and a grimacing mouth to create an angry pumpkin face that will scare away all but the toughest of trick-or-treaters.
55. Scared or Surprised Faces
Even some of the pumpkins are in for a fright this year. Carve faces into your pumpkins that look fearful, surprised or afraid. Onlookers will wonder if they should be running in the other direction!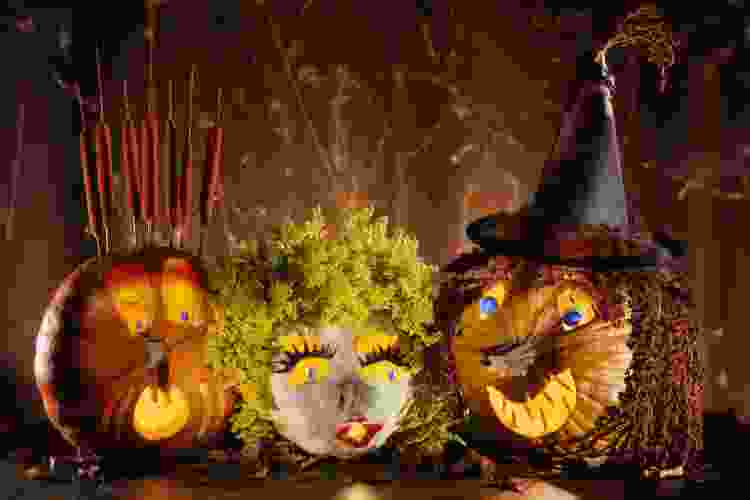 56. Sleeping Face
Make a sleeping face with your pumpkin carving tools, then add a nightcap to the top of the pumpkin to complete the effect. It's a perfect pumpkin carving idea for anyone who struggles to stay up late on Halloween.
57. Carve a Movie Character
If you are looking for Disney pumpkin carving ideas, this one's for you! Carve your favorite character, from Minnie Mouse to Mike Wazowski into a pumpkin for some family-friendly frights.
58. Emoji Pumpkins
Let your phone be your inspiration behind this pumpkin carving idea. There are so many emotions to choose from, from simple faces to devil faces. Or, be really meta and carve the Jack-o-lantern emoji into your own pumpkin!
59. Add Hair
Don't forget to add hair as a fun feature to your pumpkin carving ideas! Wigs, pipe cleaners or even lollipops pushed into the top of a pumpkin can make a cute hair effect.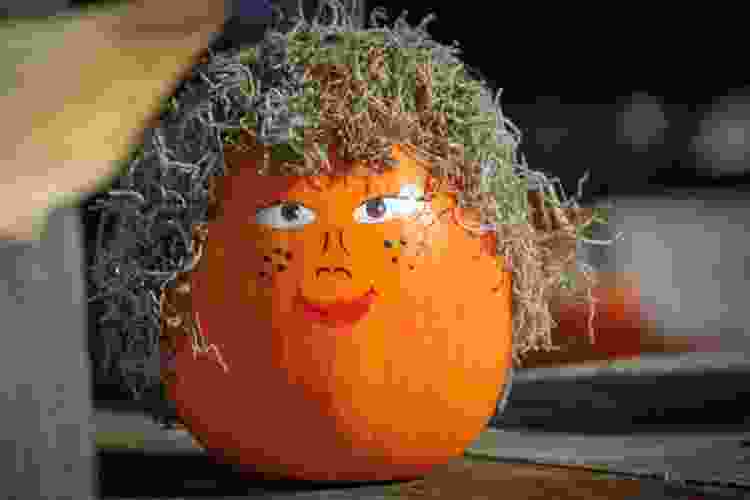 60. Use the Stem
Don't just chop off the stem of your pumpkin, use it! Pumpkin stems make great, wacky noses for your jack-o-lantern faces.
61. Dia de Los Muertos
Honor the Day of the Dead and make your pumpkin last past Halloween by carving and painting it to look like a traditional sugar skull.
62. Sesame Street Pumpkins
Make your pumpkin faces into familiar ones like Bert and Ernie from the beloved children's show Sesame Street. It's a cute pumpkin carving idea for adults and children alike!
63. Jack Skellington
This famous Halloween face is perfect for anyone looking for Disney pumpkin carving ideas. It combines the spookiness of Halloween with the fun movie memories of The Nightmare Before Christmas.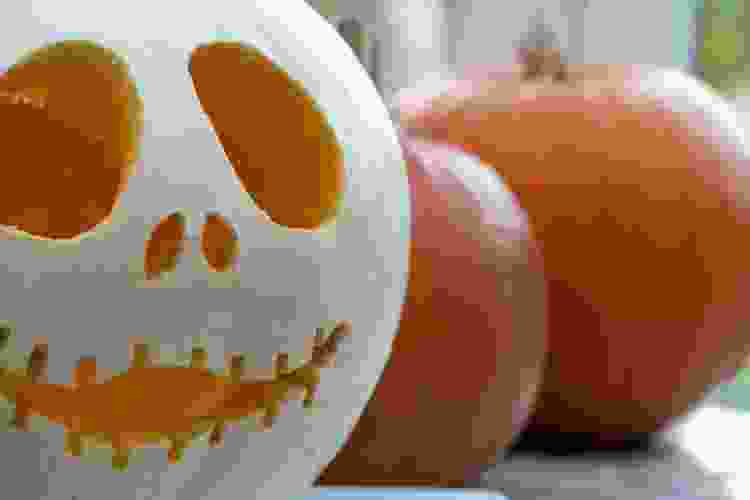 64. Blushing Pumpkin
Jack-o-lanterns don't all have to be spooky! Carve a cute face into your pumpkin and add some pink or red paint on the cheeks for a fun blushing effect.
Creative Pumpkin Carving Ideas
65. Pumpkin Animals
Use pumpkins to create mini versions of your favorite animals. Get creative by painting, stacking or rotating the pumpkins to make the animals come alive.
66. Carve a Serving Dish
Like watermelons in the summertime, pumpkins can be carved into a cute serving dish! Simply line with cling film to use with food, or carve a pumpkin large enough to nestle your punch bowl inside for a fun take on Halloween punch.
67. Numbers, Letters or Sayings
Carve out individual letters or numbers into your pumpkin to spell out a spooky message.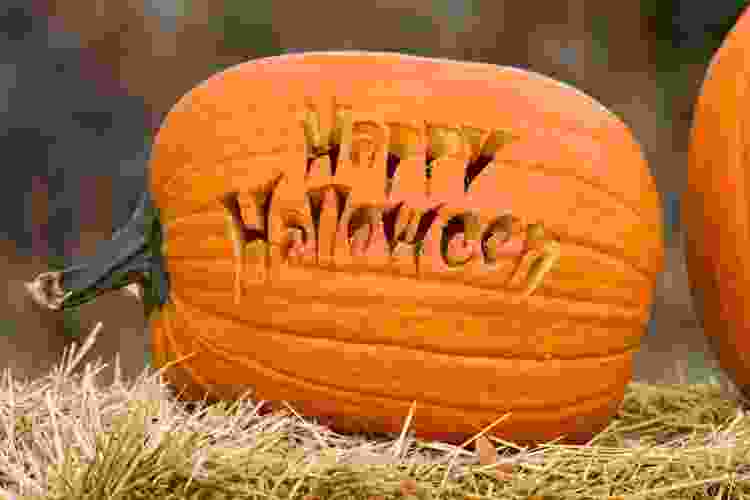 68. Harry Potter Pumpkins
If you are a fan of the wizarding world, you'll know there are plenty of motifs to choose from as pumpkin carving ideas. Make pumpkins that represent the four houses of Hogwarts, or choose something different, like Harry's lightning bolt scar.
69. Pumpkin Candy Dish
Not able to be home for trick-or-treaters on Halloween? Carve a space for candy into your pumpkin and leave your creative candy dish on the porch so they can still enjoy a sweet treat.
70. Pumpkin Jail
Carve a large pumpkin with a grid to look like a jail cell, then put a tiny pumpkin with a face inside to act as a tiny Jack-o-lantern criminal.
71. Silk Flower Pumpkin
Buy silk flowers and insert the stems randomly into the pumpkin for a floral polka dot look, or try covering the entire pumpkin with flowers to create a cute décor piece.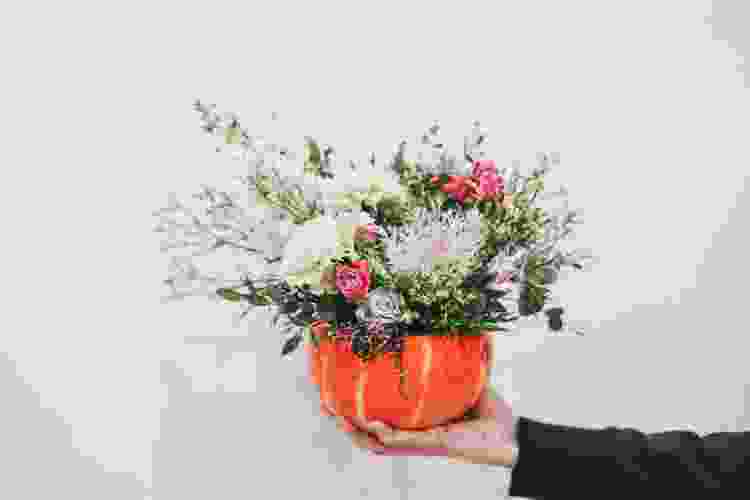 72. Star Wars Pumpkins
Another fandom that gets a lot of love around Halloween is Star Wars. Carve your favorite characters, expressions or even movie titles into your pumpkins.
Create Yoda on a green pumpkin or use a stencil to carve out Darth Vader if you'd rather go the villain route.
73. Family Portrait Pumpkins
Carve one pumpkin to represent each member of your family and create a fun family of pumpkins on the front porch.
74. Avatar Pumpkins
If you are a fan of James Cameron's blockbuster Avatar franchise, grab your blue paint and start carving. Create a blue canvas to work on, then carve the faces of your favorite Na'vi from Pandora.
75. Owl
Carve the outline of a simple (or detailed!) owl face into your pumpkin. All you need is two large eyes, a beak and some simple wing or feather shapes to create this nocturnal bird in pumpkin form.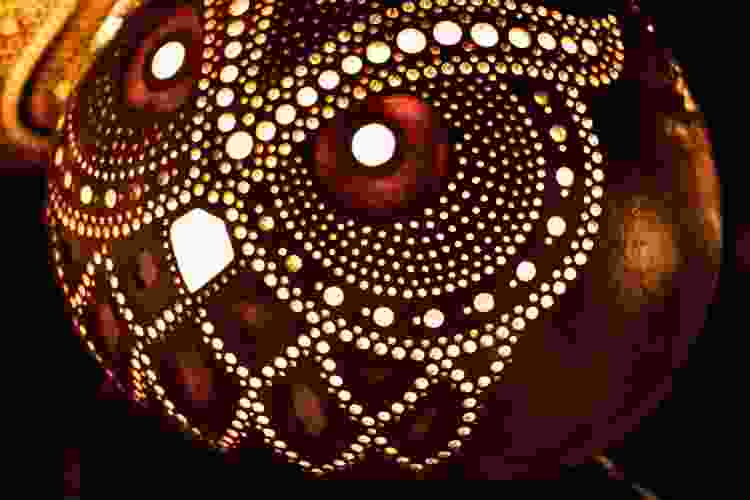 76. Warning Signs
If you're hoping to create a haunted house vibe at your house this Halloween, use carved pumpkins to display warnings like "Stop!" "Beware!" or "Danger!"
77. Pumpkin Cottage
Make a cute pumpkin cottage by carving a door and windows into your pumpkin. Use paint or permanent markers to decorate the outside. You could even create a whole village of pumpkin houses using different sizes and colors of pumpkins.
Unique Pumpkin Carving Ideas
78. Carved Bonfire
This clever pumpkin carving idea involves carving a single flame onto several pumpkins, then stacking them up in your fireplace or outside to give the illusion of a roaring bonfire.
79. Pumpkin Announcement
Use your pumpkin carving ideas to announce big life changes, like a save-the-date or gender reveal. These cute seasonal photos will be a great memory to have for years to come. Plus, this is a great addition to your list of memorbale Halloween date ideas.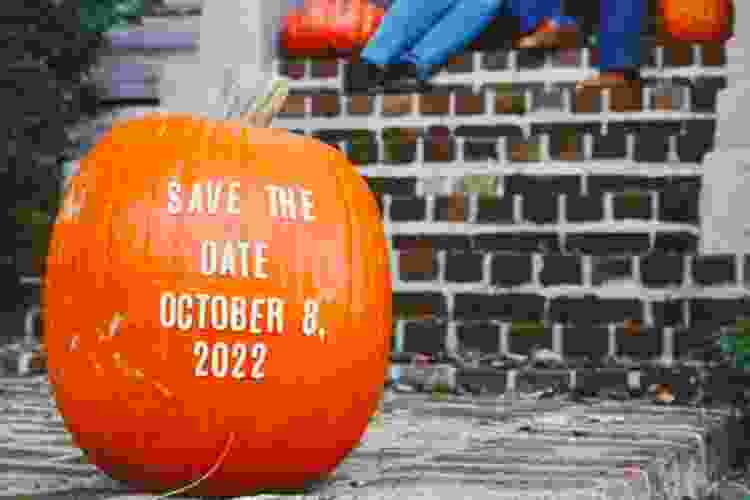 80. Letterboard Pumpkin
If your message is too long for a string of pumpkins, try using pre-made letterboard letters, like in the photo above! You can stick them right into the sides of your pumpkin to create longer sayings.
81. College Pumpkin
Carve your college's logo or mascot into the side of your pumpkin to show off your school spirit.
82. Pumpkin Dioramas
Carve out a large opening in your pumpkin, then use miniature figurines to recreate a scene from your favorite movie, book or TV show.
83. Add Props
Use sunglasses, hats, fake mustaches and more to give your carved pumpkins an extra layer of personality.
84. Luxury Pumpkins
Use stencils to trace logos of your favorite brands to create Jack-o-lanterns inspired by your latest shopping spree.
85. Hall of Presidents
Create a compendium of presidential pumpkins by carving them in Jack-o-lantern form.
86. Beehive
Create a bee-inspired pumpkin display by carving honeycomb shapes and honeybee shapes into the sides of your pumpkins.
87. Love Pumpkin
If you are looking for fall date ideas, carve a pumpkin with hearts and present it to your loved one, along with their favorite fall candles, treats and more.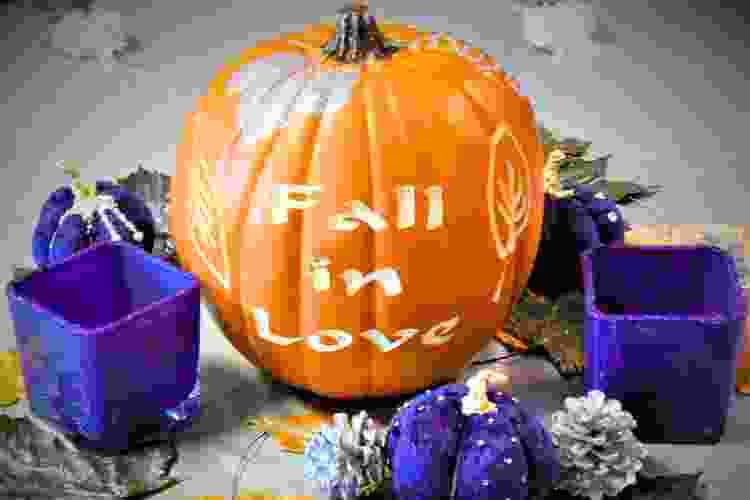 88. Mum's the Word
Chrysanthemums are a traditional fall flower that has a simple shape that's easy to carve. Carve out mums on your pumpkins and then place them next to the real thing for a simple and unique fall display.
89. Pumpkin Clock
Start by carving the clock face into your pumpkin, then buy an inexpensive clock mechanism and assemble it in your pumpkin. You'll have a unique pumpkin centerpiece in no time!
90. Football Pumpkins
With Halloween right in the middle of football season, decorate your porch with carved footballs, team logos or the number of your favorite player.
Cool Pumpkin Carving Ideas for Kids
91. Finger Paint
Little ones can get in on the fun, too! Give the tiniest attendees of your Halloween party their own little pumpkin and let them get creative with finger painting.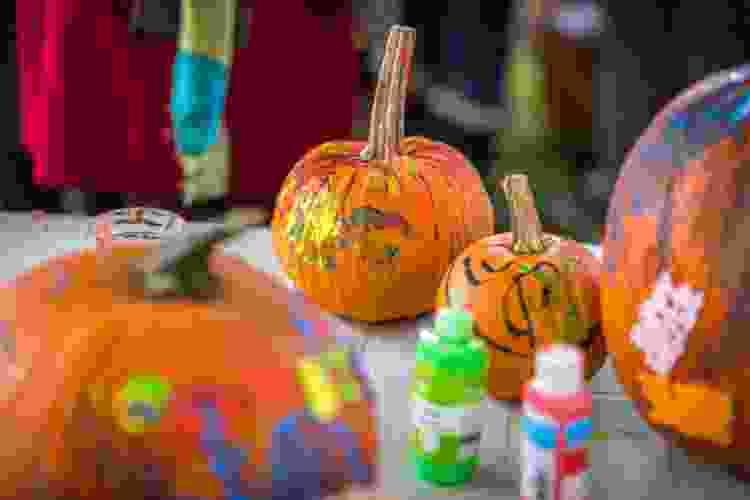 92. Splatter Paint
Have some fun and get messy with this pumpkin carving idea. After you've carved a face into the pumpkin, pull out the paint and start slinging it at the pumpkin! Be sure to do this outside, or you'll be finding paint splatters for years to come.
93. Cookie Cutters
Help your child use cookie cutters to press out shapes in their Jack-o-lantern. You can create a face, or simply help learn the names of the shapes as you cut them out.
94. Handwriting
Memorialize your child's handwriting by having them write their name on the pumpkin. Then, let a grown-up use a knife to carve out the handwritten letters.
95. Use Craft Supplies
If you're looking for more kid-friendly pumpkin carving ideas, try decorating with other craft supplies pipe cleaners or fuzzy pom-poms. You can add whiskers, antennae or ears for a fun look that doesn't require knives.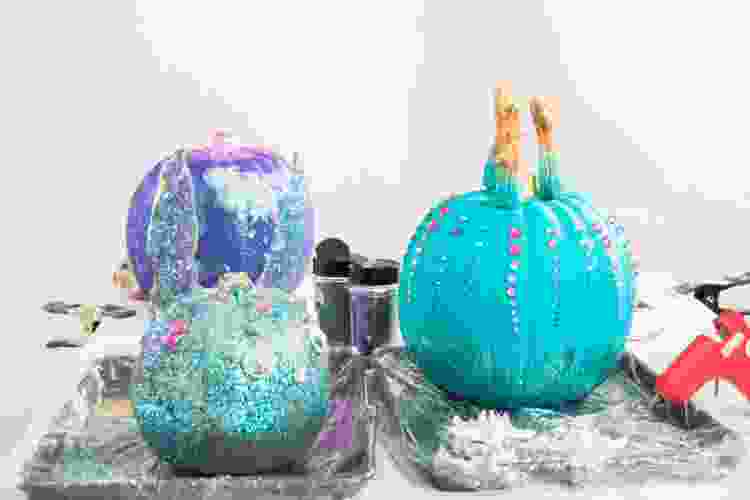 96. Pumpkin Carving Through the Years
Each year, carve a pumpkin with your child's current age and take a photo of them standing with it in their Halloween costume. It's a meaningful pumpkin carving idea that allows you to create a photo album full of fun family memories.
97. Pumpkin Collage
Leave the pumpkin carving knife behind for this fun idea. Instead of carving an actual pumpkin, help your kids find pictures of orange things in magazines, and create a paper pumpkin collage to hang on the fridge.
98. Make a Mickey Mouse Pumpkin
If carving a detailed version of Walt Disney's famous mouse is too challenging, try using two smaller pumpkins as ears to create a Mickey-Mouse-inspired decoration.
99. Monster Mash
Make an entire collection of monsters by buying pumpkins in other colors. This green pumpkin carving idea allows you to create different-looking silly monsters in colors other than orange.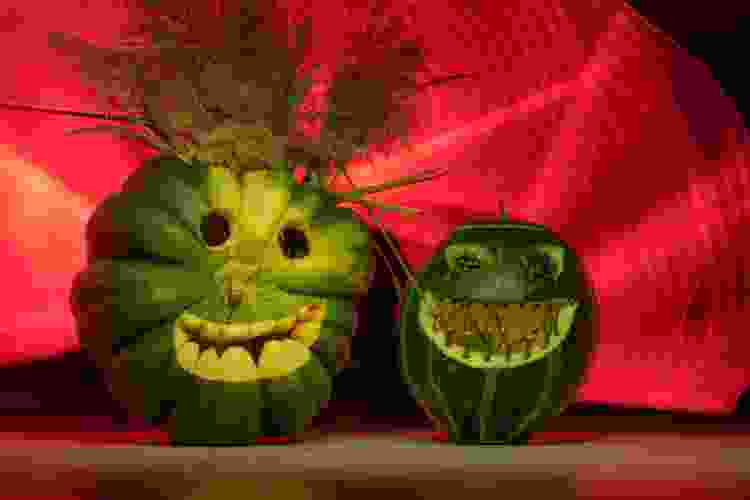 100. Glow Stick Pumpkins
Use neon glow sticks instead of traditional pumpkins to create an illuminating, ominous look.
101. Pumpkin Bird Feeder
Make a Halloween treat for the birds by carving out a pumpkin, and filling it with bird-friendly treats like peanut butter and birdseed. Then simply leave the pumpkin in the yard so the birds can have their own Halloween party.
We hope this list of 101 spooky yet simple pumpkin carving ideas has given you plenty of inspiration for your next Halloween party or family night.
For even more fun art ideas, check out other experiences happening on Classpop!