13 Best Chicago Rooftop Restaurants to Visit in 2023
Published on Sep 11th 2023
| 0
Looking for the best Chicago rooftop restaurants? Chicago is a city of amazing food and beautiful vistas. Perched along the idyllic blue of Lake Michigan and filled with a rich architectural wealth that soars upward, rooftop restaurants in Chicago are stunners whatever heights they reach, from cozy restaurants perched at the top of skyscrapers downtown to casual laid-back eateries poised on rooftops in some of Chicago's most lively neighborhoods.
Whether you are looking for fancy rooftop restaurants downtown Chicago with enviable views or affordable rooftop restaurants in Chicago, we've rounded up a list that not only includes a host of romantic rooftop restaurants in Chicago great for the perfect date idea in Chicago and also kid-friendly Chicago rooftop restaurants for the whole family.
Jump to Section
Learn to Master Chicago Cooking
Whatever the view, Chicago boasts some of the most amazing food in the country representative of all global cuisines, as well as some classic Chicago dishes and favorites like deep-dish pizza and classic Chicago hot dogs.
One of the best ways to get to know the city and its cuisine is to immerse yourself in making some of its favorite dishes by taking a cooking class in Chicago.
You can not only learn to cook Chicago's signature recipes but also learn pasta-making, sushi rolling and other international cuisines from expert chefs from some of the best Chicago restaurants.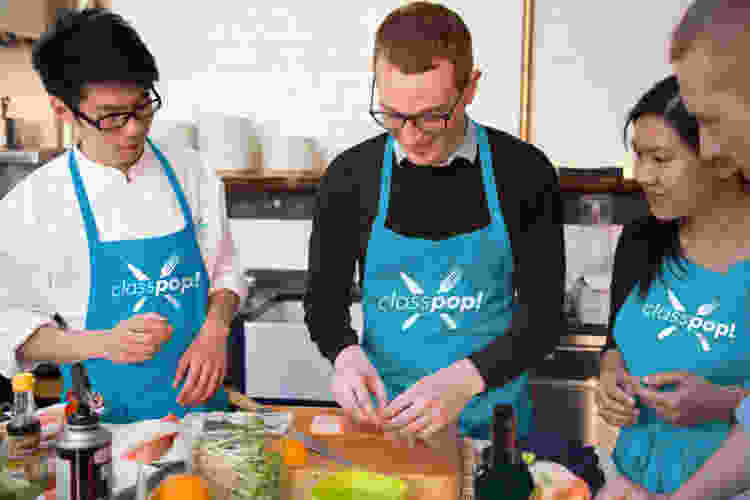 Best Chicago Rooftop Restaurants With a View
1. Cindy's Rooftop
What Chicago rooftop bar was named best in the U.S.? Cindy's, perched atop the Chicago Athletic Association hotel right along Michigan Avenue, often makes the top of lists, both in Chicago and abroad.
With an expansive view over Millennium Park and looking toward the lake, it's a great spot for cocktails and small bites, including an impressive menu of evolving signature cocktails like boozy popsicles in the summer.
While the lines for the elevator to the top can be long almost any night of the week, its beauty more than makes up for the wait.
2. LH Rooftop
The rooftop Chicago bar of the popular and luxurious London House restaurant, the LH Rooftop is poised along the Chicago River on the 22nd Floor, which grants views of both the river, the Magnificent Mile and the wealth of architectural and historical beauty that lines the waterway.
The peak of luxury, you can enjoy cocktails and American food fare well into the evening with a view that is particularly beautiful at night.
3. Offshore
What is the largest rooftop in Chicago? What this popular rooftop spot lacks in height, it makes up for in overall panoramic views of the entire city from the lake.
Holder of the Guinness World Record for the largest rooftop bar in the world, this expansive eatery sits atop Navy Pier's two levels below filled with shops, attractions and theaters.
Offshore offers a great spot to catch a drink when visiting the pier, but also to enjoy 360-degree views of the lake and city. It's even open all year round, with a glass-enclosed section for the winter months.
Most Romantic Chicago Rooftop Restaurants
Join our email list for exclusive deals, local events and fun inspiration for living a more creative life.
4. Cabra
A modern yet tropical-inspired spot with a Peruvian-inspired menu, this Chicago rooftop restaurant and bar sits high atop the Haxton Hotel in the West Loop.
The spot is bright, sunny and right next to the hotel's pool, offering a perfect spot for lunch, dinner or cocktails, including tequila-based concoctions and famous empanadas. The West Loop is also home to a slew of Chicago art galleries that pair well for a date night excursion.
5. Celeste
Beautiful with historic vibes and an antique Victorian garden feel, this Chicago rooftop restaurant offers a selection of simple American fare and small bites amid unique romantic décor.
Often a spot for events and weddings, Celeste features an abundance of greenery and a greenhouse-style roof, making it one of the prettiest Chicago rooftop restaurants.
6. Chateau Carbide
Located atop the historic Pendry Hotel just south of the river along Michigan Avenue, Chateau Carbide specializes in a menu of botanical-focused cocktails served amid French Riviera-inspired décor.
Filled with plush seating and fireplaces, this spot exudes romance and makes a perfect Chicago rooftop restaurant for date nights. The menu includes a great selection of sushi and other small-plate offerings.
7. Shanghai Terrace
Another great Chicago rooftop restaurant perched atop a hotel, Shanghai Terrace occupies the 4th-floor terrace roof of the famed Peninsula Hotel along the Magnificent Mile.
Draped with a contemporary take on Asian décor like lanterns and dreamy red fabric, this rooftop locale is great for its 1930s steakhouse feel serving up classic and innovative Asian dishes.
While only a few floors up, it's one of the best Chicago rooftop restaurants with a view of the bustling Magnificent Mile below.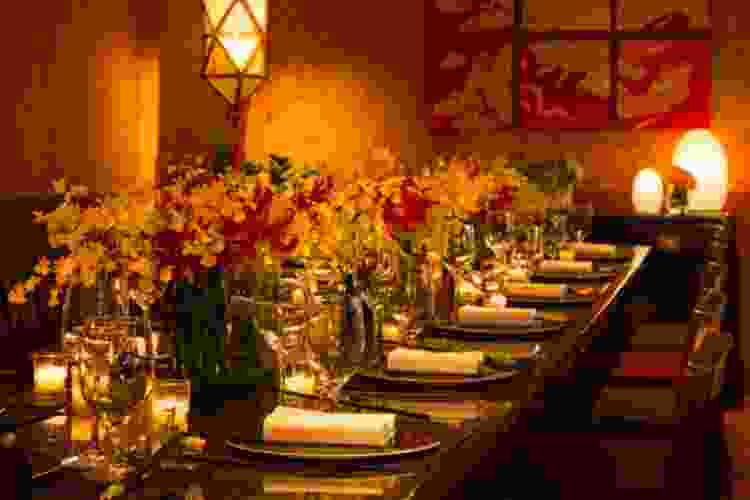 Best Kid-Friendly Chicago Rooftop Restaurants
8. Chop Shop
A reclaimed auto body shop turned eatery, Wicker Park's Chop Shop doubles as a casual spot for contemporary takes on classic dishes like charcuterie, handmade pasta and steaks while also doubling as a musical venue many nights of the week.
Its rooftop patio is one of the best family-friendly Wicker Park restaurants to visit, particularly known for its popular weekend brunch.
9. Land and Lake
While this outfit boasts a couple of popular Chicago area locations, the Ravenswood location features a stunning second-floor patio space that is a family-friendly destination for classic American fare like burgers and wings, as well as a large selection of custom cocktails for the grown-ups.
10. Lonesome Rose
Located in Logan Square, this two-story Tex-Mex eatery is one of the best casual rooftop restaurant locales in Chicago. Open all day, their second-floor patio is a great spot for a delicious meal with the family overlooking the neighborhood.
Most Affordable Chicago Rooftop Restaurants
11. Homestead on the Roof
Touted as a Chicago rooftop oasis and hidden atop Roots Handmade Pizza in Wicker Park, Homestead has the feel of a secret garden, with ample flora and greenery to enjoy while ordering up elevated gourmet and seasonal menu items at a much more reasonable price than many downtown Chicago rooftop restaurants with similarly luxurious feels.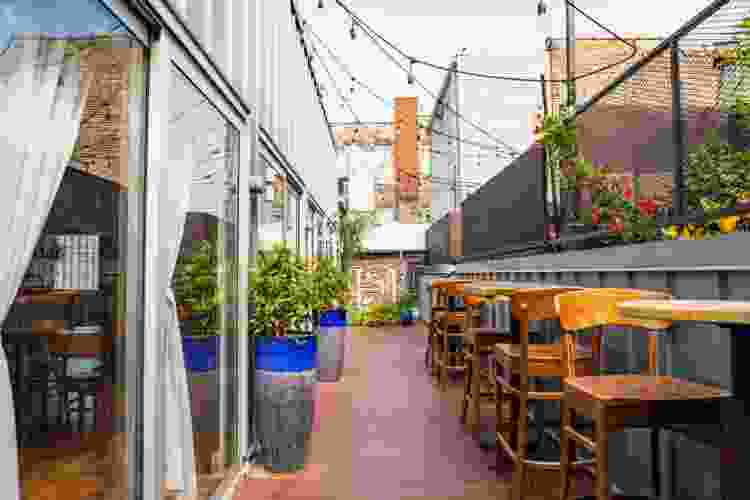 12. Reggie's
Located over a thriving music club with a crowd almost every night of the week, Reggie's offers drinks and budget-friendly pub-style food on their outdoor patio in the South Loop, all within ear range of the musical entertainment happening inside.
13. Twisted Spoke
Known for a rather famous variation on the classic Bloody Mary, this cocktail spot and Chicago rooftop restaurant serves up classic American and Southern-flavored fare like Shrimp Po'Boys and Gumbo with a fun, casual rustic feel on their second-floor patio, including a motorcycle riding skeleton marking the way.
Whether you are looking for fancy and elevated or laid back and casual, Chicago has a rooftop restaurant perfect for any occasion.
A night out with a tremendous view makes a great Chicago gift for out-of-town visitors to see the city, as well as a perfect outing for special occasions like birthdays and anniversaries.
For even more fun things to do in Chicago, check out other experiences happening on Classpop!